After months of backpacking in Pakistan, here's my guide with everything you need to know before going to Pakistan. Includes information on visas, transportation, costs,  and everything else you need to know for your travels to Pakistan. This guide is the accumulation of more than 6 months of traveling in Pakistan

Curious about traveling to Pakistan but nervous about going alone? Check out my unique Pakistan tours.
Jaw-dropping nature, diverse cultures, and delicious food—Pakistan's got it all. Most importantly, it's home to the most hospitable people I've met in my travels. It's no wonder more and more people are traveling to Pakistan!
However, Pakistan ain't as easy to travel in as some will have you believe. But no worries, I got you. This guide was created after more than six visits and almost a year of travel in Pakistan. I have visited Pakistan more than almost any other travel blogger and traveled to Pakistan both with friends and by myself. Keep reading to learn everything you need to know about travel in Pakistan.
Index
Pakistan basics
Pakistan is officially "The Islamic Republic of Pakistan." A populous country in South Asia—no, it's not in the Middle East—with more than 200 million people, it's the 6th most populous country in the world. TL;DR: Lots and lots of people. Everywhere.
Pakistan was founded on the 14th of August 1947 after an event known as Partition: when British India created the modern states of India and Pakistan. The event was bloody, its ramifications still visible today. The country became an Islamic Republic in 1956, and in 1971 East Pakistan became Bangladesh.
Although Pakistan is a young country, its history is ancient. Ruins of one of the oldest civilizations in the world, the Indus Valley Civilization, lie in southern Pakistan. Multiple conquerors and civilizations took hold in parts of modern-day Pakistan, including Alexander the Great, the Delhi Sultanate, the Mughal Empire and the British Raj.
Pakistan's recent history is marred with conflict, both internal and external, most notably with India. It's struggled with military coups, terrorism, war, and secessionist tensions. Its army has strengthened throughout the years as a result; it's now a nuclear power and has sixth-largest standing armed forces in the world.
Language in Pakistan
Myriad languages are spoken in Pakistan. Most people speak two or three languages. At least!
Urdu is Pakistan's national language, as well as the language of officialdom together with English. Most middle and upper-class Pakistanis will speak (some) English. It's rare to find a place where absolutely no one speaks English. However, it's always good to pick up a phrase or two in Urdu. I highly recommend Pimsleur for learning language basics.
Besides the two official languages, there are many local languages: Pashto, Sindhi, Balochi, Punjabi, Potohari, Shina, Wakhi, Burushaski… the list goes on! Every province has its own regional language, such as the aforementioned Punjabi and Sindhi. In major cities people mostly speak Urdu, but in towns and villages local languages reign supreme.
Culture in Pakistan
Pakistan's culture is varied and vibrant, albeit very conservative. Religion dictates and influences culture at almost every level. Keep that in mind and tread carefully when traveling to Pakistan.
Due to its diversity, it's difficult to make generalizations about Pakistani culture… but try, I shall! Here are some cultural nuances travelers should be aware of:
Hospitality
Pakistanis just might be the most hospitable people on the planet. Don't be surprised if plans constantly fall apart because friendly Pakistanis keep kidnapping you for tea or a meal!
If someone approaches you on the street, don't worry—they probably just want to say hello… and likely invite you to their home to meet their family and/or have tea. Unless they look extremely shifty, don't be afraid to accept their invitation.
Guests in Pakistan are often treated like royalty, but in recent years travelers have started taking advantage of this culture. Don't be a leech; offer something in return for people's hospitality, whether that be help with something, bringing sweets for the family, or gifting some small trinket from your home country.
Dress code
Women: Pakistan is a very conservative country; unless you're in a liberal/wealthy part of a major city, I recommend dressing modestly. That means long pants and a loose shirt or dress that ideally covers your bum. Although headscarves aren't mandatory, it pays to have one on you for entering mosques.
The local pant/shirt combination, salwar kameez, are immensely comfortable and colorful. You can pick them up in bazaars and malls throughout Pakistan—locals will appreciate it!
Men: Shorts are okay, but you won't see many people wearing them, and they're not allowed in mosques. In general, it pays to dress modestly—no tank tops or shorts. Again, salwar kameez are recommended.
Women in Pakistan
Unfortunately, Pakistan is lagging when it comes to women's rights. There are many places where you won't see women on the street. Especially in rural areas, women are treated as second class citizens, domestic workers, and baby-making machines.
Foreign women are mostly be treated with respect. As an outside traveler, you straddle the line between men and women; you're unusual enough to sit with men, but feminine enough to access women's spaces, too.
Alas, harassment is still common, though it's mostly restricted to unwanted touching and commentary. If a man does something to you, slap them or make a scene. Pakistanis are very protective of women and someone will likely come to your aid.
For more info, check out my guide to female travel in Pakistan.
Tipping in Pakistan
Tipping is not mandatory. Instances where you might tip someone include:
Hiring a driver who did a good job – Several hundred PKR
Take a private tour with a good tour guide – Several hundred PKR per day
Dining at a fancier restaurant – Round the bill up to a more even number
If someone goes well out of their way to help you or give you access to something – 50 to 100 PKR
If you do tip, don't tip too much, else you'll raise expectations for future travelers. Don't feel pressured to tip someone if they ask you for a tip—they're being cheeky because you're foreign.
Religion in Pakistan
The vast majority of Pakistanis are Muslim, with scattered Christian and Hindu communities. Islam is the official state religion, the head of state has to be a Muslim, and people's religion is stated on their identity cards.
Because Pakistan is an Islamic Republic, its laws are based on Sharia law. It has some of the most draconian blasphemy laws in the world. Foreigners won't be held to the same standards as locals, but you should always be respectful of Islam, the Prophet Muhammad, and religious culture.
Atheism, though not officially illegal, can be punishable by death under the blasphemy law. Even if you're not religious, it's best to say you have a religion when asked (And you will be asked about this. A lot).
Pakistan is one of the worst countries in the world when it comes to the treatment of religious minorities. There are specific laws persecuting the Ahmadi sect of Islam, although few Pakistanis will want to talk about this.
It's best to steer clear of religious discussions unless you're well acquainted with the person you're talking to.
Food in Pakistan
Pakistani food is delicious and diverse, but not particularly healthy. It involves lots of oil, meat, and bread—prepare to pack on the pounds. Outside of (village) homes, don't expect any fresh salads when traveling in Pakistan aside from sliced onions, cucumbers, and maybe carrots or cabbage.
Food in Pakistan is full of flavors and spices, but rarely too spicy except for those with zero spice tolerance. However, hygiene standards are lacking. Most visitors to Pakistan will have some stomach trouble at one point or another.
Many cities have their own food culture and specialties. Lahore and Karachi compete for the title of best foodie city in Pakistan. In major cities, more and more cafes and restaurants are attempting international flavors. Quality still varies widely; in general, it's best to stick to local food. Don't expect well executed Western food unless you're paying a premium.
Some famous Pakistani dishes include:
Karahi: Meat stir fried in a large pan
Biryani: Spiced rice with meat
Pulao: Rice cooked with animal fat or oil, usually containing carrots, raisins, and meat
Dal: Lentils
Channa: Chickpeas
Roti: Thin round bread
Naan: Thicker round bread
Chapli kebab: The best kebab (in my humble opinion), somewhat like a burger patty… but 10x better
Vegetarians and vegans in Pakistan
Traveling while vegetarian in Pakistan can be difficult… but it is possible. Affluent Pakistanis understand (and sometimes scoff at) the concept. Except for the poorest of people, meat is a daily staple. Chicken and fish aren't even considered "meat"—meat means mutton or beef.
If you're a strict vegetarian, make sure to tell your host beforehand. Otherwise, it will lead to awkward situations when someone cooks up a meaty feast in your honor and you have to reject it.
Vegans will have a much harder time traveling in Pakistan. Many dishes include butter or yogurt, and explaining you can't eat eggs will be interesting. Dal and channa are sometimes cooked in the same pot as meat, or with meat stock. Veganism hardly exists in Pakistan. Be firm, but know you'll be restricted to dal, channa, and "mix sabzi"(mixed vegetables). You'll need to be very clear about no butter or ghee (clarified butter).
Money and the cost of travel in Pakistan
Pakistan uses the Pakistani rupee (PKR). Banknotes come in denominations of 5, 10, 20, 50, 100, 500, 1000, and 5000 Rs. There are also coins, but these are virtually useless. Some shops will give change in small candy, rather than coins!
Getting money from ATMs can be a struggle, especially in the north. Not all banks accept foreign cards. Several banks (hi Standard Chartered) charge a 500 Rs fee per withdrawal. Islamic banks do not work with foreign cards. ATMs in the mountains often run out of cash.
In my experience, Bank Alfalah, Habib Bank, and MCB Bank (not MIB Bank) are your best bet for withdrawing cash from ATMs in Pakistan.
Cost of travel in Pakistan
Pakistan is a relatively cheap country to travel, although it can be tricky to find budget accommodation outside of the popular tourist destinations or in high season (June – August). Below is a breakdown of the average cost of traveling in Pakistan on a backpacker budget.
At the time of writing, US$1 = 155 Rs.
Food & drinks
Water or soda: 30 – 100 Rs
Tea: 10 – 50 Rs
Breakfast and lunch: 50 – 100 Rs each
Dinner: 50 – 250 Rs (street food ahoy!)
Accommodation
Budget hotels: 800 – 1,500 Rs
Mid-range: 1,500  – 4,000 Rs
Cultural outings
Museums: 200 – 500 Rs
Historical sights: 500 – 1,000Rs
National Parks: 800 Rs
Mosques: Free
For more info, check out this backpacking in Pakistan budget report.
Visas for Pakistan
Almost everyone needs a visa for Pakistan. It used to be a real pain in the ass to get a visa for Pakistan, but the recent e-visa introduction made things much easier. The e-visa form is still way too long and full of irrelevant questions, but at least it's a start in the right direction.
To find out if you're eligible for a Pakistani e-visa, go to the e-visa portal of Pakistan. It also mentions a visa on arrival scheme, but many people have reported problems with it. It's better to apply for an e-visa.
How to apply for a Pakistan e-visa
Make sure to have JPEG files of:
Passport information page
Passport photo with a white background
Letter of invitation by a tour company or hotel booking confirmation
Step 1
Go to the Pakistan e-visa portal and register yourself. To do this, click the "Tourist Visa" button under "Visa Categories". It will lead you to the info page about tourist visas. If you click "Apply now", you'll be prompted to create a new account or log in to an existing account.
Step 2
Once registered you can start your application. Make sure you have plenty of time, as it can easily take an hour or more to fill out all the questions. Many of them seem unnecessary (and probably are) but alas, you have to fill in the entire form.
Step 3
Once you'vefinished your application, it's time to pay. The visa costs US$35 for most nationalities. You can pay with Visa or MasterCard. I've heard reports of the payment not working all the time, so make sure you actually paid.
Step 4
After you've paid, make sure to click "Submit your Application". If you don't do this, the application will remain pending.
The e-visa portal states it takes 5-7 working days for a visa to be approved, but turnaround can be much faster. If you haven't heard anything after 7 working days, contact them directly via the e-visa portal. It's possible they need additional documentation from you.
Transportation in Pakistan
Pakistan has a myriad of transport options. Train, bus, and minibus are most common for long-distance travel. For shorter distances use either rickshaws (south of Islamabad), taxis (Islamabad) or Jeeps (north of Islamabad).
Train
Pakistan has an extensive rail network. Trains are relatively comfortable, albeit a bit slow. Prices are reasonable unless you want AC class. It is advisable to book your ticket ahead of time, and with the help of a local.
Check the Pakistan Railway website for schedules and fares. The website is not the easiest to use, but it'll do. If you have a local friend with a credit card and phone number, they can book you a ticket online. Make sure to read my guide on train travel in Pakistan before you do!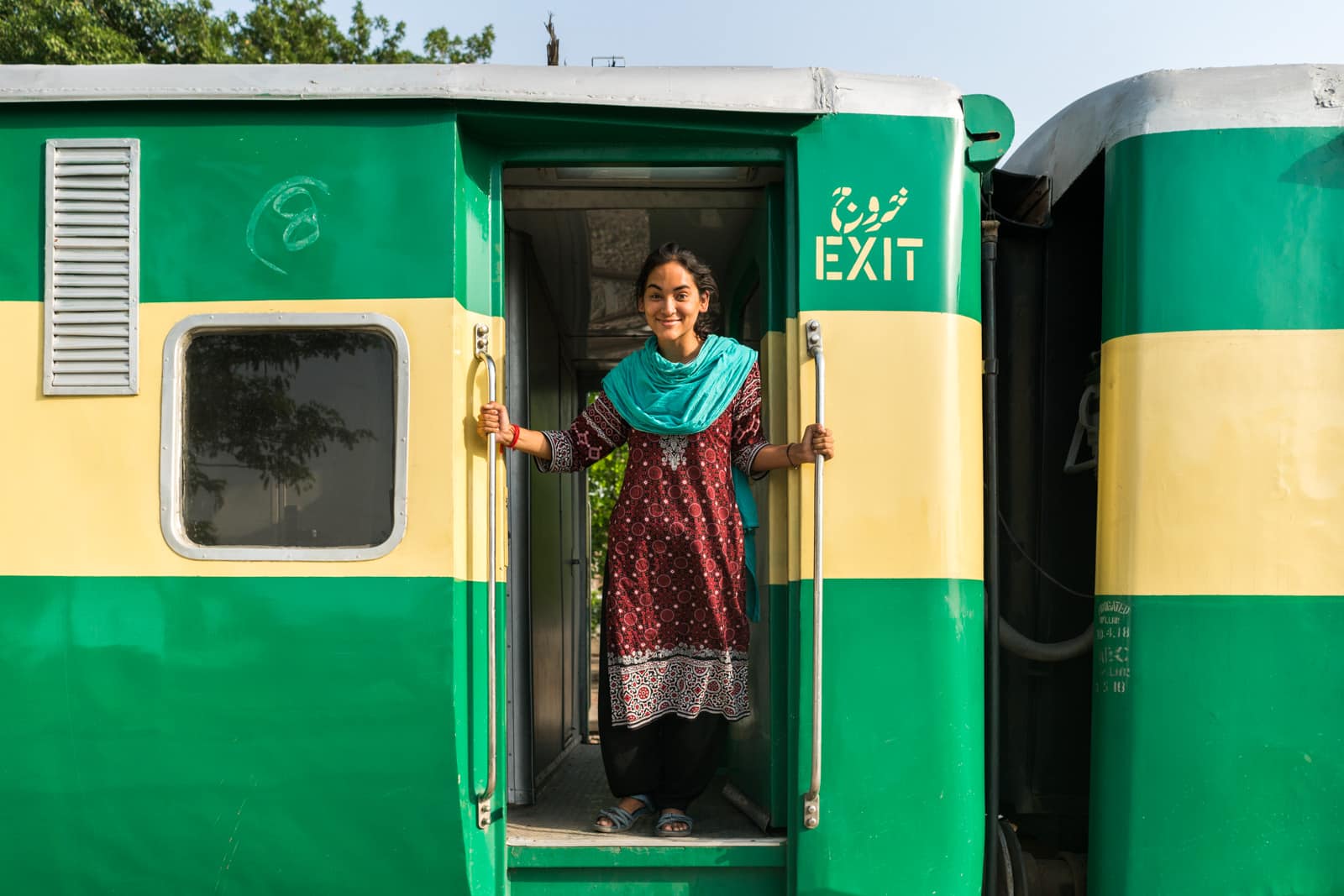 Buses and minibusses
Pakistan's multitude of bus options are sometimes overwhelming.
From crappy minibus, to bedazzled local buses, to well-run Daewoo and Faisal Movers services, there are a lot of ways to get from A to B.
High-end bus services
When I'm in a rush and want to make sure I reach my destination on time, I prefer Daewoo or it's northern equivalent, NATCO. These services are professional, leave on time and are very comfortable. Definitely worth the extra rupees. Faisal Movers (which I've never used) is reputed to be even higher quality.
Ticket prices depend on the type of bus. I've had luxurious buses with reclining seats and AC… and passable contraptions with no AC. Different buses go at different times. To get an idea of prices, a Daewoo from Lahore to Islamabad (Rawalpindi) goes for 1,000 to 1,500 Rs for the four-hour journey.
You can usually book tickets on the same day at the bus station or through your hotel. Note that Daewoo has its own stations, so make sure you go here and not to the local bus station.
Local buses and minibuses
Prices for local buses are much cheaper, but you'll be packed in like sardines in a can.
Minibusses are usually available for shorter hops between towns. Sometimes there's a minibus yard, sometimes they leave from a specific point on the road, and sometimes… nobody knows where they leave from! Ask locals to figure out where you can find a bus to your next destination, or wait on a roadside and try flagging down passing minibusses—they can stop anywhere.
Minibus prices should be set, but ticket hawkers are likely to try making some extra money off of you. A minibus shouldn't be much more than 200 Rs for a five-hour journey. Ask a fellow passenger what the price is, or watch to see what other people around you are paying.
Taxi
To save yourself some hassle, download the taxi app Careem, which most Pakistanis use to get taxis. Uber also operates in major Pakistani cities.
Both offer a variety of vehicles ranging from motorbikes to rickshaws to air conditioned cars, and they're by far the easiest and most hassle-free way to get around cities.
Rickshaws and Qingqis
Rickshaws (with doors) and Qingqis (pronounced "ching-chee", totally open) have a somewhat bad reputation, but in my experience, they're the fastest way to get around in cities. There are no set prices, though, and sometimes you have to drive a hard bargain.
As a basic rule of thumb, for foreigners the actual price is probably around 50-75% of what the rickshaw driver initially quotes you. Offer half of what he's saying, then bargain up from there. Alternatively, check the price of a rickshaw to your destination using the rideshare apps Uber and Careem—yes, they offer rickshaw rides, too—and use that as a bargaining point.
Don't be afraid to walk away if the price seems too high. There are thousands of rickshaws around; another rickshaw driver is sure to appear if you're not satisfied with the price.
Pricing is a bit tricky, but a 10-minute drive should cost about 150 Rs.
Jeep
Many places in the mountains, such as Fairy Meadows and Deosai, are only accessible by jeep. There are public transport jeeps for remote valleys like Chapursan and Shimshal, but in other areas you'll have to hire a private jeep.
Prices to popular places such as Fairy Meadows are fixed and non-negotiable, while others are more… flexible. It pays to wait around and see if you can share a jeep with other people going your way. Alternatively, you can post in the Backpacking Pakistan Facebook group to find someone to share a ride with.
A jeep to Fairy Meadows is 7,500 Rs, and a jeep to Deosai is 8-10,000 Rs for a day trip. Overnight trips are more expensive. Hotels can arrange jeeps for you, at a higher cost. Your best bet is to ask friendly locals what a decent rate should be.
Safety in Pakistan
One of the things people want to know before going to Pakistan is whether or not it's safe to travel. A fair question!
For years, Pakistan was associated with terror and danger. Heck, even now many governments advise against travel to (parts of) Pakistan. There's no denying the country is still perceived as dangerous.
Although attacks still happen—and not all places in Pakistan are safe for travel—the security situation has largely improved. Places that foreigners are likely to visit, such as the cities of Lahore and Islamabad or the mountains of Gilgit Baltistan are generally safe to travel, given you take standard precautions.
Legitimately dangerous areas are off-limits to foreign visitors, so the chance of something serious happening to you is slim. The biggest dangers of traveling in Pakistan are traffic-related, pollution, and getting sick from poor hygiene standards. Oh, and hospitality 😉
To be fair, there's a good chance you'll still feel uncomfortable at times with the current security situation. Pakistan is still a police state. There's a lot of heavily armed personnel on the streets, and many security checkpoints throughout the country. Sensitive sites such as shrines and religious minority gatherings will be filled with army/police/security. Don't let it intimidate you—these people are there for safety purposes.
To learn more about Pakistan's security situation, check out my article on whether it's safe to travel in Pakistan.
Connectivity in Pakistan
Connectivity in Pakistan is hit and miss. Wifi is often bad—if present at all—and mobile signals can go down at any time for no reason. Signals are often blocked during large events that may pose a security threat. Cities have decent 4G coverage, but especially in the rural north, there are many places with no coverage at all. If you want to have the widest range of coverage, you'll need two or three different sim cards from several mobile operators.
Mobile SIM cards for calling and data in Pakistan
Overall, Zong and Telenor are your best bet in cities and rural areas. In northern Gilgit Baltistan, Zong and Telenor work in some areas, but it's a better idea to buy an SCOM SIM card instead. You can buy them at customer service centers in hubs such as Gilgit, Aliabad, and Karimabad.
Getting a SIM card can be an annoying process. Foreigners cannot buy SIM cards at any outlet—you have to go to an official "customer service center" of the mobile provider to get one. You must fill out a registration form to buy a SIM, so make sure to bring copies of your passport.
It usually takes 4-12 hours for your card to activate (24 for SCOM). Your SIM card will expire when your visa expires.
WiFi in Pakistan
WiFi in Pakistan is spotty at best. Upscale cafes will have Wifi that may or may not work, as will high-end hotels. Besides that, you're pretty much lost.
Rather than relying on WiFi networks, I usually buy a large mobile data pack (10GB, mmm blogger life) and use my mobile phone as a WiFi hotspot. If you're going to do that, make sure to buy a power bank so you don't have to worry about your phone running out of battery while you do so.
Other useful resources for planning your trip to Pakistan
Want more on traveling in Pakistan? Below are several of my favorite articles to help you plan your trip to Pakistan. They're full with all kinds of things to know before going to Pakistan.
Need even more tips for travel in Pakistan? Ask them in the comments or get in touch.