A Phander Valley travel guide, for those looking for an off the beaten track place to relax in Gilgit Baltistan, Pakistan.
The winding road from Gilgit to Chitral is traversed by many, but savored by few. Poplar-lined pathways, brilliant turquoise waters, hospitable Ismaili people; these are but a few of the reasons you should take your time along the road.
A plethora of villages line the way from Shandur Pass to Gilgit, but none are so picturesque as Phander (pronounced "fun-der"), a small village in the eponymous Phander Valley.
I meant to visit Phander for two or three days… and what began as two days turned into five nights! Every day, there was another reason to stay: new people coming to say hello and speak with me for hours, fishing excursions along Phander's famous trout-filled waterways, motorbike adventures to nearby villages. I could've easily whiled away a few more days if my time wasn't limited, and I know I'll be back one day.
If you're looking for a peaceful place to put up your feet in Gilgit Baltistan, Phander is the place. Here's a quick Phander Valley travel guide to make your trip as smooth as possible.
Lost With Purpose's Phander Valley travel guide
Best time to visit Phander
Your window of opportunity for visiting Phander is limited to April – October. Hotels will not be open outside of that window of time.
I visited in mid-May during Ramadan, which meant I was the only tourist in the valley for most of the days I was there. (Not that that means much, as most tourists only stay one day anyway.) The weather was unusually bad, and temperatures hovered around freezing on cloudy days, dipping well below at night.
If you want to enjoy Phander without losing a few fingers, July/August is the best time to visit. Cherries, apricots, and mulberries will be in season, and the fishing season will be in full swing.
The downside: June-August is high season for domestic tourists. Though Phander isn't as popular as other locations in Gilgit Baltistan, the reach of Pakistani tourists grows with each passing year, and Phander will only become more popular with time.
Should fall colors or peace and quiet be a priority, September/October is an ideal time to visit. The summer holiday season will calm down by then, and trees should be changing color by the end of September. Cold is the biggest downside here, with average highs of around 10-15°C (50-60°F) in September.
How to get to Phander Valley
Phander Valley sits along the "highway" running from Chitral to Gilgit. If you're traveling the Chitral-Gilgit road, you'll be passing through Phander Valley.
From Gilgit to Phander
The NATCO bus from Gilgit to Mastuj is your most reliable bet… though it leaves at a painfully early 6:00 in the morning. I bought my ticket on the spot, but during high season (summer, after Ramadan) you might want to book your seat a day in advance at the NATCO bus stand tucked away on the corner of River View Road and Punyal Link Road in Gilgit. A ticket costs 400 Rs—don't forget to tell the ticketing man you're getting off at Phander, not Mastuj.
Once you're on the bus, the trip should take around 6 hours. You'll be in Phander by 12 for lunch.
Alternatively, a Hi-Ace minivan runs from the same NATCO stand at a more palatable 11:00 in the morning, or whenever it's full. A ticket to Phander is 450 Rs. Make sure to arrive around 10:30 to ensure you get a seat.
From Chitral/Mastuj
The process is similar in the other direction. You'll need to get on the NATCO bus from Mastuj that leaves the station at (an even more painful) 5:00, and let the driver know you're getting off at Phander.
Know that the Chitral-Gilgit road is not open from approximately November to May each year, as Shandur Pass closes due to snow.
Where to stay in Phander Valley
There are a small number of places to stay with limited facilities in Phander—where you stay depends on your budget. Keep in mind that prices may rise in high season due to demand.
Note: The famous Phander Rest House overlooking the lake was damaged by an earthquake and is not open for business.
Budget hotels in Phander
Lake View Guesthouse & Restaurant
Contact: 03555145278, 03555185035
I stayed at this modest hotel, across from the destroyed Phander Rest House. Small but warm double rooms with attached bathroom (without hot water) go for 800 Rs/night.
Hassan, its owner, is a delightful man who speaks amusingly exaggerated English. He did everything in his power to make my stay as fun as possible: together, we visited several of his relatives' homes, motorbiked to nearby Teru, and went fishing one sunny afternoon. He's not the most proficient English speaker, but he makes up for it in enthusiasm.
Lake Inn Phander
Contact: 03555203015, 03555203532, [email protected]
Another modest hotel with several double bedrooms with attached washroom and hot water for 1,000 Rs/night, plus a garden where you can pitch tents. Faiz, the owner, is helpful and speaks English well. I used this guesthouse on my first women's tour of Pakistan.
Mid-range hotels in Phander
Dream Island Hotel Phander
Contact: 03555479348, 03555621945, 03555479248
A rather comfortable campsite set up on a small river island down in the valley. Four-person tents with electricity go for at least 1,600 Rs/night; two-person tents are 1,000 per night. The campsite has several washrooms with shower and toilets, and a clean new kitchen where you can cook or order meals. It's possible to set up your own tent as well. Very limited English spoken.
PTDC Motel Phander
The nicest accommodations in the area… but also the most expensive. On a hill overlooking Phander Lake, there's no denying the hotel has a great location. Double rooms start at 4,500 Rs/night, singles at 3,500. Expect hot water and a restaurant, but not too much beyond that. The manager does speak English and was helpful despite my not staying there.
Things to do in Phander
Phander is the kind of place where you sit and watch the world go by, not rush through a bucket list of Top Things To Do. Though I think you should take a breather and let things unfold organically, there are a few things you can look forward to in Phander:
Go trout fishing
Phander is allll about trout fishing, and many locals are crazy about it.
Officially you need a permit to go fishing… but no one has one, and no one checks. Ask your hotel owner if you can borrow a fishing rod (a rhetorical question), and head down to the water to try your luck. The river areas around Handrap town outside of Phander were particularly bountiful when I was there in May.
Note that fishing season comes to a close in fall, when trout mating season begins.
Short hikes and village walks
Just strolling around the villages and waterways is pleasant, and you're sure to meet some friendly folks. If you want to push yourself a bit harder, you can follow some of the shepherd tracks up the surrounding mountains. Otherwise, there are two nelas, narrow waterways, that you can follow up into the mountains. One begins in Chashi, the village below/before Phander when you're coming from Gilgit. Another begins in Handrap. If you look at them on the map, both head south.
Day trip to Teru or Shandur Pass
Teru is another beautiful village in the mountains, a bit higher in elevation than Phander. You can easily spend a day wandering through its fields and simple houses.
The famous Shandur Pass, about 2-3 hours from Phander, is more remote and all natural.
Both can be visited as a day trip if you hire a motorbike from someone or have your own transport. Make sure to check if Shandur is open before heading out—most of the year it's closed due to snow.
Seek out some local honey
Bee keepers line the road from Gilgit to Shandur, and mmm, their honey is dank!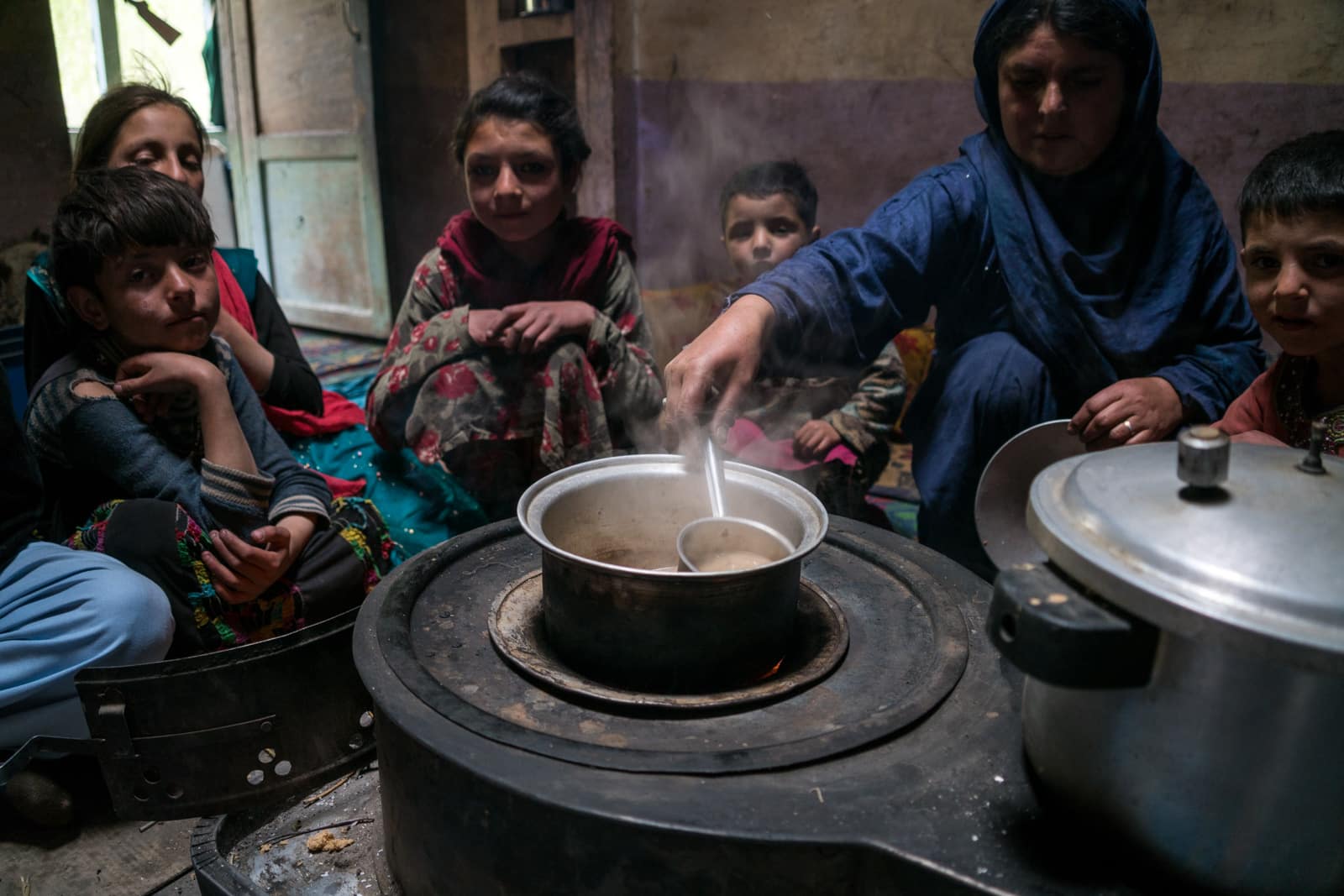 Have chai in someone's home
Many locals are very hospitable if given the chance, and invites for tea run aplenty. It's common to serve homemade bread and a boiled egg with tea—the egg is actually boiled in the tea!
Language, culture, and religion in Phander
Phander's residents are primarily Khwar-speaking Ismaili Muslims, followers of the Aga Khan.
Ismailis as a whole are generally quite educated and liberal. You'll see plenty of women walking around compared to other parts of Pakistan, boys and girls often go to mixed gender schools, and literacy rates are relatively high.
This was particularly important to me as I traveled to Phander during Ramadan. Luckily, Ismailis are not prone to fasting, so eating during the day wasn't too difficult or offensive to others.
However, despite the liberal atmosphere, take the usual measures. Dress modestly, and make sure to always ask before taking someone's photo. The vast majority of the women I met in Phander did not want to be photographed.
Staying connected in Phander
The downside of Phander—and the rest of Gilgit Baltistan—is the wretched mobile signal. For me, anyway.
SCOM is the only network that works in Phander. Despite being relatively consistent, it's slower than slugs.
Don't expect to have more than 2G in Phander, and make sure to get your SCOM SIM card in Gilgit if possible. There's not much in the way of mobile shops in Phander.
Local guides in Phander
If you're interested in exploring Phander with a local guide—or going on treks in Phander Valley or the greater Ghizer District—I met a man who can help you out.
Jageer Khan is from nearby Ishkoman Valley, and worked as a guide in Ghizer district and beyond for 12 years. Due to a lack of tourists, he no longer works full time as a guide. Nevertheless, his passion for guiding was palpable, and he would be happy to help out foreign guests in any way possible. He also speaks English well.
You can contact Jageer on his mobile at +923555238786, or send him a message on Facebook. Calling him is better, as mobile signal isn't always strong enough for messages to go through where he lives. Let him know that you found him through Alex the American girl so he understands how you got his phone number.
Still on the lookout for mountainous adventures in Pakistan? Don't miss this guide to trekking in Swat Valley.