Why yes, you can travel Kyrgyzstan in winter! Here's a comprehensive guide to help you plan your Central Asian adventure and go snowballs to the wall in Kyrgyzstan.
Fact: traveling Kyrgyzstan in winter is epic.
Though it might seem an unlikely winter destination at first—cue cut scenes of bleak Soviet winter misery and woe—Kyrgyzstan has a lot to offer during the snowy season.
Whether you're interested in tearing up powdery backcountry on skis, hunting down a game of headless goat polo, or simply savoring #yurtlife in the snow, here's a guide with everything you need to know to plan winter travel in Kyrgyzstan.
Index
A massive guide to winter travel in Kyrgyzstan
Can you travel in Kyrgyzstan in winter?
The short answer: Yes, yes you can.
The long answer: Go read the rest of this guide. I'm bad with cold weather, yet I traveled Kyrgyzstan in winter and didn't die. Clearly it can't be that bad.
… but is it safe to travel Kyrgyzstan in winter?
Despite what you might think when you see a country ending in -stan, Kyrgyzstan is a safe place to travel. You're far more likely to slip in the snow and hurt yourself than you are to be kidnapped/bombed/shot at/whatever people are afraid of these days.
As far as winter goes, beyond slippery roads and avalanche risks higher up in the mountains, winter travel in Kyrgyzstan is just as safe as any other time of year.
But why travel Kyrgyzstan in winter?
There are plenty of reasons to visit this 'stan in winter!
Snowy landscapes with very few people, epic skiing and snowboarding at affordable prices, and more chances to catch cultural events like kok buru are but a few of the reasons to get your bum over to Kyrgyzstan in winter.
If you love snow and/or traveling in off-season when few other tourists visit, winter in Kyrgyzstan is perfect for you.
I won't go too deep into that snow now; here are more (epic) reasons to visit Kyrgyzstan in winter.
Wait, when is winter in Kyrgyzstan?
Winter season in Kyrgyzstan typically lasts from December to April.
Though weather is increasingly unpredictable these days—thanks climate change—you can expect snow in Kyrgyzstan from January to March at the very least.
Kyrgyzstan's ski season at ski bases such as Karakol runs from December to March. The best time to go skiing is in late January to February. Though snow melts by May at lower altitudes, you can still expect snow on high mountain passes in spring. You can still ski Kyrgyzstan's backcountry in May if you have the means and skills to get high enough in the mountains.
Weather and average winter temperatures in Kyrgyzstan
How cold does Kyrgyzstan get in winter? The answer depends on where in the country you are and how sunny it is. Though temperatures can drop to painfully cold, once the sun is out, you'll feel far warmer than you might expect.
Seasons are now more unpredictable due to climate change, but here's what you can loosely expect around January/February:
Bishkek (800 m/2,600 ft): Kyrgyzstan's capital is relatively low, and sees plenty of sun in winter. Expect temperatures just above freezing (5-10°C/41-50°F) during the day, and slightly below freezing (-5-0°C/23-32°F) at night.
Karakol (1,600 m/5,250 ft): Because of its close proximity to salty lake Issyk Kul, winter weather in Karakol is milder than other parts of the country. Plan on temperatures around freezing during the day, and down to -10°C/14°F at night.
Jyrgalan (2,500 m/8,200 ft): Up in the mountains, Jyrgalan can get nippy. During the day temperatures will hover around or slightly below freezing, but at night temperatures can drop to -20°C/-4°F.
Osh (960 m/3,150 ft): Lyin' low in the Ferghana Valley, Osh doesn't get as cold as its mountainous counterparts in winter. You can expect temperatures around 5°C/40°F during the day and -5°C/23°F at night.
Way up in the mountains: I assume if you're trekking/ski touring in Kyrgyzstan in winter, you understand that mountains can get really freakin' cold. Prepare yourself for temperatures of -20°C/-4°F or lower; you never know what the mountains will throw at you next.
What should I pack for winter travel in Kyrgyzstan?
Packing properly is more important in winter than any other season! Though Kyrgyzstan's cities have a variety of gear on offer in case you forget something or want to rent, it's easiest to bring your own equipment where possible.
Here are some packing essentials for visiting Kyrgyzstan in winter:
Best travel insurance for Kyrgyzstan
Travel insurance is always a good idea… especially when you're hanging out in crazy deep snow in remote, avalanche-prone mountains a very long car ride away from adequate health care.
While traveling and skiing in Kyrgyzstan, I used World Nomads travel insurance with an add-on for skiing/ski touring. They covered all of my activities, including my phone when it was eaten by the snow during a particularly powdery fall.
Get a quote from World Nomads here
How to get around Kyrgyzstan in winter
No need for dog sleds and horse sleighs (unless you really want to). There are plenty of transportation options during winter in Kyrgyzstan.
Marshrutka minibuses run standard routes throughout the winter, unless a road is totally snowed in. Like much of Central Asia, most drivers can get anywhere with enough determination. Or think they can, anyway.
Taxis are available in cities and towns. You can either find drivers to negotiate with on the street, or arrange taxis through your accommodation.
Hitchhiking is common practice among locals. You'll still see plenty of people hitching rides on the roadside in winter. However, know it's common for locals to pay some money when they get a ride; cars are more like shared taxis in that sense.
Flights between Bishkek and Osh run throughout the winter, and aren't too susceptible to weather delays.
Private drivers or group tours are a great way to get to ski bases and other more remote locations in Kyrgyzstan. The Trekking Union of Kyrgyzstan (TUK) offers affordable group trips for locals and foreigners to ski bases around the country. Community Based Tourism (CBT) offices in Bishkek and Karakol can help you arrange transportation to virtually anywhere in the country.
Can you drive from Bishkek to Osh in winter?
The road from Bishkek to Osh is open in winters. It may occasionally due to avalanches, weather-related delays are possible (pack snacks!), and it will still be slippery from snow and ice.
Tip: Be careful when finding a driver for the long ride—winter is not a time for rushing, contrary to what they might think.
Where to stay in Kyrgyzstan in winter
Finding winter accommodation in Kyrgyzstan is a bit different from summer time. Though most official hotels, homestays, and guesthouses are open in winter, yurt stays aren't as widespread.
Winter yurt stays in Kyrgyzstan
Kyrgyzstan's iconic yurts are elusive in winter. Most nomadic families pack up and move to the cities to work once winter sets in. However, some yurt camps stay open for skiers, snowboarders, and other snow-happy tourists.
If you want to find a winter yurt stay in Kyrgyzstan, reach out to CBT Kyrgyzstan or check out some of the following:
Other winter accommodation in Kyrgyzstan
Apart from yurts, homestays get my vote for best accommodation in Kyrgyzstan.
There's an impressive homestay network all across Kyrgyzstan, organized by CBT Kyrgyzstan and other local parties such as Destination Jyrgalan. If you want a truly local experience—with a healthy dose of local food and hospitality—homestays are the way to go.
Otherwise, there are many hotels and guesthouses listed on Booking.com, sometimes including homestays and yurt stays. Don't be afraid to head to Booking first when deciding where to sleep! Browse the best Kyrgyzstan accommodation on Booking.com now.
Things to do in Kyrgyzstan in winter
Though there are far less tourists in winter (good for travelers, in my opinion), there are still plenty of things to do in Kyrgyzstan in winter. A bit of snow and cold doesn't mean Kyrgyzstan screeches to a stop!
Shred pristine powder on skis or a snowboard
From ski bases to backcountry, Kyrgyzstan is heaven for skiers and boarders. Fresh snow, few people, unconventional après-ski scenes, and epic mountains of all grades and altitudes await you in Kyrgyzstan. Best of all, it's all pretty freakin' affordable compared to the rest of the world!
There are skiing opportunities for people of all skill levels across the country; head to the skiing section of this guide for more information.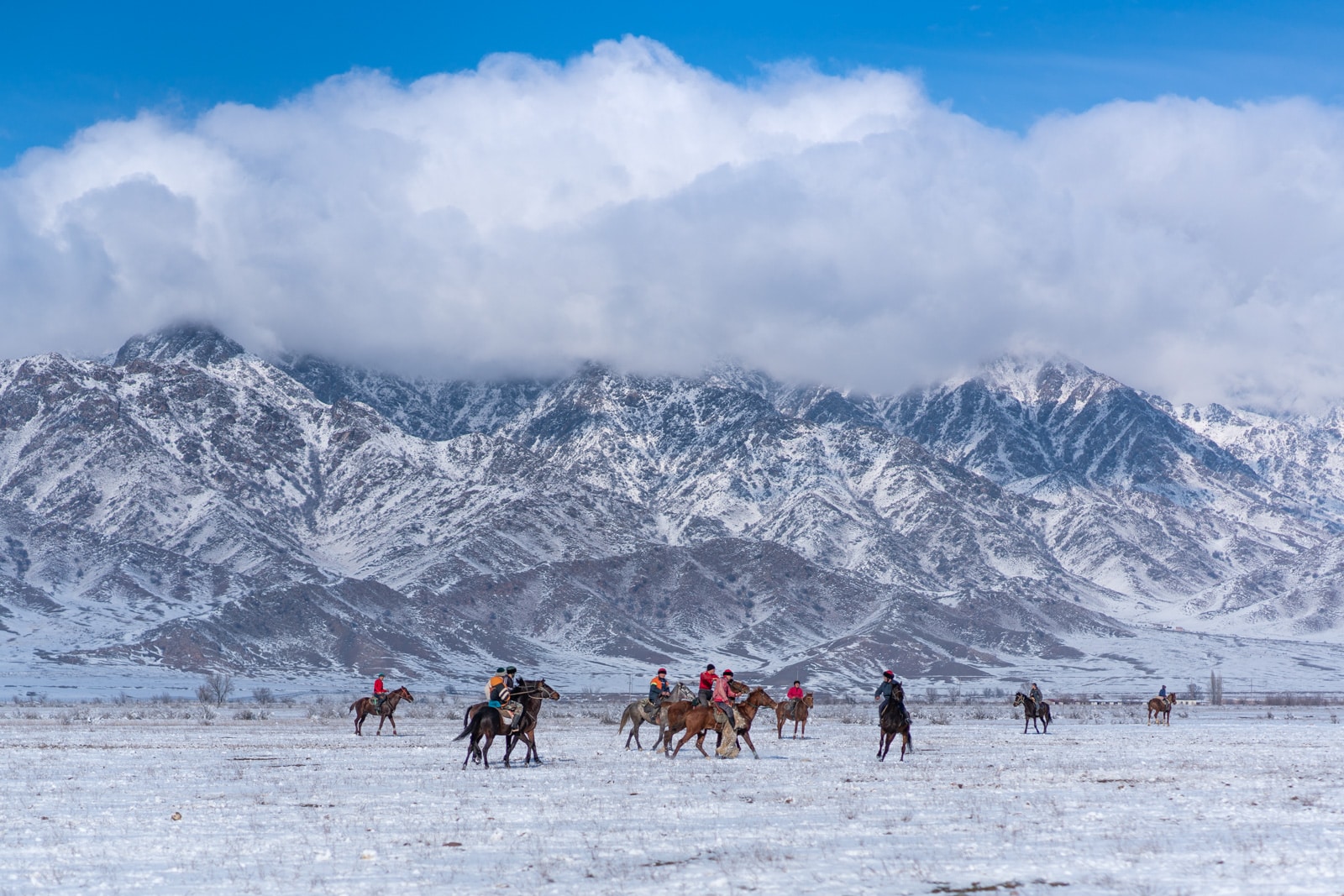 Cheer on a local kok buru team
Imagine a game of polo. Except with a headless goat carcass instead of a ball.
Yep, that's kok buru for you.
Also known as buzkashi in other Central Asian countries, the ultimate sport of nomads is most commonly played in winter months. If you see men and horses gathering in an open field, go and say hello—there's probably a game of kok buru on the way!
Don't be shy; people will be happy to teach you about the game. In our case, they even invited us to play!
Admire Kyrgyzstan from above while paragliding 
Ever dreamed of flying through snowy peaks while looking down at one of the world's largest salt lakes?
… even if you haven't, you should probably still give it a go.
Though you can go paragliding at all times of year in Kyrgyzstan—I first tried in Karakol in summer (for $18!) back in 2016—winter is a particularly epic time of year to try. Flights start higher in the mountains, at the top of Karakol ski base. At 3,000 som per person ($40) paragliding is a bit more expensive than in summer, but still a bargain compared to paragliding in other countries. Book your flight with SkyTrial here.
Explore the mountains on snowshoes or cross-country skis
Infinite trekking opportunities exist all across Kyrgyzstan. Winter is no reason to hang your boots up; why not strap some snowshoes on instead?
Snowshoes and cross-country skis are available for rent in ski shops across the country, as well as through trekking organizations like TUK (prices for snowshoes and skis listed in this PDF).
If you're looking for a place to get your snowshoeing/skiing game on, Jyrgalan is a good place to start with its myriad trekking opportunities.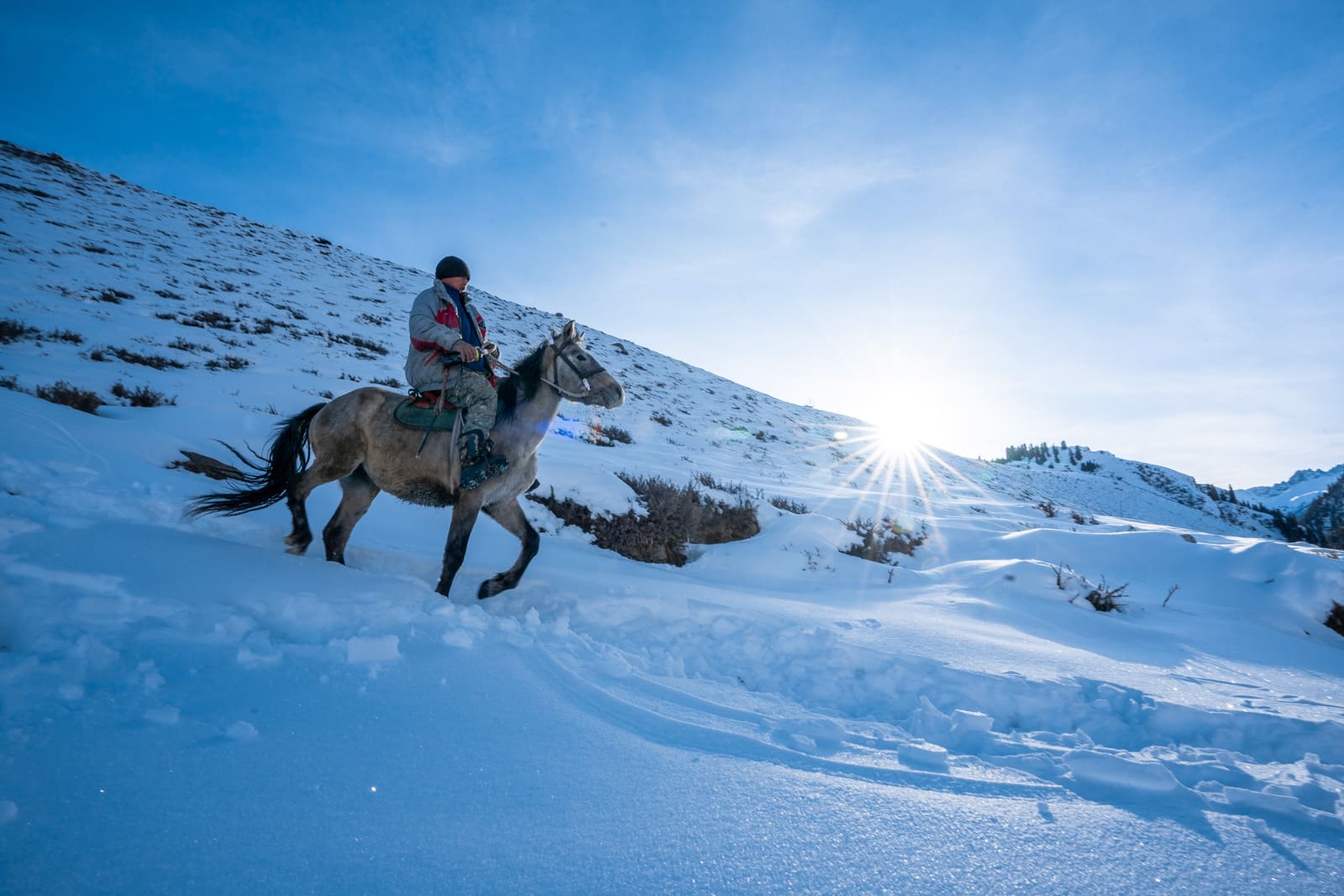 Trek through snow on horseback 
Galloping might be a bit of a physics problem in deep snow, but it's still possible to horse trek in Kyrgyzstan in winter.
Song Kul is a popular destination all year round, and a few brave souls venture out to its frozen shores on horseback every winter. Tour companies can arrange winter horse treks to Song Kul.
Surf powder on a snowmobile
If you can't ski, don't worry—you can still ride through powder on a snowmobile! I've driven/ridden snowmobiles in a few different places, but Kyrgyzstan was the first place where I got to ride through really deep snow. It was mad intense… and freakin' cool.
Jyrgalan Yurt Lodge is a good place to organize snowmobile rides, though you'll find snowmobile options anywhere there's backcountry skiing to be had.
Dive into a traditional Dungan feast
Dungan people are Muslims who migrated from what's now Northwestern China to Kyrgyzstan and other Central Asian countries more than a century ago. More than 50,000 Dungans live across Kyrgyzstan, and there's a particularly significant Dungan population in the Karakol region.
Dungan food is quite distinct from other Kyrgyz cuisine (translation: it has flavor) and Dungan feasts are a sight to behold, sure to tickle your taste buds.
If you're interested in learning a bit of history while trying a new cuisine—or just need to deviate from plov for a day—I highly recommend joining a traditional Dungan dinner in a local's home in Karakol. A cozy solution for a cold winter night!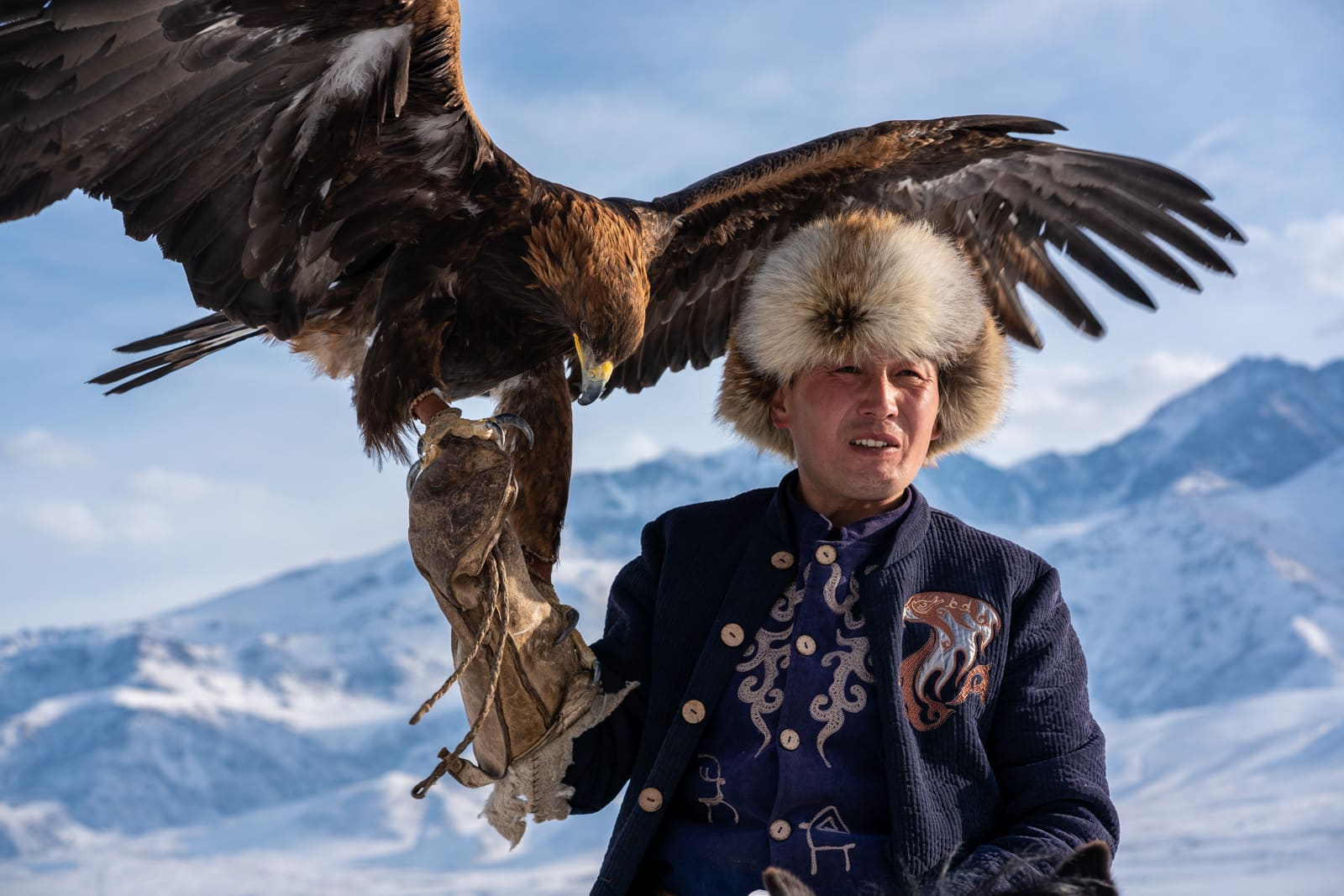 Watch eagles hunt for animals in the snow 
Salburuun is the traditional art and practice of eagle hunting found across Kyrgyzstan, Kazakhstan, and Mongolia. Hunters train wild eagles to catch animals for their meat and fur, though these days people mostly hunt for sport, not necessity.
If you want to see this tradition in action and/or want to take the Ultimate Vacation Photo with an eagle on horseback you can see eagle hunting demonstrations on the south shores of Lake Issyk Kul.
Stunning places to visit in Kyrgyzstan in winter 
Technically you can get anywhere in Kyrgyzstan with enough determination, even in winter.
However, I'm assuming the average reader isn't a die-hard mountaineer interested in multi-week ascents through meters of snow. And presumably you don't want to be stranded in the snow in a decrepit Lada for hours.
If you're looking for reasonably accessible winter adventures, here are a few places you can look into:
Burana tower
The 11th century minaret—one of Central Asia's oldest—is stunning in winter. Mountains surround Kyrgyzstan's most famous historic monument; from the top you can see snowy peaks for miles on a clear day. Combine your visit to the nearby Tokmok animal market (which still runs in winter) for a complete day trip.
How to get there: Burana tower and Tokmok from Bishkek
Ala Archa National Park
Less than an hour outside of Bishkek, Ala Archa National Park is a great option for a day hike. Even in winter!
How to get there: Adventuring to Ala Archa in the snow from Bishkek
Karakol
Kyrgyzstan's go-to trekking town transforms into a winter sport hub in colder months. Ski or board at Karakol Ski Base, Kyrgyzstan's best ski resort half an hour from town, or use Karakol as a jumping off point for venturing further to areas like Jyrgyalan and Boz Uchuk.
How to get there: Getting from Bishkek to Karakol
Jyrgalan 
A traveler favorite in Kyrgyzstan, Jyrgalan village is extra charming under a layer of snow. Closely situated to backcountry slopes suitable for all expertise levels, and filled with homestays and guesthouses (and winter yurt camps!) for travelers of any budget, Jyrgalan is a perfect—and picturesque—base for winter adventures in eastern Kyrgyzstan.
How to get there: Transportation from Karakol to Jyrgalan
Jaichy
The little village at the foot of mountains is one of the first places where locals independently stepped up to preserve their natural lands and restrict hunting. Jaichy hosts a popular yurt camp in summers, but tourists can still stay in winter. Visitors can see eagle hunting and horse games, feast on local delicacies like tash kordo (whole roasted lamb) at the homestay, or head into the mountains to visit a nearby glacier.
How to get there: Transportation around Issyk Kul's South Shore
Jety Oguz
Bang up next to red stone cliffs nicknamed the "Seven Bulls", this village is easily accessed from Karakol by public transport or marshrutka. Sunrise sets the bulls ablaze, and you can do day treks around the village to admire red rocks and snowy 'scapes.
How to get there: Quick guide to Jeti Oguz
Arslanbob 
The lower valleys of western Kyrgyzstan are warmer and milder in winter than the eastern mountains. Arslanbob is a comfortable place to visit at any time of year, but it's particularly notable in winter as its many homestays are still open to visitors during this time. Ski touring from Arslanbob is also possible.
How to get there: Getting to Arslanbob from Osh
Song Kul 
Yep, it is possible to visit Song Kul lake in winter, though it will be a drastically different experience from summer! Song Kul freezes in winter, and most yurt camps are dismantled. One yurt camp does remain year-round, and many fishermen flock to Song Kul for ice fishing in colder months, staying in small cabins near the lake.
How to get there: Hiking to Song Kul in winter
Skazka Canyon (Fairytale Canyon)
A highlight of Lake Issyk Kul's south shores, this trippy canyon is the perfect place to scramble about some surreal rock formations covered in snow. It's a popular day trip in summer, but winter weather means you might have the place to yourself.
How to get there: Transportation around Issyk Kul's South Shore
Skiing and snowboarding in Kyrgyzstan
Winter sports are one of the main reasons to travel in Kyrgyzstan in winter—who doesn't like crazy beautiful and affordable skiing and boarding?—but even if you're no pro, you should consider adding a few days of shredding to your Kyrgyzstan winter itinerary.
What to expect when skiing in Kyrgyzstan
Ain't nobody been thinking about skiing in Kyrgyzstan, I know. You're forgiven for wondering what to expect when skiing in Kyrgyzstan—I sure as hell had no idea before I rocked up there!
Snow conditions
Snow-wise, Kyrgyzstan is dreamy. Its extreme continental climate (translation: landlocked and far from seas) means a whole lotta light and fluffy powder snow. Since so few people visit Kyrgyzstan in winter you won't have to compete for fresh snow often… if ever. Climate change is the only real threat to your powder trails.
Ski resorts (ski bases) in Kyrgyzstan
Naturally, you shouldn't expect Swiss-style development and infrastructure in Kyrgyzstan (or anywhere else in the world except Switzerland, for that matter).
However, Kyrgyzstan's ski scene is more developed than you might expect. Resorts are simple, but all the ones listed below offer several lifts, rental options, cafes or restaurants, and grooming. Instructors are available, though some might only speak Kyrgyz and Russian.
Safety and avalanche risks
Avalanche control in Kyrgyzstan is… well, sort of a thing in resorts, though not as advanced as other parts of the world.
If you're going skiing in the backcountry, you must either have avalanche safety knowledge and gear or be accompanied by a guide who can educate you and provide safety gear. Avalanches are a huge risk in Kyrgyzstan, especially given warming winter weather. The backcountry is serious business; don't be stupid, be safe.
Travel insurance for skiing and snowboarding in Kyrgyzstan
Travel insurance is always important, but it's extra ideal when you're hurtling down avalanche-prone mountains at high speeds in the middle of nowhere with limited access to quality health care. Just sayin'.
While traveling and skiing in Kyrgyzstan, I used World Nomads travel insurance with an add-on for skiing/ski touring. They covered all of the skiing both on- and off-piste that I did in Kyrgyzstan, and even covered me when I lost my phone during one of my more powdery tumbles. Easy squeezy; do recommend.
Get a quote from World Nomads here
How much it costs to go skiing in Kyrgyzstan
Skiing in Kyrgyzstan is, in general, pretty damned affordable.
Relative to other parts of the world, anyway. How much you have to spend depends on your skill level—obviously a heli skiing sesh deep in the Tien Shan mountains is going to cost a biiit more than a beginner lesson near Bishkek—but here are some average prices to give you an idea of how much skiing in Kyrgyzstan costs.
Lift pass: 800-1,200 som/US$12-17 for a full-day adult pass at a ski base
Ski or snowboard rental (full set): 500-1,000 som/$7-15 per day, depending on quality
Helmet rental: 200 som/$3 per day
Taxi to ski base: 1,000-1,500 som/$15-20 for full-day round trip
Private ski lessons:

1,000 som/$15 for one hour
4,000 som for full-day

Snow cat rental: 30,000 som/$420 for a full day for entire machine + driver
Snowmobile rental: 6,000 som/$80 per person for a full day
Backcountry ski guide: 10,000 som/$150 per day
Gear and ski/snowboard rental in Kyrgyzstan
No one likes traveling with big bags, let alone bulky suitcases and ski bags that feel like they're filled with rocks.
Luckily, you might not have to.
If you don't have your own ski gear—or don't feel like lugging your own gear halfway across the world—it's possible to rent everything the average skier needs in Kyrgyzstan. Even winter coats and snow pants.
Coats, snow pants, goggles, and helmets can all be rented in Bishkek at places like Gerget Sport. Many gear rental outlets outside of Bishkek have a few helmets and goggles.
Complete downhill ski or snowboard sets (skis/board, boots, poles if necessary) are available for rent both in Bishkek and Karakol and at larger ski bases. Karakol ski base has good equipment on offer. If heading to a less developed ski resort, it's probably a better idea to rent your gear in the nearest city and bring it yourself.
Backcountry ski gear (powder skis with ski touring bindings, boots, backpacks, avalanche gear, skins, etc.) is available for rent in select outlets, notably Extreme + Tour in Karakol (Google Maps). The owners of Extreme Sport are a bit surly—they're notorious for adjusting prices on a whim—but their gear is good, their offering comprehensive. Here's a loose price list for Extreme Sport to help in your negotiations.
Splitboards are harder to come by. Snowboarders: BYO. Extreme Sport has the only rental splitboard in all of Karakol (and possibly Kyrgyzstan). When asked how much it costs to rent the stern Russian woman's only response was: "Expensive."
Best places for skiing and snowboarding in Kyrgyzstan
First timers: ZIL 
ZIL ski pass price: 800/1200 som (adult week/weekend), 500/700 som (under 12 week/weekend)
Opening hours: 10:00 – 16:00
Website: http://zil.kg/
How to get there: Drive or taxi from Bishkek, TUK trip
If you've never set foot in ski before and want an easy accessible place to learn to ski for cheap, ZIL is one of the closest bases to Bishkek with all the basic amenities you'll need: lifts, rental, guesthouses, food, sledding hill for when you give up on skiing. Because it's so close to the capital it can get busy with locals on weekends; watch out for other beginners still learning how to stop!
Beginner: Chunkurchak 
Chunkurchak ski pass price: 1,200 som (adult), 800 som (under 12)
Opening hours: 9:00 – 16:00
Website: http://www.chunkurchak.kg/ (Russian)
How to get there: Drive or taxi (500 som) from Bishkek, TUK trip
A bit higher into the mountains, Chunkurchak has better views and, in my opinion, more forgiving runs for beginners than ZIL. The slopes are wide open, with space for people of all skill levels to enjoy the runs and/or barrel out of control down the mountain (with a flat enough bottom to slow most to a stop).
Intermediate: Karakol
Karakol ski pass price: 1,200 som (adult), 700 som (under 12)
Opening hours: 9:00 – 16:30
How to get there: Taxi from Karakol town (1,000-1,500 som round trip), TUK trip
Though Kyrgyzstan's best ski resort has runs suitable for beginners to experts, I think intermediate skiers will have the most fun at Karakol. I was impressed by the length of the runs and numerous off-piste skiing areas, but beginners might struggle to ski anything beyond the bunny hill.
If you're still wobbly on skis, Karakol has plenty of other things to do. Non-skiers can get passes to ride the chairlift to the top of the mountain to bask in some epic views (many people do). Craving an adrenaline rush? You can paraglide down instead of riding the lift!
Intermediate to expert (backcountry): Jyrgalan
Get up the mountain: Ski touring, snowmobile, snow cat
How to get there: Taxi or marshrutka 331 from Karakol
Ample homestays, information sources, and options for getting up the mountain make scenic Jyrgalan one of the most tourist-friendly backcountry ski destinations in Kyrgyzstan. There are grades for every kind of skier in the hills and mountains around the area, and experienced skiers and boarders can safely ski many of the areas without needing a guide.
Expert (backcountry): Boz Uchuk
Get up the mountain: Ski touring
How to get there: Taxi to base, 3-4 hour ski tour to Boz Uchuk yurt camp
With its skiing yurt camp hidden in a narrow gorge eventually opening up into a wide mountainous valley, Boz Uchuk is the perfect example of Kyrgyzstan's backcountry potential. You can skin up the mountains all around the area, float down through fields of untouched powder, then cozy up in a yurt once your legs are done for the day. A guide is necessary to ski in this area.
Expert (backcountry, heli skiing): Suusamyr Valley
Suusamyr Valley is high in the mountains (think 2,000m base and higher for skiing) to the southwest of Bishkek. The offbeat valley is a common destination for those interested in heli skiing in Kyrgyzstan. Powder is light and fluffy throughout the season, and both snow cats and helicopters are available to get you to the best lines. Paragliding is also an option. If you're trying to cater to a variety of skier abilities, Suusamyr also has its own ski resort, Too Ashuu.
Backcountry ski guides in Kyrgyzstan
Local ski guides are highly recommended when free riding in Kyrgyzstan. They know the lay of the land better than anyone else, and are more aware of potential avalanche risks. Most guides speak Russian at the very least, and many speak English, too.
Where to find freeride ski guides in Kyrgyzstan
If you want to hire a ski guide in Kyrgyzstan, you can either reach out to one through organizations like CBT Karakol or Destination Jyrgalan, or look on websites like Maty Planet to find freelance backcountry ski guides. Ski rental shops such as Extreme + Tour can also connect you with guides.
Travel agencies and travel planning help in Kyrgyzstan
When planning a trip to Kyrgyzstan, you'll probably need to reach out to local agencies at some point. They can help you with everything from booking guides and horses in remote areas, finding homestays or home cooked meals, or organizing transportation and trekking to hard-to-reach places.
While planning you trip to Kyrgyzstan I recommend reaching out to some of these organizations:
CBT Kyrgyzstan
Community Based Tourism Kyrgyzstan (CBT) is the go-to for travel help in Kyrgyzstan. The CBT network spans the entire country, and they help organize everything from homestays to trekking guides. Though their monopoly on tourism doesn't always benefit communities as much as the name might imply—and they're more costly than organizing things yourself—there's no denying their usefulness and access to resources.
There are regional CBT offices around the country; CBT Bishkek and Karakol are likely to be the most helpful.
TUK
The Trekking Union of Kyrgyzstan organizes trips for both locals and foreigners all around the country. In winter they organize buses to popular ski bases on weekends. If you're in need of camping or skiing gear—tents, camping stoves, sleeping bags, snowshoes, etc.—they also rent equipment for reasonable prices.
Destination Karakol
Karakol's tourism office can help with coordinating anything and everything from backcountry skiing to yurt stays in the eastern region.
Caravanistan
The ultimate Central Asia travel resource needs a mention! Caravanistan is the go-to for all things travel in the region, and is a gold mine of information on Kyrgyzstan. Don't miss their Kyrgyzstan forum if you have any questions. They also can connect you with tried and tested tours and guides.
A few more things to know about (winter) travel in Kyrgyzstan 
Some last tasty tidbits to know before you jet off to Kyrgyzstan!
Language in Kyrgyzstan
Kyrgyz is one of two national languages in Kyrgyzstan. It's written using the Cyrillic alphabet (the Russian one) plus a few extra letters. Learning a few basic Kyrgyz phrases is a nice gesture.
Russian, the second national language, is also widely spoken throughout Kyrgyzstan. It's the capital's primary language, and most people around the country speak at least basic Russian.
As far as traveler-friendly language choices go, Russian is the most useful language for travel in Kyrgyzstan. Before you go, I recommend at least learning some of the Cyrillic alphabet and a few basic Russian phrases through apps like Duolingo. If you want to go beyond basics, I use and highly recommend Pimsleur audio lessons.
Alcohol in Kyrgyzstan
Yes, it's worth mentioning that you can have alcohol in Kyrgyzstan.
Despite being a Muslim-majority country, alcohol is widely available and commonly consumed. You'll find everything from beer (okay) to wine (sometimes passable) to liquor (not bad) all over Kyrgyzstan.
Mobile connectivity and SIM cards in Kyrgyzstan
It's surprisingly easy (and cheap) to stay connected in Kyrgyzstan. While traveling, I used a Megafon SIM card and had good 4G data connection in most mountainous places around Bishkek and the Karakol/Issyk Kul area.
You can buy Megafon SIM cards in mobile shops all around the cities. Bring a copy of your passport. The SIM card costs around 200 som (less than US$3). Data is affordable: 8GB of data is 350 som (about $5). Data top ups can be purchased from small shops everywhere; look for mobile operator ads.
Here's more information on prepaid SIM cards in Kyrgyzstan.
More blog posts about Kyrgyzstan
Deffo heading to Kyrgyzstan? Good on ya, maybe I'll see you there! In the meantime, don't miss my other blog posts on the country:
Have more questions about traveling Kyrygzstan in winter? Ask me in the comments and I'll do my best to answer.
Yay transparency! My trip to Kyrgyzstan was sponsored and they asked me to put this really long and rather dry disclaimer at the end of my posts. Don't worry, all of my rambling and tips and photos are totally my own and I'd never steer a reader wrong (not on purpose, anyway). There are also affiliate links in this blog, which means if you buy something using those links, I'll make a bit of change at no extra cost to you. Now, onto the fun part: 
This blog is made possible by the Sustainable Winter Tourism Development Project financed by the Government of Switzerland through the State Secretariat for Economic Affairs (SECO) and implemented by Helvetas Kyrgyzstan as well as by the support of the American People through the United States Agency for International Development (USAID) Competitiveness, Trade, and Jobs Activity in Central Asia. The contents of this publication are the sole responsibility of Lost With Purpose (that's me!) and do not necessarily reflect the views of the Government of Switzerland and Helvetas Swiss Intercooperation or USAID and the United States Government.