I used the Kazakhstan – Kyrgyzstan border crossing at Kordai to get from Almaty to Bishkek. Here's my report of the crossing, including transport times, prices, and places to stay on either side of the border.
Kyrgyzstan is quickly becoming Central Asia's most popular destination, and southern Kazakhstan is a gorgeous bit of country well worth traveling. But is it easy to travel between Kyrgyzstan and Kazakhstan?
Travelers rejoice: yes, yes it is! Traveling overland in Central Asia is becoming increasingly easy with each passing year, and the Kazakhstan-Kyrgyzstan border crossing at Kordai is a good indication of how smooth Central Asia travel can be. Coming from Almaty to Bishkek, or visa versa, this overland border crossing is very straightforward and doable with public transportation.
Almaty, Kazakhstan to the border
The journey begins at Almaty's Sayran bus station. To get there from the superbly budget-friendly Amigo Hostel, I took a taxi for 300 tenge.
Regular marshrutky from Almaty to Bishkek leave from Sayran between 6 and 11 in the morning. The minibuses depart every half hour, or when full. A ticket costs 1,500 tenge per person, and there's no need to buy one ahead of time–just show up when you're ready to go. The ride to the border takes about four hours, including a stop or two for snacks and toilet.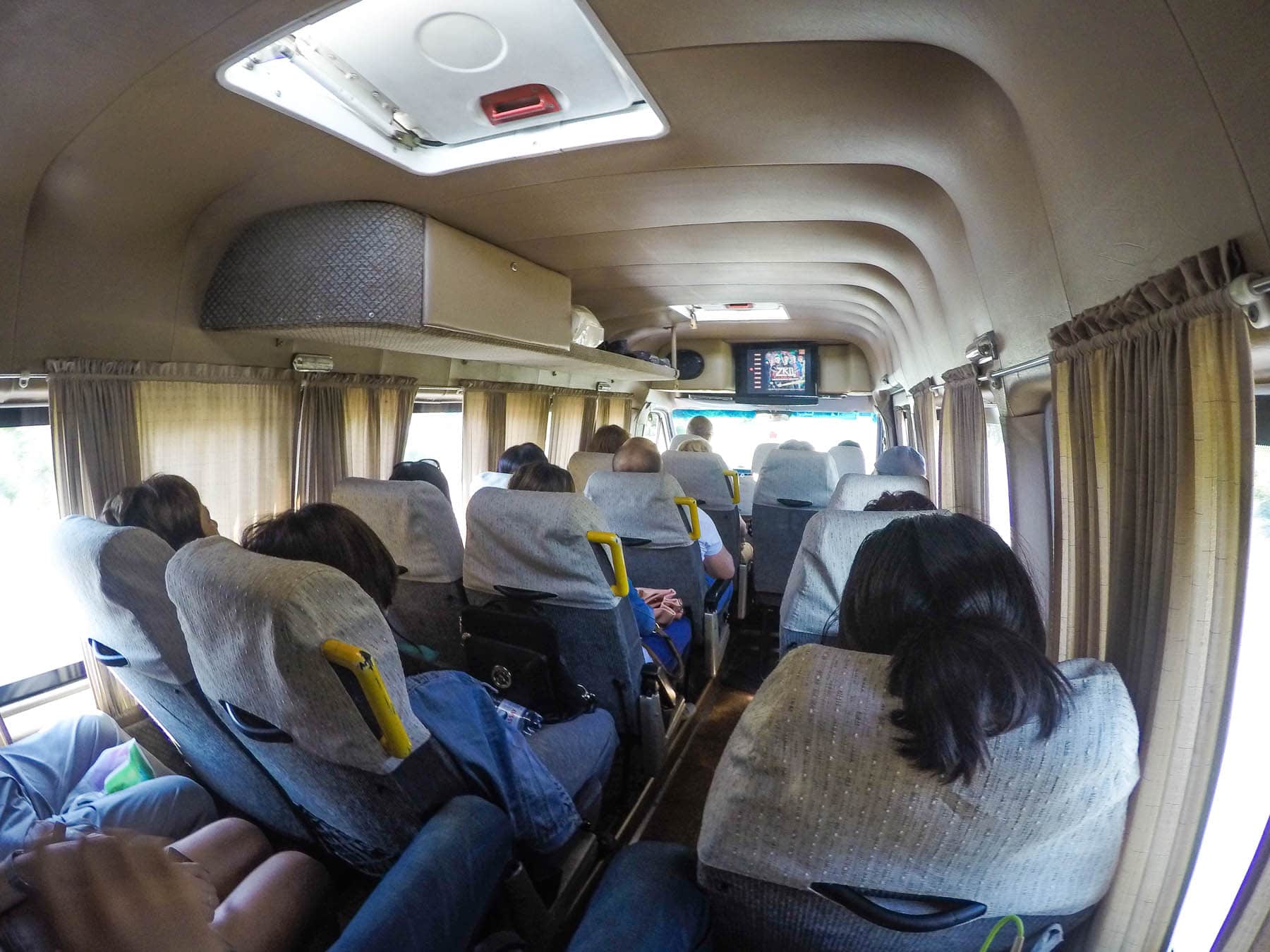 The overland Kazakhstan – Kyrgyzstan border crossing at Kordai
This border is open 24/7, though is reportedly busier in the evenings.
Immigration services at the border go smoothly, but timing depends on how busy it is. It took me about half an hour to actually cross the border. On the Kazakh side there are no forms to be filled out, no departure fees, and no questions are asked. On the Kyrgyz side your passport will be taken into a side room to be stamped, which takes only five minutes.
Once you've crossed the border, you'll have to wait for your marshrutka, so make sure to remember the license plate number. Many people only take the marshrutka to the border, so following your fellow passengers might not be helpful. I spent many a panicked minute frantically searching for fellow passengers and/or the marshrutka, only to have it roll through customs half an hour later.
Heading to Kyrgyzstan? Check out my Kyrgyzstan backpacking budget report!
If you don't have further transportation, there are several local marshrutky and a million and one taxi drivers waiting around at the border. A taxi to the center of Bishkek shouldn't cost more than 300 som.
Changing money at the Kazakhstan-Kyrgyzstan border crossing
There's a small money exchange booth with reasonable tenge-som spreads. One tenge got 0.19 som at the time of writing. Spreads in the city are a bit better though, so if you have a lot of money to change, it's better to do it there.
Arriving in Bishkek, Kyrgyzstan
After a short 20 minute ride, the marshrutka from Almaty drops you off at the western bus station (Zapadny Avtovokzal or Западный Автовокзал).
To save yourself a bit of effort, I recommend and stayed at Apple Hostel, only a three minute walk away from the station. Owned by a friend and the queen of Kyrgyzstan tourism, Aigul, it's reasonably priced, the staff are all incredibly friendly and knowledgeable, and the western bus station makes for a convenient landmark when navigating Bishkek's marshrutka network.
Things to do in Kyrgyzstan
You've taken your first steps into Kyrgyzstan, and the question is… now what?
From the towering Tian Shan mountains to the fertile Ferghana Valley in the west, there are all kinds of things to do in Kyrgyzstan for every traveler. Here are some more of my blog posts on Kyrgyzstan to aid and inspire you on your next nomadic adventure!
Annnd there you have it, a quick guide on the Kazakhstan-Kyrgyzstan border crossing and getting from Almaty to Bishkek. Let me know in the comments if anything changes or I forgot anything!