A two week photo itinerary for travel in Kazakhstan. Perfect for those taking advantage of Kazakhstan's two week visa-free travel allowance.
Ask someone about Kazakhstan, and 9 times out of 10 their response will be "Borat". Images of a village with poor farmers, incestuous families, and no running water make Kazakhstan seem like the backwaters of the world.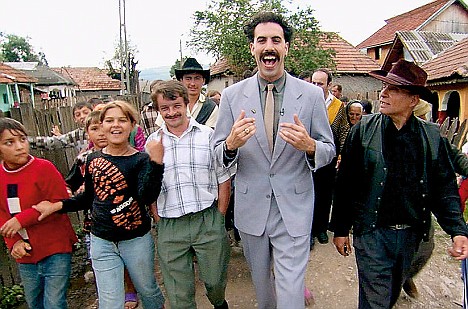 Little do people know that this village wasn't even in Kazakhstan (Romania, actually), and that Kazakhstan is the richest and most modern country in Central Asia. And there are many more interesting facts about Kazakhstan, too. Though far from topping the bucket lists of the masses, Kazakhstan is seeing an increase of tourism, especially thanks to their new one month visa-free travel program for many citizens of the EU and OECD countries.
One month visa-free countries: United Kingdom, United States, Ireland, Iceland, Australia, Austria, Belgium, Bulgaria, Canada, Chile, Croatia, Cyprus, Czech Republic, Denmark, Estonia, Finland, France, Germany, Greece, Hungary, Israel, Italy, Japan, Latvia, Lithuania, Luxembourg, Malaysia, Malta, Mexico, Monaco, Netherlands, New Zealand, Norway, Poland, Portugal, Romania, Singapore, Slovak Republic, Slovenia, Spain, Sweden, Switzerland, Turkey, South Korea, United Arab Emirates
Two weeks is hardly enough for such a massive country, but the Almaty region of southern Kazakhstan has more than enough to see to keep you busy for two weeks.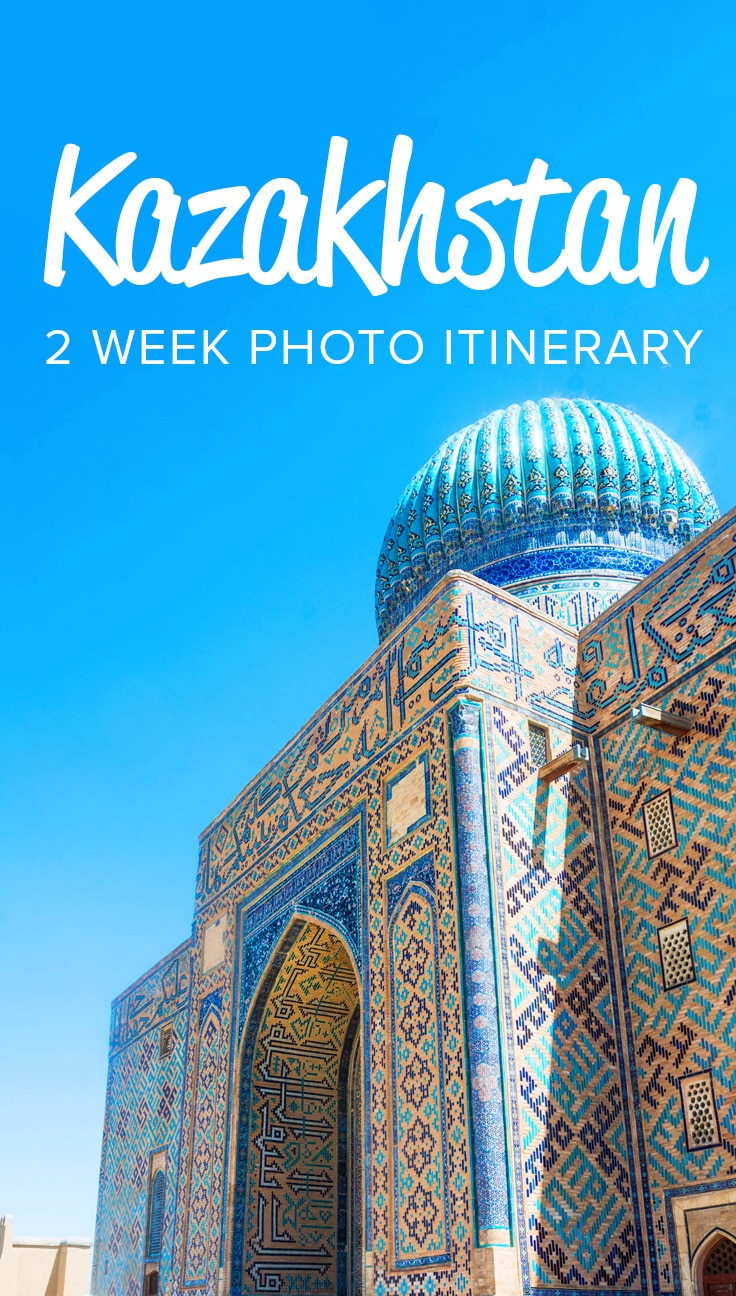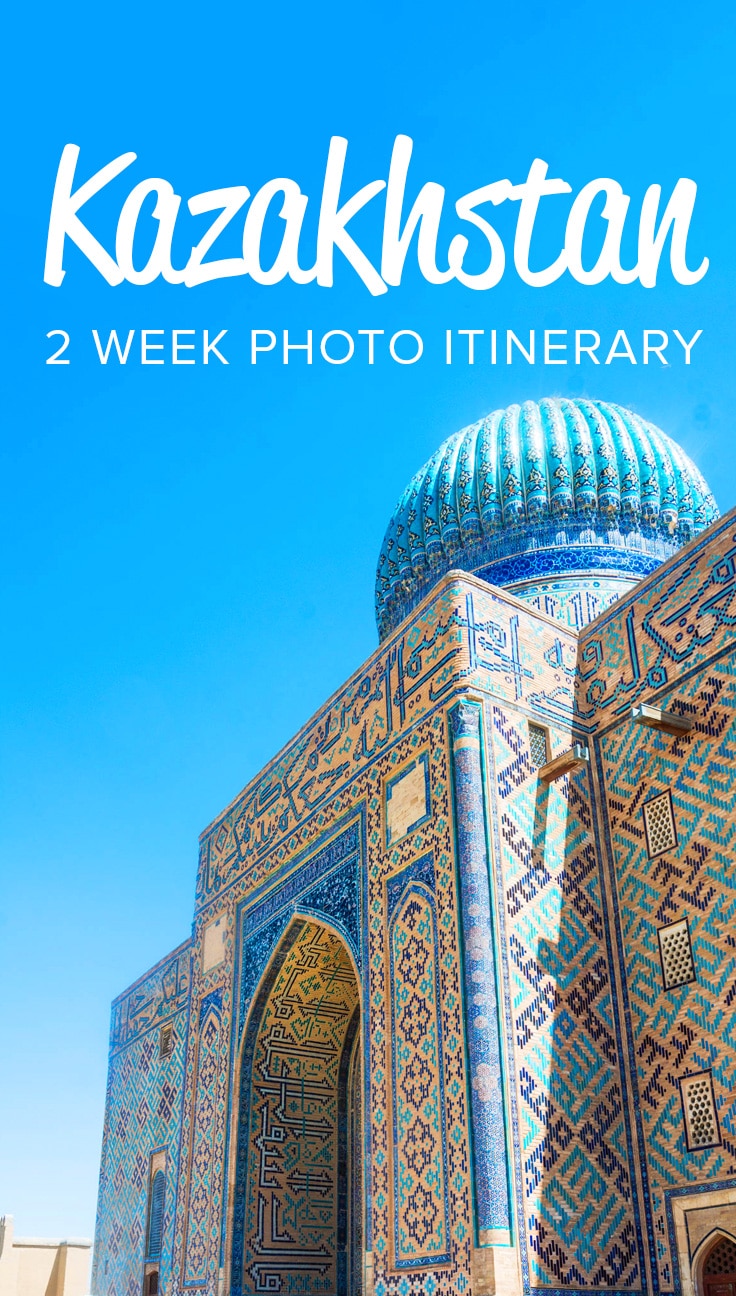 Two week photo itinerary for Kazakhstan
Days 1-4: Almaty
Although not Kazakhstan's capital, it has a cosmopolitan feel to it. Well-heeled urbanites live it up in swanky restaurants and nightclubs that put renowned European staples to shame, while remnants of Soviet-style heroics loom large in its many lush public parks.
The shiny new skyscrapers, modern metro system, and hip bars and restaurants give Almaty a chic, almost European ambiance. Walk around in the city center, and stop for lunch and a drink at one of the many cafes on the streets. Give your body some rest to digest, and spend an hour or two people watching while sipping coffee.
Of course, Almaty still holds to old Silk Route traditions. There are several bazaars, of which the Green Bazaar is the biggest and most stimulating on the senses. Head over there for endless rows of fruits, salads, meats, and cheeses, and don't forget to look up for small cafes with cheap and cheerful Kazakh cuisine. For those that have spent a lot of time traveling through strict Muslim countries, you can even find some good old fashioned bacon in the depths of the bazaar.
Also heading to Astana? Check out these 6 things to do in Astana!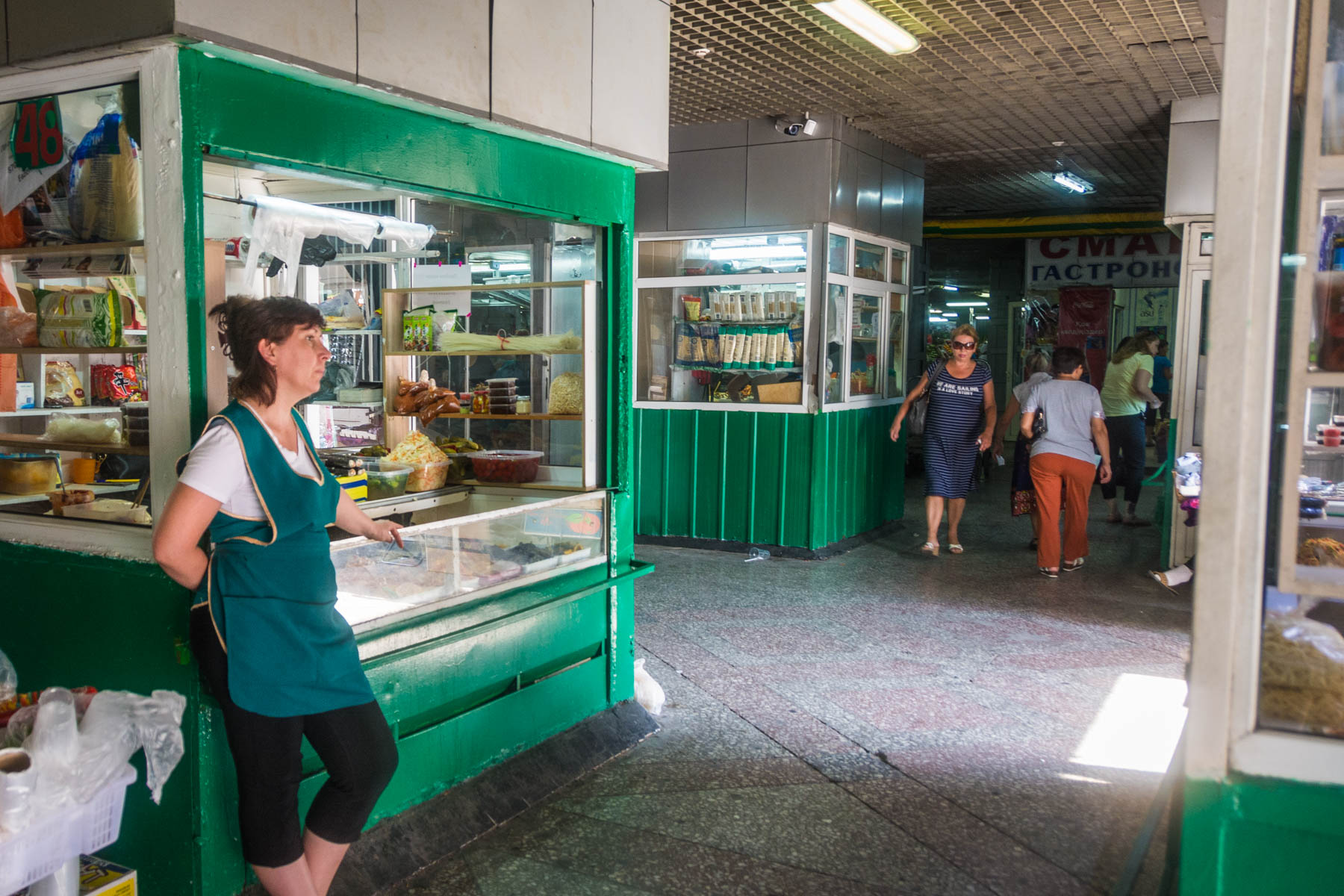 Don't forget to pay a visit to the technicolored wooden Zenkov or Ascension Cathedral in the heart of Paniflov park. Every single component of it is made of wood–even the nails! It's free to enter, so long as you're in somewhat modest clothes.
Be sure take a cable car ride up to Kok Tobe, the highest point in Almaty, to watch the sunset. The cable car leaves from a building to the right of the Palace of the Republic, and costs 2,000 tenge for a two-way ticket.
Once you've had your fill of the city life, take a day to head to the outskirts of the city and take in some of the nearby nature. To start, take a bus or taxi to Medeu, the highest ice skating rink in the world.
There are plenty of trails up, down, and around the surrounding mountains that start around Medeu. The Lonely Planet for Central Asia has a good description of a route through the mountains with hardly any people.
Watch out for curious critters along the way.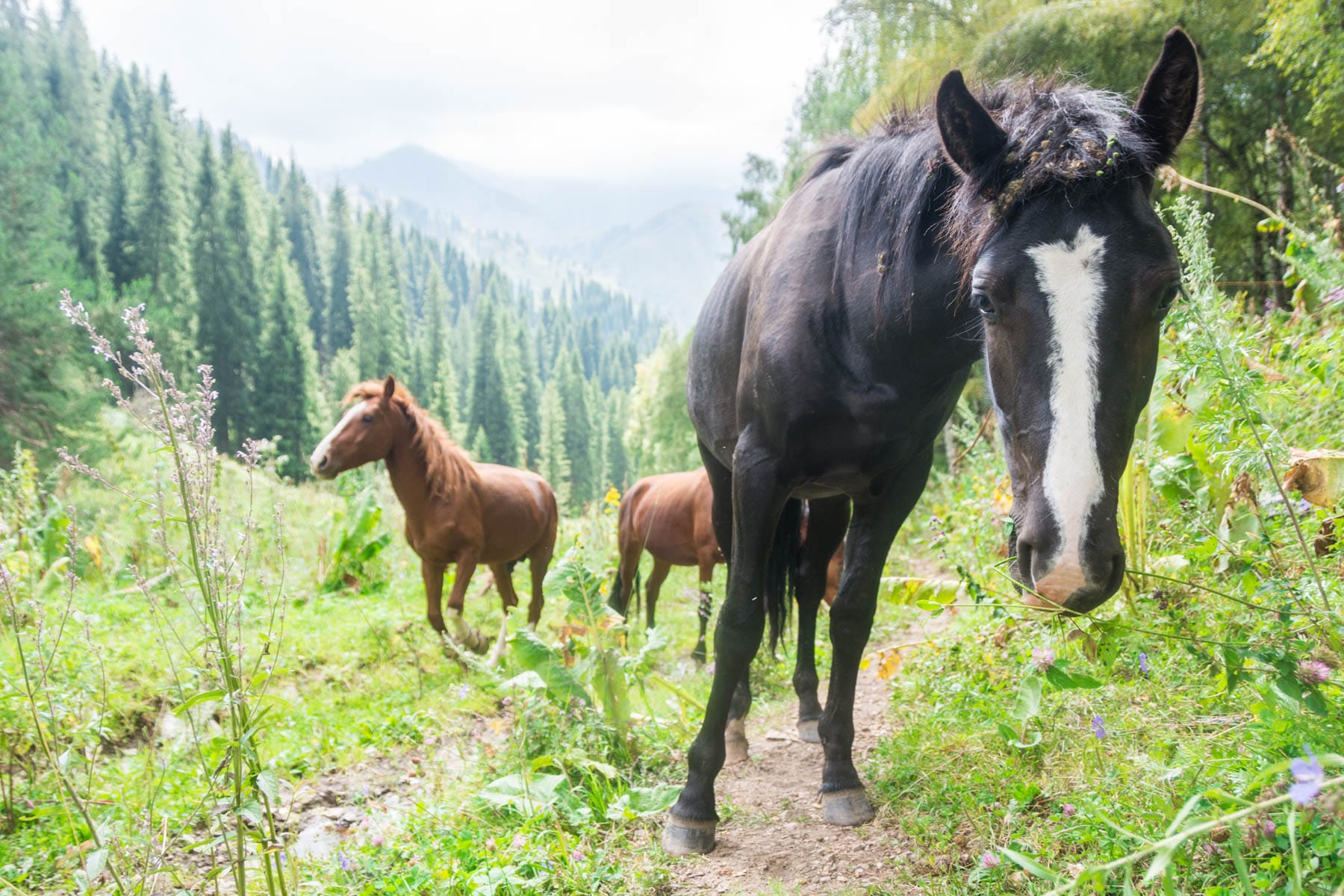 Where to stay in Almaty:
Want to see more of Almaty? Check out this walking tour covering some if its absolute highlights!
Days 5-7: Kolsai National Park
If natural beauty is your thing, but time is short, look no further than the gorgeous alpine lakes of Kolsai National Park, where azure blue water reflects snow-capped mountain tops and dense pine forests. The park is famous for its three lakes, although the third lake can't be visited without permission due to its close proximity to the Kyrgyz border.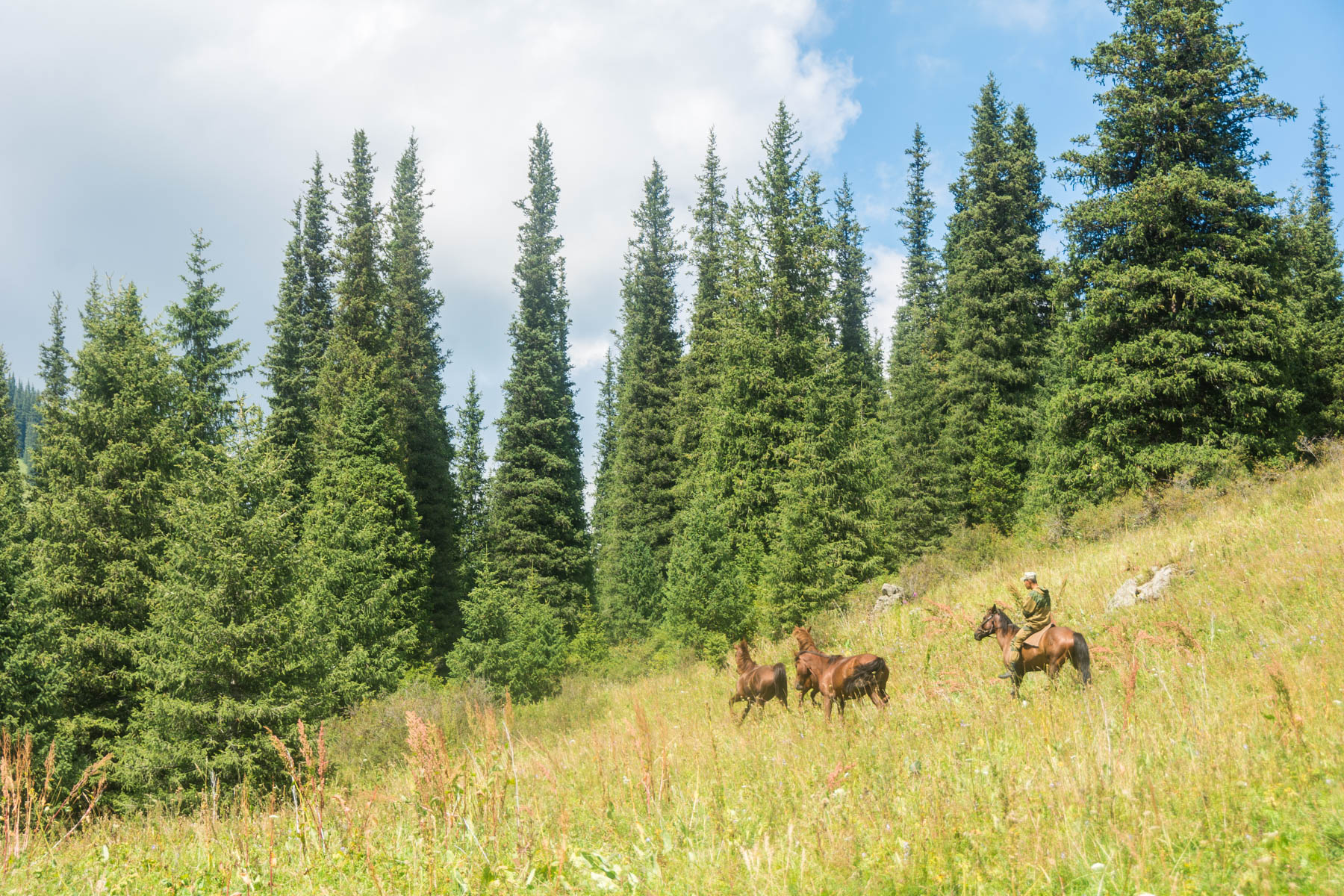 It's 712 tenge per person to enter Kolsai National Park–more if you're setting up your own tent. There's no way for the gatekeeper to verify that you're camping, though, so just say you'll be staying in a yurt.
Kolsai park can be reached from Almaty in a day, and doesn't require your own transport or overly expensive tour operators to get to. Saty (Саты), the closest town, offers several homestays, and is also a jumping-off point for Kaindy, another famous alpine lake.
Though the hike to the second lake can be done in one day, we recommend you take a bit more time for Kolsai. You can sleep in a yurt by the first lake or, for the die hards among us, trek to the second lake and camp in your own tent there.
Classic yurt stays and jolly, vodka-shotting local tourists only add the the charm, even though their gifts of kumis, sour alcoholic horse milk, and kurt, equally sour salty cheese snacks, might be a bit of an acquired taste.
All in all, the park was our favorite stop during our Kazakh voyage.
Where to stay and how to get to Kolsai: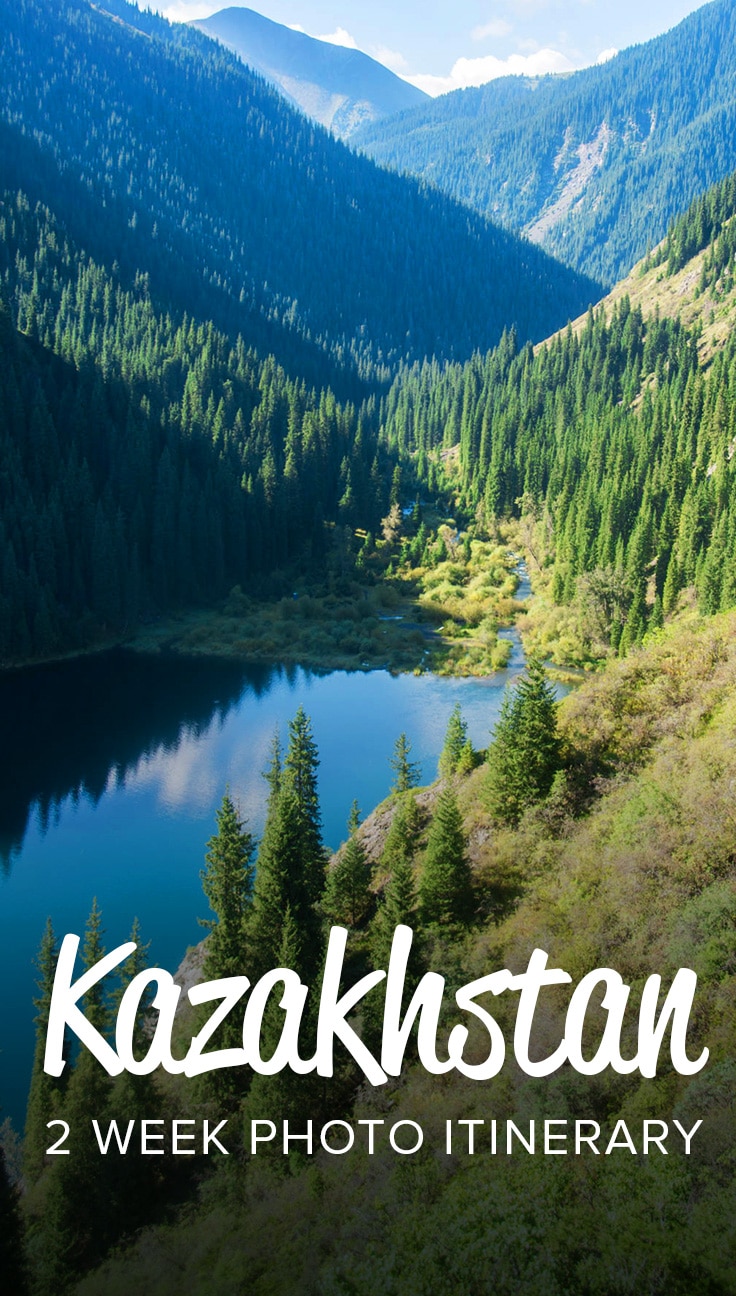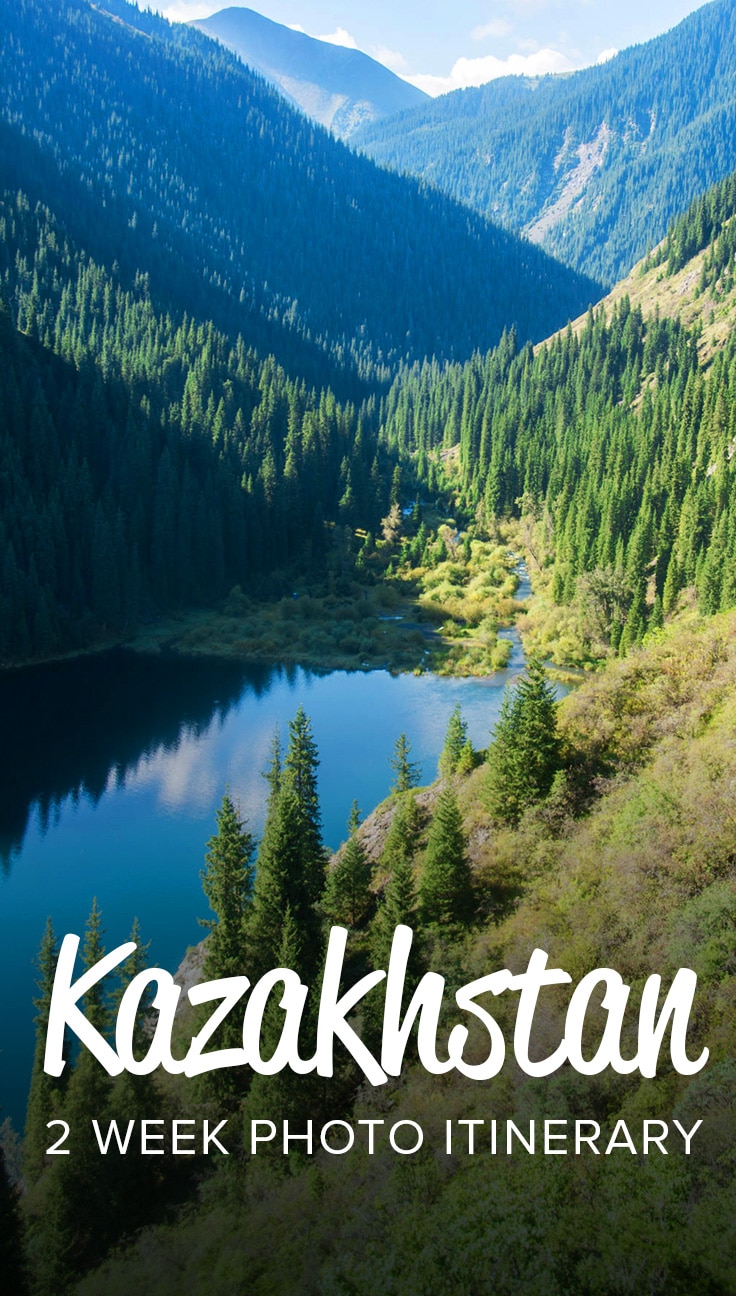 Day 8-9: Charyn Canyon
Alas! We didn't have time to visit Charyn Canyon, as we had a bit of a delay in Almaty. But, that doesn't mean you should skip it! The turn-off for Charyn is close to the turn-off for Kolsai, so it makes for a great stop on your trip back to Almaty from Kolsai.
You can easily hitch or take a taxi to the entrance, and spend a day and star-filled night amongst the rocks. Don't forget to bring water–it can be quite hot during the day!
Caravanistan has more information about visiting Charyn Canyon.

Day 10-11: Shykment
Return to Almaty from Kolsai, and then take the long westward train to Shymkent.
This bustling city, with some of the friendliest and jolliest bazaaris we've met so far, is a great stepping stone for exploring this region.
We walked through the bazaar's maze, surrounded by throngs of shoppers and local shopkeepers. Some were bold and curious, coming over to investigate using a mixture of basic English and fluent Russian, while others were more subtle. America, you could hear floating through the alleyways. Gollandiya, the whispers said. We were clearly the attraction of the day.
Kazakhstan doesn't get as many tourists as neighboring Kyrgyzstan, and it shows in the people. Jolly and curious, language barriers mean nothing to them, and the strict social norms adhered to in other Muslim majority regions do not apply here. Sebastiaan was offered two daughters in marriage, while Alex, the American celebrity, was peppered with questions despite being half naked in a changing room.
Where to stay in Shymkent:
Day 12: Day trip from Shymkent to Aksu river
Unfortunately you need a car to reach the natural attractions near Shymkent… which we didn't have. Taxis were also out of our budget, so we did something very uncharacteristic: we joined a tour!
Comprised of cackling local women and tour guides who must have been part of the Gestapo in a previous life, the tour took us to the ice cold (but stunning) Aksu river and park.
Aksu means "white water" in Kazakh, named for the glacial water that fuels the river. The park is a beautiful area of golden fields, steep gorges, and some water-worn rock formations.
(Alternative) Day 12-13: Sayram-Ugam National Park
If it fits in your budget, Sayram-Ugam National Park is (relatively) close to Shymkent. Less frequented than neighboring Aksu-Zhabagyly National Park, it has a community-based tourism program and several village homestays to make your stay more comfortable.
The Central Asia Lonely Planet has more details on how to get there and where to stay, and you can try your hand at contacting the Ecotourism office for more information. Beware, many of the workers only speak Russian and Kazakh.
Day 13: Day trip from Shymkent to Turkestan
Finally we'll take you to Kazakhstan's spiritual heartland: Turkestan, home to Mausoleum of Khoja Ahmed Yasawi, a Turkic Sufi poet and saint. No visit to Kazakhstan is complete without seeing this epitome of Islamic architecture, and the most beautiful manmade structure in the country.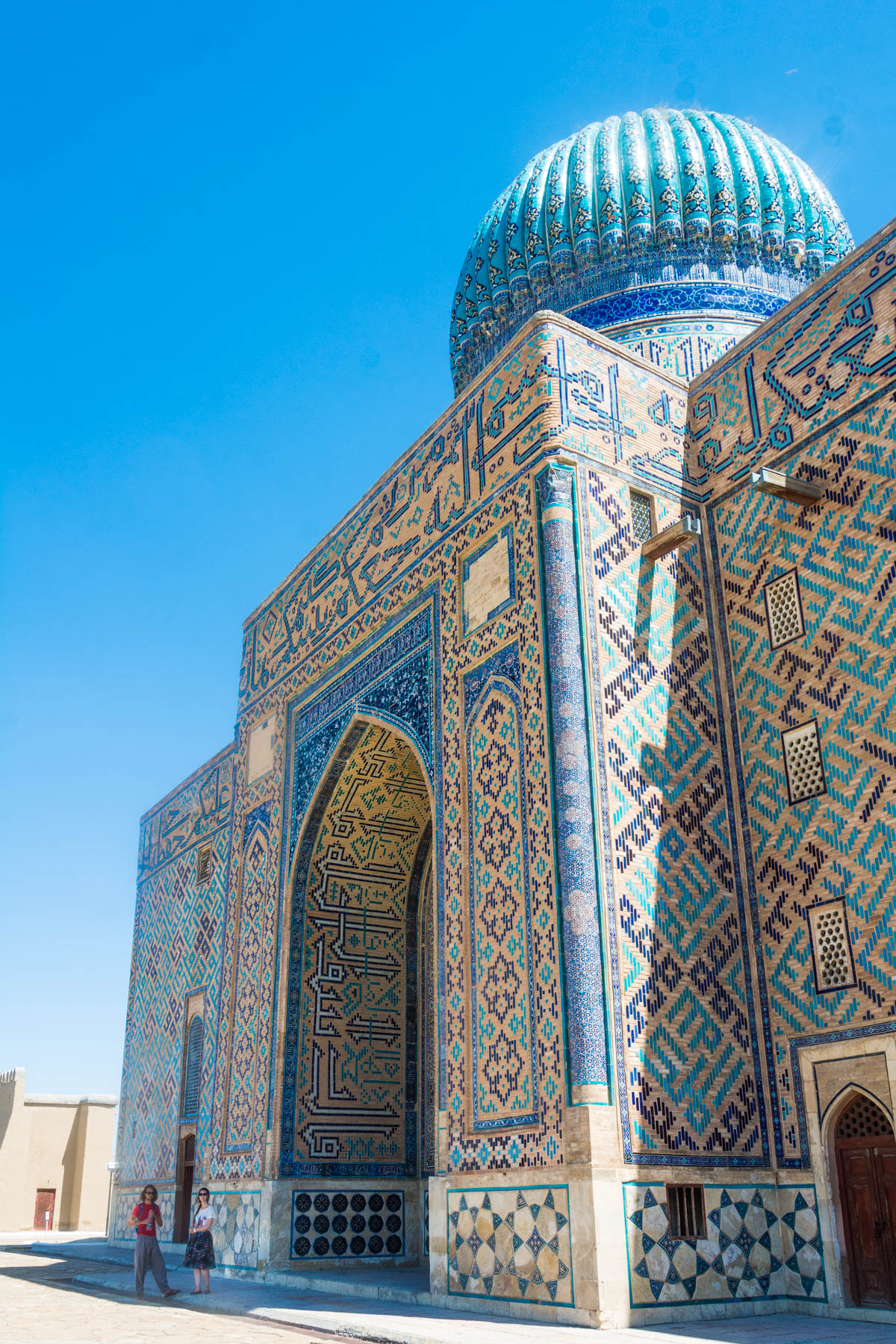 The mausoleum is as grand as the holy man was humble, and the intricate blue tile design and gorgeous dome are juxtaposed with a shiny new mosque in the back.
It's 500 tenge for foreigners to enter the site, which contains the mausoleum, a library, and an underground mosque. Ladies, don't forget to dress modestly and to bring a headscarf–it's an Islamic site.
Getting to Turkestan takes about 2 hours by marshrutka from Shymkent. You can easily spend a day wandering around the city, but there's not much to keep you there overnight.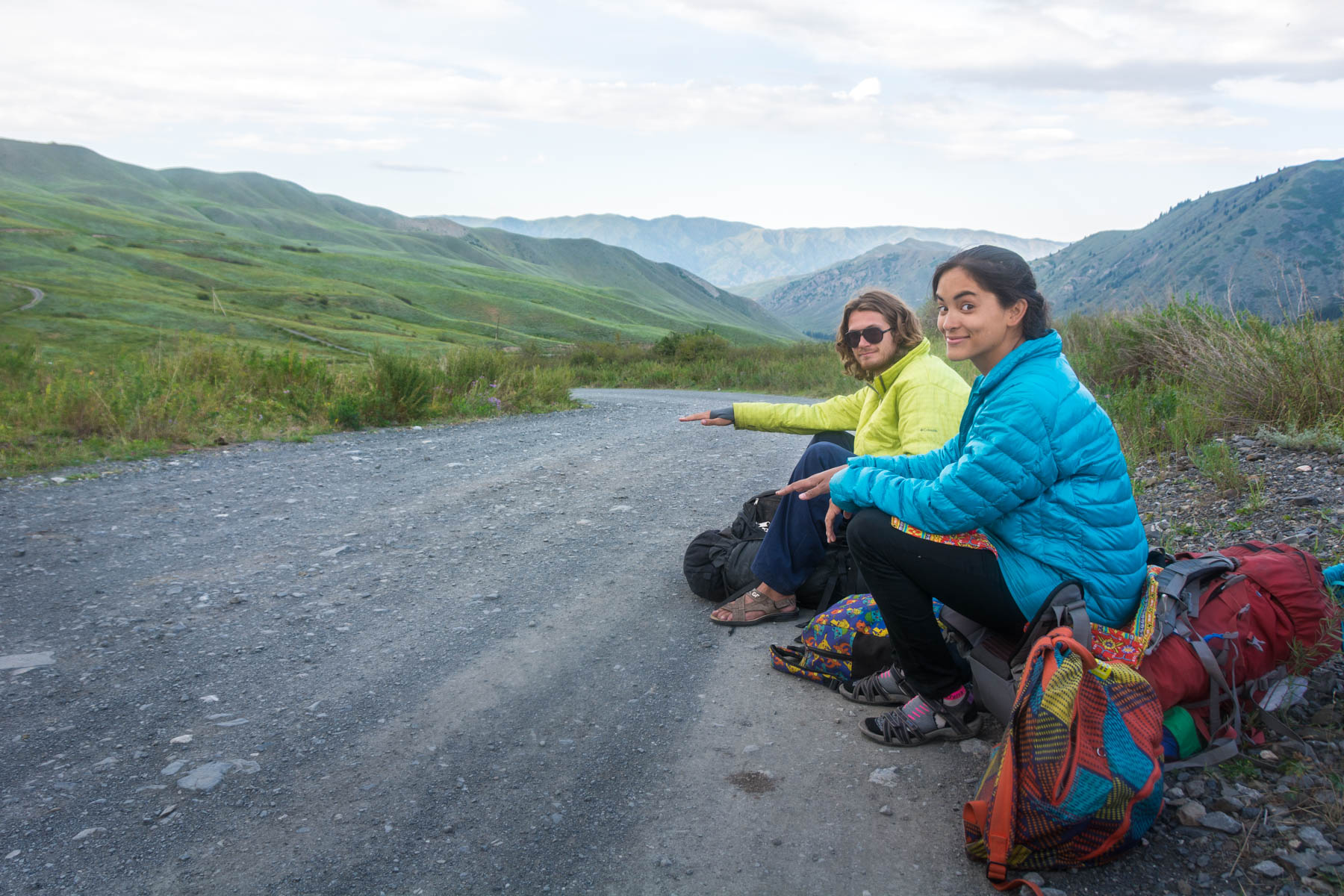 Day 14: Back to ???
Where you head on your last day depends on where you're off to next.
Heading home via the airport? Use this day to meander back to Almaty–it's a long train ride from Shymkent.
If you're crossing into a neighboring country over land, see the section below.
Inspired enough to visit Kazakhstan? Check out our Kazakhstan backpacker budget report!
Leaving Kazakhstan over land?
Don't forget: Kazakhstan is a safe country, but outdoor activities are always risky! Be smart, and get travel insurance before heading to Kazakhstan. We use and recommend World Nomads.
Yay transparency! This post contains affiliate links. This means if you purchase something using our links, we'll make a small amount of money from it, at no extra cost to you. It helps us to cover the costs of running the blog, plus it funds our coffee addiction. Never fear, we'd never be heinous enough to recommend anything we didn't like.