A detailed budget report about how much it costs to backpack in the Almaty region of Kazakhstan. Perfect for those taking advantage of Kazakhstan's 30-day visa-free program. Includes a city-by-city breakdown, average costs for common expenses, and recommendations for budget accommodations.
Financial planning is boring and annoying. To save the world of a few unnecessary headaches, we tracked our expenses over 14 days, so you can see exactly how much it costs to backpack in the Almaty region of Kazakhstan.
Exchange rate used for this trip: €1 = 382 Tenge
Here's how much it costs to backpack in the Almaty region of Kazakhstan
Total cost of backpacking for 14 days
For two people: 213,956 Tenge / €560 / $594
Per person: 106,978 Tenge / €280 / $297
Average cost per person
Total per day: 7,641 Tenge / €20 / $21.20
Food and drinks per day: 2,000 – 5,000 Tenge / €5.25 – 13.10 / $5.65 – 13.90
Accommodation per day: 2,000 – 3,500 Tenge / €5.25 – 9.16 / $5.65 – 9.70
Note: travelers are most likely to stay in hostels or yurts. Prices mentioned are for one dorm bed, or one mat in a yurt.
Long distance bus: 2,000 – 3,000 Tenge / €5.25 – 7.85 / $5.65 – 8.30
Long distance sleeper train: 2,000 – 3,000 Tenge / €5.25 – 7.85 / $5.65 – 8.30
Taxi around town: 400 – 800 Tenge / €1.05 – 2.10 / $1.10 – 2.25
Historical sights and national parks: 500 – 1,000 Tenge / €1.30 – 2.60 / $1.40 – 2.75
Average amount spent per day in each city, for one person. Includes transport to the city.
We've excluded our transit day to Almaty because there are many ways to travel to Almaty and all have a different cost structure.
Almaty: 9,412 Tenge / €24.65 / $26.15

We recommend Amigo Hostel – 3,200 Tenge for a double room with shared bathroom – Book Amigo Hotel now

Shymkent: 7,785 Tenge / €20.40 / $21.65
Turkestan/transit: 7,710 Tenge / €18.60 / $19.70

We took a night bus back to Almaty

Saty/Kolsai: 4,835 Tenge / €12.65 / $13.40

We camped in Saty, and slept in a yurt at Kolsai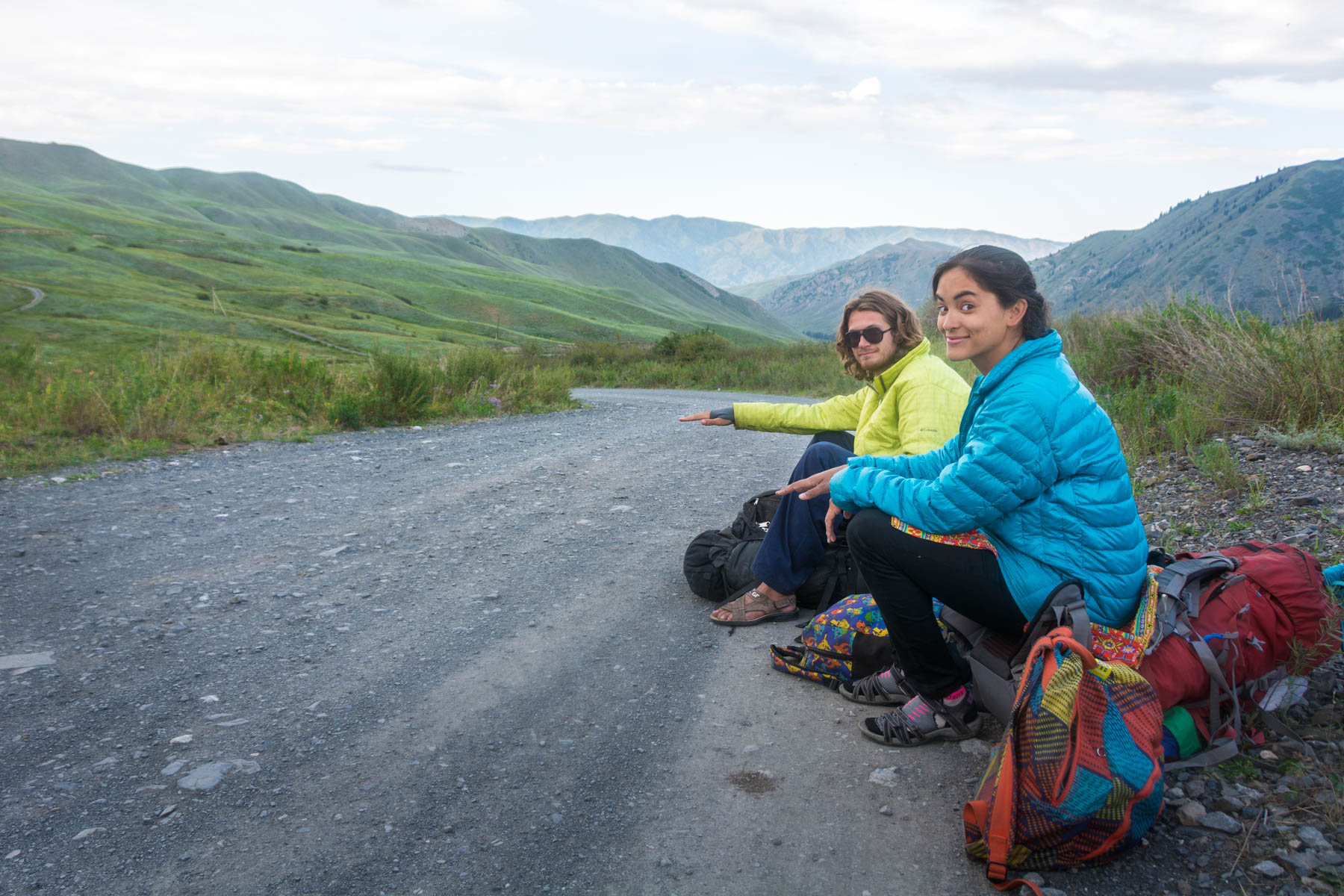 A couple of things to consider:
We only included costs we think are relevant to the average traveler. We doubt you care about the clothes we bought.
Because of some planning mishaps, we stayed in Almaty for six days. Traveling more usually means spending a bit more money.
Kazakhstan is difficult for travelers using public transport. If you want to see more than we did, expect to pay for shared taxis or tours. Unless you have a car, of course.
Tours in Kazakhstan are expensive. If you want to go on tours, expect to pay more than we did.
Traveling outside the area we call the "Almaty region" (southern Kazakhstan) might be more costly due to the lack of infrastructure, and the long transportation times between places.
Context/how we roll
We're your typical wanderin' backpacker duo:
Always walk or take public transport… unless there is none.

(Or we're reeeally lost…)

Usually eat cheap meals and fast food for at least 2 meals a day.
Sleep in the cheapest accommodation we can find that isn't crawling with bedbugs or covered with old vomit. Usually opt for a private double rather than dorms.
We don't like museums.
Yay transparency! Some links in info post are affiliate links. That means if you book a night or two via the link, we'll get a small commission at no extra cost to you. These kinds of links are how we make up for the maintenance costs of running the blog–and we'll love you forever if you use them! Never fear, we actually stayed there, and would never recommend a place we wouldn't stay ourselves.