My report on the China – Kazakhstan border crossing at Khorgos. Includes prices, travel times, and everything else you need to know about crossing the border between China and Kazakhstan.
Crossing the border between China and Kazakhstan at Khorgos should be relatively straightforward, but does require a bit of patience and luck—especially if you want to do it as cheaply as possible.
Getting to Khorgos
I arrived in Khorgos by bus from Yinning, but you can also go there directly from Urumqi. Buses from Yinning to Khorgos take 1.5 hours, cost 20.5 RMB and go hourly.
The bus will drop you off at Khorgos bus station. I strongly advise you to arrange travel across the border from here–you are not allowed to cross the border on foot. You might be able to hitch a ride on one of the long-distance buses to Almaty, but this can take forever, and is not guaranteed. You can get minibus tickets to the border, and possibly to Zharkent, a small town in Kazakhstan about 20 minutes from the border.
There are money changers at the border. At the time of writing, 1 RMB = 50 Kazakh tenge. Changers will approach you, and everything can be done in the open. They might also be able to help you to get a minibus, since they speak some English and Russian.
To get from the bus station to the border, simply exit, turn right, and follow the main road until you cross a suspension bridge and see the chaos of the border.
Need inspiration for your trip to Kazakhstan? Check out our two-week Kazakhstan itinerary!
Crossing the China – Kazakhstan border at Khorgos
The China – Kazakhstan border at Khorgos is a bit like a bizarre Disneyworld, and is filled with tourists on the Chinese side. Plenty of Kazakhs come through here to go shopping in China visa-free, and Chinese tourists come to see the border because, y'know, that's what Chinese tourists do.
I didn't know this, so we walked to the border crossing. Figuring out where to enter was confusing–you are not allowed to walk through the main gate. Instead, head to the right along the fence a bit, and look for several car lanes that lead up to the border. There will likely be buses, trucks, and minibuses heading through.
Going through customs takes only a few minutes–dodge the Kazakh shopping crowd, fill out a departure card, and go through. It was afterwards that my patience was tested.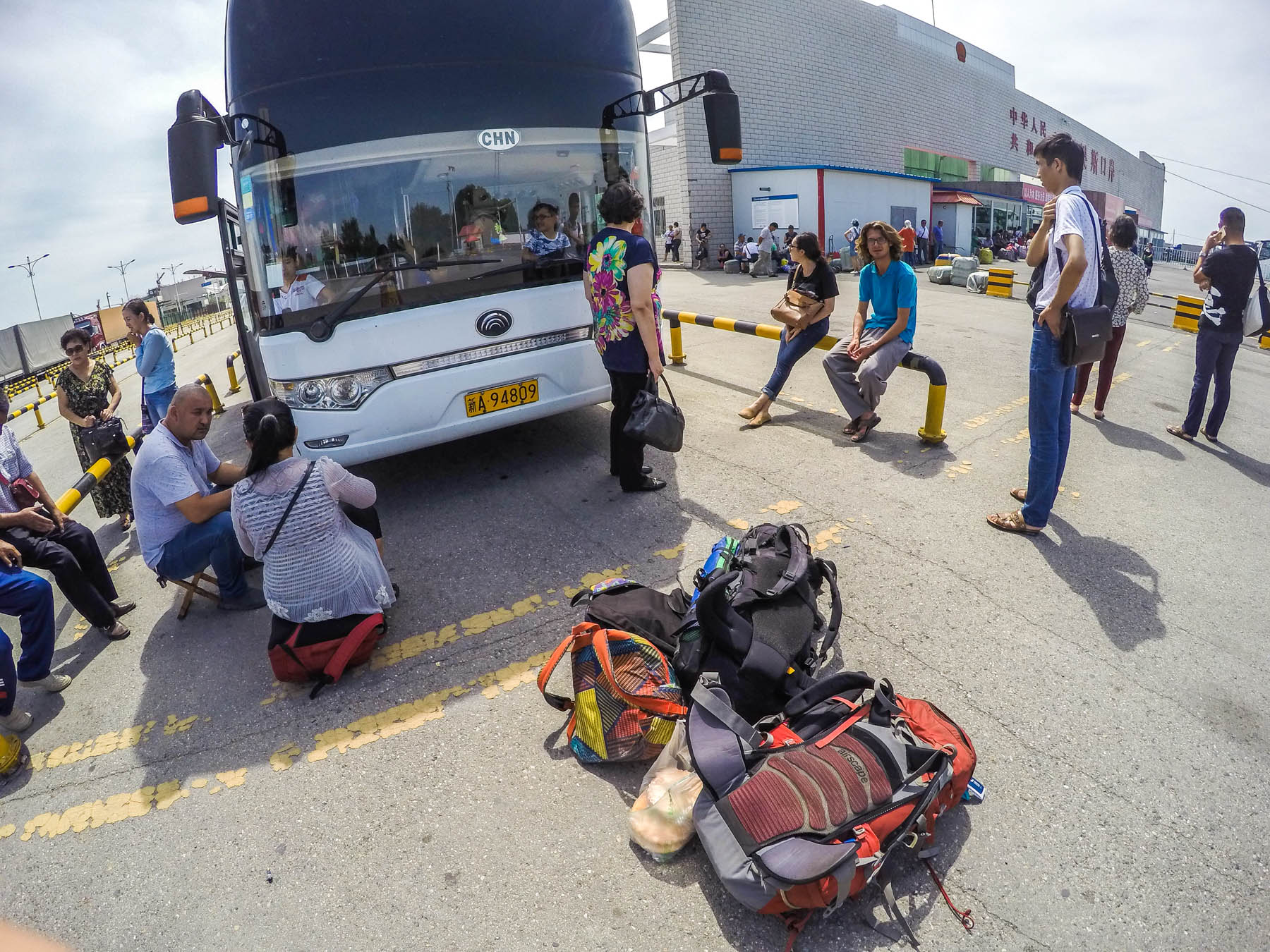 After learning that I was not allowed to cross on foot (from an angry shouting sniper), we had to ask around and find a bus driver willing to drive us over to the Kazakh side of the border, about 1km away. There were only three long-distance buses to Almaty when I arrived and I had to wait for three hours to hitch a ride to the Kazak side of the border. I also couldn't go with them to Almaty, since the buses were full, and bus drivers are hesitant to take foreigners aboard.
Heading to Kazakhstan? Check out our Kazakhstan backpacker budget report!
If there is space, hopping on a bus to Almaty will cost around 5,000 tenge.
Getting from the China – Kazakhstan border to Zharkent and Almaty
If you can't get on a bus to Almaty at the border, you either have to take a taxi, or go to Zharkent. You might be able to hitch a ride to Zharkent. If not, a taxi to Zharkent will be about 2000 tenge, less if you're a solid haggler.
From Zharkent, there are buses to Almaty at 8:30, 12:30, and the last reasonably timed bus, 15:15. There's one final bus at 23:30, for you night owls. A bus ticket costs 700 tenge for the lowest class, and the ride should take 7-8 hours.
If you miss your bus of choice, you can arrange a shared taxi from Zharkent bus station. A shared taxi to Almaty should cost around 15,000 tenge for the car, but you'll have to bargain hard to get this price. It helps if you know some Russian. The ride should take about 5 hours, and the driver should drop you off at your destination of choice.
In Almaty, I stayed in Amigo Hostel, and can highly recommend it. The people operating it are very cheerful and happy, and the price is excellent good value, especially compared to the expensive alternatives in Almaty.  It's also a short walk away from the Auezov Theater metro station, so you can get around Almaty's city center quite easily. Check out Amigo Hostel here for the best deals.
So there you have it, a quick and complete guide to crossing the border between China and Kazakhstan at Khorgos.