Turkestan is a must-visit destination in Kazakhstan, and an easy day trip from Shymkent. Here's how to get from Shymkent to Turkestan by public transport.
Turkestan is home to one of the most amazing man-made structures in Kazakhstan: the Yasaui Mausoleum. You can spend a night in Turkestan if you want, but it's an easy day trip from Shykment, so unless you're traveling westwards, there's no real reason to spend a night there.
How to get from Shymkent to Turkestan by public transport
Getting to Turkestan
To get from Skymkent to Turkestan by public transport, first go to "Бекжан автовокзал" in Shymkent. Write it down if you don't know Russian or Kazakh! There are several local buses going here, so ask your hotel or the screamers at a bus stop. The bus fare is 70 tenge. The station is next to a huge white mosque, so you can't miss it.
Looking for Kazakhstan inspiration? Check out our two-week Kazakhstan itinerary!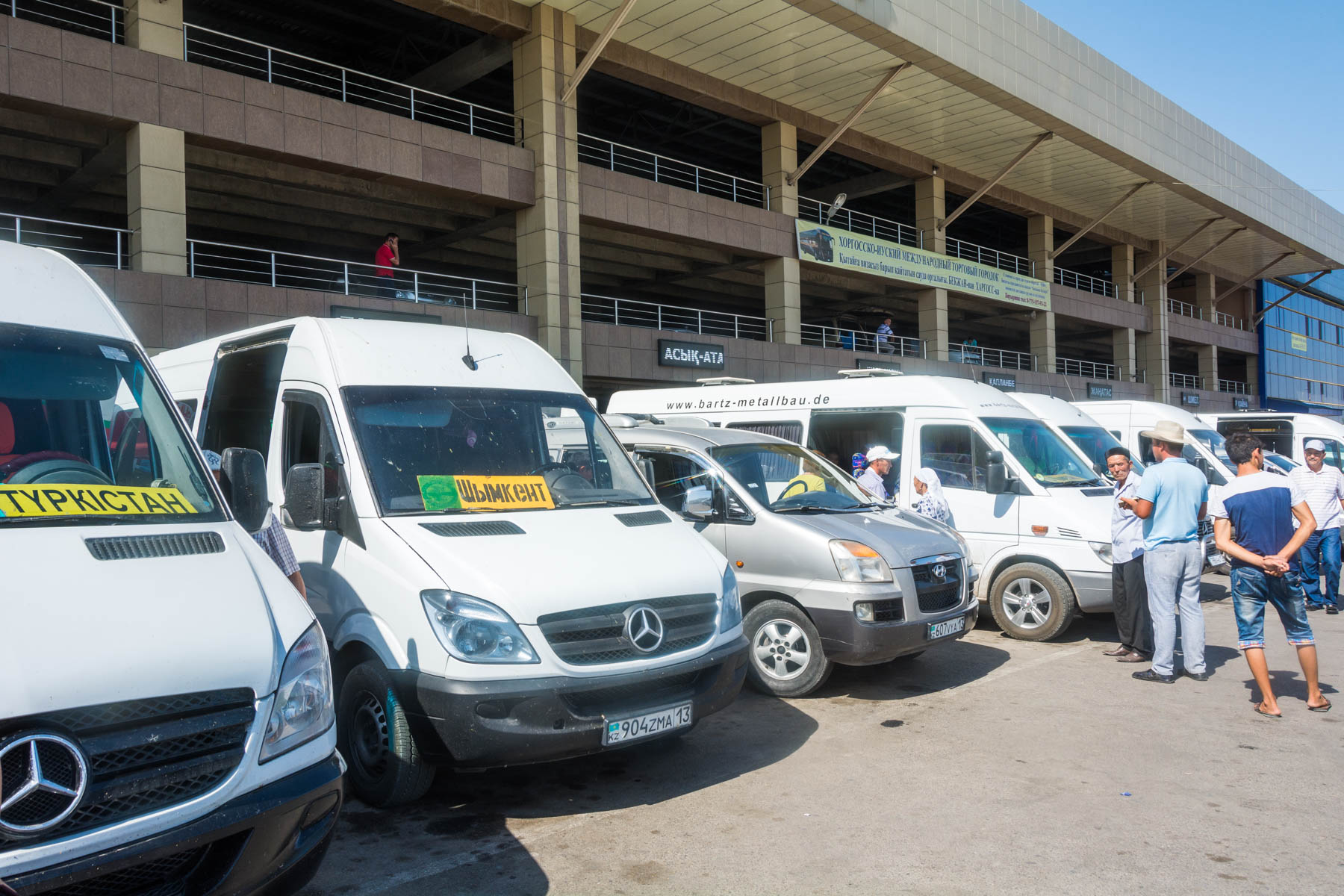 At the station, you'll find several marshrutky going to Turkestan. Just ask around. They cost 600/800 (non-AC/AC) tenge per person. It takes about two hours to get to Turkestan, and they leave when full. If you speak some Russian or Kazakh, the driver will be happy to drop you off near the mausoleum. If not, a taxi to the mausoleum costs around 400 tenge from the bus station in Turkestan.
The mausoleum of Khoja Ahmed Yasawi
Entrance to the mausoleum is 500 tenge per person for foreigners. This includes entrance to the sights surrounding the mausoleum, such as the underground mosque. You don't have to pay to enter the grounds, just to enter the sights themselves, so you can roam around for free if you're really strapped for cash. The sights double as small museums, curated in Russian and Kazakh.
The mausoleum and surrounding sights are of a religious nature, so you should dress somewhat conservatively. No shorts for men and no bare shoulders or shorts/short skirts for women. Headscarves are handed out at the entrance of the mausoleum, free of charge.
Getting back to Shymkent
Ask for the merey (pronounced "mer-ee") for marshrutkas back to Shymkent. The station is in a small courtyard across from a station for larger buses. Again, marshurtkas will leave when full. Marshrutkas back to Shymkent stop running around 19:00.
Where to stay in Shymkent
Getting to Turkestan from Shymkent cheaply is easy, and makes for a great day trip. In Shymkent, we advise you to stay at ShymCity Hostel. This is the only hostel in town, run by a friendly Canadian lady. It's quite relaxed, and the owner can help you plan onwards travel as well.
Yay transparency! The hostel link in this info post is an affiliate link. If you book a stay there via our link, we'll get a small commission at no extra cost to you. These kinds of links are how we make up for the maintenance costs of running the blog!