Want to cross between Kyrgyzstan and Uzbekistan using the Dostyk border crossing? Here's exactly what you need to know, including timing, costs, and suggested routes.
The border crossing between Kyrgyzstan and Uzbekistan at Dostyk is a popular, straightforward border crossing. It's close to Kyrgyzstan's second city, Osh, and leads into the Ferghana Valley of Uzbekistan.
Getting to the border
The border crossing between Kyrgyzstan and Uzbekistan at Dostyk is only a couple kilometers away from Osh. To get to the border from the popular Biy Ordo hostel, take marshrutka 107 from Razakova Avenue (Разакова Авенюсы) heading away from the city center. Make sure you get on the 107 marshrutka going to the border, not the airport. The border is the terminus for this marshrutka. A ride is 10 KGS per person.
The Kyrgyzstan – Uzbekistan border crossing at Dostyk
Getting through the Kyrgyz side of immigration goes quite smoothly. They check your passport and might ask you where in Uzbekistan you plan on going, and then you're free.
Changing money
It pays to have some Uzbek som when you arrive at the border. Taxi drivers can change money.
Entering Uzbekistan
The first building of the Uzbek immigration office houses a health check and quarantine area. You'll probably be ushered through without much of a glance.
The second building houses the actual immigration procedures. First, you show your passport to an official in a booth. After this, you have to fill in two immigration cards, which you can get at the desk on the right-hand side of the room. The cards are in Russian, but there are English example cards taped to some of the writing booths.
One card will be handed in for your entry to Uzbekistan, and the other card will be kept for your exit, so officials can verify that you didn't leave the country with more money than you entered with. Fill in the same information for both cards. Make sure to declare ALL foreign money and any valuable electronics you might have.
Hand in both forms to the immigration officer behind the desk and he'll stamp them and keep one. Don't lose the one he hands you back, you'll need it to leave the country. You can just walk to the front of the line when you've filled in your cards—foreign tourists get priority here.
Don't forget to read our guide with 60+ things you need to know before going to Uzbekistan!
Getting searched
After this, your bags will be scanned, and the immigration officers will go through your medicine and electronics. Codeine is illegal in Uzbekistan, so make sure you don't have anything with codeine on you. It's also wise to get rid of any loose pills, though they seemed satisfied when we told them all of our pills were for diarrhea (the only English medical word they seemed to know).
Sometimes the officers are really lax, as with Alex, and sometimes they go through almost everything, as with Sebastiaan. If you have any photos that might be deemed controversial, such as porn or photos of anything military-related, hide them on your computer or in the cloud.
The whole process will take about 1 – 1.5 hours, depending on how busy it is. Tourists are usually ushered to the front of the line, so don't despair if it's really busy.
Getting to Andijan and beyond
There will be several taxis waiting for you once you leave the immigration office. A shared taxi to Andijan should cost 40,000 som in total, although the driver might try to charge "petrol charge". Ignore this and keep insisting on 40,000 for a car. Make sure to wait around to share the taxi, since drivers will try to get you to go as soon as possible, meaning higher costs for you. Don't listen to drivers who'll tell you it's only 10,000 for the taxi. They mean it's per person, and will want you to pay 40,000 (or more) once you arrive in Andijan.
Sharing is your best option. If you can't find a taxi willing to go for this price, just leave the immigration compound. You'll find a taxi soon enough.
For more info on traveling in Uzbekistan, check out this comprehensive Uzbekistan itinerary!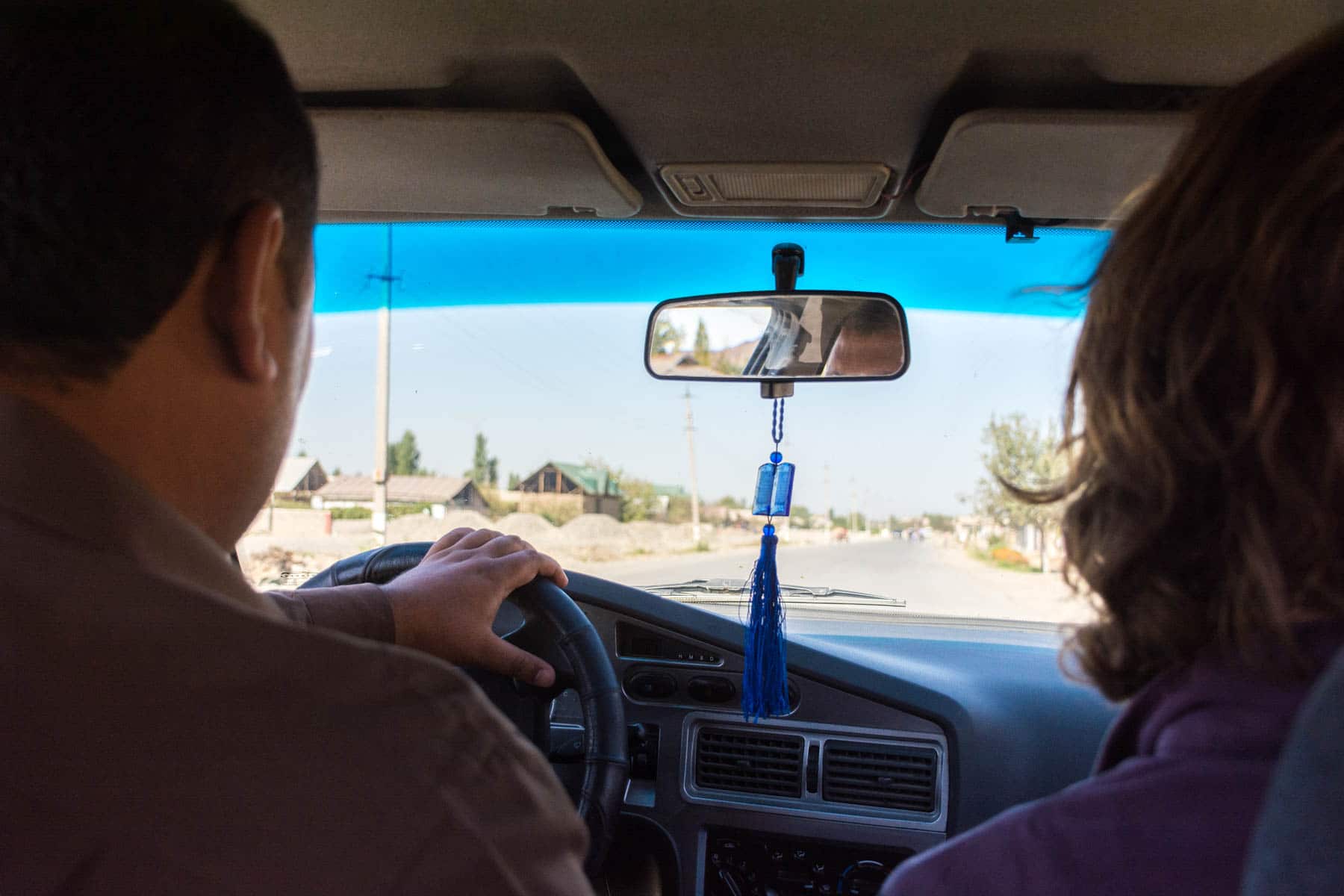 Getting to Tashkent via shared taxi
If you want to go to Tashkent, the cheapest option is to go to Andijan first. A shared taxi from Andijan to Tashkent should cost 35,000 – 40,000 som per person ($5-8). We heard stories of taxi drivers charging $20 per person from the border, so it pays to take the longer route.
Don't tell the border taxi that you want to go to Tashkent—he'll insist on driving you there for an inflated price. Have the driver drop you off at Andijan hotel, and get a new taxi there instead. Almost any car in Uzbekistan can be a taxi, so just stand by the side of the road with your hand stretched out. A driver will appear soon enough. Tell him you want a shared taxi to Tashkent ("Sovmesto taxi" in Russian), and he'll know where to drop you off. This drive shouldn't cost more than 4,000 som.
The Tashkent shared taxi guys will probably insist that the price is 50,000 som per person, but just keep insisting on 35,000 or 40,000 som. Eventually they'll budge, or another Uzbek will show up who will also say that's the right price. Read more about the cost of backpacking in Uzbekistan in our Uzbekistan backpacker budget report.
If you're heading to Tashkent, we highly recommend staying at the lovely Topchan hostel.
Where to stay in Andijan
You can also opt to stay in Andijan, which has an interesting market and extremely friendly locals. A decent private room at Hotel Andijan costs 65,000 som per person. You can change money in Andijan very near to this hotel. Black market money changers hang our about 300m to the left when you face Hotel Andijan, and at Eksi Market. The black market rate in Andijan was 6,300 som to the dollar at the time of writing.
Yay transparency! This post contains affiliate links. This means that if you book a stay using the links here, we'll make a small amount of money from it, at no extra cost to you. It helps us to cover the costs of running the blog, plus it funds our coffee addiction. Never fear, we'd never be heinous enough to recommend anything we didn't like.