A detailed budget report about how much it costs to go backpacking in Uzbekistan. Includes a city-by-city breakdown, average costs for common expenses, and recommendations for budget accommodations.
September 2017 update: The Uzbek government has done away with some of its restrictive currency policies, effectively killing the black market for money. Money can now be changed at market rates at Uzbek banks, and ATMs should convert money at market rates too. It is still advisable to bring all the money you think you need in cash.
Financial planning is annoying and time consuming. To save your head a few unnecessary aches, we tracked our expenses over 19 days, so you can see exactly how much it costs to go backpacking in Uzbekistan.
Exchange rate used for this trip: $1 = 6,300 som (black market rate)
Although the current exchange rate will be different, and som can now be changed at banks at market rates, inflation means that the dollar/euro amounts mentioned below will be roughly the same.
Know before you go
Bring all of the money you want to spend in Uzbekistan in cash. US dollars are best, though euros and roubles are also acceptable.
Uzbekistan is a cash-only economy, so cards are useless. Make sure to bring a big bag to carry your money in, as you'll get big stacks of cash! Money can be changed at banks at market rates.
Here's how much it costs to go backpacking in Uzbekistan
Total cost of backpacking for 19 days
For two people: 4,275,115 som / €612 / $679
Per person: 2,137,557 som / €306 / $339
Average cost per person
Total per day: 112,503 som / €15.50 / $16.10
Food and drinks per day: 30,000 – 40,000 som / €4.30 – 5.75 / $4.75 – 6.35
Accommodation per day: 60,000- 70,000 som / €8.60 – 10 / $9.50 – 11.10
Note: Budget travelers are most likely to stay in hostels. Prices mentioned are for one dorm bed.
Long distance shared taxi: 30,000 – 50,000 som / €4.30 – 7.15 / $4.75 – 7.95
Long distance night train: 60,000 -80,000 som / €8.60 – 11.45 / $9.50 – 12.70
Taxi around town: 5,000 – 10,000 / €0.70 – 1.40 / $0.80 – 1.60
Entrance to most major sights: 15,000 – 20,000 som / €2.15 – 2.85 / $2.40 – 3.70
Traveling to Uzbekistan and other countries in the region? Check out this Uzbeksitan and Tajikistan itnerary!


Average amount spent per day in each city, for one person. Includes transport to the city.
Andijan: 102,000 som / €14.60 / $16.20

We recommend Hotel Andijan – 60,000 som per person

Tashkent: 104,533 som/ €15 / $16.60
Samarkand: 134,600 som / €19.30 / $21.40
Bukhara: 124,417 som / €17.80 / $19.75
Khiva: 107,433 som / €15.40 / $17.05
Termez: 98,575 som / €14.10 / $15.65

We recommend Sahon Atlantic – 45,000 som for a double room
Heading to Uzbekistan? Read about these 60+ things you need to know before traveling to Uzbekistan!
A couple of things to consider:
We only included costs we think are relevant to the average traveler. We doubt you care about the clothes we bought.
We only visited the main sights, because we didn't have much time to go off-the-beaten-track in Uzbekistan. Traveling more slowly and heading to more remote places influences how much you spent.
We brought in US dollars and changed money on the black market, yielding a much better exchange rate than if we used ATMs or banks.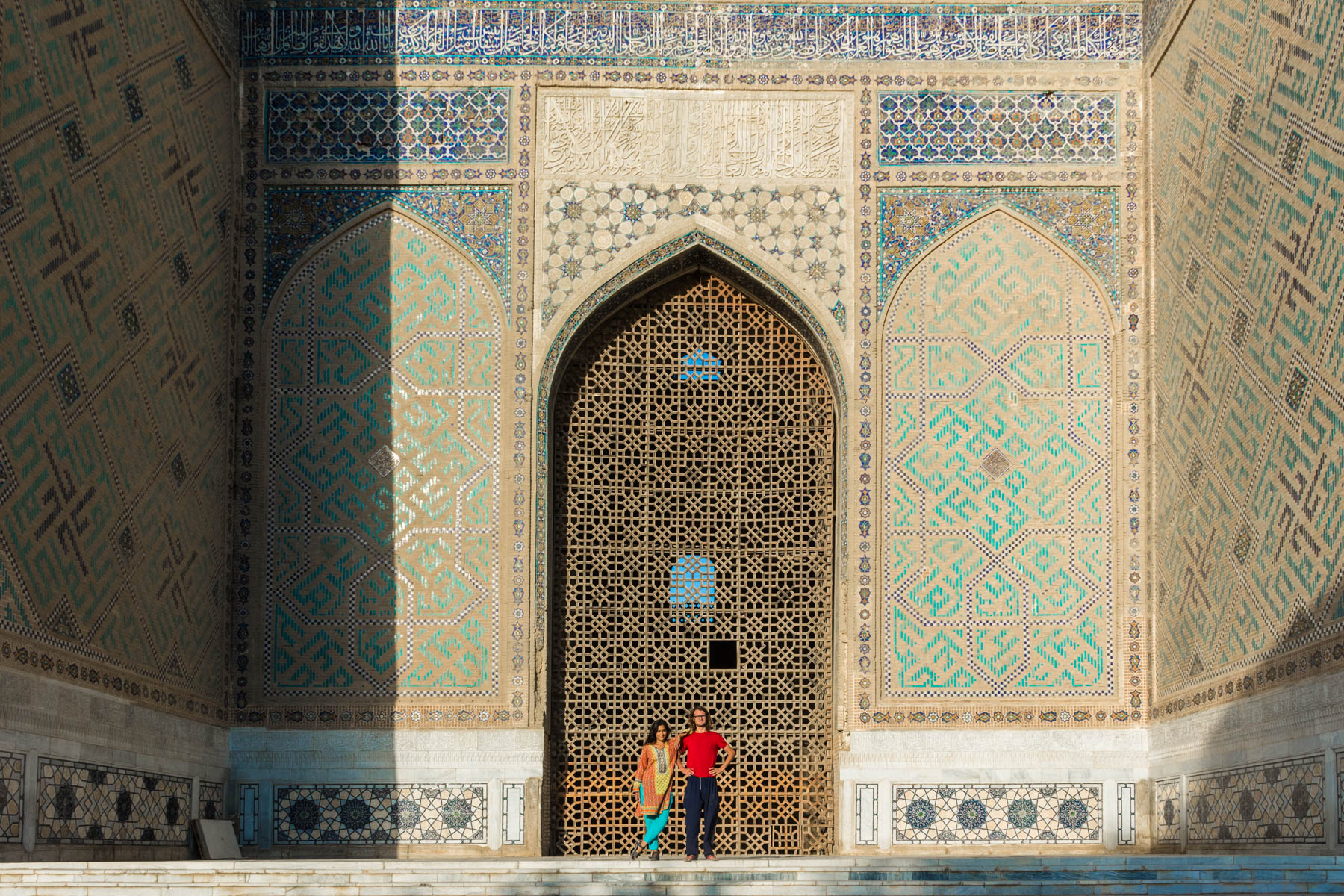 Context/how we roll
We're your typical wanderin' backpacker duo:
Always walk or take public transport… unless there is none.

(Or we're reeeally lost…)

Usually eat cheap meals and fast food for at least 2 meals a day. Will go great lengths for free food.
Sleep in the cheapest accommodation we can find that isn't too strangely sticky or filled with insects.
We don't like museums.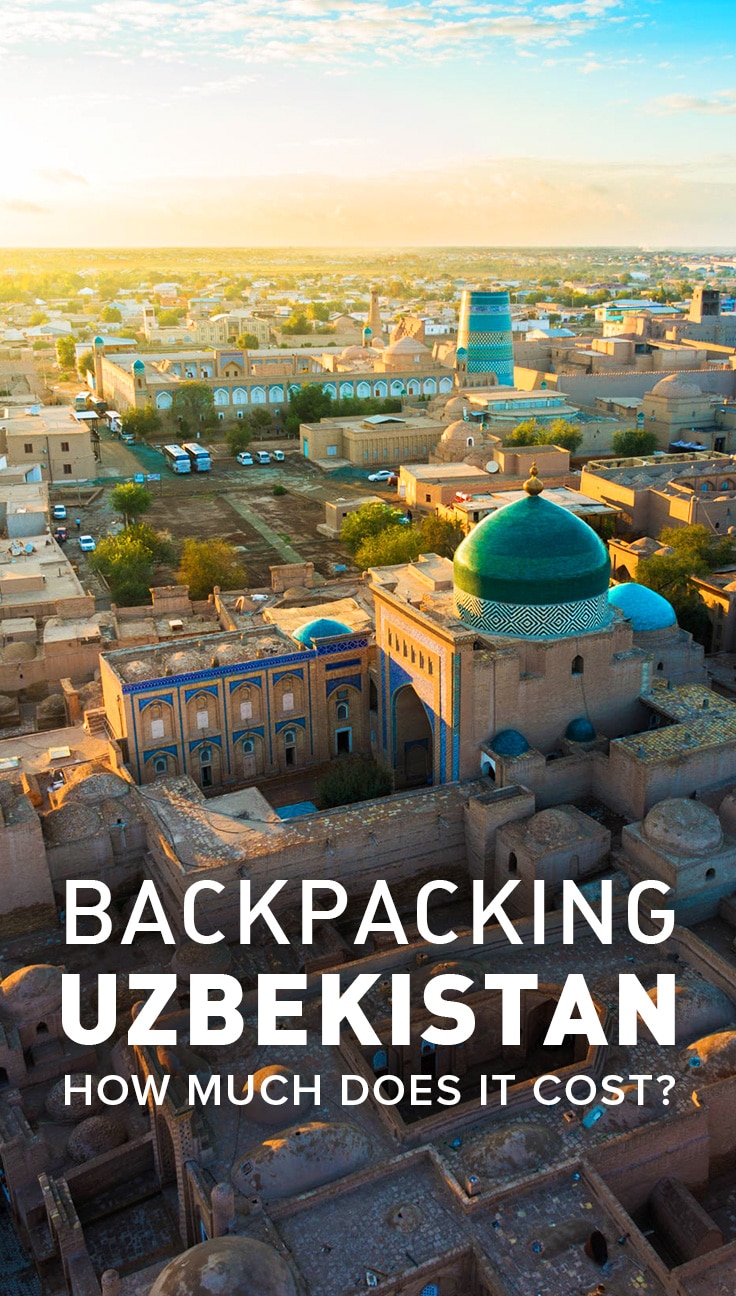 Yay transparency! The hostel links in info post are affiliate links. That means if you book a night or two via the link, we'll get a small commission at no extra cost to you. These kinds of links are how we make up for the maintenance costs of running the blog–and we'll love you forever if you use them!