Most people get up for sunrise to take advantage of golden morning light. Though Uzbekistan is undeniably gorgeous in the early hours, that's not why you need to see sunrise in Uzbekistan.
It's the crack of dawn. The rooster scrapes its throat to signal the start of a new day. The streets are dark, there's not a soul in sight. The sky is still a faded blue, not yet light enough to guide our way. We're walking down the street at 5.30 in the morning, en route to the Registan, Samarkand's most famous building.
Kill me now.
People who know me know I hate the morning. I'm just not a morning person.  I don't want to talk, I don't want to walk, I don't even want to be awake before nine. But here I am, bright and early.
Why? Why am I up at such an ungodly time of day? Simple. If I don't get up for sunrise at the Registan, I'll lose it to the crowds.
Why you need to see sunrise in Uzbekistan
The Registan is the most well-known destination in Uzbekistan, which means it's populated from morning to night with loads—and I mean loads—of tour groups. What's worse, every. single. one. of its madrasa rooms is revamped as a tacky souvenir shop from 9 to 5. The building's intricately patterned mosaics are lost behind a sea of Made in China magnets, cookie-cutter paintings, and overpriced handbags. Just what you always wanted, right?
It's the same all over Uzbekistan's most visited cities. Once the sun rises, the alleys of Bukhara's old city are saturated with textile salesmen and t-shirt stands.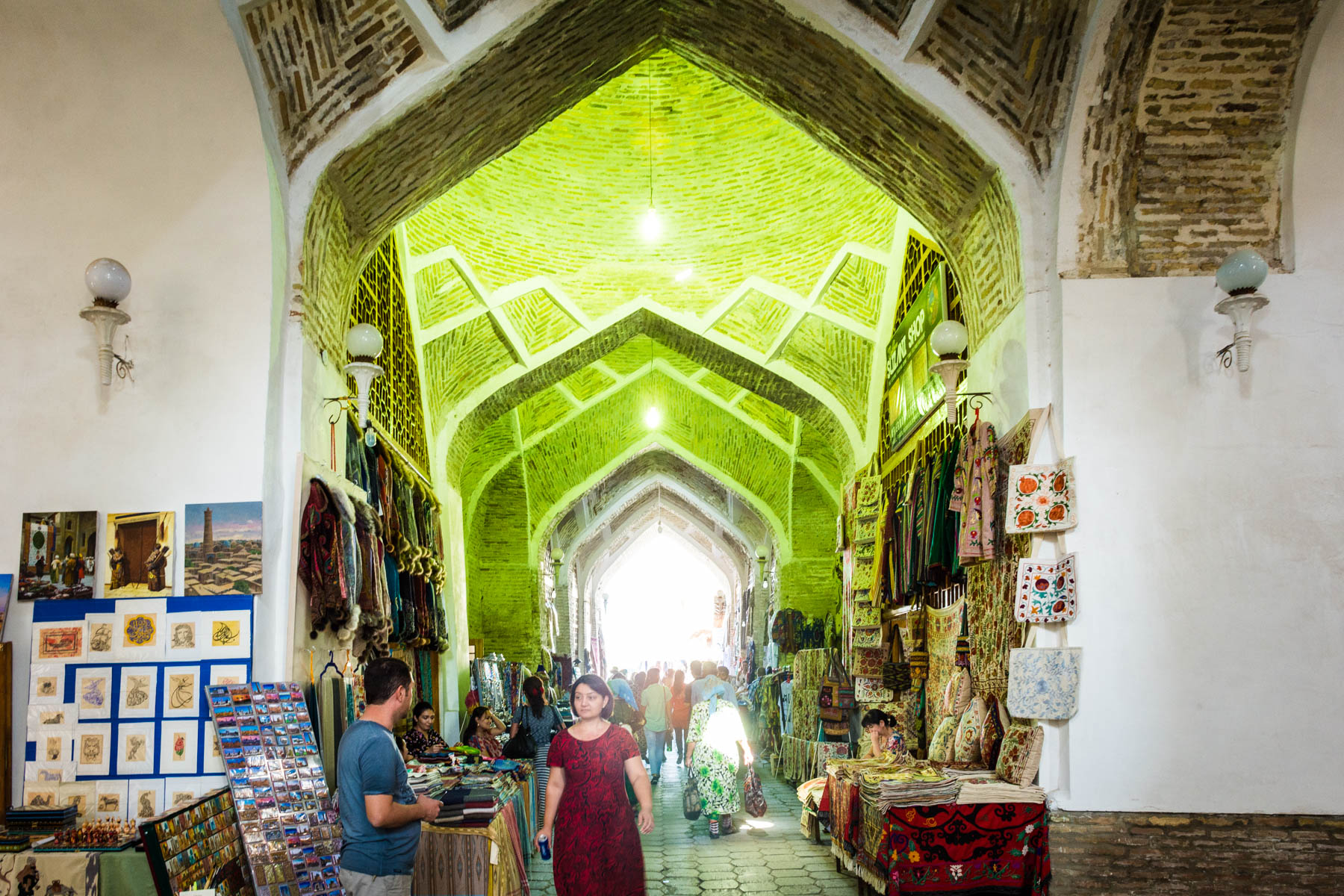 The winding paths through Khiva are cluttered with hat racks and souvenir tents.
The beauty of the old cities is buried under mountains of Things You Definitely Do Not Need, and it's a shame.
Luckily, for those of us who are opposed to people obscuring our view, there is a solution: the early, early morning. For several hours each day, you can wander the most beautiful streets of Uzbekistan in solitude, and take in its sights without having to peer around the backside of a souvenir cart.
Looking for some Uzbekistan travel inspiration? Make sure to check out this great Uzbekistan itinerary!
So set your alarm, charge your camera, and prepare to wake up at an ungodly hour. In this country, missing sunrise isn't an option. If I can do it, so can you.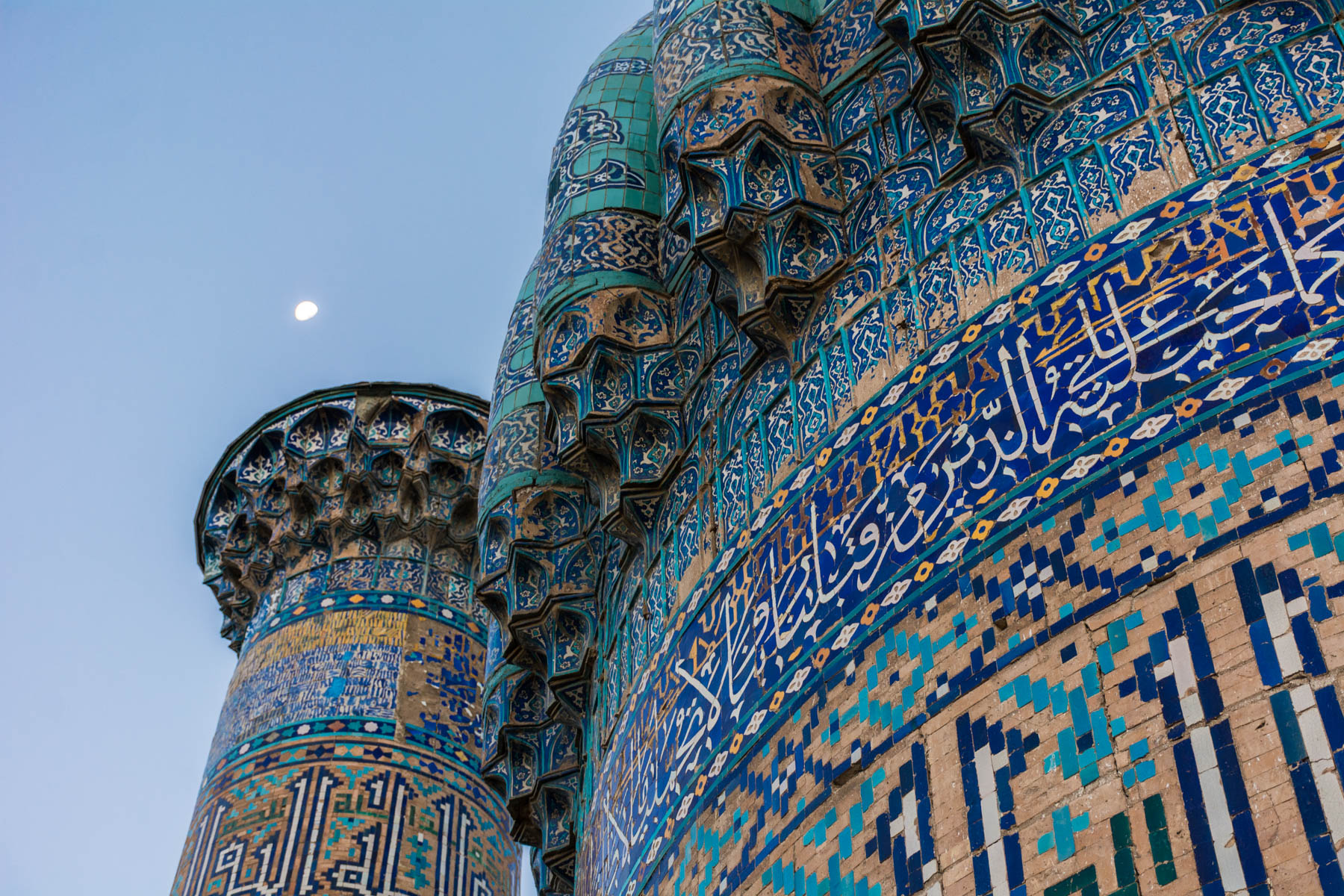 Want to visit the Registan at sunrise?
Between 6:00 and 7:00 (or whenever sunrise is while you're visiting) guards can be persuaded to let you into the Registan for about 20,000 som ($3) per person. Throw in another 10,000 – 20,000 som and they'll let you up into the big minaret, though it's very cluttered and doesn't necessarily offer the best view over the Registan complex.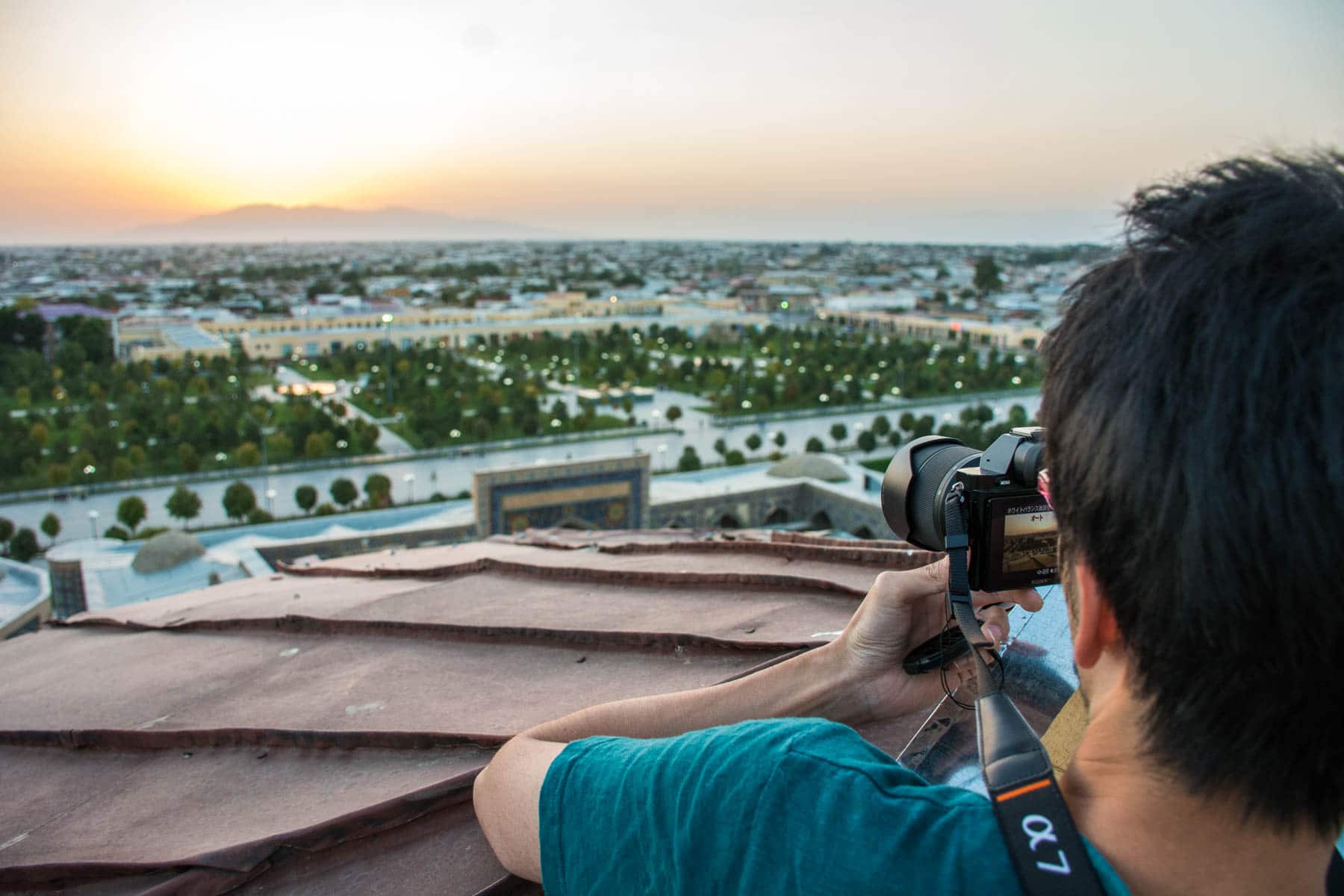 At this time of day, the complex will be entirely empty, save maybe one or two other motivated souls—a welcome change from the day's crowds. The sight of the first rays of sun reflecting off the multicolored facade is truly a marvel to behold. Trust us, you don't want to miss it.
Want to know how much it costs to backpack in Uzbekistan? Check out our backpacking in Uzbekistan budget report!