A photo essay of our sunset and sunrise visit to the Kaluts in Iran's Lut desert, one of our favorite sights in Iran, and a place certainly not to be missed by anyone traveling or backpacking in Iran.
Scorching sun, dry, cracked earth, and not a single sign of life in sight. There are no clouds for shade, no trees to cool the air. There is no water, there are no animals. There is only us, the sun, the sand… and the Kaluts.
The Kaluts are part of the Lut desert, which stretches through the southeast of Iran. It is one of the hottest and driest places on earth, with recorded temperatures of up to 70°C (approximately one billion degrees Farenheit). Wise travelers visit the desert in winter, when it is possible to walk barefoot on the sifting sands, and explore the rocky outcrops during any time of day.
Of course, being the perpetually unwise travelers that we are, we ended up in the Kaluts during the scalding heat of summer.
It was indeed swelteringly hot, but what was truly remarkable was how dry it was. Our sweat evaporated instantly, and mouths transformed into parched plains in the span of less than a few seconds. Luckily, we were smart and only brought a half-filled bottle of water for the two of us.
We weren't the only ones suffering from a lack of water. Much of the Lut desert is barren, too hot and harsh for anything to survive. The only signs of life occur around small oasis towns, visible from afar thanks to the few trees and plants that grow there.
A single road runs through the desert area, carefully monitored by police. Many of the drugs smuggled from Afghanistan travel over the border into this area. Foreigners are required to be accompanied by a guide, to reduce the risk of being kidnapped by smugglers and used as leverage against the police. A charming prospect!
Despite the lack of life in the surrounding areas, the Kaluts are absolutely stunning. Towering sand sculptures rise from the earth, looming and misshapen.
Some say they are giant sand castles shaped by giants. The more logical (but less fun) explanation is erosion by constant winds over time.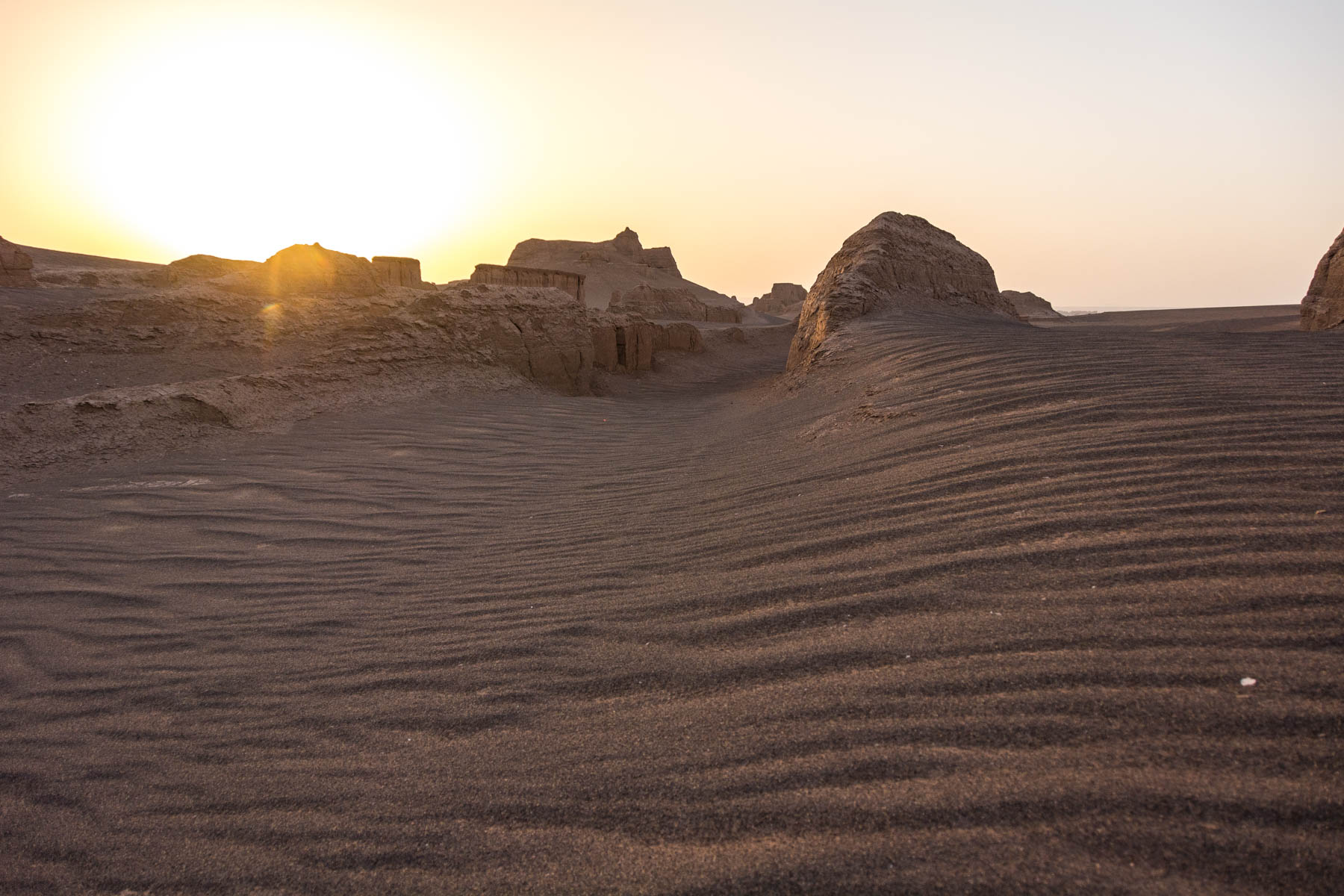 A sunset and sunrise visit to the Kaluts in Iran
In the sweaty summer months, visitors to the Kaluts are allowed to visit only between sunset and sunrise. The heat is too painful at any other time–even the local village people refuse to go outside during the hottest points of the day.
Sunrise in the Kaluts was superb. Groggily falling out of our car at an ungodly 4 in the morning, we quickly perked up in the cool, brisk desert air. There are no paths throughout the Kaluts (that we were aware of, anyway), so at that point, we just walked.
… and walked. And walked. Up and down, over and around, wherever the sand was strong enough to carry our feet, and the earliest rays of light shone to guide our eyes.
Sunset, though equally beautiful, was harder on the body–there is not much cool to be found under the burning rays of the sun.
We were truly at Nature's mercy in the harsh, dry desert climate… but the blazing heat is worth the voyage. Humans like to think that they're so big, so important–it's places like these that remind us how infinitesimally small we truly are.
We organized our tour through Akhavan Hotel. It cost us 3,200,000 rial, which is about $95. This included a driver, accommodation, dinner and breakfast.
The Kaluts was one of our favorite stops in Iran. Don't miss our photo essay about another favorite of mine: our day at the horse races in Gonbad-e Kavus!
Quick camera tip: Want to start taking photos like this yourself? Don't know where to start? People always ask me what camera I use, so I'll answer here. I always carry a Nikon D7100 camera, and I absolutely swear by my Nikon 18-200mm lens. There's also a Canon version, of course. A tip for aspiring photographers: when buying a camera, the body is not so important–it's the lens quality that matters most! The 18-200mm is a quality lens, and allows for wide-angle shots and telephoto zoom. Say goodbye to dust in your camera–you'll never have to switch your lens on the road ever again!