Want to visit an UNESCO World Heritage site and see horse races in the same day? If so, Gonbad-e Kavus is the place to be. Here's exactly how to get from Gorgan to Gonbad-e Kavus in Iran.
Mill-e Gonbad, a 1,000-year-old tower and UNESCO World Heritage Site, is reason enough to visit Gonbad-e Kavus. Add to that the horse races held every Friday (in spring and fall), and you have the perfect day trip from Gorgan.
How to get from Gorgan to Gonbad-e Kavus using public transport
To get to Gonbad-e Kavus, take a minibus from Gorgan. The minibus terminal is somewhat hidden off the main Gorgan-Bojnord road.
If you go there by taxi, tell the driver 'minibus Gonbad'. He'll understand, and if not, throw in a "minibus terminal Gonbad". Just make sure he doesn't try to bring you to Gonbad himself! A taxi should cost about 20,000 IRR from the city center.
Minibusses leave when full, and cost 30,000 IRR per person. The ride to Gonbad-e Kavus takes about 1.5 hours.
How to get to the Hippodrome (horse track) and the Mill-e Gonbad Tower
The Hippodrome in Gonbad-e Kavus
If you go on a Friday, savari taxis will be waiting in Gonbad to bring you to the hippodrome. Just tell them "horse riding", and they should understand. It's helpful to have a photo of horse races on your phone in case they don't.
The savari ride should cost about 10,000 IRR per person. The races are timetabled to start at 13:00 but are more likely to start between 14:00 and 15:00. Tickets are 50,000 IRR per person. There are usually eight races in a day.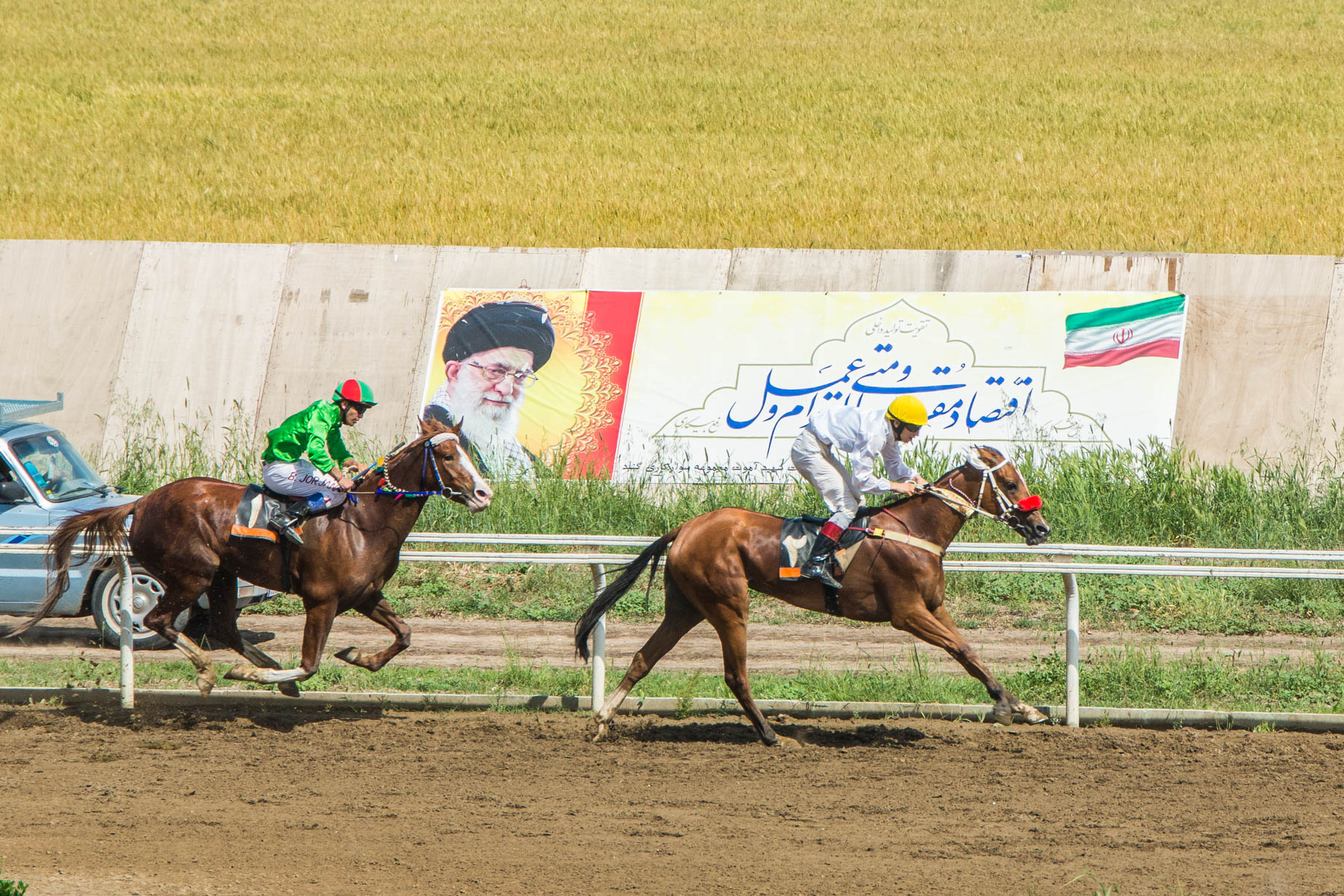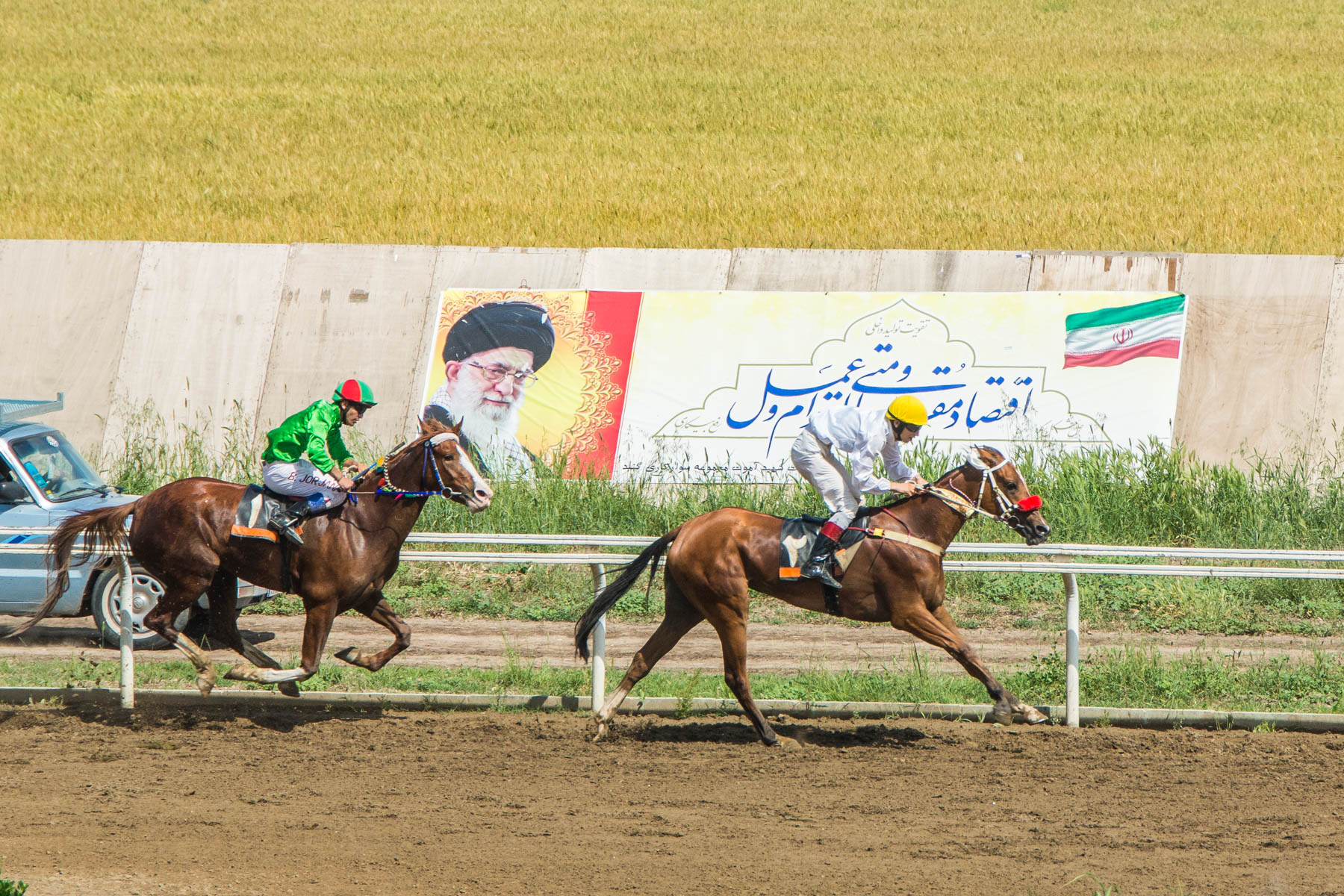 Mill-e Gonbad Tower in Gonbad-e Kavus
If you don't arrive on Friday, or only want to see the tower, just hail any taxi you see. A taxi to the tower should cost no more than 25,000 IRR in total. Entrance to the tower is 200,000 IRR per person.
We're not gonna lie, we thought the tower was a bit lame, and not worth paying the high entry fee (yay for being on a budget). It also doesn't help that there is literally nothing inside. Do as you will, but in our opinion, it's the exterior that counts.
Interested in more offbeat places? Check out our off the beaten path Iran itinerary!
Getting back to Gorgan from Gonbad-e Kavus
If you want to go back to Gorgan, you need to head to Istgah Gorgan, the name of the minibus terminal. From here, minibusses and savaris leave when full. Taxi drivers know how to find it, but we've added a map just in case. From either the Hippodrome or the tower it shouldn't cost more than 25,000 IRR dar baste. We're not entirely sure how late the last minibusses are to Gorgan, so try not to stay out too late at the races if you want to catch the bus 😉
Want to know more about these races? Check out our photo essay on a day at the races in Gonbad-e Kavus!