A detailed budget report about how much it costs to go backpacking in Iran. Includes a city-by-city breakdown, average costs for common expenses, and recommendations for budget accommodations.
Lost with Purpose is blocked in Iran. To access Lost with Purposen in Iran, use a VPN. We recommend ExpressVPN. Read more about accessing blocked websites in Iran here.
Planning the financial part of a trip is often the most difficult step. Sure, you have vague notions of how much food costs, and how much that hostel for the first few nights will be, but planning for more than a couple of days is pretty miserable.
For most foreigners, Iran is a cash-only economy. This means you'll have to walk around with large wads of rials. If you don't feel comfortable about this, check out Mah Card. Mah Card is a prepaid debit card specifically designed for travelers in Iran. Use the promo code LOSTWITHPURPOSE to get a 40% discount on Mah Card.
Before we give you the breakdown, there are a couple of things to keep in mind:
We only included costs we think are relevant to the average traveler. We doubt anyone cares about the clothing we bought, or camera bits and pieces, so we didn't include these costs in our public spreadsheet. Things like visas for onward travel are also not included.
We Couchsurfed in Iran. Even though we did this only sporadically, it still saved a lot of money. You don't have accommodation expenses, and your host will insist on paying for everything. We highly recommend it, because it's a great way of meeting even more wonderful people. Make sure to bring a gift from home, though! Postcards or something similar are much appreciated.
We didn't visit all the tourist sites. A lot of tourist sites are relatively overpriced (200,000 IRR for the Fin Gardens in Kashan? No thanks.), so we had to pick and choose. If you have a serious case of FOMO, you'll probably spend more than us on entrance fees.
Iranians are going to invite you to stay with them quite often, and they'll pay for everything when you do. This greatly reduced our costs. Given how common this is, we figured we'd leave the freebie days in when making our calculations. Say yes to invitations!
There is a big difference in prices between the touristic cities (Tehran, Kashan, Esfahan, Yazd, Shiraz) and other places in Iran (most notably in the west). Wherever relevant, we will give price ranges. The lower range is for less touristic places, the higher range for more touristy places.
The actual exchange rates at the time of writing are 34,500 IRR to the US dollar and 38,000 to the euro (the euro might fluctuate a bit). We are using a euro exchange rate that is a bit below 38,000 IRR because we exchanged euros to dollars back in the Netherlands. Overall this difference is negligible.
Exchange rate used for this trip: €1 = 37,672 IRR
How much it costs to go backpacking in Iran
Total cost of backpacking for 55 days
For two people: 86,551,000.40 IRR / €2,297.48
Per person: 43,275,500.20 IRR / €1,148.74
Average cost per person
Total per day: 786,827.28 IRR / € 20.89
Food and drinks per day: 100,000 – 200,000 IRR / €2.65 – 5.31
Accommodation per day: 250,000 – 550,000 IRR / €6.64 – 14.60
Note: prices for rooms in Iran are usually per person. A solo traveller can expect to pay roughly the same as the above mentioned.
Mahmoomly long distance buses: 100,000 – 250,000 IRR / €2.50 – €6.50
VIP long distance buses: 200,000 – 500,000 IRR / €2.50 – €6.50
Taxis: All over the place. See our post about taking taxis in Iran.
City by city breakdown
Average amount spent per day in each city, for one person. Includes transport to the city.
Tabriz: 792,839IRR / €21

We stayed at Darya guesthouse

Zanjan: 983,850IRR / €26
Qazvin: 982,750 IRR / €26

We stayed at Telighani Inn

Rasht: 737,500 IRR / €20

We stayed at Kenareh guesthouse

Masuleh: 762,500 IRR / €21

We don't know the name of the place we stayed 😉

Tehran: 758,750 IRR / €20

We stayed at Khazar Sea Hotel

Kashan: 822,500 IRR / €22

We stayed at Noghli House

Isfahan: 856,667 IRR / €23

We highly recommend Spring Hostel

Yazd: 894,167 IRR / €24

We stayed at Alexander Guesthouse (expensive) and Amir Chakhmaq Hostel (cheap)

Farahzad: 1,118,000 IRR / €31

We stayed at Barandaz Lodge

Mashad: 965,667 IRR / €26

We highly recommend Vali's Homestay

Gorgan: 187,500 IRR / €5
Hamadan: 740,00 IRR / €20
Sanandaj: 971,250 IRR / €26
Kermanshah: 735,000 IRR / €20
Khorramabad: 582,500 IRR / €15

We have no idea what the name of the hotel was… some tiny mosaferkaneh.

Shush: 70,000 IRR / €2

We stayed at a family's home

Shushtar: 612,500 IRR / €16

We stayed at Shushtar Hotel

Shiraz: 1,00,1250 IRR / €27

We recommend Niayesh Hotel

Kerman: 768,750 IRR / €20

We stayed at Omid Guesthouse

Kaluts: 1,880,000 IRR / €50

We stayed in Kaluts Ecolodge

Bam: 495,000 IRR / €13

We recommend Akbar Guesthouse

Zahedan: 1,010,000 / €27
How we could've spent even less
Eat only kebabs. Since we didn't want scurvy, we ate at sit-down restaurants more often than we normally do.
Couchsurf more. We never used Couchsurfing before Iran, so it took us a bit of time to get things rolling (and sometimes we're anti-social), but it's a great way to save money. Iran has a very active Couchsurfing community, especially in the well-visited cities. If you post a public trip a couple of days before you go, you'll likely get dozens of responses.
Go camping. Iranians love camping, and you'll see tents everywhere. These are mostly to post and chill during the day, but it is possible to camp in many places in Iran.
For more money saving tips, check out the Broke Backpacker's guide to backpacking in Iran.
Context/how we roll
We're your typical wanderin' backpacker duo:
Always walk or take public transport… unless there is none. (Or we're reeeally lost…)
Usually eat cheap meals and fast food for at least 2 meals a day.
Sleep in the cheapest accommodation we can find that isn't crawling with bedbugs or covered with old vomit. Usually opt for a private double rather than dorms.
We don't like museums.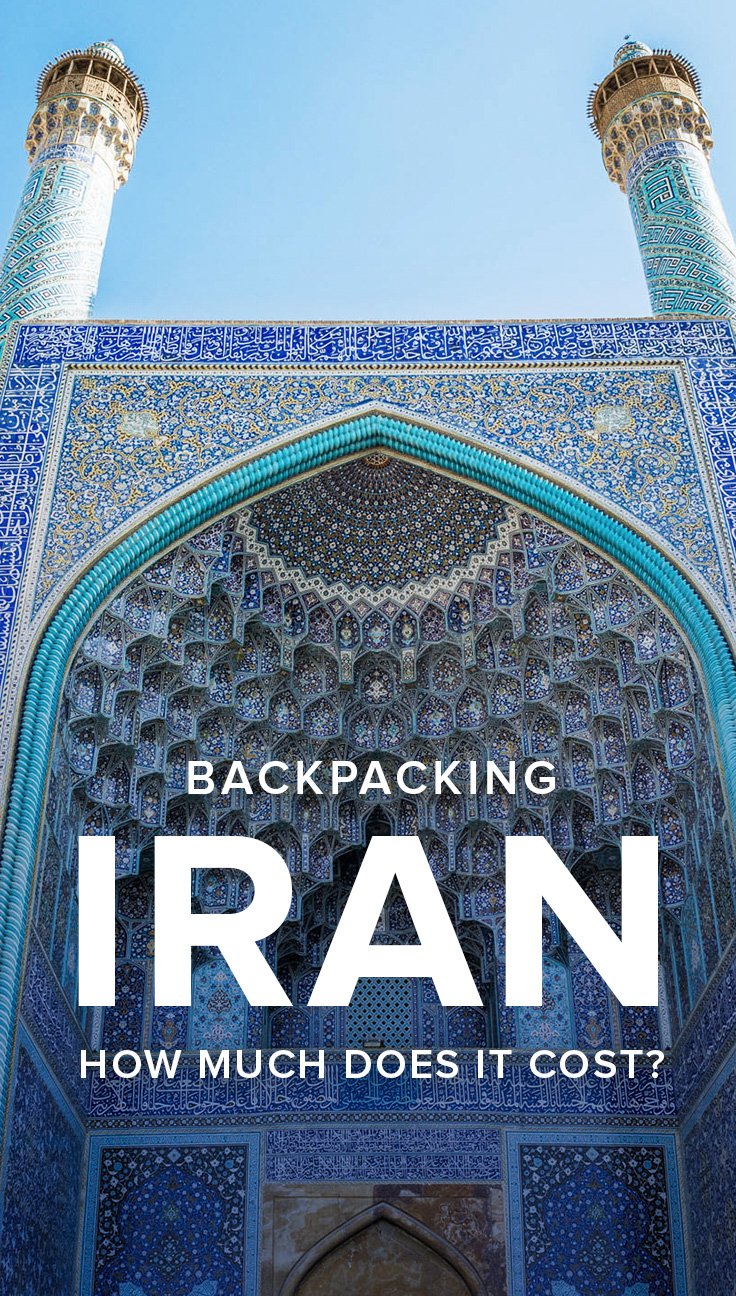 Yay transparency! There are affiliate links in this post. Basically, if you check out the links in this post, we'll make a bit of change at no extra cost to you. This is how we pay to keep the blog up and running! We'll also love you forever and ever if you do click around. Scout's honor!