I'm often asked for suggestions about Iran itineraries, so without further ado: here's my suggested two week Iran travel itinerary. Includes tips on what to see, where to stay, how to get off the beaten track, and an interactive map. Updated in 2019 with new recommendations. 
Lost with Purpose is blocked in Iran (clearly the government loves me!). To access Lost With Purpose in Iran—and other blocked websites—you need to use a VPN. I use and recommend ExpressVPN. Read more about accessing internet in Iran freely with a VPN here.
From glorious Islamic architecture to bustling markets, unexplored islands to skiing and rock climbing, the fabric of Iran is a diverse and intricate tapestry. But all this splendor makes it difficult to decide where to go. So much to see, so little time!
Below you can find a two-week itinerary for Iran. It includes several major highlights of Iran but also gives you alternatives if you wish to mix it up. If you have more time and want to explore a different side of Iran, you can check out this off-the-beaten-track guide for Iran with more itinerary suggestions.
A note on prices: Due to high levels of inflation, prices in Iran change all the time. The same goes for the exchange rate. However, because the exchange rate often changes in line with inflation, dollar and euro prices will mostly stay the same. I try to keep prices as up-to-date as possible, so please let us know if anything has changed.
Lost With Purpose's two-week Iran travel itinerary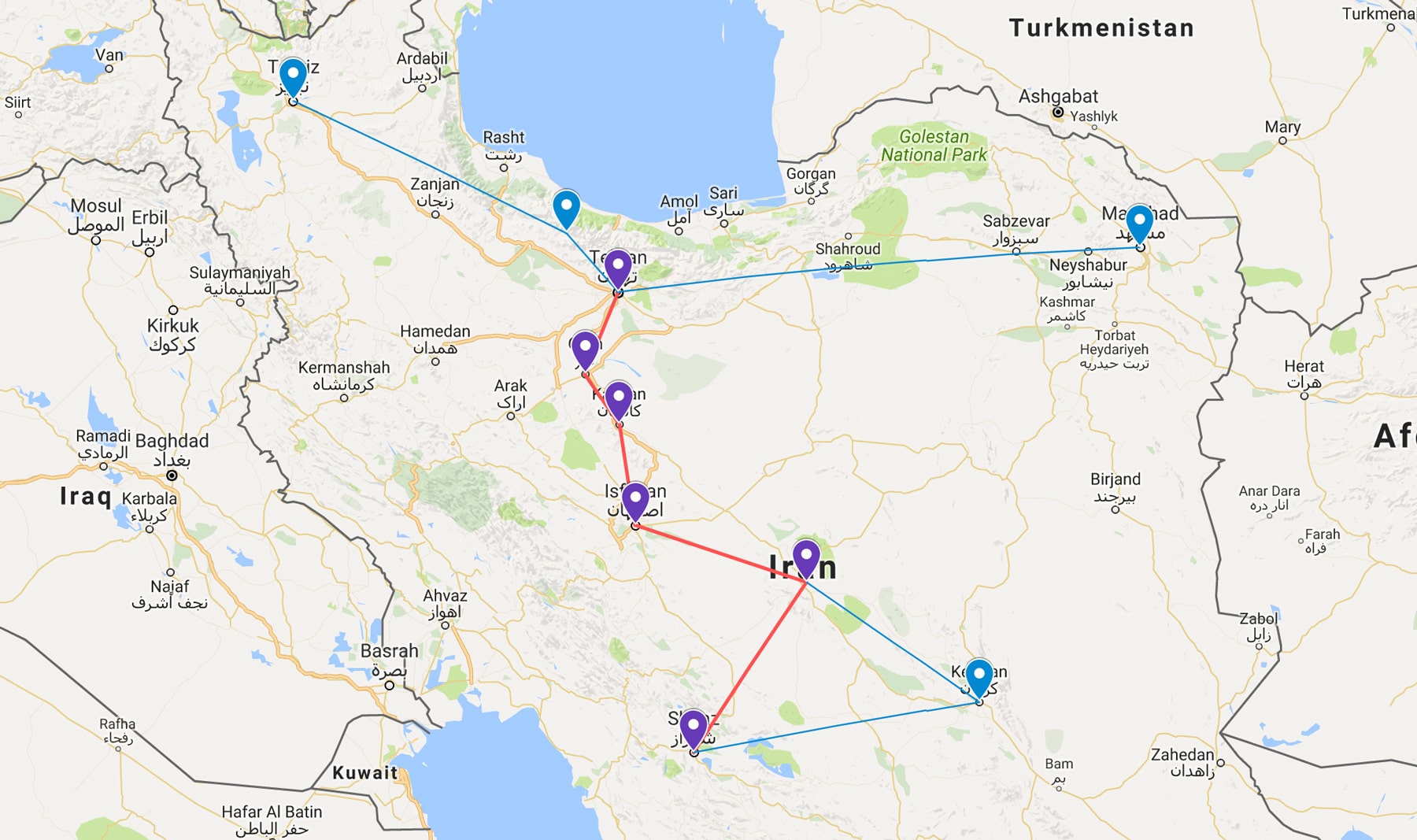 Iran in two weeks
Alternative destinations
A quick note on money in Iran
Due to international sanctions, Iran is a cash-only economy for foreigners, even though almost all stores accept local debit and credit cards.
This means you'll have to walk around with large wads of rials. If you don't feel comfortable about this, check out Mah Card. Mah Card is a prepaid debit card specifically designed for travelers in Iran. Use the promo code LOSTWITHPURPOSE to get a 40% discount on Mah Card.
Days 1-3: Tehran
Tehran, the capital of Iran, is not the easiest of introductions. It's busy, congested, polluted, and vast. Plenty of people will tell you to not waste your time, and beeline straight to more noteworthy places.
I disagree. Tehran has plenty to offer if you let it.
Tehran's Grand Bazaar, for instance. The largest in the country, it is estimated that ⅓ of all goods sold in Iran flow through its narrow lanes at one time or another. It's a sensory overload and can get super crowded in the middle of the day, but it's a bazaar not to be missed. You can easily spend the better part of a day in and around the bazaar, and we recommend you do just that!
Once the bazaar becomes too much of a hassle, you can retreat to the relative calm of Tehran's numerous parks. Let the greenery relax your mind for a bit before you're inevitably barraged with requests for selfies!
Top things to see in Tehran
Grand Bazaar: Tehran's most bustling bazaar. Head here early if you want a bit of relative peace and quiet. If dodging men with carts is more your style, brave the crowds of the afternoon. Don't count on finding food here once evening sets in.
Golestan Palace: Tehran's most famous attraction… and the most costly at $20

(likely more by now)

to enter. A UNESCO world heritage site, it's a former palace dating back to the Qajar era featuring several bedazzled halls and rooms.
Borj-e Milad (Milad Tower): A towering outlook over Tehran's city, and a good place to watch the sunset. Make sure the day is clear before paying to head up the tower!
Borj-e Azadi (Azadi Tower): Tehran's iconic archway, popular with locals and foreigners alike.
Imam Khomeini Shrine: Mentioned it in my off the beaten track itinerary, this under-appreciated shrine is a great spot for a day trip. Budget travelers, don't miss it — entrance is free!
Park-e Jamshidieh: A chill park in the foothills of northern Tehran. Bring picnic materials, or just sit and wait for some friendly Iranians to approach you for some conversation!
Darband: A chill riverside area where you can escape the hustle and bustle and enjoy some riverside kebabs and hookah.
Where to stay in Tehran
As you could expect from the capital, Tehran has plenty of hotels. Because the city is so big, I am reluctant to give recommendations. Instead, you can check out 1stQuest to find the perfect accommodation in Tehran. Don't forget to use the code LWP-QST for a 5% discount when using 1stQuest.
Transportation times from Tehran
Bus to Qom: 1.5 hours
Train to Qom: 2 hours
Bus to Kashan: 3 hours
Train to Kashan: 4 hours
Finding the right bus in Tehran can be a real nightmare, as bus stations are crowded and chaotic. Save yourself some stress and book buses online with 1stQuest – use code LWP-QST for a 5% discount.
Day 4: Qom
The second holiest city in Iran, and an important city in the run-up to the revolution, Qom is a logical stopover on your way to Kashan or Esfahan, or as a day trip from Tehran. It's a very pious city, due to its large theological institutes, and houses the magnificent shrine to the sister of Imam Reza.
If you don't have the time to make it to holy Mashhad in the north, Qom is a good alternative as far as holy cities go.
Tip: While in Qom, be sure to dress extra conservatively—dark or somber clothes are best.
Top things to see in Qom:
Hazrat-e Masumeh/Fatimah Masumeh Shrine: Shrine to the sister of Imam Reza, Fatimah, and the second most holy place in Iran.
Jameh Mosque: Another grand Friday mosque.
Qom Bazaar: Historical covered bazaar, much less crowded than Tehran's.
Where to stay in Qom
I recommend going to Qom as a day trip from Tehran. There's no real reason to stay the night.

Transportation from Qom
To Tehran by bus: 1.5 hours
Bus to Kashan: 2 hours
To Esfahan by bus: 5.5 hours
Days 5-6: Kashan
Many people consider Kashan one of the highlights of Iran, but I have to admit: I was disappointed by Kashan. Supposedly "hidden" from mass tourism, it actually overflows with tour groups. Sightseeing opportunities are numerous, but ticket costs quickly add up.
On the other hand, Kashan is en-route to other major destinations and a logical stopover going south. Its Old City is filled with the winding alleys and gorgeous old buildings, so if this is what you're looking for, add Kashan to your Iran itinerary. Everyone's experience is different, after all. 
Top things to see in Kashan
Fin Gardens: One of several UNESCO-listed Persian gardens.
Traditional houses: See how the wealthy merchants of Kashan lived in the numerous traditional houses. They're $3 a piece to enter. You can buy a ticket for several houses + bathhouse at the ticket office of the Sultan Amir Ahmad Bathhouse.
Sultan Amir Ahmad Bathhouse: Ornate vaulted ceilings decorate the inside. On the flip side is an alien dome-covered rooftop.
Where to stay in Kashan
Kashan's budget options are limited, as most accommodations are in beautifully restored heritage homes. Some of these have dorms for $10 – 15 a bed. But with an increase in tourism, cheaper options are sure to pop up. Check out 1StQuest if the options below are not to your liking (use code LWP-QST for a 5% discount).
Transportation from Kashan
Kashan is a great stop on your Iran itinerary if you're going south from Tehran, as it's right between Tehran and Esfahan. There are regular buses and several trains.
Bus to Esfahan: 3 hours
Train to Tehran: 4 hours
Days 7-9: Esfahan
Esfahan is one of the highlights of Iran. With its glorious mosques, grand bazaar, tasty food, and lovely people, it has something on offer for anyone.
Imam square, surrounded by Esfahan's bazaar and perhaps the most exquisite mosques in the country, can easily take up a day or two. Esfahan is a place not to be rushed, so make sure to slow down, sit on the grass and treat yourself to a saffron ice cream or three.
Tip: When in Esfahan, don't forget to try beryani, the local specialty made of minced mutton, herbs, and fresh bread. Azam Beryani specializes in the dish. They have several locations, but we enjoyed the spot near the Jame Mosque the best. Don't worry when you see the line—everyone in line is often too happy to let foreigners skip a few places.
Esfahan's mosques are certainly its highlight, but the city offers so much more. It has several historic bridges, of which at least Si-o-seh pol is worth a visit. 
Top things to see in Esfahan:
Imam Square: Don't forget to sit down in the grass and enjoy some saffron ice cream.
Shah Mosque: This mosque has perhaps one of the most intricate archways in Iran. A must visit.
Sheikh Lotfallah Mosque: One of my favorite mosques in Iran. Staring at the ceiling never gets old.
Historical bridges on the

Zāyanderūd

 river, notably Si-o-seh Pol: Make sure to visit in the evening when the bridges are atmospherically lit up, and Iranians flock to enjoy the evening cool.
Vank Cathedral: This Armenian cathedral has beautifully ornate frescoes, and rivals anything you'll see in Armenia itself.
Where to stay in Esfahan
Esfahan has plenty of options. From big luxury hotels to small homestay-like hostels. Prices are what you would expect from one of Iran's most popular cities. We recommend booking ahead in the high season using 1stQuest (use code LWP-QST for a 5% discount).
Transportation from Esfahan
You can go almost anywhere in Iran from Esfahan. Below you can find some travel information on the most popular routes for this Iran itinerary.
Bus to Yazd: 7-8 hours – I recommend an overnight VIP bus to save on time and accommodation
Train to Yazd: 3 hours
Bus to Tehran: 5 hours
Train to Tehran: 7.5 hours
Flight to Tehran: 1 hour
Bus to Shiraz: 6 – 7 hours
Days 10-11: Yazd
Yazd is an exquisitely well preserved and restored town. It's a quintessential Persian oasis town, with lovely people and ample photo ops. You can easily spend a day or two getting lost in its desert tinted alleys, or admiring the views while relaxing on one of its numerous rooftop cafes.
Yazd is a great place to stick around in, and if you have time we recommend staying a bit longer to visit some of the sights around Yazd. If not, two days is enough to visit the main sights and get a little bit lost.
Top things to see in Yazd:
Jameh Mosque: Beautiful Friday Mosque in the center of Yazd. Has a grand entrance hall. PRO TIP: visit in the evening, or take the back door, to save on the entry fee.
Amir Chakhmagh: Don't waste your money on the entrance fee, you can have the same view from the guesthouse rooftop next door.
Old town alleyways: One of the joys of Yazd is wandering its backstreets. With a bit of imagination, you'll soon be transported back to the 17th century.
Off the beaten track tip: Don't miss the haunting pigeon tower or sprawling Narin castle in nearby Meybod!
Places to stay in Yazd
Yazd has plenty of accommodation. Most of the more upscale places are located around the side streets near the Jame Mosque and Bazaar. I only found one budget place 2016, which can be found next to Amir Chakhmagh, but as of 2019, several other places have opened.
Transportation from Yazd
Bus to Shiraz: 6 hours – Consider overnighting it.
Bus to Tehran: 9 – 10 hours
Plane to Tehran: 1 hour
Days 12 – 14: Shiraz
Shirazis (people from Shiraz) have a reputation as being the warmest people in Iran, and it's easy to see why! The city's history is decorated by poetry, music, and wine, and its old interior is filled to the brim with yet more stunning architecture. Though the hard-line government has deprived the city of its Bacchanalian aspects, Shiraz is still a warm and welcoming place for everyone, and sure to impress.
From Shiraz, you can fly or take a bus back to Tehran. If you have some time left, check out our list of alternative destinations below, or leave the tourist trail with our off the beaten track guide.
Top things to see in Shiraz:
Nasir al Mulk Mosque: perhaps the most photographed mosque in all of Iran, and for good reason.
Shah Cheragh shrine: Shrine to Imam Reza's brothers. Absolutely gorgeous. Dress appropriately and you might not need a mandatory guide.
Tomb of Hafez: Brimming with locals, it's the tomb of one of Iran's most exalted poets.
Tomb of Saadi: Another mausoleum, this time of the great Persian poet Saadi
Vakil Mosque: Yet another dazzling mosque, tucked away in the city's bazaar.
Vakil Bazaar: Winding walkways promising to be filled with everything you never needed and more.
Persepolis and Necropolis: For some the reason to visit Iran. The lasting remains of an ancient capital are a sight to behold. An easy day trip from Shiraz.
Where to stay in Shiraz
Shiraz lacks reasonable budget options. However, most mid-range options are sharply priced for what you get and are close to most major sights and luxury hotels sometimes offer great discounts.
Transportation from Shiraz
If you find yourself in Shiraz during Nowruz and have to travel back to Tehran, we recommend flying, as flights to Tehran are cheap during Nowruz.
Plane to Tehran: 1.20 hours
Train to Tehran: 14 – 15 hours
Bus to Yazd: 7-8 hours –
Alternative Iran itinerary ideas
The route above covers classic Iran, and is perfect for first-time visitors, especially if you fly into Tehran. It covers genuine highlights, but it's also a bit mainstream.
The following are some of my favorite places in Iran that are worth a visit, which is guaranteed to be less laden with tour groups. If you have only two weeks, you can fit in one of these destinations by cutting out Qom and/or Kashan.
If you have a bit more time, you can easily tack several of these on to your Iran itinerary. And if you need more inspiration to create a four-week itinerary for Iran, check out our off-the-beaten-track guide to Iran.
Tabriz (2-3 days)
Probably my favorite big city in Iran. Tabrizis are extremely friendly, there's plenty of interesting sights to be seen, and its UNESCO-listed bazaar is a shopper's Valhalla. The city's popularity is sure to pick up due to its close proximity to the Armenian border crossing, but for now, it's blissfully devoid of mass tourism.
How to fit Tabriz into your itinerary: If coming over the border from Armenia or Turkey, make Tabriz your first stop. If starting from Tehran, fly or take an overnight bus from there.
Top things to see in Tabriz
Bazaar of Tabriz: A UNESCO World Heritage Site, the bazaar of Tabriz is phenomenal. It is one of the oldest bazaars in the region, and one of the largest covered bazaars in the world.
The Blue Mosque: Dilapidated but still beautiful, this mosque was badly damaged by an earthquake in 1780. Restoration efforts are in place, but work is progressing slowly.
Shah Gölü park: A large artificial lake surrounded by snack stalls, small eateries, and carnival rides. It's a popular hangout spot for locals, especially in the evenings!
Kandovan: Reminiscent of Cappadocia in Turkey, Kandovan is an easy day trip from Tabriz, and a must-visit if you're in the region.
Where to stay in Tabriz
Being a big city, Tabriz has a wide array of accommodation available.
Budget: There are lots of budget hotels around the Darya Hotel. The Darya used to be cheaper, but being featured in the Lonely Planet has inevitably raised the prices to around $25 for a double.
Mid-range: Tabriz Hotel
Luxury:  Kaya Laleh Park Hotel
Transportation from Tabriz
Tabriz is a bit out of the way, but well worth the effort getting there.
Plane to Tehran: 1 hour
Train to Tehran: 12 – 13 hours
Bus to Tehran: 8 – 9 hours
The Alamut Valley (2 days)
Home to the famous Alamut Castle of the Assassins, the otherworldly rock formations and fascinating history of the Alamut Valley is hard to forget. Best accessed from Qazvin, the Alamut valley offers anything from a day trip to multi-day hiking opportunities.
How to fit the Alamut Valley into your itinerary: If coming over the border from Armenia or Turkey, you can stop here after Tabriz. Otherwise, head here from Tehran via bus or taxi.
Top things to see in the Alamut Valley
Alamut Castle: The ex-fortress of Hassan-e Sabbh. The fortress is no more, though it's being restored, the views from the top are absolutely breathtaking.
Three canyons: I couldn't tell you their names, but there are several canyons running alongside one of the roads into the valley. They feature surreal, bulbous rock formations known as "pudding rocks". Can't go wrong with a name like that!
Garmarud: A small village in the mountains, and the starting point of many treks through the Alamut Valley.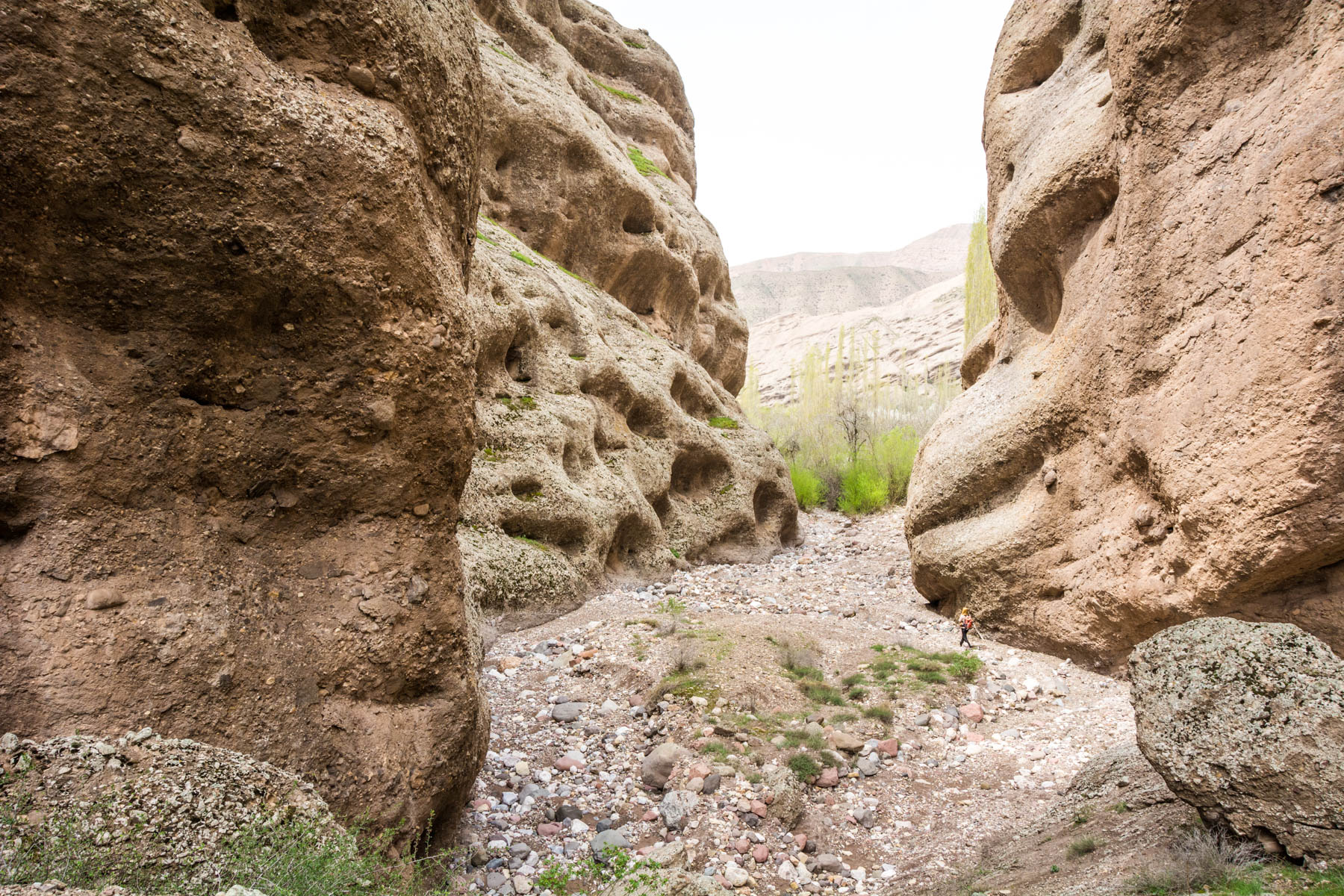 Where to stay in the Alamut Valley
You have two options if not hiking and camping—Qazvin, the nearest city, and Gazor Khan, a village at the base of the Alamut Castle mountain 2.5 hours from Qazvin.
Transportation times from Qazvin
Train to Tehran: 2 hours
Bus to Tehran: 3 – 4 hours
Bus to Rasht: 3 hours
Mashhad (2 days)
Mashhad is Iran's holiest city, and it shows. The glittering minarets of the Shrine to Imam Reza rise above the city's skyline, the streets are filled with pilgrims, and black is the color of choice for almost all women on the street. There's not much to see in Mashhad aside from the shrine, but it's worth it. It's not every day you can see the resting place of one of the 12 imams, some of the holiest people in Shia Islam.
How to fit Mashhad into your itinerary: Mashhad is far away from literally everything in Iran. If you're pressed for time, you need to fly there. If you have a bit more wiggle room, you can take an overnight train or bus from Tehran to Mashhad and back.
Top things to see in Mashhad
Shrine to Imam Reza: A sprawling, ornate masterpiece that needs to be seen to be believed. Girls will need to wear a chador, and no cameras are allowed inside.
Kang: A stepped village near Mashhad. Perfect for a day trip.
Torbat-e Jam: Another small village with a beautiful mosque and mausoleum near the border of Afghanistan. Here's how to get from Mashhad to Torbat-e Jam.
Where to stay in Mashhad
Transportation from Mashhad
Plane to Tehran: 1.20 hours
Train to Tehran: 10 – 11 hours
Bus to Tehran: 10 – 11 hours
Kerman and the Kaluts (2 days)
Southern Kerman is quite a hike from anything else in Iran, but the Kaluts desert (also known as the Dasht-e Lut desert) makes the trip worth your while. The overwhelmingly stark silence of the desert is enough to calm even the most restless of minds, and the surreal "sandcastles" will transport you to another world entirely.
How to fit Kerman into your itinerary: You can overnight bus to Kerman from Shiraz or Yazd. Alternatively, if you have the funds you can fly to Kerman's airport from Tehran, Esfahan, or Shiraz.
Top things to see in Kerman and the Kaluts
The Kaluts desert: Of course!
Old caravanserai: An abandoned caravanserai in Shahdad, a small desert town at the edge of the Kaluts.
Vakil traditional tea house: An old tea house in a historic bath inside Kerman's bazaar, often offering live music.
Rayen citadel: A restored ancient city, and a nice alternative to the destroyed Bam Citadel
Shazdeh Garden: A beautiful Persian garden near Kerman
Where to stay in Kerman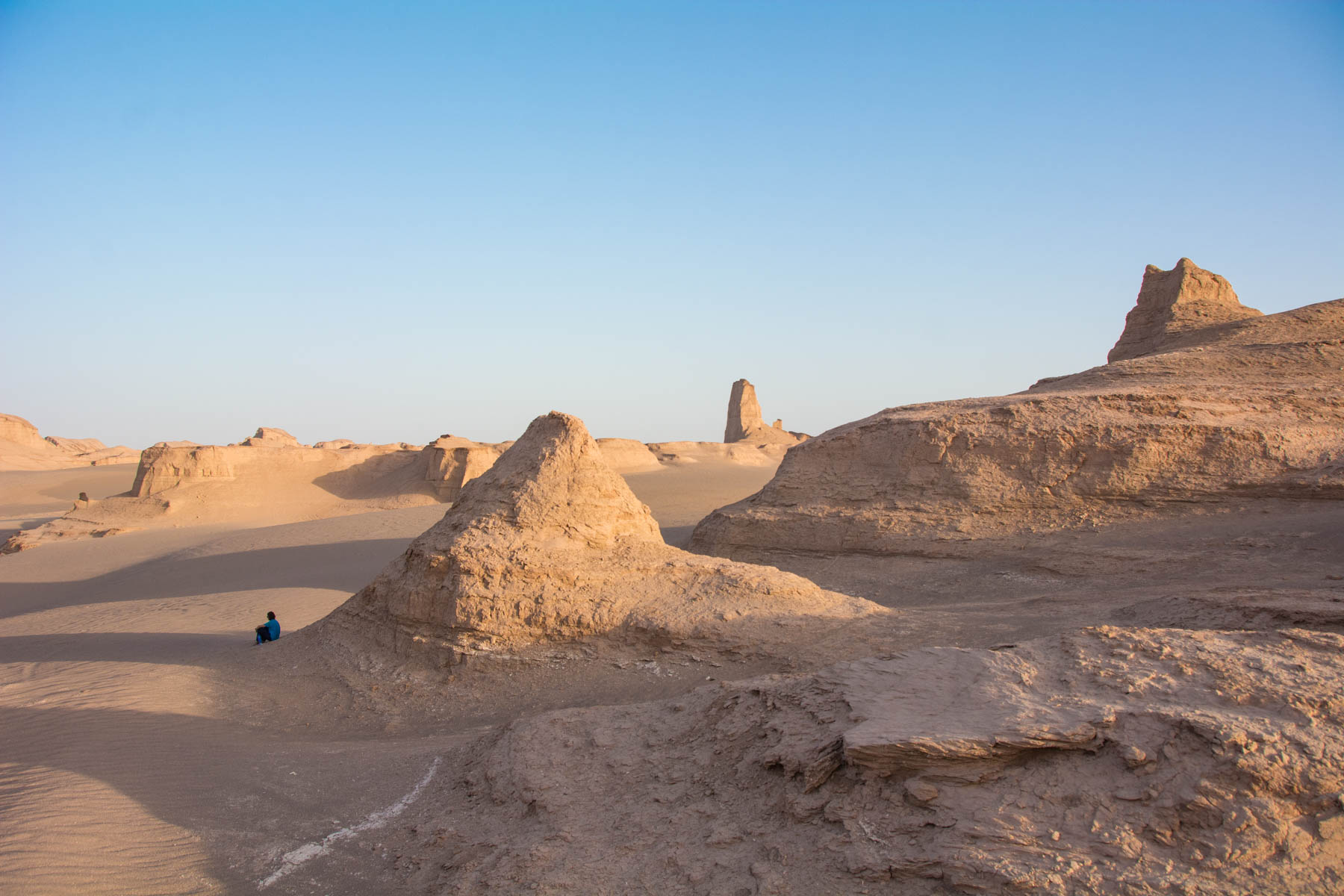 Transportation times from Kerman
Bus to Shiraz: 7 – 8 hours
Bus to Yazd: 5 – 6 hours
Plane to Tehran: 1.5 hours
Hormuz Island (2-3 days)
Hormuz island is sometimes referred to as Rainbow Island, and it's clear why. Its multicolored mountains and beaches will surely take your breath away.
Hormuz was relatively undiscovered until recently, but it's becoming more popular with Iranian tourists and foreign travelers alike.
The island has a laid-back atmosphere and attracts Iranian hippy types and backpackers alike. Most people who visit Hormuz end up staying longer than they planned.
Top things to do on Hormuz Island
Red Beach: The red sand of the surrounding mountains gives the water at this beach an almost eerily red glow. One of the most popular destinations on the island.
Hole in the rock: This hole in the rock makes for a great photo prop, and you can see many Iranians angling for just the right selfie.
Rainbow Valley: Multicolored valley with a gorgeous view. Popular with Iranian buskers.
Salt cave: A stunning salt cave surrounded by red mountains.
All of the above and more can be visited in a day hiring a motorbike or rickshaw ($1.80 an hour). But I recommend taking your time and leisurely exploring the island.
Where to stay on Hormuz Island
Hormuz is small and has only one town. There used to be almost no accommodation, but with its increased popularity several places have now popped up.
Budget: Camping – there are plenty of beaches to pitch your tent, and it's possible to buy gas canisters on the island.
Budget: Saboora Hostel is a simple yet atmospheric hostel charging $7 per night.
Mid-range: Sahel Rorkh is a regular 3-star hotel in Hormuz town.
Transportation to Hormuz
There are several ferries a day from/to Bandar Abbas, and two ferries from/two Qeshm. You can check the ferry schedule here. Both ferries take roughly one hour.
Resources for travel in Iran
And that concludes my two-week Iran itinerary. Let me know in the comments if you have any questions.
Yay transparency! Some of the links in this post are affiliate links. If you buy or book something with our links, we'll get a small commission at no extra cost to you. Think of it as a way of saying thanks for making the itinerary 🙂