Taxis in Iran can be extremely confusing. Any car can be a taxi, none of them have meters, and all drivers will try to rip you off. Here's everything you need to know about the taxi system in Iran, to keep you from being ripped off… too often.
The ridehailing app Snapp has recently been introduced in Iran. In most major cities it is now possible to order a Snapp from your smartphone. Snapp works similar to other ridehailing apps, and it charges roughly 10,000 IRR per kilimeter ($0,08). You can download it from the App Store or Play Store, and it works in English. For more info check this guide on how Snapp works.
In Iran, every other car is a taxi. Some are yellow, some are not. Some have taxi signs, some do not. None have meters, and all will honk to offer you rides.
We've been nothing but positive about Iranians, but an exception needs to be made for taxi drivers. Although not as bad as other countries, taxi drivers in Iran will always, always try to make an extra buck off of you.
Drivers quote prices ranging from a ludicrous 5 times the regular price, to a deceptively reasonable 2-3 times the standard fare. It also doesn't help that there is a difference between private taxis (dar baste, closed door), and shared taxis (savaris or na dar baste), despite the cars often looking the same.
Want to continue reading Lost with Purpose while you're in Iran? Make sure to get a VPN that works in Iran before you go!
Private taxis
As the name suggests, private taxis are for you, and you alone. Virtually any car in Iran can be hailed as a private taxi, and many shared taxi drivers will try to get you to go dar baste, simply because they can charge more.
There doesn't seem to be any logic behind the pricing of a private taxi. We've tried to adhere loosely to prices mentioned in the Iran Lonely Planet, but more often than not, we paid something way off from their estimate… in both directions. We've paid way more and way less, and it took us a while to figure out if that was on us, or the guide. Here's what we've figured out after our weeks in Iran:
Tips for taking private taxis in Iran
Don't pay more than 10,000 IRR ($0,08) per kilometer for a private taxi, unless you're taking a taxi between cities. You can get a rough idea of how far away your destination is by using Google Maps. If in doubt, expect to pay around 20-40,000 for an inner city voyage.
Never agree with the initial quoted price, even if it seems reasonable. Counter with 60% of the quote, and wiggle from there. If the driver is stubborn, walk away and try another.
At bus terminals, ignore the hawkers around the bus and get a taxi from the street. We've bumped prices down from 150,000 IRR to 40,000 IRR just by walking an extra 20 meters.
Don't always trust the prices locals will give you. Many a time, a friendly local quoted a price that was too high. It could be ignorance (most people have their own cars), but it could also be because Iranians think all tourists are rich and assume they should pay more.
When in doubt, take an official (usually yellow) taxi. Most of the time, official drivers quote more reasonable prices from the get-go. They have a loose set of pricing guidelines that they need to stick to, versus the rogue random drivers that can charge whatever they want.
Realize that sometimes unfair pricing is inevitable. On more remote routes, such as the ride from Mesr to Farahzad, taxi drivers have a monopoly on the route and/or an agreement with guesthouse owners. You can argue all you want, but they know you have no other choice. Sometimes you've just got to bite the bullet and take their price.
Savaris, or shared taxis
Shared taxis are called savaris, and you can take them on both inter- and intra-city routes.
Intercity savaris in Iran
Most intercity (from one city to another) savari stations are easy to spot. There will be a cluster of taxis, usually near a main square or bus terminal, and drivers will shout the name of the city or town they're driving to. These savaris generally have set prices and routes, and are on a per-person basis.
Tips for taking intercity savaris in Iran
Don't ask for the price–just get in. Watch and see what others in the car will pay. People usually pay the driver within a few minutes of getting in, rather than at the end of the ride.
Don't let the driver leave until the car is mostly full. Just say na dar baste if he tries. The car should not leave until it's full of people going in the same direction as you.
Pay while there are still other people in the car. You'll be less likely to be ripped off since other passengers can call out the driver if he tries.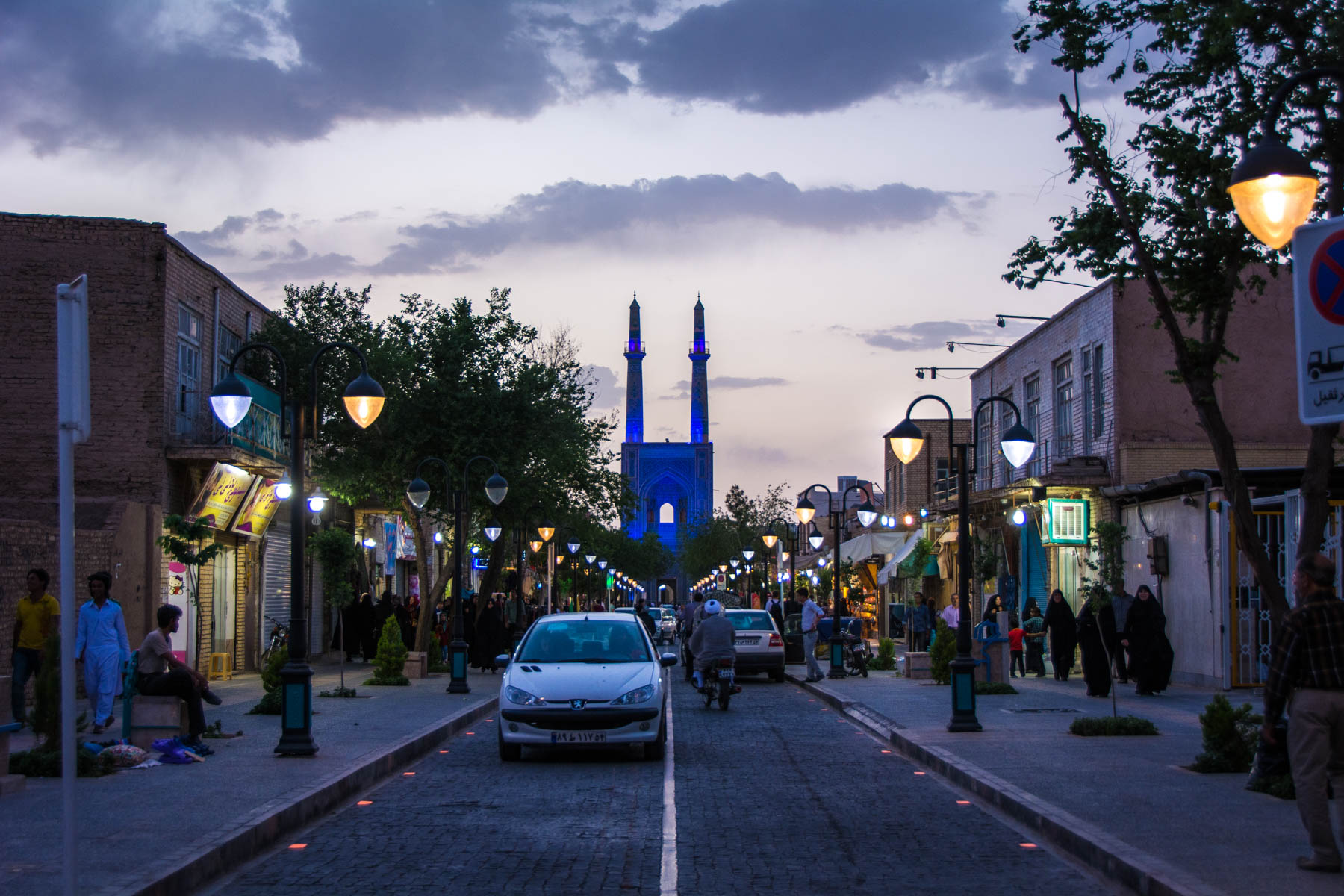 Intracity savaris
Intra-city savaris (taxis within cities) are another breed. They almost always try to get you to go dar baste, and will almost always try to charge you more than usual. Their fares are loosely based on distance, and are also on a per-person basis.
Tips for taking intracity savaris in Iran
Try to get a savari that already has a customer in it, so the driver can't force you to go dar baste. Sometimes you can do this at the starting point of a savari route, but it's easier to hail one that's already driving on the road.
As with intercity savaris, just get in and look at what other people pay. If they get out before you, try to roughly extrapolate what you should pay, based on their fare. An inner-city trip is usually not more than 10,000 IRR (around $0.30) per person.
If you aren't entirely sure what to pay, pay less than you think it should be. This gives you a better bargaining position, in case the driver doesn't agree with your fee. As with intercity taxis, try to do this in front of other passengers, so the driver can't rip you off.
If you know how much to pay, try to give exact change. We've had drivers refuse to give us change because they drove 100 meters beyond the original destination… bastards.
Use the big green shuttle taxis to take you along common city routes when possible. They're even cheaper than normal savaris, and can't rip you off. Routes and locations of shuttle taxi stops vary from city to city, so be on the lookout!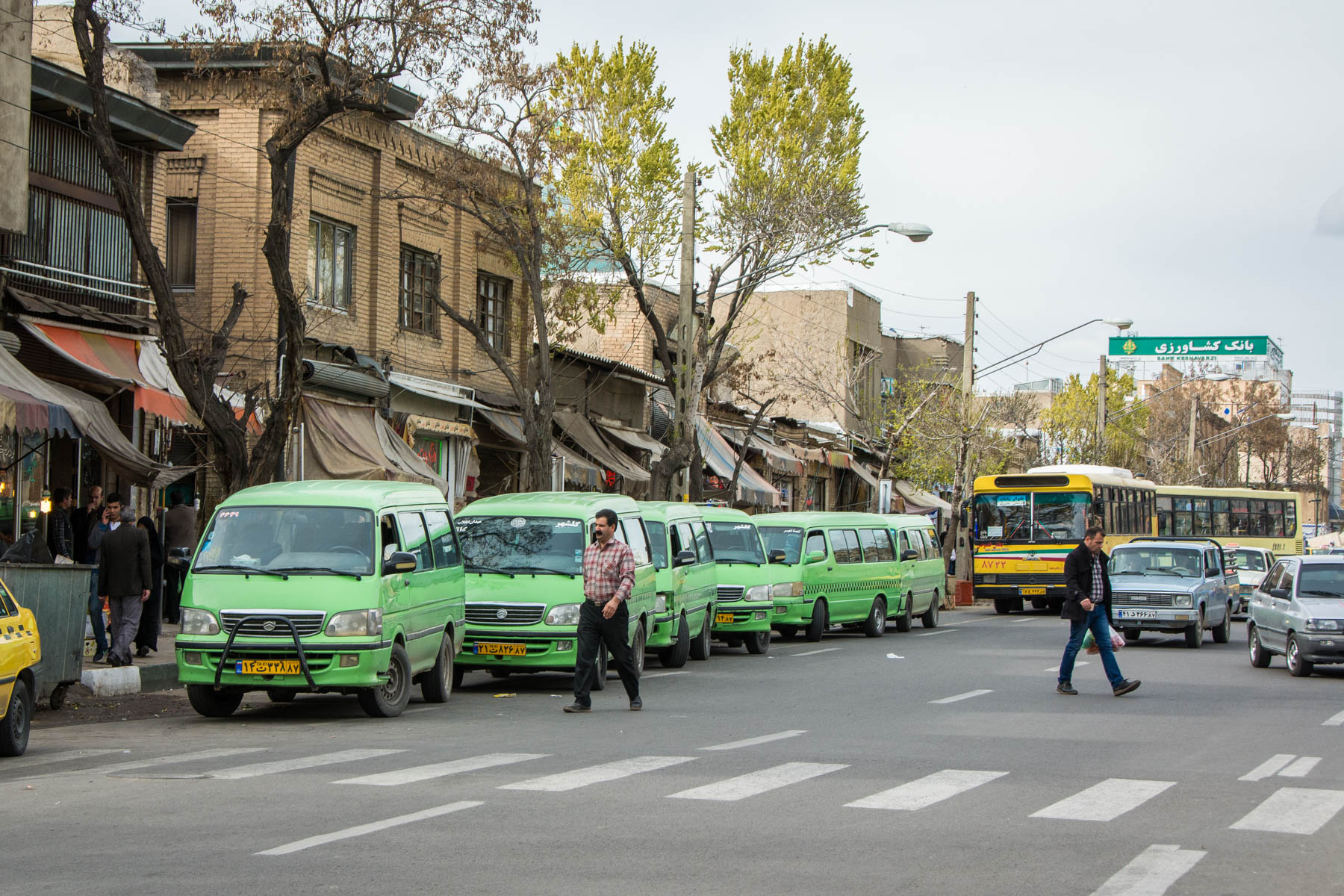 Hopefully, this guide will help you make some sense of the confusing world of taxis in Iran.