A complete guide to visiting the Kalash Valley. Includes information on where to stay in the different Kalash Valleys, information about Kalasha culture, and how to get to the Kalash Valleys. Updated in November 2019 to reflect the new pricing and security situation.

Deep in the mountains along the Pakistan-Afghanistan border, the remote Kalash Valley (also sometimes called Kalasha Valley, which actually consists of three separate valleys) is home to Kalasha people. Quite distinct from the rest of Pakistan's people, the Kalasha are said to be descendants of the armies of Alexander the Great.
Long cut off from other communities by their remote location, the Kalash Valleys are a cultural world apart from the predominantly Muslim population of Pakistan. The (literally) colorful Kalash practice a religion said to be closely tied to ancient Hinduism, meaning they have a plethora of unique traditions and festivals found nowhere else in Pakistan.
Read on for a quick travel guide to the Kalash Valleys, including information on Kalasha culture, which Kalash Valley to visit, how to get to the valleys from Chitral, and much more about visiting the region and meeting and learning from Kalash people.
Index
Which valley to visit
Before you go, you must decide which of the three Kalash Valleys you want to visit:
Bumburet – The most developed valley in terms of facilities, and most popular with domestic tourists.
Rumboor – Small villages in Rumboor are less developed and more popular with foreign tourists. Unlike Bumburet, Rumboor is still predominantly Kalash.
Birir – The least developed Kalasha Valley, and sees the least visitors.
I suggest you visit either Rumboor or Birir, as Bumburet has undergone a Disneyfication process, and is less Kalash and more Murree at this point.
Kalash culture
As stated, the Kalash people are not Muslim. Their unique culture and traditions predate Islam by centuries. Some scholars believe Kalasha practices have links to ancient Hinduism.
Unfortunately, the unique culture is diminishing. Some non-Kalasha people have moved into the valleys. Roughly 50% of Kalash people have converted to Islam for a variety of reasons, usually related to financial struggles, marital obstacles, and societal pressures.
However, there's a simultaneous a push to preserve and honor Kalasha culture in a variety of ways. Kalasha women still wear colorful traditional dresses and headpieces they embroider themselves. There are many Kalash festivals celebrating and showcasing Kalasha culture. If you plan on visiting one of these festivals, make sure to read about responsible tourism in the Kalasha Valleys below.
How to get from Chitral to the Kalash Valley
Chitral is the starting point for getting to the Kalasha Valleys. Regardless of which valley you want to visit, the way of getting there by public transport is generally the same.
Direct Jeeps from Chitral to the three different valleys leave around 13:00 from near Bank Alfalah in the center of Chitral. These Jeeps charge 200 – 300 Rs per person. However, Jeeps go to Birir only when there is demand.
If you don't want to travel during the middle of the day, there are shared cars going to the valleys in the early morning and late afternoon. To find a shared car, head to the Chitral central bus stand (the partially covered area with minibusses and shared cars), and get a shared car to Ayun. Ayun is about an hour from Chitral, and a seat costs 100 Rs or 600 Rs for the whole car.
From Ayun, shared cars and Jeeps go to the different valleys once full. They charge 100 Rs per person for the bumpy ride to your valley of choice, although cars might charge a bit more depending on the day's demand (or lack thereof).
If there are no transport options available when you arrive Ayun, a private hire should cost no more than 1000 – 1200 Rs to any of the valleys. However, if you wait for a while, it's usually possible to fill up a car with other travelers and locals who are going to the valleys. From Ayun, it will take one to two hours to any of the valleys.
As of 2019, to enter the Kalash Valleys, foreigners have to pay 600 Rs per person "for the welfare of the Kalash people".
Where to stay in the Kalash Valley
Bumburet
This valley has several hotels and guest houses and is becoming less Kalash and more Muslim by the day. Luckily, there are still several Kalash-run guesthouses where you can get your dose of local culture. Kalash House is a basic but friendly guesthouse in Brun that also offers camping space, and there are two more Kalash-owned guesthouses nearby in case it's full: Kalash Galaxy and Kalash View
Rumboor
Rumboor only has three guest houses, and the most homely of the lot is Kalash Home Guest House. If you're driving into Rumboor, it will be on your left at the start of Grom village—you can't miss it! Run by the amiable Engineer Khan, the food is delicious, the family is friendly, and the location great.
Rooms are 2000 – 3000 Rs per person, depending on the season. Food is usually included in the price, and you can buy homemade wine for 1,000 Rs per 1.5 liters if Engineer isn't in the mood to drink with you.
If it's full, you can try Kalash Indigenous Guesthouse, also in Rumboor.
Birir

More remote and with little in the way of facilities, I only know of Irfan Guesthouse in Guru village from the Pakistan Traveller Guidebook, the most comprehensive guidebook for Pakistan available.
Get a copy of the Pakistan Traveler Guidebook here for more information on traveling in the Kalash Valleys and other parts of Pakistan.
What to do in the Kalash Valleys
The most obvious answer is… learn about Kalash culture, of course!
Cultural Museum
The locally-run Kalasha Dur museum is a fantastic place to start your education. The attractive cultural museum in Bumburet Valley will give you all the background information you need before heading out into the valleys.
Festivals
If you're visiting the Kalash Valleys one of their three annual festivals, there will be plenty of feasts for the eyes. Dance, drink, and be amazed at the colorful rituals and clothes on display… but make sure to respect locals' space and customs when you do. There have been many problems with overcrowding and harassment from tourists at previous festivals; do your best to be a respectful guest.
There are three major festivals in the Kalash Valleys:
Chilam Joshi – May
Uchau – Autumn, usually September
Choimus – Two weeks around the winter solstice
Roam and see what happens
However, if you visit outside of festival time, there's not that much in the way of official things to do. The valleys are a place to sit and enjoy a bit of nature, not run around sightseeing. While away the hours chatting to and hanging out with the local people. Trek up and down the valleys. Aim to learn a bit about their culture, not check sights off of a bucket list.
Local tour guides in the Kalash Valleys
There's no better way to learn about the valleys than with a local guide! UNESCO recently trained a group of Kalash tour guides in an effort to encourage more responsible and culturally-sensitive tourism in the region. Best of all, the group includes both male and female tour guides!
17 guides in total were trained, including four women. For the safety and privacy of the guides—especially the women—I'm not going to publish the list here. If you're legitimately interested in hiring a local tour guide from Kalash for your trip, contact me here and I can provide you with the list of tour guides and their phone numbers.
Mobile networks in the Kalasha Valleys
If you need to have phone signal or internet while in Kalash, make sure to get yourself a Telenor SIM card. It's the only network provider operating in the Kalasha Valleys.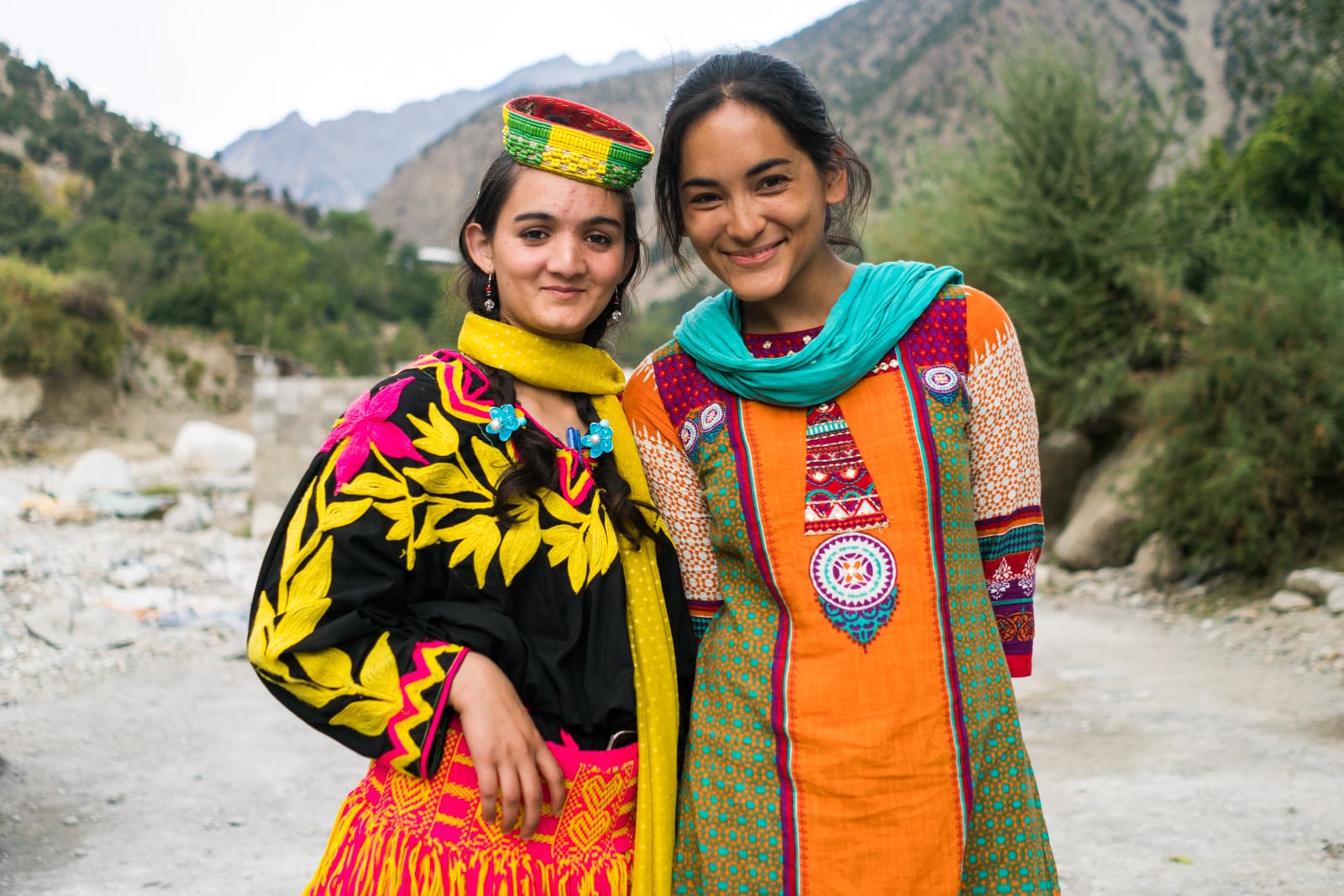 Responsible tourism in the Kalash Valleys
The Kalasha Valleys are naturally and culturally beautiful, but beauty can easily be eroded by the onset of mass tourism. To do your part to preserve the beauty of the area, and ensure your tourism has a positive effect, please keep the following things in mind:
Stay in a hotel/guesthouse/homestay run by a Kalasha person or family.  Little of the tourism money that flows to the valleys end up in Kalasha pockets, so this is how you can ensure it does!
Ask before taking photos. There's no doubt that the Kalasha people, particularly the women, are stunning. However, many women are averse to being photographed (outside of festivals). I've also heard tensions are growing between the Kalash and outsiders, partially because of the way domestic tourists arrive and start snapping photos of women and children without asking or showing any kind of consideration. Instead of creeping on the women, befriend them, talk for a while, then ask for a photo.
Enjoy local products, not packaged snacks. There are plenty of native fruits, vegetables, and nuts growing around the valleys. Snack on those, rather than contributing to the sorry state of plastic waste afflicting the valleys. And, of course, collect your trash, don't throw it on the ground.
Drink the local wine and tara responsibly. It's poor form to show up as a guest in someone's area, then get utterly sh*tfaced, loud, and destructive on their alcohol. If you can't handle your drink, don't drink, or at the very least limit your consumption.

It also means more for those of us who can control ourselves.
Police registration for foreigners in Chitral and the Kalash Valleys

It used to be that your movements were restricted if visiting the Kalasha Valleys. Foreign travelers were assigned police escorts upon entering any of the valleys. However, new tourism policies have been implemented, and you are now more free to wander around without an escort.
You can hike around any of the valleys, visit small villages deeper in the valleys than previously accessible, or even hike from one valley to the other. Ask at your guesthouse or homestay for more information.
You also don't have to register with the police in Chitral anymore. Foreigners are no longer assigned a guard when visiting the Kalash Valleys. When you travel to Chitral,  you will register and get a FRO either at Lowari Tunnel or after Shandur Pass, depending on the route you take.
There are several police checkpoints on the way to the valley, and you might have to register when you arrive in the Kalash Valleys.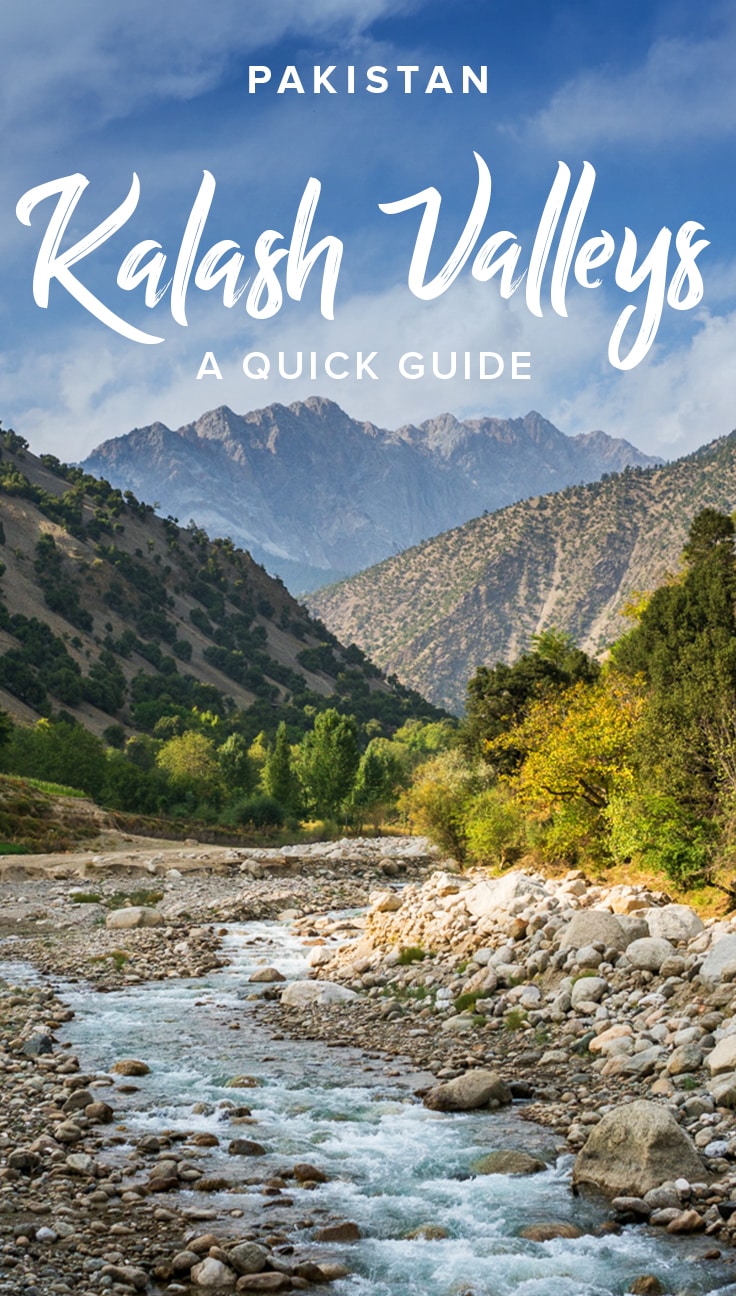 So there you have it, a complete guide to the Kalash Valley with everything you need to know. Let me know in the comments if anything has changed.
Looking for more practical Pakistan travel information? Check out this guide with things to know before going to Pakistan.
Yay transparency! There are some affiliate links in this post. If you buy something using my links, I'll make a small bit of money at no extra cost to you. I use this money to cover the costs of running the blog.