Forget cookie-cutter lists with malls and top sights: here's a unique list of things to do in Lahore, Pakistan that will actually interest travelers. Includes off the beaten track sights and a map to help you find your way.
At this point, I've spent months in Lahore. By far my favorite city in Pakistan (Sorry Karachi. Not sorry Islamabad, you're boring.), the cultural capital never ceases to amuse. Many travelers begin their Pakistan adventure in Lahore… but what to actually do there?
There are a million and one interesting places to visit in Lahore, but for some reason, all the recommendations online are lame AF. (Or only appeal to domestic tourists hungry for malls.)
"Badshahi Mosque. Lahore Fort. Fort Road Food Street." Um, duh. Errrrbody knows about those places. If they don't, they'll figure it out after two seconds of Googling. What else is there to do in Lahore?!
In the name of helping out fellow travelers—and saving my fingers from typing the same recommendations over and over and over again—these are the things I recommend to travelers in Lahore.
Curious about Pakistan? Let me show you the Pakistan I've come to know and love on one of my unique Pakistan tours.
Index: Things to do in Lahore, Pakistan
Click one of the things to do below, or keep scrolling to see the entire list. It's long… but there's a lot to do in Lahore!
And because y'all asked: the most popular things to do in Lahore.
30+ unique things to do in Lahore
1. Witness a state of trance at a Sufi dhamal
On Thursdays, Sufis gather at shrines around Lahore for dhamal. Pounding drums and uninhibited dancing like you've never seen before bring mystics to a state of trance which they believe brings them closer to God. Smokeable substances help onlookers enter another mental state with a bit more ease.
Dhamal ceremonies are harder to find since the famous dhamal at Shah Jamal stopped for security reasons; see my post on Sufi dhamal in Lahore for more information. This is by far one of the most interesting things to do when you visit Lahore.
2. Catch live music at Peeru's Cafe
Colorful Peeru's Café is a bit of a hike, but it's one of my favorite places to visit in Lahore. Thursday night is Sufi night and Friday is for qawwali, another foot tapping kind of Sufi music. The crowd is mixed: both young adults and families come to enjoy music over dinner. No matter your age, it's worth checking out. They also serve a variety of tasty food from all over Pakistan. One of the more original cafes in Lahore.
Pro tip: Not that you'd ever think of drinking in the Islamic Republic *ahem* but Peeru's is willing to turn a blind eye—and serve you mixers or empty glasses—if you're pouring things under the table.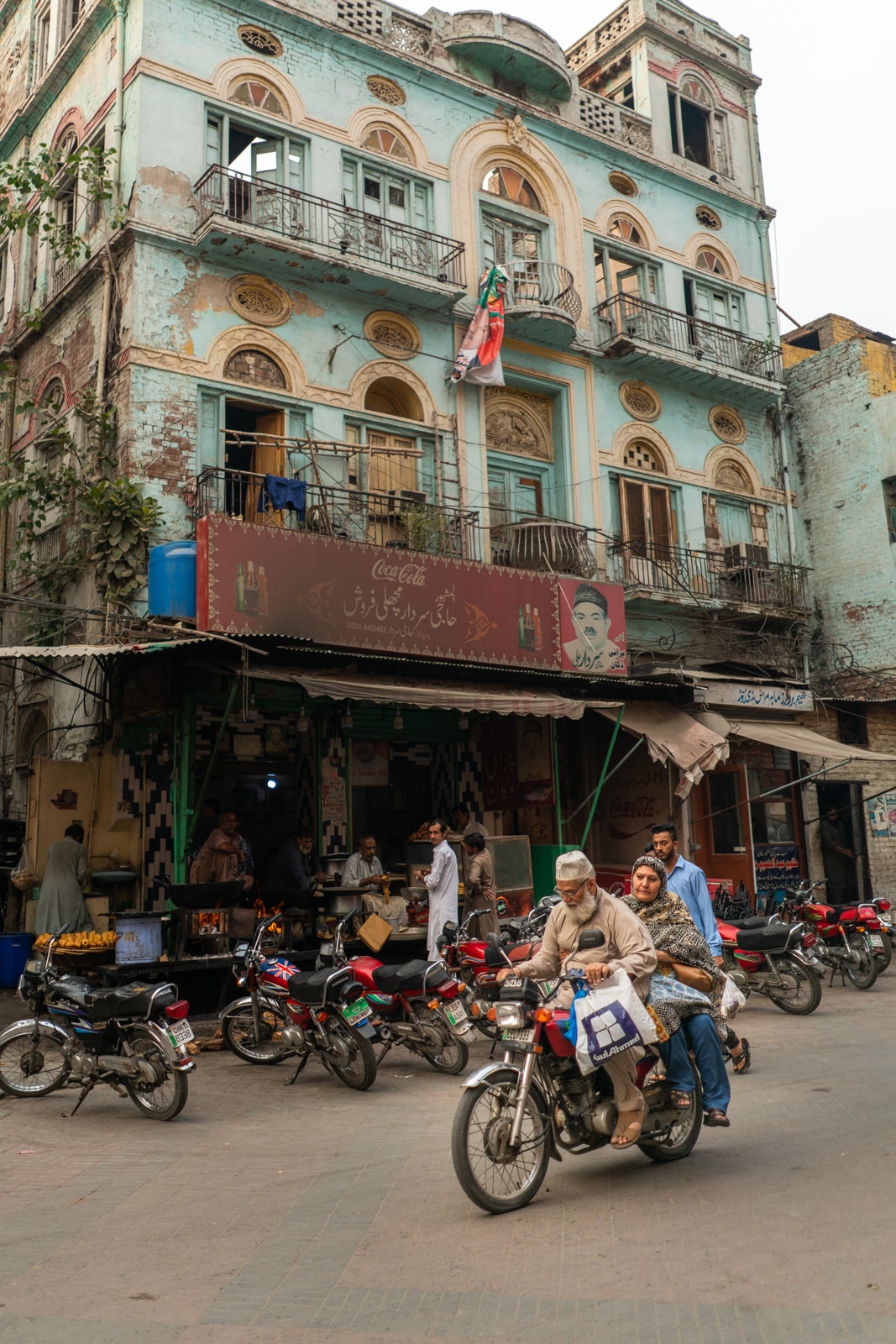 3. Eat your way down Gawalmandi food street
Have one dinner with a view on the tourist food street next to Badshahi Mosque… then forget about it.
Gawalmandi food street is just outside the walled city. By day, it's a street of colorful buildings full of foot traffic. Once the sun sets, it becomes a hopping food street with myriad foods on offer.
Try a little bit of everything, and don't be afraid to show up late. It's not unusual to see families with children having dinner at 2 in the morning!
4. Booze behind the scenes
Contrary to popular belief, alcohol isn't entirely illegal in the Islamic Republic. Did you know if you're foreign—or can prove you're not Muslim—you can legally buy alcohol from shops in Lahore?
Select international hotels such as the Pearl Continental have attached "permit shops" where visitors can buy unlimited quantities of beer and liquor. I've patronized the shop in the back right corner of the Avari Hotel property many a time. To my knowledge, the Ambassador Hotel has the cheapest alcohol but is also the seediest option for buying alcohol in Lahore.
Beers are around 250 Rs per, liquor depends. Officially you can only buy domestic Murree products, though if you're friendly with the salespeople they can arrange imported drinks under the table.
Pro tip: Murree liquor is gnarly—and you will definitely regret your decision the next morning—but their beer is passable. People agree the light blue Wheat beer is tastiest. The red Strong will do otherwise.
5. Get sucked into the flow of Anarkali Bazaar
Anarkali is a massive shopping street in Lahore overflowing with wares, foods, and bodies, and is a must-visit place in Lahore. Whether you're questing for a specific item, or just want to watch aunties harass salesmen, Anarkali is a great place to observe Lahoris doing their thing. Anarkali is one of the most interesting bazaars in Lahore, and its side streets are a joy to explore.
6. Find the feminine side of Lahore at Bibi Pak Daman.
Deep within the maze of Muhammad Nagar—Muhammad Neighborhood—lies six ladies in repose. So they say, anyway.
Believed to be the tomb of women from the Prophet Muhammad's household, Bibi Pak Daman shrine is one of the largest shrines dedicated to women in Lahore.
Both Shia and Sunni Muslims visit the shrine, and the streets around the shrine are filled with shops peddling items related to Muhammad and Muharram. Poke around in the alleys, and you might stumble across men crafting zanjeers, the knives on chains Shias use for self-flagellating during Muharram and other notable events.
Want to know more about traveling to Pakistan as a woman? Check out my guide to female travel in Pakistan!
7. Explore the Walled City from less popular gates
13 gates used to lead into the walls of old Lahore… then the British happened. Six gates have since been rebuilt; the rest exist in name only. Nevertheless, they're good starting points for exploring different parts of the walled city of Lahore. Delhi Gate, near Wazir Khan mosque, is the most renowned… so why not start your quest from another part of the Walled City to shake things up a bit?
8. Retail therapy at Liberty Market
The semicircular marketplace is the city's go-to for affordable clothes and accessories. Several layers and stories of shops ring the central area. Market stalls line the outside, too. Even if you don't need clothes, it's a colorful place to wander around. There are plenty of places to grab snacks and drinks, making Liberty Market a great place to visit in Lahore.
Pro tip: If you're in need of a new book to read, Variety Books in Liberty Market has a massive selection of English books.
9. Enjoy the view from above at Wazir Khan mosque 
Wazir Khan is one of Lahore's most famous mosques, second only to the massive Badshahi Mosque. Most travelers know they need to pay a visit to admire its intricate tiles and paintings… but not everyone knows it's also possible to check it out from above!
The men who collect shoes at the entrance also have keys to other parts of the mosque. For a bit of baksheesh—at this point around 500 Rs—they'll let you up into one of the mosque's minarets. The minarets offer a great view of both the mosque and the busy bazaar streets of Lahore's walled city. Win-win!
10. Go underground at Shahi Hamam 
An opulent and slightly subterranean Persian-style bathhouse right next to Delhi Gate, Shahi Hamam is easy to miss despite being close to the famed Wazir Khan. Thanks to a loving restoration funded by the Agha Khan Foundation a few years back, the painted, vaulted halls are in surprisingly good condition for a historical site in Pakistan. Good thing, as it's the last historical hamam in all of Lahore!
11. Hunt havelis in the Walled City
Haveli hunting might be my favorite thing to do in Lahore. Seemingly endless numbers of havelis, historic mansions, line the claustrophobic streets of the old city. Most are in disarray, some are still occupied by family servants, all still have majestic airs despite years of neglect.
Don't be afraid to knock on doors and ask to poke your head inside! Many of the people maintaining the properties will happily show you around if you're nice, though you'll have to use your imagination at times.
If you don't have an Urdu-speaking friend who can help you say hello, try the Haveli Nau Nihal Singh. It's been converted into a girls' school, so try visiting in the mid- to late afternoon when school isn't in session.
12. Shop for psychedelic salwar kameez at Generation in Packages Mall
I hate shopping with a flaming passion, and still I recommend this.
If you don't yet have local clothes to wear, Generation is, by far, my favorite Pakistani clothing store. All of its readymade clothes are insanely colorful and uniquely geometric in design (as opposed to the feminine floral patterns favored by the fashion industry). They also make an effort to use stronger and more "realistic" women as models, rather than pasty pale waifs.
Generation has both standalone stores and shops in malls; I prefer the branch in the shiny new (and air-conditioned) Packages Mall in Gulberg.
13. Cool off with ice cream from Chaman's
Given I'm an ice cream addict, I have tо mention Chaman's! Down Mall Road from Lahore's (in)famous Lahore Backpackers Hostel, Chaman's ice cream is known and loved in the city, and is probably Lahore's best place for ice cream. They have endless flavors to choose from—don't worry, there's a menu in English—but my favorite is pista badam, pistachio almond.
Pro tip: Want to do things the Pakistani way? Order drive thru ice cream. That is to say, park your car on the side of Mall Road and wait for Chaman's ice cream runners to bring you a menu and serve you directly in your car!
14. Ogle socialites over (real) coffee in Gulberg
As a tourist, you'll likely spend more time in cramped bazars and historical buildings than chic new digs. But it's important to see both sides of modern Pakistan, and Mall 1 is the place to go to rub shoulders with Pakistan's upper class.
Grab a blissfully legit cup of coffee at Mocca, then sit and watch heavily made up ladies snap selfies with the latest iPhones while men tap away on sleek laptops with a side of coffee. Or just whore out their stable wifi. That's cool, too.
15. See history clash with modernity at Dai Anga mosque
Hidden from sight but a stone's throw away from Lahore Junction railway station, Dai Anga mosque is a 17th-century work of Mughal art… but poor restoration practices are consuming it slowly but surely.
The mosque is covered head to toe in stunning tile inlay work typical of the Mughal era. However, recent renovations were made in a less tasteful sense, and much of the interior (and portions of the exterior) are covered in tiles more like what you'd find in a bathroom than on the side of a mosque.
Nevertheless, what remains of the original work is stunning, and it's definitely a great place to see when you visit Lahore.
16. Breakfast on… goat hooves?!
Nothing like waking up early in the morning to chow down on a delicious and nutritious breakfast of… mutton hooves. Wait, what?!
Definitely not nutritious—but still delicious—paye is a traditional Lahori breakfast made from slow-cooked sheep or goat hooves. Though foreign palates may find it intense for breakfast, it's something travelers should try at least once… and your desi creds will rise exponentially if you tell Lahoris you ate a paye nashta (breakfast). You can find it all over the city; here's a list of paye places from Mangobaaz.
17. Actually… just eat everything
Who am I kidding trying to only include a few food suggestions on this list?
To say Lahoris love food would be a gross understatement. It's possible to stuff yourself at literally any time of day in Lahore if you know where to go. You can eat dinner OR breakfast at 4 in the morning.
There's no better way to get to know Lahori and Punjabi culture than by eating sickening quantities of food. The Hungerist has an awesome list of local desi foods to try in Lahore.
18. Jog it all off in Model Town park
Fact: you're going to get fat in Lahore (unless you get sick, in which case my sympathies and I hope you recover soon so you can continue eating).
If weight gain bothers you, realize it's inevitable in Pakistan, and acknowledge the best you can do is stay active between all the feeding. There aren't many places to jog in Lahore without asphyxiating from air pollution, being stared down by men, or getting run over by rickshaws, but Model Town park has a nice, tree-lined 2 km loop where you can burn off 1/10th of your paratha caloric intake without dying. Bring cash, entrance is 10 Rs.
Pro tip: Model Town's visitors don't stare (much), so ladies, feel free to jog in a t-shirt. Leave the shorts at home, though.
19. Stroll about in Shalimar Gardens
These Mughal-era UNESCO World Heritage-listed gardens could use a lot of upkeep, but they make for a pleasant stroll nonetheless. When I visited, "garden" was a bit of a stretch, but there are sometimes-filled waterways and tiled archways around the perimeter that (almost) justify the 500 Rs foreigner entrance fee. Besides, there are only so many places to find this kind of serenity when visiting Lahore.
20. Seek out the mother of mosques
17th century Miryam Zamani mosque, also known as Begum Shahi mosque, is the oldest known Mughal monument in Lahore. Despite being close to Lahore Fort, it's often overlooked since it was consumed by more modern buildings. It's not the most majestic mosque you'll see in Pakistan, but the details in the interior are stunning. A must if you're interested in the Mughal history of Lahore.
21. Dive into history at the peaceful Tomb of Dai Anga
Off of the congested GT Road is a grand gateway leading to the little-known Mughal Tomb of Dai Anga, the wet nurse of ruler Shah Jahan. Yes, the same Dai Anga of Dai Anga mosque mentioned earlier—clearly she was valued!
Surrounded by pleasantly green and manicured gardens, and rather well-preserved as far as Pakistani monuments go, the peaceful 17th-century tomb is perfect for an off the beaten track historical jaunt in Lahore.
22. Pay tribute to the patron saint of Lahore
Data Ganj Bakhsh, a Sufi poet and mystic, is entombed in Data Darbar. South Asia's largest Sufi shrine, and one of Pakistan holiest places, is open at all times of day, but if you really want to see the crowds turn out in his name, visit on Thursday evening. Many devotees come to offer prayers then, as Thursday's sunset marks the start of the holy day of the week.
23. Lose yourself in Lahore Museum
If it's particularly hot and/or rainy, Lahore Museum is your calling. Don't expect Smithsonian-level exhibits, but it's decent as far as museums in Pakistan go. The beautiful colonial establishment has a particularly extensive collection of Gandharan art, something you should see if your time in Pakistan won't allow for visiting the Buddhist historical sites in Khyber Pakhtunkhwa.
24. Get stoned on bhang ka papad 
Not that I condone drug use (cough) but you can buy weed edibles on the streets of Lahore.
Bhang ka papad are those crispy fried papadum chips you sometimes get as a side with meals at Indian and Pakistani restaurants… but with weed inside. They look like ass and taste like grass, but eat one (or two) and you'll get a strong buzz on.
Papadum sellers on the road in Anarkali often have a few hidden underneath piles of normal papadum. Ask for "bhang" or "bhang ka papad" without being loud or sketchy and they'll probably be amused and sell them to you for around 20 Rs per piece. Don't overdo it, though—edible highs are strong, last much longer than smoking, and take an hour or two to kick in. Be patient, be careful.
Quick day trips from Lahore I think are worth the effort 
Though there's plenty of amazing places to visit in Lahore, try venturing out of the city for a change of scenery. These all require transportation to get to, so consider contacting my friend Aneeqa of the Mad Hatters if you need assistance arranging day trips from Lahore.
25. Relax for an afternoon at Jehangir's Tomb
On Lahore's outskirts, about 45 minutes away from the city center, lies Jahangir's Tomb. The tomb of Jahangir is an ornate 17th-century Mughal mausoleum in excellent condition (for Pakistan, anyway), and green lawns blanket the sprawling complex. It's the perfect place to seek a bit of fresh-ish air and peace and quiet if Lahore's clusterfuck is hitting a nerve. Bring a towel and a book, and you can spend an hour or two relaxing under the trees between people asking for selfies.
Pro tip: There's a back entrance you can use if determined to avoid foreigner ticket charges.
26. Sight Sikh-ing in Nankana Sahib
To get a taste of other religions in Pakistan, head two hours west to Nankana Sahib, home to a handful of Sikh gurdwaras. It's said the first Sikh guru, Guru Nanak, was born in the city. His gurdwara, now known simply as Nankana Sahib, is visited by millions of Sikh pilgrims each year. Bring a scarf or head covering: both men and women must cover their heads inside gurdwaras.
Pro tip: Langar, a simple free meal, is served during common mealtimes at gurdwaras. If you're hungry—and/or a cheapskate—ask if langar is available.
27. Get mystical at Baba Bulleh Shah's shrine in Kasur
The Shrine of Baba Bulleh Shah is only an hour or two outside of Lahore, and an important stop for anyone interested in Sufi poetry. Bulleh Shah's words have been made famous in the modern day by Sufi singers such as Nusrat Fateh Ali Khan and Abida Parveen, and are an essential part of the musical tapestry of Sindh and Punjab. If you don't know much about him/the music, no worries—there's often someone playing Sufi qawwali music in the shrine.
28. Find peace at the shrine of Shah Kamal Chisti
If you're heading out to Kasur for the shrine of Baba Bulleh Shah, you might as well stop at the shrine of Shah Kamal Chisti, too! The hilltop shrine isn't as grandiose as Bulleh Shah's, but it's more peaceful and intimate in feel. Don't miss the harmonium player who hangs out in the courtyard; he's happy to play music for guests if asked.
29. Drench yourself in nationalism at the India-Pakistan border
Admittedly I didn't enjoy the Wagah border ceremony… but other people do, so I can't leave it off the list.
The daily ceremony on the India-Pakistan border happens before sunset. Ceremonial guards on either side of the border stomp, shout, and kick high in a performance meant to show solidarity between the two countries, then lower flags simultaneously.
(Yes, this is the border where you can cross into India. No, you can't just cross over unless you have an Indian visa already.)
In my opinion, the ceremony stirs up unnecessarily aggressive nationalist sentiments under the guise of cooperation… but make your own conclusions. On the bright side, it's fun to see the actual border guards hanging out and talking with each other. Not everyone is as averse as they may seem.
Pro tip: The border is accessible by Careem; get there around 4 to ensure a seat before it starts. Leave big bags at home, you aren't allowed to bring them into the stadium.
30. Kick it at an even more intimate border ceremony
If you want to get fully off the beaten track, head to the Gandha Singh Wala border ceremony outside of Kasur. A more intimate alternative to the popular Wagah Border ceremony, it's structured differently as the border runs diagonally through the seating area and people don't actually cross this border. Onlookers from either country are seated much closer together.
Note that you may have trouble accessing it depending on the mood of the security guards working the check posts leading to the border. Like the Wagah border ceremony, leave all big bags behind.
31. Poke around a pimping pet reserve
There are pets, and then there are pets. In the Mughal era, anyway.
Sheikhupura, a town about one hour outside of Lahore, hosts the world's most opulent homage to a pet (according to me). In the 17th century, Emperor Jahangir built a game reserve in the area so posh Mughals could experience nature and go hunting close to Lahore. Eventually he built a minaret on the land in honor of his beloved pet antelope, Mansiraj. Never one for understatement, Mughal ruler Shah Jahan later added a pavilion complex and pool.
Luckily or unluckily, hunting no longer takes place on the land, but visitors can relax on the green park grounds or go for boat rides around the pool. If you head there early in the morning, you'll likely see still waters reflecting the pavilion at the pool's center. This is definitely one of the more interesting day trips you can take from Lahore.
32. Savor aromas at a wholesale flower market
Casually known as phool mandi, flower market, this technicolored dream lurks across the river near the Saghian Bypass. Though there are other flower markets in Lahore, this is the city's largest. Here people come to bid on wholesale quantities of flowers (1,000 PKR or less for a massive bundle? Tempting!) as well as buy garlands and bouquets for weddings and other events.
For the most floral experience, you'll need to crawl out of bed before the crack of dawn: vendors start selling flowers around sunrise, and most will be whisked away by 8 or 9 in the morning. Note that the flower market spans both sides of the main road. The wholesale bidding area will be on your right when coming from Lahore.
Map of things to do in Lahore
Click around to get an idea of what's where, or view a full-size version here.
Most popular sights in Lahore
Above are some offbeat and unique places to visit in Lahore. If you're short on time—or just want to visit the most popular places in Lahore—check out the following:
Badshahi Mosque
Probably Pakistan's most famous mosque, Badshahi Mosque is stunning at any time of day. The mosque was built during the rule of the Mughal emperor Aurangzeb to commemorate his successful military campaigns… and yes, it's essentially the grander sister of Delhi's Jama Masjid. Badshahi is especially impressive during big prayer gatherings, as the mosque can hold about 100,000 people. Note that non-Muslims are requested to leave during major prayer times; you can get a view of the mosque's interior from the nearby Food Street restaurants.
Lahore Fort
Lahore Fort, a UNESCO World Heritage Site, is one of the most famous tourist attractions in all of Pakistan. With its newly restored picture wall, glittering mirrored Sheesh Mahal, and cool summer palace area, the fort is truly a sight to behold. Construction started under the first Mughal emperor Akbar, with additions by Shah Jahan and Aurangzeb. Tickets are 500 Rs per person for foreigners.
Wazir Khan Mosque and Shahi Hamam
Basically opposite of each other near the Walled City's famous Delhi gate, the colorful walls of Wazir Khan are some of Pakistan's prettiest, and the basement bathhouse of Shahi Hamam is one of the best restored Mughal-era sites in the country. Entrance to the mosque is free, but tickets to Shahi Hamam are 500 Rs per person for foreigners.
Travel guide for getting more out of Lahore
For more information on things to do in Lahore, as well as very detailed public transportation information about how to reach some of these sights, get a copy of the Pakistan Traveller guide by my friend Tim. By far the most comprehensive Pakistan travel guide, it has everything you need to make your Lahore/Pakistan adventure as smooth as can be.
More blog posts about Pakistan
Traveling to Pakistan soon? I have a million and one posts in my Pakistan archives, but here are the ones I recommend most to first time visitors: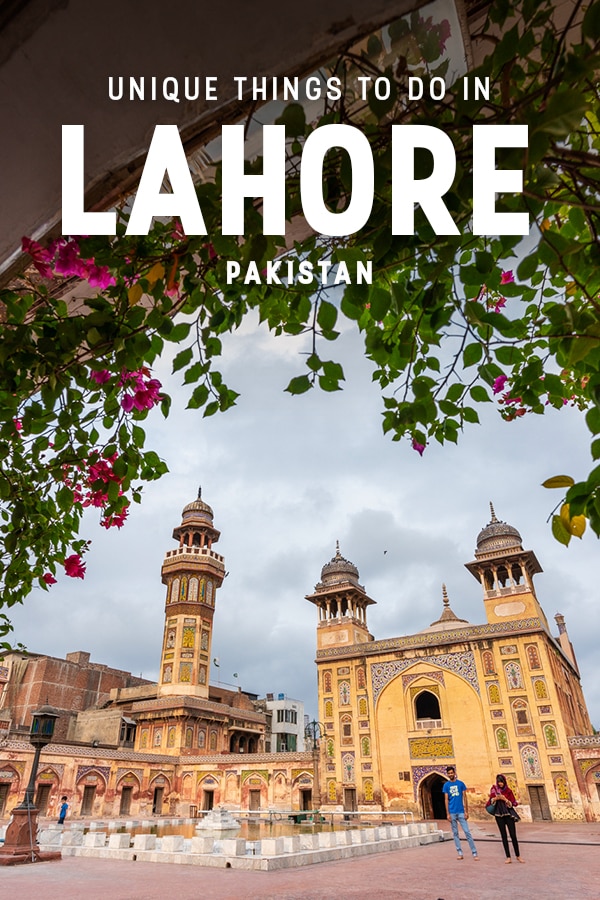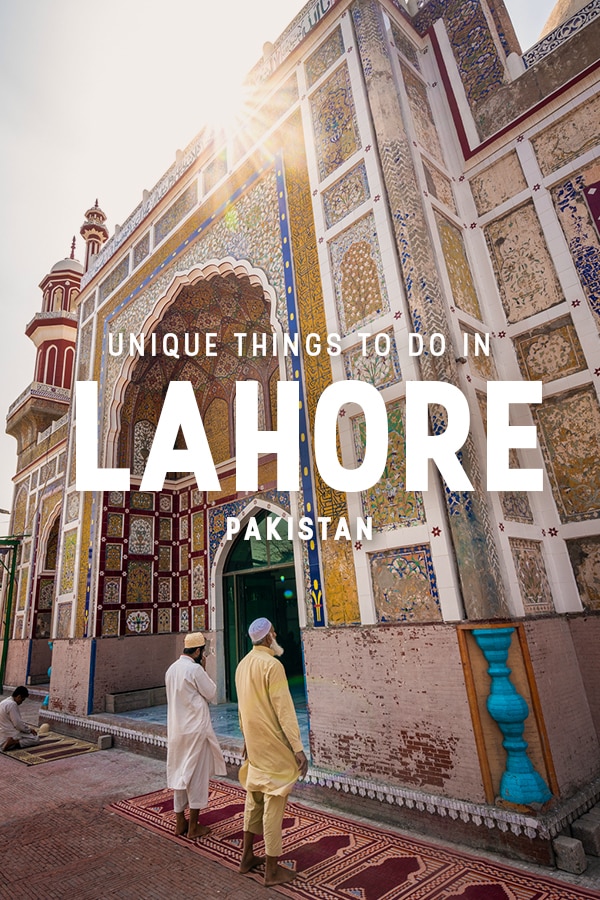 Yay transparency! There are affiliate links in this post. If you buy something using my link, I get a bit of change at no extra cost to you. It's how I cover the costs of running the blog!