Want to know what to expect when traveling to Pakistan? Here's my honest advice and thoughts as a foreign traveler who has spent more than one year traveling in Pakistan.
Pakistan is incredible.
… but you've probably heard that already.
In case my bajillion blog posts on Pakistan didn't give it away, I love Pakistan. Rich, diverse cultures, history spanning thousands of years, jaw dropping nature, infinite mouthwatering cuisines… the list goes on.
Oh, and people. The most hospitable I've met in my travels. And that's saying something.
Despite all this, Pakistan isn't on travelers' bucket lists. Its international reputation is fragile due to a once-dubious security situation, its tourism industry only now developing after years of turmoil.
After traveling far and wide through Pakistan over the last few years, I believe in its people and potential… but I also believe one mishap could send the country reeling once more. To avoid setbacks as Pakistan gets back on its feet, travelers should be aware of the cultural and logistical complexities of traveling to Pakistan ahead of time.
In the name of helping out both travelers and the country I've come to love, here's what to expect when traveling to Pakistan.
Want to experience a side of Pakistan the average first-timer won't see? Sign up for one of my Pakistan tours!
Index: What to expect when traveling to Pakistan
What was up, what is up in Pakistan?
Pakistan is a breathtaking country with a dark past.
Many foreign tourists flocked to its soaring mountains and ancient sites in the days of the Hippie Trail and the years following, but tourism essentially stopped in recent decades. Damaged by the terrorist attacks of 2001, destroyed by regular Taliban activity and events like the 2013 Nanga Parbat massacre, inhibited by governments putting the country on do not travel lists, Pakistan's tourism screeched to a halt.
… until now.
These days, the security situation is solid. Military efforts stabilized the country. As a whole, it's relatively safe to travel in Pakistan. Terrorist attacks are rare. Major cities are rapidly modernizing. Imran Khan's current government is striving to promote a positive touristic image. Pakistan's tourism industry is rising from its proverbial ashes, evidenced by the domestic and foreign tourists once again flocking to its mountains and monuments.
This return to normalcy is a welcome change, but can also be misleading. Despite what some say, Pakistan's tourism industry is still in its infancy, and delicate given the country's persisting poor international reputation.
The truth is, Pakistan is not yet ready to accommodate all kinds of tourists. It's a conservative Islamic country emerging from decades of violence and crisis. Modernity clashes with traditional mindsets and outdated infrastructure everywhere you go.
Pakistan is an incredible destination for adventurous travelers, but it's not yet used to tourism in any form. Officials are extremely cautious with foreign tourists who do visit. Locals do not always know how to deal with foreign visitors and mindsets. Tourists should visit Pakistan for a raw adventure unlike any other, not a relaxing holiday or an outing for the 'gram. Go, but keep an open mind.
What is traveling Pakistan like?
Where to even begin?
Multiple mountain ranges including some of the highest Himalayan mountains in the world.
Historical sites ranging from the Mughal era to Silk Road relics to ancient Buddhist monasteries to ruins of some of the oldest civilizations in history.
Vibrant cultures and practices alive and thriving, not staged as "authentic cultural experiences" for package tour groups.
Hundreds—nay, thousands—of taste bud-tickling dishes and cuisines that change by season and the hands who craft them.
But for me, people are the most important reason to visit Pakistan. Pakistanis are the most hospitable people I've ever encountered in my travels. People are the reason I fell in love with Pakistan, not nature or shrines or food. Pakistani hospitality is renowned, but if culture is not respected and tourism is mismanaged, attitudes towards outsiders may soon change. Now is definitely the time to visit!
Read: The most hospitable people in Pakistan
Is it really safe to travel to Pakistan?
This is probably the first thing people want to know before they go to Pakistan. It's a nuanced question, but for time's sake I'd say yes:
Travel to Pakistan is safe, so long as you make efforts to respect its culture.
Some parts of Pakistan are less safe, but they're very difficult for foreigners to access.
Concerned by bad news coming from Pakistan? Stop and think before coming to conclusions or canceling your ticket. Ask yourself if the acts of terror or violence occurred in places where a tourist is likely to be. More often than not, you'll find most incidents occur in places you probably won't visit as a tourist. People continue to visit France and Belgium despite attacks; I feel similarly about Pakistan.
Read more: Is it safe to travel to Pakistan?
Is Pakistani hospitality really a thing?
Pakistan's hospitality is renowned. In Pakistan, guests are a gift from God, and many people are honored to treat them as such. During my travels through Pakistan, people have…
Invited me to stay in their homes despite not knowing me at all.
Slept on the floor so I could sleep in their bed.
Fed me a million and one times, even when they were fasting during Ramadan.
Taken the time to show me around their cities, villages, regions.
Gifted me everything from clothing to food to souvenirs.
… and then some.
The hospitality is incredible, and continues to amaze me even after repeat visits to the country.
However, in recent times—and due to some careless influencers—I feel some travelers are purposefully taking advantage of this hospitality and welcome. Pakistan is NOT a place to go because ~*everything is freeeee!!!*~. By all means, enjoy local hospitality—I sure do—but don't take advantage of it. Give back where you can.
Tipping etiquette and how to tip in Pakistan
You can give people small tips (maybe 20 to 50 rupees) if they do something to help you out, or if they're visibly poor but still feed you or give you gifts. More if they help you a lot over a period of time. To subtly give someone a tip, offer to shake their hand and have the bills inside your outstretched hand, letting go of them when you shake hands. Sometimes people will not accept, but it doesn't hurt to offer. If it's a matter of pride over money, you can always give the kids a bit of money as a gift, or leave money somewhere in their house where they'll find it.
If you're uncomfortable gifting people money, you can also help out around hosts' houses, or buy gifts of fruits, sweets, or nuts (called "dried fruits" in Pakistan). Meat or treats from other cities can be a good gift for poorer people in villages. Bringing small gifts from your own country or home for people who host you (think postcards, sweets, trinkets, etc.) is always a nice traveler touch.
What you should and should not say
Let me preface this by saying Pakistanis are the most hospitable people I've met in my travels (shout out to Iranians and Bangladeshis as runners ups). In my and many other travelers' experiences, Pakistanis are immensely welcoming and are the country's greatest asset. Some of the best friends from my travels are Pakistani. I'm not sure there's a country where it's easier to meet and interact with locals than Pakistan.
The flip side: Pakistanis can be difficult to deal with in some situations.
Be cautious when speaking about sensitive topics
Because the country is conservative and religiously homogenous (about 97% of the population is Muslim), I've found some people can be very intolerant of certain views, especially in regards to religion and how women should act. There is a way to do and think about things in Pakistan, and those who do or believe otherwise are often met with opposition. Though many people harbor "alternative" opinions, they are often hesitant to speak them unless in close company. For example, I am an atheist, but I would never openly admit that in conversation unless with close or clearly liberal friends.
Critique isn't always welcome
Criticism is often frowned upon. I knew that from my travels already, but had a nice reminder (translation: aggressive awakening) of this inability when I posted a critical video about Pakistan's tourism scene in 2019. I had to field everything from death threats to accusations of being a spy for weeks on end despite constructive intentions. Sensitivity about your country is understandable considering its bad international reputation, but… well, people can get upset quickly. Be gentle in your critique of the country, unless you're asked directly about it.
Don't let me put you off Pakistan and its people; my point is that you should be very cautious when speaking about sensitive subjects and be careful to respect Pakistan's culture. By all means discuss, but choose your battles wisely.
Religion in Pakistan
Let's begin with the most sensitive subject in Pakistan: religion. After all, Pakistan is an Islamic Republic! Islam comes in many forms here, and this diversity makes the country much richer… but can also cause problems.
When talking faith, stay neutral. Be careful whom you debate.
Though not everyone is religious—as a foreigner you might hear some whispered admissions of agnosticism or atheism—it's required by law to have a religion in Pakistan. Religion is stated on identification cards.
Did you know: Pakistan is mostly Islamic, but there are other religions present. Many Hindus reside in the southern province of Sindh. Kalasha people in the west are pagans. Some Sikhs live in Punjab, near the Indian border.
Pakistanis are open to the idea of people having other faiths—"You're Christian? We love Christians! Jews! Hindus! Our brothers!"—but they're not as open to people having no religion; it's akin to saying god doesn't exist. If so, I generally I advise against saying you're atheist.
Tip: You might be asked about religion on your visa application. If nonreligious, just pick a religion you can identify with for a time and tell people you're not practicing if asked.
Once in the country, be cautious with religious discussion. Never joke or slander the Quran (holy book) or Mohammed the prophet. Realize there are a variety of sects of Islam in Pakistan beyond the Sunni/Shia divide such as Ismailis and Ahmadis, and some people can be very, very cruel when discussing the legitimacy of Muslim minorities.
Read: Desert trippin' at the urs of Lal Shahbaz Qalandar
What to wear when traveling in Pakistan
The hardest part of packing for Pakistan is dressing for the weather!
Well, that and modesty.
Salwar kameez, the traditional shirt/pants combination, is comfortable and handy in hot temperatures. They're basically socially acceptable pajamas! As temperatures in cities hit 40°C+ (104°F+) in summer, it's safe to say salwar kameez is a good investment which will win you a lot of local respect.
The mountains are a different story: cold at night, even in summer. Regardless of whether or not you're trekking, pack warm layers and sturdy walking shoes if heading up north.
Is it safe to wear western clothes in Pakistan?
There's no official rule about what to wear (unlike Iran), so long as you're somewhat modest.
If you want to wear "western" clothes such as t-shirts and jeans, go ahead; many people wear western clothes in cities, especially in wealthy areas such as malls and Defence neighborhoods. Gilgit Baltistan sees plenty of trekkers wandering about in western outdoor attire.
What men should wear when traveling in Pakistan 
Men are less restricted than women… as usual.
Long pants plus any kind of shirt will suffice for daily wear. Shorts will earn you stares—they're meant for home, not outside—but the world won't end if you wear them. Tank tops are uncommon.
What women should wear when traveling in Pakistan
Alas, ladies, we have a lot of things to consider!
First off: long pants or skirts, always. Unless you're going to an "upper class" party by car, never wear shorts or short dresses.
Daily wear is long pants and a shirt showing no cleavage that covers your bum; again, salwar kameez is the easiest option. Looser shirts are ideal, though tight pants are acceptable.
When walking around in liberal areas of major cities you can get away with wearing a t-shirt and jeans. I personally am not comfortable wearing t-shirts outside of liberal city areas. A good rule of thumb is that the more conservative the area, the more your body's figure should be hidden.
Always carry a scarf with you to cover your head when entering mosques, or when walking around in very conservative areas such as Peshawar, small villages, or old cities at night.
Finding accommodation in Pakistan
Booking a place to sleep in Pakistan ahead of time can be challenging if you expect to book everything online. Websites and online booking aren't very common in Pakistan unless you're staying at high-end hotels. Though online platforms are gaining in popularity, many Pakistanis usually call ahead to reserve rooms.
Online booking in Pakistan
Booking.com and Airbnb are growing in Pakistan. The former is still mostly for mid-range to luxury hotels, and the latter works… sometimes. There are an unfortunate amount of creepy men on Airbnb offering rooms in their homes to female travelers only; beware and steer clear.
Facebook pages are increasingly common for mid-range accommodation options, and can be useful for contacting a property to ask questions or reserve a room.
Budget accommodation in Pakistan
Want to find a cheap place to rest your head? You'll need to rely on the traveler grapevine. Guidebooks are not very reliable for prices—Pakistan Traveller by Tim Blight being the only exception—and not all cheap hotels and guesthouses accept foreign travelers.
Facebook groups like Backpacking Pakistan and Female Pakistan travelers are your best bet for information on cheap places to stay. Use the search function to find accommodation discussions.
It's a bit of a hassle, but there's a plus side: you can haggle over accommodation price upon arrival. Don't feel bad about it, especially in touristic areas with inflated seasonal prices; Pakistanis expect it, and will take advantage of foreigners who do not haggle. If you can get 15-25% off of the quoted price—up to 50% if it's particularly inflated—you're doing well.
Some popular accommodation for backpackers in Pakistan you might want to be aware of include:
Homestays in Pakistan
Until recently, there weren't many homestay options in Pakistan.
The only active homestays were Rehman's homestay in Ghulkin village, and Engineer Khan's homestay in Rumboor village in the Kalash valleys.
However, the concept is evolving. Seema, a motivated Hunzai woman, recently started a booking platform called Let's Home. She offers a variety of accommodation including homestays around Gilgit Baltistan. I used it to find a family in old Altit, and had a great experience. Read my post for more on homestays in Pakistan.
Couchsurfing in Pakistan
If you're cool with Couchsurfing, a platform to connect travelers with hosts, you'll never be wanting for a place to sleep in Pakistan.
The Couchsurfing community is highly active in Pakistan's cities, and local CSers are eager to host foreigners. Most of the CS community is male, but there are few female members in major cities and many men are trustworthy. Always read the host's references before agreeing to stay—there are definitely men looking to take advantage of female travelers, as always.
Being hosted in Pakistan
It's remarkably easy to be hosted once on the road.
Unbelievable until you're in Pakistan, but many people will simply offer you a place in their homes if you chat with them long enough. Their overwhelming hospitality is a privilege; make sure not to abuse their kindness. Don't overstay your welcome, help around the house (they won't accept at first), and bring small gifts from your country or tokens of appreciation like fruits or sweets.
Another bonus to being hosted: in Pakistan, family and friends are everywhere and it's normal to stay with them when visiting places. Your host will probably offer to find a friend for you to stay with in your next destination. Make one friend, and their whole social network opens up!
Gender divides, relationships, and sexuality in Pakistan
Pakistan's gender divide is massive. Fly in, and you'll see what I mean 30 seconds after stepping outside the airport.
Because of both Islam and regional culture, men and women are separated in society. Streets are a world of men, women rule in the home. Society tries to separate boys and girls until marriage… after which couples are expected to produce babies ASAP.
That's not to say there's no intermingling, but it might not be what you're used to at home. Public displays of affection—kissing, holding hands, touching in public—are taboo. Unmarried couples are subtle when they meet; you might notice them hiding in parks or behind tinted car windows. Openness about boyfriends or girlfriends is unusual. Elite Pakistanis are sometimes an exception… until their parents are involved.
Couples travel in Pakistan
Unmarried foreign couples should just pretend to be married. Otherwise, hotels might cause problems, and people might be uncomfortable hosting you.
Tip: Make sure you have some kind of story worked out—people are probably going to ask you about your wedding!
If you're married, no problem! You just have to deal with constant questions about children. If you already have children, you're on a perfect life path in most Pakistani's eyes. Well done, you.
Women to men 
Women should be on guard when interacting with men. That's not to say all men are evil, nor should you fear speaking with men. Just know many men interpret friendliness as flirtation.
In my experience, even men I thought friends ended up hitting on me hours, days, or weeks later. To establish boundaries with men, you can call young men bhai or brother, and older men chacha or uncle.
To keep men at bay, you can say you're married. Weirdly enough, people are more likely to believe you're married but traveling alone than accept that you're unmarried.
Do not say that you have a boyfriend. If you do, men will interpret that as you being sexually loose and thus willing to sleep with them. Respectable ladies do not admit they have boyfriends to men. Or so Pakistanis think.
Men to women
Boys, be cautious when interacting with women… if you can find them.
Many male travelers struggle to meet women in Pakistan. Unless hanging out with liberal/wealthy folks in cities, most women will keep their distance from you. Or stay out of sight completely.
If you do encounter women be respectful and distant with unmarried girls. Be careful if flirting. Pakistanis upset quickly; many male family members will not react well to foreign men flirting with their sister/daughter/cousin.
On the bright side, it's more socially acceptable for men to have a girlfriend(s) than vice versa. Saying you have a girlfriend implies you're a bit of a player, but the average man will probably respect you for it, not shame you. Mmmm toxic masculinity.
LGBTQ+ in Pakistan
As you might have guessed, Pakistan isn't the most accepting place to be queer.
Interestingly enough, gay couples can fly under the radar long as you don't kiss in public or admit you're gay. Men hold hands and put arms around men. Women hold hands and touch other women. People of the same gender share hotel rooms without issue. Basically, so long as men and women aren't touching in public, all is well. Don't tell anyone you're gay and you'll be okay.
Gay communities do exist. I've only met one lesbian couple in Pakistan, but I know several gay men who traveled the country and said there's a thriving underground gay scene to be found in cities (try Grindr, Tinder, or Couchsurfing). Women, you unfortunately might have to look a bit harder.
The idea of transgenders is established in Pakistan, but not in a positive way.
Khawaja sirahs is the local word for transgender people, understood to be men dressed as women who traditionally beg on the streets and at weddings. Some also work as prostitutes or dancers. Aside from khawaja sirahs, people aren't familiar with transgenders or genderqueers. Brace yourself for a lot of questions and looks. If male passing, know identifying as male will save you a lot of hassle.
Hookups and relationships in Pakistan
Relationships/hooking up with Pakistanis is possible, mostly in the liberal cities of Lahore, Karachi, and Islamabad. Tinder is very active in Pakistan, and a good place to start fishing.
Dating is manageable… but if you want to actually sleep with someone you might encounter problems. Unless someone has their own place—meaning they don't live with their family—you'll have to find either an Airbnb or an expensive hotel room.
Men, please be careful if trying to hook up with women: their reputation can really be damaged if word gets out that they sleep with [foreign] men. In Pakistan, reputation is everything. You can leave Pakistan—and a bad reputation—more easily than they.
For love? Or for visa?
Beware declarations of love, marriage proposals, etc in Pakistan. Pakistani men commonly try to seduce foreign women in the hopes of marrying and getting a visa to another country. It's not impossible to have a legitimate relationship… just more likely that ulterior motives are involved.
Female travel in Pakistan
Pakistan isn't the easiest place to travel as a woman.
It's a man's world. Pakistani women are highly restricted at times, invisible at others. Society is segregated by gender; women and families are often separated from men. Malls, markets, kitchens, and beauty salons are likely the only places you'll see many women. Doing anything in Pakistan as a woman aside from shopping and cooking will garner you attention. Solo females especially will encounter confusion and concern.
My experience: Men are surprised by my boldness when traveling. I ride motorbikes, walk alone, and do not shy from openly sitting in stereotypically male spaces like dhabas and open restaurant seating. Most men just stare, but some interpret boldness as an invitation to make advances. Luckily, there's always one or two men kind and open-minded enough to stand behind me in these situations.
I'm not saying women shouldn't travel Pakistan; whether or not you should travel Pakistan as a woman is a nuanced question. Go, but prepare yourself. Expect stares and scrutiny, especially if traveling without men.
On the bright-ish side, I wouldn't worry about being raped or killed by Pakistani men. Inappropriate touching, verbal harassment, or stalking are more likely occurrences for foreign women. Pakistani men are known for subtle brushes of boobs and bums in passing. Gross, but better than being raped.
For more safety tips and things to be aware of, see my female travel guide to Pakistan.
Pakistani infrastructure: roads, toilets, and hygiene
If you're considering travel to Pakistan, you're (hopefully) aware it's a poorer country. What does that mean, practically speaking?
Some things to expect when traveling in Pakistan:
Toilets that are literally holes in the ground at roadside cafes and village homes.
Drives that were supposed to be 6 hours actually taking 10 hours due to road closures, strikes, or cars breaking down.
Planes to Gilgit and Skardu being cancelled due to weather, and your bags being left behind due to unspoken weight limits.
Paved roads with potholes, dirt roads with paved holes, and everything in between.
Drivers able to trigger road anxiety in even the most calm person
Wildly polluted cities, especially smoggy Lahore during November and December (crop burning season).
And trash. Trash everywhere, even in nature, with nowhere for it to go. Not even a bin.
In the end, there's not much you can do about it. Just breathe in, breathe out. And pick up some of the trash while you're at it.
Security in Pakistan 
When people ask me about the security situation in Pakistan, I usually respond with "Pakistan doesn't have a security problem, in Pakistan security is the problem." Security agencies are a sore spot for many foreign travelers in Pakistan, though don't say so to locals.
It's in the agencies' interests to keep foreign travelers out of trouble. If anything happens to a foreigner it will be all over the news and Pakistan's international image will sink further, so agencies are overbearing with foreigners because of this.
In the last three years, I've had intelligence agency stalkers, confrontational encounters with police, mandatory armed guards. Police and army stopped me from going places saying I needed permission or an NOC (non objection certificate), but didn't say how to get one. I've applied for NOCs, and never heard back from the offices even after months of waiting.
On the bright side, things have vastly improved in the last year. Gilgit Baltistan and the Chitral region almost entirely removed the need for NOCs and armed escorts in 2019.
However, you'll likely encounter issues if traveling to less-visited destinations, especially in southern Punjab and Sindh province. Common problematic places for travelers include:
Multan – Foreigners are often required to leave immediately if discovered by police. Can only stay if unnoticed residing at luxury hotels.
Bahawalpur – Foreigners are not allowed into army-occupied palaces, and can again only stay at expensive hotels.
Sukkur – Multiple travelers reported questioning and harassment by security agencies when visiting Sukkur.
Hopefully security won't be an issue for you, but if you must deal with security, be polite but firm. Ask them to show their identification first. Save phone numbers of Pakistanis you meet in the government or army; power and connections go a long way with security agencies. If what they're asking of you doesn't make sense, stand your ground.
Talking about the army
Many Pakistanis love the army, and the military is basically the most powerful body in the country, even moreso than government.  Never insult the army unless you know the person you're speaking to isn't a supporter. It's actually now illegal to speak poorly of them.
Despite their rather ominous not-so-secret control of the country, the army did help stabilize Pakistan, "protects" the country from India, and soldiers don't ask for bribes like police do—you can understand why they're popular. Watch your tongue; Pakistanis will not take kindly to army insults.
Drinks and drugs in Pakistan
The Quran forbids substances… but that doesn't mean they don't exist in the Islamic Republic!
Be sensible with substances in Pakistan; Pakistanis tend to go overboard and authorities will not play nicely if they find drugs on you.
Alcohol in Pakistan
Believe it or not, there's one legal brewery in Pakistan: Murree Brewery. They have a monopoly on all alcohol in the country, and produce everything from beer (passable, try the light blue wheat beer) to all kinds of liquor (beware).
Foreigners/non-Muslims can legally purchase alcohol from shops and high-end hotels. Wine shops are relatively common in multicultural Sindh province, but further north, you'll need to look to five-star hotels and "permit shops" attached to them where drinks are sold at market cost. The shopkeepers can often arrange imported drinks for you under the table for an extra fee.
"Bootleggers" are the go-to choice for Muslims. Pakistanis who drink likely have phone numbers of several bootleggers who can deliver alcohol discreetly. Bootleggers are easy in this regard, though their drinks are usually more expensive than the shops'.
Hash (cannabis) in Pakistan
Hashish is everywhere in Pakistan.
It comes from the region around the Afghanistan-Pakistan border. Most Pakistani boys have tried hash at least once, and it's easy for men to find someone to smoke with. Girls get raised eyebrows if they partake, though elite young women in cities do smoke. Ask around and you're sure to find "stuff" everywhere in the country.
The best stuff is in/from Khyber Pakhtunkhwa province. Look for hash that's relatively dry and a dark greenish brown. Despite boastful city kids' claims, the sticky tar-like substance they smoke there is adulterated.
Read: Rolling with the stoners in Hunza
Other drugs in Pakistan
Yes, you can find other drugs in Pakistan.
Some pharmacies are… flexible. Heroin is widespread in the country as it comes from Pakistan's next-door neighbor, Afghanistan. Party drugs circulate in elite society; if you're attending a big party in Karachi, Lahore, or Islamabad, there's a decent chance someone is on drugs. LSD, MDMA, cocaine, speed, meth, they're all there.
Whether or not you partake is on you. I won't judge drug usage *cough* but do be careful taking substances, especially from people you don't know well. Just because someone says white powder is cocaine doesn't mean it's actually cocaine (remember, cocaine comes from South America, thousands and thousands of kilometers away).
The drug scene in Pakistan is not so developed that you can expect the average drug user to know quality from fake. Besides, in a country where even simple things like milk are faked or cut with toxic ingredients, how can you expect illicit substances to be pure?
Be careful. And drink lots of water!
Tips on being a responsible tourist in Pakistan
Pakistan encourages many bad habits; it's easy to forget to be a responsible tourist in the face of it all.
Nevertheless, we visitors have a responsibility to Pakistan and its people to leave a positive impact on the country, especially as tourism develops. Here are some suggestions for visiting Pakistan responsibly:
Always ask before taking someone's picture, especially women. Many women (and their male family) are sensitive about having their photo taken.
Don't take photos of children unless you have permission from their parents. Share sparingly. Pakistani photographers abuse this all the time; that doesn't make it right.
Keep places clean. If you find a plastic bag or have one to spare, use it to collect trash while walking in nature. Dispose of trash somewhere where it might be disposed of properly.
Hire local guides and drivers. Punjabis tend to dominate the tourism scene, but they are not locals outside of Punjab.
Support female-run businesses. Pakistan is far from gender equality, but many women in the country are trying to change that. Some totally female-run examples are Let's Home for accommodation, The Mad Hatters for organized tours, and A Piece Of Cake café in Lahore.
Resources and travel guides for Pakistan
Unfortunately, there aren't many reliable resources available, online or otherwise, for travel to Pakistan. But there are some useful tidbits if you know where to look!
Travel guides for Pakistan
Pakistan Traveller by Tim Blight is the most comprehensive and recent travel guide on Pakistan. Tim spends half the year in Pakistan and is probably the most experienced foreign traveler in Pakistan from this era. His blog, Urban Duniya, is chock-full of stories and information from his explorations of Pakistan.
Facebook groups for traveling in Pakistan
Female Pakistan Travelers, Backpacking Pakistan, and See You in Pakistan are good groups for travelers to get information and ask questions about traveling in Pakistan. The Karakoram Club is overwhelming, but useful for trekking-specific information. I help run both Female Pakistan Travelers and Backpacking Pakistan.
Pakistani photographers to follow to learn more about Pakistan
Below are just a few of my favorite Pakistani Instagrammers who I think do an excellent job of showing all kinds of perspectives on Pakistan:
Books, films, and TV about Pakistan for travelers
I've read a handful of works by Pakistanis and about Pakistan. Some of my favorites include:
Bitter Fruit: The Very Best of Sadat Hassan Manto is a collection of works from a renowned Muslim writer from the Partition era that will give you context to the region, and help you understand the history of Pakistan and India during that tumultuous time.
I Am Malala by Malala Yousafzai, a well-known memoir worth reading to understand women's place in conservative Pakistani society. Beware, Pakistanis can be very opinionated about Malala.
Moth Smoke by Mohsin Hamid, one of the most famous contemporary Pakistani authors.
The Age of Kali by William Dalrymple, though mostly about India, includes several tales from Pakistan. My favorite travel writer, he's well-versed in South Asian culture.
Cake is a recent dark comedy film from a popular director that touches on all kinds of subjects: family struggles, gender issues, and more with two strong female lead actresses. It's available on Netflix in some regions.
Zindagi Gulzar Hai and Humsafar are two famous Pakistani TV dramas available on Netflix in some regions. You won't necessarily see much outside of cities, but they can give you a starting idea of the cultural landscape, albeit in a mostly-elite world.
Other useful resources for traveling in Pakistan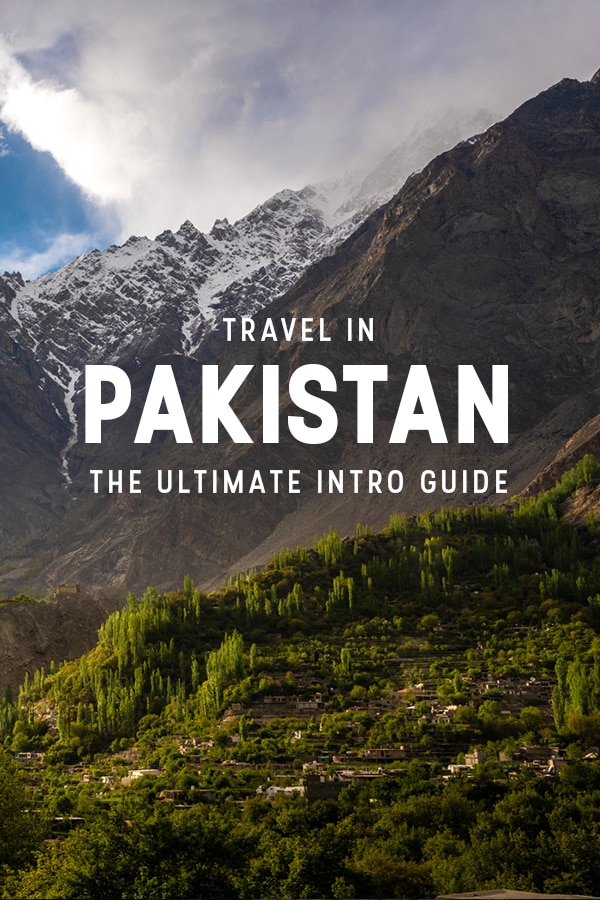 Yay transparency! There are affiliate links in this article. If you buy something, I'll make a bit of spare change at no extra cost to you. Think of it as thanks for taking the time to bang out all of this information.