A Sindh travel guide with information to help you plan a trip through Sindh, one of Pakistan's least-traveled provinces.
What's here?
Sindh province is a mystery to many.
Though it's one of Pakistan's most (religiously) diverse provinces, domestic and foreign tourists alike avoid its vast plains. Some fear danger, susceptible to its outdated reputation as a land of bandits and terrorists. Others are simply too preoccupied with Pakistan's mountainous north to give the southern plains a moment of thought.
In reality, there's good news and bad news to the Sindhi situation.
The troubles of traveling Sindh (as a foreigner) 
Let's start with the bad news: Sindh isn't the easiest place to travel in, simply because so few people choose to do so. When few travel there, people aren't used to tourists.
Security officials get their panties in a twist when they see rogue foreigners wandering around. Most hotels will not accept foreign visitors due to security concerns. Transportation is often slow or unreliable, and the province is scorching hot for much of the year. Mix in a lack of information about what to see and how to get there, and you have a recipe for a fat headache.
(Oh, and if you're a solo female traveler—foreign or local—you're going to stand out like crazy when you do anything on your own. Beware, stares of interior Sindhi dudes can poke holes in your soul.)
Why you should visit Sindh anyway
Staring dudes, nowhere to sleep, scorching heat, and security stalkers? Alex, this place sounds wretched.
Hold your horses. Obviously Sindh is worth a bit of challenge, else I wouldn't bother recommending it to you!
On to the good news: Sindh isn't as dangerous as some may lead you to believe, and it's an adventure traveler's dream.
Sindh is practically overflowing with myriad cultures and historical places. Jains, Hindus, Sikhs, and Muslims all reside within the province. Crumbling remains of forgotten forts and mosques wait by roadsides, while towering forts and majestic mahals still loom over the land.
Visitors can scale mountains akin to sleeping dragons, and roam through vast deserts colored rainbow by textiles of women on their way to wells. Every time I visit I learn of more places I want to visit; in my Google Maps, Sindh is an explosion of marked places to see.
A final argument if that doesn't sell you: many cities in Sindh have legal "wine shops" where you can simply rock up and buy yourself a bottle or some beers. I know that tickles some of your alcoholic tastebuds!
Best time of year to visit Sindh
Now that I've convinced you to give Sindh a try, let's talk about how to avoid death by heat in during your trip.
Sindh is hot like fire. Two of my visits to Sindh were in May, the peak of summertime in Pakistan and absolutely the worst time to visit the province.
I experienced temperatures nearing 50°C, and must say that I do not recommend summer travel in Sindh. Let's pretend it didn't take me several visits to figure that one out.
If you want to actually enjoy your explorations of the province/not die from heat stroke, plan a winter trip.
Winter starts a bit after the end of the monsoon season that loosely runs from July to September. Temperatures begin to "cool" around October (if temperatures in the 20-30°C range count as cool to you) and winter goes on until February or so.
Top places to visit in Sindh 
Now that I've convinced you that Sindh is totally worth visiting, here's a few suggestions about places to visit in Sindh, Pakistan.
Remember this isn't an end-all list; there are many more places to explore. These are meant to be a starting point for your planning.
Karachi
Every traveler in Pakistan and their mother knows Karachi is in Sindh, so I don't need to go too deeply into this. Whether it's the starting point of your journey, a place to find some modern comforts midway, or your final destination, travelers visiting Sindh inevitably pass through Karachi at one point or another.
While there, feast your way around the Burns Road area, Karachi's most famous food street(s). Chill on the grass outside the colonial Frere Hall… and pick up a book if the Sunday book bazaar is going on. Hop a ride on one of the multitude of psychedelic buses hurdling down its ways. Lose yourself in the cacophony of the old neighborhood of Sadar. Find some coastal chill away from the crowds at Mubarak Beach, or immerse yourself in the circus that is (filthy) Clifton Beach. Swap modernity for history during a day trip to Chaukaundi tombs on the outskirts of the city.
There are plenty of resources online about things to do in Karachi, so seek those out for more details.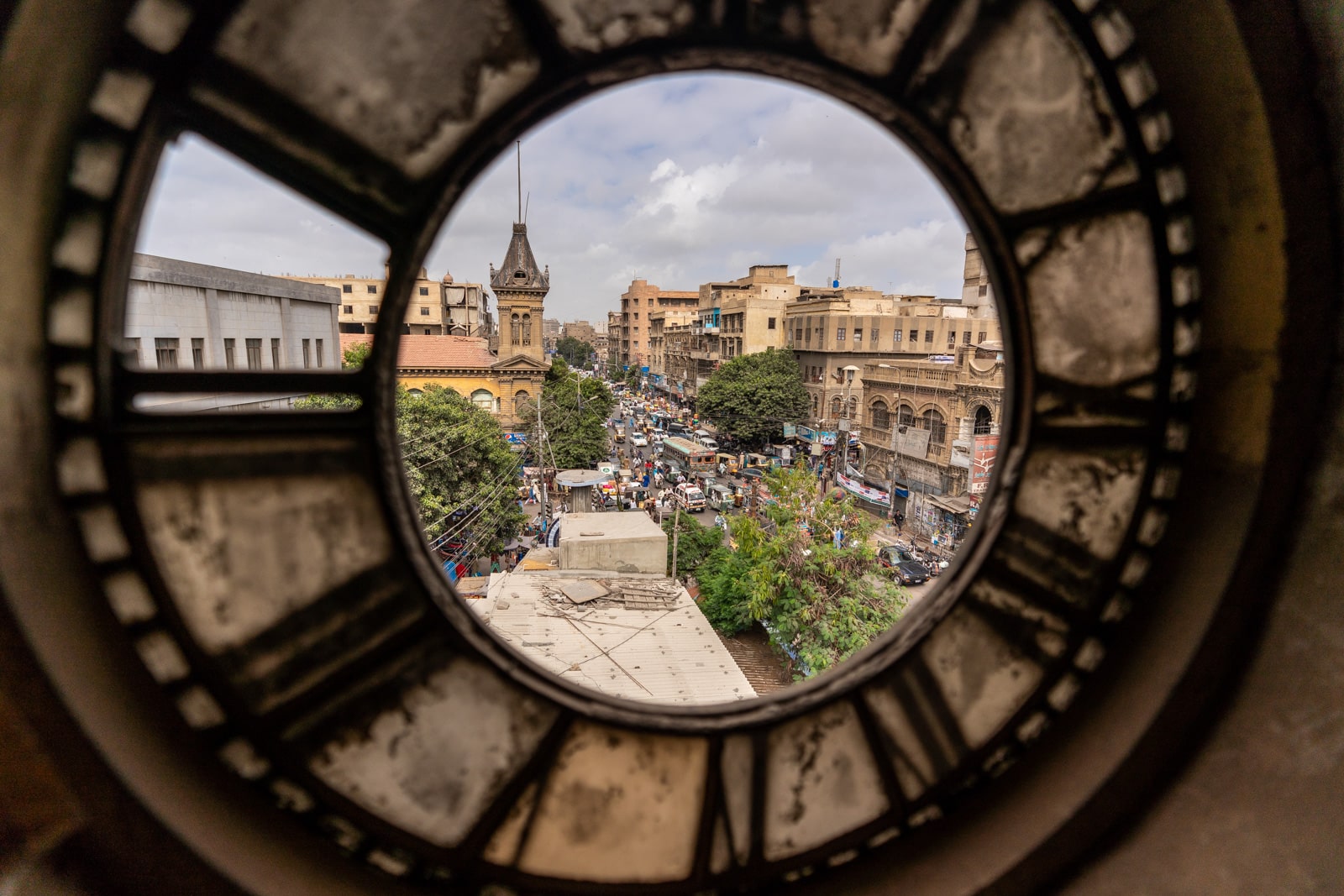 Where to stay in Karachi
Karachi has a variety of guesthouses, but though no good budget options. Make sure note the location when picking accommodation in Karachi—traffic can be dense at the best of times, and you can easily lose many an hour attempting to traverse the city. Better to stay in a neighborhood close to the city center, such as Clifton.
Budget: Nothing in Karachi stands out in terms of good value for money, but there are a few guesthouses listed on Booking.com for less than US$25 per night.
Mid-range: I stayed at Mariner's Base Apartments on my second trip to Karachi, and was very pleased with their spacious apartments and central location of the building.
Luxury: The Movenpick Hotel is the nicest hotel in Karachi, and relatively cheap compared to Movenpicks in other countries.
Makli & Thatta
If you're coming from Karachi, Thatta is a logical next step that can be visited during a day trip or a proper overnight adventure.
Though Thatta isn't much to look at, architectural perfection is found in the form of the famous Shah Jehan mosque. Mughal archways line its courtyard, surrounding a stunning blue mosaic central chamber. It's a cool escape from the desert city vibes outside.
Nearby Thatta is the UNESCO-listed Makli Necropolis, one of the largest necropolises in the world. Ornate graves and tombs stretch for kilometers. Some require you to ask for a caretaker's help in getting in, others you can poke around in yourself. Don't miss the vivid green Shrine of Hazrat Abdullah Shah Ashabi inside the necropolis area.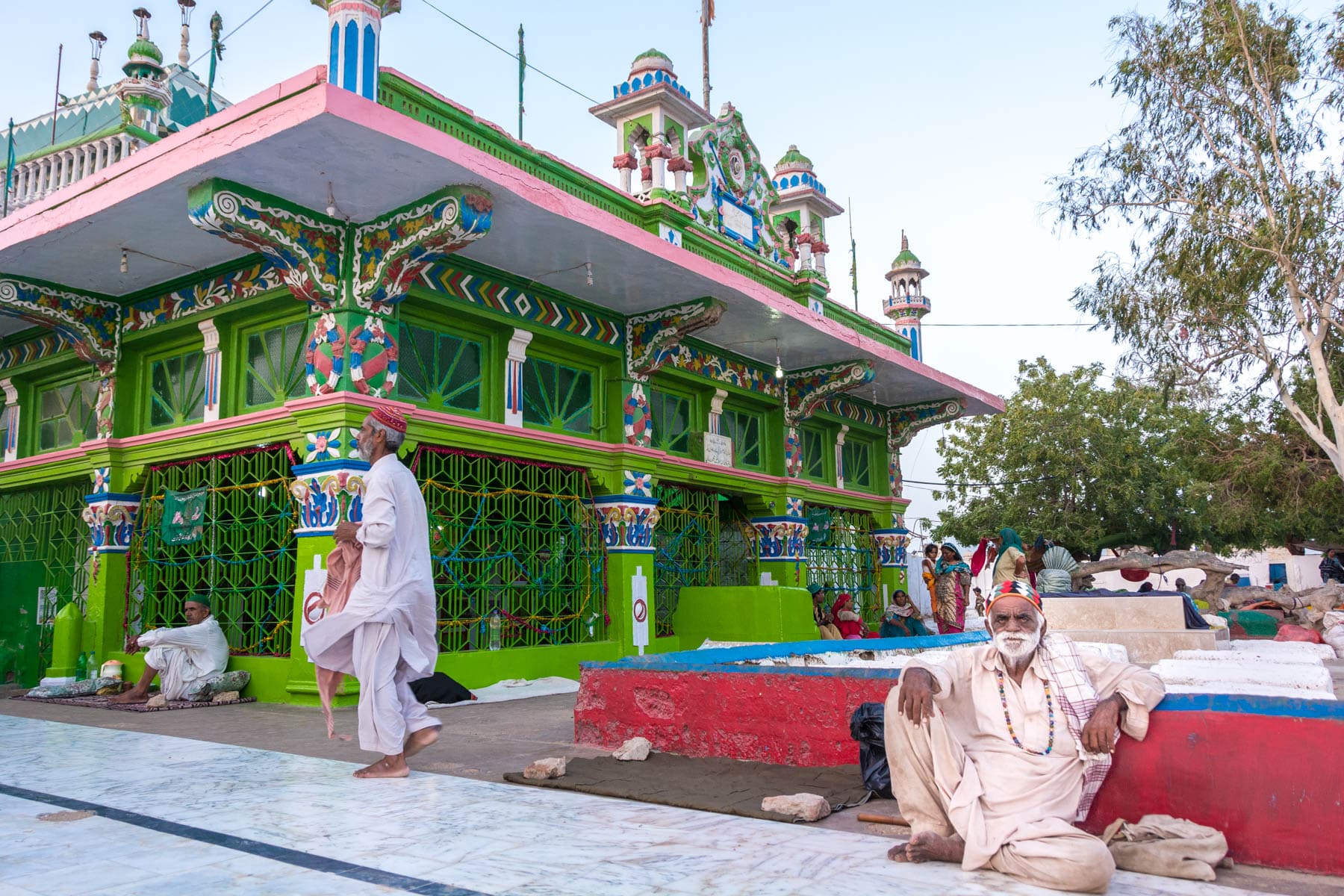 Where to stay in Makli & Thatta
There are a few dingy budget hotels along Thatta's main road. But the only hotel that accepts foreigners is the SRO Guesthouse near Makli Necropolis run by the very friendly Ghulam Khwaja. In 2016, a double room cost 3,000 PKR per night, and included an AC, a comfy bed, and a large TV.
Hyderabad
Sindh's second biggest city is a bit of a madhouse, but it does host some pretty colonial buildings. Go for a stroll around the center city—don't get run over by any vehicles, mind you—nom some Hyderabadi dum biryani, or spend some time chilling by the famous river Indus.
For most tourists, Hyderabad's appeal lies mostly in the fact that it's a strategic transit hub to other locations in Sindh. If you're venturing to the Thar desert, or heading further into interior Sindh to places like Ranikot or Sehwan Sharif, you'll likely pass through Hyderabad.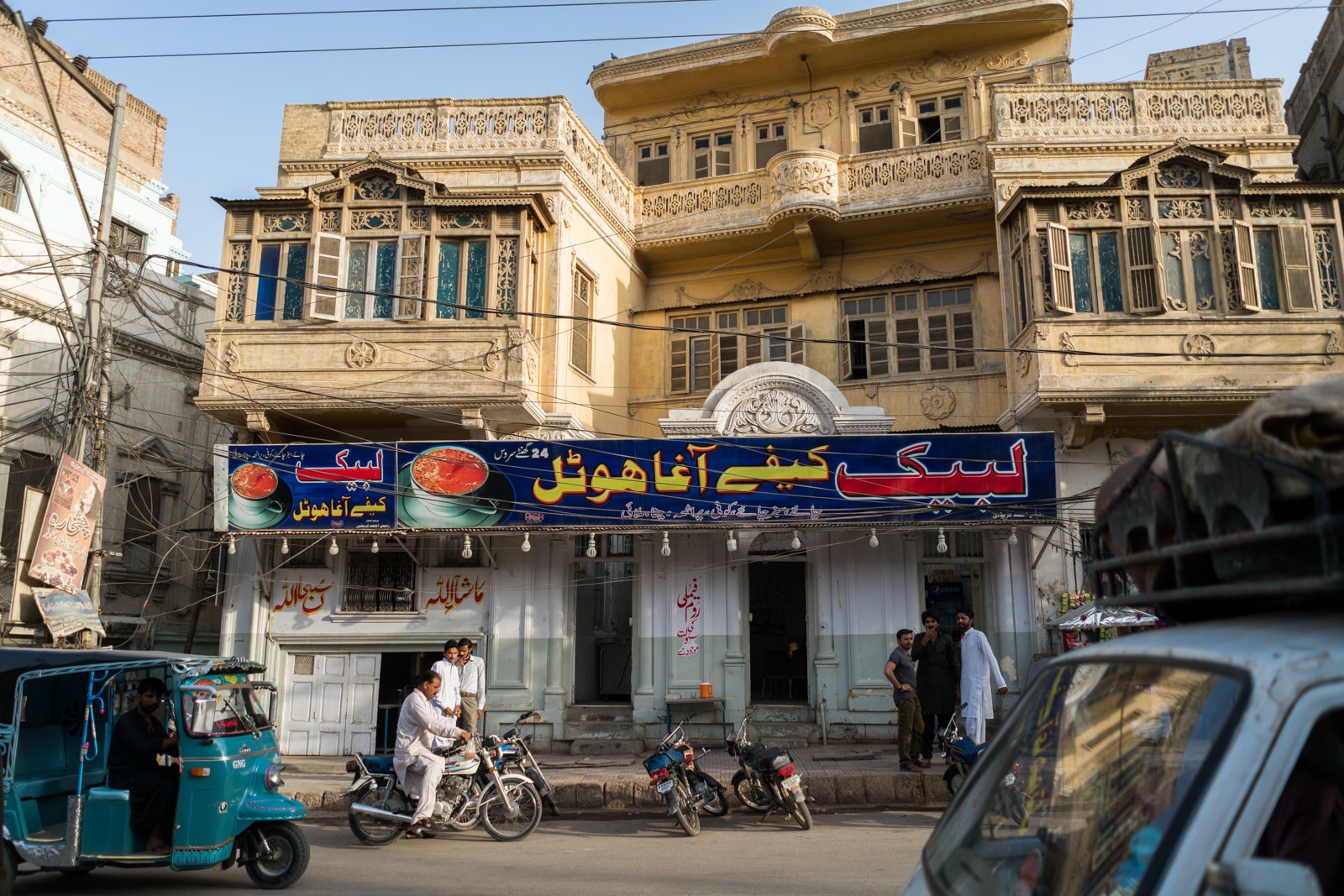 Where to stay in Hyderabad
Budget: Al Rehman Guesthouse accepts foreigners, and has rooms for US$20 or less per night.
Mid-range to upscale: Hotel Indus will run you around US$70 per night, but at least you won't have to worry about security—they accept foreign guests.
Gorakh Hill Station
Mountains in Sindh? Say what?!
Yep, it's true. The Kirthar mountains divide the provinces of Sindh and Balochistan. Gorakh Hill is one of the highest points along the range, clocking in at 1,734 meters (5,689 ft).
Accessible only by a two-hour jeep ride from nearby Wahi Pandi village, the views from the top of the hill are stunning, as is the view of the stars once the sun sets. The steep cliffs look their best in the daylight—the sunset catches them nicely—but I highly recommend an overnight stay on a clear night for a full Gorakh experience.
Caution: it gets chilly at night! Do pack warm clothes, especially if visiting in winter.
Where to stay at Gorakh Hill Station
There are one or two guesthouses near the viewpoint at the top of the hill, such as Gorakh Restaurant and Summer Huts. You can also find tents for rent during warmer months.
Sehwan Sharif
One of my favorite stops in Sindh, Sehwan is home to the shrine of the famous Sufi saint and poet Lal Shahbaz Qalandar. Glittering mirrors and colorful mosaic line every inch of the shrine's interior, and the mood of the courtyard outside varies between quiet contemplation and pounding otherworldly ritual depending on the time of day you visit.
Unfortunately, the shrine was the location of one of Pakistan's deadliest suicide bombings in recent years. Security at the shrine has since increased exponentially. Though I believe the shrine is as safe to visit as any other major site in Pakistan, foreign visitors may be escorted by a security guard when visiting the shrine complex.
Read more: Desert trippin' at the urs of Lal Shahbaz Qalandar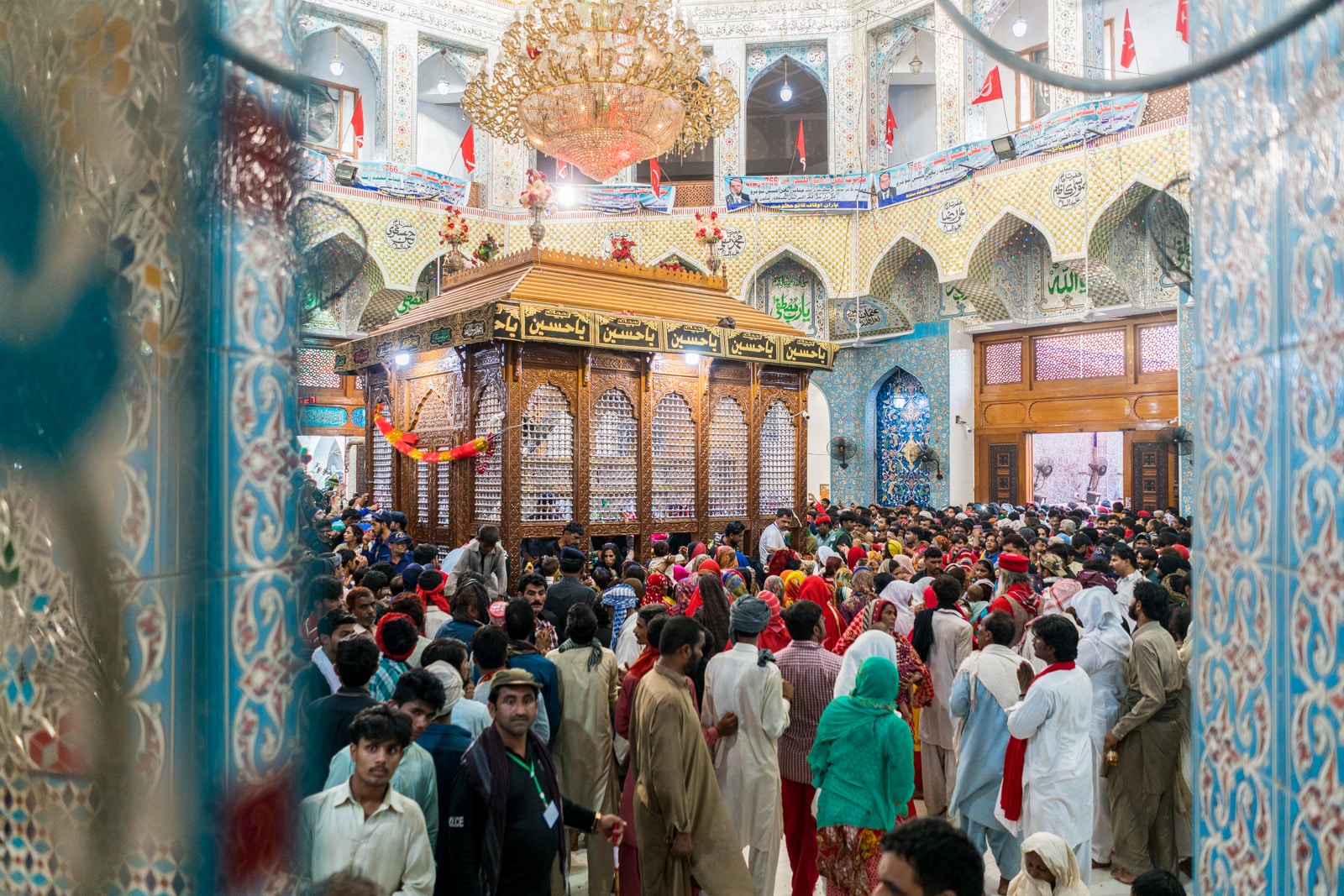 Where to stay in Sehwan Sharif
Budget: According to the Pakistan Traveler guidebook, Dum Dastagir Resthouse (+923072195833) on Dargah Road offers basic rooms at extremely low rates.
Mid-range: Hotel Sehwan Divine is the nicest hotel in Sehwan, and the attached Sehwan Restaurant offers AC as well as the cleanest food in Sehwan.
Bhit Shah
Another town around another important Sufi shrine: the mazar of the poet Shah Abdul Latif Bhitai.
Black-clothed malangs can often be found playing Sufi qawwali music within its walls. Brightly colored pilgrims come to pray and pay their respects at the tomb of Bhitai all year 'round. The shrine itself is a wonder to behold—I could easily lose myself in the intricate details found in every nook and cranny.
To fully take in the religious diversity of the region, you can also check out the Gurdwara Shah, a Sikh gurdwara a stone's throw away from the Sufi shrine.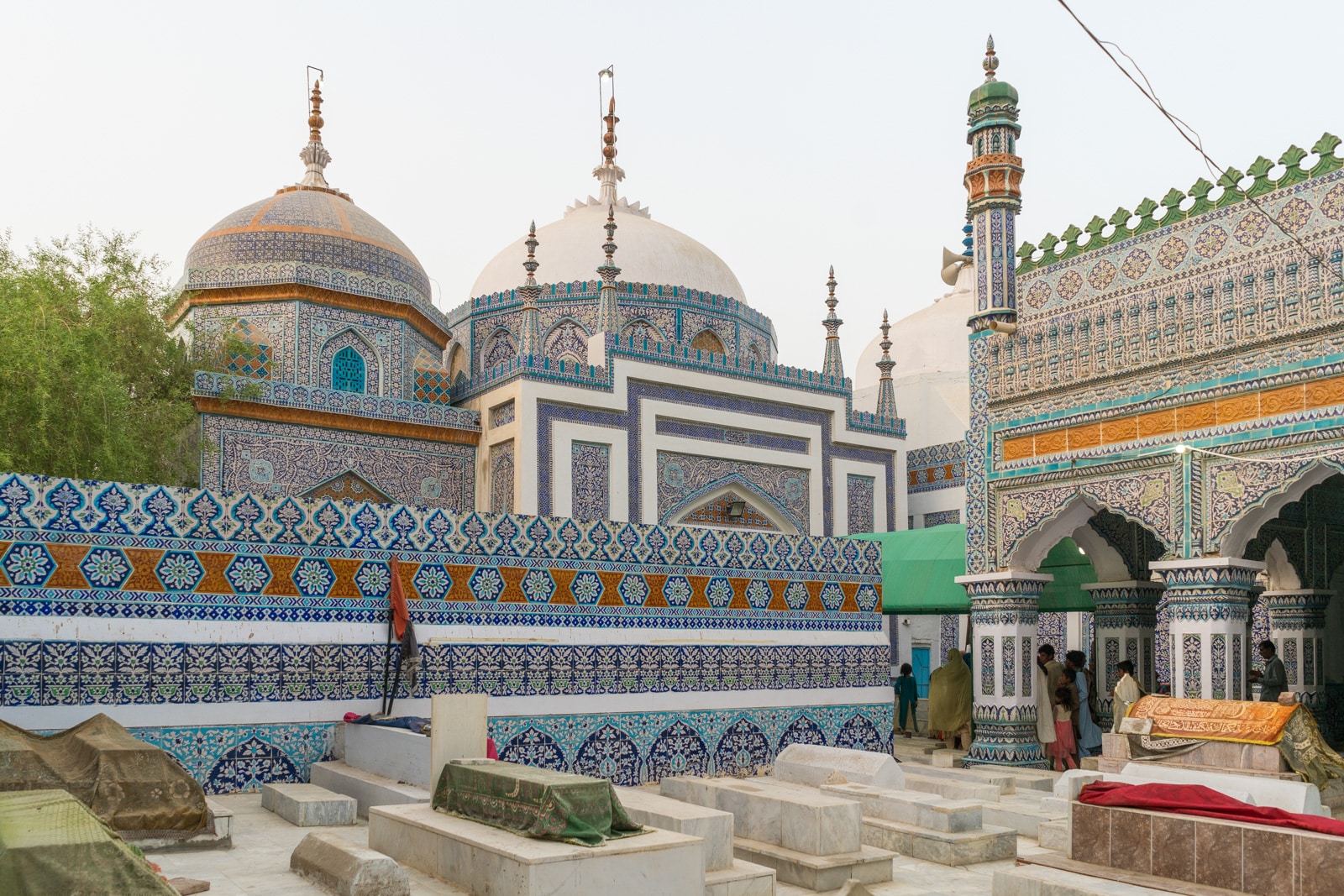 Where to stay in Bhit Shah
Bhit Shah is a small town with limited accommodation options. I stayed at the Madan Faqeer Eco Resort, which was a bit costly for this backpacker at about 4,000 PKR for a double room. However, rooms were comfortable, and it did have a generator and AC. Even better, there's a music school within the building where you can watch students and teachers practice the traditional instruments used for qawwali in the shrine across the street.
If you're on a tight budget, you might be allowed sleep overnight for free in the shrine itself, or request accommodation at the gurdwara. Note that you might have an issue bringing larger bags in, as there are security checks on the shrine's perimeters.
Moenjo-daro
Stroll back into the BCE at Sindh's most famous historical site: Moenjo-daro. Established in 2,500 BCE-ish, this was once one of the Indus Valley civilization's largest cities. Despite being a hub of trade and thought, its occupants mysteriously disappeared around 1,900 BCE. Buddhists eventually moved into the space several hundred years later.
In the modern era, it's a UNESCO-listed archaeological site at risk of destruction. Decades of neglect have damaged its walls, and high salinity and increasingly extreme temperatures are corroding what's left. Archaeologists have actually stopped digging at the site, in the hopes of preserving the remainder by leaving it under the sands.
The more people who visit (responsibly), the better—it will bring attention to the region and encourage officials to take a more serious stance about preserving the site.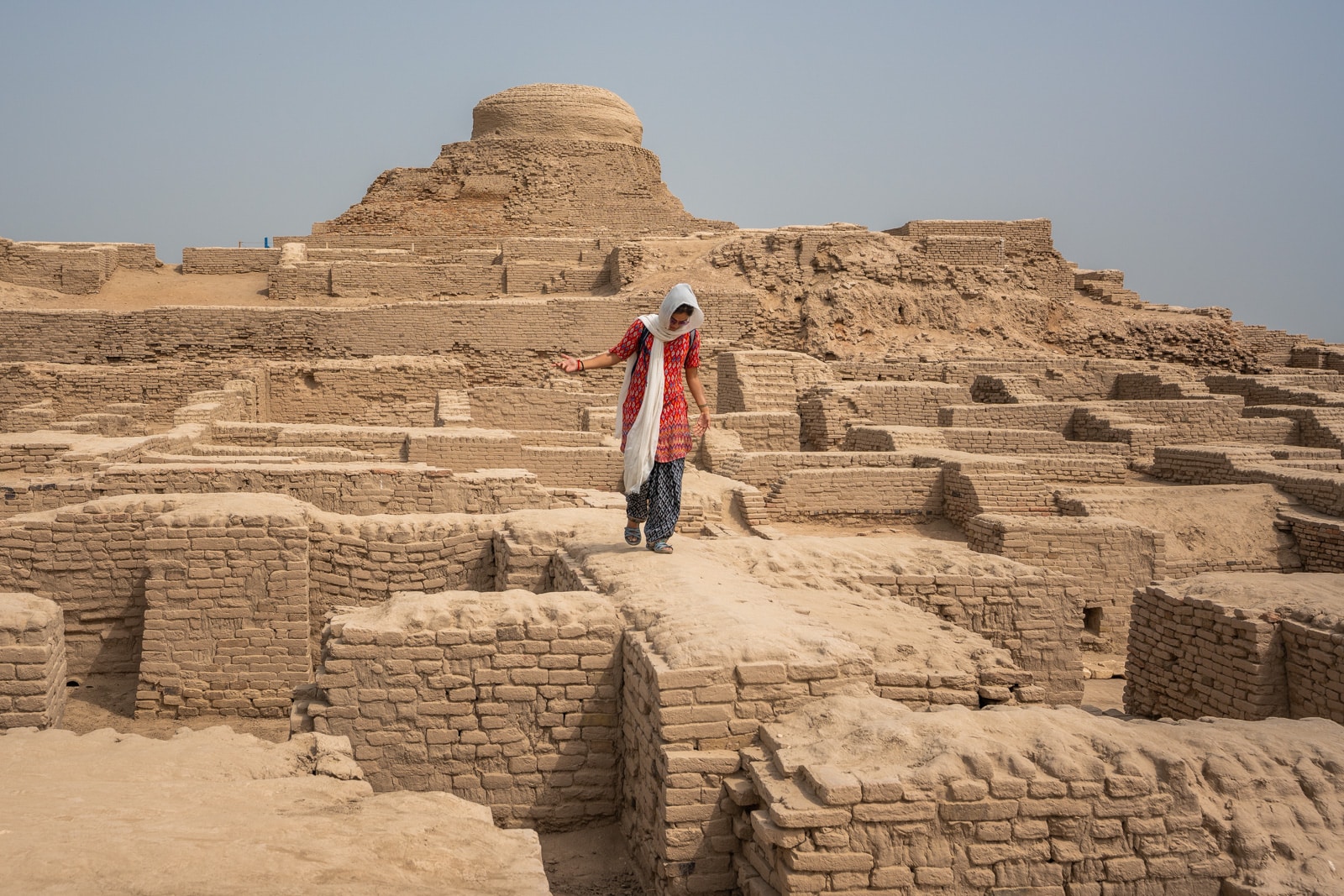 Where to stay in Moenjo-daro 
Moenjo-daro isn't actually in a town; the closest town is Larkana. Unfortunately if not unsurprisingly, Larkana is not very tourist-friendly town, and many foreigners report being assigned a security guard while there.
There is reportedly a PTDC Motel near Moenjo-daro, though you'll want to call ahead to confirm there's space for you: +92 744084009.
Alternatively, there are a few cheap hotels in Sukkur, 1.5 hours away, that accept foreign travelers. Try Sindh Faran Hotel or Mehran Hotel if you're on a budget; they should have rooms for around 2,000 PKR per night.
Thar desert 
Many a local traveler's eyes sparkle when they speak of Thar. Magical sunsets, landscapes lush with greenery after monsoon rains, splashes of colorful saris against arid desert sands—it's understandable why Thar so enraptures its visitors.
Though I've been to the desert on the other side of the India-Pakistan border, I've not (yet) visited Thar. Nevertheless, I can't leave such a significant destination off of this list. Tharparkar district as a whole is tempting, but Nagarparkar specifically caught my eye, as it's filled with both surreal landscapes and Jain temples.
Unfortunately, it's not so easy to get there as an independent foreign traveler. A friend of mine was stopped by police in Mithi and forced onto a bus back to Karachi; officials said he needed an NOC to continue into Thar. This is a likely response in the region, as it's close to the India-Pakistan border, and thus a sensitive area. Your best bet is to visit through a tour or with a local friend who can talk your way out of tight spots.
Day trips in Sindh
Some places in Sindh are more easily visited as day trips from major towns, rather than overnight stays. A lack of accommodation is a motivation at times; at others, it's simply not worth the overnight (unless you're a photographer addicted to golden hours like myself).
Here's a few spots in Sindh I believe deserve a visit, if not an overnight:
Hala
Once a hub of Sufi thought, the town of Hala is now consumed by busy bazaars and rattling Qingqis. However, if you're headed to Bhit Shah or Sehwan Sharif, it's worth a stop.
The Makhdoom Nooh shrine pictured is one incentive; the other is that Hala is famous for its textiles and woodwork. If you're interested in picking up an iconic Sindhi ajrakh scarf—block printed by hand with natural dyes rather than synthetic dyes—this is a good place to do so.
Matiari
Allow me a moment of gluttony. Matiari, in the same district as Hala, deserves a visit for one very specific reason: ice cream. If traveling the road between Hyderabad and Bhit Shah, you need to take 20 minutes en route to stop here.
Matiari's ice cream is famous in the region, and damned delicious if I may say so. There are two notable ice cream places along the highway running through the town: Alfaisal Ice Cream and Matiari Ice Cream.
People like to debate which is best. Rather than fight, I suggest trying both places and coming to your own conclusions. #GluttonyVeiledAsDiplomacy
Keenjhar Lake 
This mythical lake is about an hour's drive from Thatta. It's a popular picnic spot and weekend getaway for people in the region, as well as a resting place for migratory birds in winter months. Legend has it a wealthy prince fell in love with a woman from Keenjhar, and made her a queen above all other queens. As a testament to their love, the prince's tomb is on a small island in the middle of the lake.
 

View this post on Instagram

 
I only visited the lake on a brief visit in 2016, and admittedly wasn't impressed (to be fair, I was dying of a combination food poisoning and dehydration from summer heat). However, I've since seen more photos of culture and life around the lake, and would be happy to make a return visit in the future.
Ranikot Fort
We've all heard of the Great Wall of China… but what about the Great Wall of Sindh?
Though it isn't quite on the scale of the Great Wall—hyperboles are common in South Asia—its size is impressive nonetheless. The fort's walls are approximately 32 km (20 mi) in length, and can easily take a day to explore.
The fort is best visited as a day trip from Hyderabad. It's about 90 km away from the city.
Shrine of Sachal Sarmast
Call me a sucker for Sufism and/or all things coated in mosaics, but this small and stunning shrine in Daraza Sharif is totally worth a visit in my humble opinion. An hour from Sukkur, the Sufi shrine is a peaceful place where people come to pay their respects at the deceased poet's tomb. If you're lucky, there may be a little qawwali performance to watch during your visit.
Kot Diji Fort
Best combined with a visit to the Shrine of Sachal Sarmast when day tripping from Sukkur or Larkana, Kot Diji is another spectacular fort within interior Sindh. Mostly empty during the week, visitors can freely roam around the relatively well-preserved complex. Once you're done playing explorer within the fort's walls, don't miss out on the exquisite Sheesh Mahal nearby.
Security in Sindh
Although Sindh has seen a handful of terrorist attacks in the last decade, the security situation is not as bad as it may seem. Bandits are no longer common, and the likelihood of a tourist—especially a foreign one—being somewhere where they'll be in real danger is not very high. Use common sense as you would anywhere in the world.
So what's the issue? My favorite way to describe the security situation in Pakistan applies to Sindh equally well. Forget security problems—in Sindh, security is the problem.
As an obvious foreigner or a (unmarried) female traveler, you're likely to have an encounter with security personnel if you go anywhere aside from Karachi or Hyderabad. The likelihood increases exponentially when visiting small towns or natural places like Thar.
Don't get too worked up about it. They're either curious as to why you're traveling in places they wouldn't expect you to go… or they think you're a spy and want to know what you're up to. Unless you're actually a spy—presumably most of you aren't—you aren't actually doing anything wrong. The biggest issue is that police may try to move you to expensive hotels with more "security"… and a much larger price tag than many of us want to pay.
If police or agents approach you, be polite but firm. If what they're asking you to do doesn't make any sense, don't hesitate to point that out. Remember that they have the power to force you to leave a place, so it's best to compromise rather than fight them outright. Should they demand you stay in a hotel you can't afford, tell them your budget is too small, and ask to stay in the police station or something affiliated with it overnight.
To avoid security hassle, it's best to travel with a local friend or with a tour. Officers seem to calm down when stupid foreigners (sarcasm) are accompanied by locals. If you don't have such connections, try to at least have the phone number of a Pakistani friend saved so you can call them if anything comes up.
Finding accommodation in Sindh
As you've probably figured out by now, accommodation in Sindh—especially budget-friendly or backpacker accommodation—is difficult to come by.
Many guesthouses listed in the Lonely Planet have either closed or drastically increased their prices. Pakistan Traveler, a guidebook by my friend Tim of Urban Duniya travel blog, is the only guide with relatively up-to-date accommodation options… but he couldn't always find very budget-friendly options, either.
Backpackers on a tight budget should rely on Couchsurfing or local contacts found in groups like Female Pakistan Travelers (girls only) or See You in Pakistan for finding places to sleep. Not only will staying with a local be enlightening and save you money, it can also help you avoid having security guards forced onto you at inopportune moments.
Tours and travel guides for Sindh
If traveling Sindh seems a bit complicated for you—or if you just want to save yourself time and hassle—it's a good idea to consider joining a tour or hiring a guide for your trip.
On my most recent trip to Sindh, I spent a lot of time traveling around with my friend Faran, who runs the tour agency The Eventum. Son of a renowned Sufi poet and a Sindhi through and through, Faran knows everything there is to know about the province. He is an invaluable resource to anyone looking to dig deeper into Sindh. I highly recommend getting in contact with him if you want assistance during your trip to Sindh. You can contact Faran through The Eventum's Facebook page, or on Whatsapp at +923323347202.
If you're looking for a reputable travel guide to reference while traveling in Sindh, Pakistan Traveler by Tim Blight is the most comprehensive travel guide on the region. Written by a friend of mine (and coauthored by me for the latest edition!), it's a must-have for anyone traveling Sindh… or the rest of Pakistan, for that matter.
Whatever you choose, happy travels and enjoy your Sindh adventure!
Yay transparency! There are affiliate links in this post. If you book or buy something using one of my links, I'll make a bit of money at no extra cost to you. Links like this are how I maintain the cost of running the blog, and never fear: I'd never steer you wrong.