Updated in 2020: A complete guide to train travel in Pakistan. Includes all the information you could possibly need to make your journey as pleasant as possible.
It might not look it on a map, but Pakistan is huge.
Luckily, for travelers and locals alike, it invested heavily in infrastructure, making traveling around relatively straightforward. Buses zip between major towns and cities, and there's always some form of local transport to be found. In the northern part of the country, Jeeps and minibuses ("coasters") reign supreme. But if you're traveling in the center or south—especially if you're traveling long-distance—nothing beats a good ol' train trip.
Pakistan's rail network stems from the British colonial days… and not much has changed since then. Older trains have rattled on since the English assigned them to the rails, and the fortress-like stations still stand strong. Train tracks throughout the country lie deserted, though Chinese investment might soon revamp them.
However, Pakistan's rail network is still extensive, and traveling by rails is a quintessential South Asian experience. Unfortunately, traveling by train can be a bit confusing: there are different classes, different types of names, erratic ticket offices and timings, dozens of stations… and then some!
But travelers can now rejoice! I've created this complete guide to train travel in Pakistan just for you, so you won't have to go through all the trouble I had to go through when I first traveled in Pakistan.
Lost With Purpose's guide to train travel in Pakistan
Index
Finding the right train in Pakistan
First things first: if you want to travel by train, you need to find the right train for your journey.
To do this, go to the website of Pakistan Railways. Here, you'll be able to find your train under the "plan your journey" section of the page. Although getting to the information you want is a bit roundabout, the process of navigating the website is rather self-explanatory. If the website is working, that is.
This route map gives a good indication of all the railway lines in Pakistan:
Types of trains
There are several types of trains. From the business class Green Line train between Karachi, Lahore, and Islamabad, to the historic—but less than comfortable—Bolan Mail between Karachi and Quetta. On some routes there is only one train, on some routes there are several.
Some trains stop at almost all train stations along the way, and some at only a few. Unfortunately, the names of the trains aren't always indicative of how long a train journey will take. For instance, the Awam Express between Lahore and Karachi takes more than a day, while the Business Express on the same line takes roughly 17 hours. Clearly the meaning of "express" is fluid in Pakistan.
Luckily, the Pakistan Railways website indicates how long each train journey should take, and you can make your choice depending on that metric. As a rule of thumb, the slower the train, the cheaper (and often less comfortable) it is.
Note: Times given on the Pakistan Railways site are estimates only. Trains in Pakistan are usually late, and it's not uncommon for your train journey to take several hours longer than indicated.
Train class types
Pakistan Railways offers seven different classes on its trains. Not all trains will have all seven; most have two or three classes available.
The classes are divided as follows:
ACSL –  AC Sleeper
PC – AC  Parlour Car
ACLZ –  AC Business
ACL  – AC Standard
ISL  – First Class Sleeper
EC –  Economy Class
SEC  – Second Class
Doesn't mean anything to you? No worries: I know these names don't clarify very much. Here's what you can expect from each of the Pakistan train classes:
ACSL –  AC Sleeper
The highest and most expensive class. AC Sleeper class is comprised of private compartments, each shared with one to three other travelers. The compartments contain two to four long bunks that can be used as both bench and bed. Bring a blanket, as the AC can actually get too cold.
In this class, the train windows don't open, and you won't see many (if any) outside people walking up and down the train selling snacks and chai—all tea and food service is managed by the train staff.
PC – AC  Parlour Car
Comfortable AC chair class, reminiscent of European commuter trains. Not recommended for long journeys, as the seats don't really recline.
ACLZ –  AC Business
Similar to the luxurious AC sleeper class, but shared with more people. Each closed compartment houses six travelers in total.
ACL  – AC Standard
Sometimes known as "AC Lower", this class depends on the train. On short rides, this class can be compared to riding on a bus with AC. On longer rides, this class will have bunk berths for sleeping.
The sleeper train cars have an open layout, divided into sections. Each section will have six bunks to the side, and two bunks along the aisle.
ISL  – First Class Sleeper
Standard sleeper type compartment with an open berth style coach. Meaning, arrangements of open compartments with 6 bunk beds, and upper and lower bunks running along the path through the train car. No AC.
EC –  Economy Class
Similar to First Class Sleeper, but the seats to the side are only for sitting, not sleeping.
SEC  – Second Class
Standard train seating arrangements. Don't be surprised if you spot people sitting and sleeping on the floor.
How to buy a train ticket in Pakistan
Now that you have a solid idea of the train and class you want to take, it's time to buy a ticket!
Although it's theoretically possible to buy tickets online—I personally do, though it often involves much frustration—many still buy train tickets at the train station, ticket office, or with a travel agent.
In smaller towns and cities, you can usually only buy tickets at the train station. In bigger cities, there are also ticket offices. Make sure to bring some patience, as ticket offices can get busy.
Buying Pakistan train tickets online
Tickets can be purchased online with the help of a local friend. You can book tickets via the Pakistan Railway website and Android app.
To buy tickets you have to set up a Pakistan Railways account, for which you need a CNIC (Pakistan ID document number). If you're a foreigner, using your own passport number doesn't work—you need a local friend to sign up using their CNIC and other information. Tickets can only be paid for with a Pakistani debit or credit card. No foreign cards.
You also need a CNIC number to book a train ticket. Never fear, you can travel using tickets purchased with someone else's CNIC; it's common practice when heads of family purchase tickets for other family members.
If someone buys your ticket for you, make sure to bring a copy of the ID card of the person whose CNIC number you used (unless you travel with that person, of course!). Conductors will likely ask for a copy to cross-reference their data with the CNIC number of the person who booked the ticket.
Know that buying tickets from the Pakistan Railways website isn't always straightforward; I've had it take four or five tries (and a lot of swearing) before the booking went through. It's also not possible to get any foreigner discounts when booking online.
Protip: It's possible to get a 25% – 50% foreigner discount when buying a train ticket. Check this article on how to get a discount on train tickets as a foreigner.
Female safety on trains in Pakistan
Unfortunately, female safety in Pakistan is always an important consideration. As it is anywhere in the world.
Don't worry about being kidnapped or anything; creepy men touching you is generally the biggest risk in the train. Luckily, there are a few things you can do to mitigate the risk of something happening:
When booking a train ticket, choose for the middle bunk when riding in the open-plan cars. On Indian trains, I always went for the top bunk, as there are dividers between each section. However, I recently had an unpleasant encounter on the top bunk during a train trip to Karachi where there was no divider. Next time, I'm going for the middle bunk—it's more secluded.
Be wary of closed compartment cars (higher class) if traveling alone. Though they might seem safer from prying eyes than the open seating plans, but if you get stuck in a compartment with only men as travel companions, things could get uncomfortable.
Buddy up with women and families around you. They're often protective of female travelers, and likely will take care of you. Men are much less likely to do pull stunts when other women or families are watching.
If something happens, call a conductor or police officer. You'll see them wandering around the trains, and they can take care of the situation if anything unpleasant occurs.
Tip: There are women-only sections on trains. If you're a a female traveler(s) and you feel uncomfortable, you can ask the conductor to move you to the women's section of the train—or a safer section of the train—free of cost.
Tips on train travel in Pakistan
Boarding the train
Some trains have information written in English on their exteriors, but many trains only have information in Urdu. If you're unsure about which train to get on, just ask. A station employee, security person, or friendly local will be sure to help you get on the right train.
At major stations, trains will stop for an extended period of time (anywhere from 20 minutes to an hour), so no rush if you want to get out, stretch your legs, and quest for pakora on the platform. Just keep an ear open for the train whistle, signaling it's time to go.
At minor stations, however, the train will only stop for a few minutes, enough time to unload old passengers and bring on the new.
Electricity and charging in the train
Starting at AC Standard class, there will be power plugs available (for round, two pronged plugs). However, unless you're in the highest class, there are usually only a few outlets in each coach. Electricity does go out at times. Load shedding in the train, perhaps?
Of course, this depends on the train—nothing is consistent in Pakistan. For long journeys, make sure to bring a power bank. Even if you don't use it, someone else surely will.
Food & drinks on the train
Although there are juice, chai, and food wallahs walking up and down the lengths of the trains, most people bring their own supplies. Don't be surprised to see porters carrying in bags, buckets, or boxes stuffed with food for families!
The food served on Pakistani trains is notoriously bad and dirty, and stations where you'll stop long enough to find food are sometimes hours and hours apart. Packing some snacks for the train ride is a good idea; it's also cheaper (and probably cleaner) than buying food en route.
Note: Good luck finding trash bins on the train or at the stations. Though people generally use the great outdoors as one giant trash heap, please resist the urge. Bring along something to collect your waste in and dispose of it in a bin once you reach your destination.
Toilets on the train
As you would expect, toilets aren't in the best of conditions. They're guaranteed to get progressively worse as the journey continues.
Make sure to bring anti-diarrhea medicine in case you ate some bad food the day before your journey, and hand sanitizer for after you emerge from the toilets. At this point, I've gotten sick several times from not washing my hands before eating on the train.
Safety on the train
Safety in Pakistan is always a concern. Use common sense when on the trains: don't leave valuables unattended, be wary of other passengers, watch your bags, etc. I recommend putting a bag with your valuables at the end of your bunk or seat, and using it as a pillow while you sleep.
Though most people have good intentions and will take care of you, people keep warning me about this particular point so it's worth a mention:
Sometimes people drug food, then offer it to other passengers so they can take advantage of them later on. Though this is more commonplace in touristic destinations in India, rather than Pakistan, it doesn't hurt to stay vigilant. Use common sense and trust instincts when accepting food and drinks from other passengers. If someone is looking shifty or uncomfortable, don't hesitate to reject their offer.
Keeping your train ticket
Once you arrive at your destination, you'll be asked to present your train ticket upon leaving the train station. Make sure to hang on to your ticket if you have a paper ticket.
Lost your ticket? You can feign foreigner ignorance, though in 2016 I had some trouble getting out of the Bahawalpur train station without my ticket. In the end, I just gave the guy a piece of paper saying that it was the folded ticket, and walked away before he could say anything else.
Pakistan train travel packing list
In case you're list-oriented, here's a quick packing list to ensure your train journey goes as smoothly as possible.
Your train ticket, of course!
Hand sanitizer for the toilets
Bag or container for trash
Snacks and water
Power bank for charging if/when power is out
Lightweight blanket or sleeping bag for overnight journeys. It can get cold!
Safe travels, and enjoy your train adventures!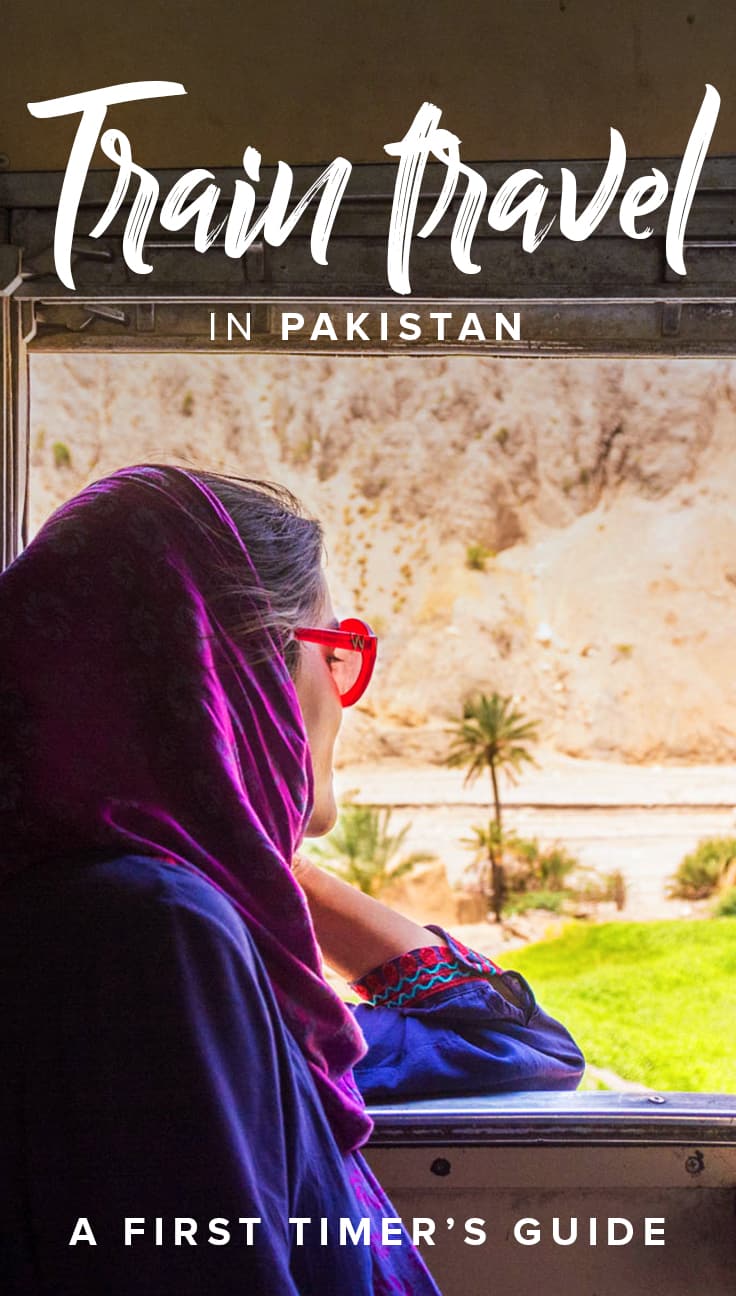 Want more practical Pakistan travel tips? Don't miss this Pakistan travel guide!
Yay transparency! There are some affiliate links in this post. If you buy something using my links, I'll make a bit of change at no extra cost to you. Think of it as a way of saying thanks for providing the information. Profits may or may not go toward ice cream on my next sweltering train trip.