A report of our overland border crossing from Iran to Pakistan at the Mirjaveh – Taftan border crossing in May 2016. This guide is regularly updated with information provided by our contacts in the region. Includes crossing details, things to keep in mind, and transport times.
Lost with Purpose is blocked in Iran. To access Lost with Purpose in Iran, use a VPN. We recommend ExpressVPN. Read more about accessing blocked websites in Iran here.
Travelers often ask if it's safe to travel overland from Iran to Pakistan or vice versa, since the Balochistan region spanning the Iran-Pakistan border is not the safest. The fact is, many overland travelers safely use the Iran-Pakistan border crossing at Taftan and Zahedan every year. Read on for a travel guide to the Iran-Pakistan border crossing for anyone hoping to cross by foot, car, or motorcycle.
Before you cross the Iran – Pakistan border: important for planning
The trip to Quetta takes three days. One day to get to the border, and two days to get to Quetta. You will arrive in Quetta on the evening of the third day.
In Quetta, you need a NOC (No Objection Certificate) from the Home and Tribal Affairs Office before you can continue. The office is closed on Saturday and Sunday and closes at 12:00 on Friday. It is therefore recommended to plan your trip so that you either arrive in Quetta on a Sunday (crossing the border on a Friday) or on Wednesday (crossing the border on Monday).
The border crossing is closed on Saturday and Sunday. Don't arrive at the border too early if you're coming on Friday. If you arrive early, the journey might start the same day, and you'll arrive in Quetta on Saturday. Try to arrive at the Pakistan border in the afternoon.
Getting to the border of Iran and Pakistan
If you are traveling by public transport, you will most likely leave from Bam or Zahedan.
There are two checkpoints between Bam and Zahedan, and two checkpoints between Zahedan and the border.
We stayed at Gilan Hotel for 650,000 IRR per night (roughly $6 at current exchange rates). You can apparently also stay at Bahar Hotel, but it was closed for renovations when we were there. Gilan Hotel is on Azadi Street, and it should be about 40,000 IRR to get there from the bus station by private taxi.
Gilan hotel usually adheres to the rules, which means they will call the police when you leave, and you will get an escort to the border. You will first be taken to the police station, where your passport is checked about 500 times, mostly out of curiosity. After this, the Border Patrol will pick you up. They will bring you to the border, changing cars several times. Each car has at least two armed men in it. We tried to leave the hotel at 8:30 and arrived at the border around 14:00. Be patient!
As with all things official in Iran, don't take any photos of the military, police, or border crossing.
If you're staying with a host in Zahedan, or your hotel doesn't call the police to escort you, you can make your way to the border independently. It's possible to hitchhike or take a bus, and the checkpoints won't bother you too much. If you're traveling with tour own transport, you usually don't get an escort, and the checkpoints won't bother you too much.
Protip

Buy supplies before heading out. Make sure you have enough water, food, toilet paper, and anything else you might need for a three-day trip across the desert in the back of a pickup truck. Tap water is not safe in Pakistan, so make sure to bring enough water, though you may have a chance to stop and buy more one or two days in. Cookies or cigarettes are a great way to break the ice with the Levies.
Day 1: The Iran – Pakistan border crossing at Mirjaveh – Taftan
Crossing the border is easy. On the Iranian side your passport will be checked and stamped, nothing more.  There is a bag scanner, but they didn't scan out bags. On the Pakistani side, they check your passport, and you must fill in an entry form. The whole process takes about 45 minutes.
You can change money at the border at terrible rates. Bargain hard, but be friendly. The sharks prefer dollars over Iranian rials. Unless you are traveling by car and need to refuel, don't change more than $50.
The Levies at the Iran – Pakistan border
Once you cross the border you'll be welcomed by Levies. The Levies are a paramilitary outfit in charge of security in Baluchistan's tribal areas. Most are quite friendly, and the ones who speak English will try and chat with you.
After you sign your life away to them–you are required to sign a paper saying they are responsible for your safety–they will bring you to their compound where you'll stay the night. The amenities are very simple, and you'll sleep on the floor. Bring toilet paper if you need it. The Levies will feed you a simple dinner, but there is not much else.
Day 2: From Taftan to Dalbadin
The distance between Taftan and Quetta is about 600km, but it will take two days to get there. The first day you will go to a city about halfway through called Dalbadin. This part of the journey is relatively comfortable, as long as you don't mind sitting in the back of a pickup truck or on someone's lap. We changed cars three times, and it took about six hours to get to Dalbadin. The Levies on the way are very friendly, and some even bought us food and water. Much appreciated.
Q: Can I drink the water? Along the way, the Levies will be insistent about offering you water drawn from clay jars.  We did drink it on occasion (like I said, they're insistent), and didn't die. We were also told later on that clay jars generally means it's water from the town's well, which should be clean. Drink at your own risk (taking in mind what it would be like to have diarrhea on this journey).
Staying in Dalbadin
You will be brought straight to a hotel at the edge of town. Two police offers will be at your side for the entire time unless you're in your room. You are not allowed to leave the hotel.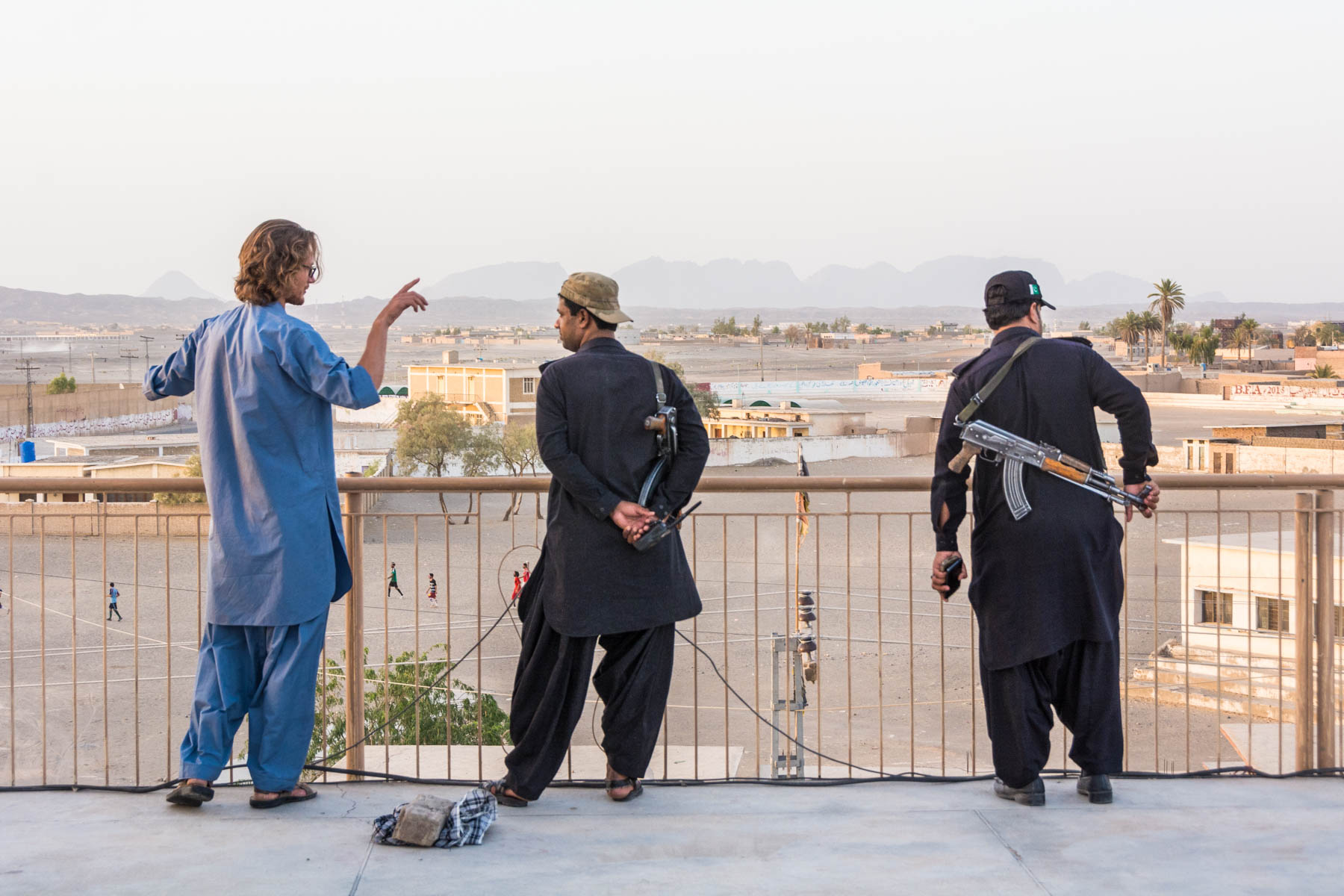 The manager quoted 1,500 Rs as the price, but in the end, we got it down to 1,000 Rs. This even included food (rice with potato) and two beers. This is not standard though. The hotel is okay, but it can get really hot, especially when the power cuts out, which happens frequently. There's a little shop next to the hotel where you can stock up on supplies if necessary. Make sure to do this the day you arrive, as it won't be open when you leave. If you say you don't have money, the Levies might allow you to sleep in the police station for free.
Day 3: Dalbadin to Quetta
This part of the journey is particularly tedious. It takes about 12 hours and we had to change cars 13 times. The head of the Levies in Dalbadin might ask you for money ("give me a gift"), but you don't have to give him anything. Just laugh it off or pretend you don't understand. He won't push too much. All the other Levies and police along the way were very friendly.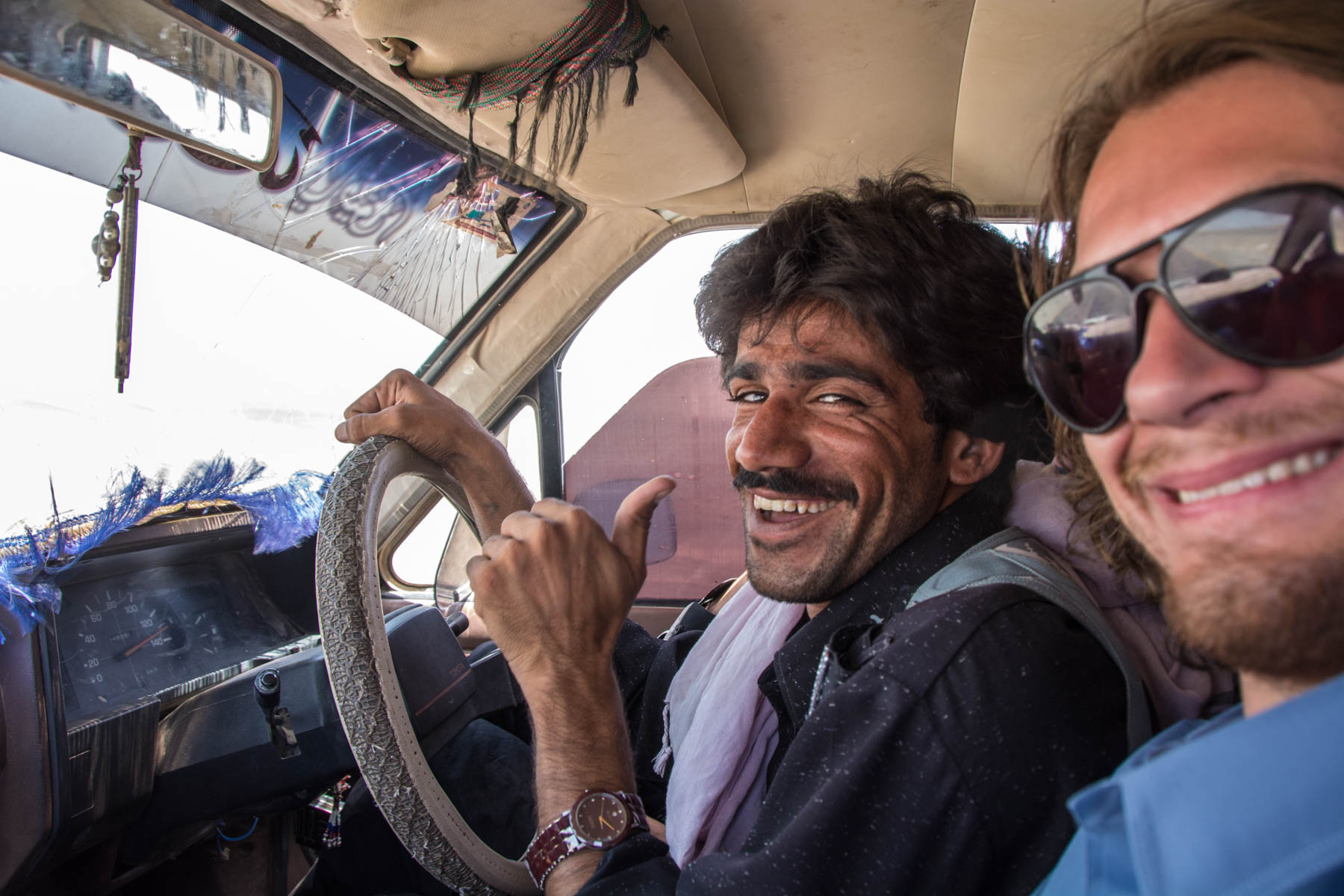 The entire road runs parallel to the Afghan border. Needless to say, this is not Disneyland. There were times our escorts were definitely relaxed, lounging with their AK's at the shoulder (one even let us hold his for a photo). There were also times where they were ready to roll, safety off and finger on the trigger. The drive into Quetta might be the most intense part since you will have members of the Anti Terrorism Squad on board. These are not the type of boys you want to piss off.
Want to know more about traveling in Pakistan? Go to our Pakistan travel guide!
Arriving in Quetta from the Iran – Pakistan border
Your escort will ask you to which hotel you want to go to. In practice, you only have one choice: Bloom Star Hotel. Other hotels will not accept foreigners. Bloom Star is near the train station and the Home Office. It costs 2,500 Rs a night. but you might have to bargain hard to get this price.
If you claim you don't have money, it might be possible to sleep in the police station. We recommend you try this, as Bloom Star Hotel is run by people who will try to get as much money out of you as possible, and they're not very helpful. The police will only come to bring you to the Home Office for your NOC, and to the train station afterward. You're basically under house arrest.
Day 4: Getting a NOC in Quetta
Before you can leave Quetta, you need a NOC, a No Objection Certificate. You will get one at the Home and Tribal Affairs Office. Just bring your passport and follow the instructions. The NOC is free, and it can take half an hour to three hours to get one. The people at the home office are very friendly and will assure you Pakistan is not as dangerous as the media portrays it to be.
The NOC will be valid from the day after you get it. In our case, this meant we had to stay another day in Quetta, as we already missed the only train to Karachi at 11:00. The office workers were willing to make ours valid for the same day, and we heard other reports about people who were allowed to leave on the same day, so make sure to ask.
Make sure to go to the train station straight after you got your NOC, so you can buy a train ticket to wherever you're going. The police won't come back for you later.
Day 5: Leaving Quetta
The day has come, you can finally leave! We decided to go to Karachi, but there are also trains to Lahore and Peshawar. There is only one train leaving at 11:00. A ticket is 905 Rs per person and it takes about 23 hours. You can buy food and water at the train station and along the way.
As always, the police will bring you to the train station, and your passport will be checked. You might be forced into a rickshaw, for which you have to pay 60 Rs. You'll have an escort to the Baluchistan state line. Ours didn't talk too much, but was friendly enough and bought us tea and a Coke. At the first station in Sindh, he will get up, shake your hand, and leave. You're finally free!
Overlanders will have an escort all the way to Lahore or Karachi.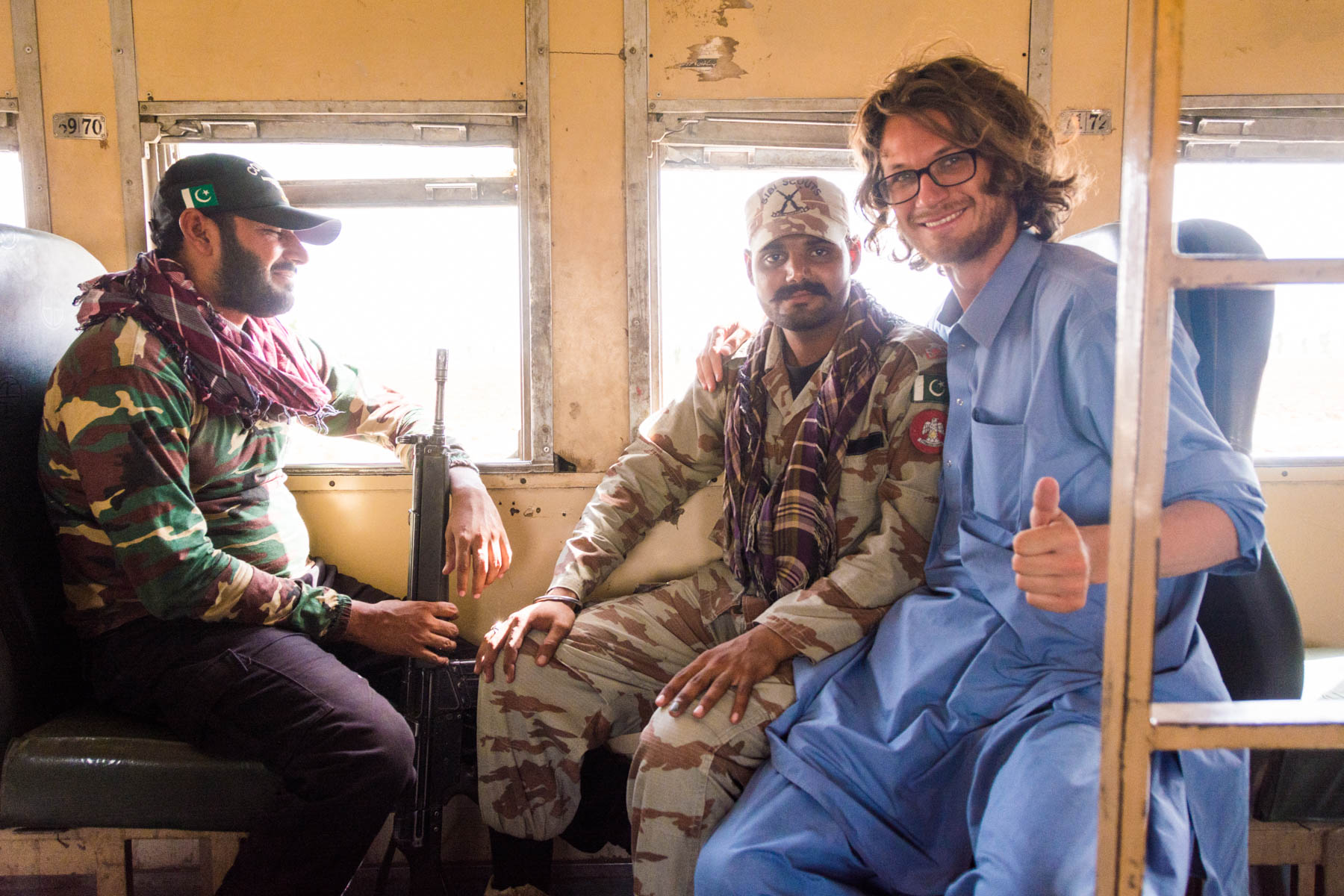 Going the other way: crossing the border from Pakistan to Iran
Before you go: getting a NOC in Islamabad
If you're crossing the other way, you'll first need to get a NOC at the Ministry of Interior in Islamabad. You can apply for the NOC at the visa office in the Pak Secretariat between 10:00 and 13:00 from Monday till Friday. The application takes a week, and you need the following documents:
Filled out application form (you will get this at the ministry)
Copy of passport
Copy of Pakistan visa and entry stamp
Proof of Iran visa
A letter explaining why you need the NOC
One passport size photo
The NOC application form says it will take seven weeks for the application to be approved, but that doesn't apply here. It usually takes about a week.
You can also go straight to Quetta and get your NOC there. This means you'll have to stay in Quetta for a longer time, while not being allowed to leave the hotel.
Heading to Iran? Don't forget to check out our guide with things to know before going to Iran!
Getting to Quetta
You can either take a train or go with your own transport. If you're going by motorbike, it's a good idea to get your bike on the train, as getting to Quetta by road can take a long time, and there aren't any places to sleep along the way. If you're going to by train, try to take an early train. The train ride takes about 24 hours from any main city, but trains are often late.
Once you're in Quetta, the police will probably bring you to the Bloom Star Hotel. Since we've had bad experiences with this hotel and its staff, we recommend that you try and stay with the police instead. If you tell them you don't have money for the hotel, they might let you stay with them.
From Quetta to the Pakistan – Iran border
If you have your own transport, you'll be escorted to Dalbadin first, and then to the border. The process is similar as described above but in the other direction. Make sure to bring plenty of passport and visa copies to expedite the process.
If you don't have your own transport, you can take a bus. For mysterious reasons, it wasn't possible to get a bus on the day after we arrived, but if you make it clear to the police that you have to leave ASAP, they should be able to arrange a bus ticket for you on the day after you arrive.
The first bus leaves at 09:00 in the morning, and it takes about nine hours to reach the border. Tickets are 1,000 RS per person. Makes sure to bring about 15 copies of your passports and visa, to be handed out at various checkpoints along the way.  You won't have to leave the bus at every checkpoint, but there will be an armed guard with you for the entire journey.
Crossing the Pakistan – Iran border
Once you arrive in Taftan you'll be brought to the Levies station to sleep here. The next morning you can cross. The whole border crossing procedure takes about an hour. On the Pakistan side, you'll have to fill out and exit form and that's it.
On the Iran side your bags, camera, and laptop will be manually checked, and you'll be asked several questions by a police officer (where are you from? which places are you visiting? how are you getting around? etc.).
Don't make things complicated and stick to standard answers. If you need any help, contact Hamid via +989393718973. He's a great guy who can make the border crossing much easier. He will also give you a free sim card if you need one.
The whole process takes about an hour, longer if you are with your own transport. From the border, you can get a shared taxi to Zahedan for about 200,000 rial (roughly $1.50 at current exchange rates).
There you have it. The (very) rough guide to crossing the border between Iran and Pakistan. Make sure to read the disclaimer below… or even better, just fly. If you crossed this border and have any updates, let us know in the comments.
Disclaimer: As you might have guessed, this border crossing is not for the faint of heart, as this isn't the safest area in Pakistan.. All sensible governments in the world highly recommend you stay away from this area, and the amount of AKs around indicated this is for good reason. We don't recommend you take this border crossing unless you're driving your own vehicle or are traveling strictly overland. Solo women are recommended to find a male travel partner. The Carivanistan and Thorntree forums are a great place to find travel companions.