Planning to travel to Bangladesh? This is the most comprehensive guide to backpacking in Bangladesh on the interwebs, so you've come to the right place. If you're not a backpacker, no worries—this Bangladesh travel guide is useful for everyone!
Index
Why travel to Bangladesh?
Few people consider to travel to Bangladesh for their next vacation, but the small country is guaranteed to leave a lasting impression on even the most experienced travelers.
I could ramble on about the country's infinite serene waterways, rich Bengali cuisine, or vibrant tropical landscapes, but they're trivial in the grand scheme of things—people are Bangladesh's best asset.
Bangladeshis are some of the most hospitable people on earth. Their endless curiosity and willingness to help a foreign guest never ceases to amaze. Your time traveling in Bangladesh will be full of invitations for tea, requests to dine at people's homes, and conversations both simple and deep about your respective countries. In my opinion, the people are the only reason you need to visit Bangladesh.
Now for the dark side: because Bangladesh is one of the least visited countries on earth, there's misinformation abounds when it comes to travel in Bangladesh. From poorly translated—and outdated—price lists, to schedules only revealed by asking others, to claims by locals that pirates will kidnap you if you visit certain cities (no, really),  traveling in Bangladesh can be a massive headache.
During the six weeks I backpacked in Bangladesh, a lot of time was wasted simply figuring out what or how to do what I wanted to do. There's no reason you should do the same!
To ensure your adventures in Bangladesh are slightly smoother than mine were, here's a guide to traveling in Bangladesh, with everything you need to plan your travels to Bangladesh.
Lost With Purpose's Bangladesh travel guide

Bangladesh basics
National language: Bangla
Currency: Bangladeshi taka
Population: 163,000,000+
Capital city: Dhaka
When is the best time to visit Bangladesh?
Sitting on the coast of the Bay of Bengal, close to the Indian Ocean, Bangladesh is a tropical country, to say the least. Though you'll find some hills, most of the country is pancake-flat, excellent for frying on the griddle roasting in the sun.
If you want to avoid roasting, the winter season of October to March is the best time to travel to Bangladesh. Monsoon rains and changing seasons cool the air by October, and the floodwaters will recede.
"Winter" in Bangladesh brings clear skies and lower temperatures—think an average of 20-25°C (68-77°F) around the country—though the temperature has dropped to as low as 2°C in the capital. Yay climate change!
Summer arrives by late March/early April. Expect unpleasantly humid heat and temperatures in the 30-40°C (86-104°F) range… or higher, given our planet's current condition.
If traveling Bangladesh in summer, drink plenty of water, and prepare to sweat.
Read: 50 ways to stop excessive traveling while sweating
Monsoon arrives around May or June and runs until September, during which much of the country is submerged. Though some Bangladeshis enjoy the monsoon season, it is not the best time for a traveler to explore the country. Roads flood, launch journeys take longer due to strong currents, and mosquitoes run rampant. Yum.
Unless you have a strong fondness for aquatic struggles (or malaria), I recommend waiting until monsoon is over to embark on your Bangladesh adventure. If you travel during monsoon make sure to come prepared.
Read: Be smart, stay dry: a monsoon travel packing list
How much it costs to go backpacking in Bangladesh
I'll be straight-up: coming from a Western country, Bangladesh is cheap. Like, cheaper than traveling in India cheap.
If you're unconcerned about A) comfort and B) hygiene standards, you can easily travel in Bangladesh for less than $10/day, accommodation included. Don't be shy about talking to local people, and that number will sink further, as Bangladeshis are some of the most hospitable people on this planet, and some will insist on hosting you… or at least paying for your lunch.
How much it costs to travel in Bangladesh depends on how you travel, but to give you an estimate of cost, here are some average prices you can expect:
Exchange rate at the time of writing: USD$1 = 85 Tk
Cup of tea: 5 Tk
1 L bottle of water: 20 Tk
Vegetarian meal (dal, rice, sabji) in a cheap restaurant: 30-50 Tk
Meat (chicken, fish) dish in a cheap restaurant: 50-100 Tk
Shared CNG or eBike ride: 5-15 Tk
Several hour bus ride: 20-50 Tk
Single room: 300-500 Tk
Floor ticket for overnight launch: 200 Tk
Cabin in an overnight launch: 500-1000 Tk
Check out this budget report for 4 weeks of travel in Bangladesh for more detailed price breakdowns.
Visas for Bangladesh
During election time it might be more difficult to obtain a visa. I heard several stories of people being turned away at the border around these times. Elections in Bangladesh are often accompanied by strikes and protest marches, and sometimes turn violent, especially during general elections. Make sure to keep up-to-date if you want to travel to Bangladesh during election time.
Visas on arrival
The easiest solution for Bangladesh visas is the visa on arrival (VOA) program available at Bangladesh's international airports and the Benapole land border crossing with India. Recently, it has also come possible to get a VOA at the land border of Banglabandha, close to Siliguri.
Visas on arrival are USD$55 regardless of citizenship—though sometimes the officers demand an extra little charge, bringing it to $51—and fees must be paid in American dollars.
Standard VOAs are for 30 days, and officially cannot be extended.
For more information, Nijhoom Tours has a good write up on visas on arrival.
Standard visas
There are a few reasons you might want to apply for a standard visa: to enter by a more obscure land border, try for a longer tourist visa, or visit family on a visit visa.
You can apply for a normal visa in your home country, or in India if you intend on crossing into Bangladesh by land. Travelers report getting a visa at the Kolkata embassy is difficult as no one wants to help you, so I'd recommend avoiding this option unless you absolutely have to stay for longer than 30 days, or cannot get a VOA.
The cost of a standard Bangladesh visa varies by nationality; do your research to figure out how much yours will be. In my experience, a 30-day Bangladesh visa for US citizens is $164. (Ouch! VOA is much more cost-effective.) Citizens from other countries, never fear—visas for US citizens are usually more expensive than others.
Overstaying a Bangladesh visa
Ah, a sore point for me. There are conflicting reports on the penalty for overstaying a Bangladesh visa online, and I ended up paying much, much more than I thought I would after overstaying for 11 days.
Officially, the penalty for overstaying a Bangladesh visa is a fine of 200 Tk per day, plus the cost of a new standard visa (even if your original visa was a VOA).
You need to pay this fine at a Sonari bank and get a receipt before exiting the country, however, with a bit of wheedling, I managed to pay it on the spot when taking the train from Dhaka to Kolkata.
Travelers report that they were not charged the fine if they only overstayed by a day or two, though most people recommend not overstaying by more than 15 days. Others also report that obscure land borders such as the Tawki/Zanbil border with Meghalaya, India are less likely to charge the fine.
Regardless of what you decide, remember overstaying your visa is illegal, and you should not do so lightly.
What to pack when traveling to Bangladesh 
Every traveler packs differently, but there are a few things you'll definitely want to have in your bag for Bangladesh.
Steripen: A portable UV water purifier, and one of the greatest travel investments I ever made. "Drinking water" in Bangladesh is very often unclean, and finding bottled water can be tricky in remote areas. Save on plastic and keep yourself off the toilet simultaneously. Buy a Steripen.
Bradt Travel Guide to Bangladesh: This guide is more recent and better researched than Lonely Planet's Bangladesh guide. It's helpful to have a guide with locations and times in a country as challenging as Bangladesh, trust me. Buy the Bradt Travel Guide to Bangladesh.
Sunscreen: Normally I advocate for buying sunscreen in the country you're traveling to, but Bangladesh is lacking in high quality

(… or legitimate)

products. BYOS – bring your own sunscreen. Buy my favorite sunscreen.
Bangla phrasebook: There's a big language barrier in Bangladesh, and knowing a few phrases of Bangla will get you a long, long way. Buy a pocket Bangla-English phrasebook.
Something small from your country: It's nice to have little gifts from your home country to give to people who host or really help you. For example, I carry postcards with photos of where I live(d).
Travel insurance for Bangladesh
Okay, you can't really pack travel insurance, but it's something every traveler should have… especially when visiting disaster-prone places like Bangladesh.
(And no, I'm not talking typhoons; I'm talking crashed buses, rickshaw accidents, mosquito-borne illnesses, and food poisoning. Sold yet?)
World Nomads is a user-friendly and reliable travel insurance company that covers Bangladesh/all the hijinks you might get up to in the country. Get your travel insurance quote now.
Entering and exiting Bangladesh
By air
Dhaka International Airport is the most convenient place to enter the country by air, and the starting point for many tourists in Bangladesh. You can avail a visa on arrival at Dhaka airport.
By land
Petrapole-Benapole: For those heading to/from Kolkata, India or anywhere beyond in the Indian mainland. The only land border where visa on arrival is possible. Guide to the Petrapole-Benapole border crossing.
Agartala-Akhaura: For those heading to/from Agartala, India. Good if you're planning on exploring Tripura or Mizoram in Northeast India (one of my favorite parts of India!) or heading east to Myanmar.
Changrabanda – Burimari: For those heading to/from Darjeeling, India, or up to Sikkim.
Train
The Maitree Express train runs between Kolkata, India, and Dhaka, Bangladesh. I took the Dhaka – Kolkata train to exit Bangladesh, but you can easily enter the country in the other direction, starting from Kolkata station, so long as you have a visa for Bangladesh already.
The whole process (train ride and immigration) takes about 12 hours, and it's the most scenic and comfortable way to enter/exit Bangladesh in my humble opinion.
Read: How to travel from Dhaka to Kolkata by train
Bangladesh exit travel tax
Note that anyone exiting Bangladesh must pay a 500 Tk "travel tax", local or foreign.
If you're departing by air or train, this tax will be included in your ticket. However, if you're exiting the country by land, check to see if this fee is included in your transportation ticket.
More likely than not, you'll need to pay this fee at a Sonari bank and get a receipt. You can pay at any branch at any point in your journey, so long as you keep the receipt. Note that banks are closed on Fridays and Saturdays and that not every border crossing has a Sonari bank nearby. Better to pay up in the last major city before your departure.
Places to visit in Bangladesh
Now to the meat of the guide!
This is by no means an end-all list of the best places to visit in Bangladesh—just a list compiled based on my experience and that of friends. Use it to jump-start your planning process, not limit your itinerary.
Dhaka 
Bangladesh's insane capital is a world of its own.
The most shocking yet captivating South Asian megacity I've seen to date, Dhaka has endless surprises lurking around every corner… if you can survive the pollution and congestion long enough to see them.
The city is somewhat segregated. Elites live in shiny new North Dhaka, including the neighborhoods of Gulshan and Banani. Old Dhaka is "far away" on the southern side of the city, below Gulistan point.
For first time visitors, I recommend staying in or near Old Dhaka—it's more congested but more interesting for foreign travelers.
Things to do in Dhaka
Eat your weight in biriyani. Before you claim you've tasted biriyani before, know that the biriyani in Dhaka is not the same as what you'll find in, say, Hyderabad or Lahore. I won't start any wars by declaring favorites—head to Haji Biryani in Najira Bazar of Old Dhaka and decide for yourself!
Explore Old Dhaka. There's no way I could possibly list all of the crazy things I've seen in Old Dhaka—just head into any narrow lane with people moving in and out of it, follow it, and see what happens.
Roam the Buriganga riverside. Single-handedly one of the most shocking yet enthralling places on earth, there are a million and one stories to be found along the Buriganga. Put on solid shoes, prepare your nostrils, head to Sadarghat, and start wandering in either direction. It's different at every time of day, and never, ever boring.
Visit Lalbagh Fort. Dhaka's main historical attraction, the sprawling fort is in the heart of Old Dhaka. I didn't find it to be the most gripping place, but I did enjoy the view from the AC rooftop cafes overlooking the complex.
Check out the National Parliament House. It's a massive Brutalist concrete structure, not at all what you'd expect from a land of domed mosques and terracotta temples. It's funky and worth a visit.
Have a beer at Sakura bar. One of the few cheap places where you can legally sit and have a beer in Dhaka, it's dark, seedy, and a nice indicator of how drinking feels in Bangladesh.
Go wild shopping at New Market. You can find virtually anything and everything in New Market, from homewares to actual brand name clothes fresh from the factories. Even if you don't like shopping (like me), New Market is a phantasmagoria of colors, sights, and sounds.
Where to stay in Dhaka
Central/South Dhaka (including Old Dhaka)
Budget: I stayed in Hotel Al Razzaque (also spelled Al Razzak depending on the moon's alignment) on North South Road. The hotel is barebones, but the restaurant below is delicious and always full. Non-AC singles are 600 Tk, doubles 1000. AC rooms are available for 1200 Tk.
Mid-range: Hotel 71 is a neat hotel conveniently located in the center of South Dhaka (called Gulistan), just a 10 minutes' walk from Old Dhaka… and yes, it does have a bar in case you're thirsty 😉 Book a room at Hotel 71 now.
North Dhaka
Budget: It's hard to find ultra-budget rooms in North Dhaka, but Golpata Bed & Breakfast is a moderately priced homely B&B run by a sweet couple offering clean rooms, nommy breakfasts, and the opportunity to meet other travelers (gasp!). Book a room at Golpata Bed & Breakfast.
Mid-range: In the posh Gulshan-2 neighborhood, Green House Guesthouse offers airy rooms. Some have balconies overlooking Lake Park, a green breath of "fresh" air and my favorite place in Gulshan. Book a room at Green House Guesthouse.
Barisal
Despite locals' claims that Barisal is "filled with pirates who will kidnap you," Barisal is a pleasant city south of Dhaka. Surrounded by a myriad of waterways and lush greenery, taking a launch here to/from Dhaka—or anywhere else, for that matter—is sure to be a highlight of your trip to Bangladesh.
The city is home to a friendly mix of Muslims and Hindus. Explorers will find crumbling Raj buildings, attractive mosques, and active Hindu temples around the city.
Unlike many other cities in Bangladesh, Barisal is surprisingly walkable, with several parks and ponds around the city. Visiting the busy harbor area in the early morning, when goods and passengers arrive from Dhaka and elsewhere, is a rewarding experience.
Things to do in Barisal
Floating rice market at Banaripara. The scenic market is only one hour by bus from Barisal.
Explore the crumbling Raj-era buildings in the side streets of the city center. Just watch out for falling debris!
Go for a boat ride to/from Barisal, whether on the historic Rocket Steamer or on a more economical launch boat, my favorite mode of travel in Bangladesh.
Where to stay in Barisal
Budget: Hotel Athena is a decent budget hotel close to Barisal's main boat terminal. They have a variety of rooms, starting at 500 Tk for a single.
Mid-range: Close to Hotel Athena, Hotel Sedona International is a relatively new mid-range hotel, and one of the better choices in Barisal. Don't expect the wifi to work, though.
Khulna
Leisurely paced Khulna is mostly used as a gateway to the Sundarbans and the UNESCO mosques in Bagerhat, but I found it a pleasant and friendly city to wander around in for almost one week! (Well, and it was difficult figuring out how to leave.)
Though the city itself is unremarkable, people are friendly, there are myriad villages across the river that are quiet and green, and it's a good base to use for exploring surrounding sights.
Things to do in Khulna
Visit the UNESCO-listed 60-dome mosque (amongst other monuments) in Bagerhat, only a short journey from Khulna.

Even though the mosque actually has 81 domes. Just sayin'.

Take a ferry across the river. It's more peaceful and green on the other side, and if you head north there are plenty of villages to wander through.
Stroll through markets along the river. Head towards Kalibari ghat and you'll eventually enter the crunch of market stalls and porters unloading wares.
Where to stay in Khulna
Budget: I stayed at Saint Bangladesh NGO Guesthouse in South Khulna. A non-AC room with two beds was 500 Tk. AC rooms are available upstairs. The entrance is unremarkable, but you can find it on Google Maps.
Mid-range: Tiger Garden International Hotel is a passable mid-range hotel located in central Khulna with a good complimentary breakfast and a bus stop right in front of the hotel. Book a room at Tiger Garden International.
Sundarbans
The world's largest mangrove forest (spanning both India and Bangladesh) is the country's most famous attraction. Tigers, deer, and endless species of birds can all be found within the tangled depths of the forest.
Guided boat trips are the only way for visitors to explore the winding ways of the Sundarbans. Most foreign tourists prefer to organize multi-day trips online in advance, or in person through travel agencies in Khulna. Book a Sunderbans tour online now.
Compared to the rest of Bangladesh, boat trips to the Sundarbans can be a bit pricey—hence why I skipped out this time 'round. If on a budget, single-day boat tours leave from Mongla. Beware, I've heard you don't see much wildlife and it gets crowded with domestic tourists.
For more on visiting the Sundarbans, my friend Ellie of Soul Travel Blog has a post on responsible travel to the Sunderbans.
Jessore
Jessore was the first town I stayed in after crossing the Petrapole/Benapole border, only two hours from the crossing. It was a peaceful introduction to Bangladesh, though nothing to write home about. If you want to rest your head after a long day of border bureaucracy, this is the place.
Where to stay in Jessore
Budget/mid-range: Banchte Shekha NGO Guesthouse is run by a female-led NGO working for women's rights and empowerment in the region. Rooms are good and in high demand. Singles can go for 500 Tk, but all the singles were full when I arrived, so I ended up in a deluxe AC double for 1,200 Tk. The canteen attached to the guesthouse serves up all you can eat meals cooked by women working for the NGO. Mmmm!
Chittagong
Chittagong, Bangladesh's second-largest city, is a gritty place with limited appeal to tourists. But as the gateway to the Chittagong Hill Tracts and Cox's Bazar, it's an inevitable stop.
Although the city lacks major sights, there are a few things to keep you occupied, such as a boat trip on the river from Sadarghat, the oldest area of the city. Chittagong is also the place to arrange permits for the Chittagong Hill Tracts (through a tour agency), and its markets are interesting to walk around.
Things to do in Chittagong
Visit the shipbreaking yards. Visiting the yards is hard on your own—especially if you're carrying a fat camera—as there were issues after multiple photographers exposed the child labor used in the yards. If you want to get close, a boat ride is your best bet. Otherwise, try to befriend locals who can get you in.
Check out rickshaw workshops. The street leading to Sadarghat is lined with them.
Go for a boat ride at Sadarghat. A sunset boat ride is easily arranged once you're on the ghats… or you can simply take one of the many local boats traversing the water. 
Where to stay in Chittagong
Budget: Station Road is lined with all sorts of budget hotels. Pick your poison; they're all rather… unremarkable.
Mid-range: If you want to stay in the city center, the White Inn is a decent mid-range hotel with super friendly staff fluent in English. Book a room at White Inn now.
Cox's Bazar
"YOUMUSTVISITCOX'SBAZARLONGESTSEABEACHINWORLD" is one of the most common cries you'll hear in Bangladesh. Brace yourself.
Cox's Bazar is home to the world's longest "sea beach," as any Bangladeshi talking to you will be sure to point out. People are immensely proud of their "internationally known" attraction, and the beach is a popular spot for local tourists.
Visitors beware: don't expect tropical paradise in Cox's Bazar. It's far from the white sands of Thailand and the Philippines (sorry Bangladesh). The town is dirty and depressing, and the beach is nothing to write home about, though it's cleaner if you walk away from town.
However, Cox's Bazar is a great base for visiting the surrounding areas and is home to an interesting Buddhist Monastery. Accommodation is better than in most places, and a day trip to Adinath Temple on Maheskhali Island is worth the journey.
If you visit Cox's Bazar, remember you're still in Bangladesh. You're unlikely to see people sunbathing or swimming beyond getting their feet a bit wet. Girls, if you want to take a dip, make sure to dress appropriately (translation: swim in your clothes). Else you'll get even more [unwanted] attention than usual.
Things to do in Cox's Bazar
Chill or picnic at Himchari Beach. Around 18 kilometers away from the main drag of Cox's Bazar, this beach is a bit more relaxed and less strangled by crowds.
Swimming at Inani Beach. If you want to get more than just your toes wet, swimming is possible here as it's significantly more secluded and away from the busy main beach.
Roam around Maheskhali Island. Though getting here can be a bit of a process, the island is home to Adinath Temple and traditional boat makers and is a nice day trip from Cox's Bazar.
Visit the Rohingya camp. Whether or not it's okay to check out the massive refugee camp is an ethical question I won't get into here; just know that it's possible to visit the camp near Cox's Bazar, and many tourists both foreign and domestic do so.
Where to stay in Cox's Bazar
Budget: 800 Tk will get you a double room at centrally located Hotel MS Guest Care… not that it's recommended. Shop around in the area, there must be something better.
 Mid-range: White Inn is a clean mid-range in a quiet location only 300 meters from the beach—not bad given the price! Book a room at White Inn now.
Chittagong Hill Tracts
If you're looking to do a bit of trekking, the forested Chittagong Hill Tracts is the place to be. Similar in feel to Northeast India or Myanmar, they're home to dozens of tribes and Bangladesh's only actually hilly terrain.
Foreigners need permits to go trekking in the hill tracts, as there are occasional tribal disputes and issues with insurgents in the region. A guide is also mandatory.
In March 2018, I heard the permit process was a slow crapshoot, so I skipped the Hill Tracts. However, things can change at the drop of a hat; it's worth trying to get a permit yourself. Note that a permit can take ~10 days to receive, so be sure to give yourself enough time to get one!
Chris of Unusual Traveler has a helpful post about visiting the Chittagong Hill Tracts.
Rajshahi
On the northern bank of the Padma river, close to the Indian border, Rajshahi is an excellent base for visiting Sona Masjid, Puthia, and Natore.
Being a university town, Rajshahi has a friendly atmosphere, and it's likely students will approach you to practice their English. Even for Bangladesh, meeting young locals here is especially easy.
Admittedly the town itself isn't something to write home about. Most people use Rajshahi as a base to visit the mosques of Sona Masjid, the Hindu temples of Puthia, or the havelis of Natore. All of these can be independently visited from Rajshahi as day trips.
Things to do in Rajshahi 
Go for a boat ride on the Padma. It's only one of the holiest rivers in the world! You may know it as the Ganges river; it's called the Ganga in India but becomes the Padma once it crosses into Bangladesh.
Day trip to Gaud, also known as Sona Masjid, an ancient capital of mosques sprawling across both sides of the India-Bangladesh border.
Head out to Puthia, where you can play Indiana Jones and explore the most densely populated (Hindu) temple complex in Bangladesh.
Adventure to Natore, where you can bond with epic old rajbaris, palaces.
Where to stay in Rajshahi
Budget/mid-range: Hotel Nice International is the go-to in Rajshahi. A double room is 2,000 Tk/night; a bit pricey for those on tighter budgets, but the facilities are good, and it's not so painful if you can find someone to share it with.
Budget: The cheapest place I've heard of is Green City International. It offers cramped rooms with a squat toilet, and is located above a medical center (which you have to enter to get to the hotel). Not the most idea, but certainly the cheapest option – Book Green City International here!
Sylhet
Synonymous with tea, Sylhet is one of Bangladesh's main tourist drags. Tell a Bengali you're headed to Sylhet, and you're sure to see a sparkle of pride in their eyes.
Leafy tea fields as far as the eye can see, and home to plenty of tasty restaurants, Sylhet is a great base from which to explore the surrounding tea region. Sylhet town is a friendly place with welcoming people and feels more developed than most other parts of Bangladesh. There's a reason: many overseas Bangladeshis originally came from Sylhet, and remittance money helped modernize Sylhet compared to other cities in Bangladesh.
Outside the town, there are plenty of tea plantations that can be visited on foot or by jumping in one of the numerous shared Vikrams puttering up and down Sylhet's roads. If you need a break from city life, this is a place to do so.
Where to stay in Sylhet
Budget: Budget backpackers rejoice! Golden City Hotel offers singles for 650 Tk… with a hot shower.
Mid-range: Friendly and eager to please staff will greet you at the Bottomhill Palace Hotel in central Sylhet. Despite its central location, its newly built rooms are nice and quiet. Book at room at Bottomhill Palace Hotel now.
Srimangal 
Bangladesh's tea capital is a fresh and green escape from the madness of its big cities. Contrary to stereotypes of rolling hills of tea high in the mountains, much of Srimangal (also spelled Sreemangal) is relatively flat, making it an excellent place to explore by bicycle.
The main town is nondescript, but you can easily get caught up in the slow pace of life in the surrounding tea estates, villages, farms, and Lawachera National Park.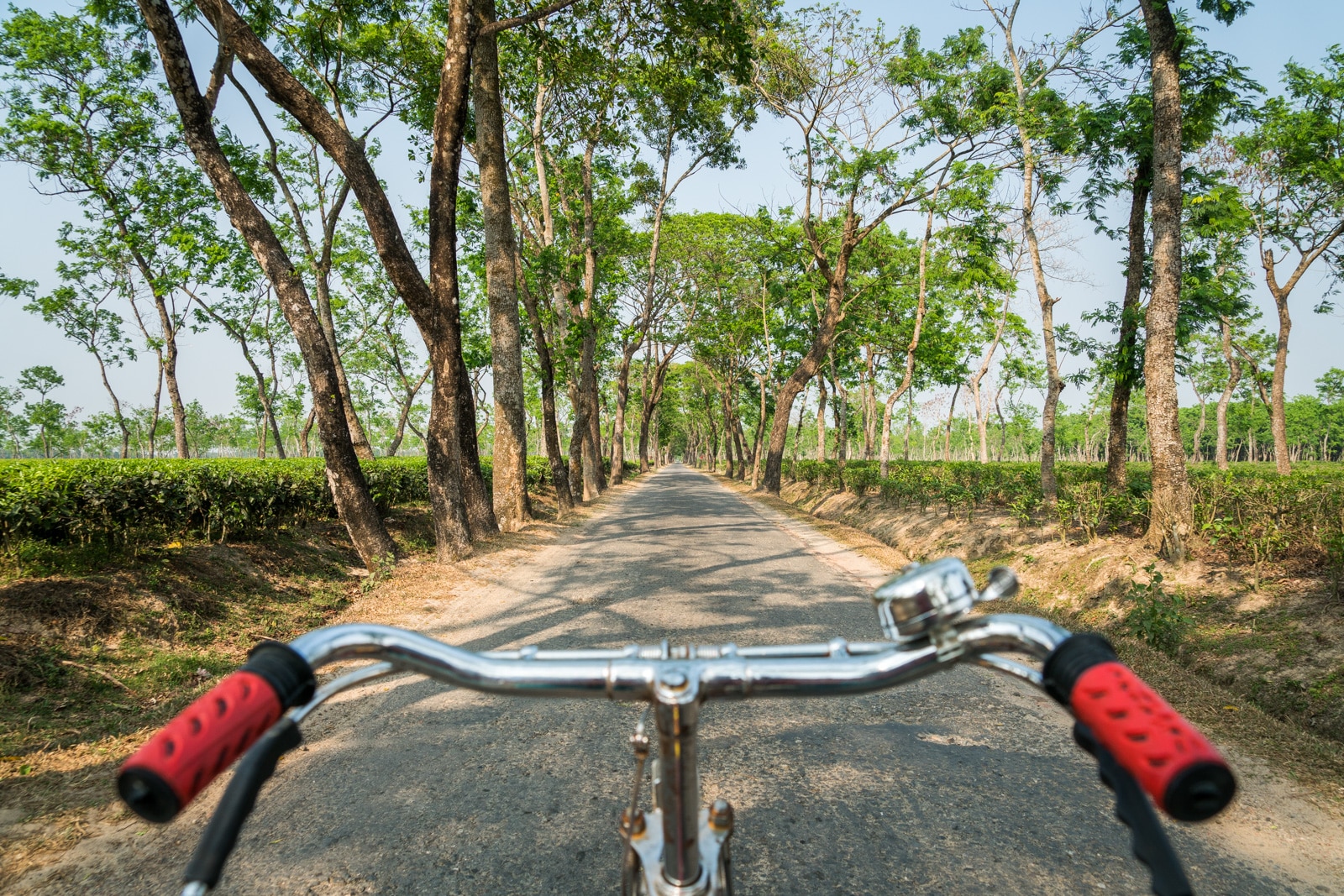 Things to do in Srimangal 
Bicycle, bicycle, bicycle. There's a really nice road leading to Madhabpur Lake, which branches off of the main road heading to Lawachera National Park. The lake itself isn't much, but the road leads through tea estates and is utterly gorgeous. Since a terror attack targeting foreigners in Dhaka got the authorities riled up, it's currently not allowed for foreigners to cycle in Sreemangal. However, you might be able to get a bike from one of the tour agencies around town.
Explore the villages. The Manipuri villages outside town (near Adi Nilkantha Tea Cabin) are a good place to start; from there, keep following the dirt roads through villages and you're sure to find something nice.
Try the 7-8 layer tea at Nilkantha Tea Cabin. It started with 2, became famous when it was 7, and now it has 8 and maybe more by the time you visit. It's totally a gimmick, but amusing to play with. If you're with a group, get one for photos and let everyone else order normal tea. There are many copycats, but only two Nilkantha Tea Cabins: the newer Adi Nilkantha Tea Cabin down the road from the original is in a nicer and quieter location.
Where to stay in Srimangal
Budget: As far as Bangladesh accommodation goes, Green Leaf Guesthouse is actually pretty stylin' and atmospheric for a budget option! Rooms go for around 750 Tk for a single. Book a room at Green Leaf Gueshouse here.
Mid-range: To get away from the dirt and noise of "downtown" Srimangal, head out to Grand Selim Resort, situated amongst the quiet and green Manipuri villages on the town's outskirts. Book a room at the Grand Selim now.
Nijhum Dwip
There are hundreds of small islands in the south of Bangladesh where the Meghna river meets the Bay of Bengal. Nijhum Dwip (pronounced "Nij-hum Deep") is one such island, made famous by its national park filled with spotted deer.
Though I don't think deer are exciting enough to merit going all the way down to Nijhum Dwip, the friendly people, quiet surroundings, and relatively off the beaten track status of the island certainly are. The island is easily accessible by launch from Dhaka (my favorite way to travel in Bangladesh), and just getting there is sure to be an adventure.
Read: Oh deer! A travel guide to Nijhum Dwip.
Where to stay in Nijhum Dwip:
Budget/mid-range: Places to stay on Nijhum Dwip are limited, but the new pink Hotel Sohel (Google Maps) does a decent job. The managers are incredibly friendly and helpful despite speaking no English, and the rooms are comfortable. I paid 500 Tk for a double in the offseason, bargained down from 1,500 Tk.
Monpura
The little island of Monpura is in the same region as Nijhum Dwip. Though more people live on Monpura, the island is still quiet and natural, home to mangrove forests, sea beaches, and grassy plains. If you can get a bicycle onto the island (or find someone to rent one to you), this would be the perfect place to spend a few days cycling and exploring.
Monpura is famous for two things: one is the plainly titled Monpura, a popular Bangla film made on its shores, the other is a cyclone that devastated the island and the surrounding areas in 1970.
Even by Bangladesh's standards, the island is very poor as a result, but the people's hearts are incredibly warm. Good thing, too—there isn't much in the way of places to stay on Monpura, so being hosted is ideal. Luckily, people are more than happy to do so.
Where to stay in Monpura
I was hosted in Monpura, and you should aim to do the same (try chatting up people on the launch!). If all else fails, there's a decrepit government rest house on the island. I paid 200 Tk/night at a similar place on neighboring Hatiya island; I imagine the price is similar on Monpura.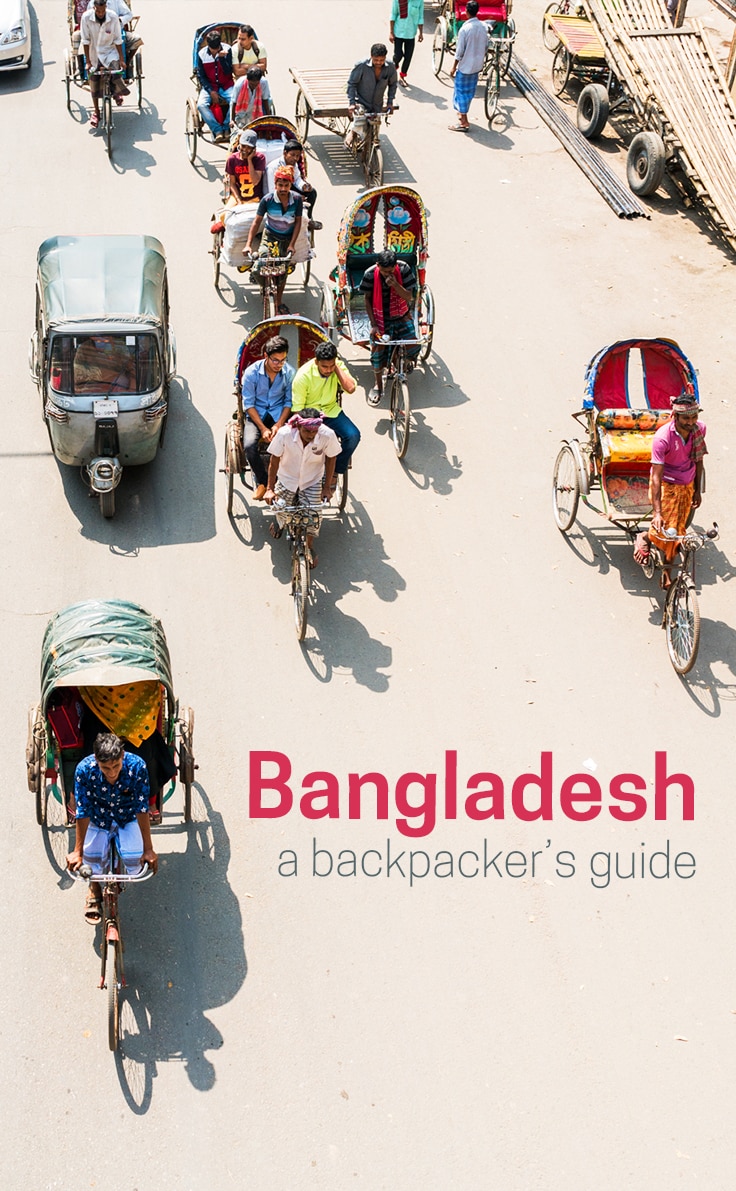 Things to know before traveling to Bangladesh
Now that you have a rough idea of where to go, let's talk about what you need to know before visiting Bangladesh.
Cultural
Bangladeshis stare. A lot. A lot a lot. This is what you need to brace yourself for the most, as it can get really intense at times. The most important thing to keep in mind is that most people don't mean anything by it—they're just reaaaaally curious about foreigners, but the language barrier is usually too big to do anything but stare.
Many women don't like to be photographed. Always ask first. If they say no, I'm sure the men will be happy to be snapped.
It is inappropriate for a man to travel around alone with a girl he's not related to. Boys, beware of being too forward with Bangladeshi girls (if you can even get to that point).
Women shouldn't shake men's hands unless they're offered first.
Food
Bangladesh is a land of rice. Bengalis eat large piles of rice with many of their meals, so prepare your stomach and your sugar levels.
Meat is incredibly common, and people will be confused if you don't order meat with your meal.
Vegetarian dishes such as dal and sabji, vegetables, are common. Beware, in some places vegetables may contain small shrimps.
Eating with hands is the norm in non-fancy restaurants. Remember, only eat with your right hand, and wash your hands before and after!
Eat the cake hanging from bags at tea stalls in cities. It looks gross and old, but it's usually fresh and delicious.
Getting dressed
Boys should wear long pants and a shirt. Shorts can be seen at times, but are not common. Tank tops are something to be worn by manual laborers, rather than as clothing for going out.
Girls should always wear long pants, though short sleeves are okay in cities. ¾ length sleeves will do everywhere else.
For extra deterrent of creepers, girls can drape a scarf across their chest (called orna in Bangla, or dupatta in Hindi).
Girls don't need to wear a headscarf unless entering a mosque.
History
After the British partition of the Indian subcontinent, modern-day Pakistan was known as "West Pakistan," while Bangladesh was known as "East Pakistan".
Bangladesh fought Pakistan in a war for independence, which it won in 1971. March 26 is now celebrated as Independence Day.
In 1952, when Bangladesh was still East Pakistan, Bengalis fought for the right to use Bangla as the national language, rather than Urdu. A time of unrest was sparked when police killed protestors at a demonstration on February 21. The day has now been designated by UNESCO as International Mother Language Day in honor of those killed, and Bangladeshis are very sensitive about this subject.
Hospitality
Bangladeshis are insanely hospitable, and it's not weird for someone to invite you to stay in their home or eat with them after a few minutes.
If visiting someone's house, you can bring a box of sweets or a bag of fruit as a gift.
Prepare to be paraded from house to house if a family brings you in. Errbody will want to see the foreigner, and it can get exhausting if you're not prepared.
If you have dietary restrictions, be upfront about it when someone invites you in. Otherwise, it will get very awkward when it's time to eat.
Money
Try to have a stash of small notes at all times. It can be difficult to break big notes in remote places.
ATMs aren't a given in remote areas—many people use mobile banking services like Bkash or Rocket. Be sure to bring all the cash you might need if heading out into the villages for a long time.
If no one will take your ripped/obliterated/destroyed banknotes, you can exchange them for new notes at any bank.
Relationships
PDAs are not okay between men and women in Bangladesh. If traveling as a couple, don't even think about holding hands in public, let alone kissing or doing anything more.
It's illegal to be gay in Bangladesh, though as a foreigner, you won't be arrested. Men in Bangladesh are very forward and touchy with each other; their actions could easily be perceived as gay by people from other countries. Gay dudes, just don't make out in public (or shout about being gay) and you should be fine.
Unmarried couples can't officially share a room…. but if you say you're married and check-in together, no one will ask too much about it. Usually.
Religion
90% of Bangladesh's population is Muslim, with a minority mostly composed of Hindus and Christians.
Being nonreligious is virtually impossible in Bangladesh. It's best to say you have a religion, else you might offend someone. Being an atheist is basically saying you think their god isn't real.
Don't play music during the azaan, call to prayer. You can turn the tunes back on once it's done.
Transportation
Trains are the cheapest and fastest (and smoothest) way to travel between cities on land.
Launches (ferry style boats) are the cheapest way to travel long distances over water. Read my guide to traveling by launch in Bangladesh.
"Rickshaws" are colorful seats attached to bicycles.
"Autos" or "CNGs" are the tuktuk style transport found all over South and Southeast Asia.
Buses can be hailed down anywhere (and you can get off anywhere), just shout at the bus boy to figure out where it's going.
Try to sit next to your own gender when riding anywhere, unless it's someone you know. Lone women can sit at the front of buses.
Uber is available in the big cities, don't be afraid to use it!
Staying connected in Bangladesh with a local SIM
If you're going to be in Bangladesh for some time—or you just love the internet as much as I do—a SIM card is a good investment.
Mobile networks across Bangladesh are mostly limited to 3G, though some network providers are rolling out 4G in the cities. Despite the slower connection, coverage is still pretty good in Bangladesh—I rarely went without signal for long periods of time.
Getting a SIM card
Grameenphone has the best coverage throughout Bangladesh and is one of the few carriers to offer 4G.
To get a Grameenphone SIM card, head to any Grameenphone customer care center in a city or town, and bring along a photocopy of your passport and one passport photo. The company name may be in Bangla, so just look for the Grameenphone logo:
There's a minimal charge to set up your SIM card—you'll just need to load on calling credit and/or an internet package. I paid around 1,500 Tk for a 10GB monthly package. Grameenphone's website has a list of internet package prices so you can get an idea of cost.
Reloading your SIM card 
To add more calling credit or data to your SIM card, just head to any small shop that has the logo of your mobile provider on it somewhere. Posters with the logo listing recharge prices are usually a good sign.
Safety in Bangladesh
Bangladesh got a bit of a bad rep after twenty people were killed in a hostage situation in Dhaka in 2016.
However, it was an isolated incident, and the motives behind it were very murky—it's thought that it was staged to make Bangladesh look dangerous and dissuade foreigners from coming.
Overall, Bangladesh is not any more or less safe than other countries in the region. Don't let the unfounded concerns of your family and friends and Islamophobes deter you. Your biggest concern in Bangladesh should be crossing the street without being run over (easier said than done), not being kidnapped or killed!
Nevertheless, there are still some safety precautions you should take when traveling in Bangladesh:
Don't tell people exactly where you're staying unless they need to know. Aside from the obvious, this will also keep them from appearing at your door at 6 in the morning because they "missed you".

Really.

Lock your hotel door when inside. Not only will people appear at your door, but they may also just walk in unannounced. Usually with good intentions, but still…
Stick to crowded areas at night where possible. Kind as most people are, muggings do occur in the big cities; Bangladesh is quite poor after all.
Beware of crowds for political events, elections, etc. Know that transportation can also stop for several days around elections.
Health in Bangladesh
Sorry Bangladesh, but there are no two ways about it: you're a dirty, dirty country.
Forget any safety concerns—health is the most legitimate problem for travelers in Bangladesh.
Hygiene standards are exceptionally low both inside cities and out (Running water? Who needs that?), Dhaka is one of the most polluted cities in the world, and dengue is a big problem all throughout the country.
Note: If you're prone to mishaps or illness on the road, I highly recommend taking out travel insurance before heading to Bangladesh. World Nomads is a user-friendly travel insurance I've used and recommend. Get a quote from World Nomads now.
There's only so much you can do when filth is so ubiquitous, but to minimize the chance that you'll spend half of your trip on the toilet…
Always wash your hands before and after eating. Even in the smallest of eateries, there will at least be a sink or a bucket of water for "hand wash." Also, hand sanitizer is your friend.
Drink only bottled water or filtered/sterilized/boiled water. Beware of what locals offer you, as most people can stomach untreated water. Again, a Steripen is really handy. You can treat anything clear… and the glowing light is a fun party trick for the inevitable crowd of people staring at you. Buy a Steripen now.
Avoid salads or anything with chopped raw vegetables. They're washed in water, and you don't know where it came from. The same goes for ice.
Take precautions to prevent mosquito bites. I'm not one for malaria tablets (not that it matters—I'm not your doctor), but I do use bug repellent cream and mosquito coils where possible. You can find the cream in pharmacies, and coils in any small convenience store.
Disclaimer: Every body is different. In the name of transparency, I broke all of these rules on a daily basis (bar hand washing), but my stomach has been hardened from more than a year in South Asia… and I did have lots of diarrhea. If you've been kicking it in India for a time, you can try gradually working your way up to eating the salads and veggie mixes like jhalmuri because, well, it's delicious!
Female travel in Bangladesh
I'll cut to the chase: Bangladesh is a terrible place to be a woman, and traveling as a [solo] woman in Bangladesh can open up a fat can of worms.
That's not to say it's impossible—obviously, as I'm not dead!—but it will definitely be a challenge for any female traveler.
There are too many considerations to list here; here are my (very comprehensive) thoughts on female travel in Bangladesh.
Resources for travel in Bangladesh
Though my blog is obviously the greatest thing since sliced bread—erm… roti?—it's understandable that you're on a quest for as much planning assistance as possible. I'll let you slide. For now.
Following are some resources to better help you plan your trip to Bangladesh:
Facebook groups
Travelers of Bangladesh: A

gigantic

group of Bangladeshi travelers run by an avid traveler who I ran into in Nijhum Dwip. Mostly for posting trip reports. A good place for you to get some Bangladesh inspiration.
TOB Helpline: The sister group of TOB, where you can post travel-related questions and get some sweeeet answers.

(Note: do not feel the need to accept any of the million friend requests that will come if you post a question.)
Travel blogs
Guidebooks
Good luck, inshallah you won't need it
And so ends my monster guide to backpacking in Bangladesh.
Your eyes are probably falling out of their sockets by now; I know my fingers are falling out of theirs.
But, on the off chance you're…
A) not yet sick of me and
B) still have questions
… you can always get in touch. Please, for the love of biriyani, don't ask me to plan your itinerary for you.
Otherwise, good luck, stay cool, and maybe catch you on the road in Bangladesh!
Yay transparency! There are affiliate links in this guide. If you buy something using my links, I'll make a bit of money at no extra cost to you. A girl's gotta fund her biriyani addiction somehow, ya know.