A quick guide on how to get from Khulna to Bagerhat by bus. Includes information on the sights in Bagerhat, and information on where to stay in Khulna.
Bagerhat is a small, charming village about an hour from Khulna by bus. The picturesque countryside alone is reason for a visit, but Bagerhat is famous for being home to several big mosques and shrines. This UNESCO World Heritage area is a must-see for anyone interested in history and architecture. Below you can find all the information you need on how to get from Khulna to Bagerhat by public transport.
How to get from Khulna to Bagerhat by bus
Bagerhat is about an hour's drive from Khulna. There are direct buses throughout the day from the Sonadonga bus station in Khulna.
To get to the Sonadonga bus station, hail a rickshaw or CNG from anywhere in the city center. A rickshaw from the town center to Sonadonga should cost 30 Tk. A CNG should cost 10 Tk per person.
Sonadonga bus station is somewhat chaotic, but the people are helpful and will show you the right bus. A ticket from Khulna to Bagerhat costs 60 Tk per person.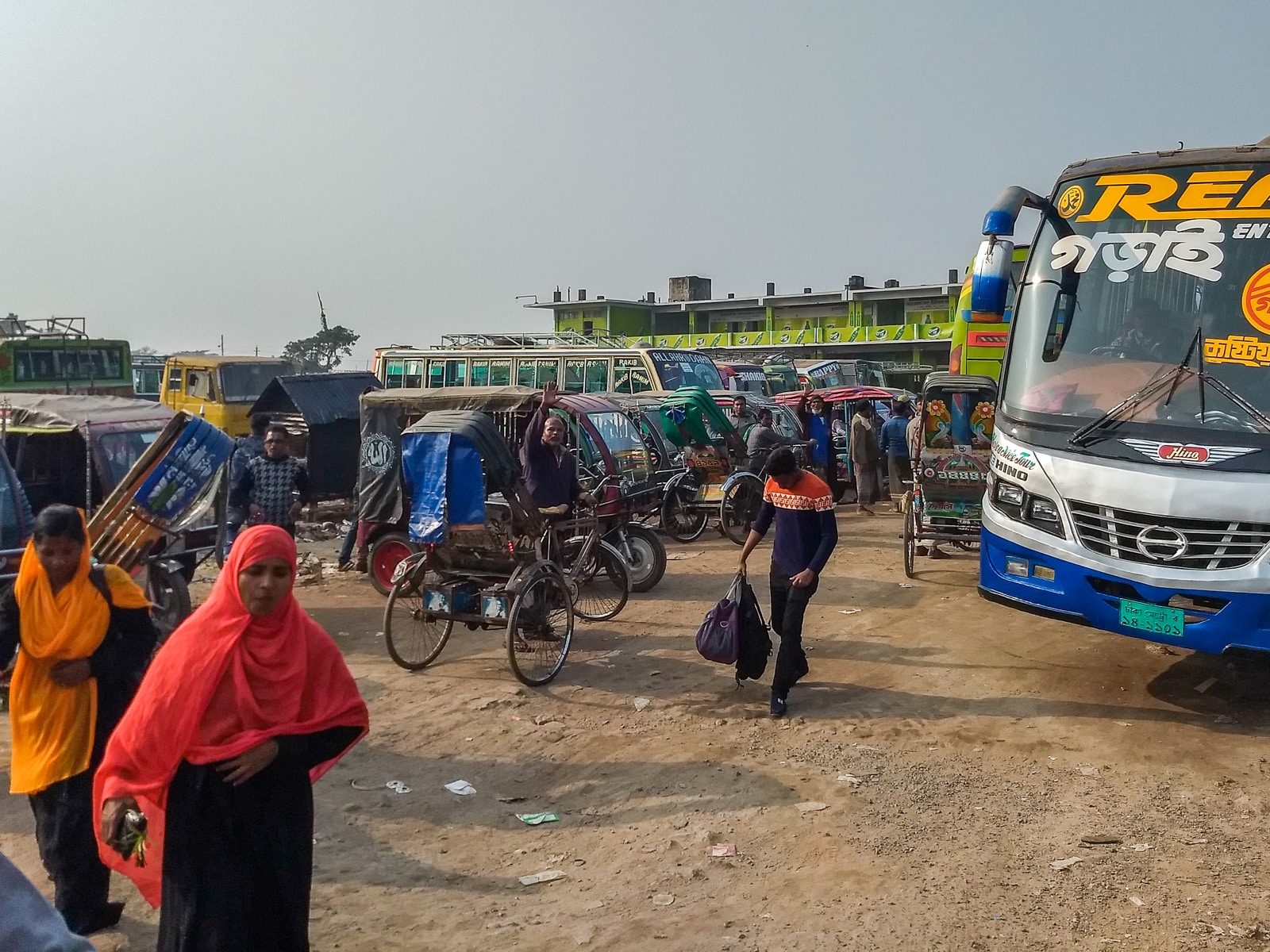 Bagerhat stretches out over several kilometers. To get the most out of it, get off at the 60 Dome Mosque (Shait Gumbad Masjid), which will be on your lefthand side when you enter Bagerhat. Tell the bus hawker you want to get out at the mosque, and he will make sure the bus stops there.
The 60 Dome Mosque is the most important mosque in the area, and a UNESCO World Heritage Site. Entrance to the mosque is 200 Tk per person. This includes entrance to the small on-site museum.
From the mosque, you can follow the road to the Tomb of Khan Jahan Ali. Here you can relax for bit, and walk around the reservoir adjacent to the shrine.
There are several other mosques in this area, and plenty of other shrines and domed buildings to explore elsewhere in Bagerhat. Finding them can be tricky, but people here are very friendly and helpful, so ask around and you'll be shown the way. Remember that if someone goes out of their way to help you, by walking with you and explaining something about the history and the buildings, for instance, baksheesh is in place.
Know that most mosques and shrines are active places of worship, so dress modestly. Women should bring a headscarf.
Getting back from Bagerhat to Khulna
To get back to Khulna from Bagerhat, walk to the main road and hail any bus. Some might be full, but the ones that have space (or think they have space) will stop. Most of them go to Khulna.
Make sure to be clear that you want to go to Sonadonga bus station. Not all buses go to this bus station, and if you're not clear about this, you might end up on the other side of the river in Khulna. Even if the bus doesn't go to Sonadonga directly, the hawker will make sure to drop you off somewhere so you can get on a bus that does.
Alternatively, you can walk to the bus station, which is around 4 km east, down the main road. But since you can just hail a bus, this isn't really necessary.
Where to stay in Khulna
Since Bagerhat doesn't have much in terms of accommodation, I recommend visiting it as a day trip from Khulna.
In Khulna there are several reasonable budget hotels. The best of them is Hotel Jalico. Singles start at 600 Tk, and doubles at 950 Tk. If Jalico is full, Hotel Arcadia is around the corner and offers decent rooms. A single room should cost 700 Tk, and a double 900 Tk, but you might have to bargain for these prices.
For a more upmarket experience, head down to Western Inn International, where singles start at 1,500 Tk, and doubles at 1,800 Tk. Western Inn International is down the road from Hadis Park, on Upper Jessore Road. Rickshaw drivers know it.
All above mentioned hotels are at walking distance from Hadis Park. To get to Hadis Park from Zero Point bus stop, a CNG costs roughly 130 Tk. To get there from Sonadonga, a shared CNG is 10 Tk per person, and a rickshaw is 30 Tk.