Pakistanis are, hands down, the friendliest people we've met in our travels. Don't believe us? Here's a couple of tales of Pakistani hospitality in Lahore to prove Pakistanis are nice and Pakistan is safe to travel!
Through the window, the sun is setting, and a city is coming alive. Fruit vendors squat on the side of the road next to their wares while shop owners pull up their shutters, all preparing to cater to the evening crowds. Rickshaw drivers buzz and weave around traffic like flies, and cars battle for dominance with their horns. Some men are chatting and laughing on the side of the road, while others rush home with bulging bags of groceries in the golden light. We're driving through Lahore during Ramadan, on our way to break the day's fast with a local family.
"The media always says that Pakistan is a country full of violence and terrorists," Ammar, our young driver and host, explains. He's dressed in a crisp white shalwar kameez, his face is freshly shaven, and his kind eyes are shaded by a pair of Ray Bans. He looks over his shoulder at us, and smiles wryly.
"Do I look like a terrorist?"
Terrorists, con men, and lots of love
Wherever we are in Pakistan, people are always curious about our prior opinions of Pakistan. Our go-to response: if we believed western media, we probably wouldn't have traveled to Pakistan. But even so, we didn't have the highest expectations for the country.
When attempting to research our trip, all we encountered were dire warnings and cautionary remarks about the country. Our family was convinced we were going to be stoned to death. A family friend said that Pakistanis were some of the least pleasant people he's ever encountered in his travels. On our respective governments' travel sites, Pakistan is firmly situated on the Definitely Absolutely Do Not Travel There lists. Wikitravel warned that all Pakistanis are violent con men, out to scam us, take our money, or kidnap us. All of the above, on a good day.
Some of the warnings ring true, to an extent. The country is not free of violence–there are fights between tribes in certain areas, the drug trade causes problems in Baluchistan, relations with India are tense, and Taliban issues spill over from neighboring Afghanistan. The country is a melting pot of people from several different countries, and friction is always to be expected when so many different cultures are forced to coexist. Every country has its problems, and Pakistan is no exception.
Since the 9/11 attacks in 2001, Pakistan's flow of tourism has dried up. People, fearing to enter its borders, opt to head to India via Central Asia, or avoid traveling in the region altogether. As a result, Pakistan has lost a vital opportunity to present a different face to the international community. Its citizens are desperate to prove to the world that there is more to their country than guns and bombs, and we have been lucky enough to experience this side of their story.
As foreigners in Pakistan, we have been treated like nothing less than royalty. Pakistanis consider guests to be a gift from Allah, from God, and thus treat them with the most phenomenal hospitality we've ever encountered (yes, even more so than Iranian hospitality). We're often at a loss when faced with such kindness–how can we possibly repay the people for taking us in and making us part of their family, for helping us when we are hopelessly lost, for caring for us when we are ill? Whenever we bring it up with our hosts and friends, they wave it off, and have only one request: that, when we go home, or travel onwards, we tell our family and friends about what people are truly like in Pakistan.
But why wait? Why restrict ourselves to just family and friends? And why not show, instead of tell?
Welcome to Lahore
The sputtering sound of an aging motorcycle mixes with the sound of splashing water as our rickshaw driver navigates his way through a minefield of potholes in the road. Barricaded underneath our backpacks, we peer out over the jumble of luggage, taking in our first sights and smells of Lahore. Despite the treacherous road ahead, the driver speeds on, chattering happily with us as he shows off his English skills. We tell him about the Netherlands, and he tells us of Lahore, his home, his beloved city. The conversation then turns to famous foods in Lahore.
"Yes yes, Lahore has many famous food! Have you ever had gol gappay?"
We shake our heads and shrug. Suddenly, the rickshaw swerves to the side of the road and skids to a stop. The driver springs out, leaning in to tell us to wait a moment before he bounds off into the darkness. Moments later, he returns triumphantly with a tray heaped with hollow, deep-fried balls of dough, a bowl of chickpeas, and another bowl of a soupy sauce.
"This is gol gappay!" he grins, placing the tray precariously atop our backpack barricade. He takes a ball as an example, ripping it open and filling it with chickpeas before dunking it into the soupy substance and stuffing it into his mouth. "See, now you try!"
We extract our arms from underneath the mess, and craft our own concoctions, popping them into our mouths, laughing as soup dribbles down our faces. They are nothing short of delicious, and together we polish off the tray between the three of us. He offers to buy us more, but we decline.
As we drive off, we can't help but wonder how much extra the driver is about to charge us for our little snack stop. It's a scheme we've fallen victim to many a time: a driver takes an extra step, seemingly as an act of kindness, then charges you through the roof for their pretend hospitality.
We arrive at our hostel, and pull our backpacks out of the rickshaw. Sebastiaan hands over some crumpled rupee notes, the agreed upon amount. The rickshaw driver looks down at the money, and then his head shoots up to look at us. My breath catches–here it comes.
"Thank you sir! And welcome to Lahore!"
Ravenous during Ramadan
Cars and motorbikes race past, gusts of air offering bursts of respite from the heat as they cool the sweat rolling down our faces. The hot sun is setting over busy Mall Road in Lahore, where Lahoris are rushing to get home before sunset and we are on the prowl for food. It being Ramadan, our day's diet has consisted solely of mangoes and biscuits, and we are hungry.
We stalk past a huge crowd of people clustered around several long tables. A heaping plate of biryani sits in front of each person, to be consumed the moment the sun sinks below the horizon.
As we walk by, several people in the crowd make eye contact with us, beckoning for us to come over. Palms raise in a polite refusal–it wouldn't be right, we're not Muslims and despite our hunger, we've already eaten more today than everyone in the crowd. We smile thanks, and walk on.
We meant to walk on, that is. A grinning man intersects our path with an enthusiastic, "Hello sir! Please!", guiding us to his section of the crowd, insisting that we sit. He shoos two younger boys from their stools, then proudly offers the seats to us. I look apologetically at the boys, but they, too, are smiling and insisting we sit.
Within seconds, heaping portions of biryani materialize out of nowhere for us. Grinning, we dive in, scooping heaps of hot rice and chicken into our mouths with our bare fingers. As we attack our food, people emerge from the crowd to say hello and add their own contributions to our plates: a samosa from one, a banana from another, a mystery fried concoction from a third. A man brings us a pitcher and cups filled with cold drinks, and squats next to me for a time to ensure that my cup is always filled precisely to the brim.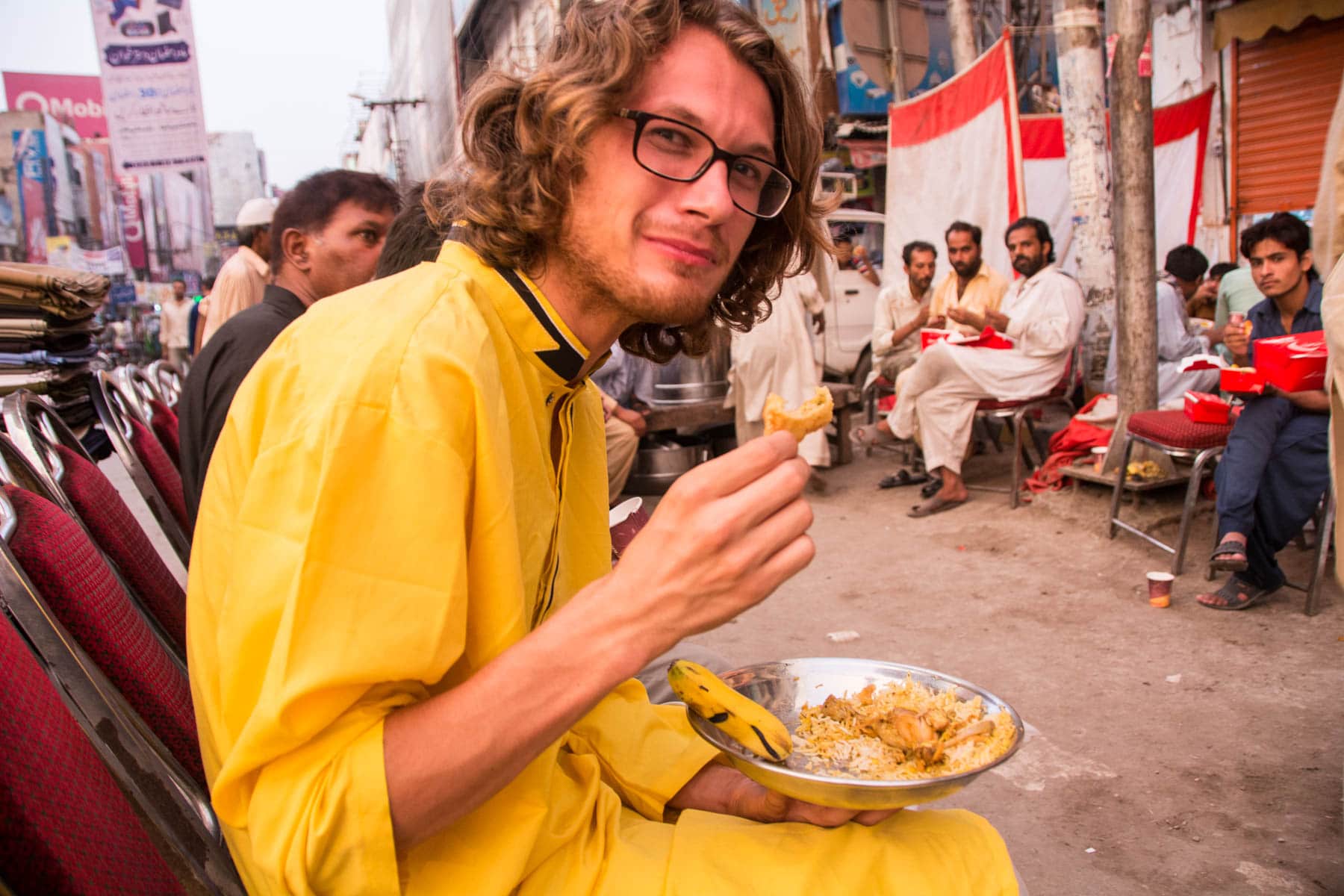 Soon enough, we're fit to burst, and the crowd has begun to disperse for evening prayer. With difficulty, we stand up and attempt to waddle out of the area to walk off a bit of biryani… but we're not done yet! Still on the agenda is taking photos and selfies with every possible combination and permutation of people in the crowd. When one is done, another phone emerges from the crowd, front-facing camera armed and ready.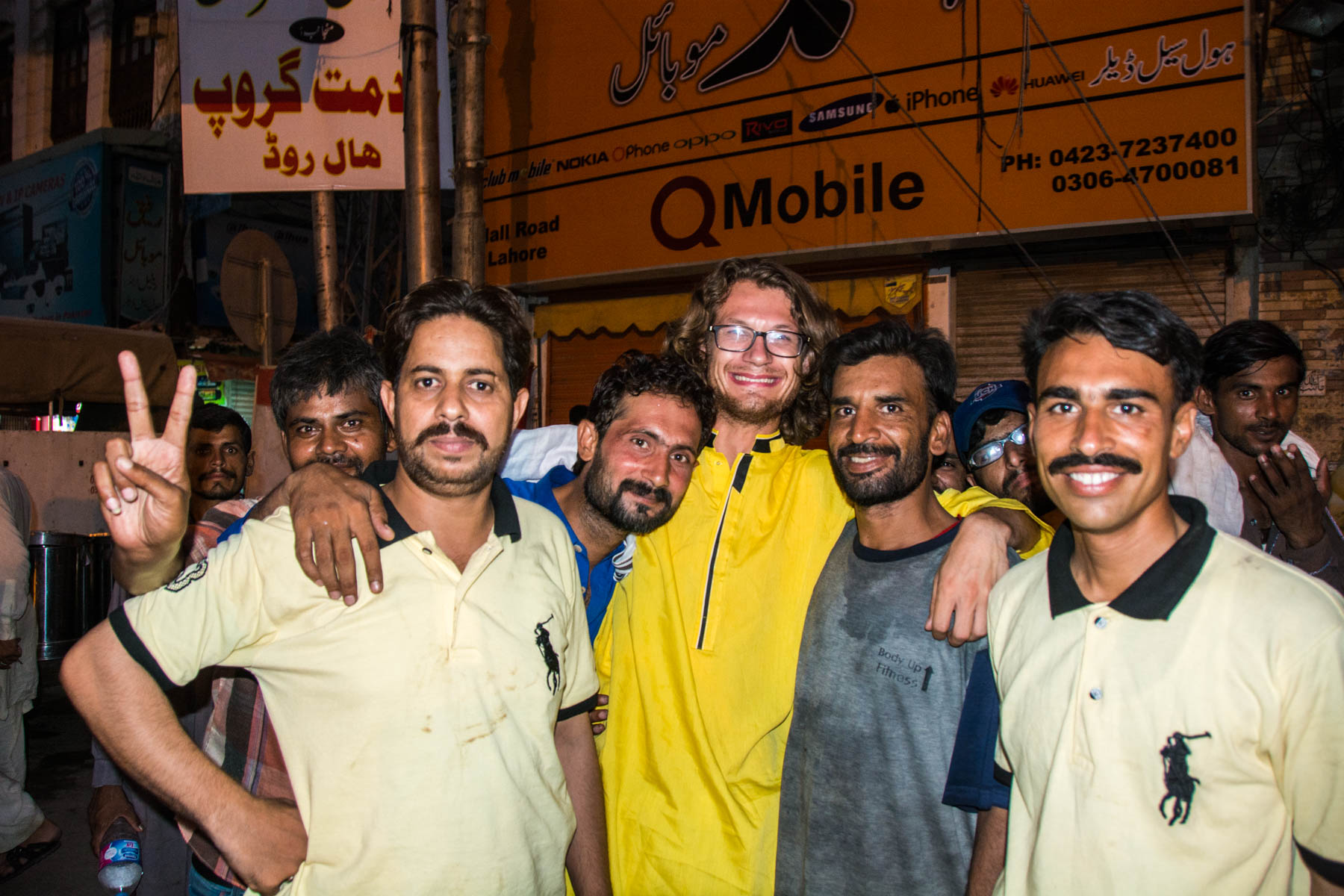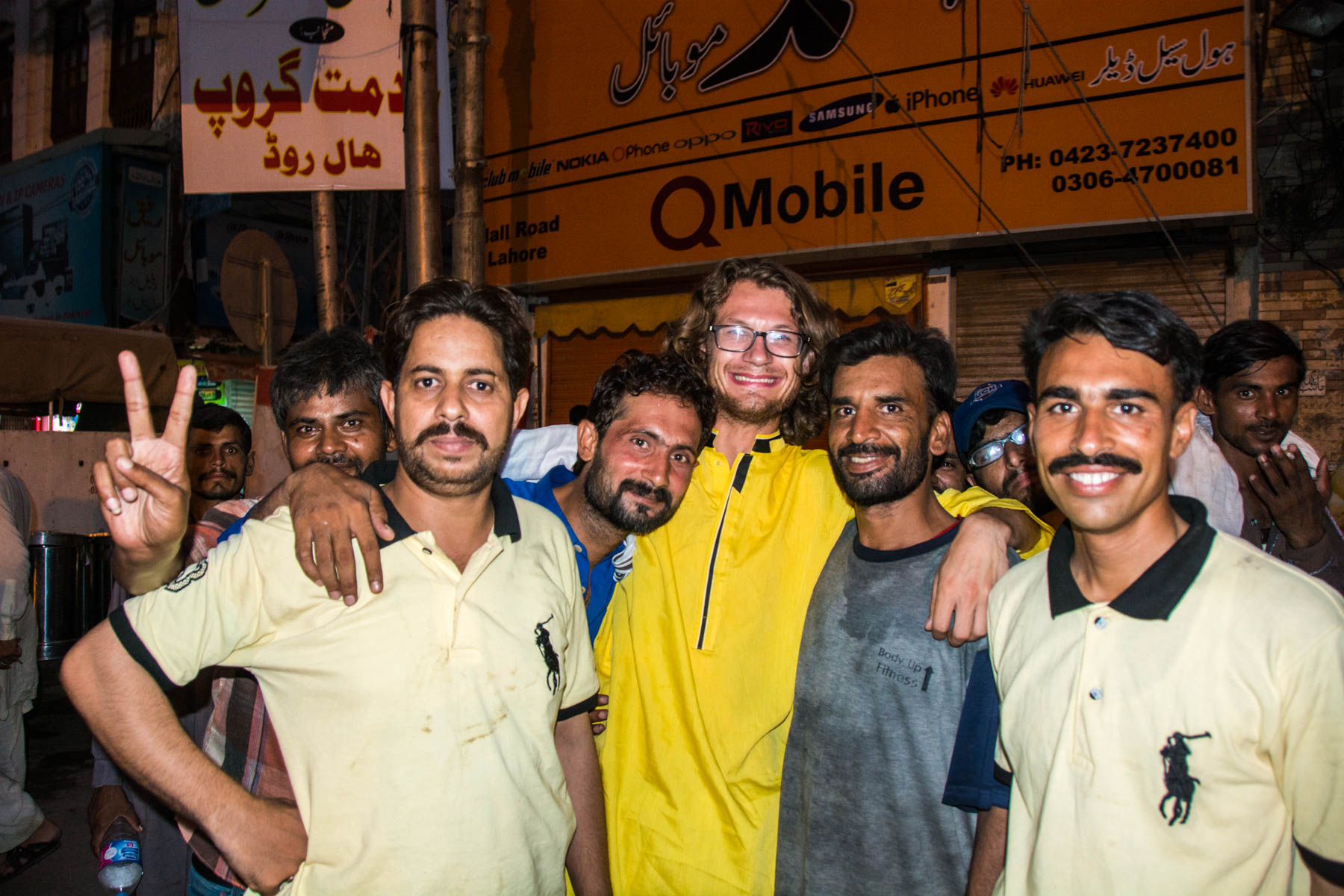 We eventually start moving down the road, extracting ourselves from the throng, grinning broadly. People still follow us down the road, coming forward to shake our hands, welcome us to their country, and offer their help in any way possible.
Something tells me these people probably aren't terrorists.
Still worried about the potential dangers of traveling in Pakistan? Our friend Will gives you 10 reasons you should travel to Pakistan!