Updated in 2023: a guide to crossing the Wagah border between India and Pakistan (Amritsar and Lahore). Includes everything you need to know about this well-known—but little-used—border crossing.
Famous for its daily Wagah border ceremony, known for its border tensions, the Wagah border between India and Pakistan sees little actual traffic. Probably because most people are still wondering if it's possible to cross overland between India and Pakistan!
Good news: it totally is. If you're armed with visas (and nothing else), the Wagah border crossing is the most convenient way of traveling overland between India and Pakistan. Read on for a guide to crossing the border between India and Pakistan, last updated in 2023.
Note that the name of this border on the Indian side is called Attari. However, most people know the Attari border crossing simply as Wagah. I will use the term Wagah to describe this border, as it's the same as the Attari border crossing.
Table of Contents: Wagah border crossing between India and Pakistan
Note: This post focuses on foreign travelers. Though the process seemed to be the same for a group of Indian women crossing at the same time, other Indians or Pakistanis might have a different—and more thorough—experience. If you're Indian or Pakistani, you can only use this border if your visa specifies you're crossing by foot.
Am I allowed to cross the Wagah border crossing between India and Pakistan?
Many travelers fear that they won't be able to get visas for India or Pakistan after crossing the border or visiting the neighboring country. Never fear, that's not the case!
I've crossed the Wagah border on foot multiple times, going from both Lahore to Amritsar and from Amritsar to Lahore. Despite tensions between India and Pakistan, and the sometimes intense security you'll encounter in Pakistan, the actual border crossing is very easy and straightforward.
At times, I've even done visa runs at this border, crossing from Pakistan into India for literally less than 10 minutes. Though I received many a strange look, no one stopped me, and I have successfully applied for and received multiple visas since then.
In short: yes, it's perfectly possible to cross between India and Pakistan by land at the Wagah border, and many travelers and locals do so without issue every year.
Headed to Pakistan? Don't miss my Pakistan travel guide with everything you need to know.
Visas required for the Wagah border crossing between India and Pakistan
The most important thing to know about travel from Pakistan to India (and vice versa) is that it's largely dependent on which visas you have.
If crossing from Pakistan to India, you need to have a sticker visa for India in your passport. You cannot cross from Pakistan to India with an Indian evisa; Indian evisas can only be used when entering India by air (by flight). The one exception is multiple-entry Indian evisas. Travelers who already entered India by air, entered Pakistan by land, and want to return by land to India are able to re-enter India by land with an evisa. This rule isn't officially stated anywhere, but travelers have succeeded in doing so.
If crossing from India to Pakistan, all you need to have is a valid Pakistan visa, either obtained online on the official Pakistan evisa website or at a Pakistani embassy abroad. When applying for your Pakistan evisa, you'll need a letter of invitation. I work with a local company to offer cheap letters of invitation for Pakistan evisas. Don't miss out!
Is the Wagah border crossing open due to the COVID pandemic?
At the height of the COVID pandemic, the Wagah/Attari border closed for a time. While Pakistan allowed foreign travelers to enter all throughout the pandemic, India closed its borders for months.
These days, the Wagah border between India and Pakistan is open for travel and business. No more closures due to COVID. Hopefully it stays that way.
Was it possible to cross the Wagah border during the pandemic?
For a while the crossing was closed, but there were travelers who managed to obtain Indian visas and cross on foot from both Pakistan and India in late 2021 and early 2022. However, travelers are occasionally asked for NOCs—non-objection certificates—when crossing the border by the Indian authorities. Pakistani authorities have been more open to crossings.
Overland travelers reported that you can email the Indian immigration officials at [email protected] to get approval before crossing. When contacting them, ask for the application form. Once submitted, permission can take up to 10 days to approve.
If you have your India or Pakistan visa ready, despite COVID restrictions it's possible to do the Wagah border crossing between India and Pakistan during the pandemic. Worth a try, no?
How to get to the Wagah border crossing from Amritsar, India
Taxi from Amritsar to the Wagah border crossing
You can hire a taxi to bring you to the Wagah border crossing station for around 800 INR. They will not be able to bring you further than that point.
Bus from Amritsar to the Wagah border crossing
Public buses run from Amritsar to a point close to the Wagah border. A rickshaw to the Amritsar bus stand should cost 70 – 100 INR from the Golden Temple area. Vicky, Jugaadus Hostel's dedicated rickshaw driver, charges 100 INR for a ride from the hostel. It takes around 10 minutes to reach the bus stand from either of these places.
Once at the bus stand, there are half-hourly buses from Amritsar bus stand to Atari, the nearest town to the Wagah border. These buses leave from dock 23, and a hawker will direct you to the right bus. A ticket is 35 INR per person, and the journey takes roughly one hour.
The bus also stops at Amritsar Railway Station. It stops just outside the exit, near the stairs for the footbridge. The hawker will make it clear he's going to Wagah Border; if you're coming to Amritsar by train, keep your ears open.
I suggest leaving Amritsar by 14:00 at the latest. Officials stop letting people cross around 15:30, sometimes earlier in winter as the border closing ceremony times are dictated by sunset.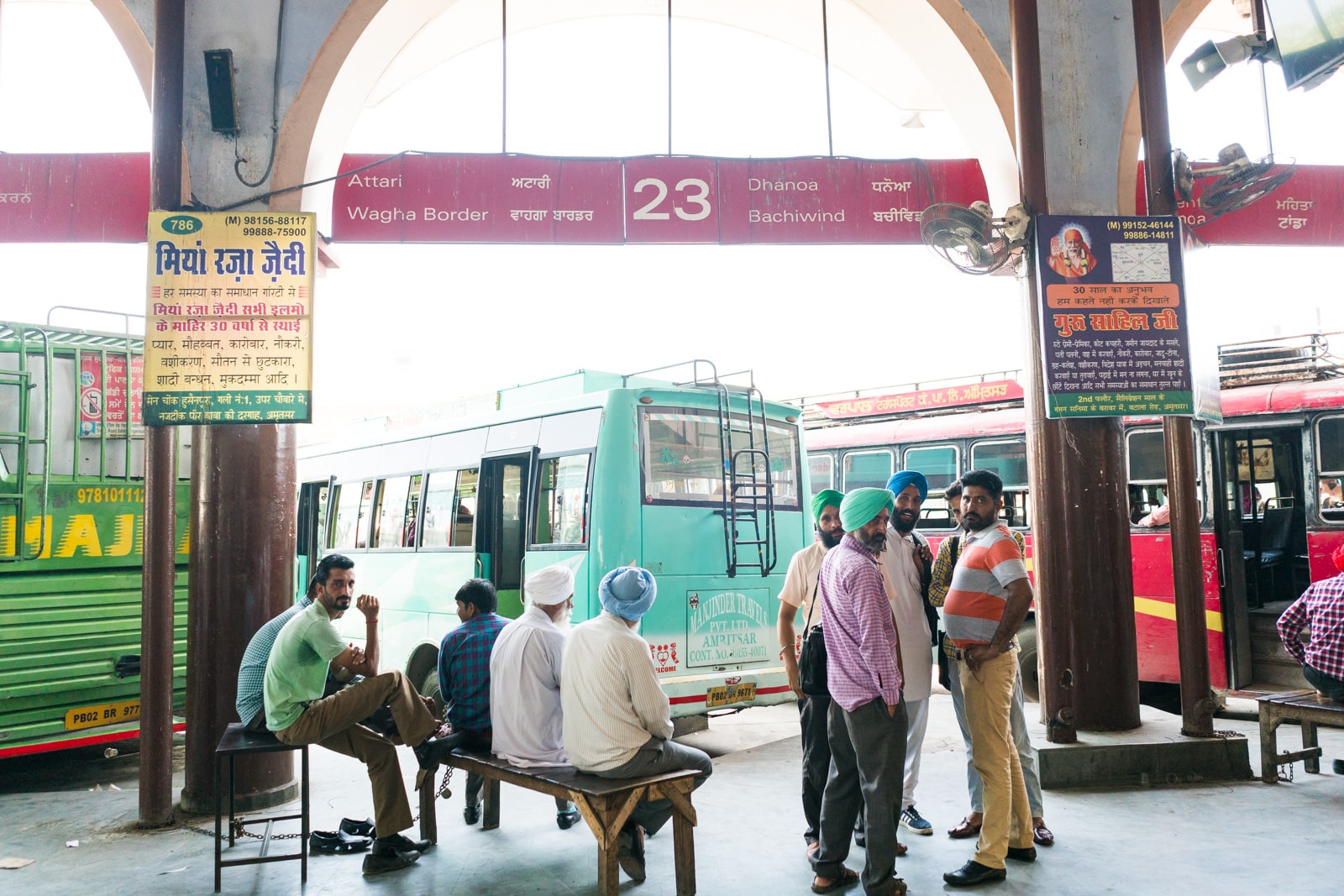 The bus will drop you off roughly 3 kilometers from the Wagah border. There will be plenty of cycle rickshaws around to pedal you to the actual Wagah Border crossing. They charge 20-30 INR per person.
If you're heading from Lahore to Amritsar you can go from the Wagah border to Amritsar using the same bus. However, you might have to pay a bit more for the cycle rickshaw to bring you to the bus stop. Expect 40-50 INR instead.
Where to stay in Amritsar before crossing the Wagah border
Ultra budget – Golden Temple – Free dorms at the Golden Temple for foreigners. Basic, but perfect for budget travelers.
Budget – Jugaadus Hostel – A super laid back hostel with very friendly and helpful staff. One of the first hostels in India. Good value.
Mid-range – Golden Tulip Amritsar – An orderly hotel with pool close to Amritsar railway station. Price includes breakfast.
Luxury – Ranjitvilas – A beautiful building a bit outside of Amritsar, surrounded by quiet fields. A great way to experience Punjabi hospitality at its finest.
How to get to the Wagah border crossing from Lahore, Pakistan
Getting to the Wagah border to cross from Lahore to Amritsar is a bit less straightforward. There are buses, but I don't know from where they go or how often they go. If anyone reading this has some information, please let me know.
The easiest way to get from Lahore to the Wagah border is by rickshaw. Uber and Careem used to drop people at the border, but they are now prohibited from doing so. However, their rickshaws seem to be able to avoid this issue—give it a go!
A rickshaw to the Wagah border from Lahore should cost around 500-700 PKR.
Best places to stay in Lahore before going to the Wagah border
Budget – Lahore Backpackers – The most popular backpacker hangout of Lahore (beware: Lahore Backpackers is not a tour operator, don't get an LOI or a tour from Lahore Backpackers!).
Mid-range – Tourist Inn Hotel – Friendly staff and excellent food options in this mid-range hotel.
Luxury – Luxus Grand Hotel – One of the best value luxury hotels in Lahore, the hotel has a gym, pool, and friendly staff.
Is there a train between India and Pakistan?
The train between the two countries is but the stuff of legends. Many travelers have sought out a way to cross by train, but trains are not running at this time. The only time when trains run between the two countries is during major religious pilgrimages. Don't expect to get on those—security will be tight, and they will not allow non-pilgrims to ride.
Crossing overland at the Wagah border crossing between India and Pakistan
The below section is written as if coming from Amritsar to Lahore. If you're crossing the border from Pakistan to India, the process is more or less the same, just in reverse.
Crossing the Wagah border on the Indian side (Attari)
Once you enter the border crossing compound, your passport will be checked and your details noted down. After this, you'll be directed to the visitor center. Here you will be patted down (lazily) before heading to the immigration booth. At the immigration booth, your passport will be checked and stamped, and you'll have to fill in an immigration card with basic questions.
After this your bags will be scanned, immigration cards checked, and you'll be put on a two-minute (and delightfully air-conditioned) bus to the border. The whole process took roughly 20 minutes, but it can take longer if there are more people. There were only four others when we crossed. Note that you're technically not allowed to take Indian rupees out of India, but they hardly ever ask about this.
When you get out of the bus, hand your immigration card to an officer, and then you can proceed to the actual border crossing. Here your passport will be checked two more times, once on the Indian side and once on the Pakistani side.
Once you leave the immigration office, there's a little sitting area with shade and some porters. Here you can change some money, and wait for a toy train (yes, really) to bring you to the parking lot. From the parking lot, you can take a taxi or rickshaw to Lahore. In 2019, I was quoted 800 PKR (about $6) for a rickshaw ride, which means you can probably haggle the price down by a couple hundred.
It's also possible to hitchhike back to Lahore or take a bus. If you want to do this, you'll have to walk to the "town" about a kilometer beyond the border compound. However, it's easiest to just take a rickshaw or taxi. If you stay to watch the Wagah border ceremony (more on that below) you can definitely hitch a ride back to Lahore from the Wagah border.
Crossing the Wagah border on the Pakistan side (Wagah)
Note: If crossing from Lahore to Amritsar,  you'll have to go through several security checkpoints on the Pakistan side before reaching the border area.
After walking through the border gate to the Pakistan side, you'll be directed to the immigration office where you have to fill in an arrival card. They will want to know the exact address and phone number of the place or person you'll be staying with, but as long as you write down something that makes sense, they won't actually check or bother you much about it.
They'll also ask you where else in Pakistan you'll be visiting. Only give generic answers such as Lahore, Karachi, Islamabad, and Rawalpindi, and say you'll either fly out or cross back over the Wagah border. Avoid mention of crossing overland into Iran or China if this is your plan.
The whole process took about 10 minutes in total. My bags weren't searched, and I could proceed to walk into Pakistan.
Watching the Wagah border ceremony
Instead of hopping on a taxi or rickshaw, I recommend you stay for a bit and watch the utterly bizarre border ceremony. The ceremony starts around 18:00 (earlier in winter), but people start pouring in around 16:00.
The ceremony is free to watch, but you can't take your luggage. You can ask the kiosk at the parking lot if they will look after your bags, or ask at the immigration office if you can store them there. Alternatively, a (literally) cooler option is to cross the border earlier in the day, drop your bags in Lahore somewhere, and return to the border in the evening.
The added benefit of watching the ceremony is that it will be easy to hitch a ride or take a bus to Lahore afterward, saving you a chunk of money.
Whether or not you choose to stay, safe travels and happy crossing at the Wagah border!
Planning your trip to Pakistan? Check out this massive guide with everything to do in Lahore!