Crossing the Wagah border between India and Pakistan
A quick guide on crossing the Wagah border between India and Pakistan between Amritsar and Lahore. Includes everything you need to know about this well known—but little-used—border crossing.
Want to dive deep into Pakistan with me? I've designed Pakistan tours like no other—check them out here.
A guide to crossing overland at the Wagah border between Amritsar and Lahore
This article focuses on foreign travelers. Though the process seemed to be the same for a group of Indian women crossing at the same time as us, other Indians or Pakistanis might have a different—and more thorough—experience. If you're Indian or Pakistani, you can only use this border if your visa specifies you're crossing by foot.
Famous for its daily flag-lowering ceremony, the Wagah border sees little actual traffic. However, if you're armed with a visa (and nothing else), it's the most convenient way of traveling between India and Pakistan.
We have crossed this border multiple times, going from Lahore to Amritsar and from Amritsar to Lahore. If you're headed to Pakistan, make sure to check out this practical guide with things to know before you go to Pakistan, too. Below you can find our experience with crossing the Wagah border
The easiest way to get to the Wagah border from Amritsar
There are public buses running from Amritsar close to the Wagah border. A rickshaw to the Amritsar bus stand should cost 70 – 100 INR from the Golden Temple area. Vicky, Jugaadus Hostel's rickshaw driver, charges 100 INR as well. It takes around 10 minutes from either of these places.
Alternatively, there are a million and one hawkers advertising rides to the Wagah border for 100 INR per person around the Golden Temple. Be careful, though, as you may not be able to fit all your bags in the shared ride, and you need to make sure they'll leave early enough for you to cross. You can also hire a taxi to bring you for around 800 INR.
Once at the bus stand, there are half-hourly buses from Amritsar bus stand to Atari, the nearest town to the Wagah border. These buses leave from dock 23, and a hawker will direct you to the right bus. A ticket is 35 INR per person, and the journey takes roughly one hour.
We suggest you leave Amritsar by 14:00 at the latest, as they sometimes stop letting people cross after 15:30. The bus also stops at Amritsar Railway Station. It stops just outside the exit, near the stairs for the footbridge. The hawker will make it clear he's going to Wagah Border.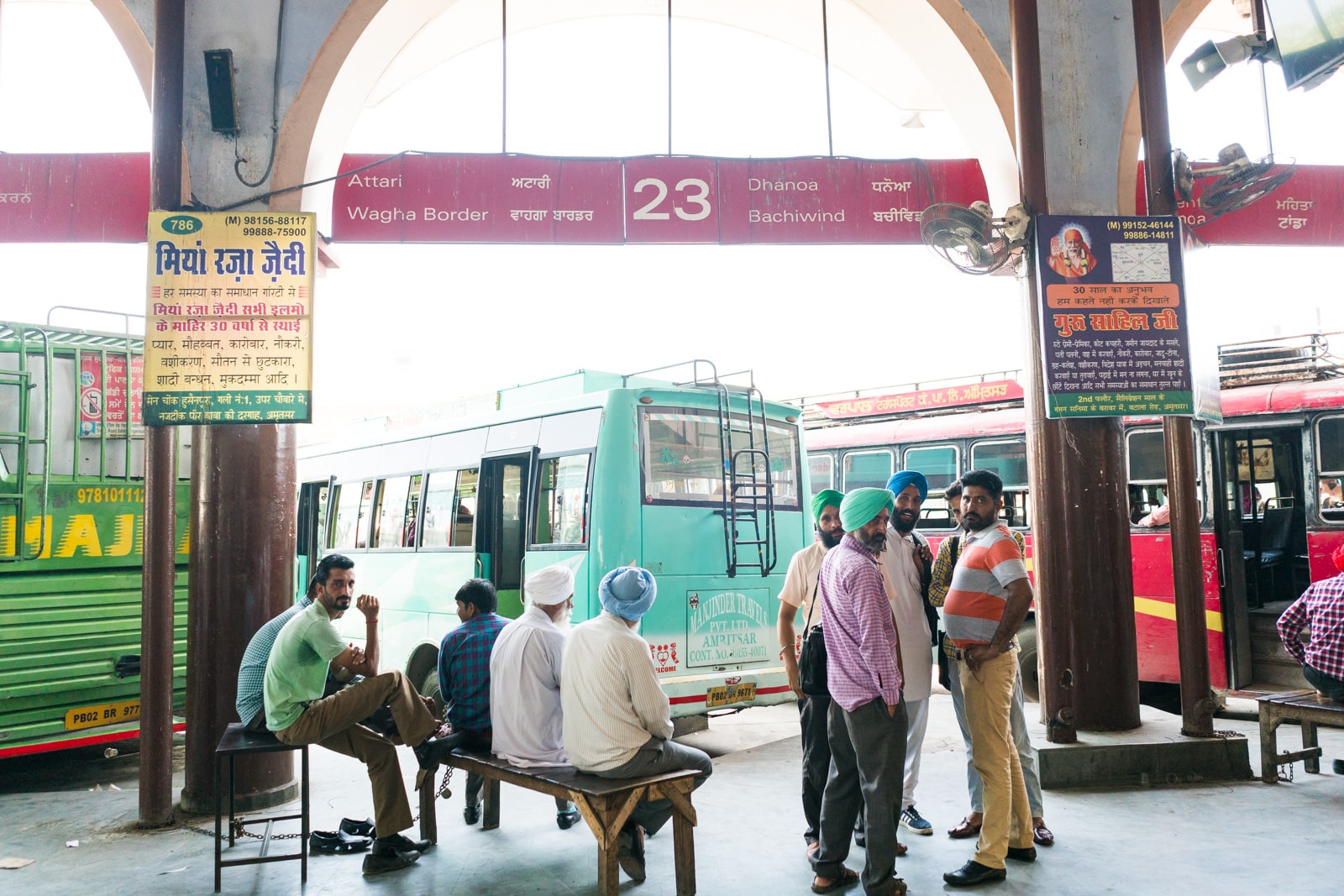 The bus will drop you off roughly 3 kilometers from the Wagah border. There will be plenty of cycle rickshaws on hand to pedal you to the actual Wagah Border crossing. They charge 20 – 30 INR per person.
If you're heading from Lahore to Amritsar, you can go from the Wagah border to Amritsar using the same bus. However, you might have to pay a bit more for the cycle rickshaw to bring you to the bus stop. Expect 40-50 INR instead.
The easiest way to get to the Wagah border from Lahore
Getting to the Wagah border to cross from Lahore to Amritsar is a bit less straightforward. There are busses, but it's not clear to us from where they go, and how often they go. If anyone reading this has some information, please let us know.
The easiest way to get from Lahore to the Wagah border is by either Uber or Careem. However, some drivers might not want to take you. In our experience, it's best to take a Careem to the Wagah border from Lahore. A Careem to the Wagah border should cost around 500 RS.
Crossing overland at the Wagah border between India and Pakistan
The below section is written as if coming from Amritsar to Lahore. If you're crossing the border from Pakistan to India, the process is more or less the same, just in reverse.
Crossing the Wagah border on the Indian side
Once you enter the border crossing compound, your passport will be checked and your details noted down. After this, you'll be directed to the visitor center. Here you will be patted down (lazily) before heading to the immigration booth. At the immigration booth, your passport will be checked and stamped, and you'll have to fill in an immigration card with basic questions.
After this your bags will be scanned, immigration cards checked, and you'll be put on a two-minute (and delightfully air-conditioned) bus to the border. The whole process took roughly 20 minutes, but it can take longer if there are more people. There were only four others when we crossed. Note that you're technically not allowed to take Indian rupees out of India, but they hardly ever ask about this.
When you get out of the bus you'll hand your immigration card to an officer, and then you can proceed to the actual border crossing. Here your passport will be checked two more times, once on the Indian side and once on the Pakistani side.
Crossing the Wagah border on the Pakistan side
Note: If crossing from Lahore to Amritsar,  you'll have to go through several security checkpoints on the Pakistan side before reaching the border area.
After walking through the border gate to the Pakistan side, you'll be directed to the immigration office where you have to fill in an arrival card. They will want to know the exact address and phone number of the place or person you'll be staying with, but as long as you write down something that makes sense, they won't actually check or bother you much about it.
They'll also ask you where else in Pakistan you'll be visiting. Only give generic answers such as Lahore, Karachi, Islamabad, and Rawalpindi, and say you'll either fly out or cross back over the Wagah border. Avoid mention of crossing overland into Iran or China if this is your plan.
The whole process took about 10 minutes in total. Our bags weren't searched, and we could proceed to walk into Pakistan.
Getting from the Pakistan side of the Wagah border to Lahore
Once you leave the immigration office, there's a little sitting area with shade and some porters. Here you can change some money, and wait for a toy train (yes, really) to bring you to the parking lot. From the parking lot, you can take a taxi or rickshaw to Lahore. We were quoted 800 PKR (about $8) for a rickshaw ride, which means you can probably haggle the price down by a couple hundred.
It's also possible to hitchhike back to Lahore or take a bus. If you want to do this, you'll have to walk to the "town" about a kilometer beyond the border compound. However, it's easiest to just take a rickshaw or taxi. If you stay to watch the Wagah border ceremony (more on that below) you can definitely hitch a ride back to Lahore from the Wagah border.
Watching the Wagah border ceremony
Instead of hopping on a taxi or rickshaw, we recommend you stay for a bit and watch the utterly bizarre border ceremony. The ceremony starts around 18:00 (earlier in winter), but people start pouring in around 16:00.
The ceremony is free to watch, but you can't take your luggage. You can ask the kiosk at the parking lot if they will look after your bags, or ask at the immigration office if you can store them there. Alternatively, a cooler option is to cross the border earlier in the day, drop your bags in Lahore somewhere, and return to the border in the evening.
The added benefit of watching the ceremony is that it will be easy to hitch a ride or take a bus to Lahore afterward, saving you a chunk of money.
Where to stay in Amritsar and Lahore
Amritsar
Ultra budget – Golden Temple – Free dorms at the Golden Temple for foreigners. Basic, but perfect for budget travelers.
Budget – Jugaadus Hostel – A super laid back hostel with very friendly and helpful staff. One of the first hostels in India. Good value.
Mid-range – Golden Tulip Amritsar – An orderly hotel with pool close to Amritsar railway station. Price includes breakfast.
Luxury – Ranjitvilas – A beautiful building a bit outside of Amritsar, surrounded by quiet fields. A great way to experience Punjabi hospitality at its finest.
Lahore
Budget – Lahore Backpackers – The most popular backpacker hangout of Lahore (beware: Lahore Backpackers is not a tour operator, don't get an LOI or a tour from Lahore Backpackers!).
Mid-range – Tourist Inn Hotel – Friendly staff and excellent food options in this mid-range hotel.
Luxury – Luxus Grand Hotel – One of the best value luxury hotels in Lahore, the hotel has a gym, pool, and friendly staff.
So there you have it, a complete guide on crossing overland at the Wagah border between Amritsar in India and Lahore in Pakistan. It's easy and relaxed, and much less thorough than you would expect at such a sensitive border.
Planning your trip to Pakistan? Check out this massive guide with everything to do in Lahore!