Chapursan, Chipurson, Choporson, Chuparsin. Regardless of how you want to spell it (no one seems to be able to decide) here's a quick travel guide to Chapursan Valley, one of the most remote valleys in Hunza, Pakistan.
Want to dive deep into Pakistan with me? I've designed Pakistan tours like no other—check them out here.
I'm no flat earther, but if there's any place that feels like the end of the world, it's Chapursan (also called Chiporsun).
Far removed from the rest of Pakistan, the valley runs along the mountainous border of Afghanistan's (peaceful) Wakhan Corridor. Lonely peaks dusted with snow loom over the dry valley where mud-and-stone houses outnumber trees. Many of its Wakhi-speaking residents rely on flocks of sheeps, goats, and yaks for sustenance and income.
Accessible only by a jolting jeep track, some effort is required to reach the valley… but if you're reading this article, you probably know that makes it all the more appealing! In the name of helping out a fellow traveler, here's what you need to know to travel to Chapursan Valley.
A Chapursan Valley travel guide
Best time to visit Chapursan Valley

Chapursan Valley sits more than 3,000 meters above sea level. In case you aren't a metric person, that means it's rather high and can be frosty AF. Brace yourself.
June to August is the best time to visit regarding temperature and greenery scenery. During summers the valley warms up in the sun, the meadows fill with grass, and wildflowers bloom around July-August. Sports matches such as polo and buzkashi go on during this time.
May or September are still manageable (though who really knows with climate change going on?) and autumn promises clearer skies.
You can still reach the valley in April/May and October/November, but prepare to be cold. It snowed while I was in the valley in April, and the pipes were frozen in my guesthouse despite outside temperatures rising above freezing during the day.
What to pack for Chapursan Valley

Warm clothes. It's gonna get chilly in the nights.
Trekking boots. Even the main roads are rocky and dusty at best.
A Steripen or other water purifier. Many people only drink weak chai instead of water, so you might have to source your own. Most shops don't sell mineral water – Get your Steripen here!
Especially if you're going trekking, stock up on snacks in Sost. Shop options are sparse in Chapursan.
Sun block. Mountain sun is harsh at that altitude!
Getting permission for Chapursan – do foreigners need an NOC?
In May 2019, I confirmed with the Commissioner's office that foreigners do not need NOCs to visit Chapursan Valley. Woop woop! You just need to register yourself at a checkpoint on the way in.
However, foreigners do still need permission to visit Baba Gundi shrine and anything beyond that point in the valley, as there's an army checkpoint right before the shrine and it lies close to the Afghanistan border. The Sufi shrine is well past any of the villages, but there are some treks that you can do beyond it.
If you're interested in visiting those areas, you'll need to get an NOC from the Deputy Commissioner's office in Gilgit. As in, before you go to Chapursan.
How to reach Chapursan
Public transportation
Unless you're armed with your own car or motorbike, the only way to reach Chapursan by public transport is to take a jeep from Sost.
Public jeeps leave Sost bazar for Chapursan twice a day, around 10:00 and 14:30. You can arrange tickets in the chai shop of the the teal-colored Baba Gundi Hotel off of the main road. The road to the hotel will be on your left when entering Sost from further south, and you need to walk around back to find the opening to the courtyard of sorts.
Tickets are 280 Rs per person one way, and are sold on a first come, first serve basis. Seating is based on gender and age: men generally sit in the far back, while ladies occupy the middle. The elderly take the front seats by the driver if necessary.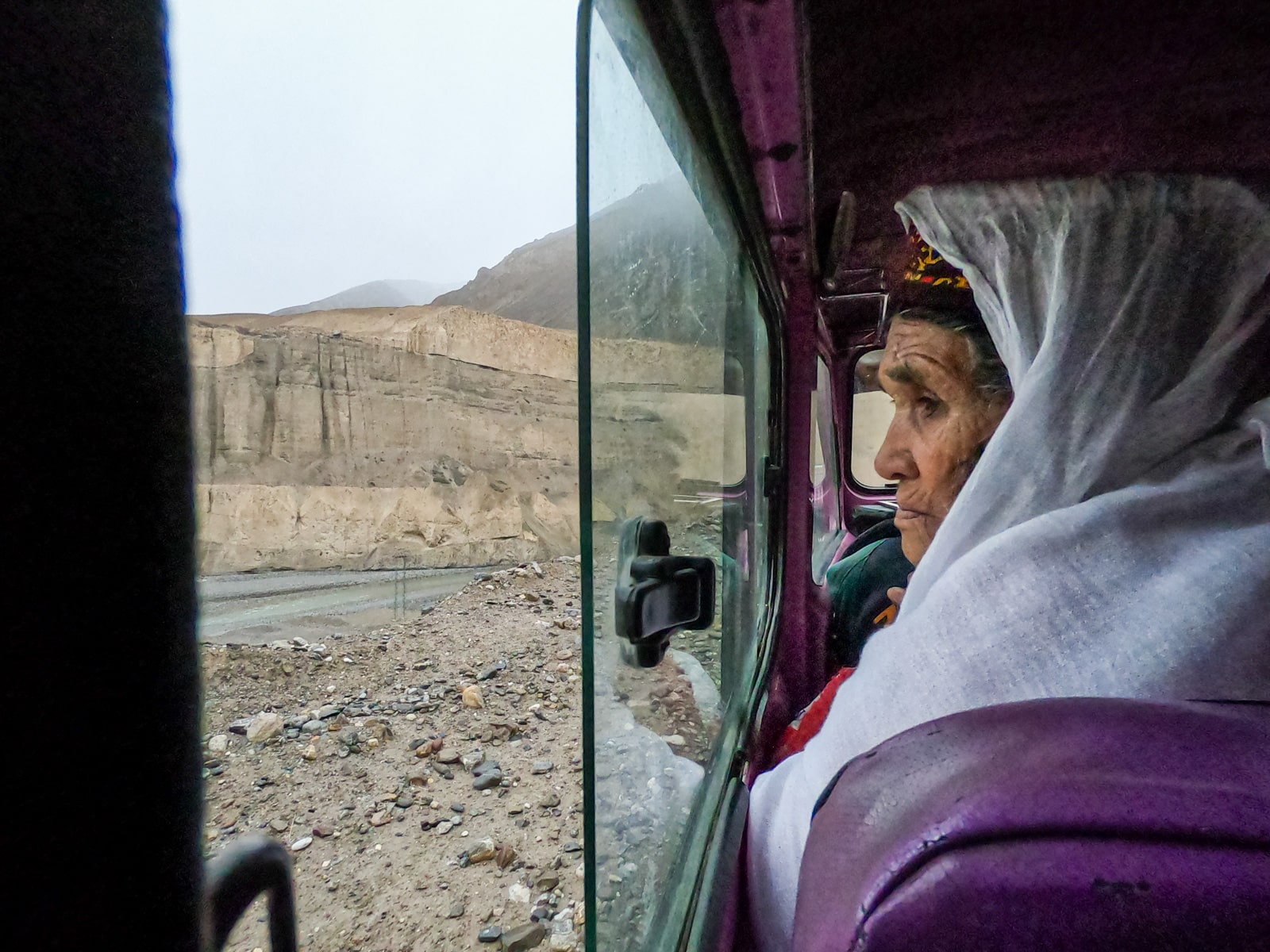 After passing through one checkpoint (foreigners must get out to register their visit), two or three hours' bumping along an unpaved jeep track through a river canyon brings you to Chapursan. You can get off at any village along the way, Zudkhun is the last village and end point for the ride.
Private transportation
If you want to arrange private transport to Chapursan, expect to pay around 5,000 PKR per day for a jeep. You can find car hire services in Sost bazar, or your hotel or guesthouse can arrange a driver for you.
Where to stay in Chapursan Valley

A scattering of guesthouses throughout the valley offer accommodation to travelers. Do realize that you're in a remote area; accommodations are basic at best. Electricity is not available for parts of the day. When I was there in April, there was no running water as pipes were still frozen, and we ate basic meals of potatoes, bread, and rice as it was not yet harvest season.
I've listed guesthouses by village below. They're ordered by the village's location in the valley—the first items are closest to Sost. None have specific addresses, but if you ask around in the villages people should be able to point you in the right direction. Phone numbers are also included, though you might need some patience; phone signal in Chapursan is very bad to nonexistent, and you might need to try calling several times to reach owners.
Kirmin
Peace Point Guesthouse: 03555 238449
Paradise Coffeeshop & Family Guesthouse: Didar Karim – 0

355 5295103
Khairabad Raminji
Guest house owned by Tariq Aziz – 0

312 979418
Rashit (Reshit)
Hill Top Guesthouse: Owned by Mr. Hayder – 0355 5638988
Chipursan View Hotel & Restaurant: Owned by Janan and sons – 0355 5654273 | 0355 5654272 | 0355 5638665
Sher-e-Sabz
Small guesthouse run by Rasool Khan and family. His son Akhtar Rasool's number is +923555775280
Ispanj
Karim Hunter's House: Owned by Mr. Karim – 0

355 5654093
Shitmirg (Shitmerg)
Shitmirg Guest House: Owned by Mr. Sadiq – 0

355 5650193
Zudkhun (Zoodkhun, Zoodkhoon)
Shah Guesthouse: Owned by Khairul Shah – 03555 6544287
Roof of the World: Owned by Haider Ali – 0

355 5650623
2020 update + warning: I recently learned the owner of the guesthouse below has been accused of multiple rape incidents by local and outside community members. Whether he has raped or assaulted female tourists I do not know. However, I cannot in good faith recommend him to other tourists, especially female travelers. I've removed his contact information from this post, and I recommend supporting other guesthouses mentioned instead.
I stayed at Pamir Serai in Zudkhun, the most well-known digs in the valley thanks to Lonely Planet and renowned photographer Matthieu Paley. Its few rooms are basic, and sleeping conditions are basically thin mattresses on the floor with a plethora of blankets. Nevertheless, it's cozy and comfortable enough for travelers not looking for luxury.
Things to do in Chapursan Valley
Items number one through one thousand on your agenda should be to enjoy the natural scenery and mountain life.
Not specific enough? Ugh, fine.
Polo and buzkashi (basically headless goat polo) are played in the villages in summers. Ask around to find out when and where the next match is.
Several small lakes can be found in a surreally hilly area about an hour's walk from Zudkhun. Follow the road to Baba Gundi, keeping an eye out for a wooden bridge among the rocks to your right. Swimming is possible if the weather is warm enough.
Shepherds head up to pastures starting in June, and stay up until the end of September. If you're fit enough, you can trek up to the high altitude pastures to hang out with them and see what they're up to. Know that the Zudkhun shepherds go to pastures beyond Baba Gundi, so foreigners will need NOCs for that.
Horses and yaks can be rented for treks. Horses can be rented with one guide per group, but yaks require handlers for each animal. Most guesthouses can arrange animals for you.
Nomadic Kyrgyz traders come down from Afghanistan's Wakhan corridor to do trade around Baba Gundi starting in June or July. Head in that direction to see them come in on their yaks.
Trekking opportunities are endless. There are treks of all lengths and difficulties, ranging from short overnight treks to 12-15 day mountain passes. For more information on trekking opportunities, ask your guesthouse owner or inquire in the Karakoram Club Facebook group.
Mobile Networks in Chapursan 
Mobile networks? What mobile networks?
Just kidding. Sort of.
Don't expect mobile data in Chapursan. Only SCOM has service in the valley, and even then signal is very spotty. You'll have trouble making calls from a moving vehicle. Just disconnect and enjoy!
Leaving Chapursan
There's only one public jeep leaving Chapursan each day. It begins its journey from the last village, Zood Khun, between 5:30 and 6 in the morning. Feel free to call ahead to reserve a spot (Sultan is one of the drivers – 0355 5654142) or ask your guesthouse owner to contact the driver.
Make sure to be waiting outside early enough. My friend and I called ahead to reserve, but the jeep came earlier than the driver said it would, and left without us. Better to simply be out on the road and ready with your bags when the jeep arrives.
The jeep will drop you at Baba Gundi Hotel in Sost around 9 in the morning. If you want to carry on to Gilgit or somewhere else along the Karakoram Highway, there's a coaster bus that leaves from the same spot 20 to 30 minutes after the jeep arrives. Join the rest of the passengers for chai and a simple anda paratha (paratha and egg) breakfast while you wait.
Want more mountain escapes? Here's a quick travel guide for Shimshal Valley.