Updated in 2023: After years of traveling in Pakistan, running tours, and co-founding a sustainable tourism organization there, it's safe to say I know a lot about travel in Pakistan. Here's my complete Pakistan travel guide with information on visas, transportation, costs, and everything else you need to know about travel in Pakistan.
Curious about traveling to Pakistan but nervous about going alone? Check out my tours: I run both women's tours and biker tours in Pakistan.
Jaw-dropping nature, diverse cultures, and delicious food—these are but a few of the things you'll experience when you visit Pakistan. Most importantly, it's home to the most hospitable people I've met in my travels. It's no wonder more and more people want to travel to Pakistan!
However, Pakistan ain't as easy to travel in as some will have you believe. But no worries, I got you. This guide was created after more than six visits and almost a year of travel in Pakistan. I have visited Pakistan more than any other travel blogger and traveled to Pakistan both with friends and by myself. Keep reading to learn everything you need to know about travel in Pakistan.
Pakistan travel guide: index
Pakistan travel guide: the basics
Pakistan is officially called "The Islamic Republic of Pakistan." A populous country in South Asia—no, it's not in the Middle East—with more than 200 million people, it's the 6th most populous country in the world. TL;DR: Lots and lots of people. Everywhere.
Pakistan was founded on the 14th of August 1947 after an event known as Partition: when British India created the modern states of India and Pakistan. The event was bloody, its ramifications still visible today. The country became an Islamic Republic in 1956. During partition, Pakistan was divided into West and East Pakistan. In 1971 East Pakistan became Bangladesh after another bloody war for independence.
Although Pakistan is a young country, its history is ancient. Ruins of one of the oldest civilizations in the world, the Indus Valley Civilization, lie in southern Pakistan. Multiple conquerors and civilizations took hold in parts of modern-day Pakistan, including Alexander the Great, the Delhi Sultanate, the Mughal Empire, and the British Raj.
Pakistan's recent history is marred with conflict, both internal and external, most notably with India. It's struggled with military coups, terrorist attacks, war, and secessionist tensions. Its army has strengthened throughout the years as a result; it's now a nuclear power and has the sixth-largest standing armed forces in the world.
I could go into it more, but you can only cover so much in one Pakistan travel guide! If you want to get more in-depth with Pakistan's history, I highly recommend getting a copy of Pakistan Traveller – it's the best Pakistan travel guide book on the market.
Pakistan travel guide: Language in Pakistan
Myriad languages are spoken in Pakistan. Most people speak two or three languages. At least!
Urdu is Pakistan's national language, as well as the language of officialdom together with English. Most middle and upper-class Pakistanis will speak (some) English. It's rare to find a place where absolutely no one speaks English. However, it's always good to pick up a phrase or two in Urdu before you visit Pakistan. I highly recommend Pimsleur for learning language basics.
Besides the two official languages, there are many local languages: Pashto, Sindhi, Balochi, Punjabi, Potohari, Shina, Wakhi, Burushaski… the list goes on! Every province has its own regional language, such as the aforementioned Punjabi and Sindhi. In major cities people mostly speak Urdu, but in towns and villages local languages reign supreme.
Urdu basics
Salaamu aleikum: Hello
Walaykum asalaam: Hello (in response)
Shukriya: Thank you
Kya haal hai?: How are you?
Mai thik hoon: I am fine.
Aap ka naam kya hai?: What is your name?
Mera naam Alex hai: My name is Alex.
… kaha hai?: Where is… ?
Kitnay paisa?: How much?
Ji/haan: Yes/yeah
Nehi: No
Jao: Go away
Nehi chahiye: I don't need it
Angrezi ata/ati?: Do you know English?
Interested in learning more conversational Urdu? I've been taking virtual lessons with a teacher, Naveed Rehman, for several years now (on and off). He's very patient, excellent at explaining grammar, and focuses on practical conversational Urdu rather than rote memorization. I highly recommend his online Urdu classes—they're quite affordable by Western standards, so they're well worth a try!
Pakistan travel guide: Regions of Pakistan
The country of Pakistan is divided into four provinces and three territories, each with its own distinct culture and flavor:
Sindh (province)
Major cities/destinations: Karachi, Hyderabad, Sehwan Sharif
The southernmost province of Pakistan is home to its biggest city, Karachi. But venture out into the rural areas, known as "interior Sindh", and you'll find a mystic realm of moody deserts, Sufi shrines, and abandoned forts. Don't miss my guide to traveling in Sindh.
Punjab (province)
Major cities/destinations: Lahore, Rawalpindi, Multan
Pakistan's wealthiest province sits in the middle of the country. Though vast fields of wheat and other crops make stereotypical Punjabi landscapes, there are also plenty of massive Mughal relics and nature tinged with green to keep travelers busy. It's also home to my absolute favorite city in Pakistan, Lahore.
Khyber Pakhtunkhwa (province)
Major cities/destinations: Peshawar, Chitral, Kalash Valleys
Far to the west of the country, and now including what was once known as the Federally Administered Tribal Areas (FATA), this province borders Afghanistan. Home primarily to the Pakhtun (Pashtun) people, many parts of this province are evocative of traveling Afghanistan. Some parts are off-limits—especially the south and regions along the Afghan border—but natural areas such as Swat Valley and the Kalash Valleys are popular… for good reason!
Balochistan (province)
Major cities/destinations: Quetta, Gwadar, Hingol National Park, Makran Coastal Highway
Bordering Iran and Afghanistan, the country's largest province is also one of the least traveled. Home to deserts, dusty mountains, and azure coastlines, this province is unfortunately off-limits to foreign travelers aside from those doing the Iran-Pakistan overland border crossing.
Islamabad capital territory
The country's capital is also its own territory. Many tourists start their Pakistan travels in Islamabad, but I'll be honest with you: I'm not the biggest fan. Though there are many things to do in Islamabad, the capital is far from representative of the rest of the country, and is on the verge of boring much of the time. Still, it's a comfortable and relatively developed place to rest, relax, and pick up some necessities while traveling in Pakistan.
Gilgit Baltistan (territory)
Major cities/destinations: Gilgit, Central Hunza (Karimabad), Passu
When people come to Pakistan looking for mountains, this is where they end up. Also known as "Northern Pakistan", the vast territory of Gilgit Baltistan is home to three major mountain ranges—Himalayas, Karakoram, and the Hindu Kush—as well as several of the world's tallest mountains (K2, Nanga Parbat, and Rakaposhi). It's by far the calmest and easiest to travel of all the country's provinces, especially for female travelers. If you're in search of nature, you're probably heading north to Gilgit Baltistan.
Azad Kashmir (territory)
Major cities/destinations: Muzaffarabad, Neelum Valley
This narrow territory to the east of Pakistan on the border with India has been disputed ever since Partition, the dividing of India and Pakistan in 1947. Tensions occasionally flare up between the Pakistani military and the Indian military, and so the territory was off-limits to foreign travelers for a long time. As of 2019, the territory has opened up slightly, though foreigners are still not allowed to go within 10 km of the border, known as the Line of Control (LOC). However, you can at least visit Muzaffarabad, Mirpur, and their surrounding areas… though security forces might hassle you a bit.
Pakistan travel guide: Culture in Pakistan
Pakistan's culture is varied and vibrant, albeit very conservative. Religion dictates and influences culture at almost every level. Keep that in mind and tread carefully when traveling to Pakistan. Keep this Pakistan travel guide handy to help you avoid any cultural faux pas situations.
Due to its diversity, it's difficult to make generalizations about Pakistani culture… but try, I shall! This is a Pakistan travel guide, after all. Here are some cultural nuances travelers should be aware of:
Hospitality
Pakistan's hospitality is renowned. In Pakistan, guests are a gift from God, and many people are honored to treat them as such. During my travels through Pakistan, people have…
Invited me to stay in their homes despite not knowing me at all.
Slept on the floor so I could sleep in their bed.
Fed me a million and one times, even when they were fasting during Ramadan.
Taken the time to show me around their cities, villages, regions.
Gifted me everything from clothing to food to souvenirs.
… and then some.
The hospitality is incredible and continues to amaze me even after repeat visits to the country.
However, in recent times—and due to some careless influencers—I feel some travelers are interpreting this hospitality the wrong way.
Pakistan is NOT a place to go because ~*everything is freeeee!!!*~. By all means, enjoy their hospitality—I sure do—but don't take advantage of it. Give back where you can.
You can give people small tips (maybe 20 to 50 rupees) if they do something to help you out, or if they're visibly poor but still feed you or give you things. More if they help you a lot over a period of time. Help out around the house, or buy gifts of fruits, sweets, or nuts (called "dried fruits" in Pakistan). Meat is also a good gift for poorer people in villages. Bring small gifts from your own country or home for people who host you (think postcards, sweets, trinkets, etc.).
Sometimes people will not accept, but it doesn't hurt to offer. If it's a matter of pride over money, you can always give a little financial gift to the kids, or leave money somewhere in their house where they'll find it.
TL;DR: don't be a mooch. Pakistani hospitality is something to appreciate and learn from, not take advantage of. Enjoy, then pay it forward!
The Pakistani mindset
Let me preface this by saying Pakistanis are the most hospitable people I've met in my travels (shout out to Iranians and Bangladeshis as runners ups).
Pakistanis make you feel wholly welcome and are the country's greatest asset. Some of the best friends from my travels are Pakistani. I'm not sure there's a country where it's easier to meet and interact with locals than Pakistan.
The flip side: Pakistanis can be difficult people to deal with.
Because the country is conservative and religiously homogenous (about 97% of the population is Muslim), I've found people can be very intolerant. There is a way to do and think about things in Pakistan, and those who do or believe otherwise are often met with opposition. Though many people harbor "alternative" opinions, they are often hesitant to speak them unless in close company. People are not used to differing opinions.
Pakistanis also do not handle criticism well. I knew this, but had a nice reminder (translation: aggressive awakening) of this inability when I posted a critical video about Pakistan's tourism scene this year. I had to field hate for weeks on end despite constructive intentions.
Don't let me put you off Pakistan and its people; my point is that you should be very cautious when speaking about sensitive subjects and be careful to respect Pakistan's culture. By all means discuss, but choose your battles wisely.
The rest of this guide is meant to help you get a grasp on what is and is not okay in Pakistan, and how to act once there. Read through, and you won't need to worry about clashing with locals. As I said, Pakistan is a brilliant country for adventurous travelers… so long as you respect local culture.
Dress code
People who want to travel to Pakistan often ask me about the types of clothes they have to wear. Although dress codes are less strict than they used to be, it's best to come prepared when you visit Pakistan.
There's no official rule about what to wear (unlike Iran), so long as you're somewhat modest.
If you want to wear "western" clothes such as t-shirts and jeans, go ahead; many people wear western clothes in cities, especially in wealthy areas such as malls and Defence neighborhoods. Gilgit Baltistan sees plenty of trekkers wandering about in western outdoor attire.
Women: Pakistan is a very conservative country; unless you're in a liberal/wealthy part of a major city, I recommend dressing modestly. That means long pants and a loose shirt or dress that ideally covers your bum. Although headscarves aren't mandatory, it pays to have one on you for entering mosques.
The local pant/shirt combination, salwar kameez, is immensely comfortable and colorful. You can pick them up in bazaars and malls throughout Pakistan—locals will appreciate it!
Men: Shorts are okay, but you won't see many locals wearing them, and they're not allowed in mosques. In general, it pays to dress modestly—no tank tops or shorts. Again, salwar kameez is recommended.
Women in Pakistan
Unfortunately, Pakistan is lagging when it comes to women's rights. There are many places where you won't see women on the street. Especially in rural areas, women are treated as second class citizens, domestic workers, and baby-making machines.
Foreign women are mostly be treated with respect. As an outside traveler, you straddle the line between men and women; you're unusual enough to sit with men, but feminine enough to access women's spaces, too.
Alas, harassment is still common, though it's mostly restricted to unwanted touching and commentary. If a man does something to you, slap them or make a scene. Pakistanis are very protective of women and someone will likely come to your aid.
For more info, check out my guide to female travel in Pakistan.
Tipping in Pakistan
Tipping is not mandatory. Instances where you might tip someone include:
Hiring a driver who did a good job – Several hundred PKR
Take a private tour with a good tour guide – Several hundred PKR per day
Dining at a fancier restaurant – Round the bill up to a more even number
If someone goes well out of their way to help you or give you access to something – 50 to 100 PKR
If you do tip, don't tip too much, else you'll raise expectations for future travelers. Don't feel pressured to tip someone if they ask you for a tip—they're being cheeky because you're foreign.
Pakistan travel guide: Gender divides, relationships, and sexuality in Pakistan
Pakistan's gender divide is massive. Fly in, and you'll see what I mean 30 seconds after stepping outside the airport.
Because of both Islam and regional culture, men and women are separated in society. Streets are a world of men, women rule in the home. Society tries to separate boys and girls until marriage… after which couples are expected to produce babies ASAP. Go figure.
That's not to say there's no intermingling, but it might not be what you're used to at home. Public displays of affection—kissing, holding hands, touching in public—are taboo. Unmarried couples are subtle when they meet; you might notice them hiding in parks or behind tinted car windows. Openness about boyfriends or girlfriends is unusual. Elite Pakistanis are sometimes an exception… until their parents are involved.
Couples travel in Pakistan
Unmarried foreign couples should just pretend to be married. Otherwise, hotels might cause problems, and people might be uncomfortable hosting you.
Tip: Make sure you have some kind of story worked out—people are probably going to ask you about your wedding!
If you're married, no problem! You just have to deal with constant questions about children. If you already have children, you're on a perfect life path in most Pakistani's eyes. Well done, you.
Women to men 
Women should be on guard when interacting with men. That's not to say all men are evil, nor should you fear speaking with men. Just know many men interpret friendliness as flirtation.
In my experience, even men I thought friends ended up hitting on me hours, days, or weeks later. To establish boundaries with men, you can call young men bhai or brother, and older men chacha or uncle.
To keep men at bay, you can say you're married. Weirdly enough, people are more likely to believe you're married but traveling alone than accept that you're unmarried.
Do not say that you have a boyfriend. If you do, men will interpret that as you being sexually loose and thus willing to sleep with them. Respectable ladies do not admit they have boyfriends to men. Or so Pakistanis think.
Men to women
Boys, be cautious when interacting with women… if you can find them.
Many male travelers struggle to meet women in Pakistan. Unless hanging out with liberal/wealthy folks in cities, most women will keep their distance from you. Or stay out of sight completely.
If you do encounter women be respectful and distant with unmarried girls. Be careful if flirting. Pakistanis upset quickly; many male family members will not react well to foreign men flirting with their sister/daughter/cousin.
On the bright side, it's more socially acceptable for men to have a girlfriend(s) than vice versa. Saying you have a girlfriend implies you're a bit of a player, but the average man will probably respect you for it, not shame you. Mmmm toxic masculinity.
LGBTQ+ in Pakistan
As you might have guessed, Pakistan isn't a good place to be queer.
Interestingly enough, gay couples can fly under the radar long as you don't kiss in public or admit you're gay. Men hold hands and put arms around men. Women hold hands and touch other women. People of the same gender share hotel rooms without issue. Basically, so long as men and women aren't touching in public, all is well. Don't tell anyone you're gay and you'll be okay.
Gay communities do exist. I've only met one lesbian couple in Pakistan, but I know several gay men who traveled the country and said there's a thriving underground gay scene to be found in cities (try Grindr, Tinder, or Couchsurfing). Women, you unfortunately might have to look a bit harder.
The idea of transgenders is established in Pakistan, but not in a positive way.
Hijras are men dressed as women who traditionally beg on the streets and at weddings. Some also work as prostitutes or dancers. Aside from hijras, people aren't familiar with transgenders or genderqueers. Brace yourself for a lot of questions and looks. If male passing, know identifying as male will save you a lot of hassle.
Hookups and relationships in Pakistan
Relationships/hooking up with Pakistanis is possible, mostly in the liberal cities of Lahore, Karachi, and Islamabad. Tinder is very active in Pakistan, and a good place to start fishing.
Dating is manageable… but if you want to actually sleep with someone you might encounter problems. Unless someone has their own place—meaning they don't live with their family—you'll have to find either an Airbnb or an expensive hotel room.
Men, please be careful if trying to hook up with women: their reputation can really be damaged if word gets out that they sleep with [foreign] men. In Pakistan, reputation is everything. You can leave Pakistan—and a bad reputation—more easily than they.
For love? Or for visa?
Beware declarations of love, marriage proposals, etc in Pakistan. Pakistani men commonly try to seduce foreign women in the hopes of marrying and getting a visa to another country. It's not impossible to have a legitimate relationship… just more likely that ulterior motives are involved.
Pakistan travel guide: Drinks and drugs in Pakistan
The Quran forbids substances… but that doesn't mean they don't exist in the Islamic Republic!
Be sensible with substances in Pakistan; Pakistanis tend to go overboard and authorities will not play nicely if they find drugs on you.
Alcohol in Pakistan
Believe it or not, there's one legal brewery in Pakistan: Murree Brewery. They have a monopoly on all alcohol in the country, and produce everything from beer (passable, try the light blue wheat beer) to all kinds of liquor (beware).
Foreigners/non-Muslims can legally purchase alcohol from shops and high-end hotels. Wine shops are relatively common in multicultural Sindh province, but further north, you'll need to look to five-star hotels and "permit shops" attached to them where drinks are sold at market cost. The shopkeepers can often arrange imported drinks for you under the table for an extra fee.
"Bootleggers" are the go-to choice for Muslims. Pakistanis who drink likely have phone numbers of several bootleggers who can deliver alcohol discreetly. Bootleggers are easy in this regard, though their drinks are usually more expensive than the shops'.
Hash (cannabis) in Pakistan
Hashish is everywhere in Pakistan.
It comes from the region around the Afghanistan-Pakistan border. Most Pakistani boys have tried hash at least once, and it's easy for men to find someone to smoke with. Girls get raised eyebrows if they partake, though elite young women in cities do smoke. Ask around and you're sure to find "stuff" everywhere in the country.
Read: Rolling with the stoners in Hunza
The best stuff is in/from Khyber Pakhtunkhwa province. Look for hash that's relatively dry and a dark greenish brown. Despite boastful city kids' claims, the sticky tar-like substance they smoke there is adulterated.
Other drugs in Pakistan
Yes, you can find other drugs in Pakistan.
Some pharmacies are… flexible. Heroin is widespread in the country as it comes from Pakistan's next-door neighbor, Afghanistan. Party drugs circulate in elite society; if you're attending a big party in Karachi, Lahore, or Islamabad, there's a decent chance someone is on drugs. LSD, MDMA, cocaine, speed, meth, they're all there.
Whether or not you partake is on you. I won't judge drug usage *cough* but do be careful taking substances, especially from people you don't know well. Just because someone says white powder is cocaine doesn't mean it's actually cocaine (remember, cocaine comes from South America, thousands and thousands of kilometers away).
The drug scene in Pakistan is not so developed that you can expect the average drug user to know quality from fake. Besides, in a country where even simple things like milk are faked or cut with toxic ingredients, how can you expect illicit substances to be pure?
Be careful. And drink lots of water!
Pakistan travel guide: Religion in Pakistan
The vast majority of Pakistanis are Muslim, with scattered Christian and Hindu communities. Islam is the official state religion, the head of state has to be a Muslim, and people's religion is stated on their identity cards.
Because Pakistan is an Islamic Republic, its laws are based on Sharia law. It has some of the most draconian blasphemy laws in the world. Foreigners won't be held to the same standards as locals, but you should always be respectful of Islam, the Prophet Muhammad, and religious culture.
Atheism, though not officially illegal, can be punishable by death under the blasphemy law. Even if you're not religious, it's best to say you have a religion when asked (And you will be asked about this. A lot).
Pakistan is one of the worst countries in the world when it comes to the treatment of religious minorities. There are specific laws persecuting the Ahmadi sect of Islam, although few Pakistanis will want to talk about this.
It's best to steer clear of religious discussions unless you're well acquainted with the person you're talking to.
Pakistan travel guide: Food in Pakistan
Pakistani food is delicious and diverse, but not particularly healthy. It involves lots of oil, meat, and bread—prepare to pack on the pounds. Outside of (village) homes, don't expect any fresh salads when traveling in Pakistan aside from sliced onions, cucumbers, and maybe carrots or cabbage.
Food in Pakistan is full of flavors and spices, but rarely too spicy except for those with zero spice tolerance. However, hygiene standards are lacking. Most visitors to Pakistan will have some stomach trouble at one point or another.
Many cities have their own food culture and specialties. Lahore and Karachi compete for the title of the best foodie city in Pakistan. In major cities, more and more cafes and restaurants are attempting international flavors. Quality still varies widely; in general, it's best to stick to local food. Don't expect well-executed Western food unless you're paying a premium.
Some famous Pakistani dishes include:
Karahi: Meat stir-fried in a large pan
Biryani: Spiced rice with meat
Pulao: Rice cooked with animal fat or oil, usually containing carrots, raisins, and meat
Dal: Lentils
Channa: Chickpeas
Roti: Thin round bread
Naan: Thicker round bread
Chapli kebab: The best kebab (in my humble opinion), somewhat like a burger patty… but 10x better. The best chapli kebab is found in K

hyber Pakhtunkhwa (KPK) province.
Vegetarians and vegans in Pakistan
Traveling as a vegetarian in Pakistan can be difficult… but it is possible. Affluent Pakistanis understand (and sometimes scoff at) the concept. Except for the poorest of people, meat is a daily staple. Chicken and fish aren't even considered "meat"—meat means mutton or beef.
If you're a strict vegetarian, tell your host beforehand. Otherwise, it will lead to awkward situations when someone cooks up a meaty feast in your honor and you have to reject it.
Vegans will have a much harder time traveling in Pakistan. Many dishes include butter or yogurt, and explaining you can't eat eggs will be interesting. Dal and channa are sometimes cooked in the same pot as meat, or with meat stock. Veganism hardly exists in Pakistan. Be firm, but know you'll be restricted to dal, channa, and "mix sabzi"(mixed vegetables). You'll need to be very clear about no butter or ghee (clarified butter).
Pakistan travel guide: Money and the cost of travel in Pakistan
Pakistan uses the Pakistani Rupee (PKR). Banknotes come in denominations of 5, 10, 20, 50, 100, 500, 1000, and 5000 Rs. There are also coins, but these are virtually useless. Some shops will give change in small candy, rather than coins!
Getting money from ATMs can be a struggle, especially in the north. Not all banks accept foreign cards. Several banks (hi Standard Chartered) charge a 500 Rs fee per withdrawal. Islamic banks do not work with foreign cards. ATMs in the mountains often run out of cash.
In my experience, Bank Alfalah, Habib Bank, and MCB Bank (not MIB Bank) are your best bet for withdrawing cash from ATMs in Pakistan.
Cost of travel in Pakistan
Pakistan is a relatively cheap country to travel, although it can be tricky to find budget accommodation outside of the popular tourist destinations or in high season (June – August). Below is a breakdown of the average cost of traveling in Pakistan on a backpacker budget.
At the time of writing, US$1 = 155 Rs.
Food & drinks
Water or soda: 30 – 100 Rs
Tea: 10 – 50 Rs
Breakfast and lunch: 50 – 100 Rs each
Dinner: 50 – 250 Rs (street food ahoy!)
Accommodation
Budget hotels: 800 – 1,500 Rs
Mid-range: 1,500  – 4,000 Rs
Cultural outings
Museums: 200 – 500 Rs
Historical sights: 500 – 1,000Rs
National Parks: 800 Rs
Mosques: Free
For more info, check out this backpacking in Pakistan budget report.
If you do travel to Pakistan during high season, try to book accommodation ahead of time. Popular places along the Karakoram Highway, such as Hunza, are really popular with Pakistani tourists, and places can be full. Pakistan Traveller is a fantastic Pakistan travel guide that has a multitude of hotel recommendations for everywhere and anywhere you might want to travel in Pakistan.
Pakistan travel guide: Visas for Pakistan
Almost everyone needs a visa for Pakistan. It used to be a real pain in the butt to get a visa for Pakistan, but the recent e-visa introduction made things much easier. The e-visa form is still way too long and full of irrelevant questions, but at least it's a start in the right direction.
To find out if you're eligible for a Pakistani e-visa, go to the e-visa portal of Pakistan. It also mentions a visa on arrival scheme, but many have reported problems with it. It's better to apply for an e-visa.
How to apply for a Pakistan e-visa
Ensure you have JPEG files of:
Passport information page
Passport photo with a white background
Letter of invitation by a tour company or hotel booking confirmation. I work with a local company to offer cheap letters of invitation for Pakistan evisas. Don't miss out!
Step 1
Go to the Pakistan e-visa portal and register yourself. To do this, click the "Tourist Visa" button under "Visa Categories". It will lead you to the info page about tourist visas. If you click "Apply now", you'll be prompted to create a new account or log in to an existing account.
Step 2
Once registered you can start your application. Allow you have plenty of time, as it can easily take an hour or more to fill out all the questions. Many of them seem unnecessary (and probably are) but alas, you have to fill in the entire form.
Step 3
Once you've finished your application, it's time to pay. The visa costs US$35 for most nationalities. You can pay with Visa or MasterCard. I've heard reports of the payment not working all the time, so check you actually paid.
Step 4
After you've paid, click "Submit your Application". If you don't do this, the application will remain pending.
The e-visa portal states it takes 5-7 working days for a visa to be approved, but turnaround can be much faster. If you haven't heard anything after 7 working days, contact them directly via the e-visa portal. It's possible they need additional documentation from you.
Pakistan travel guide: Entering and exiting Pakistan
Pakistan shares a border with Afghanistan, China, India, and Iran. It also has multiple international airports. There are no international ferry services to or from Pakistan.
To enter Pakistan you need a valid visa, and you need to fill out an arrival form at customs. The arrival card asks the usual questions such as your name, address, name of the hotel you'll be staying in, etc.
Exiting Pakistan is straightforward, and no forms have to be filled out.
Land borders
Afghanistan: This border is at the famous Khyber Pass. Technically, this border is closed to foreigners, but there have been reports of people successfully crossing this border. However, we don't recommend using this border, as traveling overland in Afghanistan comes with considerable risk.
China: The land border with China at the Khunjerab Pass is the highest paved border crossing in the world. This border should be open year-round, but heavy snowfall in the area sometimes leads to closures. Check ahead if crossing this border during winter months. For more info, check out my guide on crossing the border between Pakistan and China at the Khunjerab Pass.
India: Many people believe that the Wagah border isn't open to foreigners. This is not true. Provided you have a visa, this is actually a pretty easy border to cross. For more info, check out my detailed guide on crossing the famous Wagah border between India and Pakistan. The Wagah border is the only border between India and Pakistan that is open to tourists.
Iran: There is only one border crossing open to tourists, and it's not the most relaxing experience. The crossing is located in the Baluchistan province of Pakistan, an area that the government deems too unsafe for independent travel. You'll get a security escort on the Pakistan side. For detailed info about this border crossing, check out my guide to crossing the border between Iran and Pakistan.
International airports
The main airports in Pakistan are in Islamabad, Lahore, and Karachi. Several major airlines fly into Pakistan, and more routes are being added regularly. These include routes to London, Dubai, Istanbul, and Kuala Lumpur.
Pakistan travel guide: Accommodation in Pakistan
Booking a place to sleep in Pakistan ahead of time can be challenging. Although websites and online booking are becomig more common in Pakistan, it's still not as widespread as in surrounding countries. Pakistanis usually call ahead to reserve rooms.
Finding hotels to stay at in less-visited places—especially ones that accept foreign guests—can be quite the challenge. That's where having a Pakistan travel guide in print can make a huge difference; all the information is already there. If you're open to carrying a Pakistan travel guide book with you, I can't recommend Pakistan Traveller by Urbanduniya enough.
Online booking in Pakistan
Booking.com and Airbnb are growing in Pakistan. The former is still mostly for mid-range to luxury hotels, and the latter works… sometimes. There are an unfortunate amount of creepy men on Airbnb offering rooms in their homes to female travelers only; beware and steer clear.
Facebook pages are increasingly common for mid-range accommodation options, and can be useful for contacting a property to ask questions or reserve a room.
How to find cheap guesthouses in Pakistan
Want to find a cheap place to rest your head? You'll need to rely on the traveler grapevine. Guidebooks are not very reliable for prices—Pakistan Traveller by Tim Blight being the only exception—and not all cheap hotels and guesthouses accept foreign travelers.
Facebook groups like Backpacking Pakistan and Female Pakistan travelers are your best bet for information on cheap places to stay. Use the search function to find accommodation discussions.
It's a bit of a hassle, but there's a plus side: you can haggle over accommodation price upon arrival. Don't feel bad about it, especially in touristic areas with inflated seasonal prices; Pakistanis expect it, and will take advantage of foreigners who do not haggle. If you can get 15-25% off of the quoted price—up to 50% if it's particularly inflated—you're doing well.
Some popular accommodation for backpackers in Pakistan you might want to be aware of include:
Homestays in Pakistan
Until recently, there weren't many homestay options in Pakistan, but that is changing. Check out my article on homestays in Pakistan to get all the latest info.
A special shoutout goes to Seema, a motivated Hunzai woman, who recently started a booking platform called Let's Home. She offers a variety of accommodation including homestays around Gilgit Baltistan. I used it to find a family in old Altit, and had a great experience.
Couchsurfing in Pakistan
The Couchsurfing community is highly active in Pakistan's cities, and local CSers are eager to host foreigners. Most of the CS community is male, but there are few female members in major cities and many men are trustworthy. Always read the host's references before agreeing to stay.
Since CS has become a paid service now, check out the Facebook group for CSers in Pakistan.
Being hosted in Pakistan
It's remarkably easy to be hosted once on the road.
Unbelievable until you're in Pakistan, but many people will simply offer you a place in their homes if you chat with them long enough. Their overwhelming hospitality is a privilege; make sure not to abuse their kindness. Don't overstay your welcome, help around the house (they won't accept at first), and bring small gifts from your country or tokens of appreciation like fruits or sweets.
Another bonus to being hosted: in Pakistan, family and friends are everywhere and it's normal to stay with them when visiting places. Your host will probably offer to find a friend for you to stay with in your next destination. Make one friend, and their whole social network opens up!
Pakistan travel guide: Transportation in Pakistan
Pakistan has a myriad of transport options. Train, bus, and minibus are most common for long-distance travel. For shorter distances use either rickshaws (south of Islamabad), taxis (Islamabad) or Jeeps (north of Islamabad).
Train
Pakistan has an extensive rail network. Trains are relatively comfortable, albeit a bit slow. Prices are reasonable unless you want AC class. It is advisable to book your ticket ahead of time, and with the help of a local.
Check the Pakistan Railway website for schedules and fares. The website is not the easiest to use, but it'll do. If you have a local friend with a credit card and phone number, they can book you a ticket online. Don't roget to read my guide on train travel in Pakistan before you do!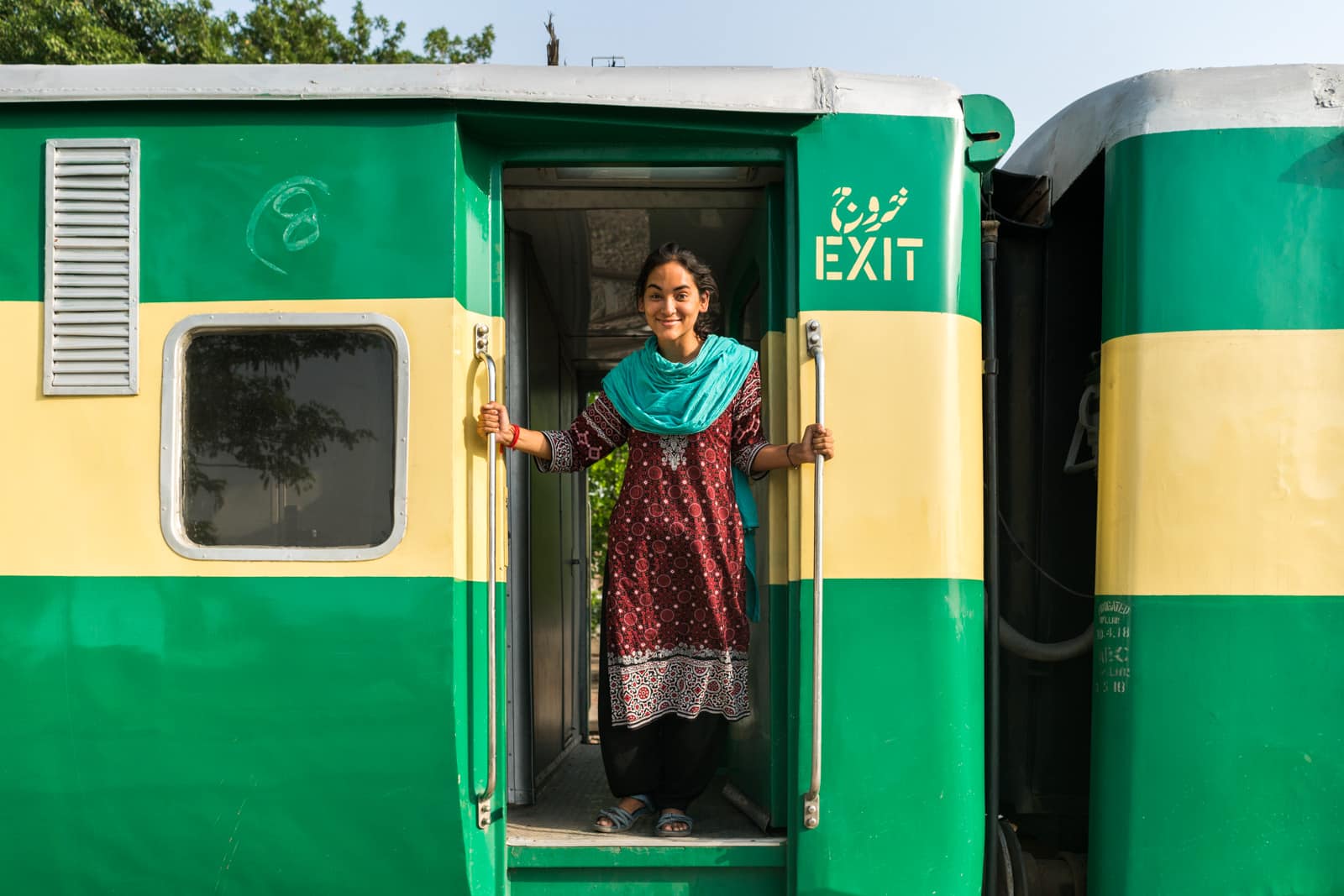 Buses and minibuses
Pakistan's multitude of bus options are sometimes overwhelming. But that's where this Pakistan travel guide can help you out!
From crappy minibus, to bedazzled local buses, to well-run Daewoo and Faisal Movers services, there are a lot of ways to get from A to B.
High-end bus services
When I'm in a rush and want to make sure I reach my destination on time, I prefer Faisal Movers, Daewoo, or for Gilgit-Baltistan, NATCO. These services are professional, leave on time and are very comfortable. Definitely worth the extra rupees.
Ticket prices depend on the type of bus. I've had luxurious buses with reclining seats and AC… and passable contraptions with no AC. Different buses go at different times. To get an idea of prices, a Daewoo from Lahore to Islamabad (Rawalpindi) goes for 1,000 to 1,500 Rs for the four-hour journey.
You can usually book tickets on the same day at the bus station or through your hotel. Note that Daewoo has its own stations, so make sure you go here and not to the local bus station.
Local buses and minibuses
Prices for local buses are much cheaper, but you'll be packed in like sardines in a can.
Minibuses are usually available for shorter hops between towns. Sometimes there's a minibus yard, sometimes they leave from a specific point on the road, and sometimes… nobody knows where they leave from! Ask locals to figure out where you can find a bus to your next destination, or wait on a roadside and try flagging down passing minibuses—they can stop anywhere.
Minibus prices should be set, but ticket hawkers are likely to try making some extra money off of you. A minibus shouldn't be much more than 200 Rs for a five-hour journey. Ask a fellow passenger what the price is, or watch to see what other people around you are paying.
Taxi
To save yourself some hassle, download the taxi app Careem, which most Pakistanis use to get taxis. Uber (now the owner of Careem) also operates in major Pakistani cities.
Both offer a variety of vehicles ranging from motorbikes to rickshaws to air-conditioned cars, and they're by far the easiest and most hassle-free way to get around cities.
Rickshaws and Qingqis
Rickshaws (with doors) and Qingqis (pronounced "ching-chee", totally open) have a somewhat bad reputation, but in my experience, they're the fastest way to get around in cities. There are no set prices, though, and sometimes you have to drive a hard bargain.
As a basic rule of thumb, for foreigners, the actual price is probably around 50-75% of what the rickshaw driver initially quotes you. Offer half of what he's saying, then bargain up from there. Alternatively, check the price of a rickshaw to your destination using the rideshare apps Uber and Careem—yes, they offer rickshaw rides, too—and use that as a bargaining point.
Don't be afraid to walk away if the price seems too high. There are thousands of rickshaws around; another rickshaw driver is sure to appear if you're not satisfied with the price.
Pricing is a bit tricky, but a 10-minute drive should cost about 150 Rs.
Jeep
Many places in the mountains, such as Fairy Meadows and Deosai, are only accessible by jeep. There are public transport jeeps for remote valleys like Chapursan and Shimshal, but in other areas you'll have to hire a private jeep.
Prices to popular places such as Fairy Meadows are fixed and non-negotiable, while others are more… flexible. It pays to wait around and see if you can share a jeep with other people going your way. Alternatively, you can post in the Backpacking Pakistan Facebook group to find someone to share a ride with.
A jeep to Fairy Meadows is 7,500 Rs, and a jeep to Deosai is 8-10,000 Rs for a day trip. Overnight trips are more expensive. Hotels can arrange jeeps for you, at a higher cost. Your best bet is to ask friendly locals what a decent rate should be.
Pakistan travel guide: Safety in Pakistan
One of the things people want to know before going: is Pakistan safe? A fair question!
For years, Pakistan was associated with violence. Terrorist groups were in power in many rural areas and terror attacks were common in cities.  Heck, even now many governments advise against travel to (parts of) Pakistan. There's no denying the country is still perceived as dangerous.
Although terrorist attacks still happen—and not all places in Pakistan are safe for travel—the security situation has largely improved. The Pakistani military has stabilized the security situation. Places that foreigners are likely to visit, such as the cities of Lahore and Islamabad or the mountains of Gilgit Baltistan are generally safe to travel, given you take standard precautions. The fact that you're reading through this Pakistan travel guide means you're already more prepared than others.
Legitimately dangerous areas are off-limits to foreign visitors, so the chance of something serious happening to you is slim. The biggest dangers of traveling in Pakistan are traffic-related, pollution, and getting sick from poor hygiene standards. Oh, and hospitality 😉
To be fair, there's a good chance you'll still feel uncomfortable at times with the current security situation. Pakistan is still a police state. There's a lot of heavily armed personnel on the streets, and many security checkpoints throughout the country. Sensitive sites such as shrines and religious minority gatherings will be filled with army/police/security. Don't let it intimidate you—these people are there for safety purposes.
To learn more about safe travel in Pakistan, check out my article on whether it's safe to travel in Pakistan.
Dealing with security in Pakistan 
When people ask me about the security situation in Pakistan, I usually respond with "Pakistan doesn't have a security problem, in Pakistan security is the problem."
Security agencies are a sore spot for many foreign travelers in Pakistan, though don't say so to any Pakistani.
To be fair, it's in the agencies' interests to keep foreign travelers out of trouble. If anything happens to a foreigner it will be all over the news and Pakistan's international image will sink further.
Agencies are overbearing with foreigners because of this. In my years of travel in Pakistan, I've had intelligence agency stalkers, confrontational encounters with police, mandatory armed guards. Police and army stopped me from going places saying I needed permission or an NOC (non objection certificate) but didn't say how to get one.
On the bright side, things have vastly improved in the last year. Gilgit Baltistan and the Chitral region almost entirely removed the need for NOCs and armed escorts in 2019.
However, you'll likely encounter issues if traveling to less-visited destinations, especially in southern Punjab and Sindh province. Common problematic places for travelers include:
Multan – Foreigners are often required to leave immediately if discovered by police. Can only stay if unnoticed residing at luxury hotels.
Bahawalpur – Foreigners are not allowed into army-occupied palaces, and can again only stay at expensive hotels.
Sukkur – Multiple travelers reported questioning and harassment by security agencies when visiting Sukkur.
Hopefully security won't be an issue for you, but if you must deal with security, be polite but firm. Ask them to show their identification first. Save phone numbers of Pakistanis you meet in the government or army; power and connections go a long way with security agencies. If what they're asking of you doesn't make sense, stand your ground.
Protip: Never insult the army. Most Pakistanis love the army. Despite their rather ominous not-so-secret control of the country, they did help stabilize it and don't ask for bribes like police do. Pakistanis will not take kindly to army insults.
Pakistan travel guide: Connectivity in Pakistan
Connectivity in Pakistan is hit-and-miss. Wifi is often bad—if present at all—and mobile signals can go down at any time for no reason. Signals are often blocked during large events that may pose a security threat. Cities have decent 4G coverage, but especially in the rural north, there are many places with no coverage at all. If you want to have the widest range of coverage, you'll need two or three different sim cards from several mobile operators.
Mobile SIM cards for calling and data in Pakistan
Overall, Zong and Telenor are your best bet in cities and rural areas. In northern Gilgit Baltistan, Zong and Telenor work in some areas, but it's a better idea to buy a SCOM SIM card instead. You can buy them at customer service centers in hubs such as Gilgit, Aliabad, and Karimabad.
Getting a SIM card can be an annoying process. Foreigners cannot buy SIM cards at any outlet—you have to go to an official "customer service center" of the mobile provider to get one. You must fill out a registration form to buy a SIM, so bring copies of your passport.
It usually takes 4-12 hours for your card to activate (24 for SCOM). Your SIM card will expire when your visa expires.
WiFi in Pakistan
WiFi in Pakistan is spotty at best. Upscale cafes will have Wifi that may or may not work, as will high-end hotels. Besides that, you're pretty much lost.
Rather than relying on WiFi networks, I usually buy a large mobile data pack (10GB, mmm blogger life) and use my mobile phone as a WiFi hotspot. If you're going to do that, buy a power bank so you don't have to worry about your phone running out of battery while you do so.
Pakistan travel guide: Being a responsible tourist in Pakistan
Pakistan encourages many bad habits; it's easy to forget to be a responsible tourist in the face of it all.
Nevertheless, we visitors have a responsibility to Pakistan and its people to leave a positive impact on the country, especially as tourism develops. Here are some suggestions for visiting Pakistan responsibly:
Always ask before taking someone's picture, especially women. Many women (and their male family) are sensitive about having their photo taken.
Don't take photos of children unless you have permission from their parents. Share sparingly. Pakistani photographers abuse this all the time; that doesn't make it right.
Keep places clean. If you find a plastic bag or have one to spare, use it to collect trash while walking in nature. Dispose of trash somewhere where it might be disposed of properly.
Hire local guides and drivers. Punjabis tend to dominate the tourism scene, but they are not locals outside of Punjab.
Support female-run businesses. Pakistan is far from gender equality, but many women in the country are trying to change that. Some totally female-run examples are Let's Home for accommodation, The Mad Hatters for organized tours, and A Piece Of Cake café in Lahore.
Other useful resources for planning Pakistan travel
Want more sweet Pakistan travel deliciousness? Below are several of my favorite posts to help you plan your trip to Pakistan. They're full of all kinds of things to know before going to Pakistan.
Pakistan tours I run
Best Pakistan travel guide book
Pakistan Traveller by Urbanduniya is hands down the best printed Pakistan travel guide on the market. I know; I helped him with the latest edition!
Pakistan travel guides on Lost With Purpose
Region-specific Pakistan travel guides
Epic Pakistan experiences
Need even more tips about travel in Pakistan? Ask them in the comments or get in touch.