Bhang, weed, cannabis, marijuana, pot, buds, grass. Whatever you call it, don't miss this guide to weed in India, with everything you need to know about buying and smoking weed in India. Because, you know, someone had to.
Disclaimer: Lost With Purpose does not condone dangerous drug use, nor breaking local laws. I do, however, find cannabis to be a marvelous plant.
Weed is everywhere in India… if you know where to look.
Whether it's babas puffing chillums on the roadside, smoky Shiva temples hidden away from the main drag, pungent wild cannabis growing in the mountains, or bhang lassis (legally) sold from grungy holes in the walls, weed is an integral part of India, try as the government does to deny it. It's no coincidence that the Hindu Kush mountains inspired the name of the popular strain!
Unfortunately, weed is also illegal in India, so there's not much open discussion about it. A lack of information leads to misunderstanding, bad deals, and occasionally danger when drugs are involved. Let's clear things up, shall we?
Below is a guide to weed in India, based on the experiences of… a friend.
Index: Stoner's guide to weed in India
Weed terminology in India
First off: if we're going to talk weed, you need to know your slang!
Baba: Slang for weed.
Bhang: The cannabis plant. Also the edible form of cannabis, usually made from Indica strains. Think bhang lassi.
Charras: Hashish, usually hand-rubbed in India.
Chillum: Conical, pipe-like device used for smoking. Preparing a chillum is quite the process!
Desi joint: Joint/spliff made using the body of a pre-rolled cigarette.
Rizlas: Rolling papers. Rizlas can be found throughout the country, though king sized papers aren't always easy to come by.
Roach: End of a joint, as well as the word to use when looking for filter papers for rolling.
Shiva: One of the major Hindu gods, often associated with cannabis. Followers of Shiva can imbibe cannabis legally, as it's considered a way of worshiping the god.
Stuff: Slang for weed.
Tola: 10 grams.
Also read: What it was like rolling with the stoners in Pakistan
Weed in India FAQ
Is weed legal in India?
Officially, no. All narcotics in India are illegal.
However, followers of the Hindu god Shiva believe smoking marijuana is a way of worshipping the god. In dear old Hindustan, that's pretty much all you need to justify smoking weed.
How's the weed in India?
If weed is what you're after… don't get too excited. Marijuana in India is generally of poor quality, especially when compared to weed in Canada, the United States, and the Netherlands.
However, hash is ubiquitous in India and can be quite potent. Forget weed for a bit (and forgive me for using weed as a blanket term), and prepare to switch to hash!
Where is the best place to go if I want to smoke weed in India?
Generally speaking, Himachal Pradesh is the place to be if you're looking to lose yourself in a cloud of smoke.
Himachal Pradesh is a mountainous state in northern India. Towering Himalayan mountains blanketed in green reach toward the sky, and snowy peaks are often visible, even in summer.
It's a dreamy state to be sure, but many tourists visit Himachal for another reason: the mountains of Himachal, specifically the Parvati Valley, produce the best charras in all of India. As a result, tourist destinations in Himachal Pradesh can feel a lot like Goa… but in the mountains.
Manali overflows with shops peddling smoking paraphernalia and hippie clothes, and its streets buzz with smokers—primarily Israelis bursting out the gates post-military service—on a quest to enjoy the higher side of India.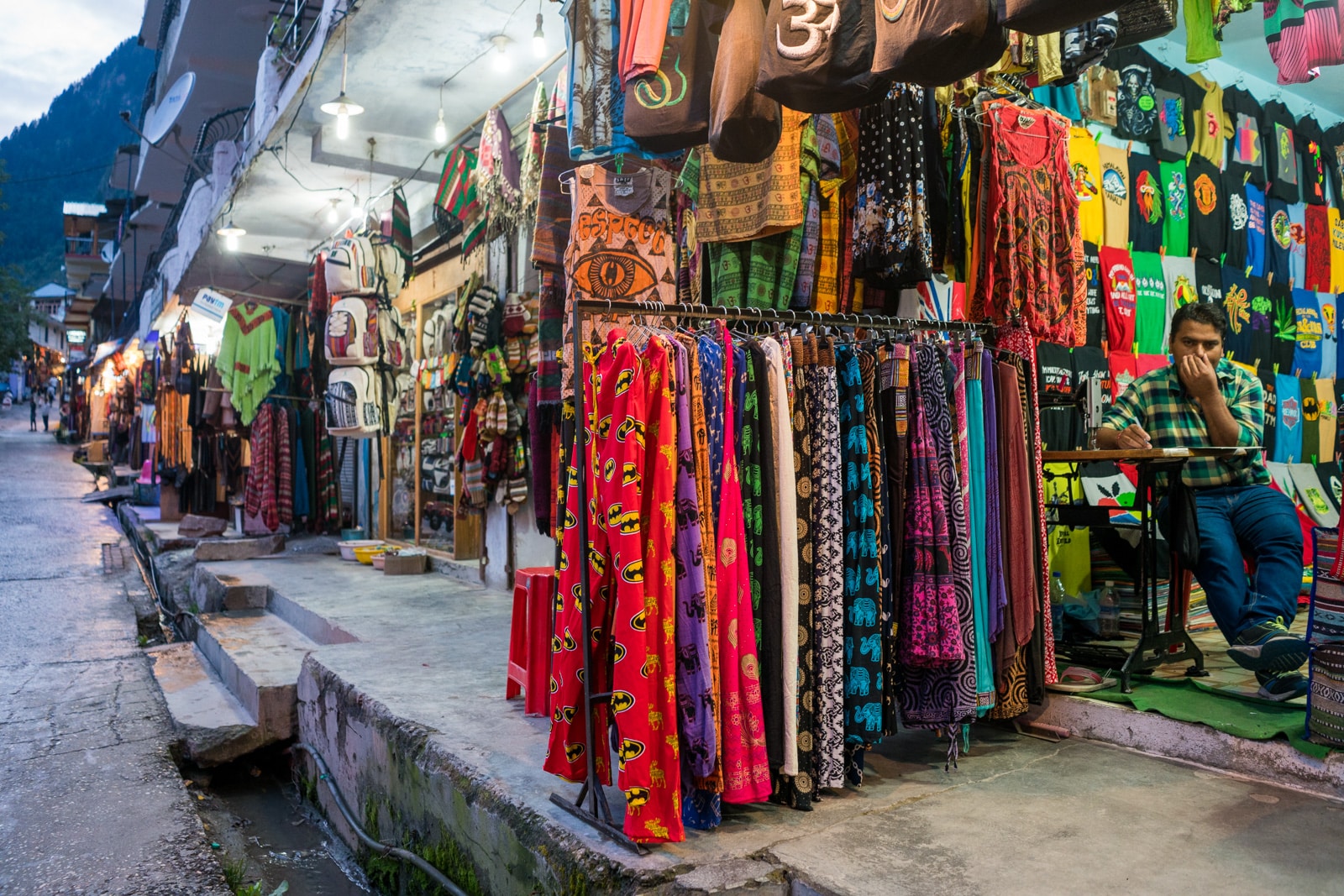 If Himachal sounds like a plan, head to Manali or the village of Kasol (dubbed "Little Israel") to start. There are a plethora of small villages you can trek to in the area, most of which produce hash and are happy to sell the fruits of their labor to tourists.
Malana, source of the infamous Malana cream hash, is the most famous of the villages. However, the people of Malana recently "decided" to ban tourists from the village.
Though it's a shame for those wanting to visit, I think it's understandable that the tiny village no longer wants hordes of blazed tourists roaming through its ways and influencing the younger generations.
Alternatively, if Himachal sounds a bit excessive, our friend found offbeat Manipur in Northeast India to have the best weed—yes, weed, not hash.
We've also heard that Kerala has the best weed in India—dubbed "Kerala gold"—but our friend couldn't find any while roaming through Kerala. Keralans, feel free to chime in here!
Also read: Smoky encounters in an ancient city in Afghanistan
Where are the best 420-friendly places to stay in India?
Though you can basically smoke up anywhere so long as you're subtle, some places are better than others… especially if you would like to meet people in the process.
Our friend suggested some 420-friendly places where you can kick back, light up, and make some friends. This list is by no means exhaustive, so feel free to share your own recommendations, too!
Himachal Pradesh
Old Manali
Bros Hostel: Great views, friendly hosts, and different rooms to choose from; this is a great place to smoke up and chill out. Book a bed at Bros Hostel now.
Red House Cafe: A secluded spot in an apple orchard… what more can you ask for? Chill vibe and lovely owners. Book a room at Red House Cafe now.
Orchard House: Another secluded option with a village-like atmosphere. A variety of rooms gives you something to choose from, and the views are amazing. Book a room at Orchard House now.
Kasol
Solo female travelers who want to visit Himachal should also check out this guide on solo female travel in Himachal Pradesh.
Goa
Anjuna
Arambol
Vagator
Palolem
Karnataka
Hampi
Rocky Guesthouse: Not necessarily the best place to smoke up, but Rocky is a champ who'll help you get the best out of your stay in Hampi 😉 Book your bed at Rocky Guesthouse now.
Chill Lounge: As the name suggests, this place has a chill lounge area and hammocks to boot. On the other side of the river, away from the bustle of Hampi town – Book a stay at Chill Lounge now.
Gokarna
Manipur
Imphal
How can I find weed in India?
It depends on where you are! Smokeables run rampant in some areas, while in others, you'll need a connection.
In very touristic places, if you're an obvious white foreign guy, the chance someone will offer you weed within a few minutes of walking around is pretty high. (Double that if you have dreads.) 
Women will be propositioned less—same goes for couples—but so long as you're obviously foreign, you're sure to have someone muttering about weed in your ear eventually.
Otherwise, you can ask people in hospitality—bar owners, waiters, hostel workers, etc.—where to score some weed. Police often check up on these establishments, so be subtle and tactful, but if you ask around nicely enough, they'll point you in the right direction.
If you're traveling off the beaten track in India, you'll have to make friends in high (pun) places. Don't be afraid to strike up conversations with people puffing away when you see them, and feel free to ask hinting questions about smoking if talking to younger people.
Asking around at small to mid-sized Shiva temples is another good starting point. Look for temples with men hanging around in the afternoons and evenings. There's usually someone lurking nearby who sells little packets of smokeables to Shiva "devotees".
If you're really struggling, taxi and rickshaw drivers can also be seen smoking from time to time. Find the right guy, and he'll likely be deeply amused by your request, and help you on your merry way.
Weirdly enough, Quora is also very useful for figuring out where smokers and dealers congregate. "Where to score weed in [city name]" is a very popular query. Wonder why?
Can women smoke weed in India?
Sure. Smoking, like virtually everything else in India, is predominantly a male pastime, but that doesn't mean you won't find 420-friendly women in India.
In the major metropolitan areas where equality is finding its footing, you'll find plenty of young ladies happy to toke in the right settings. Same goes for the beaches of Goa and Karnataka, where women both foreign and domestic congregate to relax a little.
However, when traveling in more remote areas, smoking anything as a woman will get you some stares. Never fear—stares should not be a deterrent—and many guys will be delighted to see that women smoke, too. Just be prepared to hang out with only men during your group seshes.
What is the punishment for smoking weed in India?
As a foreigner, you should be more worried about having to pay a hefty baksheesh to a police officer than actually going to jail. In general, most police encounters involving weed end in fines, not jail time.
Officially, however, the maximum punishment is six months of imprisonment and/or a 10,000 Rs fine for those caught with up to one kilo of weed/hash.
What should I do if someone catches me smoking weed in India?
Share?
Just kidding. Sort of.
If someone serious, such as a police officer, catches you smoking weed in India, do your best to defuse the situation on the spot. Be very, very polite, and mix in a little bit of ignorance. You're a dumb foreigner—you didn't know it wasn't allowed, and you'll never do it again!
Ultimately, you're likely going to have to pay. The best way to figure out how much the officer wants is to ask "what is the fine?" This way, you aren't explicitly offering a bribe, but you can cut to the chase gracefully. Foreigners have reported being asked to pay anywhere from a few hundred rupees to bribes in the thousands.
Whatever you do, avoid going to any kind of police station. Impress upon the officer that it's much easier to settle things on the spot. No police officer wants to do paperwork, but, fortunately or unfortunately, many police officers enjoy receiving bribes. Encouraging corruption is never a good thing, but it beats ending up in Indian jail.
Stoner packing list
If you've yet to jet off to India—or even pack your bags—there are some things you should toss in before you go if you're a picky smoker.
Rolling papers. They're hard to find outside of backpacker areas.
Filter tips. Same applies!
Glass pipe. If you prefer to smoke out of a small pipe on the road, bring your own. The quality of pipes on sale is limited at best.
Rolling tobacco. Cigarettes are more common, so if you prefer to have a stash of rolling tobacco, BYOT.
Tobacco alternatives. Given how common hash is, if you don't like rolling joints with tobacco, you'll want to bring along a little salad for mixing.
Grinder. The weedy is seedy, and picking the seeds out can be a right pain.
Common scams and hazards
India has a reputation for messing with foreign tourists, and that doesn't stop when it comes to weed. Here are some things you should be wary of when seeking out cannabis in India:
Police accosting you after you make a purchase. Sometimes, dealers are in cahoots with the police, and the police will wait until you've bought something before coming to catch you.
Dealers offering you the shittiest quality first. Dealers usually have several varieties of weed or hash, and they'll offer you the lowest quality first, insisting it's the best. Be firm, and ask for something better a couple of times.
Police officers going after foreign dealers. They're easier—and more profitable—to hassle than local dealers. Be cautious when buying anything from foreigners.
Dealers not selling real weed. If they're being shifty and trying to rush you into buying something without getting a good look at it, don't indulge them. Walk away, or insist on getting a better look.
Dealers lying about weight. A universal issue! Unless you bring a scale with you, you'll just have to learn to eyeball weights.
How much weed costs in India
Now for the important question: how much does weed cost in India?
With a country as big as India, it's hard to make any generalizations! But, of course, we know you're probably wondering about it, and there's no harm in asking.
For science, our friend tracked how much weed costs throughout India. Following are their findings.
Note: At the time of writing, USD$1 = 68 Rs.
How much weed costs in Arunachal Pradesh
Daporijo: 100 Rs for a little packet of weed, good for 3-4 joints.
Note: Weed is very much frowned upon in Arunachal Pradesh, and you should be careful about smoking it in certain areas. Drinking, on the other hand, is tax free in Arunachal 😉
How much weed costs in Assam
Guwahati: 100 Rs for 10 grams of decent, golden Bhutanese weed.
Majuli: 20 Rs for a massive bundle of weak wild weed.
How much weed costs in Bihar
Munger: 20 Rs for a small packet of passable weed without many seeds.
How much weed costs in Goa
Baga: 2100 Rs for a tola (10 grams) of very unpleasant and chemical hash. *Note that this was during the high Christmas season in Goa.
Arambol: 3000 Rs for a tola of good Manali hash.
How much weed costs in Himachal Pradesh
Manali: 1500 for a tola of homemade hash, 3000 Rs for a tola of ice or Manali Cream.
How much weed costs in Madhya Pradesh
Orchha: 200 – 400 Rs for a bag of reasonable weed. Our friend was told it's possible to get 50 KG for 2,000 Rs.
Khajuraho: 300 – 500 for a tola of reasonable weed.
Sanchi: Our friend was told that you can get one tola of weed for 100 Rs in nearby Vidisha. However, he was not able to ascertain the exact location. If you want to find out more, befriend the local smoker community that hangs out near the Mandir on monument hill, close to the stupa entrance.
How much weed costs in Karnataka
Hampi: 800 Rs for 10 grams of really unfortunate weed filled with seeds.
Gokarna: 800 Rs for 7-8 grams of even more unfortunate and brown weed.
How much weed costs in Kerala
250 Rs for a bundle with several joints' worth of decent weed.
How much weed costs in Manipur
Imphal: 50 Rs for an eighth of passable weed (perhaps 10 joints' worth?), 200 Rs for 10 grams of delightfully good weed.
How much weed costs in Meghalaya
Shillong: 100 – 150 Rs for a massive bunch of weak wild weed.
How much weed costs in Odisha
Puri: 80 – 120 Rs for a tola of weed from the government bhanga shop. 120 Rs quality is for tourists, and despite looking rather sad, is relatively strong for Indian weed. No limit on how much you can buy, and if you ask nicely, the shop also sells hash

(legal)

and opium

(not so legal)

.
How much weed costs in Rajasthan
Jaipur: 1500 – 2000 Rs for a tola of good hash, 200-300 Rs for a pack of mediocre weed
How much weed costs in Uttarakhand
Rishikesh: 2000 – 3000 Rs for a tola of decent hash
How much weed costs in Uttar Pradesh
Varanasi: 2500 Rs for a tola of decent hash, and 50 Rs for a medium strength bhang lassi.
How much weed costs in West Bengal
Kolkata: 500 Rs for 25 grams of golden Bhutanese weed (local deal), 300 Rs for a small packet of passable weed (tourist price), 1,100 Rs for a tola of reasonable hash.
A final note
So ends our guide to the greener side of India. Whatever you choose to do while traveling India, remember to watch out for yourself and others, and stay safe. Use your common sense, don't overdo it, and don't tempt fate by smoking in obvious places. Indian jail does not make for a good travel story.
Most importantly, don't forget that you're traveling to India to see the country and its people, not smoke weed in a hostel all day with other backpackers. Smoking is all well and grand, so long as you get out and see the world every once in a while. (Protip: smoking and wandering is a great pastime.)
Lecture over! Take care, stay out of trouble, and stay chill 😉
Yay transparency! There are affiliate links in this post. If you buy something using our links, we'll make a bit of change at no extra cost to you. It's how we cover the costs of running the blog! (And pay for my our friend's rolling papers.)