The crazy show and diversity of Christmas in Kolkata, India, plus a guide on how to get the most out of celebrating Christmas in Kolkata (Calcutta).
It's Christmas in Kolkata!
Every inch of the Anglo-Indian Barracks neighborhood of Kolkata is smothered in Christmas. Strands of lights weave a web above my head, and the appropriately red walls of the brick houses are lined with Christmas banners and décor.
Women in sparkling saris usher tiny children bundled in puffy winter clothes through the crowd. Girls in LED devil horns and bunny ears take duckface selfies in front of a three-meter tall Christmas tree. Dozens of people armed with massive cameras and lenses stalk the crowd on a photographic holiday hunt.
Jingle Bell Rock, Rockin' Around the Christmas Tree, an upbeat remix of Silent Night; the soundtrack blasting from the very tired speakers could rival any American shopping mall during the holiday season. I laugh along to the chorus of Feliz Navidad in disbelief as I watch a mother and son examine a street vendor's selection of plastic toys and masks.
Everyone told me Kolkata was the place to be for Christmas, and it turns out they were right.
Christmas in Kolkata is like no other
You see, when it comes to celebrations, Indians never disappoint. From dangerously explosive Diwali to boisterous multi-day weddings to the drunken debauchery of Holi, when a party is in order, Indians take the metaphorical bull by the horns and celebrate in style.
Christmas in Kolkata is no exception.
The holiday originated in a religious and more family-oriented form. Thanks to its history as the capital of the British Raj and concerted efforts by Christian missionaries—Mother Theresa being the most famous example—Kolkata is home to a notable Bengali Christian population. In 2011 there were around 40,000 Christians living in Kolkata, and many are quite active in their communities.
But that's not to say that Christmas in Kolkata is a predominantly Christian affair. In 2010, the chief minister of West Bengal state, Mamanta Bannerjee, decided to kick Christmas celebrations up a notch in the hopes of attracting more attention and tourism. Now, true to Indian form, people of all backgrounds in Kolkata gear up for Christmas. (It helps that street celebrations mirror the modern-day Christmas of films and television.) All are welcome to partake in—or profit from—the celebrations. And oh what a curious sight it makes.
A holiday melting pot
A distraught plastic Santa Claus towers over the carnival-like atmosphere of New Market, Spiderman curiously lurking on a tower behind him.
A Parsi woman haggles with a man over some hair accessories under the glow of neon strobe lights and the all-seeing looks of the two idols.
Amongst the clustered shops and halls of Hogg Market, an infinite line of people snake around the Jewish bakery Nahoum & Sons to buy Christmas fruitcakes for families and friends.
Roaming through the knickknack and party favors shops on Mirza Ghalib street, an explosion of glittering Christmas decorations overwhelm my retinas as Top 40 Christmas Hits lists besiege my eardrums. Looking into one of the shops, I notice an old man in kurta pyjama and prayer cap peddling tinsel garlands.
Everyone comes together to explore Park Street in the days around Christmas and New Year's. Girls in hijab cluster to take selfies in front of a wintry display, complete with fluffy fake snow and disproportional reindeer. Hindu families line up outside hip restaurants for their Christmas Day luncheon. Turbaned Sikh boys snap photos of each other in front of flashing light displays. Drivers of all religions and races honk their horns in frustration, equally stuck in Park Street's congestion underneath a flashing "CHRISTMAS" sign that, appropriately enough, often flashes just "HIT".
Here comes Santa Claus 
The Christmas craziness engulfs the whole city, but it's in the Barracks neighborhood that it comes to a crescendo.
A man announces into a microphone that Santa Claus is on his way! He shouts something about what direction he's coming from, but the speakers are too blown out, his microphone too shoddy to discern any kind of direction. Over the next few minutes, he continues to screech about Santa's approach, and eventually points me to the right side when he notices my baffled stare.
Not that I need directing anymore. Excited voices bubble up from one end of the narrow street, and the crowd surges to get a glimpse. Men in terrifyingly tiny Santa masks ride in on the back of a bicycle cart as grumpy men in elf-eared caps beat away the crowd to make space. The serial killer-like Santas toss sweets into the seething masses, creating yet more chaos as children dart under adults' feet to get at the sweets while a wave of amateur photographers crashes over them to get better shots of the Santas.
Brown hands wrapped in fur-lined red coats wave to the crowd as the masked Santas disembark from their sleigh substitute. Music blasts ever louder as they begin to spin and dance and rile up the crowd, to both the delight and dismay of onlookers.
Eventually, the grumpy elves start pushing and shoving their way through the sea of people, clearing a narrow line of approach for the Santas to climb up on a small stage and take photos with a bored-looking politician. The crowds follow, people clawing over each other to try and get closer for better selfies. I dip out, no longer open to being crushed for the sake of a snap with Santa, and retreat to the sidelines to watch things unfold with a grin on my face.
It is madness, it is chaos, it is Indian. Welcome to Christmas in Kolkata.
Quick guide to celebrating Christmas in Kolkata 
When is it?
Lights and decorations go up around December 15-18, and stay up for a week or two after New Year's Eve. There are Christmas events in the Barracks neighborhood mentioned in this story both on Christmas Eve and the day before. Park Street turns into a pedestrian street on Christmas Eve and Christmas Day. 
Best places to stay in Kolkata during Christmas
Beware, hotel prices rise and fill up fast in the Christmas and New Year's season! If you know you're going to be in Kolkata ahead of time, do your best to book ahead. I recommend the following places:
Budget: Modern Lodge is the most basic of basic, but also the cheapest option on Sudder Street at 200-350 Rs per night. If you're not ready for ghastly shared toilets and peeling rooms, Hotel Galaxy across the street is well kept and respectable at 700-950 Rs per night, though it fills fast. Neither do online reservations, but both do have working WiFi.
Mid-range: Hotel Cecil is a well-reviewed hotel in the center of the city, conveniently located next to a metro station to help you get around. Book a room at Hotel Cecil now.
Luxury: The Oberoi Grand is right in the thick of the action on Esplanade, and the nicest hotel in the city. Book a room at The Oberoi Grand now.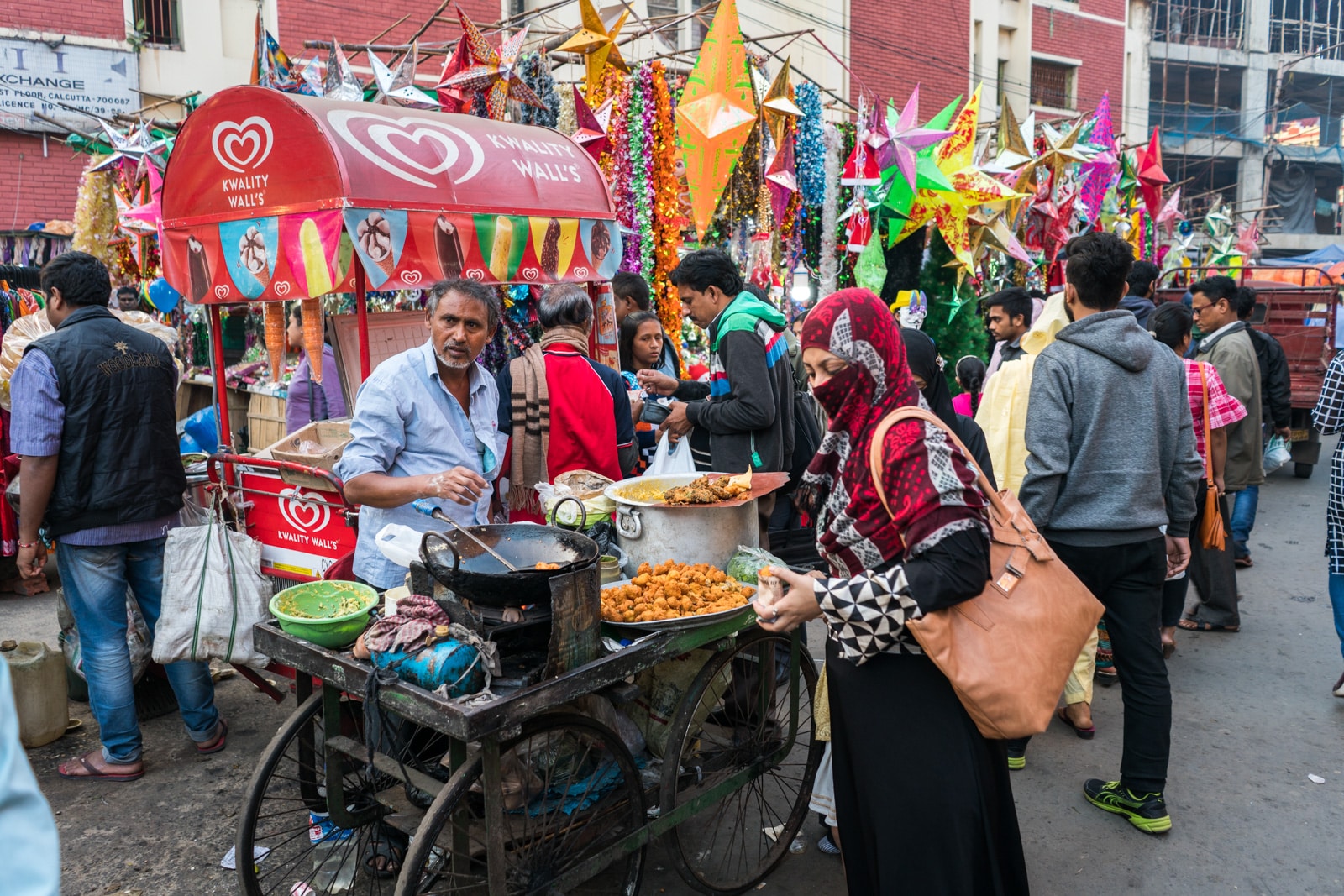 Where to eat in Kolkata on Christmas
Peter Cat and Mocambo reign supreme when it comes to a nice dinner out on Park Street, but beware: any and every place that has a good reputation will have a long wait on Christmas Eve and Christmas Day. Reserve if possible, or show up outside of normal eating hours (ex. around 11 AM) for a shorter wait.
For all kinds of sugary Christmas concoctions, head to Nahoum & Sons in New Market or Flurys on Park Street to stock up on all kinds of Christmas cakes and sweets.
Where to attend midnight mass in Kolkata
If you're in the mood to observe the more religious side of Christmas in Kolkata, there are plenty of midnight mass options for you. Check this list from What's Hot for advice on where to attend midnight mass.
Where to see Christmas in action
I spent most of my time wandering around New Market, Park Street, and Bow Barracks. The Park Street Christmas Carnival occurs on the days leading up to Christmas, and I'm sure there are plenty of other events to take part in. See the map below for locations:
Going out on Christmas
Something to note is that Christmas Eve turns into a debaucherous affair on Park Street later in the evening. Youth stock up on liquor, then head to the street to enjoy festivities… or stand in line for ages to get into packed dance clubs. If you want to partake and get in somewhere, bring a drink for the road and prepare to wait.
Need more Christmas inspiration for India? Don't miss my guide to Christmas in Goa!
Yay transparency! There are affiliate links in this post. If you book a room using my link, I'll make a bit of extra change at no extra cost to you, and we'll all have a holly jolly Christmas.