A photo essay and short stories about the streets and people of the Blue City of Jodhpur, Rajasthan, one of our favorite cities on India's tourist trail.
"Brahmin blue" Jodhpur lies within Rajasthan state, and is usually part of any Rajasthan holiday package. But unlike other touristic cities in the state, Jodhpur has a far chiller vibe.
A smile doesn't imply a sales pitch is coming. Locals are happy to sit and chat. Anyone that is trying to sell you something will not be offended—or aggressive—if you turn them down.
After wandering throughout offbeat places in India for so long, we were apprehensive about entering Rajasthan's tourist track. (Yes, we're pretentious sometimes. We're working on it.) But Jodhpur and its people quickly reminded us that you can't judge a book—or a city—by its cover.
Cow crossing
The golden hour settled upon Jodhpur, bathing its streets and curiosities in a warm blanket of sunlight.
I meandered slowly through its lanes, past houses and shops in alleyways punctuated with blue. Eye peering through my camera, I was happily oblivious to the chaos around me. Too oblivious.
"… WATCH OUT!"
A man leaned over the counter of his small drugstore, pointing at the cow I was just photographing… which was headed straight towards me, head down and horns out.
[bscolumns class="one_third one_third_first"]
[/bscolumns][bscolumns class="one_third"]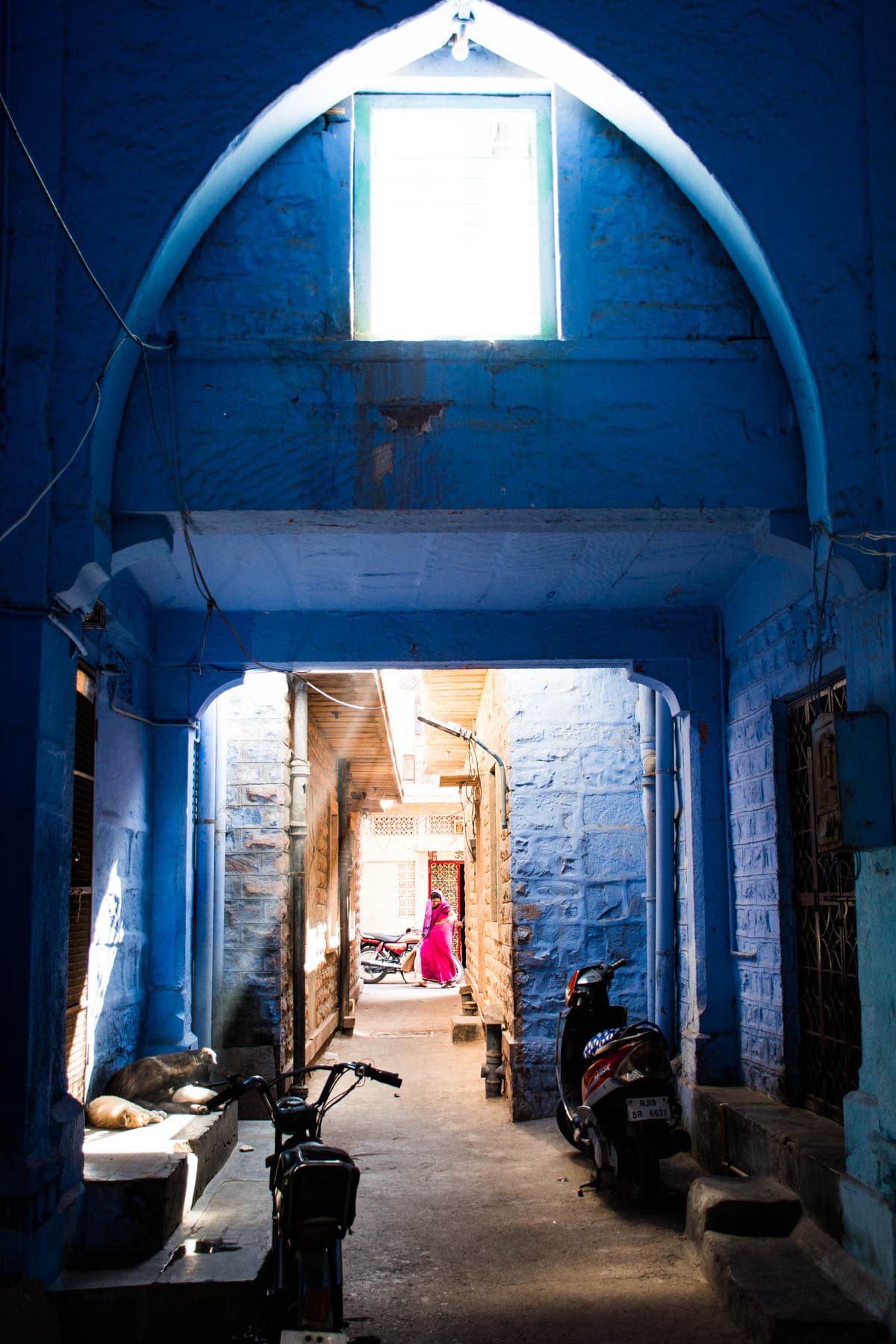 [/bscolumns][bscolumns class="one_third_last"]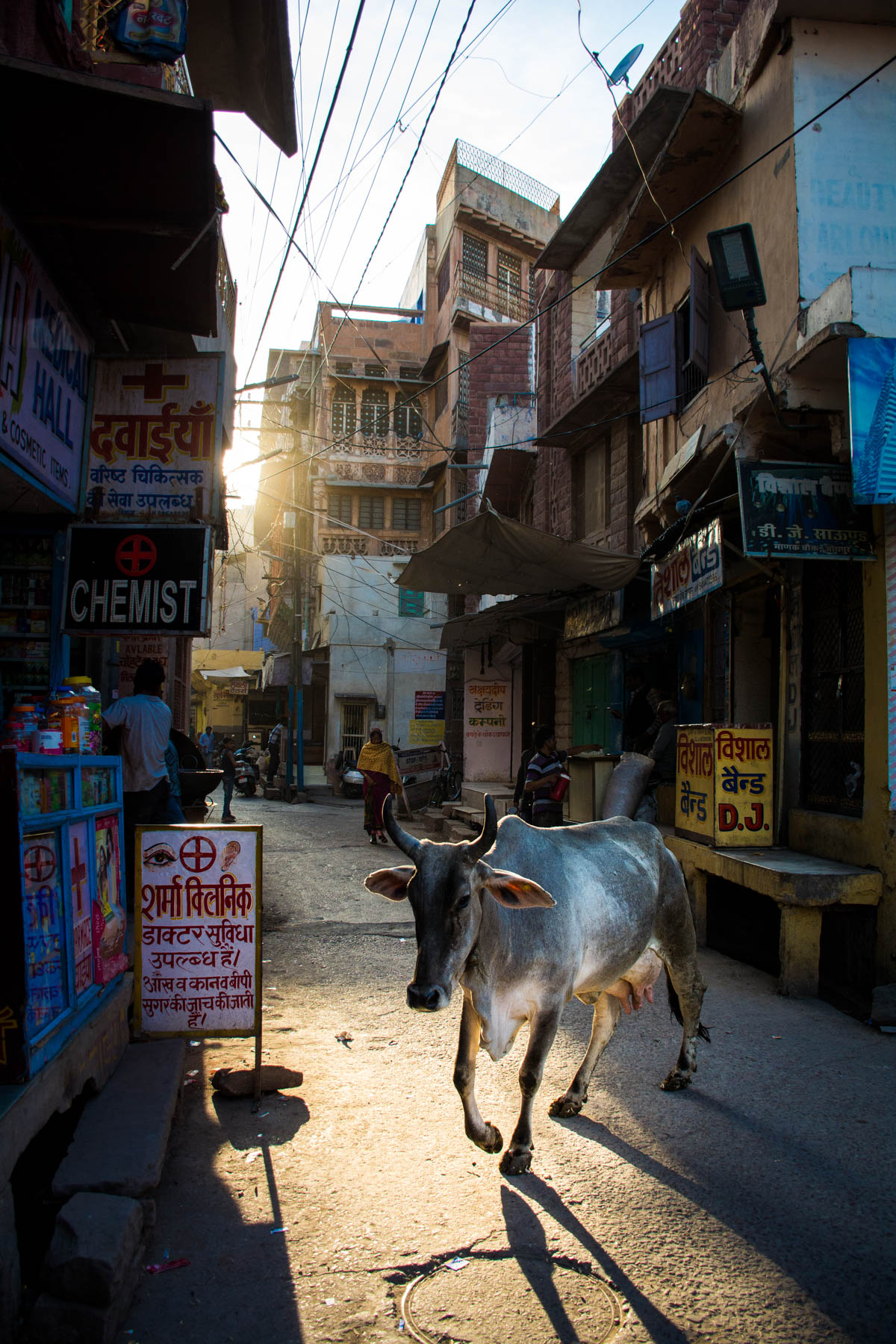 [/bscolumns][bscolumns class="clear"][/bscolumns]
I leaped out of the cow's way, onto the curb in front of his stall amidst his gales of laughter. Once he got his breath under control, still chuckling, he asked to see the photos I'd taken.
"Oh, that lighting is lovely! You must be into photography. I am, too!" He looks up, "I bet you want to find the blue houses to photograph, right?"
I nodded enthusiastically—despite Jodhpur's "Blue City" moniker, finding dense clusters of blue houses was proving harder than expected. He leaned over the counter, pointing down the way.
"Go down this street, then once it comes to a T, turn right and keep walking. You'll see them."
He smiled, waving goodbye as I thanked him and went on my merry way.
Through the window
Three pairs of peeping eyes glinted at me from a window far above my head. The oldest of the trio couldn't be older than ten, and none of them had any reservations to speak of.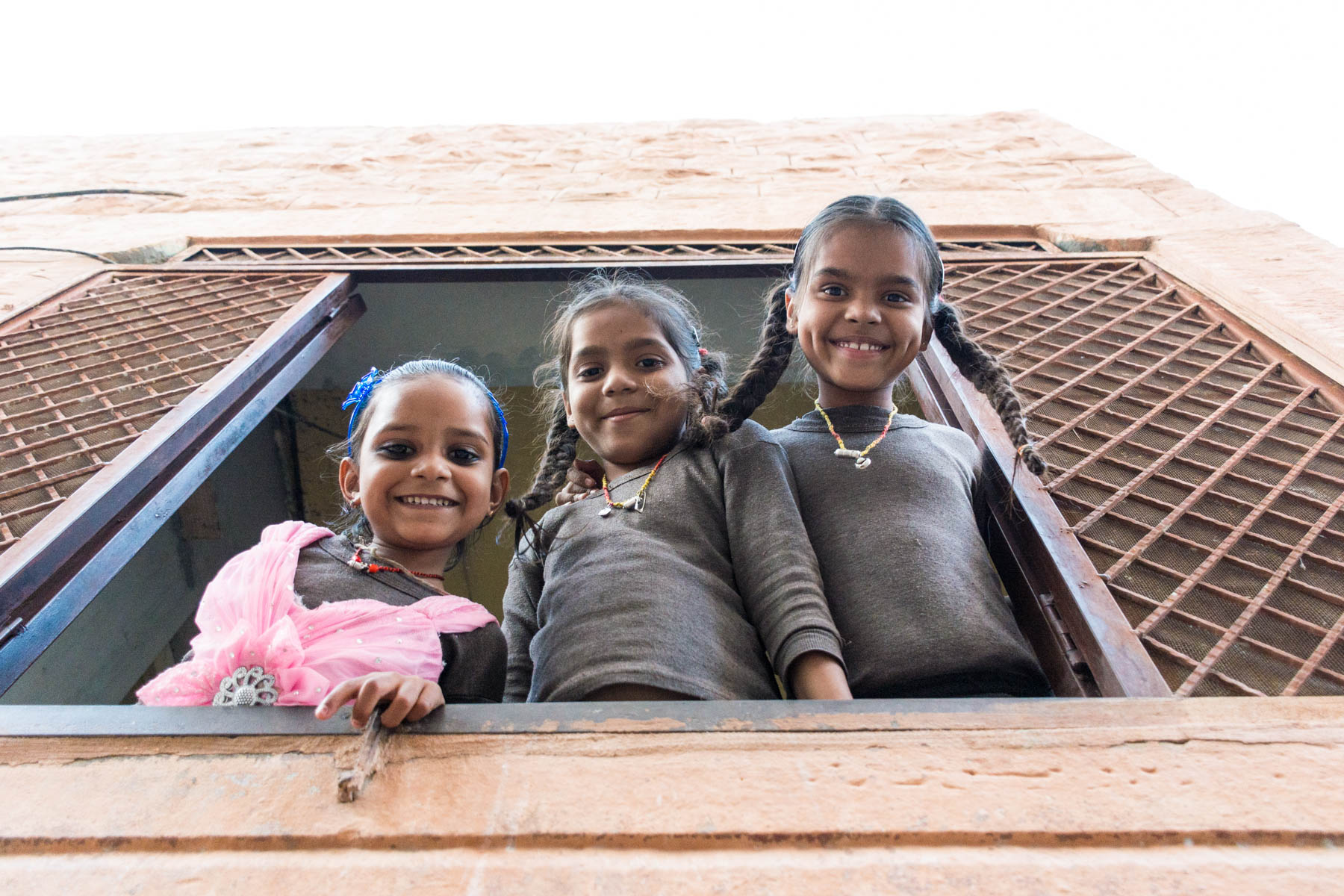 "Take our picture!" they giggled, heads hanging out the window. The moment I raised my camera, they'd pull back inside, their victorious cackles floating through the window's void as they bested me at their little game.
A woman sitting on a nearby stoop watched it all play out with a small smile on her face. As I extricated myself from the tormenting trio, she waved me over, insisting I sit next to her. We chatted for a while—Where are you from? Can I help you? Are you sure you're not Indian?—and she asks to see some of my photos.
Her smile widens as she peers at the girls' photos, then she shyly looks up at me. "Can you take my photo?" I nodded, and she excitedly calls her children out to pose in with her.
She looked at the final results thoughtfully, then smiled once more, satisfied.
Three men and a stoop
My eyes were down, focusing on not tripping on the uneven path. "Hey!" I looked up.
Three men were relaxing languidly on a stoop, watching me stroll by. The middle of the trio calls out again.
"Hello! How are you!" He points at my camera. "Take our picture!"
"Why?"
"Because I look good!"
With a shrug, I snapped a photo, then came over to show them. The ringleader guffawed at the sight of it, elbowing his comrades. He tried to encourage them to have individual photos taken, but they just rolled their eyes.
"They know I look better than them," the ringleader says with a grin. I respond that he's full of crap, eliciting another laugh.
"You are funny. Welcome to Jodhpur!"
Heading to Rajasthan? Don't miss out on camping in the Thar Dessert!
[bscolumns class="one_third one_third_first"]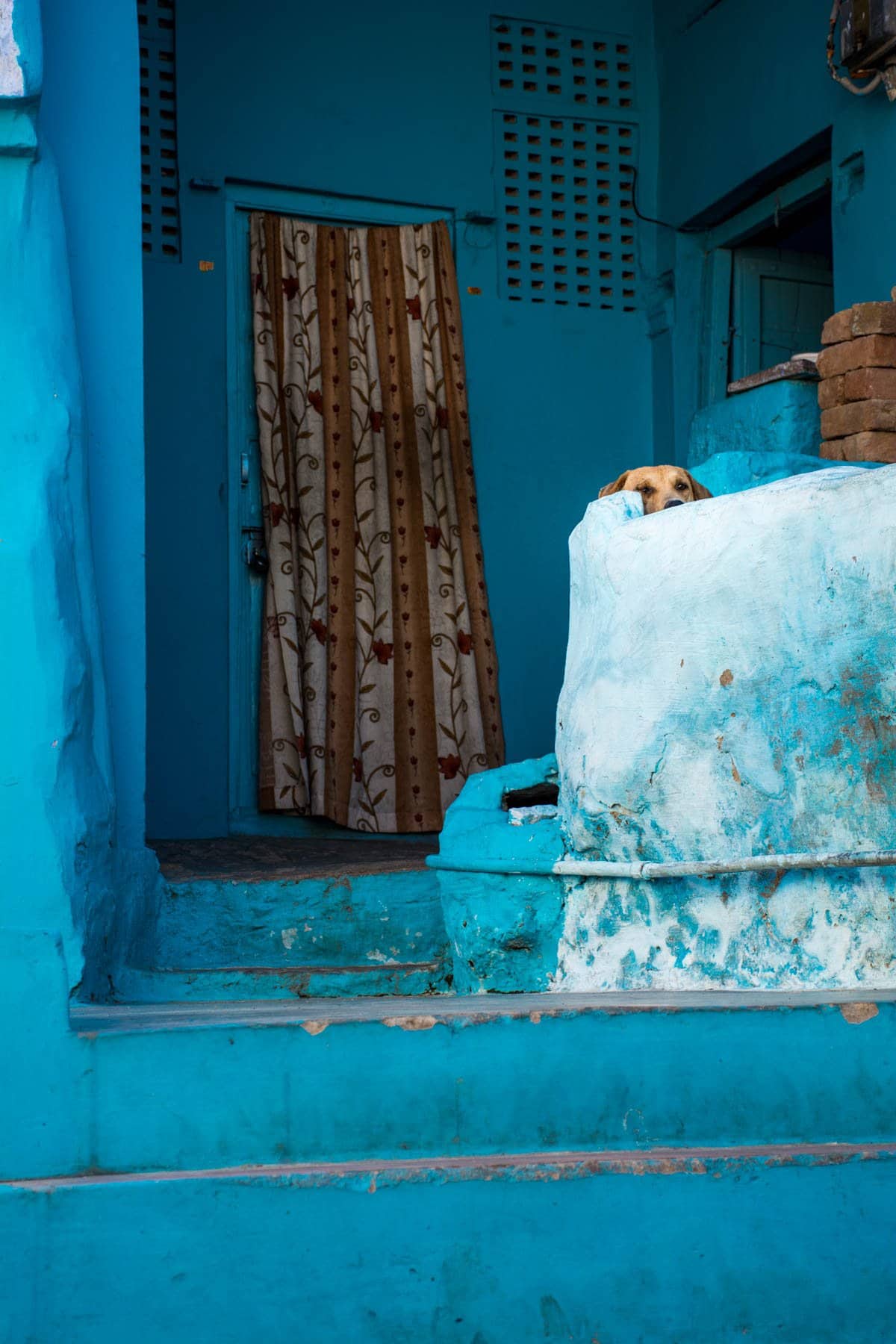 [/bscolumns][bscolumns class="one_third"]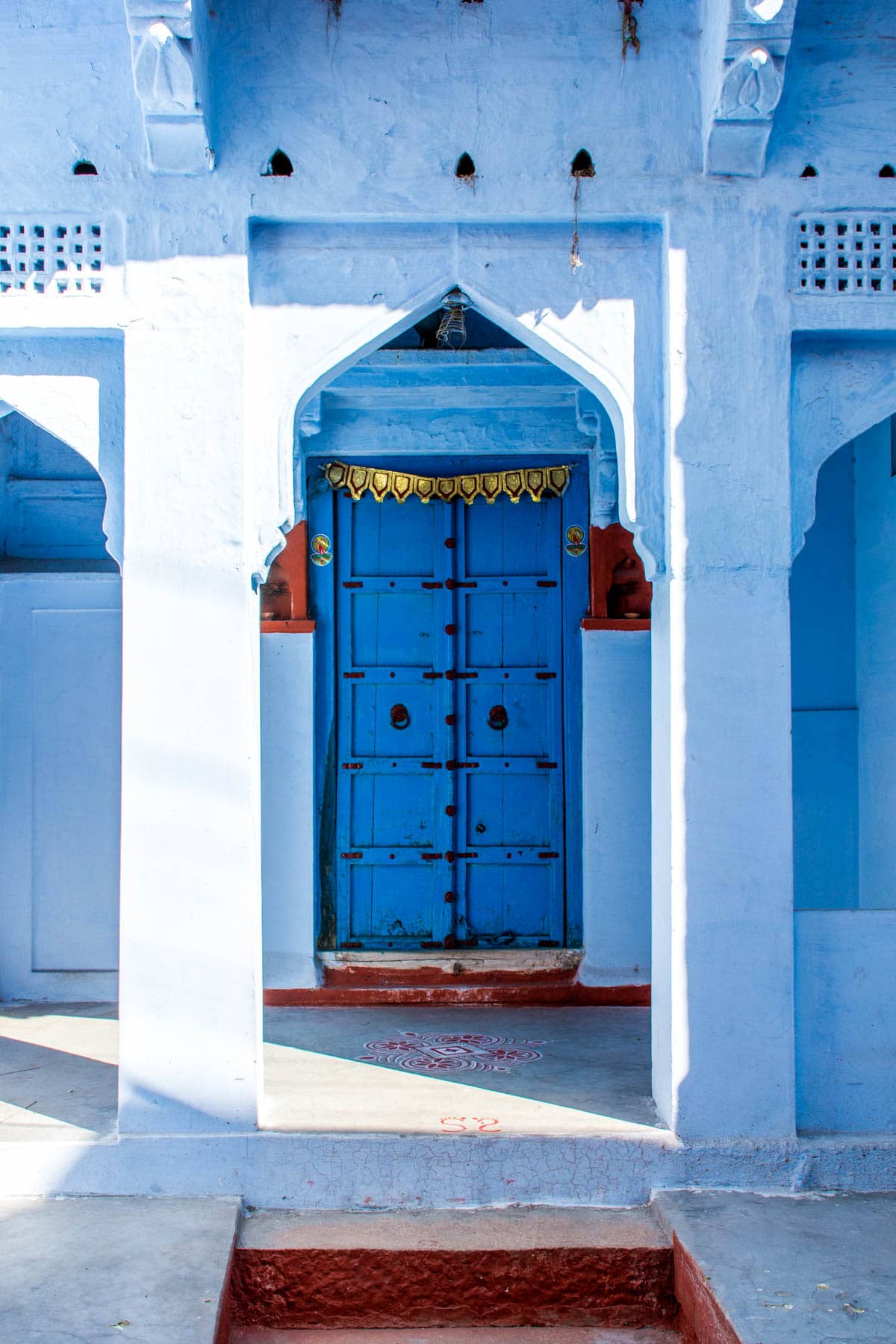 [/bscolumns][bscolumns class="one_third_last"]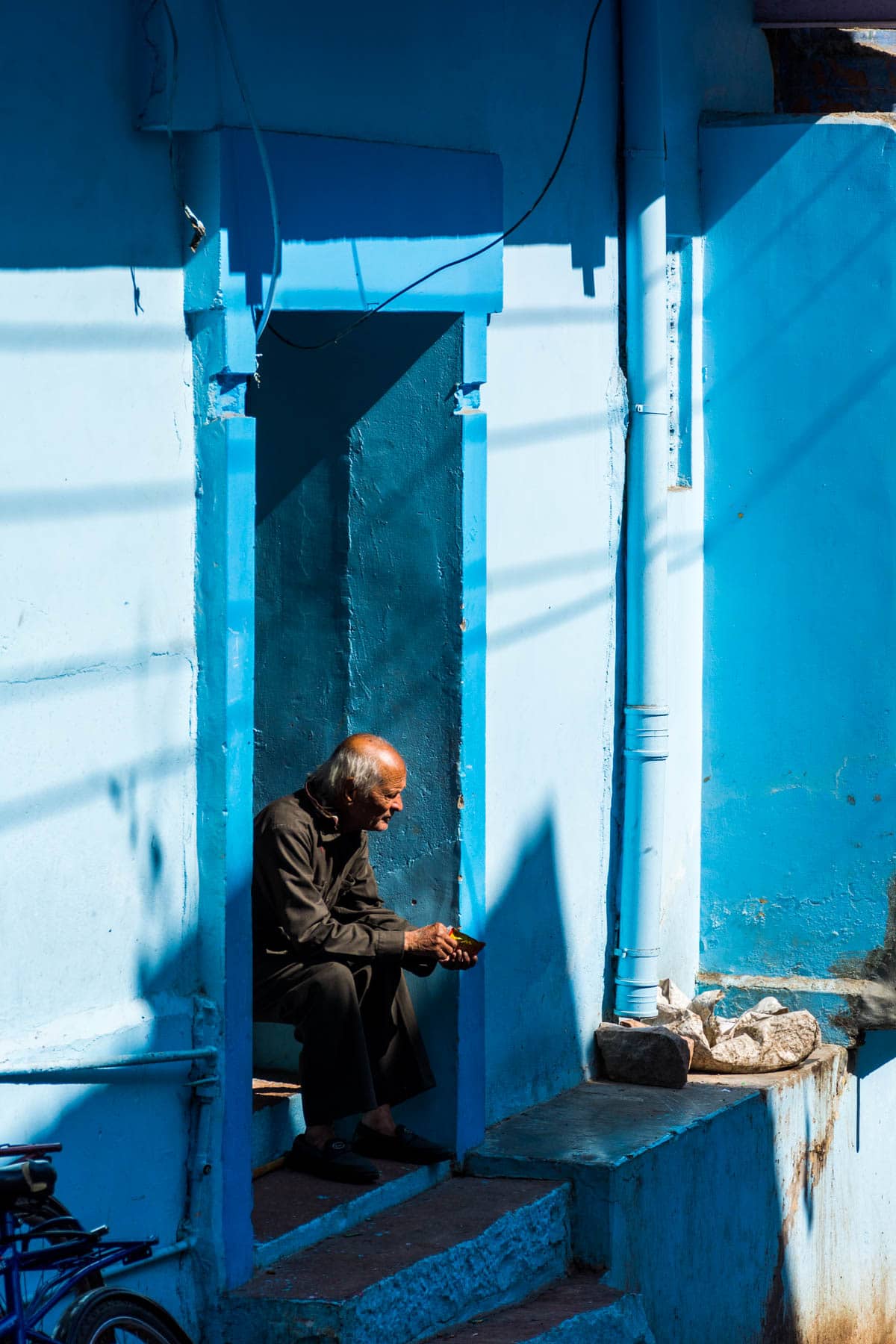 [/bscolumns][bscolumns class="clear"][/bscolumns]
Beedie biddies
I was hopelessly lost in Jodhpur's maze. Its streets criss-crossed every which way, their steep paths leading in no particular direction unless you already know where to go. The fort was my destination, but how to get there? Another story.
I paused for breath on the side of a street, taking a moment to look over the city below, when a woman called out to me.
"Come, sit!"
Behind me sat two women, sitting cross-legged outside the door to their home. Between them lay a round, shallow wicker plate, covered in materials for rolling beedies, a sort of Indian cigarette.
The younger of the two women dipped tobacco leaves in a bucket of water, moistening them, wringing out the water with her two forefingers, then handing the damp leaves over. The older woman's nimble fingers worked quickly, placing a small amount of tobacco in the middle of the leaf, then rolling it up and tying a neat bow of thin thread around the beedie before I could blink. Somehow, through all this, they managed to look at me while conversing, without making a single slip up.
"Where are you from?"
"USA."
"But you look like Indian!"
"My mother is from the Phillippines, that's why I look like this."
"Aaaaah," they cackled in understanding, "Phillippines! Yes, yes."
Snippets of conversation revealed more. They were a mother and daughter combo, and several of the daughter's children lurked in the house, occasionally peering out to catch a glimpse of me. I asked them about the beedies, and they said they could roll 200 a day. Wait, no—200 an hour. Looking at the old woman's hands at work, I bet it was even more.
"Phillippines, do you smoke?" the old woman asked, after a time.
"No, no smoking for me." (Not beedies, anyway.)
"Your boyfriend, he smoke?"
"No, not for him, either."
"But beedies are good! Here you take some anyway."
She presses a handful of them into my hand, to send me on my way to the fort.
"Gift for you, Philippines."
The mustachioed man
Yet again I found myself winding my way up the steep path to Merangarh fort for sunset, lured by its unbeatable views.
As I climbed onto a ledge for a better view over the trees, I heard a small, high voice peep behind me.
"Be careful, madam, don't fall!"
The source of the voice was a tiny man with a shockingly white mustache… and the most spectacular ear hair I'd ever seen.
As I turned to face him, his brow furrowed with confusion.
"Oh, sorry. You are Indian?"
"No, I'm from USA." His eyes widen in delight.
"Really? All the way from USA?"
He insisted that we pose for a selfie—with a real live American!—and shook my hand at least three times before wishing me a safe journey and drifting away.
Though Jodhpur is a sprawling city, I ran into him twice more during my city strolls.
The first time was late one evening. I was wandering the streets alone again, to his great disdain.
"Please madam, be careful. If you need anything, anything at all, take my phone number. I will find you help." He scrawled his number on a scrap of paper, and handed it over without demanding my own—always a good sign with Indian men.
The next day, Sebastiaan and I find him trailing happily behind a small parade of people. A portly man decorated with a surly look and several flower garlands led the way, followed by a group of boys with brass instruments. Their playing sounded more like a horn player being run over by a bus than actual music, but the parade-goers didn't seem particularly concerned.
The mustachioed man beamed when he saw me, and waved us over excitedly. The parade was celebrating the career of the surly man, he said, who'd just retired from the police force. As he explained it all to us, he suddenly stopped and blinked.
"Do you like food?" he asked. Well, duh. We nodded.
"Excellent! Come with us! There is a feast!"
I couldn't help but grin. Perhaps the tourist track wasn't so bad, after all.
[bscolumns class="one_third one_third_first"]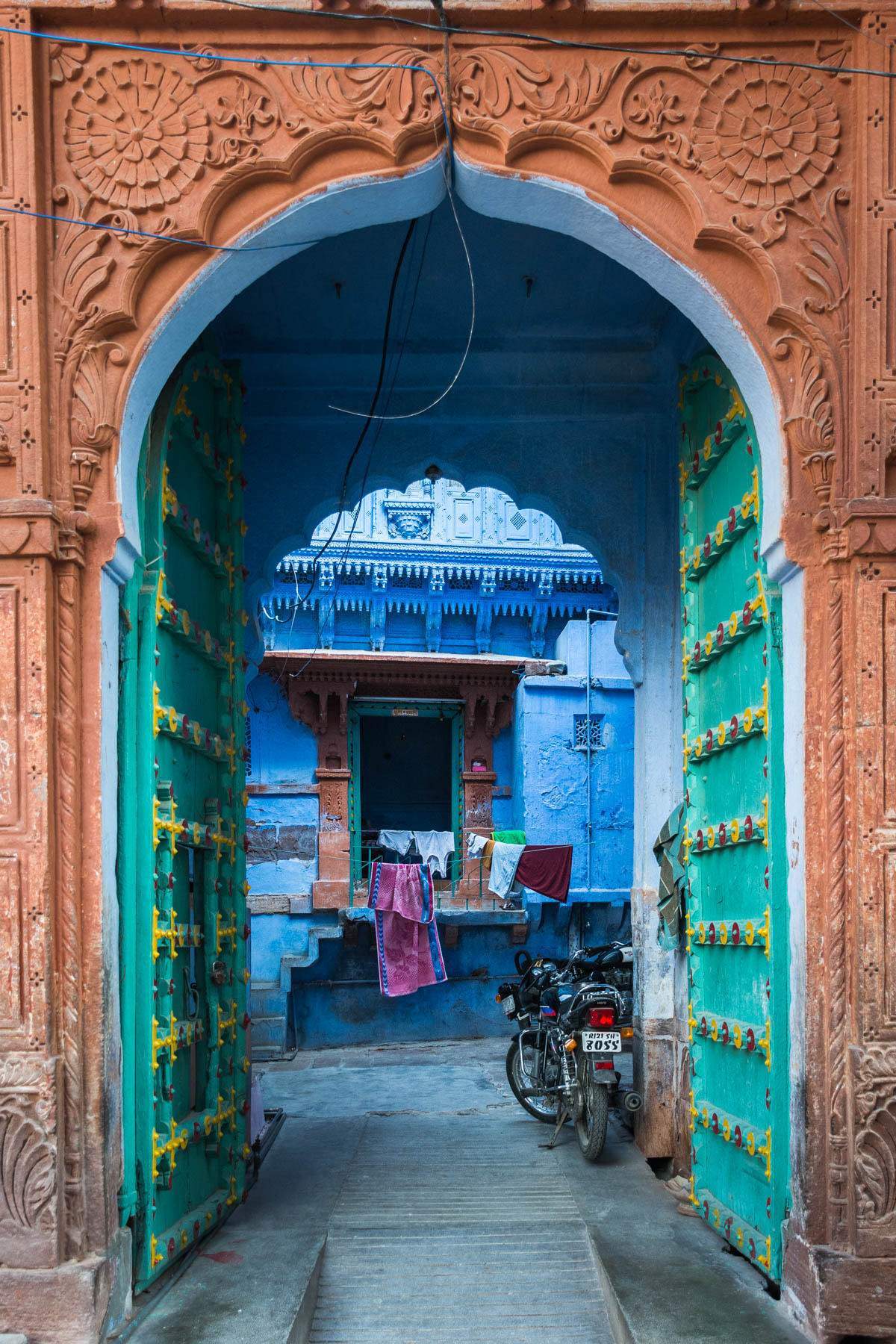 [/bscolumns][bscolumns class="one_third"]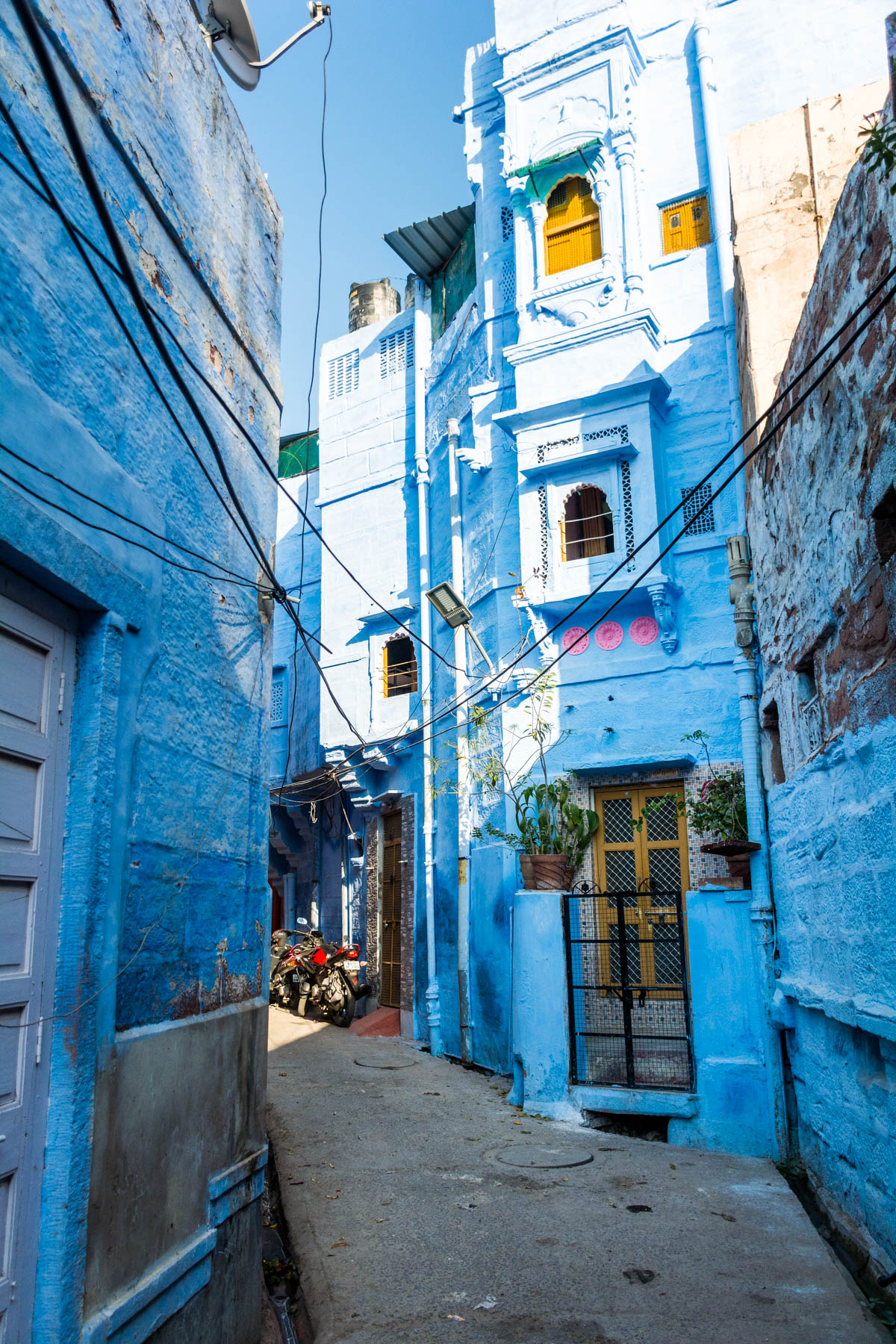 [/bscolumns][bscolumns class="one_third_last"]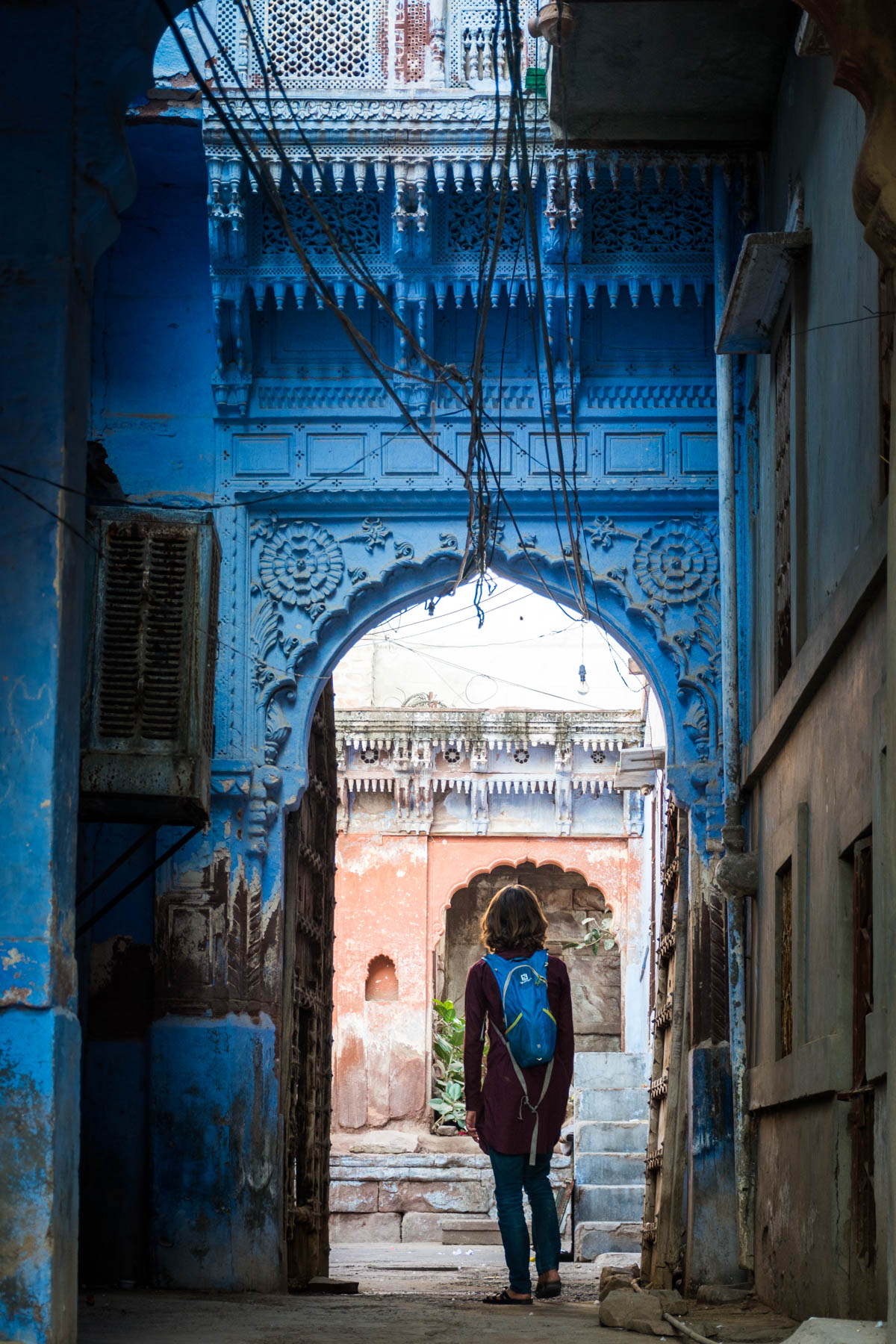 [/bscolumns][bscolumns class="clear"][/bscolumns]
Where to stay in Jodhpur
If you're dreaming of Jodhpur after checking these photos, make your dream a reality! Here are our recommendations for places to stay in Jodhpur:
Budget: Jewel Palace Haveli is a beautiful—and affordable—guest house in the "really" blue part of Jodhpur behind the fort. It's a bit removed from the tourist strip, but the neighborhood here is far prettier, in our opinion.
Mid-range: Suraj Haveli is a perfectly blue guest house in the heart of the old city, with super friendly hosts and great views. Breakfast is included.
Luxury: If you're pulling out all the stops, the Umaid Bhawan Palace is the way to go. It's one of the largest private residences in the world, sits in an absolutely stunning location overlooking the city, and is the perfect way to experience Rajasthan's palace culture up close and personal.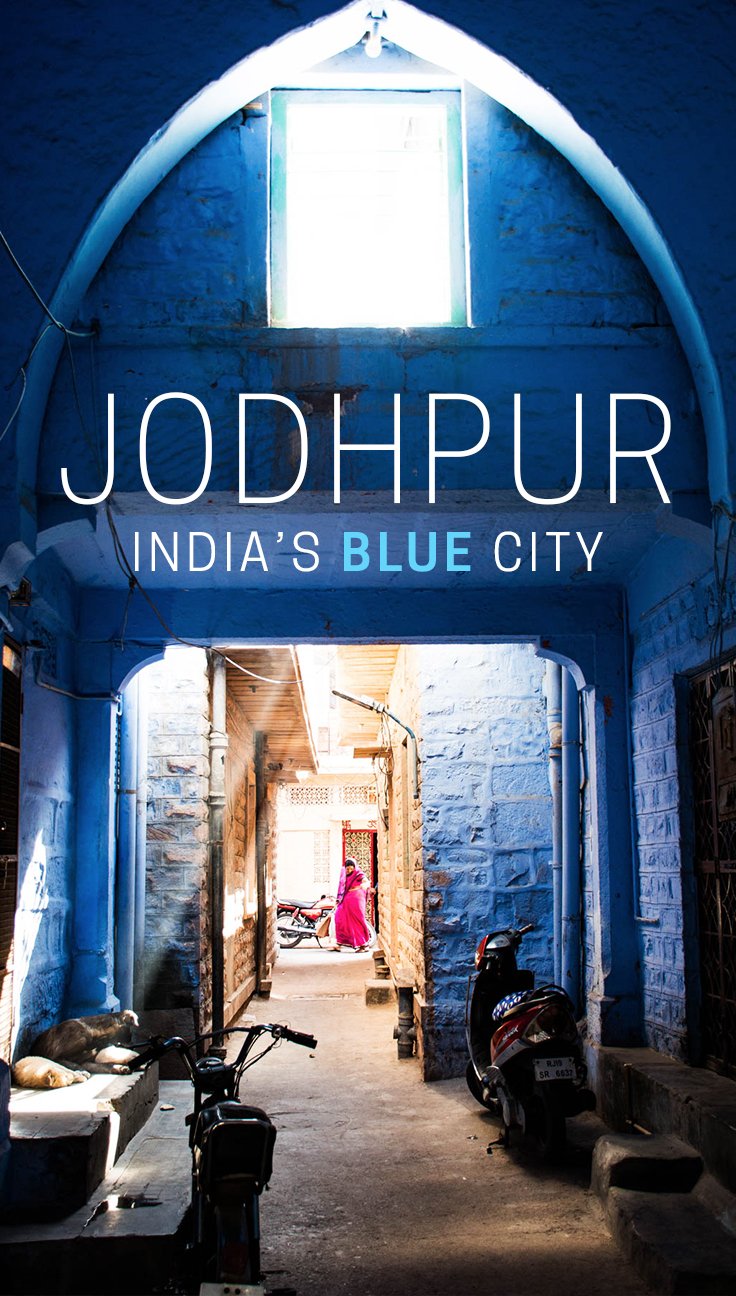 Yay transparency! There are affiliate links in this post. If you make a booking using our links, we'll make a bit of change at no extra cost to you. It's how we cover the costs of running the blog!