The Alleppey backwaters are a common stop on many a tourist trip through Kerala, India. Here's a guide on how to make the best of your trip to the Alleppey backwaters, including plenty of photos for inspiration.
Ah, Alleppey (… also known as Alappuzha). Its winding waterways, lush paddy fields, and palm-shaded streets are a sight to behold… and it's no secret! Cruising the Alleppey backwaters is one of the most popular ways to explore Kerala, a southern state in India.
Taking a tour of the Alleppey backwaters in Kerala
The most common way to see Alleppey's backwaters and enjoy the natural beauty is to hire a boat, of course!
A typical boat tour lasts one to four hours, sometimes more. A motorboat trip around the Alleppey backwaters and to several small stops can cost anywhere from 1,200 Rs (about $18) for a few hours to 2000 to 3000 Rs ($30 – $45), depending on the season. If you want to really live it up, you can even stay on a grand Alleppey Boat House with all the luxury that upmarket India entails (and that's a lot).
If you want to book a tour, there are several ways to go about it. You can book a tour online, at a travel agency in Alleppey, through your hostel or hotel, or by haggling with one of the many boatmen lounging around Alleppey. I recommend booking online or through a travel agency rather than through a hotel, as it's a good responsible tourism practice to distribute your business when traveling. You can also book your backwater adventure online.
When you book online or with a tour agency, make sure to use only reputable agencies, preferably ones that are recommended to you by other travelers. As in other places in India, not all agencies are entirely honest about the quality of their boats. Be particularly discerning if you want to book a multi-day houseboat tour.
To avoid disappointment, it's best to inspect any boat before making a final agreement. If you want to book ahead, make sure to go with a company that has good reviews.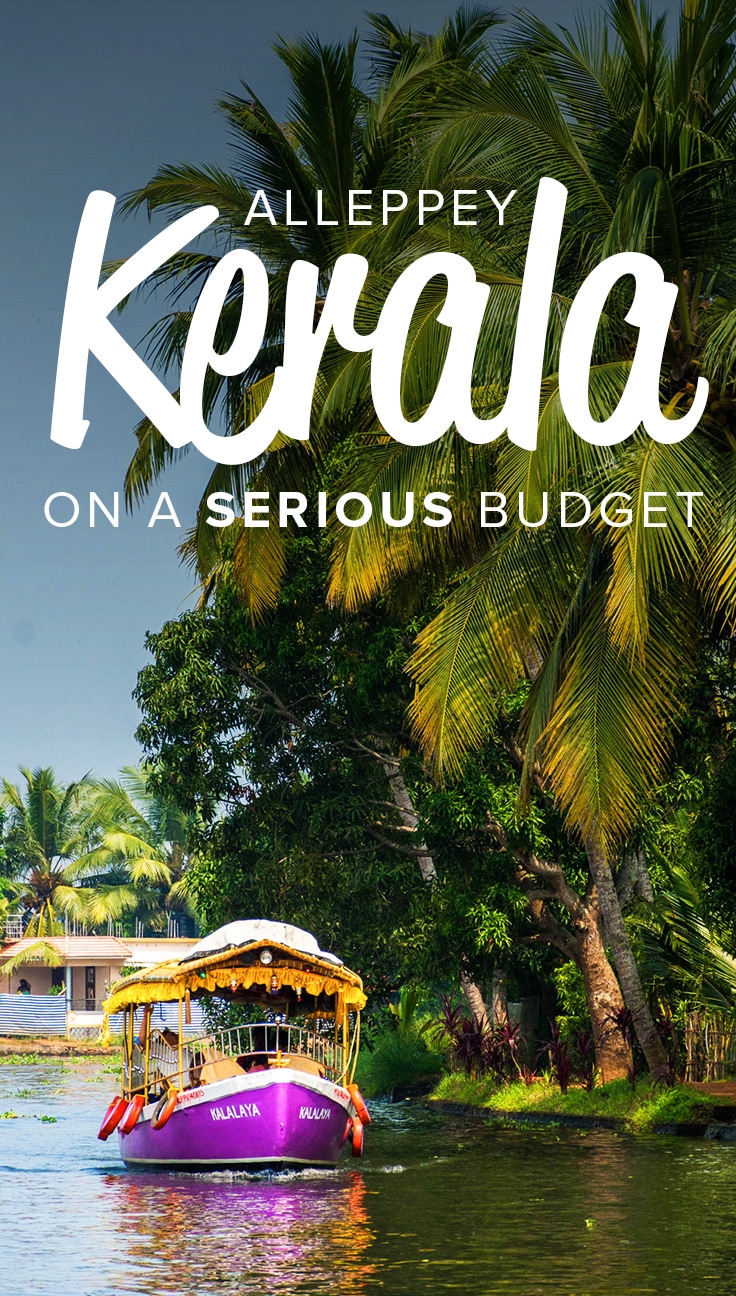 The cheapest way to see the Alleppey backwaters in Kerala, India
Tours are all well and good for groups—or those with deeper pockets—but what about backpackers and budget travelers?
If you're not interested in going on a tour of the Alleppey backwaters and aren't too bothered about staying on a houseboat, there's a super cheap way for you to boat on the Kerala backwaters: the local ferry system.
The region has an extensive network of ferries that carry residents up and down the rivers and canals throughout the day. This network stretches all over the Kerala backwaters.
Given Alleppey's problem with pollution from the tourism surge, mass transit is a great option to see the backwaters in a responsible way… and it won't break the bank, either.
If you want to play local, be a bit more sustainable, or just save yourself boatloads (PUN!) of money, this is the way to go.
Looking for more things to do in Kerala? Check out this article on places to visit in Kerala!
Where do the ferries around Alleppey go?
You can find a ferry schedule on the Kerala government's State Water Transport Department (SWTD) website. Basically, boats go to and from the ferry jetties in Alleppey until about 21:30.
There are several locations serviced by regular ferries all day: Nedumudy, Kottayam, and Krishnapuram. These are your best bets. You can be assured there will be a boat back to Alleppey as long as you don't leave too late in the day.
I took the route to Kottayam, which goes over the lake and ends halfway up a waterway to the town next to a school. The ride took 2 hours in one direction, and a ticket was 33 Rs. ($0.50) per person round-trip. The ending point was definitely middle of nowhere status; if you want to get to Kottayam town, you'll need to hire an auto from the jetty when you arrive.
The route to Nedumudy goes through more winding waterways, which should be more scenic. It's a bit closer to Alleppey than Kottayam, so it's a shorter route, but potentially more lush and scenic.
Krishnapuram is a long ways away from Alleppey—about 8 hours. I recommend bringing your bags with you and staying there if you take this route.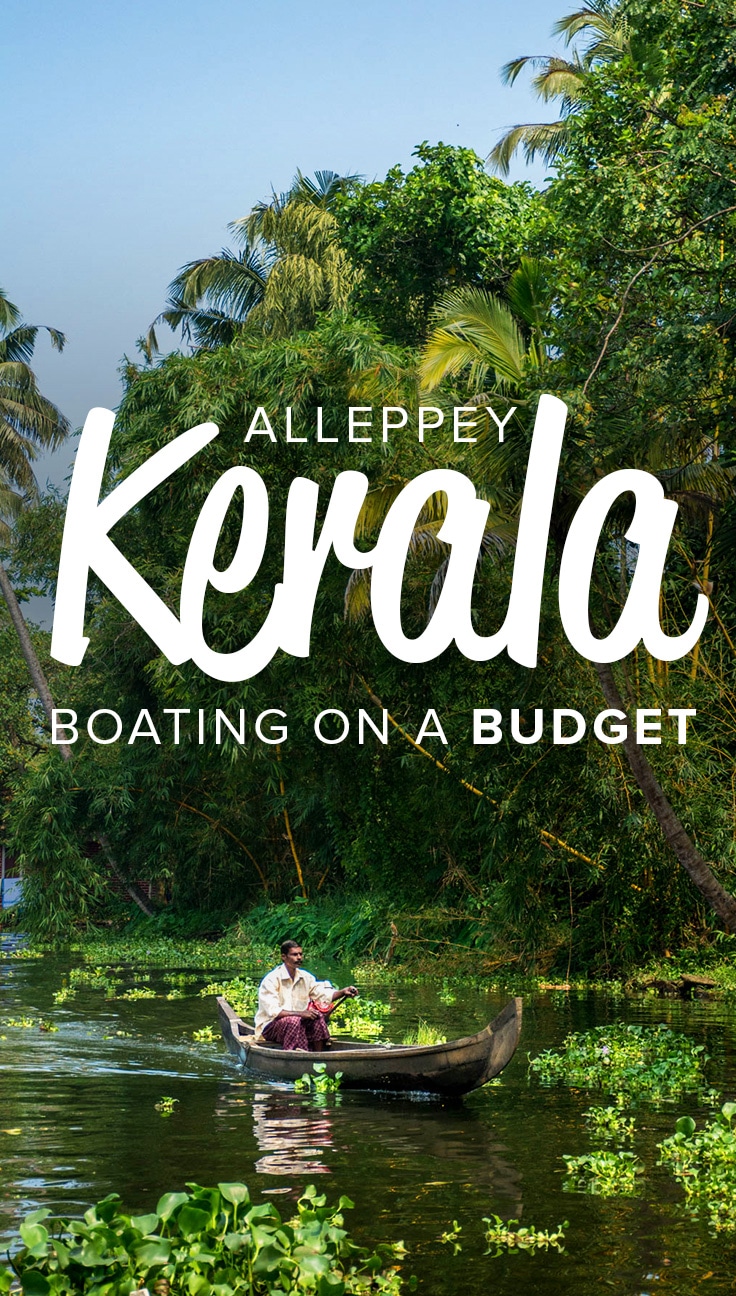 Where (and how) to catch the ferry from Alleppey
To find the Alleppey (Alappuzha) boat jetties, check out the map above, or just hang around on one of the small boat jetties on the main canal through Alleppey. The ferries stop at any jetty so long as you wave them down. Make sure to ask where the ferry is going before getting on. Locals will be happy to point you onto the right boat.
The same goes for getting off the ferry. Jump off wherever you'd like (even into the water, if you so choose), all you need to do is point to where you want to get off.
Food and drinks on the Kerala backwaters

Bringing water and snacks is always a good idea for long trips. However, if you're looking for a bite while on the water, there are a decent number of tiny restaurants situated near boat jetties along the waterways.
Just point one out to the boat hands and tell them you want to get off there. You'll have to wait for a new ferry to continue on in your journey, but there are plenty of boats running up and down the main waterways. 
Where to stay in Alleppey, India
It's wise to book ahead in high season (December-January), as Alleppey is super popular with local and foreign tourists alike. Kerala is one of India's hottest destinations, after all!
Below you can find several recommendations for places to stay in Alleppey:
For more options in Alleppey, check out Booking.com.
And that's all I've got on visiting the backwaters of Alleppey on a budget. Have more questions? Ask them in the comments!
In Kerala? Don't miss experiencing a Theyyam ritual in northern Kerala!
Yay transparency! There are affiliate links in this post. If you book something with one of my links, I'll make a small commission at no extra cost to you.