A guide to watching Theyyam in Kerala. This article includes background information on the Theyyam ritual, the different types of Theyyam, and where you can see Theyyam in Kerala. For practical information on where and when you can see Theyyam, scroll to the bottom of the page.
It's 4 AM, and the sky is still black.
Despite the hour, a crowd has gathered. Onlookers hold their breath, tense and expectant.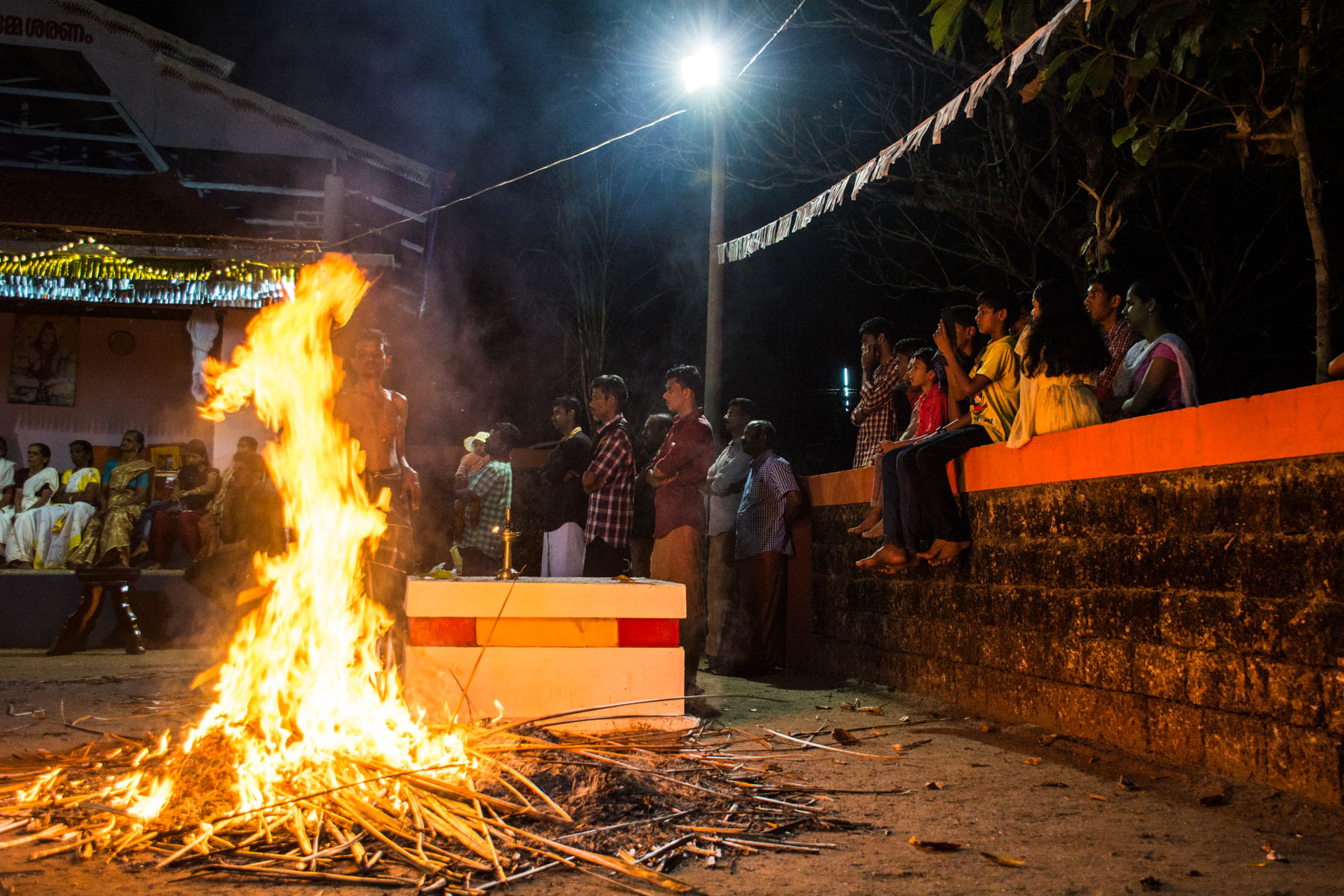 Young and old alike cluster around a small, sandy ring. Frenzied drummers begin beating a tattoo in perfect synchronicity. Young priests light palm frond torches, swishing embers off into the air. Older priests in crisp white lungi, south Indian sarongs, stand in front of a small temple, staring sternly.
Suddenly, the collective breath is released, and a sense of awe fills the void.
The god has arrived. The Theyyam can begin.
What is Theyyam?
"What is Theyyam?" is a question with a thousand answers. There are more than 400 different kinds of Theyyam in Kerala, India's southernmost state.
In simplest terms, Theyyam is a ritual art form so ancient it predates Hinduism (500 BCE), though it has since adapted to include Hindu elements. It's believed to be thousands of years old, from a time when tribal animism was the most common form of worship. These roots are still evident: trees, plants, and animals are worshipped alongside Hindu gods in Theyyam rituals. Some rituals involve blood sacrifices.
Music is also an important part of a Theyyam ritual. Traditional instruments such as the Chenda, Elathalam, Kurumkuzal, and Veekkuchenda are used during the performance.
During Theyyam season, small temples and shrines across the northern regions of Kerala host hundreds of Theyyam performances. Today, at this ungodly hour, we're watching a ritual at Neeliyar Bhagavathi temple near the town of Kannur. On the schedule: Kutty Theyyam.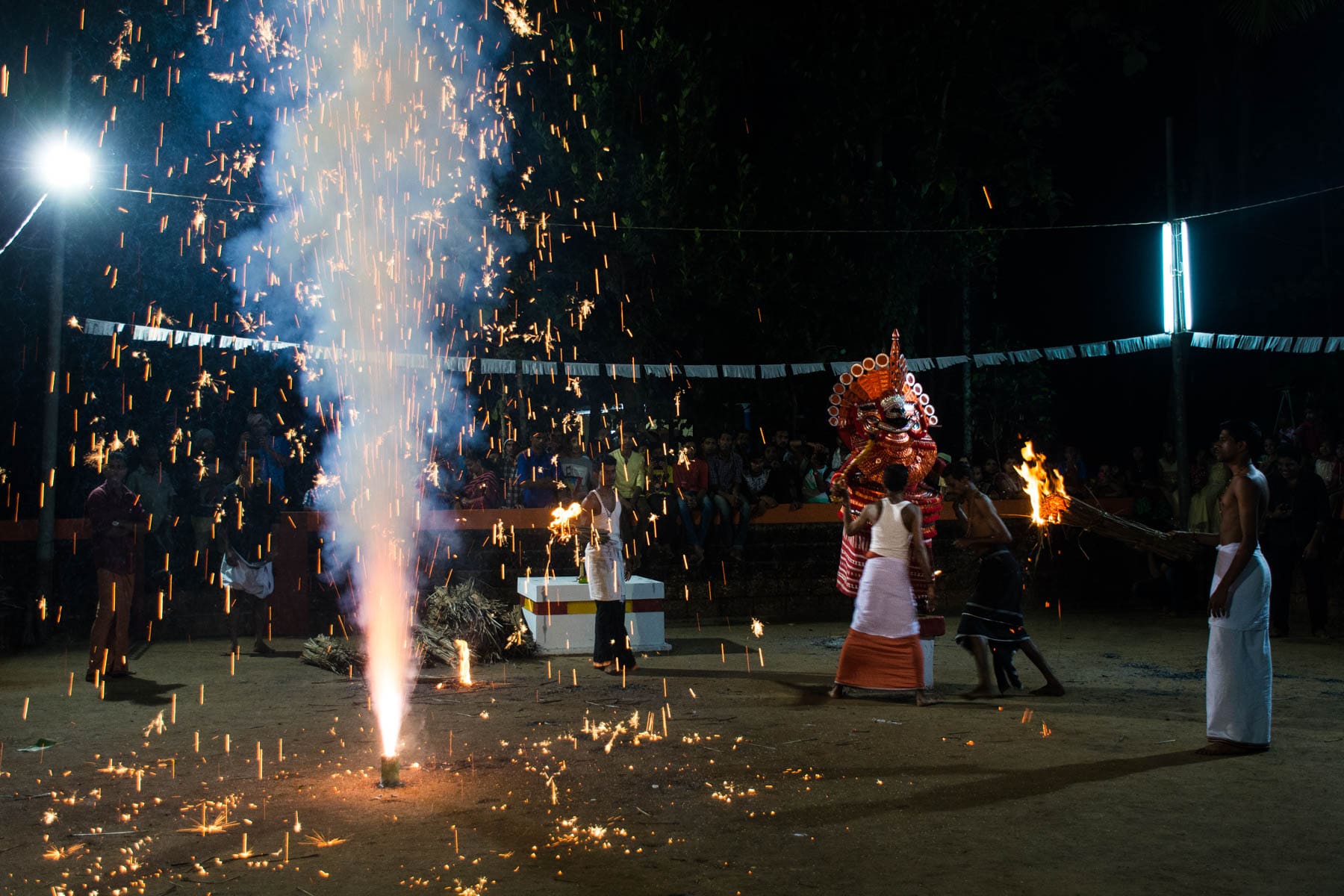 In the face of gods
Kutty, the main god of the ritual, stands atop a wooden stool at the center of the ring. Two young priests hold his hands, steadying him as he circles in a tight, stomping dance to the drums. Bells and bangles clatter as he rattles his feet between rotations. He looms over the crowd, reminiscent of a giant snake poised to make a kill.
Suddenly, he leaps off the stool and begins spinning like an off-kilter top in the center of the sand pit. As he spins, his costume catches the torchlight, blinding eyes with its bright shimmer and sparkle. It's another homage to the natural world: his immense costume resembles a divine peacock, its shining red fan secured to a boxy skirt bottom.
The god's face paint is equally as ornate: wide eyes are sunken in black pits, while the rest of his face is a vivid orange. Red designs spider across his face, so delicate they're almost invisible.
The overall effect is distinctly supernatural, and that is precisely the point.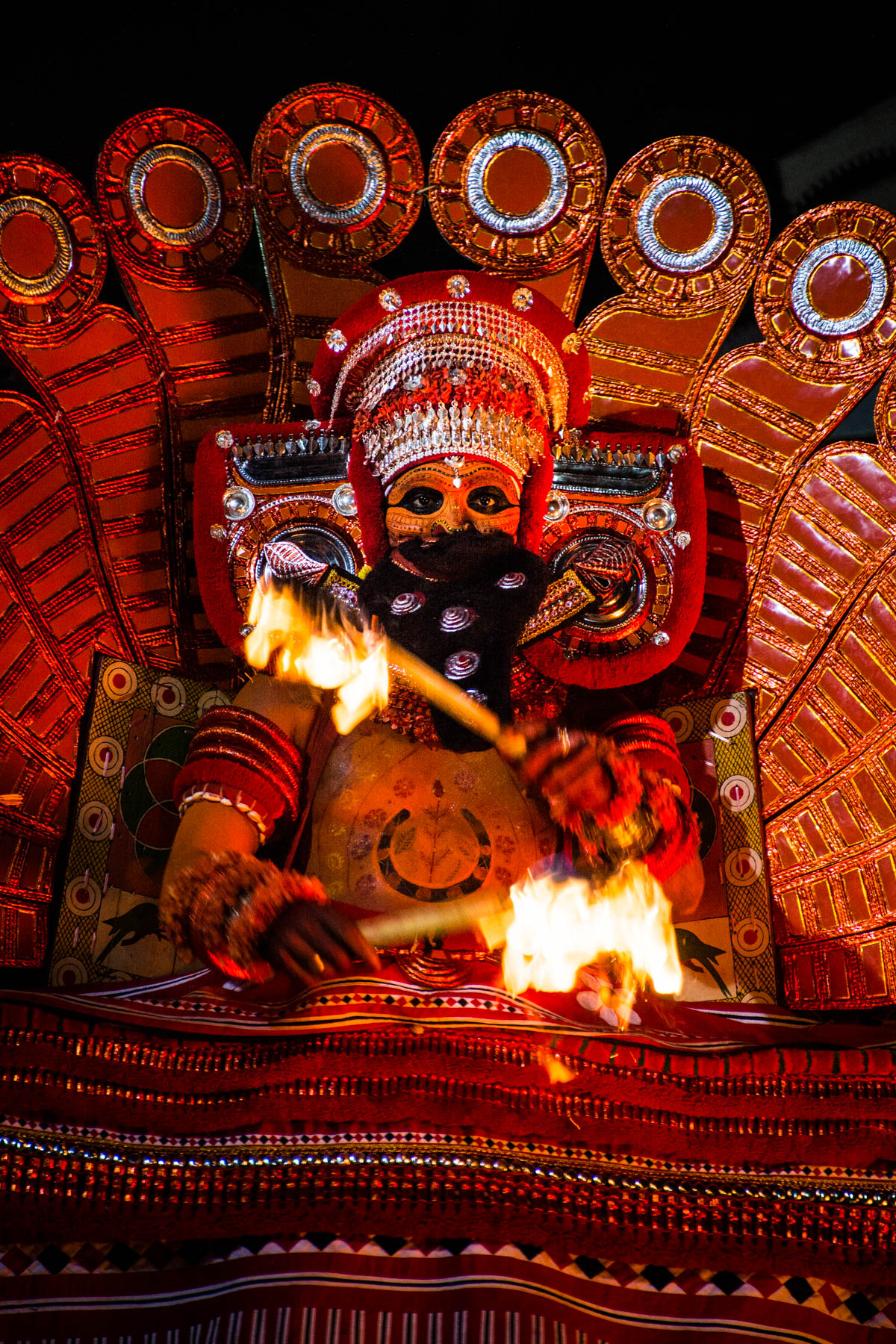 The men behind the gods of Theyyam
When not performing, Theyyam dancers are mere mortals. A tradition handed down through family lines, the dancers begin preparing for their divine roles at a young age, often in their early teens. Years are spent learning the skills required for every part of the tradition, from how to make costumes from coconut husks to the delicate art of face painting.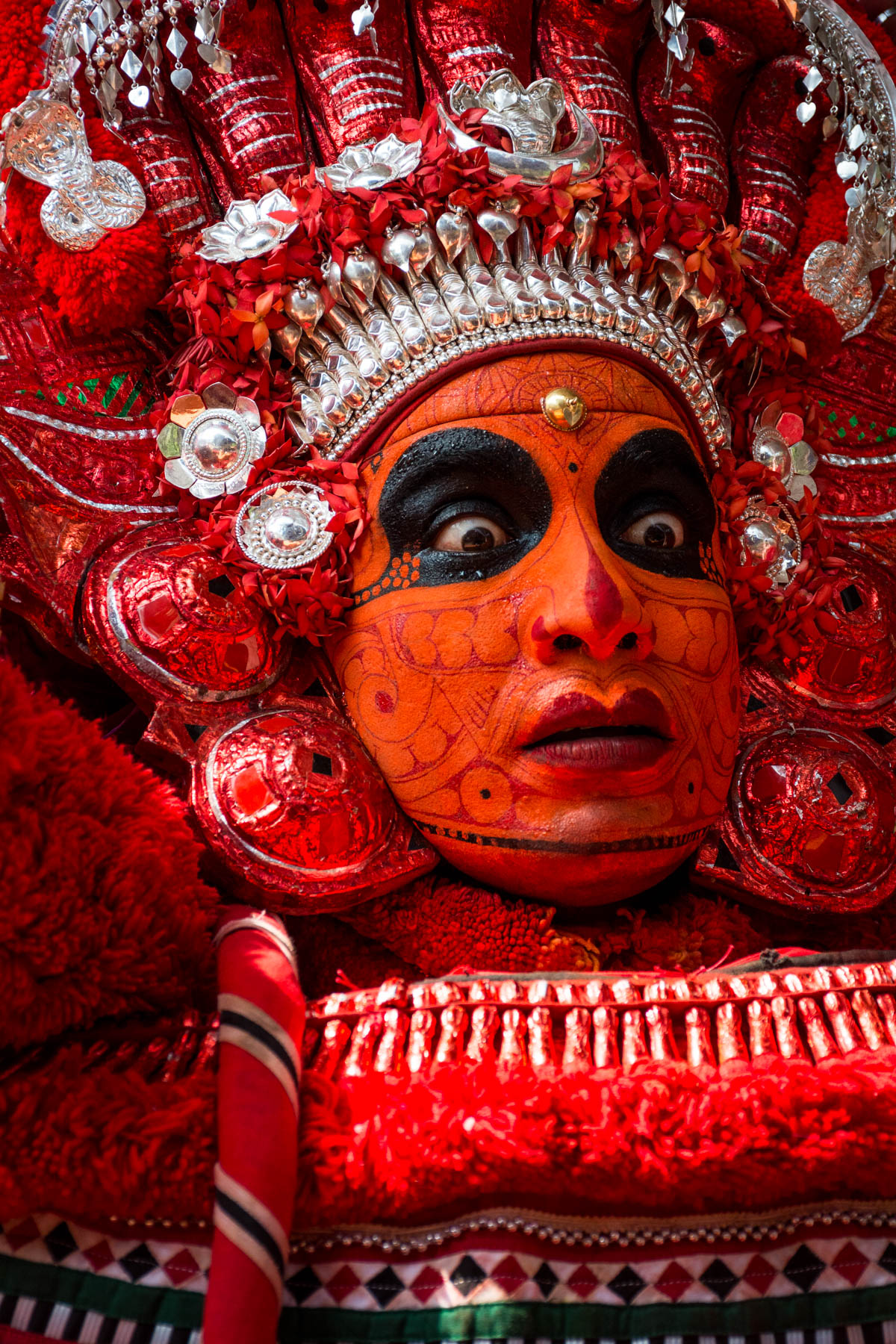 In the weeks leading up to a ritual, this dancer lived a life of purity. He consumed no meat or alcohol, nor did he lie or speak badly of others. He prayed at the temple daily and cleansed himself before the dance.
He began the day's events by singing and chanting stories in minimal costume. Only now, once painted and dressed in his most elaborate attire, is his transformation complete. Only now is he fully channeling Kutty.
Dance, trance
Kutty spins for what feels like ages. Sometimes he spins so quickly it's hard to focus in the low light. Other times, he spins slowly, as though drunk or dazed. Members of the crowd cautiously approach him bearing crumpled rupee notes, pressing them into the god's hands for a blessing as he continues to spin.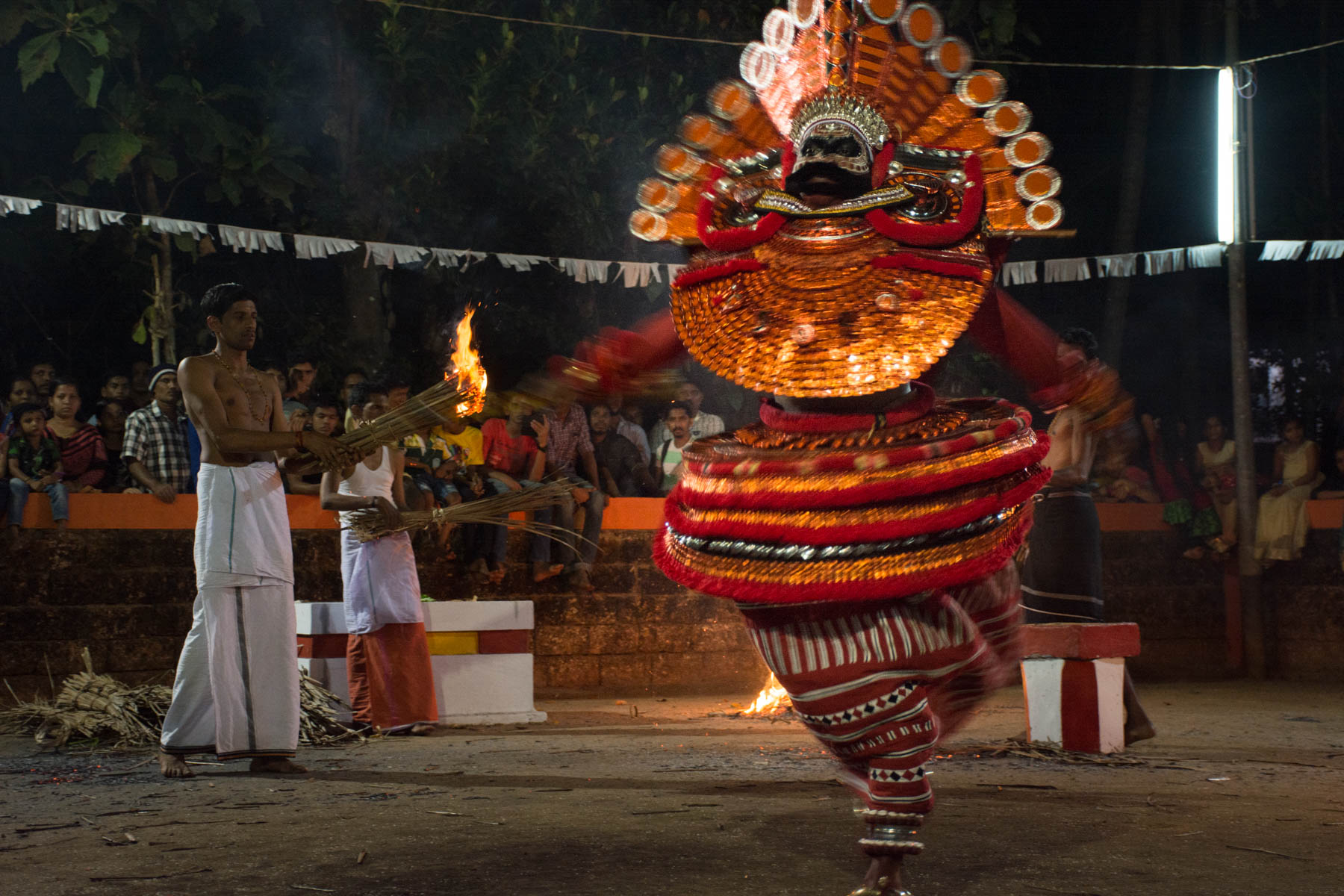 Occasionally he lurches dangerously close to the crowd, and the young priests with palm torches swing them at him to keep him in his sacred circle. Other times, the men join hands with Kutty, leaning in for support as they hop around in a rapid circle.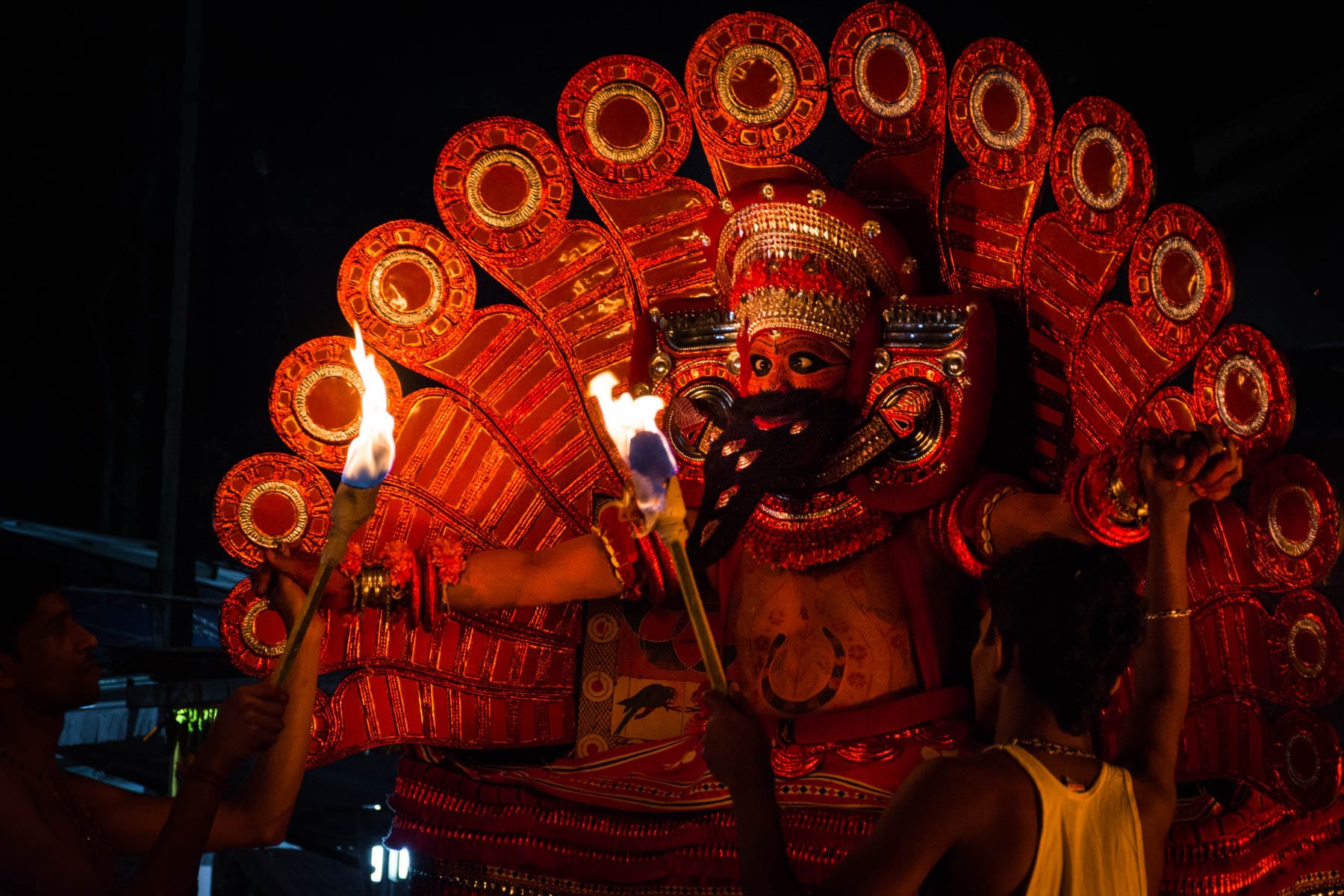 These rituals can go on for hours, depending on how long it takes for the god to enter a trance as he dances and spins to the drums. I couldn't say for how long he danced; perhaps hours, perhaps minutes. Time is nonexistent in the face of such captivating ritual.
Come and get your blessings
Finally, Kutty dashes to the front of the temple, walking back and forth several times before finally collapsing onto a seat before the priests.
Young boys fan his sweating body with towels as the old priests bring him offerings of food and rice. As Kutty catches his breath, the crowd begins to disperse. Some move away to chat and compare photos with friends, while others move forward to whisper to the god, asking for blessings and advice.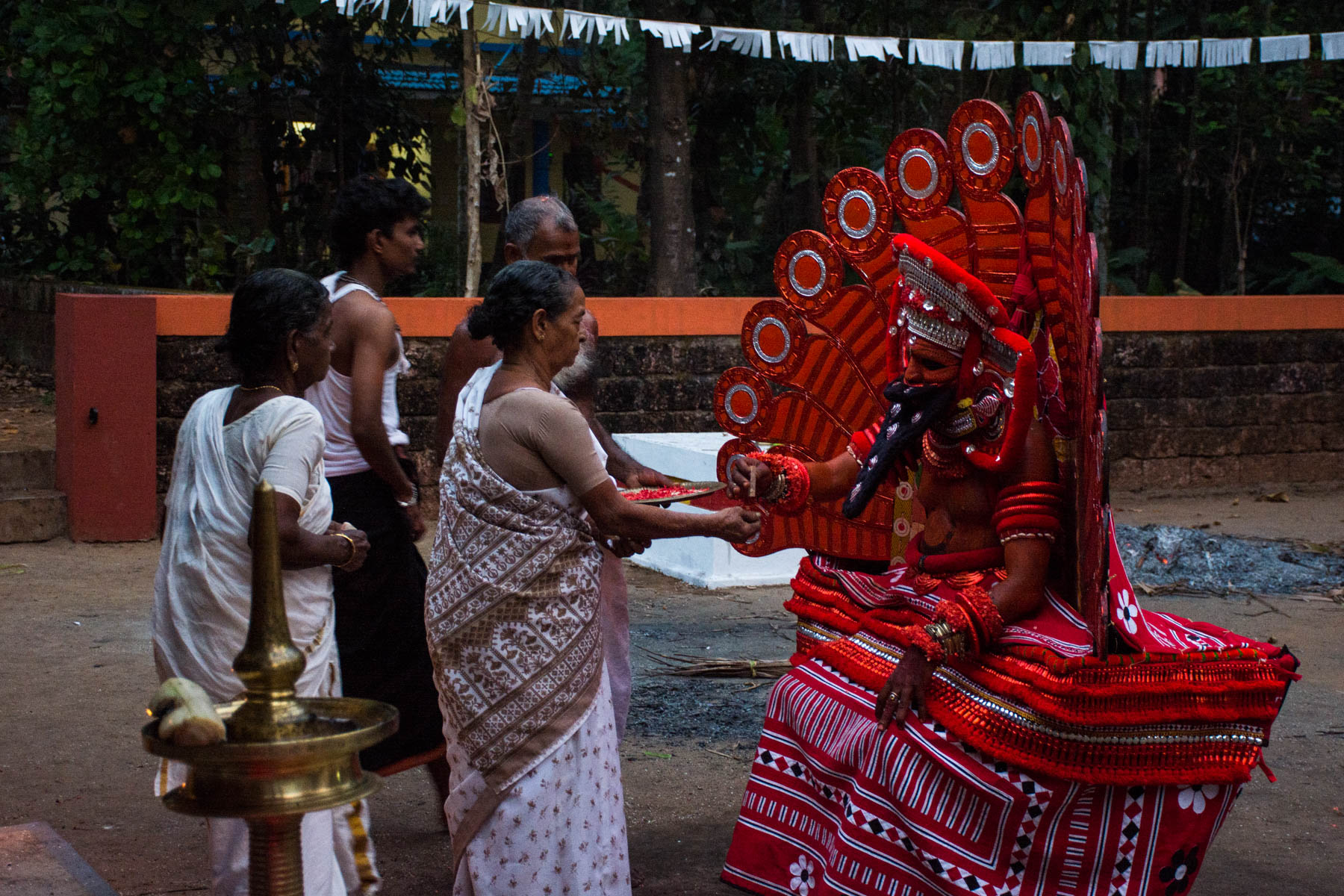 A blanket of stillness settles over the temple as a lavender sky signals the sun's arrival. It's five in the morning, but this Theyyam ritual is far from over. Most Theyyam ceremonies go on for days, weeks, months.
The ritual has only just begun.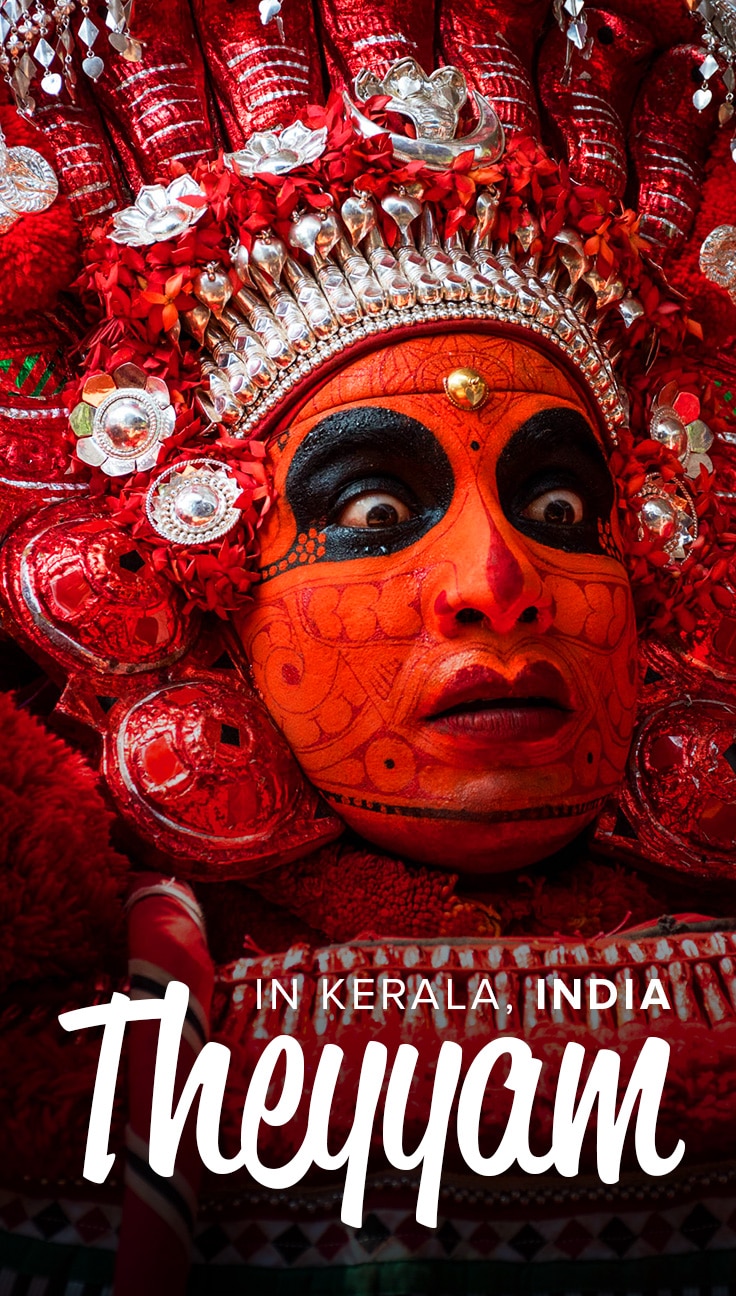 How to see Theyyam in Kerala
When can I see Theyyam in Kerala?
For us, seeing Theyyam was one of the highlights of traveling in Kerala. You can see Theyyam performances all over the northern parts of Kerala (and neighboring areas in Karnataka) from October to May. November and December is the peak season to see Theyyam in Kerala, with multiple performances a day in temples all over the region. Theyyam performances are often part of Kerala tour packages during this time of year.
The Kerala Tourism website has a Theyyam calendar, as does the Theyyam Calendar website. Note that dates and times often change, so it's best to check with locals beforehand to make sure something is actually going on!
Where to see Theyyam in Kerala
The towns of Kannur and Bekal are good hubs to see Theyyam in Kerala. Both are on the ocean, so you can combine a bit of beach life with culture.
Other places to see Theyyam include Kasaragod, Karivalloor, Nileswaram, Kurumathoor, Cherukunnu, Ezhom, and Kunnathoorpadi in North Malabar.
Where to stay in Kannur

Budget: there are plenty of cheap hotels of varying quality in the market area around the Kannur bus stand.
Mid-range: there are several mid-range beach houses to choose from, with Kannur West Beach House being one of the best – Book Kannur West Beach House here!
Luxury: Club 7 Beach Resort is right on Thottada beach and offers stunning sunset views – Book Club 7 Beach Resort now!
For more options in Kannur and its surroundings, check out the offers on Booking.

How much does it cost to see Theyyam in Kerala?
Seeing Theyyam in Kerala can be cheap. All you need to pay is transportation to and from the event… if you can find the right time, temple, and transportation to 4 AM performances, that is.
We hired a guide and transport for a night for 2,500 Rs (bargained down from 6,000) with Travel Kannur. We were picked up from Kannur at 21:00, and dropped off at 12:00 the next day.
Some tours can arrange overnight accommodation. Ours told us we'd sleep in the car… which then disappeared, so we had to nap on the dirt ground outside the temple. Beware of Travel Kannur.
For more on budget travel in southern India, check out our South India budget report!
Practical tips for seeing Theyyam in Kerala
You can take photos, but be respectful and avoid flash.
Though performances happen at all times of day, be sure to catch one or two in the late night or early morning. That's when the fire comes out!
There are usually other attractions alongside the rituals, such as dramas or music. It varies by shrine, depending on what the locals want to see.
You can make a donation to the temple if you want, but most people give money just to receive a blessing.
More on Theyyam in Kerala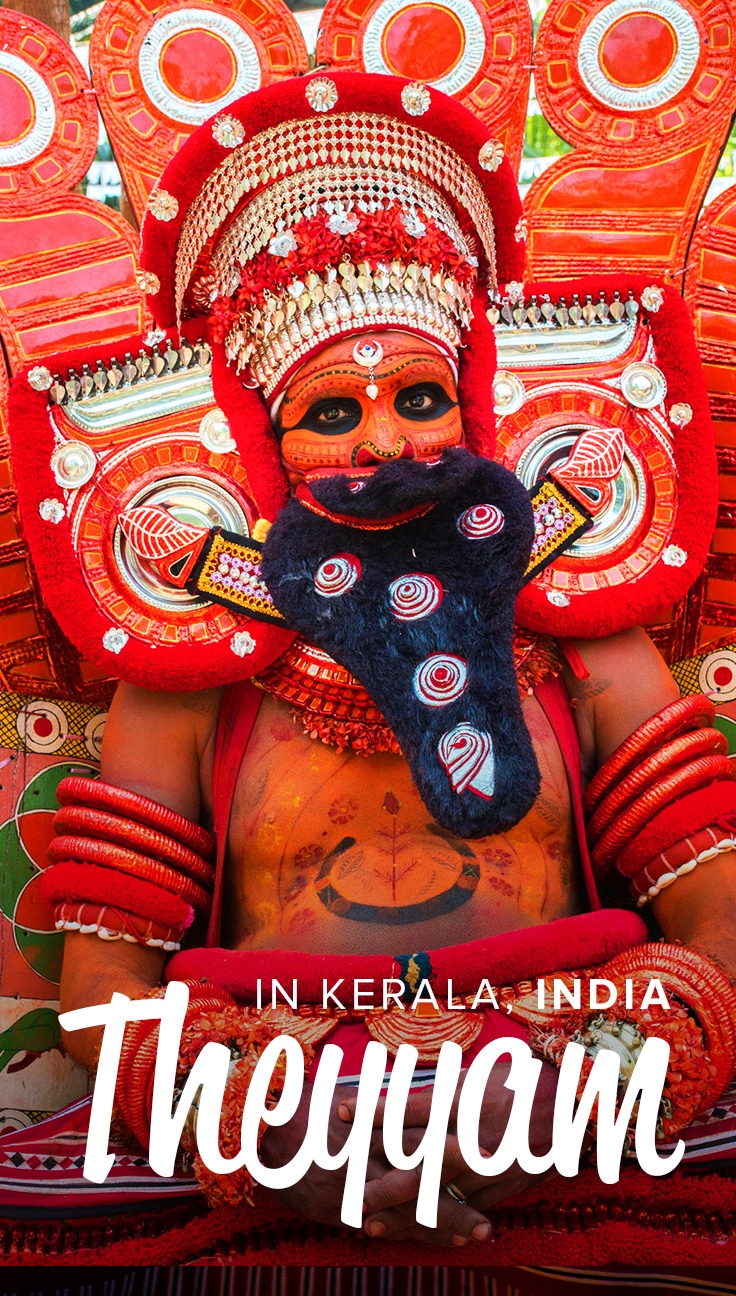 Yay transparency! There are affiliate links in this post. If you buy or book something through one of our links, we get a commission at no extra cost to you. Never fear, we would never dare recommend something useless to you. That's not nice.