Giving pens to children in India is a big no no for foreign tourists. Though it may seem an innocent act of goodwill, it has some long-lasting repercussions. Here's why you should stop giving pens to children in India, and some alternative ways to give to children in the country.
In that moment, the child is the most adorable child in the world.
Big brown eyes, a blindingly white smile, little school uniform so perfectly pressed. Their tiny feet pound the ground as they run toward you, their backpack flapping on their back haphazardly. Other children, noticing you, begin to congregate around your legs. As they look up at you, heads just barely coming up to your belly, you can't help but smile yourself. You're about to experience the "real" India all those guidebooks talk about.
… then it begins.
"Pen?"
"What is your name? Give me pen!"
"No pen? Give me money!"
Like a flock of noisy seagulls, a high-pitched chorus of demands rises from the throng, and what started out as a emotional moment has ended with you being treated as a human vending machine.
Resist and desist
It's a common scene throughout India, as well as other countries. Big-hearted (or deep-pocketed) foreign tourists come in, encounter The Most Adorable Children Ever living in less-than-ideal conditions, and heartstrings are tugged. The tourists buy them pens, candy, some cheap toys. The children are delighted, the tourists feel like saints, everybody wins, right?
Wrong. Though intentions may be good, the repercussions are not:
Children will expect foreigners to hand out free goods to them. There's another word for this: begging. Are you comfortable encouraging begging?

If begging is incentivized, children may drop out of school in favor of taking to the streets and collecting goods from foreigners. Why go to school when you can profit on the streets?

Scams emerge where children ask tourists to buy them goods, then return the goods to the shop in exchange for a profit.

"Begging mafias" might recruit the children to work for them. Children are often maimed as a way of making them more pitiable, and thus profitable.
Put your parenting hat on
"Oh, you're so cold hearted," you might be thinking, "a pen is just a little gift. Besides, they need it!"
Not convinced, eh? Let's try another approach: imagine you're a parent. If your child walked up to you and demanded you give them something, would you give in?
What if, when you denied their demand, they then insist you give them money?
… I'm thinking the answer is something along the lines of "Aww hell naw." If you wouldn't give in then, why would you do the same to someone else's children on the street?
What you can do instead of giving pens to children in India
I'm not saying you should turn into a miser and lock your heart away forever. It's okay to want to help out people in need—just make sure you do so responsibly. Here are 5 alternatives to giving pen to children in India:
1. Buy school supplies from a local convenience store and give them to a teacher.
This kills several birds with one stone:
You contribute to the local economy by buying the pens locally.
This ensures donations end up in the right hands, and prevents children from squabbling over who gets what.
School supplies cannot be as easily misused as cash donations.
You ultimately get to give kids pens. Wins all around!
2. Have a mini-photoshoot.
Kids everywhere in the world love to ham it up for the camera. If you have a digital camera, ask if you can take their photo—the answer will definitely be yes—and snap away! Show them the photos you take, and you're sure to be rewarded with all kinds of giggles, squeals, and demands to take more photos.
Even better: let them take some photos, too! Just make sure they're gentle with your camera or phone.
If you want to take it to the next level, consider getting an instant camera for those really special kids. Photos can be expensive, and many families don't have the money or resources to have photos taken of themselves. An instant photo is a nice gift that can be cherished much more than a pen… and they're more fun!
Tip: Try to only do this when the family is around, or when there aren't too many children. Otherwise it may lead to some bickering about who gets to keep the photo(s) in the end.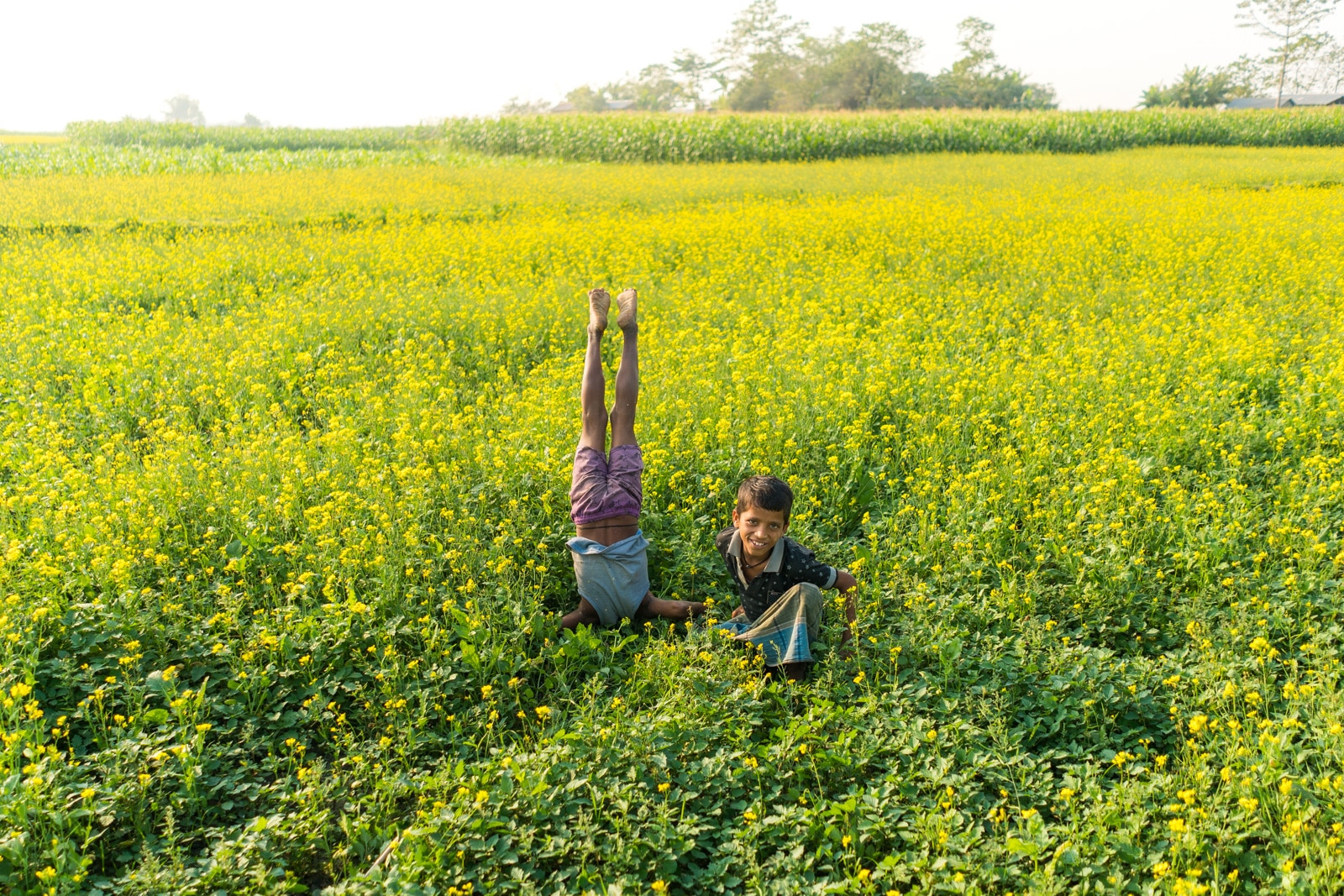 3. Take some time to talk or teach a special high five or game.
Children might be interested in material objects, but you have something much more valuable to offer them: a chance to exercise language skills! Most are delighted to do so, and hand games and high fives are something that can easily be explained in basic English and can be used amongst themselves for days to come.
4. Go on a responsible tour that benefits the children's community
Being a good tourist is in right now (let's hope it's never passé), and tour operators have been listening. "Responsible" tours ensure local communities benefit by distributing proceeds among the communities they operate in, crafting itineraries with local leaders, properly disposing of waste, etc.
One example is the New Delhi Walking Tour. Run by the Salaam Balak Trust, it provides education, shelter, and medical help to street children in Delhi.
5. Donate to an NGO or charity that works with children in India.
Sometimes, we need to accept that we have no freakin' clue what's best for people. And that's okay.
There are hundreds of charities and NGOs that work to improve living conditions and education for children in India. They know what's up, to say the least, and giving money to them can be much more effective (and efficient) than figuring out what to do yourself.
It's important, however, to donate to organizations that have proven to be effective. To save you some time, here are several reputable Indian organizations you can donate to:
Seva Mandir works to improve the lives of people—including children—in rural Rajasthan. This includes providing quality education and proper child care.
Smile Foundation has a variety of aims, one of which is to provide proper education and nutrition for children in school.
Chirag is working to improve the quality of education and general welfare of young students in the Kumaun region of Uttarakhand.
Akshaya Patra combats malnutrition by providing mid-day meals to more than 1.7 million school children every day.
Aarohi has a youth program that goes beyond the classroom and promotes extracurriculars like sports, trekking, and just playing outside—all essential to ensure kids stay away from crime and drugs.
Go forth, and be responsible
So ends my sermon. I know not everyone will agree with me (woe is me, I have failed), and there are other alternatives I haven't touched upon. That's where you come in.
What's your opinion on the subject? Do you give to children and beggars?
Yay transparency! Some of the links in this post are affiliate links, which mean if you book or buy something through the link I'll make a small commission at no extra cost to you.