A photo essay about Majuli river island in Assam, India. Majuli island is rapidly disappearing from the banks of the Brahmaputra river, but is there a way to help? Read below, or scroll down for more practical information for traveling to Majuli.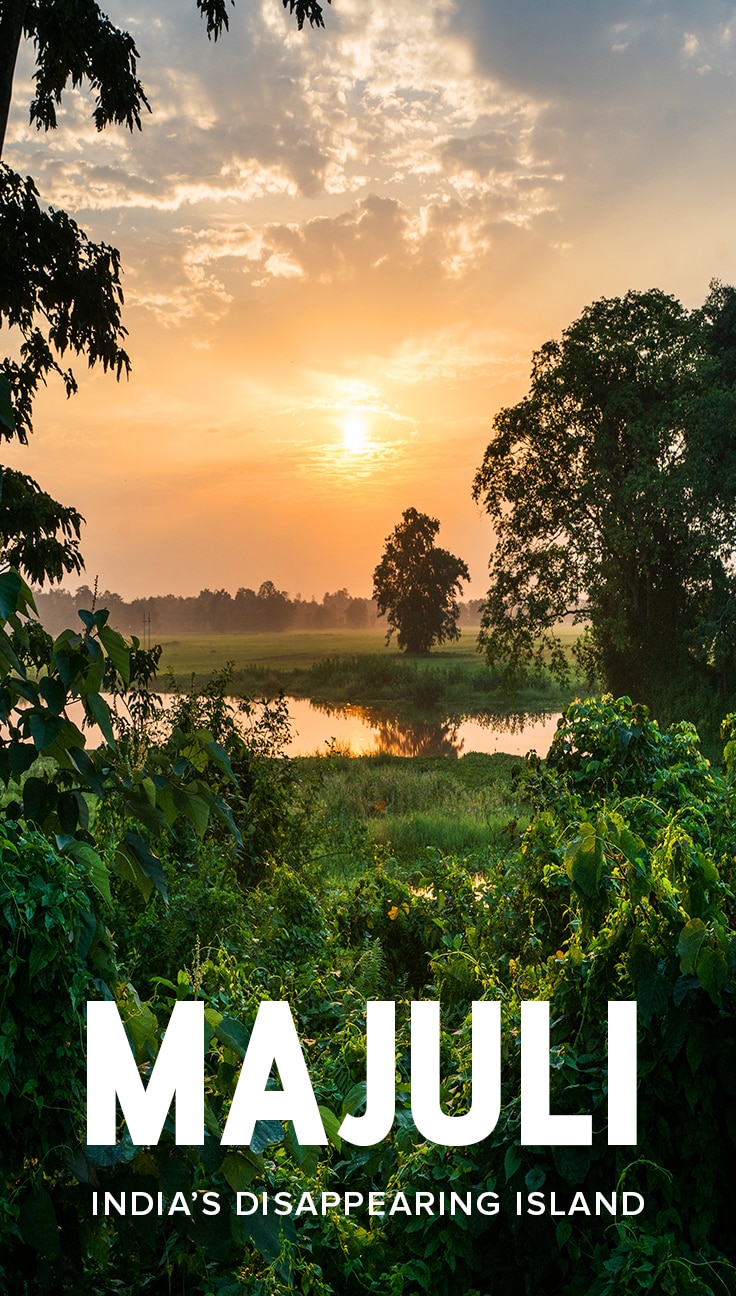 In India's far northeast, a region overlooked by many a tourist, sits a river island in Assam state: Majuli. Encircled by the rushing waters of the Brahmaputra river, the island has been relatively isolated for years.
Ferries are the only choice for reaching the island, and they only run during daylight hours. Until the last decade, boats were still necessary on the island to cross its numerous wetlands and streams—it used to take three boats to reach the ferry point from one of Majuli island's central towns.
Majuli island didn't see its first mobile phones until 2009, plastic packaging is an equally recent occurrence, and it's still in the process of building roads and bridges through its verdant farmlands and forests. As a result, Majuli island is an idyllic place seemingly lost in time.
It seems too good to be true, and in a way, it is: in 15-20 years, surveys by a local NGO say Majuli island may no longer exist.
Majuli, the slowly disappearing island
Majuli island once held a Guinness World Record for being the world's biggest river island, but it's slowly but surely being washed away by the fast-moving waters of the Brahmaputra river. Erosion rips at its banks every year, claiming lives, lands, and homes. In the last hundred years, Majuli island shrank by more than 60%, from over 1,000 km² to barely 400 km².
Part of the erosion is natural. Nature is ever changing, and the thousands of transient little islands along the Brahmaputra river are proof. As rivers flow, sands shift and water carries them from one place to another. Majuli island floods every year during the monsoon season, and the natural floods help crops flourish and feed fish populations.
But the speed at which this happens in Majuli is accelerating.
What is causing Majuli island to disappear?
Much of the acceleration is caused by climate change. Rising water levels and increasingly severe weather patterns are never beneficial to a sandy island's waistline. As temperatures creep higher in India's Himalayas, the increased snowmelt causes flash floods along the Brahmaputra river. Rain and monsoon patterns, once relatively predictable, have become erratic at best, leading to a loss of crops and property for Majuli's agricultural community.
However, climate change is not the only culprit in the matter. In the neighboring Autonomous region of Tibet, where the Brahmaputra river originates, the Chinese government has numerous hydroelectric and dam projects in the works. The projects are an indirect attempt to exert control over the water flowing into India. Periodic floodgate openings result in yet more flash floods tearing apart Majuli's banks.
The people of Majuli
The variable nature of the land makes life difficult for much of Majuli's population. The majority of the island's inhabitants are dependent on agriculture to survive, and as the years pass, the amount of destruction and loss of land from flash floods and erosion is straining their ability to adapt and provide for themselves.
Most affected by natural disasters are those living closest to the Brahmaputra's banks, and the damage is not restricted to farmers alone.
The Kumar people in southeastern Majuli are one such example; they make a living handcrafting pots from river clay. The nature of their materials dictates they remain close to the river's edge. The need to load wares onto boats to trade throughout Assam cements the decision.
Crafting enough pots to fill a boat—around 3,500—takes hundreds of hands and several months. Men then sail the boats up and down the river to peddle their wares for two months at a time, three or four times a year.
Despite all this effort, the value of each boat's stock is roughly $3,500, and much of the stock is traded for rice, rather than sold. The money made is hardly enough to sustain 250 people, let alone fund the rebuilding of property and replacement of stock destroyed by flash floods and erosion.
Others on Majuli island, such as the Mishing tribe, have adapted to the surging waters over time. Their homes and infrastructure are propped up on spindly bamboo stilts, placing them just above the floodwater levels during monsoon.
As of late, rising monsoon water levels creep above their houses' stilts, and the huts are no match for rapid erosion. Since 1975, more than 9,600 Mishing families lost their homes and their lands as the Brahmaputra river claimed Majuli's soil.
What is being done to save Majuli island?
Local government is half-heartedly trying to tackle Majuli's disappearance. In a bid to control the flash flooding, parts of the riverbanks were barricaded, but projects remain incomplete and sometimes have more adverse effects than good.
Recent floodwall construction led to a change in the flow of river water through Majuli during monsoon season. The regular flooding used to bring in fresh schools of fish and nutrient-rich silt to the watery fields. Now, the barricades have obstructed the flow of fish, and only sand is carried in during the floods, destroying the once-bountiful soil.
So if battening down the hatches doesn't work, how does one save a disappearing island?
Tourism in Majuli island
Tourism is the island's most promising solution, and it's already catching on. Majuli's green fields and flat roads are the perfect playgrounds for tourists looking to enjoy its nature and culture from atop a bike or scooter. Domestic tourists comprise the majority of the island's visitors, though a trickle of foreign tourists find their way to the island hidden away in India's northeast.
The island's handful of historic satras, monasteries dedicated to the Hindu god Vishnu, draw yet more spiritual tourists. Each satra is a place of study and prayer for the residing monks, as well as a center for performing arts. Visitors to the satras can chat over tea with the monks, watch men clad in handmade masks perform ancient epics, or even spend a night in one of the satra's adjoining guesthouses.
The first satra was built on Majuli in the 15th century, and 64 more followed in its footsteps. Today, however, only 22 satras remain on the island. The others were washed away, and eventually rebuilt in locations on Assam's mainland less at risk from erosion.
If Majuli's fledgling tourism industry continues to gain momentum, tourism could provide an alternative stream of revenue for the island's rural population. A future less prone to damage from severe weather than agriculture, and more profitable so people have the means to rebuild after each year's floods. Until then, Majuli's people will simply carry on.
Things to do on Majuli island
Visit Majuli's satras
So what is there to do in Majuli island that attracts tourists? There are the above-mentioned satras, of course, most of which can be visited. At some of the satras, monks give traditional performances involving dance and drumming.
Majuli is also famed for its mask making. Elaborate masks depicting various gods are painstakingly made by hand, and many of the masks you might encounter are used for theatre performances. To see the mask-making process, head over to Natun Samaguri Satra, where Mr. Goswami will happily show you around and perform using several of his masks.
Drink the local rice beer
You can find rice beer all over the northeast, and Majuli is no exception. This homemade concoction is delicious and cheap, and one of the best ways to befriend the locals is to hang out with for a night of drinking and chatting.
Visit local craftsmen and women
Throughout the island, you can find craftsmen and women making all sorts of handicrafts. From the pottery mentioned above to beautiful woven saris and even boats. If you like handicrafts, Majuli island is a perfect place to visit. If you want to know more about the local craftspeople, talk to Beda, who runs a local NGO to help Majuli's villagers find new work.
Cycle around the countryside
Majuli island is perfect for cycling. The slow pace of life and relatively empty roads, the lush countryside, the waterways, and the wildlife you might encounter make Majuli a great spot to great spot to grab a bike and explore to your heart's content.
Visit Majuli's theater
Have we told you yet that Majuli had a long history of dance and theater? The before mentioned masks and dances all come together at the performance given at Majuli's theater. If you want to visit a performance, ask Beda for more information.
Where to stay in Majuli
Although there are some hotels popping up around Majuli, we recommend you stay in one of the lovely homestay options.
Yagdrasil Bamboo Cottage – Run by our friend Beda, this place offers lovely bamboo huts on stilts. Beda can also arrange bikes and give you all sorts of information about Majuli – Book Yagdrasil Bamboo Cottage here.
La Maison de Ananda – The first guest house in Majuli is as popular as ever, and we can see why. A warm welcome, charming atmosphere and delicious food, this is a good option in Majuli – Check out La Maison de Ananda here.
Risong Guest House – This basic guest house is perfect for budget travelers. You have to pay a bit extra for amenities, but the food is tasty and the family very welcoming – Book Risong Guest House now.
Best time to visit Majuli
The best time to visit Majuli island is generally between October and March. This is generally considered the dry season, minimizing the risk of getting stuck in a freak storm that floods the island.
The monsoon season between April and July is best avoided. Parts of the island flood, houses are sometimes taken away by the rushing water, and sandbanks might disappear into the river.
How to get to Majuli river island in Assam
Your best bet is to start from Guwahati, the capital city of Assam. From there, you'll need to catch a bus or private transport to Jorhat, another town close to the Brahmaputra's banks.
Cheap ferries to Majuli island leave from one of the river ghats near Jorhat. Check our quick guide for more information on how to get to Majuli from Jorhat.
How to travel to Majuli river island responsibly
Tourism is a good way to help Majuli and its residents. If people can rely on tourism for income, rather than only agriculture, their financial well being will be less affected by flooding and erosion. But, of course, tourism can hurt the island if not handled well! Here are some ways you can travel responsibly on Majuli island:
Cycle around the island. Though you can bring cars and motorbikes onto the island, it's much better (and healthier) to rent a bike once on the island. Don't worry, it's all flat!
Eat local and avoid plastic waste. There are plenty of homestays and small hotels on the island where you can get a seasonal snack or a meal. No need to turn to plastic-wrapped snacks!
Buy local products as souvenirs. Some of Majuli's residents are trying to transition to making money from tourism, rather than agriculture. Buy some local woven goods or pottery to help support them.
Hang out with Beda, a local who helps to run Amar Majuli, an NGO looking to help locals find new work opportunities (particularly in tourism). He loves showing people around Majuli, can help you find all the local products, and is usually found hanging out around his guesthouse, Yagdrasill Bamboo Cottage, our home base while on Majuli.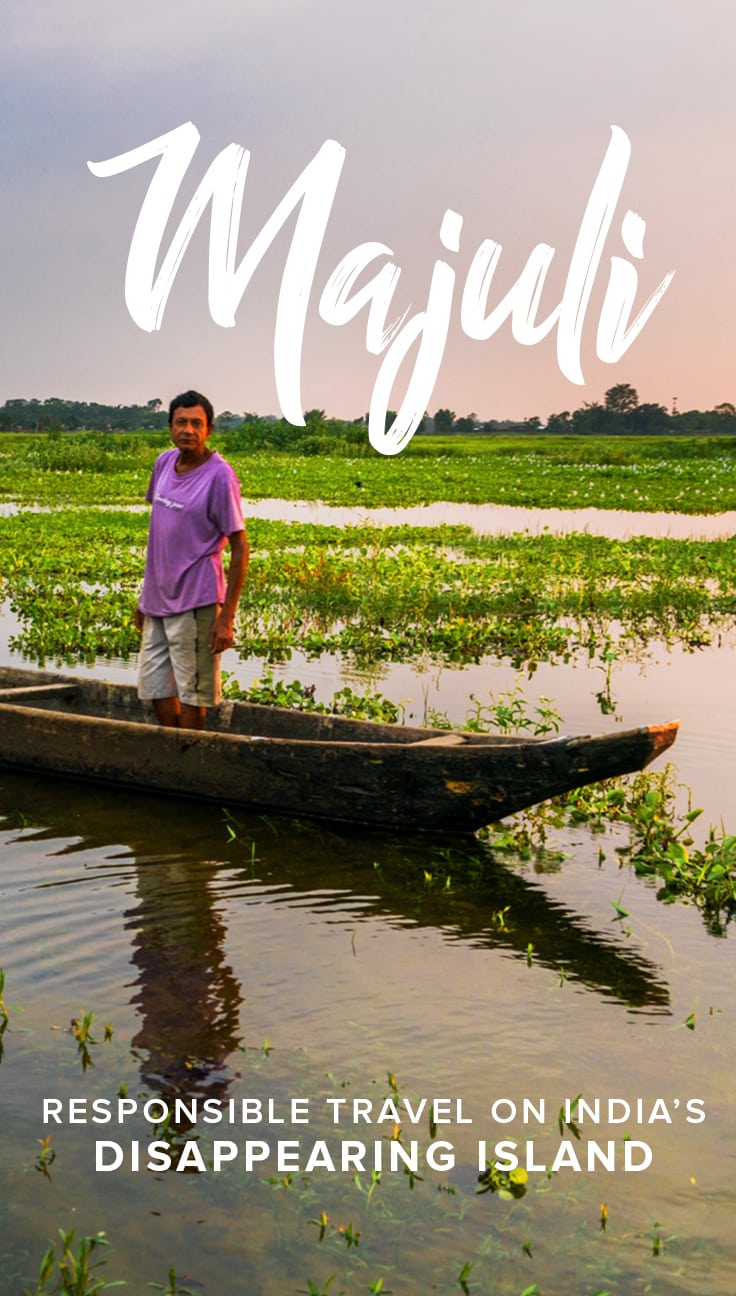 Yay transparency! There's an affiliate link in this post. If you book a stay using our link, we'll make a bit of change at no extra cost to you. Never fear, we actually stayed at the cottage, and absolutely loved our time there.