Karnataka has much to offer, yet most foreign tourists simply pass through this southern state en route to Goa or Kerala. If you're looking for an offbeat adventure, look no further: here's 7 off the beaten track places to visit in Karnataka, India.
Whether you seek misty mountains blanketed by jungle, rolling hillsides spotted with smooth boulders and ancient temples, or crashing waves on a rocky coastline, Karnataka has it all.
Strangely, many foreigners pass through this southern Indian state, but don't take time to see what it has to offer. Most tourists visit Bangalore and Mysore before beelining to any of the other top destinations in South India. The backpacker crowd, on the other hand, heads to hilly Hampi or beachy Gokarna to alternate between smoking joints and going swimming.
There's no harm in a bit of Netflix swimming and chill, but Karnataka has far more to offer than cities, water holes, and lousy weed!
For those with time and a sense of adventure, here are my favorite offbeat destinations from my time in Karnataka.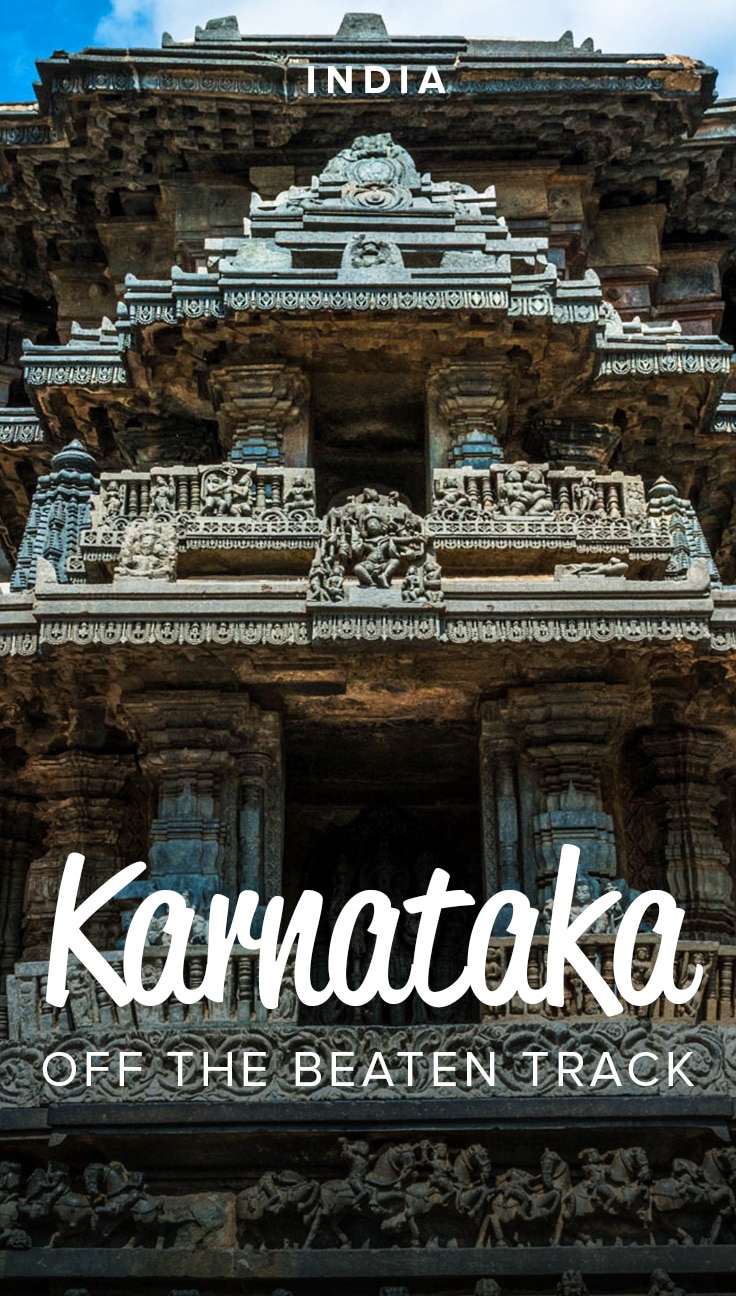 Off the beaten track places to visit in Karnataka, India
Bijapur
No matter what way you look in Bijapur, epic history is within view. Massive domed mosques and mausoleums dot its skyline, standing tall and proud despite newer buildings creeping up against their sides. The town is a fantastic hodgepodge of historical sights from all eras, and the place to see Islamic architecture in India.
Things to see in Bijapur
Gol Gumbaz
Bijapur Fort
Ibrahim Rauza
Bara Kaman
Where to stay in Bijapur
Bidar
Nicknamed the City of Whispering Monuments, Bidar is another city overflowing with forgotten historical monuments. The strangely shaped walls of the 500 year old Bidar fort rise up on the city's edge, while dozens of royal tombs dot its outskirts. India's only Persian madrasa, Islamic school, can be found here, along with plenty of other Islamic historical sights. To top things off, the people of Bidar are very friendly, and many people I met were delighted (or amused) to see foreign visitors.
Things to see in Bidar
Bidar fort
Mahmud Gawan Madrasa
Bahamani Tombs
Chaukhandi of Hazrat Khalil Ullah
Where to stay in Bidar
Budget: Aditya Lodge – Go right down New Bus Stand road from bus stand, about 0.5km, and it will be on your right through an archway
Mid range: Hotel Shiva International
Belur
Commissioned in 1117 AD, Belur's Chennakesava temple is one of the finest examples of Hoysala architecture in India. "Chennakesava" literally means "handsome Kesava", the form of Vishnu the temple is dedicated to. Thousands of intricate carvings adorn its walls, and 48 unique pillars support its interior, some topped by madanikas—"celestial damsels", perfect examples of the female form.
Where to stay in Belur
You can stay in Belur, but it's easier to stay in Hassan and take a bus or taxi from there. I stayed at the comfortable and good value Hotel Abhiruchi.
Halebidu
What used to be the 12th century capital of the Hoyasala empire is now another small town with a grand temple complex. The Hoysaleswara and Kedareswara temples are two more Hoysala architectural wonders similar in style to the temple in Belur, but dedicated to Shiva rather than Vishnu. The town is only half an hour away from Belur by bus, so be sure not to miss it!
Things to see in Halebidu
Hoyaleshwara Temple
Kedareswara Temple
Where to stay in Halebidu
You can stay in Belur, but it's easier to stay in Hassan and take a bus or taxi from there. I stayed at Hotel Abhiruchi.
Shettihalli Rosary Church
If staying in Hassan, try to take an afternoon to pay this ex-church a visit. Also known by some as the "floating church", the church was built in the 1800s, and abandoned in the 1960s after a dam was constructed nearby, flooding the area.
During the monsoon season the area around the church floods with water, and visitors need to hire a small boat to reach the ruins. If it's not monsoon when you're visiting, never fear! The ruins are just as fascinating without water, and you'll be able to see more of them than in monsoon.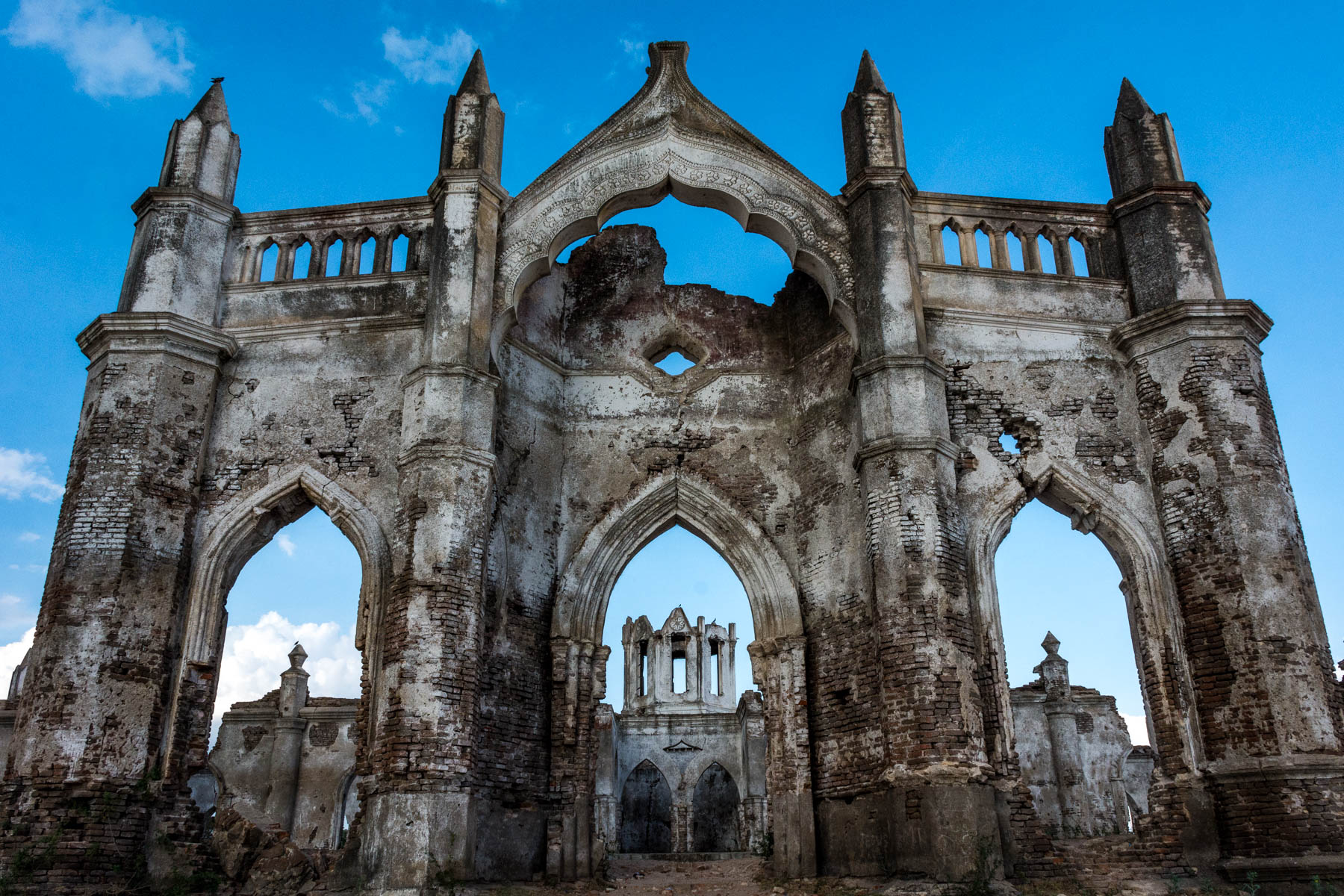 Where to stay in Hassan
Getting to Shettihalli Rosary Church
Udupi 
Given its coastline location and relatively close proximity to Gokarna, Udupi sees a little more foreign tourism than the other locations. But it's still far from a tourist hub! Udupi is known as the origin of the dosa, and we totally treated it as a food-driven pilgrimage. People from Udupi put food on a holy pedestal, and it shows (tastes?) in their mostly family-run restaurants—the best chutney I've had so far was in Udupi!
If food isn't such a motivator (… but… why?), there's also a large temple dedicated to Krishna in the center of town, constantly surrounded by a line of pilgrims waiting to enter and pay their respects.
Things to see in Udupi
Krishna Mutt temple
Mitra Samaj restaurant – try a masala dosa or some gole bajji!
Malpe or Kaup beach
Where to stay in Udupi
Bylakuppe
Everyone knows Dharamsala is where people go to find Buddhism in India… but how about Bylakuppe? It's India's second largest Tibetan settlement, and you'd be excused for thinking you've entered a new country while walking through town.
Bylakuppe's streets are lined with small Tibetan eateries, and filled with red robed monks zipping to and fro on motorbikes. The town houses two large monasteries that might seem plain on the outside, but quickly take your breath away upon entry.
Things to see in Bylakuppe
Namdroling monastery (Golden Temple)
Tashi Lhunpo monastery
The inside of a Tibetan restaurant
Where to stay in Bylakuppe
If you're foreign, you'll need a permit to stay overnight in Bylakuppe (don't ask me why). It's easier to stay in nearby Kushalnagar, and take a rickshaw to Bylakuppe.
Budget: I stayed at a small lodge near the bus stand for 150 Rs/person. Head left from the bus stand, and look for a red sign advertising free wifi (a lie).
Mid range: There are many beautiful cottages and resorts in the hills and forests surrounding Kushalnagar.
Getting to Bylakuppe
Yay transparency! There are affiliate links in this post. If you book a stay using one of my links, I'll get a small commission at no extra cost to you. Think of it as supporting the blog 🙂