The Shettihalli Church, also known as the "floating church", is a great off the beaten track sight in Karnataka. Here's how to visit the Shettihalli Church in Karnataka, India without a car.
Most people use Hassan as a stopover for visiting the magnificent Hindu temples at Belur and Halebid. We, however, recommend you stay a bit longer to visit the Shettihalli Church, also known as the "floating church". It's a photographer's dream, and a cool place to poke around or have a picnic. Read on to learn how to get to Shettihalli Rosary Church in Karnataka, India.
The Shettihalli Rosary Church
The Shettihalli Church was built in the 19th century by French missionaries and was abandoned in the 1960s after the construction of the Hemavati Dam nearby. The church is a prime example of Gothic architecture.
What makes this church so special is that it's partly submerged during the monsoon season. Visitors during the monsoon will need to pay a small fee to be taken by coracle (boat) to the ruins.
But even outside of the monsoon, the dilapidated church has an eerie calm over it, and it set to a beautiful backdrop. It's definitely worth the venture. And luckily, getting to the church is a breeze, even if you don't have your own transportation. 
How to get to Shettihalli Church in Karnataka, India
The best place to visit the Shettihalli Church in Karnataka from is Hassan. Hassan is about 40km from Shettihalli and easily reached by bus or train.
You can get to the church from Hassan by using public transport or by chartering a rickshaw.
By bus: Hourly buses leave from Hassan's bus station to Shettihalli until 16:00. Hop on the bus, and tell the ticket collector you want to go to the church. They'll know where to let you off. The bus will pass the path leading up the church (look on the lefthand side), but it's not super obvious, so pay attention. You'll have to walk through for 5 to 10 minutes to get to the ruins.
If the bus goes over a big bridge over a river, you've gone too far. Luckily, you'll be able to see the ruins on your left so you know where to walk to.
By rickshaw: A rickshaw there and back, with about an hour waiting time, should cost no more than 600 Rs.
Where to stay in Hassan
There are plenty of lodging options in Hassan. We stayed in Abhiruchi Hotel, which has a great, central location on BM Road. There are several cheap eating places around, and both the old and new bus stand are about 20 minutes away by foot.
A spacious, clean executive double room was 700 Rs, but there are plenty of rooms available at a lower rate.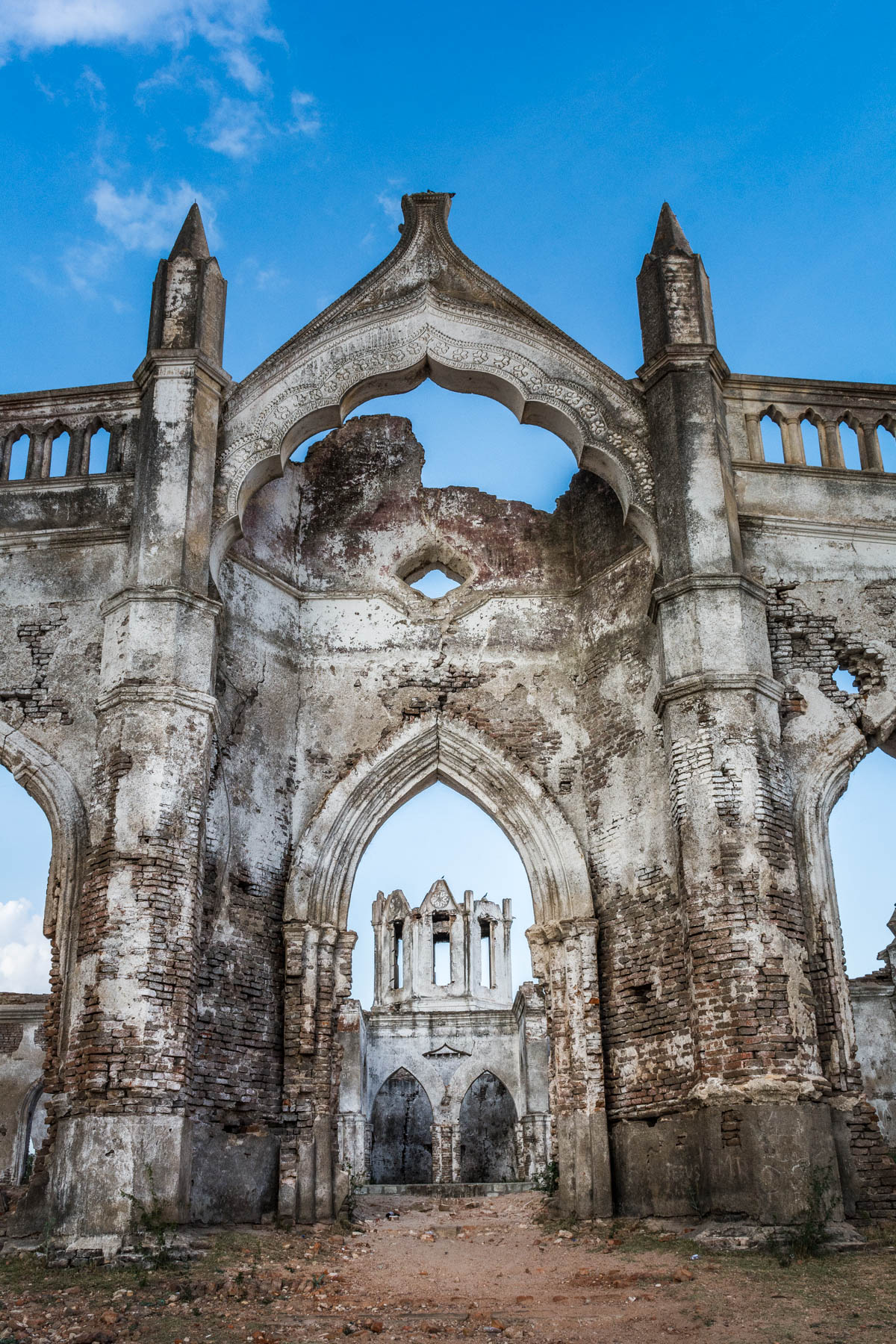 Want to see more off the beaten track India? You won't want to miss Theyyam in Kerala.