A quick guide to visiting Namdroling Monastery in Bylakuppe, India, AKA the Golden Temple. Found in Karnataka state, Bylakuppe is the second largest Tibetan settlement in India, and Namdroling its most famous Buddhist monastery. Includes travel times, costs, and tips on other sights in the area.
Bylakuppe is a small village in southern Karnataka, India, and the second largest Tibetan settlement in India—it's home to more than 10,000 Tibetans!
There are several monasteries to visit in Bylakuppe. The most famous is Namdroling Monastery, also known locally as the Golden Temple. If you're willing to venture a bit further off the beaten path, you can also visit the equally beautiful and much quieter Tashi Lhunpo Monastery nearby.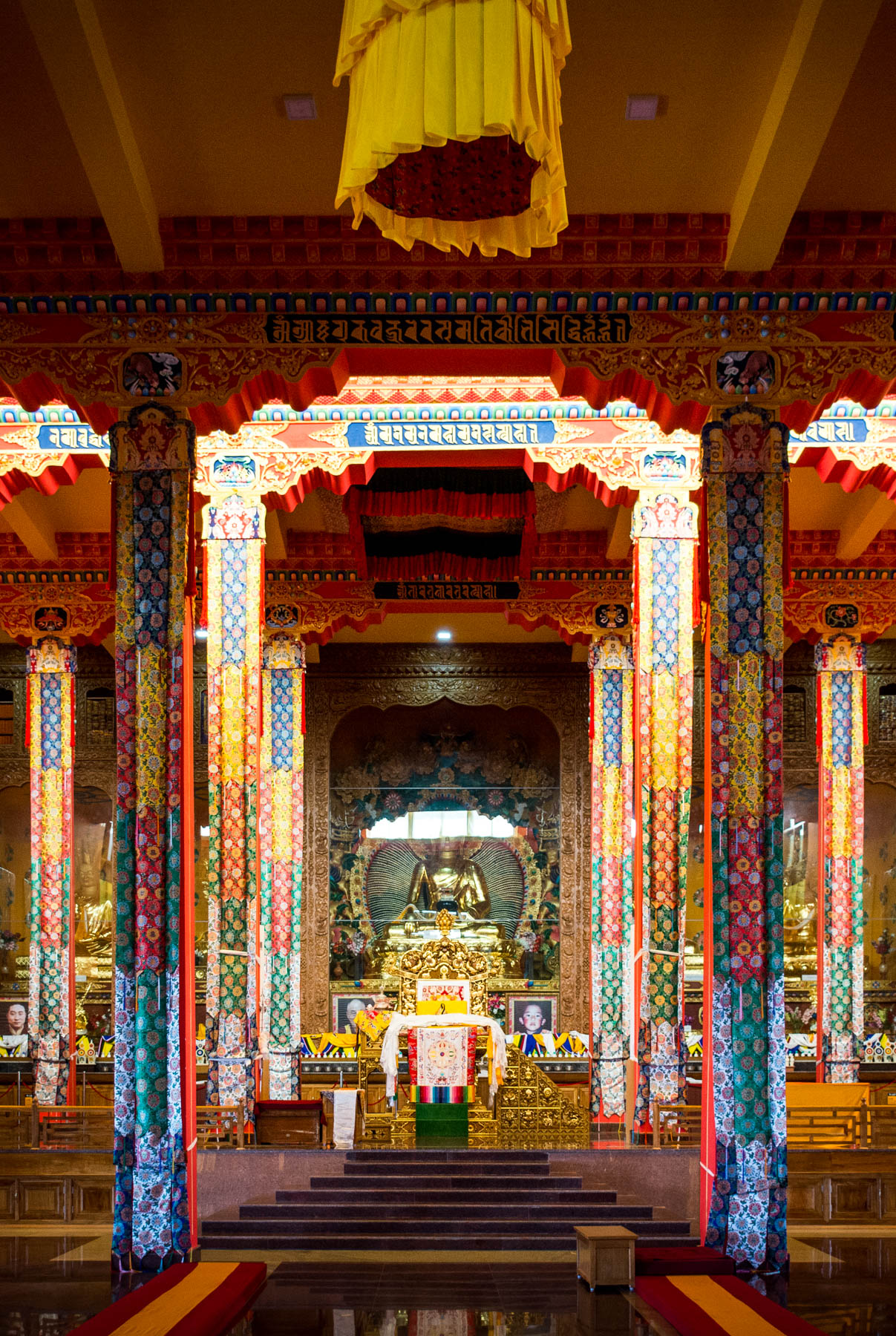 Interested in checking out a bit of Tibetan Buddhism in India? Here's what you need to know about Namdroling Monastery in Bylakuppe, India!
How to get to Bylakuppe to visit Namdroling Monastery
Getting to Kushalnagar 
Getting to Bylakuppe is a bit of a trek. First, you'll have to go to Kushalnagar, a nondescript town about 6 kilometers from Bylakuppe.
If you're coming from within Karnataka, you can get to Bylakuppe via a bus from Hassan for 77 Rs. Ask around the local bus station to be pointed to the right bus. 
If you're coming from Kerala, you can take a bus from Kannur via Virjapet for 166 Rs.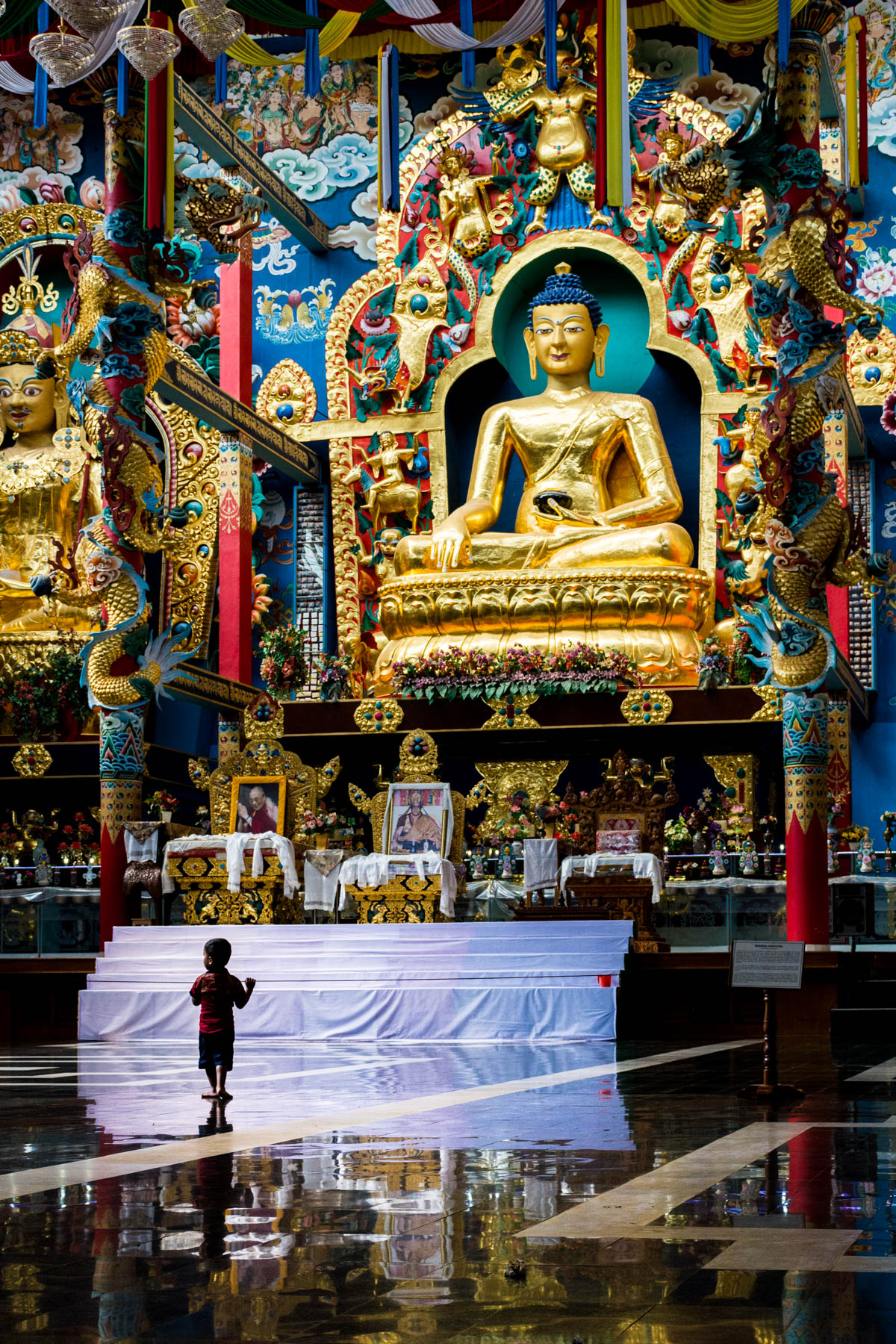 Where to stay in Kushalnagar
Unfortunately, foreigners need a permit to stay overnight in Bylakuppe, so it's best to stay in or around Kushalnagar.
Budget: There are plenty of cheap hotels near the bus station. We found a room in a nondescript guesthouse for 150 Rs/person/night. To find it, head left from the bus stand, and look for a big red sign advertising free wifi (a lie, by the way).
Mid-range: The Qinn Hotel is located in Kushalnagar's center, and is very affordable at around 1,200 Rs/night.
Getting to Bylakuppe and Namdroling Monastery
To get to Bylakuppe from Kushalnagar, a rickshaw should cost no more than 50 Rs. Make sure the driver knows you want to go to Namdroling Monastery. If you say "Golden Temple", he'll understand.
No need to have the rickshaw driver wait for you—there will be plenty of rickshaws waiting around the monastery.
Things to see in Bylakuppe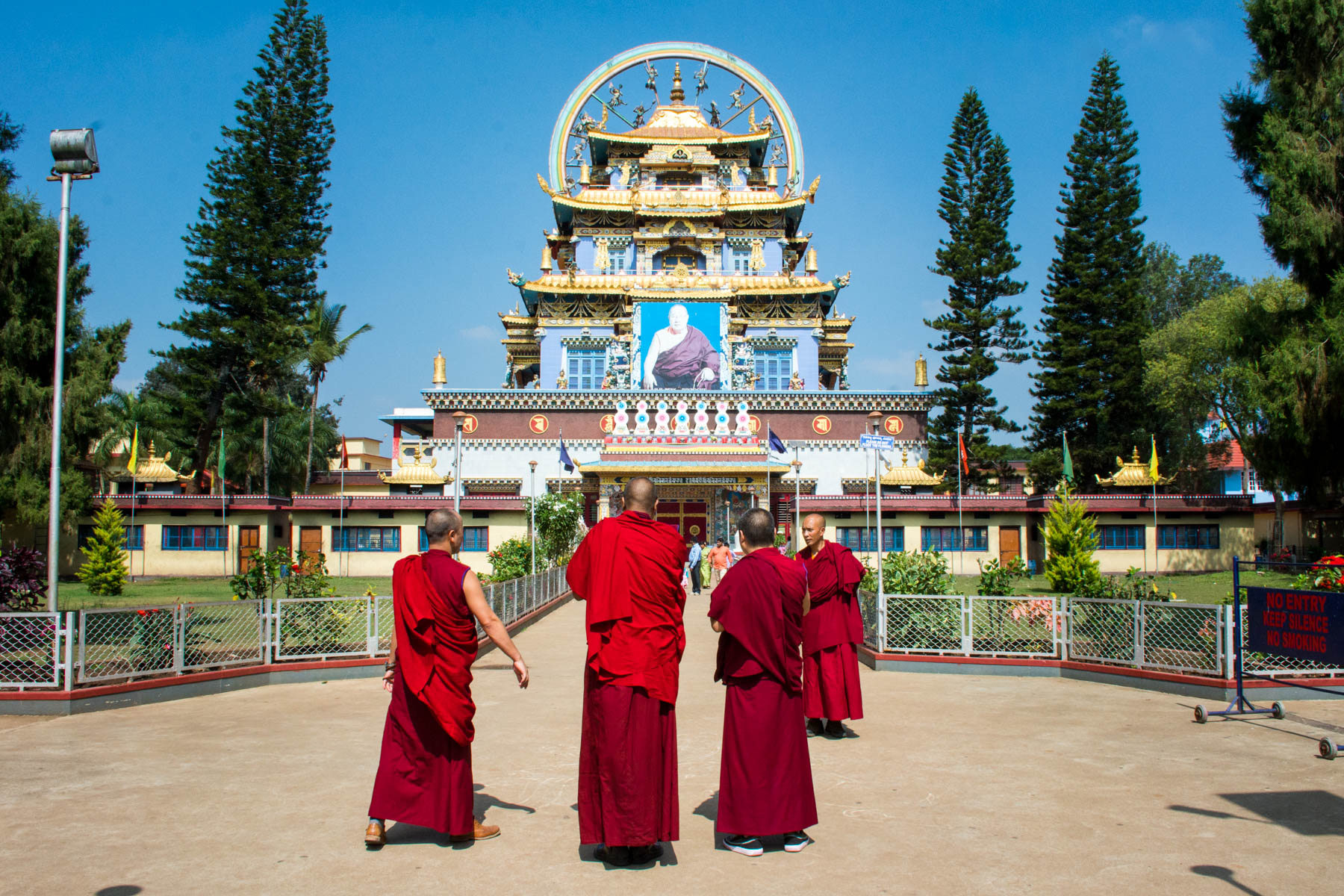 Namdroling Monastery is the most popular monastery. Entrance is free, though donations are accepted. Make sure to be respectful and quiet within the monastery compound, and dress modestly.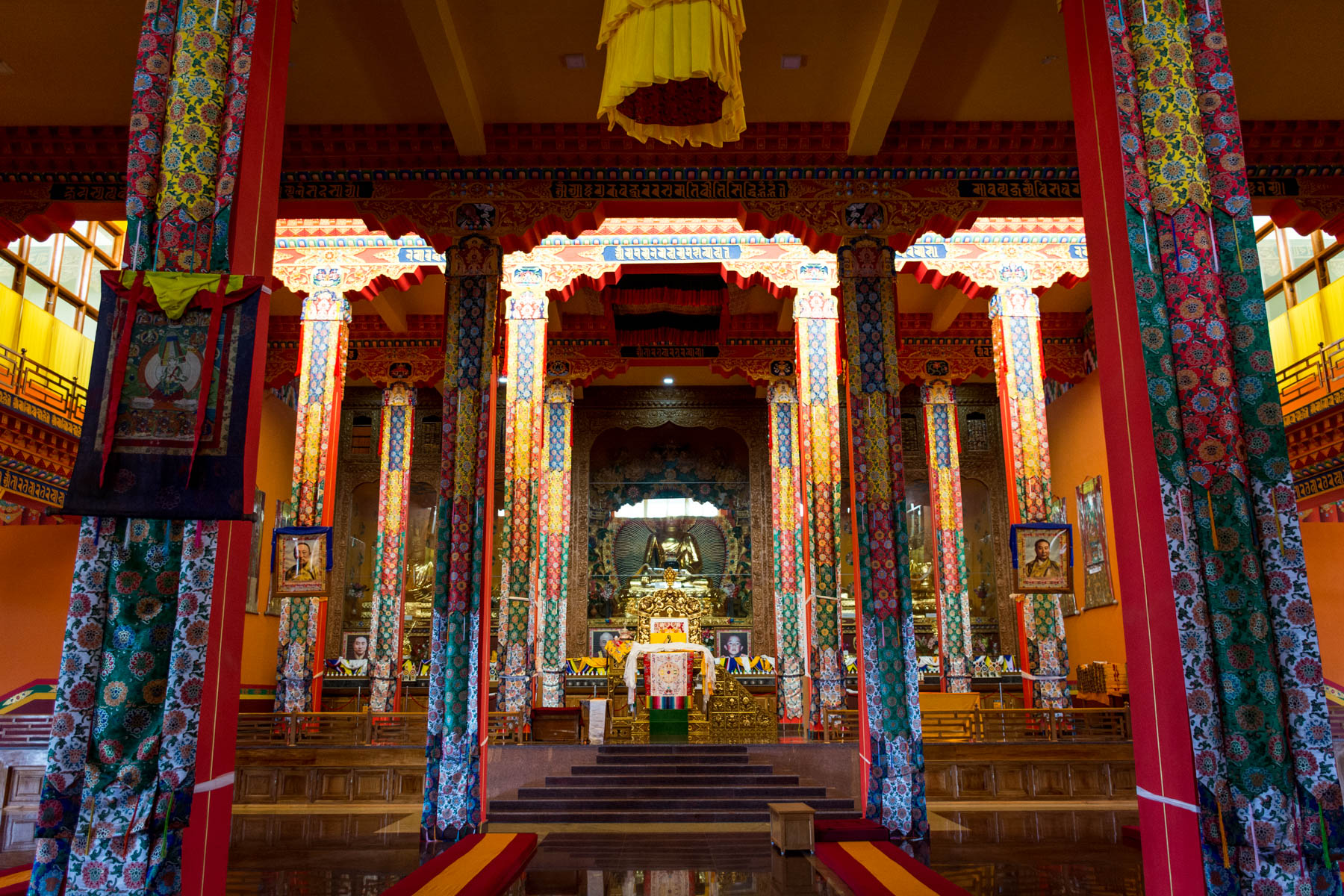 Tashi Lhunpo Monastery is another large monastery and university only 20-30 minutes' walking from Namdroling. It's much more serene than Namdroling—we were the only visitors there. Only the massive prayer hall is open to visitors, but the monks around the entrance should be happy to show you around.
Tsogyal Shedrup Dhargye Ling is a nunnery just down the road from Namdroling. You can wander in and stroll around, the nuns are very friendly.
Stop and lunch on some delicious Tibetan food such as thukpa (noodle soup) and momos (dumplings) while in Bylakuppe! Walk out and straight away from Namdroling for 5-10 minutes, then you'll see plenty of small, cheap Tibetan restaurants along the roadside. Look for the ones with the most monks sitting inside, of course.
Looking for more interesting things to do in southern India? Make sure to check out a Thayyem ritual in Kerala!
Looking for more interesting sights in the region? Don't miss Shettihalli Church near Hassan!
Yay transparency! The accommodation link in this post is an affiliate link. If you make a booking using our link, we'll make a bit of money at no extra cost to you. It helps us to maintain the costs of running this blog!