Holi is on every traveler's bucket list, but there's more to Holi than just throwing colors around! Here's what you need to know about playing Holi in Varanasi, India.
Everyone and their mother knows about Holi, the wild festival of colors occurring annually in India. You know, the one where people go out into the streets armed with colored powders and water, then chuck them about until everyone is sufficiently unrecognizable under thick layers of rainbow.
Varanasi—and northern India in general—is often mentioned as a good location for celebrating Holi. We headed there to celebrate Holi in 2016, and it certainly didn't disappoint!
Of course, there's a little bit more to Holi than just showing up armed with sacks of colors and looking for unsuspecting targets. Here's what you should know, practical and otherwise, before you play Holi in Varanasi, India.
What you need to know about playing Holi in Varanasi
Holika Dahan, the night before Holi 
One thing we didn't learn of until the last minute was Holika Dahan, also known as Chhoti Holi. It's the beginning of the Holi celebrations, starting on the night before Holi.
The days before Holi, you'll notice piles of wood and assorted debris appearing throughout the streets of Varanasi. Initially they might seem like yet more additions to the endless trash piles befouling India's streets, but the reality is far from! Over the course of the day, locals add scraps of wood and kindling to the piles, and many are eventually topped with an effigy of Holika, a demon.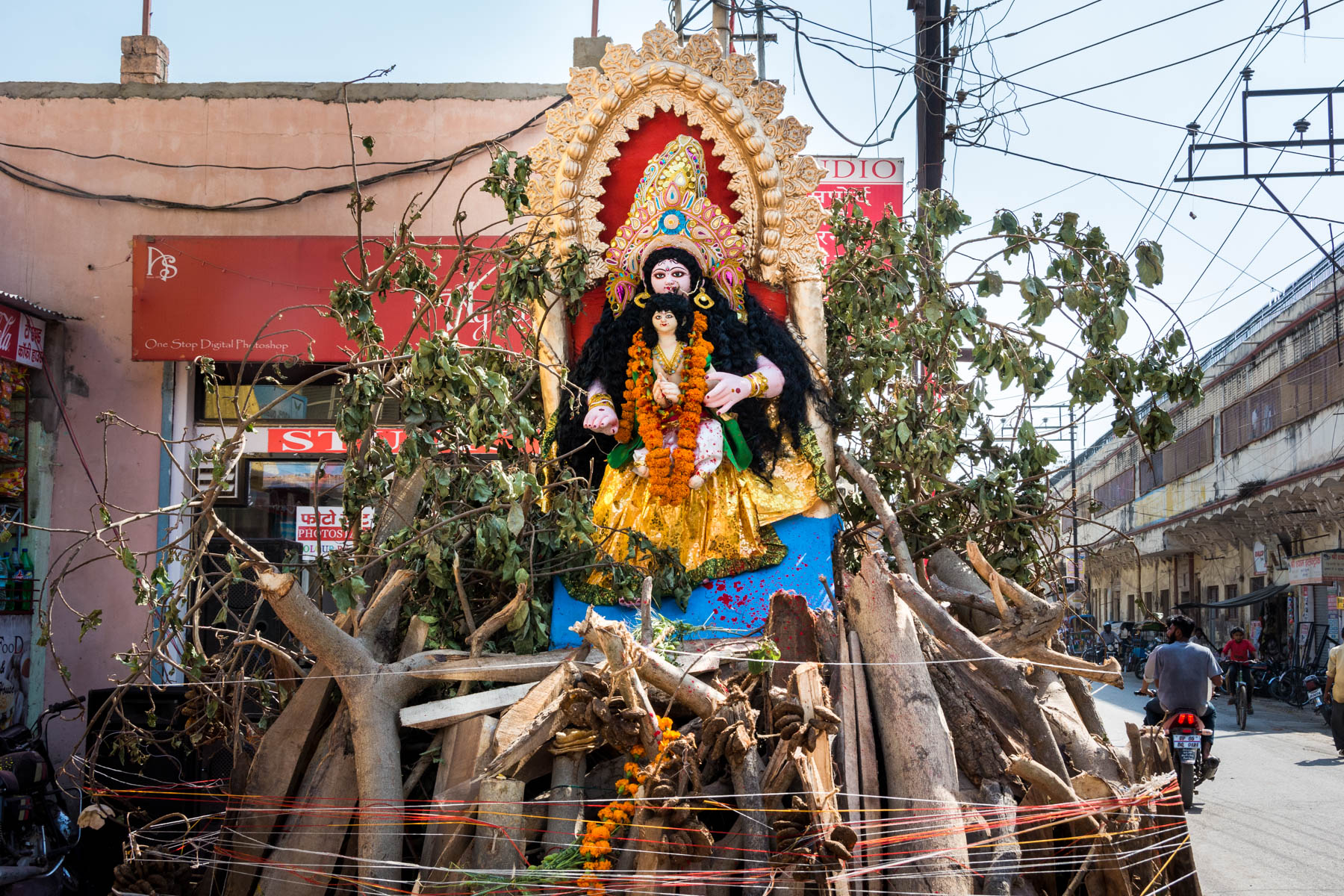 The woodpiles are set alight throughout the evening of Holika Dahan at no particular time. Wander through the alleyways around the ghats after about 21:30, and you're sure to encounter a fair few—just look for the glow or follow the smoke! If wandering the alleys is too much to ask in the dark, there will also be several fires on the ghats themselves.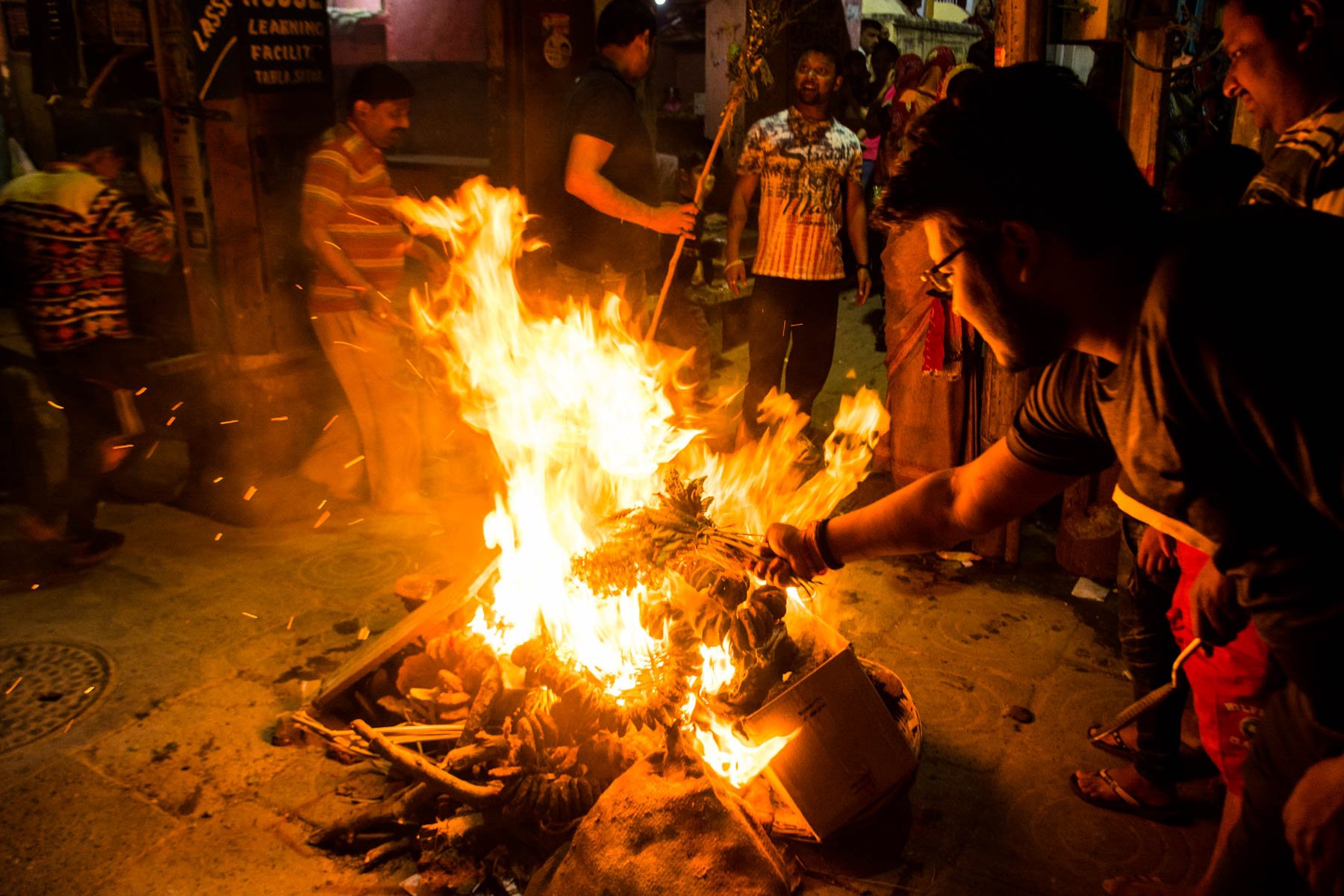 As with many holiday rituals in India, the burning symbolizes the triumph of good over evil. The name "Holika Dahan" means "Holika's death", in reference to the demon's death to save an innocent mortal named Prahad. People walk circles around the lit fires, occasionally coming forward with offerings to toss into the flames.
Practical tips for the night before Holi
Stores and restaurants will still be open into the evening
You'll still be able to buy colors and water guns on the streets
If you want to drink during Holi, buy your alcohol on this day… or earlier! Prices are marked up by 20% on the day before Holi, and there will be a mad rush to the stores. Wine shops are closed on Holi.
For those with a sweet tooth, do stock up on some gujiya, a traditional Holi sweet of Varanasi, before the holiday is out! You can find them at Shree Raj Bandhu, one of the oldest sweet shops in Varanasi.

P.S. Send me some when you do.
Playing Holi in Varanasi
The day has arrived! It's time to head to the streets and get your rainbow game on all day, right?
No. Hold your horses, noob.
Preparing for the assault
Before you set one foot out of the door, you should prepare your soul/scalp/epidermis to be barraged with color, especially if you're pale or have light hair.
Take some kind of oil, lotion, or Vaseline—coconut oil reportedly works best—and slather it all over your exposed skin and hair until you're as shiny as a bodybuilder's rippling pectorals.
If you want to go full-Indian, buy some of the mystery silver substance on sale at the color stands, and cover up with that instead. Disclaimer: not our fault if you get cancer from it.
It feels gross, but the protective coating will prevent the colors from sinking into your skin and hair. It's all fun and good to look like a can of spray paint exploded in your face on the day of, but explaining your bright pink visage and purple hair to people might get a little bit awkward a couple of weeks down the road. Protect yoself.
Next, prepare to get wet. Girls, if you're wearing white (as many are wont to do), be sure to put an extra layer on underneath your white shirt. In case you haven't figured it out already, having a translucent shirt while surrounded by drunk Indian men is not ideal.
Travelers of both genders, what can stay behind, leave behind. If you need to bring money or a phone, wrap them up tightly in a plastic bag and seal it somehow, or consider bringing a waterproof pouch with you.
How to protect your camera for Holi
People say you should leave your camera behind during Holi… but that's no fun! What kind of photographer would you be if you left your camera behind during such a wildly photogenic event?
If you're a casual snapper, I recommend bringing a waterproof GoPro, and a good-quality selfie stick so you don't actually drop your camera if/when you're assaulted from all sides.
For more serious photographers, get a bunch of plastic bags and duct tape, and prepare to wrap. I sealed my DSLR with two plastic bags: one around the body, and one around the lens. I cut out holes for the viewfinder and the lens opening, put a basic UV filter and a hood on my lens for extra protection, then went to town sealing all of the edges and openings with duct tape. Trust me: there is no such thing as being too protective of your camera.
To the outside!
Okay, NOW it's time to head to the great outdoors!
In Varanasi, the color wars go on in the morning and early afternoon, until about 14:00. People will be milling about on the streets by 8 or 9, and things really start to pick up around 10 or 11. If you're looking for action, simply head to the main ghat and wander from there. Children lurk in alleys, ready to strike at unsuspecting passerby, and you'll encounter many an impromptu dance party if you keep your ears open.
Keep your colors at hand, and let loose! Throw colors wherever your heart desires, just try to avoid people's eyes, noses, and mouths. And leave the poor animals alone—if colored, they'll lick the colors off and get sick.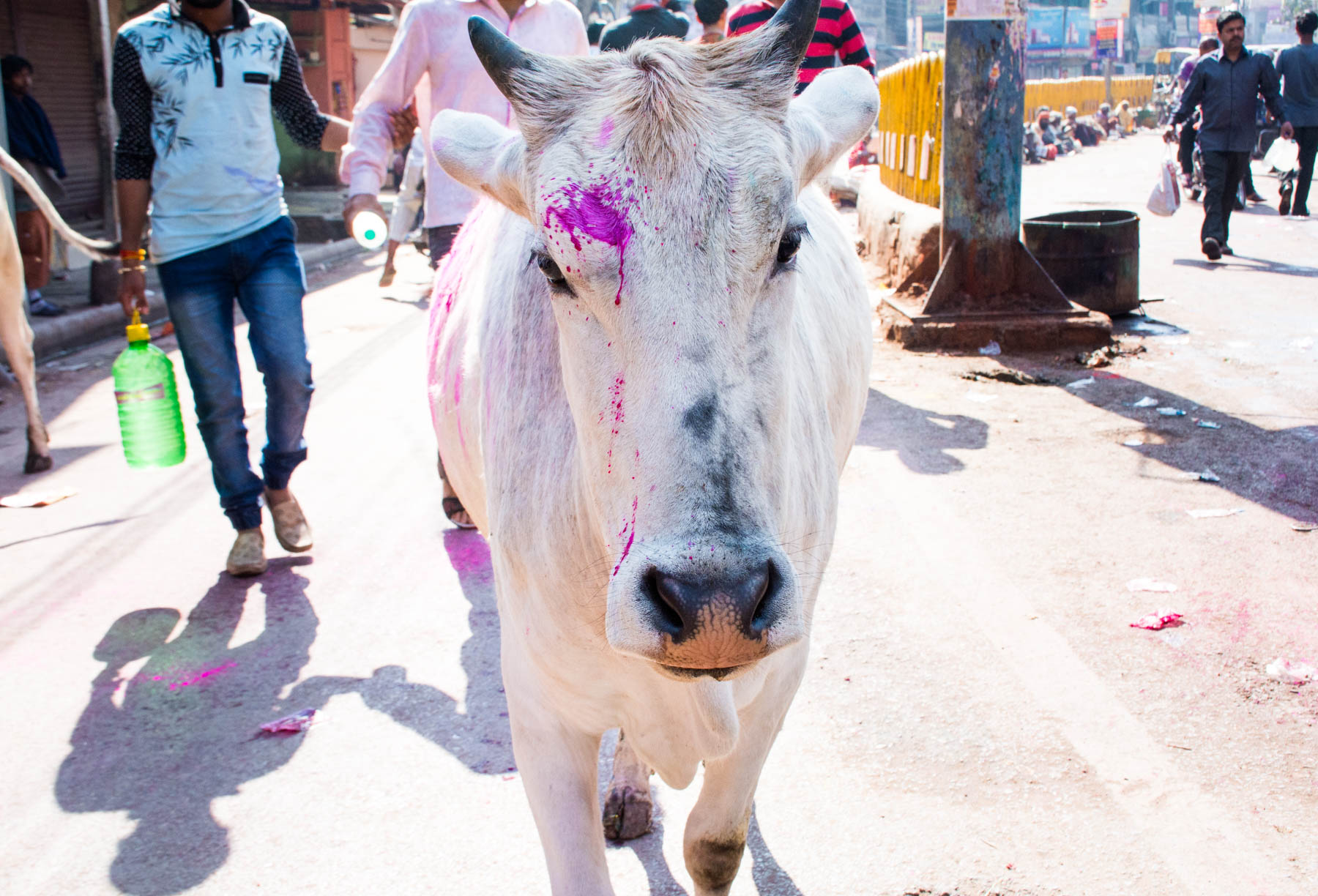 Water guns are the most effective way to join in the fight. Stock up on artillery in the days before the festival, and while walking around, carry a large plastic bottle of colored water for refills. If you need to re-up on ammo, pour some more colored powder into the bottle, then ask to use someone's tap or bucket to refill.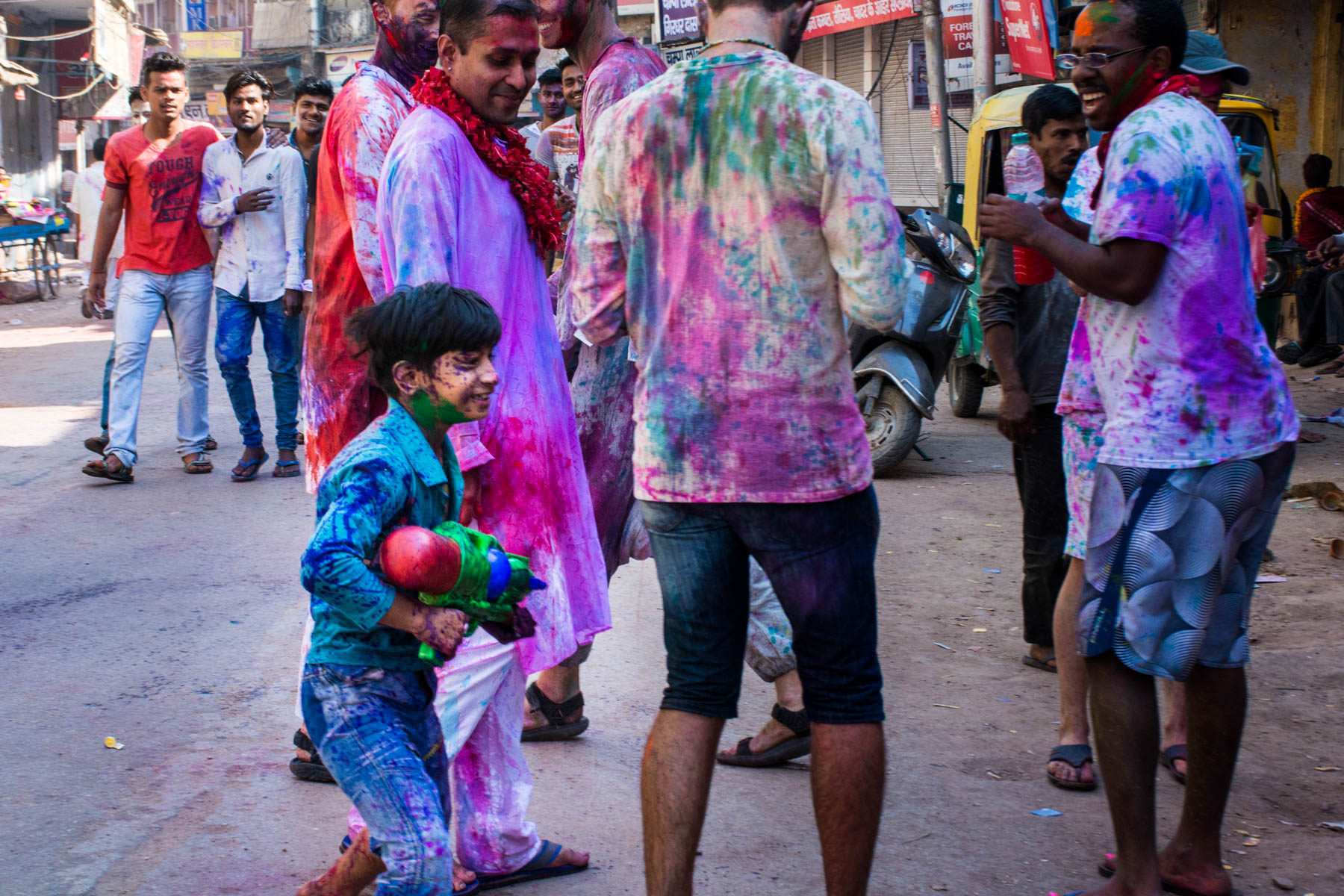 Watch your back
Holi is a blast, and it's (mostly) all in good fun… but there are definitely some things to be mindful of while you're on the prowl.
Clear-cut foreigners, prepare to be targeted. The taller, whiter, and blonder you are, the bigger the target on your back. Being a girl = 4X multiplier. Female travelers will want to wander around as part of a group; see my post about celebrating Holi as a woman for more safety tips and precautions.
Beyond being a walking target…
Keep your mouth shut when people are drenching you! The water comes from taps, the sewers, and/or the Ganges. Though people think the river water has restorative properties, I assure you it will purge you of far more than your sins.
Watch out for water balloons. Children like to lurk on rooftops and throw them at pedestrians. They can be incredibly painful if they make contact with your head! Stay alert for evil snickering from above, and scan the rooftops if you see a particularly dense patch of splatters on the ground.
Be wary of particularly drunken dudes. This goes for both boys and girls. Lecherous sexual assault aside, we saw fighting in the streets, and two boys in our hostel were groped and had their clothes forcibly ripped off by a group of drunk men they were dancing with.
If people offer you food, be cautious. Bhang, or marijuana extract, is commonly consumed during Holi in the form of lassi, thandai, pakoras, etc. Normally only sold at government outlets and small lassi shops, during Holi street food wallas sell weedy creations as well. It's best to buy your own supply directly if you're interested in shimmying with Shiva during Holi. See our post on bhang lassi in Varanasi for more on what to expect.
The evening of Holi
Once the police have shepherded the drunks home in the early afternoon, people take a few hours to scrub off the colors, and get dressed in their Holi best.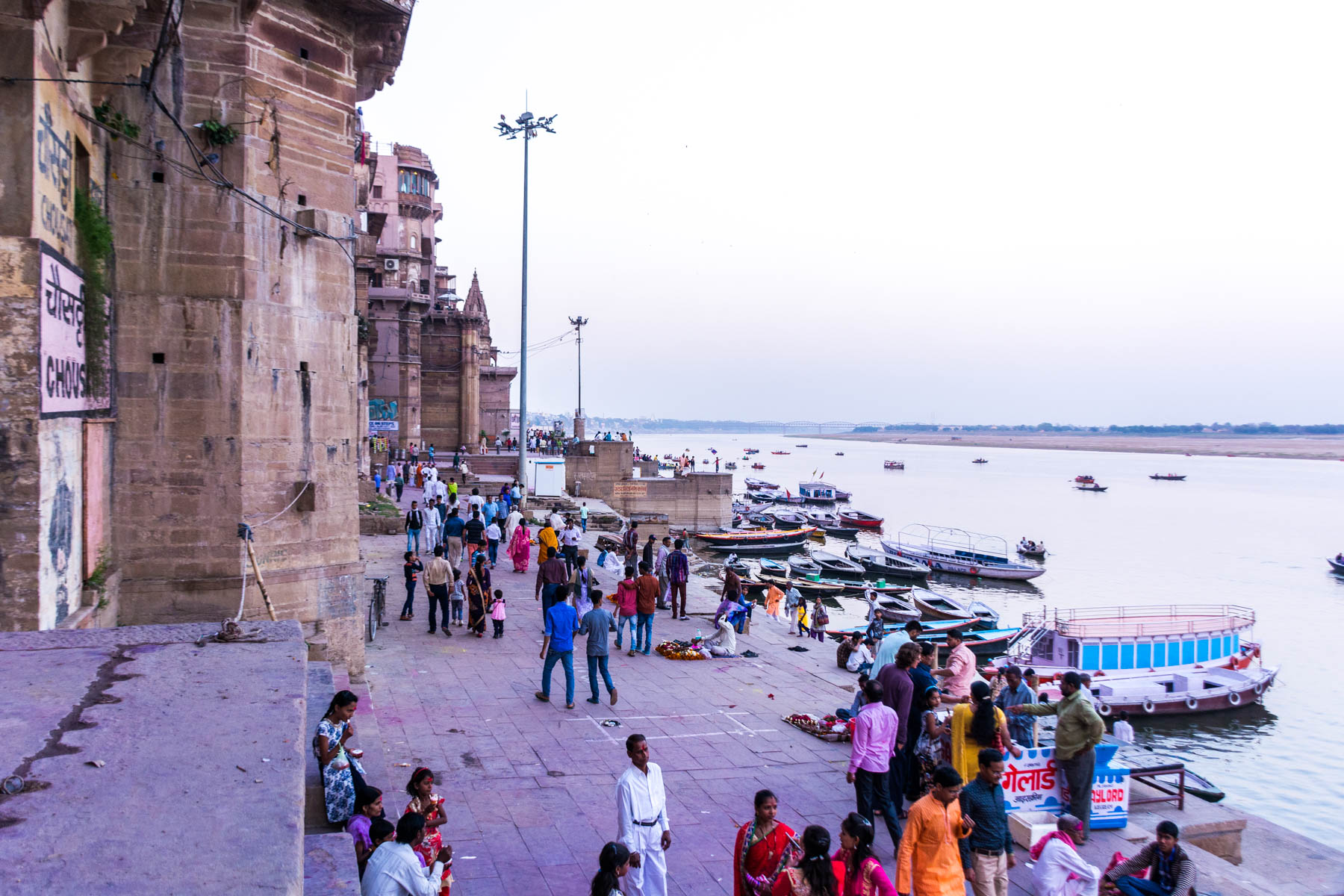 Around 5 or 6 in the evening, people will emerge from their homes to head to the temples for pooja, rituals. The atmosphere is much more relaxed, and you can sit and people watch without fear of being bombed with colors when not attentive. Find a nice spot on the ghats near one of the dozens of temples, kick back, and enjoy the calm remainder of your Holi holiday!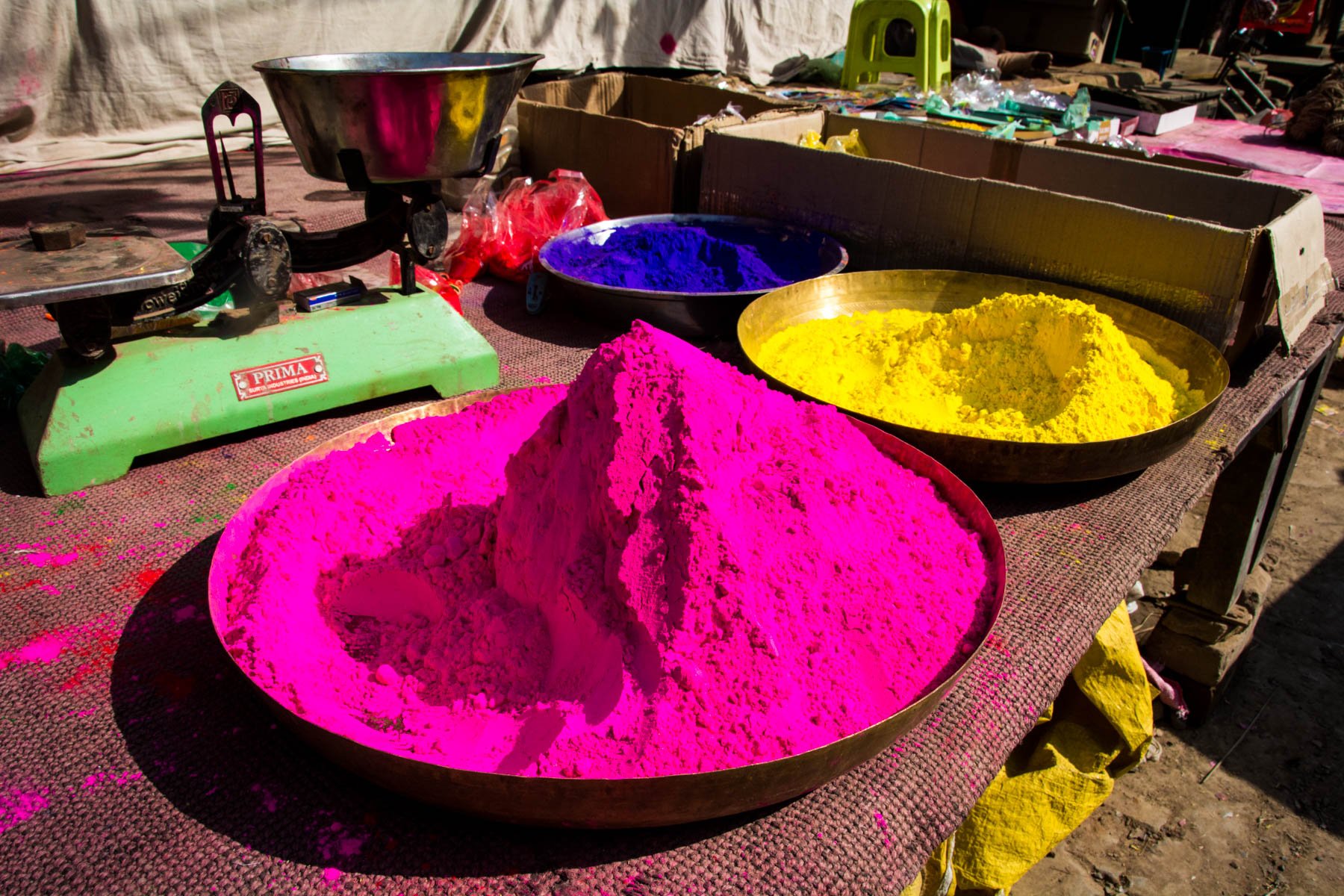 Practical tips for Holi
You can buy more colored powder throughout the day if necessary, though you can also just ask people if they can share some powder with you.
Colored powders go for about 10 Rs per small bag.
Only the occasional street food stall will be open in the mornings. Make sure what you're eating isn't too green—people like to eat and drink bhang (marijuana-infused) food on Holi!
Restaurants won't open again until 4 or 5 in the evening, so get yourself some snacks ahead of time.
People playing Holi (throwing colors) will be rounded up by 14:00.
Booking your stay for Holi
A final note: things fill up fast during Holi. We booked our train tickets to Varansi three months in advance (planning!) and most trains were already sold out. It's insane! If you need to book train travel to Varanasi or another destination for Holi, book as far in advance as possible.
The same goes for booking accommodation. Hotel and hostel prices surge around the holiday, but if you book early on, prices should still be close to normal.
Budget: Stops Hostel is a favorite for travelers celebrating Holi in Varanasi, and they organize Holi parties.
Mid-range: Ganges Grand Hotel is perfectly situated for watching the chaos of Gowdolia Chowk from above.
Luxury: BrijRama Palace, situated right on the Ganges near the main ghat, is a 200 year old palace that's been converted into a heritage hotel.
Yay transparency! There are affiliate links in this post. If you buy or book something using our links, we'll make a bit of money at no extra cost to you. Think of it as supporting our blog!