Celebrating Christmas in Goa can get a little crazy! Baga and Calangute are Goa's most popular beaches, and you need to plan ahead to ensure a smooth vacation. To help you plan your holiday, here's a guide to Christmas in Baga and Calangute in Goa, India.
This past Christmas, we deviated from our norm and went to the most touristed area in all of Goa: Baga and Calangute.
Thanks to Alex's family joining us for the holidays, we put down our backpacks and took off our budget backpacker hats in favor of Santa hats, cocktails on the beach, and foodie spreads galore. No more dal fry and standard (mold-filled) rooms for these backpackers!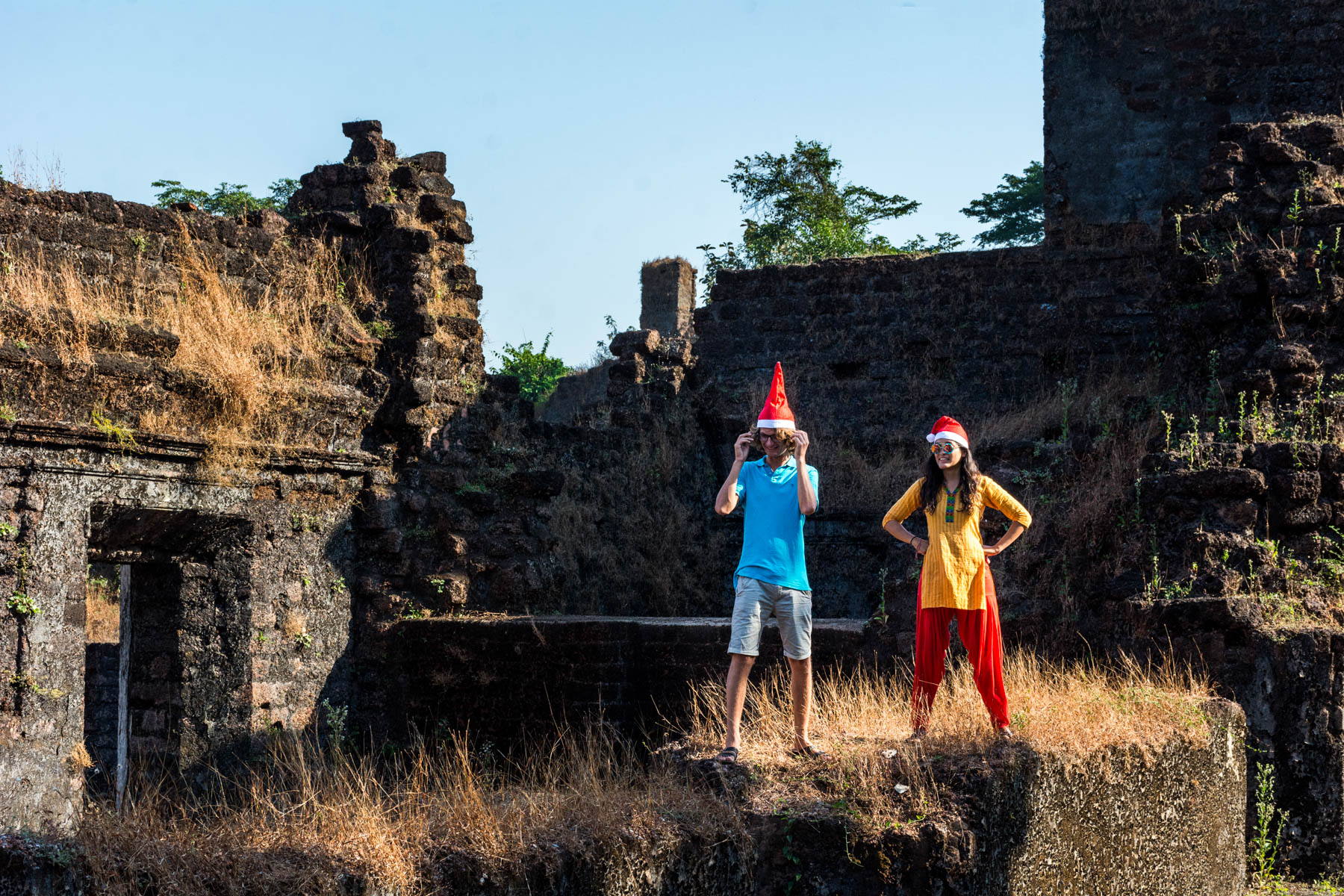 Despite the temporary shift in standards, our mission remains the same: to provide future travelers (or, in this case, holiday goers) with all the information they need to plan their upcoming trip. So without further ado, here's our guide to Christmas in Goa, India: Baga & Calangute.
Looking for a chill holiday in Goa? Check out these tours and local experiences for the best deals!
Guide to Christmas in Baga and Calangute in Goa, India
Know before you go
Baga and Calangute are already popular year-round for weekend trips to Goa, but everyone and their mother and their aunties heads to Baga and Calangute for the holiday season. It can be a pretty crazy place, filled with people, vehicles, and blasting beats. This is not where you want to head if you're looking for a peaceful getaway on a remote, deserted beach. (India is the last place you should look for peace and quiet.) If you need more time to decide where in Goa you're heading, check out Poor Nomad's comparison of North Goa and South Goa.
Though Baga wasn't our cup of tea, that doesn't mean you should write it off instantly. In the nature of staying partial…
Pros of celebrating Christmas in Baga and Calangute:
You'll be right in the middle of everything, from beaches to culture to nightlife
Only half an hour drive from the other popular beaches in North Goa
Lots and lots of restaurant options within walking distance
Baga has the highest density of nightclubs in Goa
The beach quiets around 11 P.M.
Cons of celebrating Christmas in Baga and Calangute:
It can be a madhouse. You won't be alone. Ever.
The male/female ratio is definitely skewed towards wolf packs of young men. Solo female travelers beware.
Foreign tourists are mostly Russian. If you're looking to meet other travelers, brush up on your Russian skills!
Constant background bass once the sun goes down.
Where to stay in Baga and Calangute
Repeat after us: I WILL BOOK FAR IN ADVANCE.
We booked our stay about two months in advance, and most accommodation was already fully booked. Beware.
Plenty of properties can be found on Booking.com and Goibibo for competitive prices. If time is running out and you're looking to book last-minute, Airbnb is a great place to look for your Christmas miracle.
You can also find some of the best hostels in Goa in this region, so have a look around for those if you're on more of a budget.
Best places to eat in Baga and Calangute
For us, the best thing about Goa is its food. Luckily, Baga and Calangute have plenty of good food options.
We ate at all kinds of places during our stay, and a few places stood out:
Restaurants that were highly rated, but ultimately disappointing: Britto's, Infantaria, and pretty much everything on the main strip. The music is far, far too loud!
Nightlife and partying in Baga and Calangute
This is one thing we can't advise you on. We (Sebastiaan, myself, and my brother) went out drinking several times, notably on Christmas Eve, but we could never convince ourselves to pay the cover fees for any club.
To us, it didn't seem worth it to pay Western prices to enter clubs filled with mostly men. To each his (or her) own, though.
The most popular clubs in Baga and Calangute are:
To save a bit of money on club entrance fees, consider buying a ticket online ahead of time. Titos offers a 50% discount if you register and buy an online ticket on Monday – Thursday.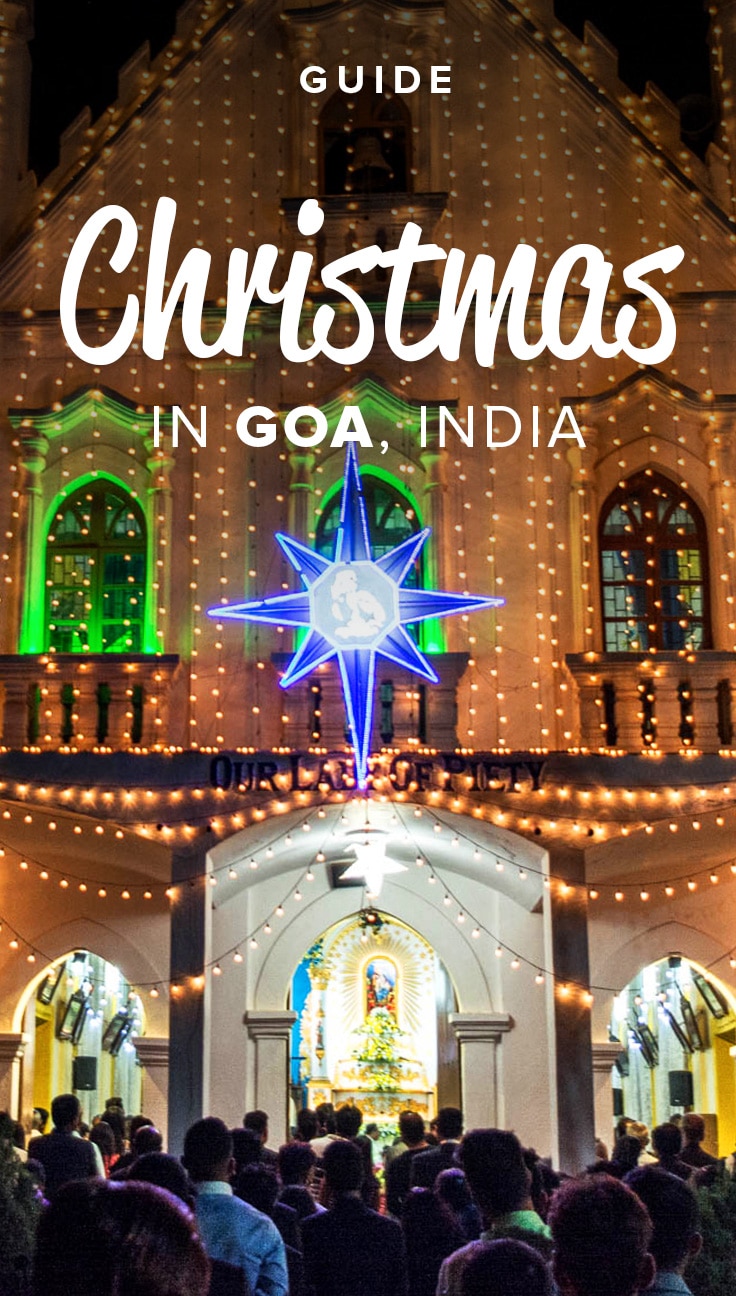 Transportation in Baga and Calangute
I'll be brief: taxi drivers in Goa are criminals, especially around the holidays.
There's a standard rate for taxis and rickshaws in Goa (PDF). Of course, none of the drivers would dream of adhering to it during the holidays. Following are some examples of absurd fares we had to pay.
Taxi from Baga to Old Goa: 900 Rs
Taxi from Baga to Anjuna: 500 Rs
Rickshaw from Baga to Porvorim: 300 Rs
Rickshaw from Panjim to Calangute: 300 Rs
The best way to get around is to rent a scooter. You can find scooters for 250-300 Rs/day around the holiday, while prices can shoot up to 500-1000 Rs/day on and close to Christmas and New Year's. Men renting scooters can be found all up and down the main Baga – Calangunte road. Look for signs or listen for men shouting "bikes".
Don't expect much of a discount for renting multiple days—they'll just give you some B.S. story about how they'll have plenty of business and don't need to give discounts.
Want to travel to Goa in Style? Soon you'll be able to travel from Mumbai to Goa on a ferry!
Things to do in Goa besides beaches
Goa has plenty more to offer if you're willing to venture beyond the beaches of Baga and Calangute. Brush the sand off your feet, get yourself a scooter or taxi, and take a couple of days to explore.
Things to do in Goa:
Arpora: Saturday night market
Anjuna: Wednesday flea market
Mapusa: Friday Market
Chapora and Reis Magos forts
The UNESCO churches of Old Goa
Panaji: Latin Quarters, Fontainhas
Spice plantation tour
Dudhsagar waterfall
The Hindu temples of Ponda
Visiting Goa? Why not go off the beaten track in Karnataka, too?
Celebrating Christmas in Baga and Calangute
Traditional Christmas celebrations aren't as widespread in Baga and Calangute due to the tourist majority. But it's still easy to find midnight masses and Christmas celebrations!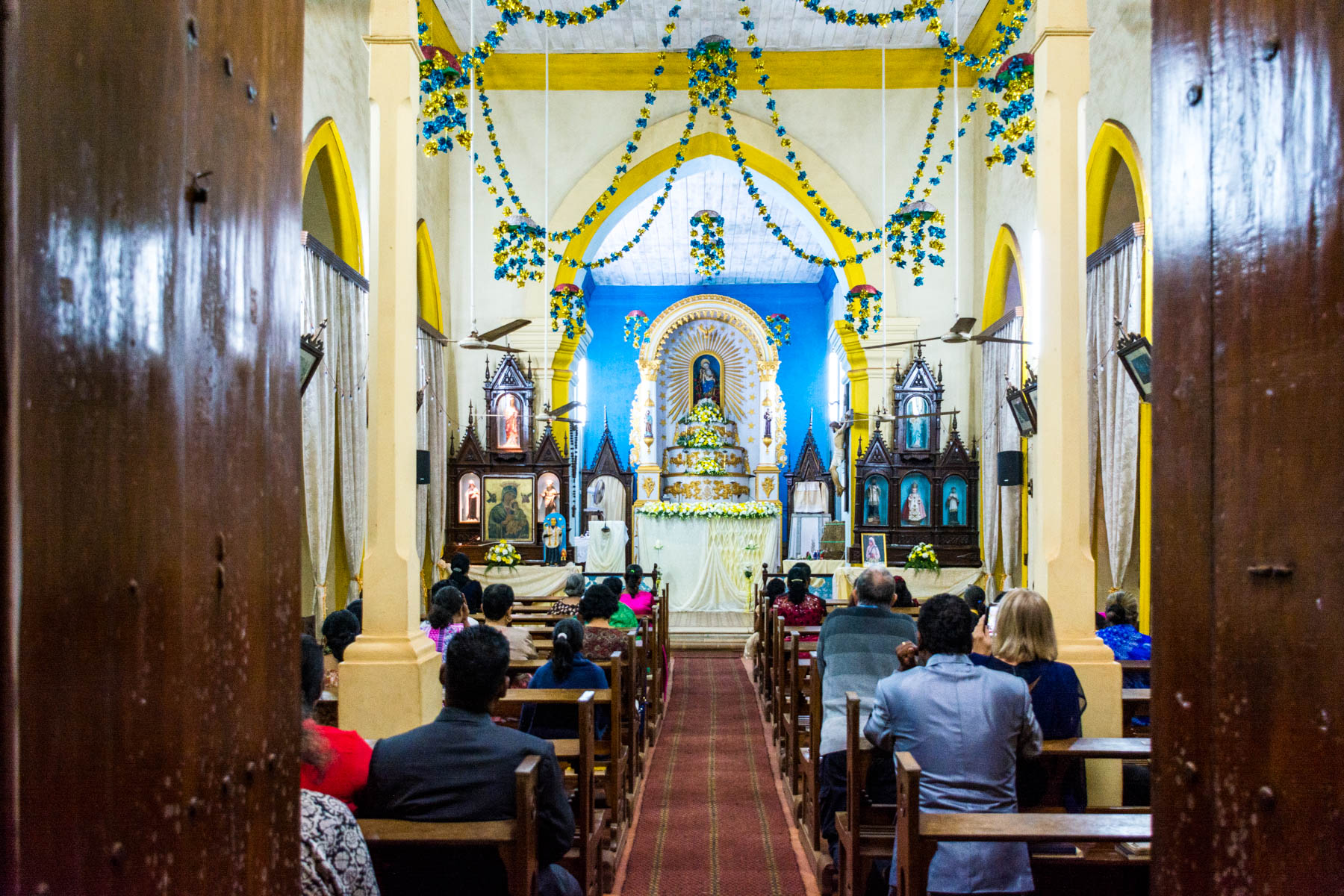 Midnight mass in Baga and Calangute
If midnight mass is what you're after, consider the Our Lady of Piety church or the Saint Alex cathedral in Calangute. There's also a small church at the end of Baga beach.
Mass begins at midnight, but make sure to show up an hour or two early, as seats fill up quickly! Be presentable in your dress—this means no short shorts or bare shoulders.
Christmas dinner and lunch
Indian families tend to go for a nice dinner on Christmas Eve, while many foreigners—Brits in particular—prefer a nice Christmas Day lunch.
If going out for Christmas Eve, consider booking ahead if you're with a big group. The nice restaurants will be busy! Finding a table is easier for Christmas Day lunch, though big groups should still reserve.
Other celebrations
Christmas Eve is the biggest party night! The police turn a blind eye to the 23:00 noise restriction rule on the holiday, and everyone in Baga and Calangute takes advantage of that.
Beach shacks (and people) launch fireworks at midnight, and free parties rage on in the shacks until the wee hours of the morning. If you're looking to party on the cheap on Christmas Eve in Baga and Calangute, head to the shacks. You can easily sidle in with drinks of your own. No one will care!
If clubbing is your calling, bring a lot of cash: cover charges skyrocket around Christmas. Entrance to Tito's, Baga's most famous nightclub, is 4000 Rs for stags (lone men) and 2500 Rs for couples. Women can enter for free.
Whatever you decide to do for Christmas, we hope this guide was helpful! Safe travels, and enjoy your holidays.