Our travel guide to backpacking in Arunachal Pradesh, for those interested in exploring one of India's most beautiful—and least visited—states. This  Arunachal Pradesh travel guide includes practical info and includes an itinerary for Arunachal Pradesh.
In the far northeastern corner of India lies Arunachal Pradesh, the Wild East of Indian tourism. Within its borders, snow-capped Himalayas encircle pristine golden valleys, and 24 unique tribes are scattered throughout its demanding, but photogenic, terrain. The Shangri La of the northeastern states, it begs to be explored, but is often ignored.
The easternmost of all Indian states, Arunachal Pradesh is far-removed from the Indian mainland, infrastructure is poor at best, and it requires pesky permits from both Indian and foreign tourists alike. It's easy to see why it's the least visited state in the country!
The slow trickle of tourists who go backpacking in Arunachal Pradesh is both a blessing and a curse. On the bright side, you won't have to fight through swarms of tourists as you would in Himachal Pradesh or Rajasthan, and the local people are much less likely to con you at every opportunity. On the downside, little tourism means information about the state is scarce.
That's where we come in!
This Arunachal Pradesh travel guide doesn't cover the entirety of the state—we'd need to do a hell of a lot of trekking for that—but it will cover the basics of travel to Arunachal Pradesh, "common" tourist destinations, and other tidbits of information you need to know. Something is better than nothing, right?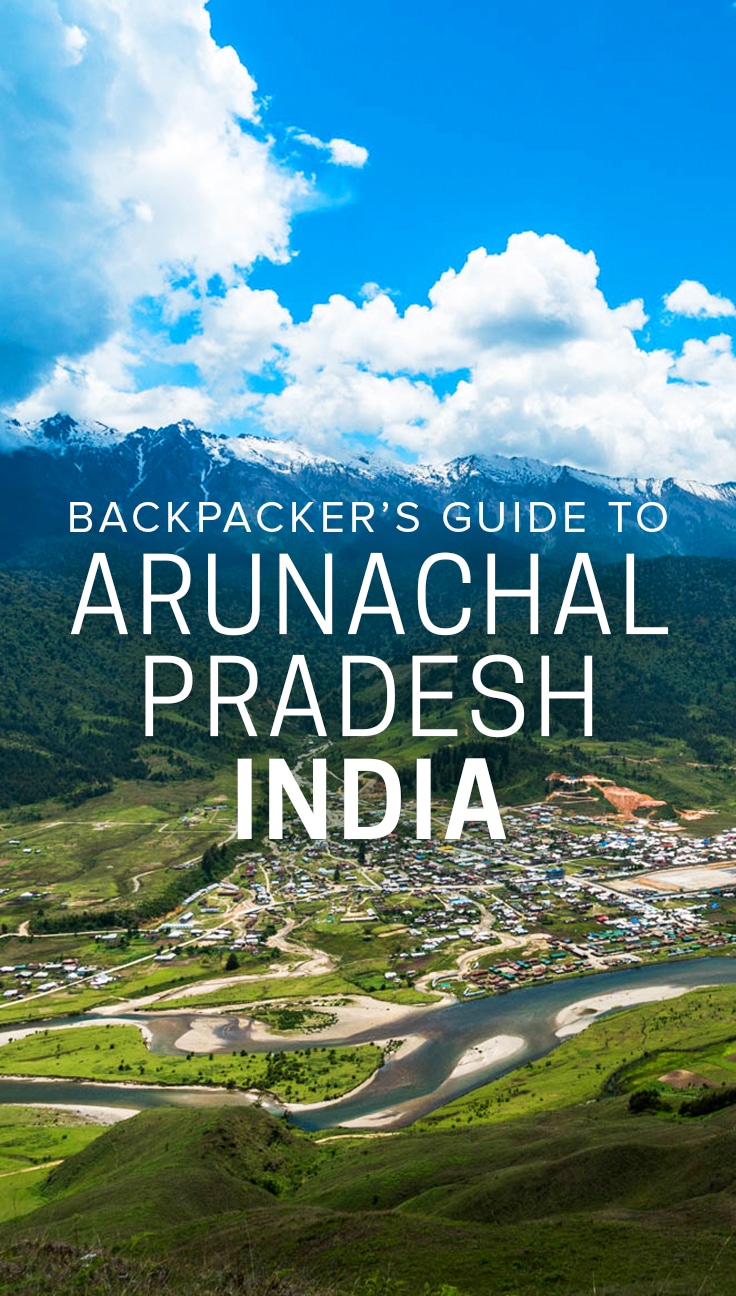 Lost With Purpose's guide to backpacking in Arunachal Pradesh, India
Arunachal Pradesh tourism index
Destinations in Arunachal Pradesh
Tourist routes in Arunachal Pradesh
If you want to take a trip to Arunachal Pradesh, the first thing you need to do is decide where in Arunachal Pradesh you want to travel. You'll need to know this for your permit application, as foreigner permits specifically state where the holder is allowed to go.
The Arunachal Pradesh Tourism Board has created 12 "tourist routes" throughout the state. They include:
Tezpur (Assam state) – Bhalukpong – Bomdila – Tawang
Itanagar – Ziro – Daporijo – Aalo (Along) – Pasighat
Pasighat – Jengging -Yingkiong – Tuting
Tinsukia – Tezu -Hayuliang
Margherita – Miao – Namdhapa – Vijoynagar
Roing – Mayudia – Anini
Tezpur (Assam state) – Seijosa – Bhalukpong
Ziro – Palin – Nyapin – Sangram – Koloriang
Doimukh – Sagalee – Pake Kessang – Seppa
Aalo (Along) – Mechuka
Daporijo – Taliha – Siyum – Nacho
Jairampur – Manmao – Nampong – Pangsau Pass
You can find more information about each route on the (surprisingly decent) Arunachal Pradesh Tourism website. Unfortunately, it isn't clear whether all these routes are open to foreign tourists.
Our one month route backpacking in Arunachal Pradesh
Below is the itinerary we used during 30 days of travel in Arunachal Pradesh, only using public transportation (Sumos). Our route begins and ends in two different locations in Assam. If you need to head back to Guwahati in the end, never fear—there's always at least one bus or Sumo to Guwahati from places like Itanagar and Aalo.
What else? If we had more time—and knew to put it on our permit application—we would've liked to visit Tuting in the north.
When is the best time to travel to Arunachal Pradesh?
Generally speaking, April-May and October-November are the most ideal times to travel in Arunachal Pradesh.
Beyond that, the best time to plan an Arunachal Pradesh trip depends on where you're going—and what you're looking for!
The high altitude region of Tawang will be bitterly cold from November to February/March, though the pass to reach it is open year-round. Bring warm clothes if you're off to peep the snowy peaks!
Monsoon in Arunachal Pradesh runs from June or July to September, though we were still pelted with gross amounts of rain in May. All of the northeastern states of India are prone to heavy rainfall, so monsoon isn't the best time to visit.
Permits for travel in Arunachal Pradesh
Once you've figured out where you want to go, you'll need to apply for a permit for travel in Arunachal Pradesh. There are two kinds of permits:
Protected Area Permit (PAP): Required for foreign tourists. Valid for 30 days, costs $50, to be paid in rupees (3,450 Rs at the time of writing).
Inner Line Permit (ILP): Required for Indian nationals. Costs 400 Rs if you want to pick up on the same day, 100 Rs if not. Can be done online.
You can apply for a permit in Delhi, Kolkata, Guwahati (Assam), and Itanagar (although you need a permit before you can enter Itanagar, so this option is only available to locals).
You can get a permit either through a tour agency or independently. It's also possible to get the permit on the spot at the airport (400 Rs for Indians) if you fly into Guwahati, and at the Guwahati, Nahargalun, and Gumo train stations on arrival. There have been many reports of Indians getting a "rushed" ILP en-route to Arunachal with a little bit of hand greasing.
Once you've received your permit for Arunachal Pradesh, be sure to print out several copies, depending on how long you'll be in Arunachal. You'll need to provide them at checkpoints on the road and when checking in at hotels.
Note: In the past, it has been difficult for solo travelers to get permits to travel in Arunachal Pradesh. These days, it's possible, but solo travelers are only allowed to travel the tourist routes that include Tawang and Ziro.
Itinerary for Arunachal Pradesh 
The following Arunachal Pradesh itinerary is based on our own experience. Note that all accommodation tips given are for places that accept foreign travelers — Indians often have more options regarding budget accommodation in Arunachal Pradesh. If you want to know our exact route, check out the map above.
Tawang
A Monpa town amidst the Himalayas with a notable Tibetan feel, Tawang is one of the most popular destinations on any Arunachal Pradesh trip. Its hills are dotted with more gompas (Buddhist monasteries) than you can count, and at almost 2,700 meters, its steep hills really pack a punch! If you're in search of beautiful vistas and a bit of Buddhist culture, Tawang is the place for you.
How to get to Tawang
13-14 hours from Tezpur, Assam – Daily Sumo at 5:30 or 6 – 750 Rs
8 hours from Bomdila – Daily Sumo – 500 Rs
10 – 12 hours from Bomdila – Daily bus – 120 Rs
7 hours from Dirang – Daily Sumo
Where to stay in Tawang
Sleeping in Tawang can get a bit pricey, aside from the government-run accommodation. Expect to pay upwards of 1,000 Rs for a double if staying in a privately-run establishment.
Arunachal Pradesh Tourist Lodge – 600 Rs for a spacious double with heater and private toilet – Take turnoff from Old Market street on the corner where Taste of Tawang is located, walk up the hill and it'll be on your left
Hotel Neha – 1,200 Rs for a double with balcony and private toilet – On main Old Market road, a bit down the hill from the main market
Hotel Gayki Khang Zhang – 1,300 Rs for a deluxe double room in a hotel with what's arguably the best view of the big monastery in town – It's near the gated road to the big monastery, and it's bright green and blue so you can't miss it!
Things to do in Tawang
Tawang Monastery – The massive monastery of the town, and the second-largest Buddhist monastery in the world
Giant Buddha – Visit the large hilltop Buddha early in the morning or in the early evening to see people saying prayers as they circle the statue
Urgelling Gompa – A small monastery where the 6th Dalai Lama was born
Madhuri Lake – Originally known as Sangetsar lake, about 25 km from Tawang. Foreigners might not be allowed – check on this before leaving.
Sela Pass – An alpine lake in a 4,175 meter-high (13,700 ft) mountain pass, you'll see it on the way to Tawang
Iron bridge – Runs across the river between Kharsaneng and Mukto villages
T. Tso Lake – A more peaceful lake to visit than Madhuri, only 17km from town
Bum La Pass – The meeting point of India and China, sitting pretty at 4,600 meters (15,200 ft). Only Indians can visit, provided they have the proper permit.
Where to eat in Tawang
Most restaurants open late and close early (especially if it's raining), so options can be limited. Consider breakfasting with your hotel.
Snow Hill Hotel is popular with the local crowd, and offers plenty of modestly priced Tibetan and Indo-Chinese dishes. It's hidden away on the first floor of a green building in the Old Market—look for a small staircase leading up.
Dragon serves up Chinese and Tibetan dishes, and is one of the few restaurants open "late" at night (after 8). Look for dark windows with a dragon design.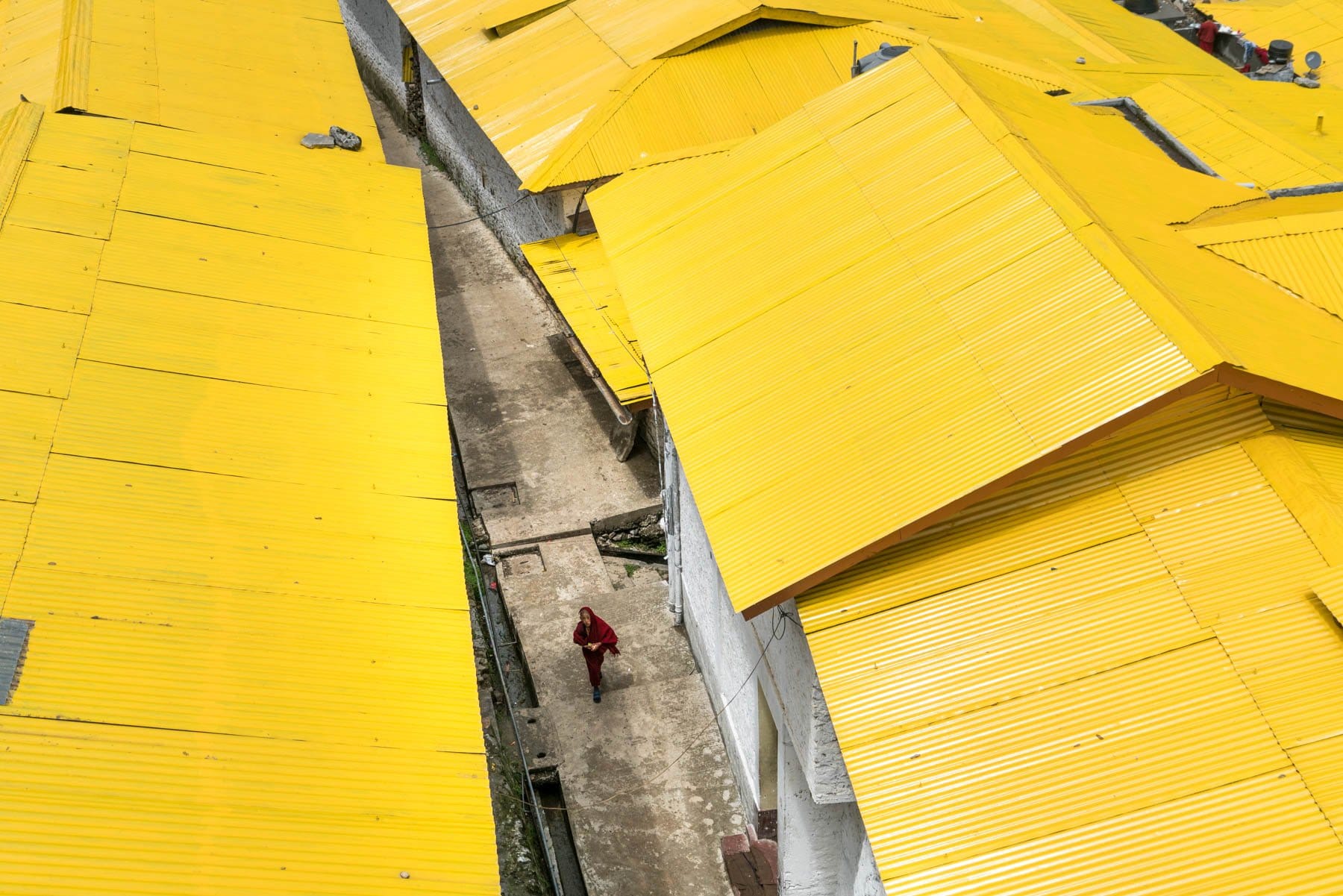 Get out
Sumos from Tawang leave from the Old Market street. There are travel agencies along the road that you can buy tickets from. Most Sumos leave early in the morning, around 5:30.
Tribes in Tawang
Monpa (majority), Takpa
Bomdila
Either Bomdila or Dirang is a good stopover point during your journey to Tawang… unless you like 14 straight hours of bumpy driving! Bomdila town isn't remarkable, but a peaceful and clean monastery overlooks it from above, and the monks are friendly and happy to chat and offer the occasional butter tea.
How to get to Bomdila
7-8 hours from Tezpur, Assam – Daily Sumo at 5:30 – 500 Rs
7-8 hours from Tawang – Daily Sumo at 5:30 – 500 Rs
There are buses from Tezpur to Bomdila and Dirang, but they're incredibly slow and can take a day or two. Sumos are recommended.
Where to stay in Bomdila
Hotel Panchieng – 800 Rs for a basic double with private toilet – Two buildings down from Lungta Residency
Lungta Residency – 1,250 for a double, run by a kindly Tibetan family – Conveniently located next to Sumo stand, beware it can fill up quickly
Doe-Gu-Khil Guest House – 1,500 Rs for a double with toilet in a monastery-run guest house – Located just below Upper Gompa
Things to do in Bomdila
Upper Gompa is the largest of the three (lower, middle, upper) in town, and commands good views of the town
Eagle's Nest Wildlife Sanctuary is a bit more than 20 km outside the town, and a good place for bird watching
Apple orchards in Dirang Valley are worth a visit if you come during winter harvest season
Where to eat in Bomdila
There's a cluster of basic hotels around the Center Point area serving sweets, snacks, and fast food.
Hotel Elegant is a small, cheap restaurant at the Center Point area. Don't be put off if it seems empty—people eat in the back room.
Lungta Residency has an attached restaurant/café, admittedly open at strange times of day (lunch only?)
Get out
Bomdila's Sumo stand is outside the multi-level "shopping center" in the middle of town. You can buy tickets from the small booths on the backside of the basement.
Tribes in Bomdila
Monpa, Sherdukpen, Miji, Bugun, Aka
Itanagar
After a quick departure from the flatlands of Assam into the hills and mountains of Arunachal, you'll enter Itanagar, its rather unremarkable capital. We didn't bother to stay for more than a day—we were ready to get back into nature!
How to get to Itanagar
9 hours from Bomdila – Daily Sumo at 9:30 – 600 Rs
4 hours from Ziro – Daily Sumos starting at 6:00 – 350 Rs
10.5 hours from Guwahati – Daily bus at 6:00 and 16:30 – 160 Rs
See more bus times for transport to Itanagar on the APST website
Note: Naharlagun is close to Itanagar, and also offers a variety of transport options. If you can't find a way to Itanagar directly, Naharlagun is a good alternative.
Where to stay in Itanagar
Hotel Blue Pine – 1,320 Rs for a double with private toilet, including taxes – Five minutes' walk from the Sumo stand, near the backside of the bus stand
There are a handful of other hotels near Blue Pine. We heard Pine Ridge Hotel is cheap, but can't confirm that it accepts foreigners.
Things to do in Itanagar
The gompa (monastery) at the top of the hill is all we know of.
Where to eat in Itanagar
Darjeeling Restaurant across from Blue Pine hotel is popular with young locals, and serves up simple fried rice and momos.
Get out
The Itanagar Sumo stand, which offers services to virtually anywhere in Arunachal Pradesh, is close to the entrance of the APST bus stand. If heading out of the bus stand, turn left, and walk for a few minutes. You can't miss it—there are a dozen little ticketing booths.
Ziro Valley
The lush greenery of Ziro has been attracting more tourists in recent years, thanks to the Ziro Music Festival putting it solidly on traveler's maps. More imortantly, it's home to the Apatani tribe, touted as the most advanced tribe in Arunachal thanks to their ingenious farming techniques (which earned them consideration for a UNESCO Cultural Heritage listing).
Being relatively flat, Ziro is an easy place to walk or cycle through the numerous small villages throughout, and a good place to relax in peace and quiet for a few days.
How to get to Ziro
Hapoli, AKA "Ziro", is the larger part of town, while Old Ziro is several kilometers down the road. There are shuttle minibusses running between the two, though you'll be hard-pressed to fit any luggage inside.
4 hours from Itanagar – Daily Sumos around 6:00 – 350 Rs
7 hours from Daporijo – Daily Sumos early in the morning – 500 Rs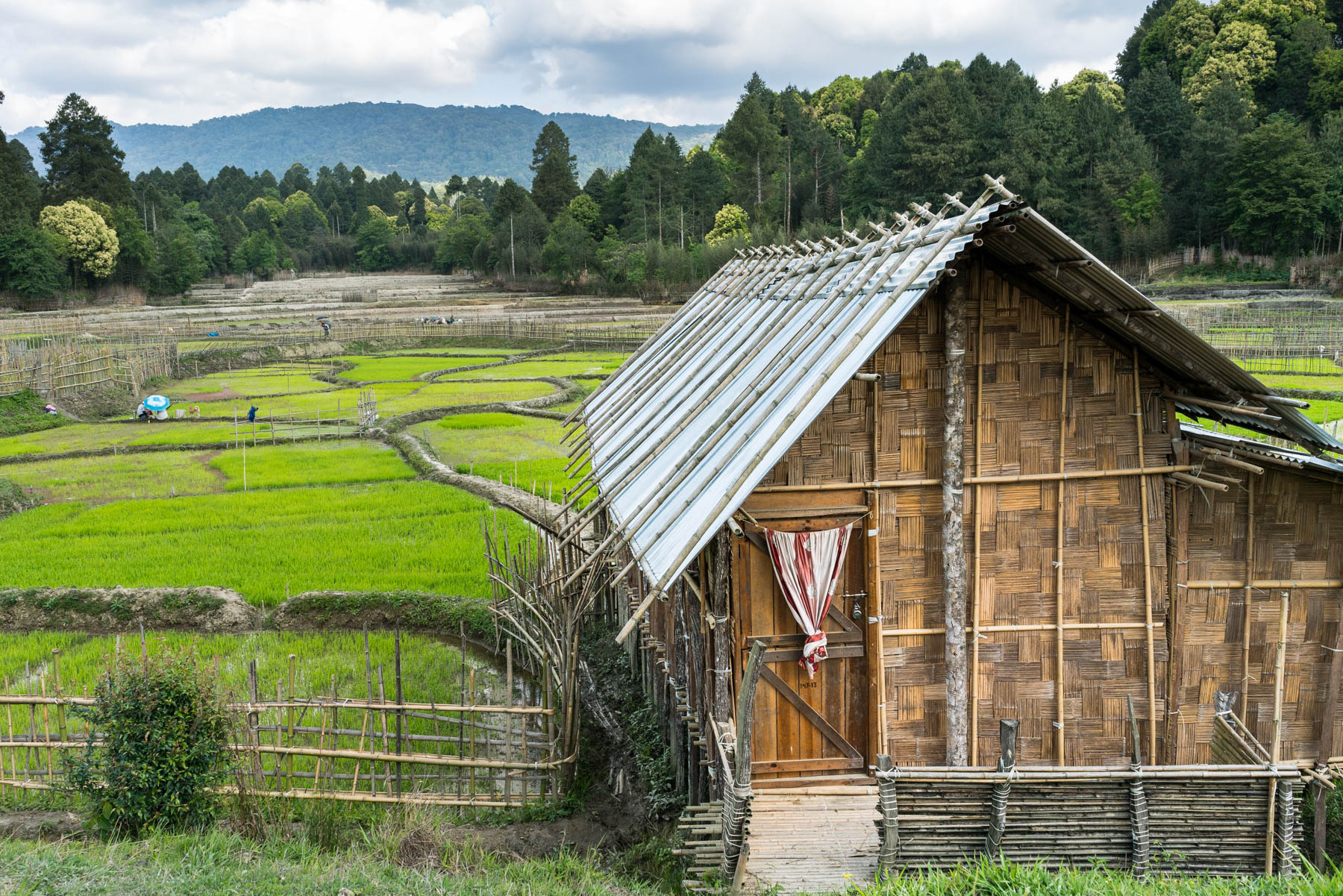 Where to stay in Ziro
Arunachal Guest House – 1,500 Rs for a double in this well-located hilltop hotel – Old Ziro
Ngunu Ziro Homestays – 1,000 Rs per person for a room and half board – Contact them via the Ngunu Ziro Facebook page or one of the phone numbers listed, as homestays quickly fill up in high season
Blue Pine Hotel – 1,320 Rs for a spacious double with private toilet, from the same chain as in Itanagar – Atop a hill at the edge of Hapoli (New Ziro)
Circuit house – Price unknown, but certainly offers the best views in all of Hapoli. Call ahead at 0378824255 to reserve a room.
Hotel Valley View – 400 Rs for a basic single – Across from Hotel City View on M.G. Road
We were told about Kagotaia Homestay (Kago village?) and Bullotatu Homestay (Hong village), and that they're cheaper at 300 Rs per person. However, we don't know where they are, and couldn't find them. Feel free to search for yourself by asking around.
Things to do in Ziro
It's best to just walk around in the villages surrounding Hapoli and Ziro. We found Hong and Bulla (Reru) to be the most quaint/traditional looking.
Tayiñ Lañpii in the forest behind Bulla village (near the Saint Claret College) is a serene rock formation that served as a leper colony several decades ago. Never fear, no leprosy here!
The Talle Valley trek is supposed to be insanely gorgeous, and leads to a wildlife sanctuary 32 km from Ziro. The trek takes 4 days in total, going through the Pangey Valley. You'll need a guide for this one.
Local guides can be arranged by the community tourism NGO Ngunu Ziro to show you around the area for 1,000 – 1,500 Rs per day.
Where to eat in Ziro
There are numerous hole-in-the-wall restaurants along M.G. Road, near the corner with the State Bank of India ATM
Alpine View Hotel on M.G. Road is the most popular with locals
Gupta Sweets has the cheapest—and often freshest—parathas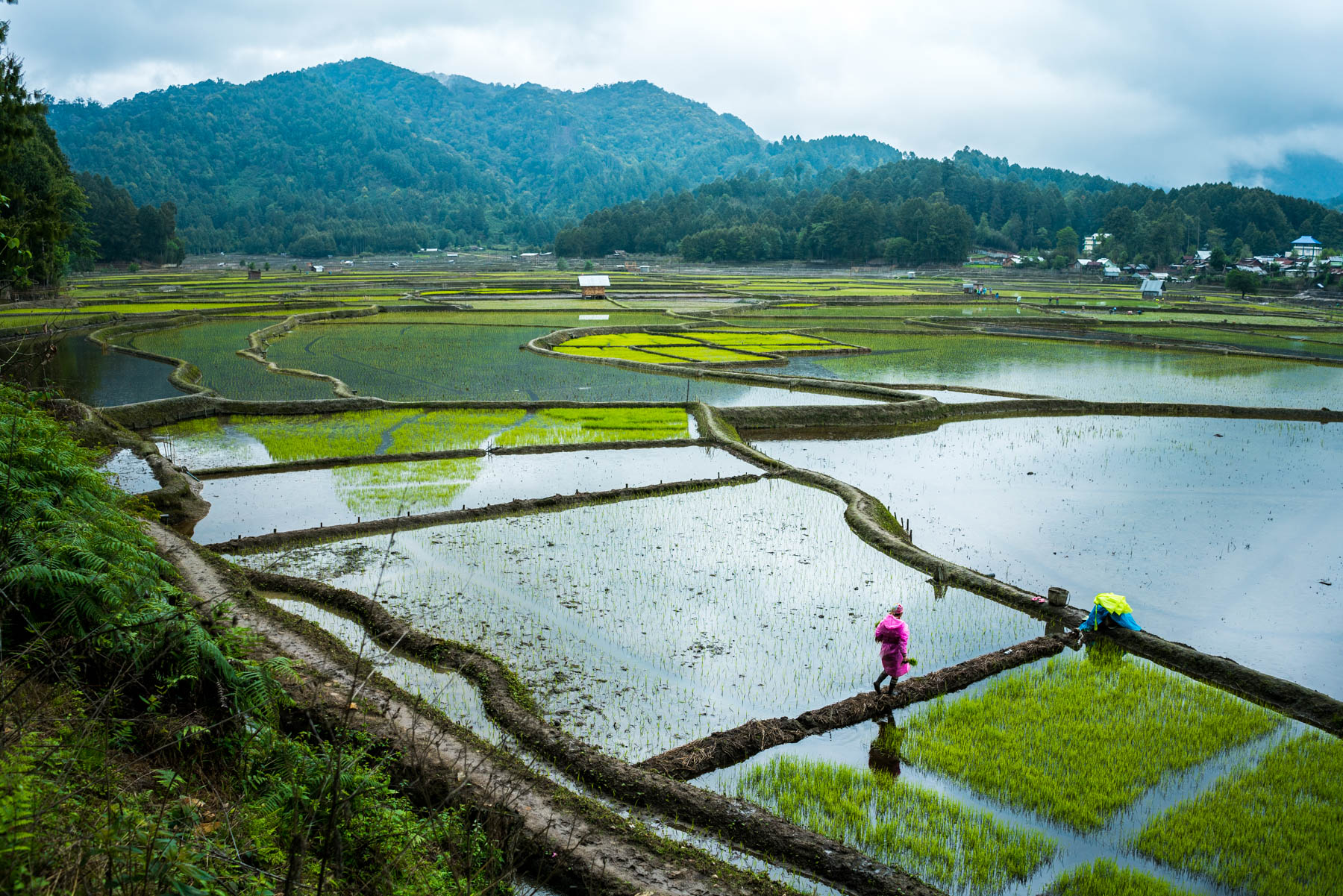 Get out
Tickets for Sumos out of Ziro can be purchased from one of the many ticket booths at the bus/Sumo stand just outside of Hapoli.
Tribes in Ziro
Apatani

Aro pa cho – Thank you
Li mo do? – What are you doing? (A way of saying hello)
A seh doa? – How are you?
Daporijo
Ah, Daporijo, our mistake turned excellent choice.
We ended up here after Ziro, thinking it was a logical stopping point en-route to Along… and it wasn't. Transport to Along is scarce, as is transport to any major hubs. We arrived on Saturday, and learned the next bus to Along was on Tuesday. Oops.
Daporijo turned out to be a brilliant place to get stuck. The people in Daporijo don't see many (if any) foreign visitors, and were over the moon to meet us, show us around, and, of course, take a million selfies. By far the friendliest people we met in Arunachal! The town itself, though not particularly photogenic, is set in a beautiful valley at the confluence of two rivers.
How to get to Daporijo?
7 hours from Ziro – Daily Sumo at 5:30 and 9:30 – 500 Rs
6 – 7 hours from Along – Sumo on Wednesday, Friday, Sunday – 270 Rs
Where to stay in Daporijo
Hotel Singhik – 1700 Rs for a double is a bit expensive, but it's the best value accommodation in Daporijo that accepts foreigners, aside from the Circuit house. Rooms are very clean, bathrooms are modern, and the service is good.
Circuit house – Price is negotiable for a spacious double with private toilet, and an excellent hilltop view overlooking the city. Call ahead at 0379223223 to reserve.
Hotel Toli – 1,500 Rs for a deluxe double with private toilet, which is overpriced in our opinion (but there are cheaper, smaller doubles). The really friendly owner and his family make up for it. He showed us around while we were in Daporijo – Located in Gandhi Market
Things to do in Daporijo
Laila Manju, the convergence point of the two rivers, is the hangout place of choice for locals on sunny days. You can swim (though bikinis would be out of place here), and the shack at the head of the path down to the river sells cold beer. It's said that the name came from two lovers who committed suicide here.

We assure you, it's not actually that morbid

.
Mengha Temple is a cave temple to Shiva hidden in the forest near Mengha village. Supposedly it was lost for decades, until "recently" rediscovered by a local woodcutter. It's around 15 km out of town.
Several picturesque hanging bridges span the Subansiri river along the way to Mengha Temple
Supposedly you can go white water rafting somewhere in the region, though we didn't see anyone try…
Where to eat in Daporijo
Lots of little restaurants around the "main" street where Sumos drop you off
Hotel Green View on the main street has passable budget-friendly food
Hotel Singhik's restaurant has decent Indian options and a bar, though they're a bit more costly
The Chinese/Tibetan restaurant beneath Hotel Toli offers decent chow and thukpa
Get out
There are Sumo ticketing stands along both of the main streets through town. Pick your poison based on your destination.
The APST bus stand offers buses to Itanagar, going through Basar and Pasighat, as well as Sumos to Along.
Tribes in Daporijo
Tagin

Um bun i ka – Thank you
Lau ra – Fuck

(don't offend the aunties, now!)
Along (Aalo)
Sleepy Along, locally known as Aalo, is a small town you'll need to stop in en-route to Mechuka. There's not much in the way of sights, but the Siyom river running past the town is peaceful and scenic enough, and there are dozens of small villages amongst lush rice paddies surrounding the town.
How to get to Along
6 – 7 hours from Daporijo – Sumo at 5:30 on Tuesday, Thursday, Saturday – 270 Rs
5 hours from Pasighat – Daily Sumos – 500 Rs
8 hours to Mechuka – Daily Sumos (book ahead) – 500 Rs
Beware: The lone Sumo from Daporijo fills up quickly, so arrive before 5 to buy your ticket! A bank hired out the entire Sumo when we tried the first time (bastards), so we had to hire a private car with other people. It cost 750 Rs per person with 7 people, and took 9 hours…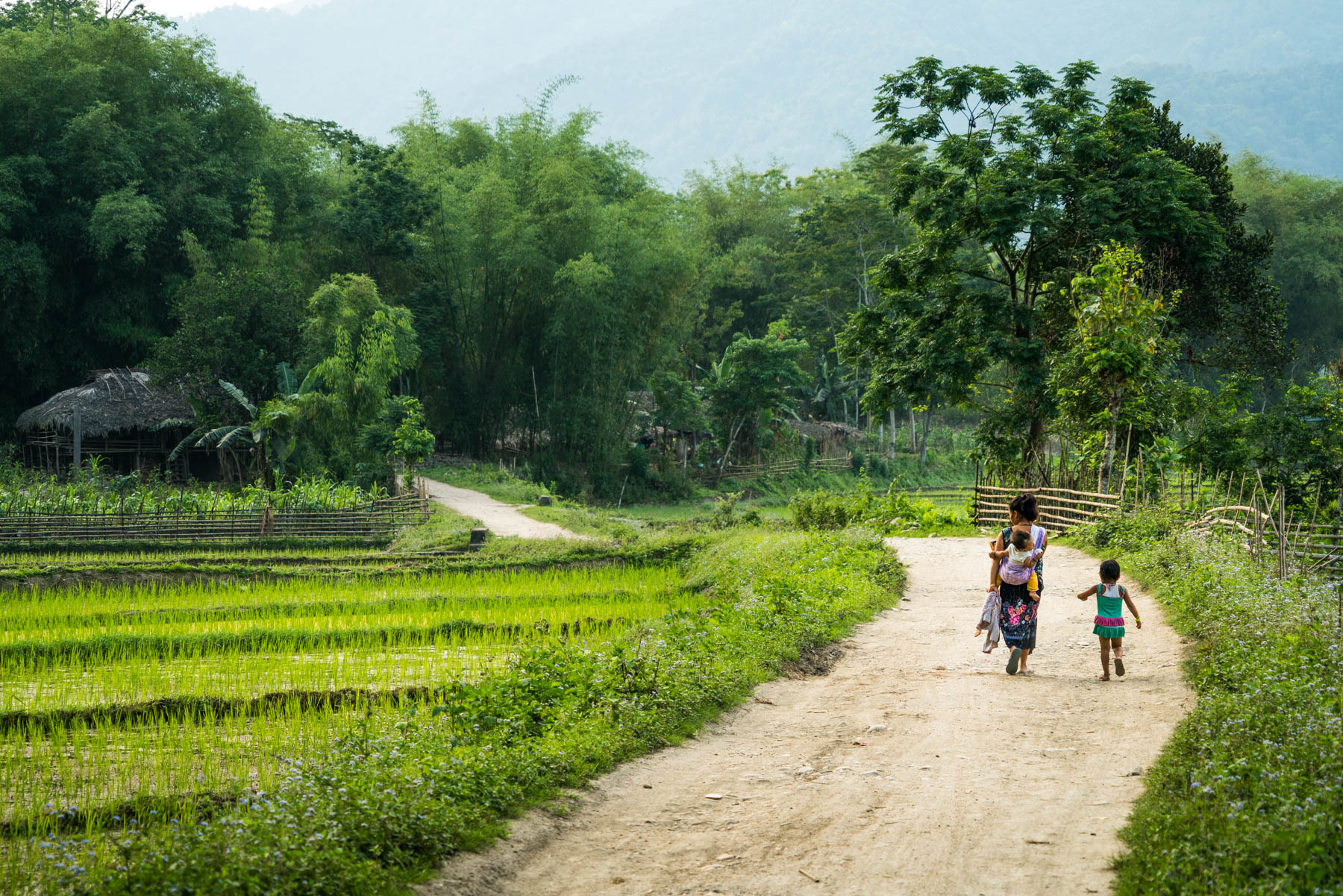 Where to stay in Along
Hotel Toshi Palace – 700 Rs for a basic but neat double with private toilet – Across from bus stand
Hotel Mansons Plaza – 750 Rs for a standard Non AC double – Near Along airport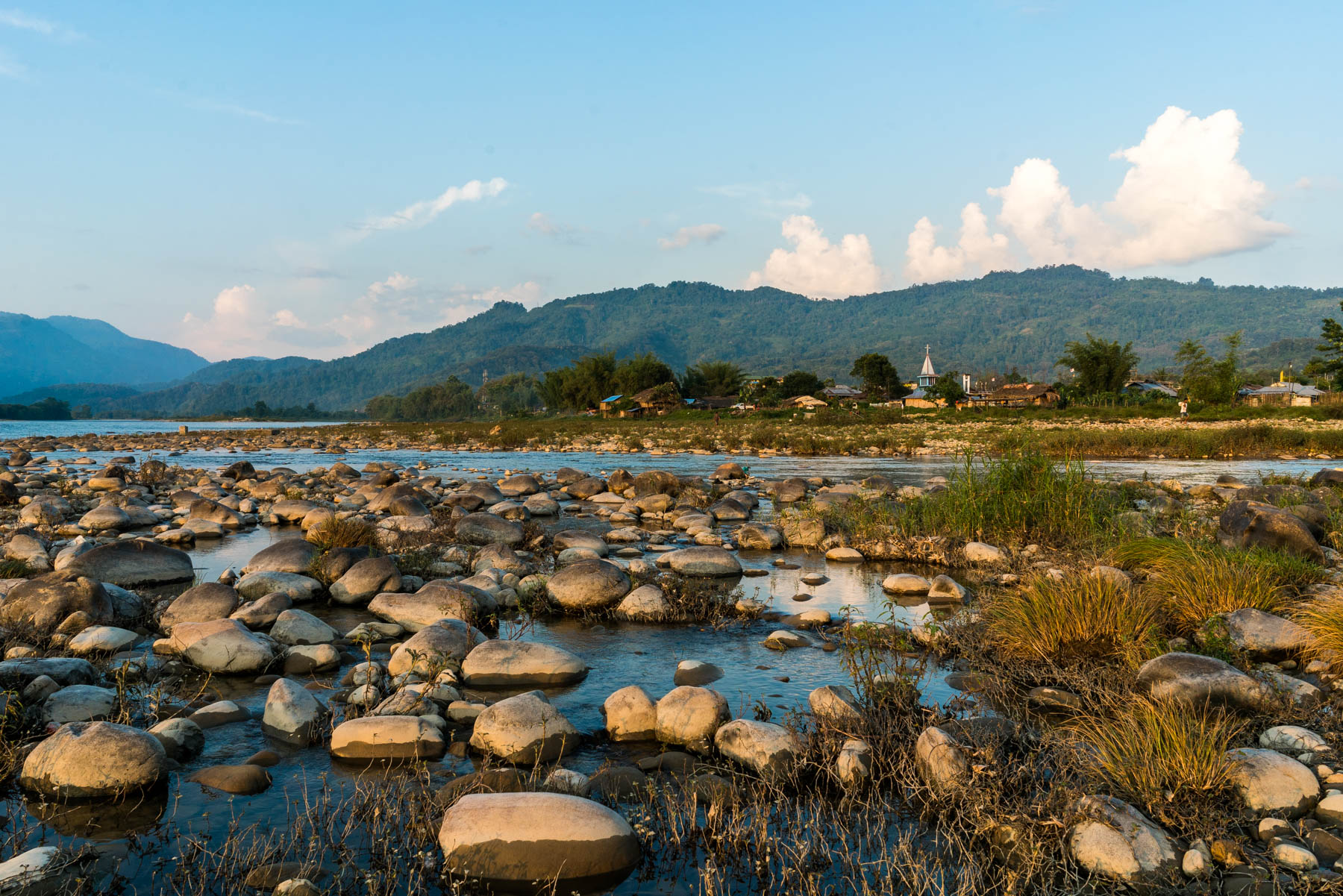 Things to do in Along
Chill by the riverside. Men with boats occasionally pass by if you want to cross.
There are several small villages with beautiful rice fields within walking distance of Along, such as Kumb
A hanging bridge spans the river about 7km outside of town.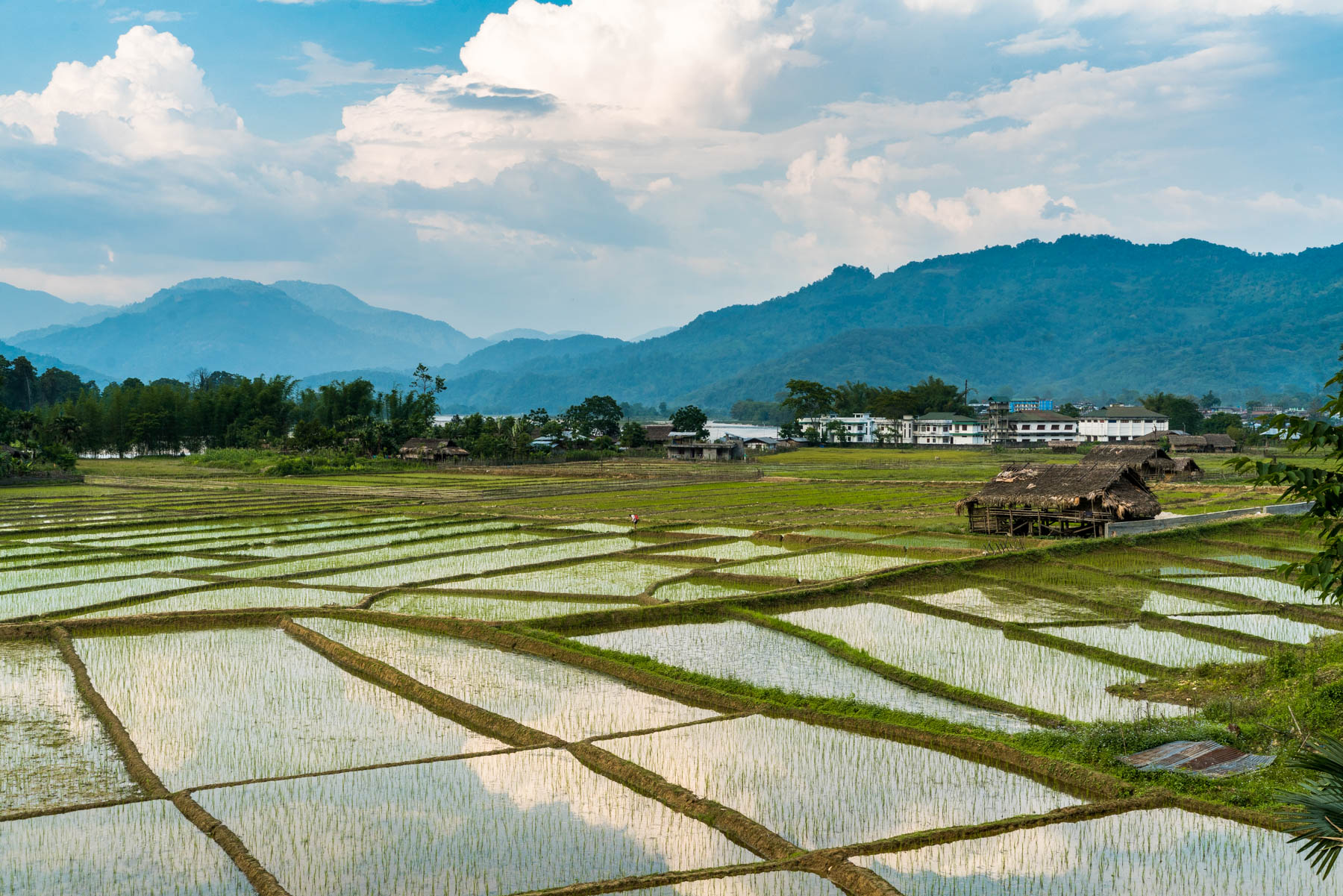 Where to eat in Along
Nondescript C.T. Restaurant around the corner from the bus stand is popular with locals, is open until 20:00 or so, and serves decent momos, thukpa, and chow.
Chakraboty Hotel on the way to the Market Sumo stand offers cheap and cheerful rice plates, among other basics.
Hungry Hut serves food and drinks by the riverside. Find it by crossing the bridge out of town through the gate, turning right, then taking one of the eventual paths on your right to the waterfront.
Get out
There are a variety of places you can catch transport from Along.
The APST government bus stand is across from Hotel Toshi. From there, you can catch buses to Itanagar, and the occasional Sumo to Mechuka (it seems they run every other day).
There's a line of ticketing booths and Sumo stands down the street from the APST stand. You can catch Sumos to Itanagar here.
The last—and most populous—Sumo stand is in an area locals call "market". If you're heading away from the APST stand towards the ticketing booths, keep going, and take the first major left. Continue following the road as it hooks around to the right, and you'll eventually run into more Sumo stands and ticketing booths after about 10 minutes' walking. You can find multiple Sumos to Mechuka and other areas here in the early morning. Be sure to reserve tickets the day before!
Tribes in Along
Galo, Api
Mechuka (Menchuka)
Majestic Mechuka town is the closest we got to finding Shangri La in Arunachal. Its surroundings are spectacular—no matter what direction you look, you'll face epic mountain vistas and snow-capped peaks. What more could you ask for? Hands-down our favorite destination of our time in Arunachal Pradesh.
How to get to Mechuka
8 hours from Along – Daily Sumo at 5:30 AM from stand in Market – 500 Rs
Where to stay in Mechuka
Potala Homestay – 800 Rs for a double with private squat toilet, run by a friendly family – On the main road through town, across from police office
Grace Homestay – 800 Rs single/1,200 Rs for a double with private western toilet – Look for a yellow sign from the main road near the police office
Yargyap Chhu Homestay – 1000 Rs for a double, has a nice grassy outdoor area and a lovely spot by the river – Follow the first black and white homestay sign you'll see entering the town
Things to do in Mechuka
We spent our days just hiking around in the mountains. Trails leading into the hills are easy enough to spot—just pick a direction and start walking!
New Gompa sits on a small hill overlooking the town. You can't miss it. It's a good area to watch the sun set.
Old Gompa (Samten Yongta monastery) sits atop a larger hill several kilometers outside of the main town. Look for a small building on a hill, it's very visible. Walking there and back takes the better part of a day.
There's yet another gompa with a big Buddha statue in Darjeeling village, about 6 kilometers from Mechuka
You can climb the Menchuka mountain for unparalleled views of the town. It'll take a few hours to get to the top—it's bigger than it looks!
Mechuka Lake is a scenic alpine lake in the area. It takes three days to trek there and back.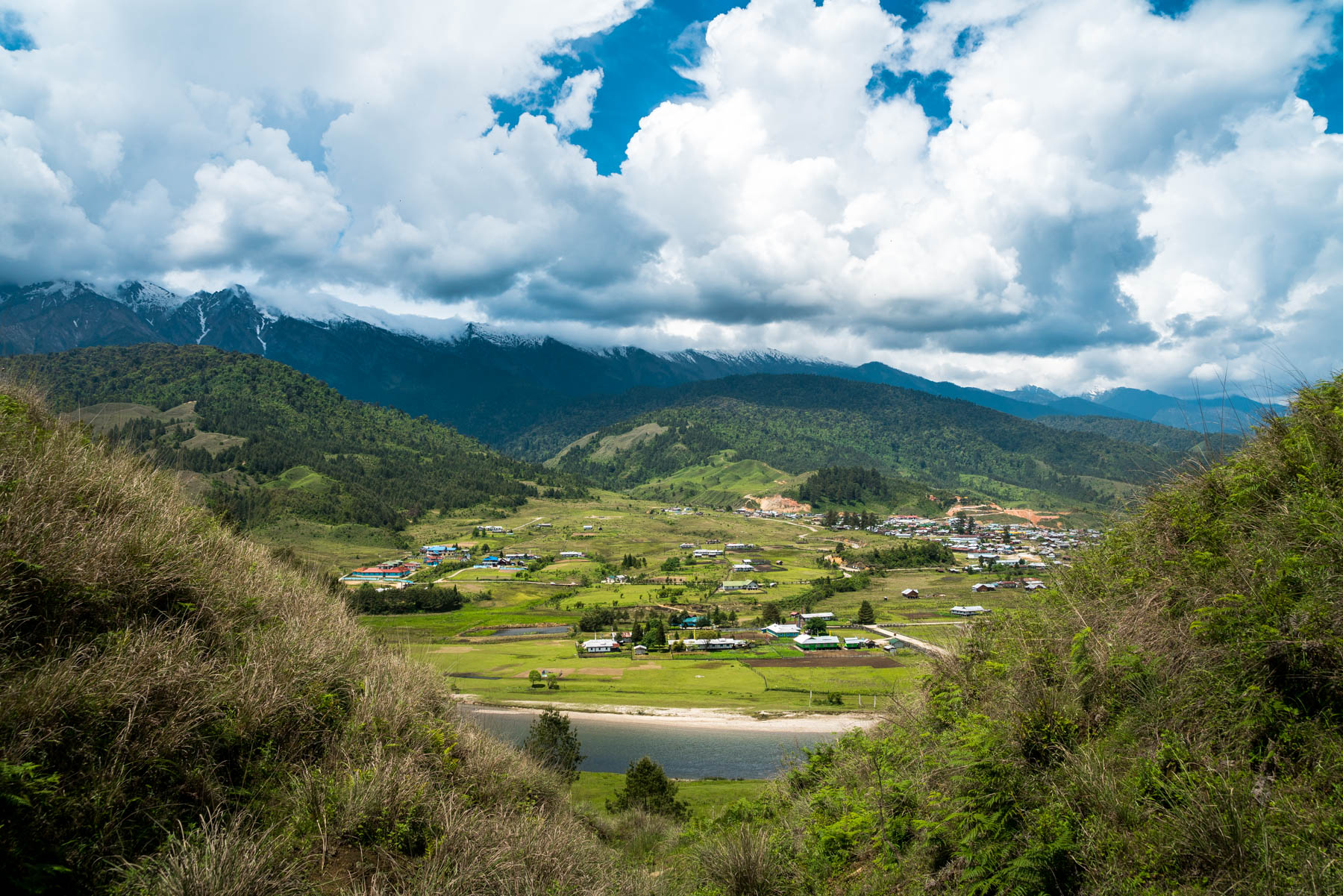 Where to eat in Mechuka
Homestays offer far more delicious food for breakfast and dinner than you can find on the street. Do partake! Our homestay charged 200 Rs per person for non-veg meals with plenty of refills 😉
Lots of nondescript restaurants in Gandhi market, on the street that runs alongside the military airfield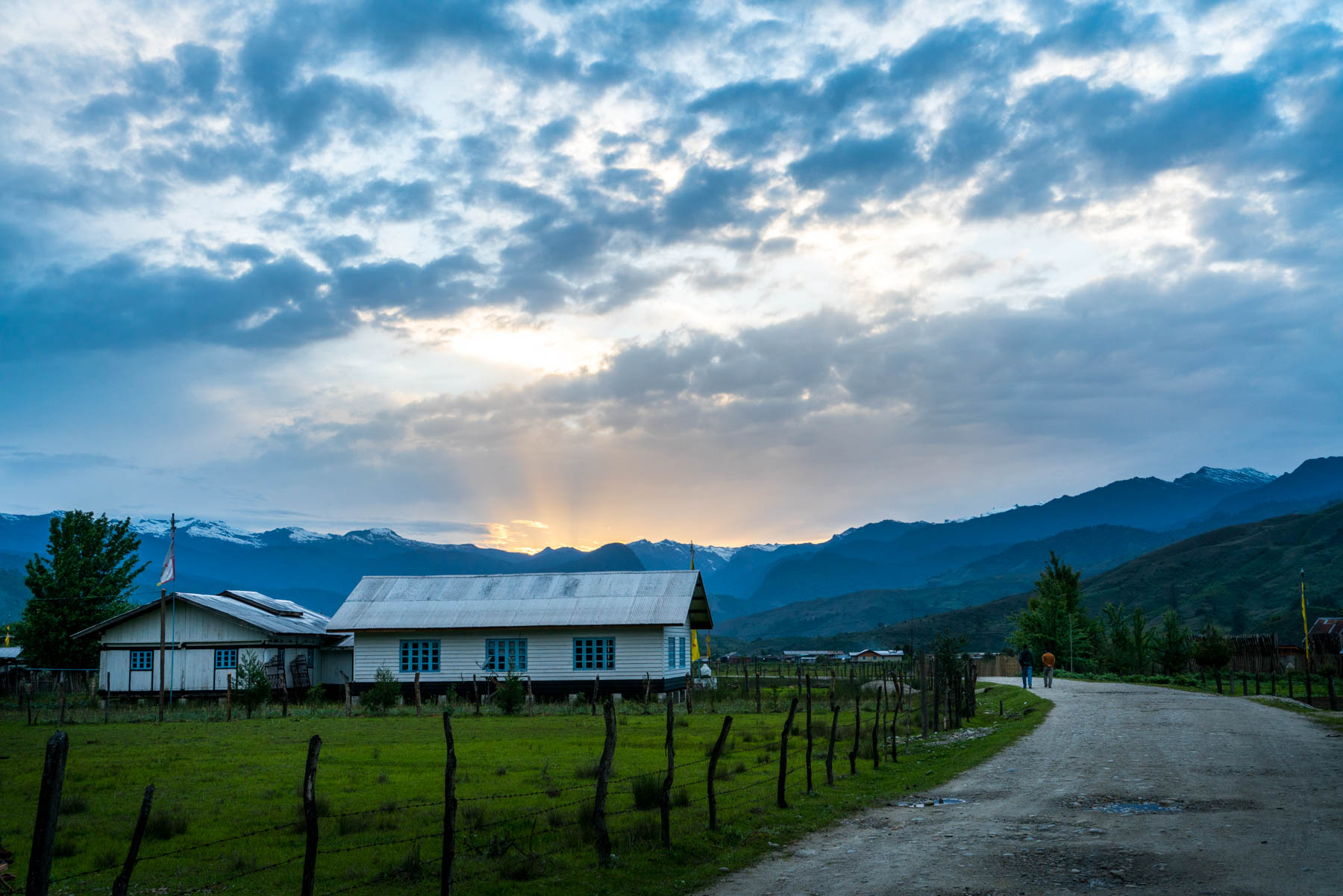 Get out
There are plenty of small Sumo ticketing stands for rides to Along on the main road in Gandhi market.
Tribes
Memba: Ka ka oh – Thank you
Pasighat
A small town that makes for a good stopover point if you're interested in taking the ferry along the Brahmaputra to Dibrugarh (Assam). The town is nondescript, but the surrounding mountains en-route are lovely.
How to get to Pasighat
5 hours from Dibrugarh, including two Sumos and a ferry ride – Sumo leaves at 5 AM – 350 Rs
5 hours from Along – Daily Sumos at 5 AM from stand near APST bus stand – 500 Rs
Where to stay in Pasighat
London Hotel – 700 Rs for a double with private squat toilet, 350 for a double with shared toilet, super basic – Off of the main market street, will be on your left if walking away from the Sumo stands. Look for a small red sign in an alley.
Hotel Aane – 1,500 Rs for a bare bone double, but the best "value" for money you'll get in Pasighat
Things to do in Pasighat
Where to eat in Pasighat
There are several standard restaurants along the main market street—look up, several are on the upper floors of the buildings.
There are a handful of sweet stands around the produce market offering decent lassi and puff pastries
Get out
There are plenty of small Sumo ticketing stands on the main market road near the edge of town. You can buy tickets for the ferry here as well.
Tribes in Pasighat
Adi, Pasis
Cost of backpacking in Arunachal Pradesh
Trying to figure out what kind of budget you need for travel in Arunachal Pradesh? Every traveler is different, but we each spent about $450 (30,000 Rs) per person during one month of travel in Arunachal Pradesh.
For more information, check out our Arunachal Pradesh budget report.
Budget accommodation tip: The government-run Circuit Houses are often the best budget accommodation options in each town. However, any booking can be undone by a visiting government official, and they visit often—we know, as we were ousted every time we tried to stay in one! Call ahead to book when possible.
Things to know before you go to Arunachal Pradesh
Religion in Arunachal Pradesh
Like the rest of India, Arunachal is a mixed bag of religions. The number of Buddhists grows as you move closer to the Tibetan border, while in the rest of Arunachal animistic nature worship falling under the umbrella of Donyi Polo is more common. However, Christian missionaries are moving in with a vengeance in the region.
Opening times in Arunachal Pradesh
Thanks to the weird sunlight hours resulting from the singular Indian time zone, businesses open late and close early. If you're eating out, know most restaurants will be closed before 19:30.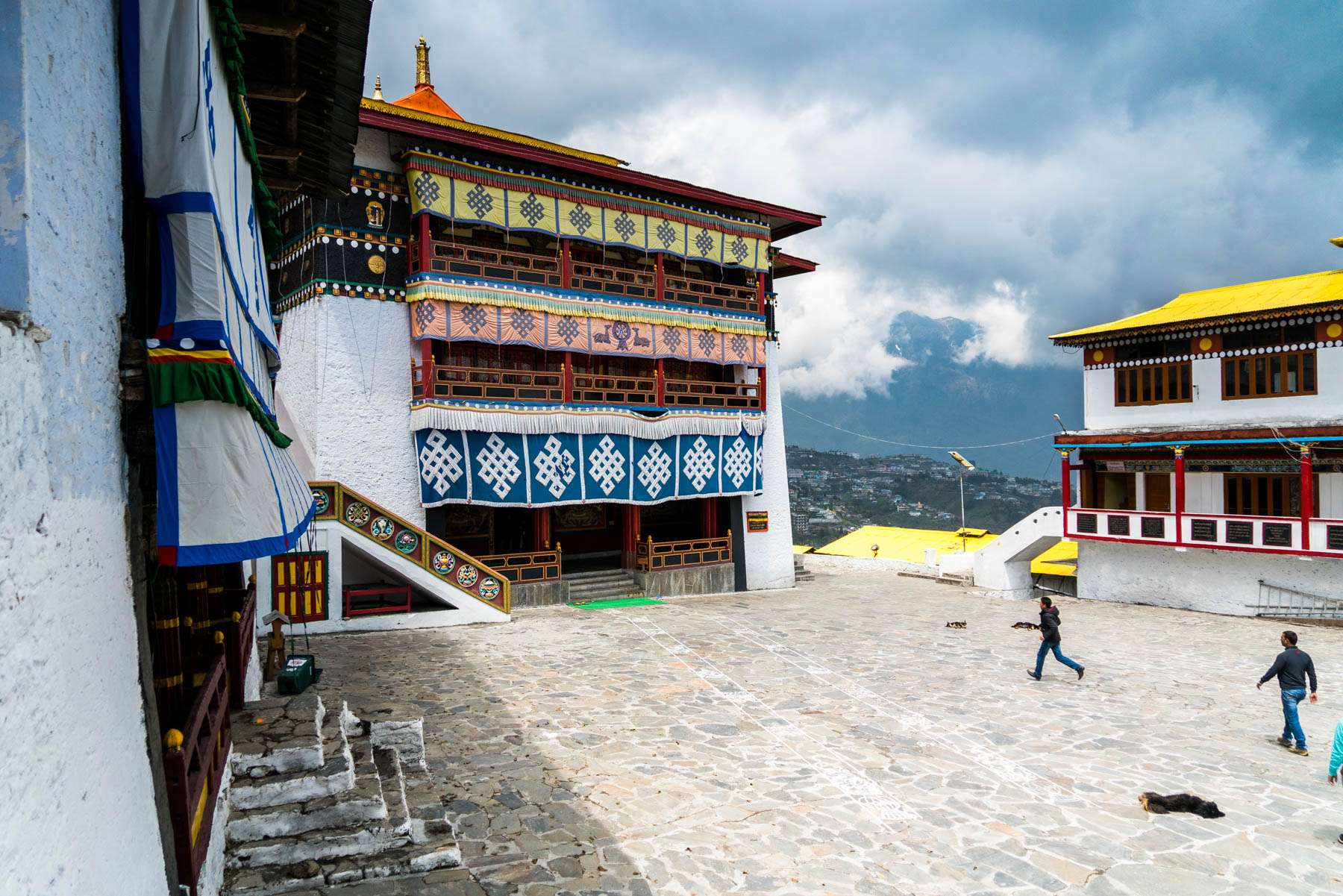 Arunachal Pradesh Tourism
You won't encounter many foreign travelers in Arunachal Pradesh—the traveler scene is comprised mostly of Indian tour groups, if you see anyone at all. The local government wants to discourage foreign backpackers from tainting the local culture, apparently.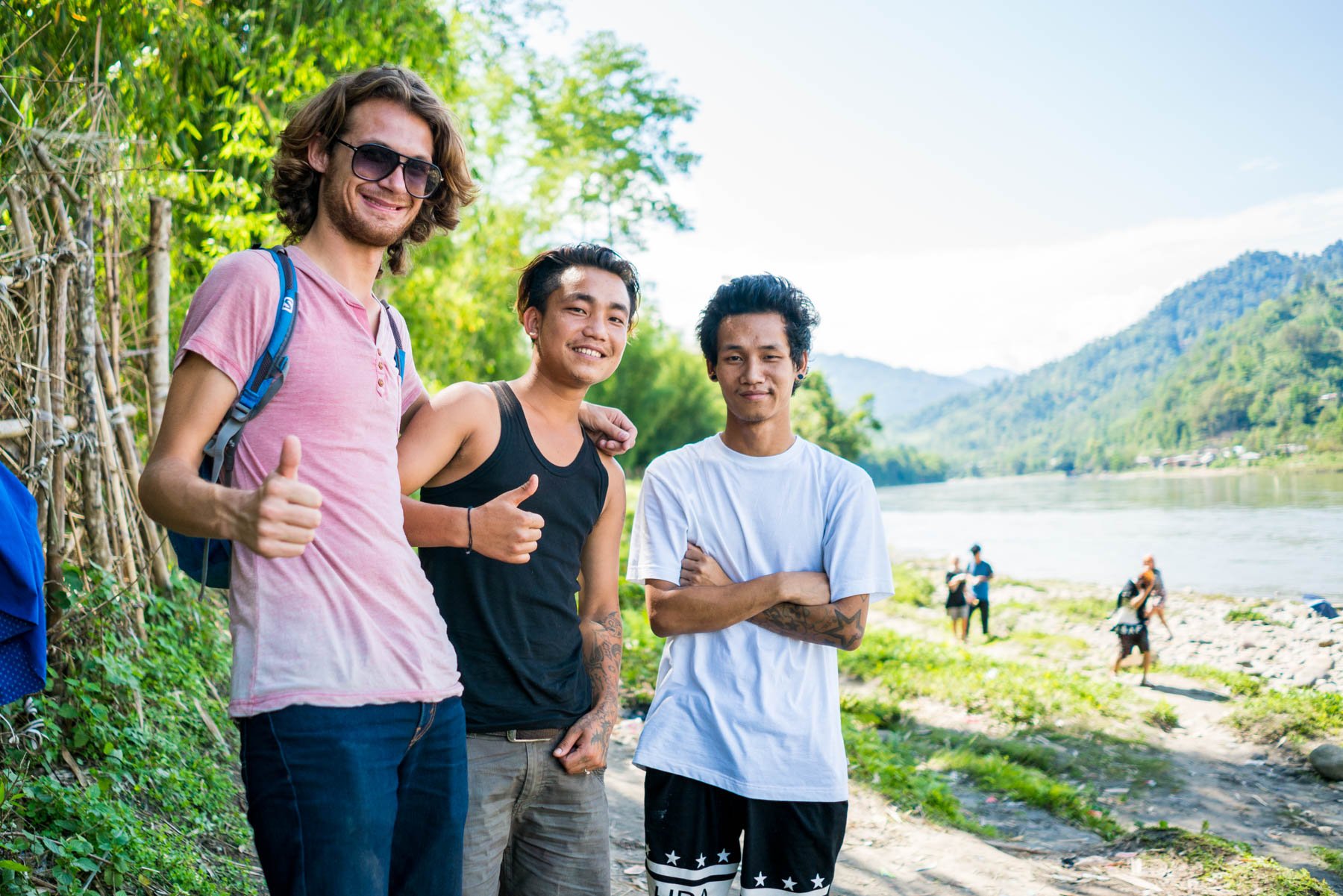 Foreigners in Arunachal Pradesh
Supposedly we are required to register at the District Superintendent of the Police in every place visited. In Tawang, they were very savvy about the requirement, whereas in Bomdila and Ziro… not so much. We grew lazy about registration after Ziro, and nothing came of it.
Hiking/trekking in Arunachal Pradesh
Try as we did, we couldn't find any information about hiking routes in any of the places we visited. When we asked, people just kind of waved towards the hills, or gave vague statements about towns. You'll need to hire a local guide if you're interested in trekking. Arunachal Pradesh tour guides go for around 1,000 Rs/day.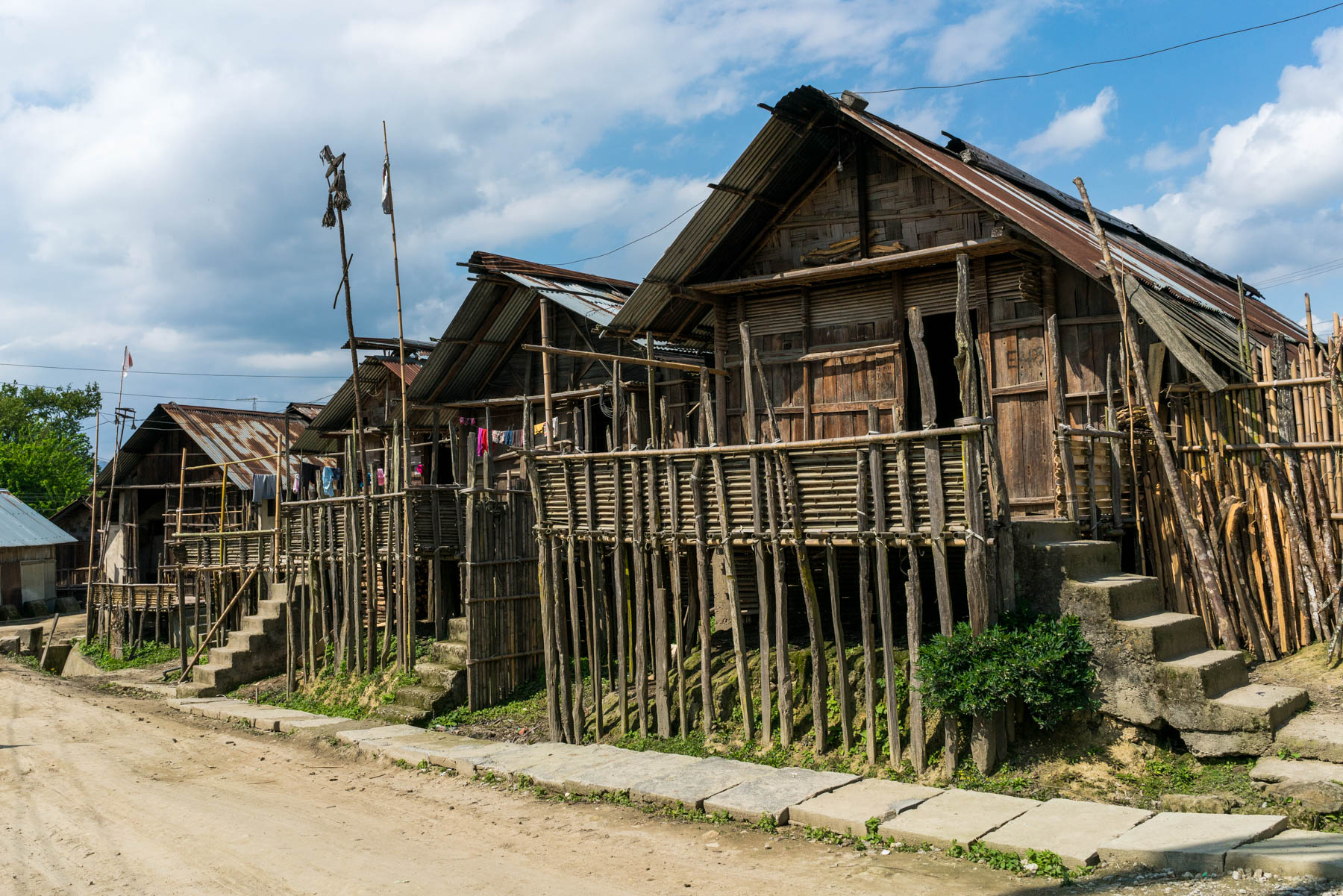 Tribes in Arunachal Pradesh
There are 24 official tribes throughout Arunachal Pradesh. We've included the predominant tribe in each area (and some words in the local language, if we picked any up!), though there are usually multiple tribes represented in each area.
Culture in Arunachal Pradesh
Arunachal is more liberal than other Indian states. You'll see more girls out and about on the streets, many in shorts if weather permits. Plus, they're not shy to talk. It's refreshing!
Alcohol in Arunachal Pradesh
It's tax-free in Arunachal. Stay out of trouble, now.
Google Maps
Partially blocked in some regions of the state for reasons unknown. You won't be able to search, nor read reviews (which do exist?). Maps.me is your friend.
Packing checklist for Arunachal Pradesh
Transportation in Arunachal Pradesh
Transportation in Arunachal Pradesh can be interesting. When planning your trip, be sure to add a few buffer days to your itinerary. There's always a chance that something will go wrong, that there's no transport available, that you'll be late, etc. Some other things to note:
Sumos (a Jeep-like vehicle) are the main mode of transport, thanks to the poorly maintained—or unfinished—roads.
Officially, there can be 10 passengers per Sumo, with four people in each row. If you don't like to squish, consider hiring a private vehicle.
If your back/legs/soul can't handle sitting on extremely bumpy roads for long periods of time, consider flying to your destinations where possible. The roads in Arunachal are poor… at best.
Helicopter transport is available for select locations in Arunachal, such as Itanagar, Pasighat, and Tawang. The helicopter schedule is here.
Phone networks in Arunachal Pradesh
All the reports we read claimed BSNL was the only working provider in the state. Talk about outdated!
More popular providers are aggressively expanding into the state. We had H/4G mobile data with Airtel in all the places we visited, though connection was sometimes spotty. Locals in Daporijo said Vodafone is their favorite, and it did show up on our list of available providers in most locations.
Mechuka was the exception—nothing except BSNL works up there!
More resources for tourism in Arunachal Pradesh
Some more useful resources for planning your trip to Arunachal Pradesh:
Yay transparency! There are affiliate links in this post. If you buy or book something using our links, we'll make a bit of money at no extra cost to you. Think of it as a way of saying thanks for the guide!