This article about how to apply for an Arunachal Pradesh Protected Area Permit in Guwahati was written in April 2017, and applies only to foreign travelers, not Indians. Rules pertaining permits tend to fluctuate, so please let us know if something changes, so we can let fellow travelers know.
If you're a foreigner planning to visit Arunachal Pradesh, one of India's least visited states, you need a Protected Area Permit (PAP).
Because Arunachal Pradesh shares a disputed border with China, which doesn't officially recognize India's sovereignty over the area, the Indian government requires all who wish to travel to this area to get a permit before heading out. Foreigners need to apply for a Protected Area Permit (PAP), while Indian travelers need to apply for an Inner Line Permit (ILP).
You can get the permit in several cities in India. This article explains how to apply for an Arunachal Pradesh Protected Area Permit in Guwahati, Assam.
Where to apply for a Protected Area Permit in Guwahati
There are several ways of getting a PAP. Most (outdated) guidebooks will send you to a handful of travel agencies in Guwahati. But it's easier, and cheaper, to go straight to the source: the Deputy Resident Commissioner Office of Arunachal Pradesh.
Looking for more info on travel in Arunachal Pradesh? Don't miss our Arunachal Pradesh travel guide!
How to get to the Deputy Resident Commissioner Office in Guwahati
The office is located on a side street of G.S. Road, near the Indian Oil Petrol Pump, about 25-30 minutes from the train station by bus. The office is open Monday to Friday, 10:00 – 17:00. Permits can be applied for until 14:00.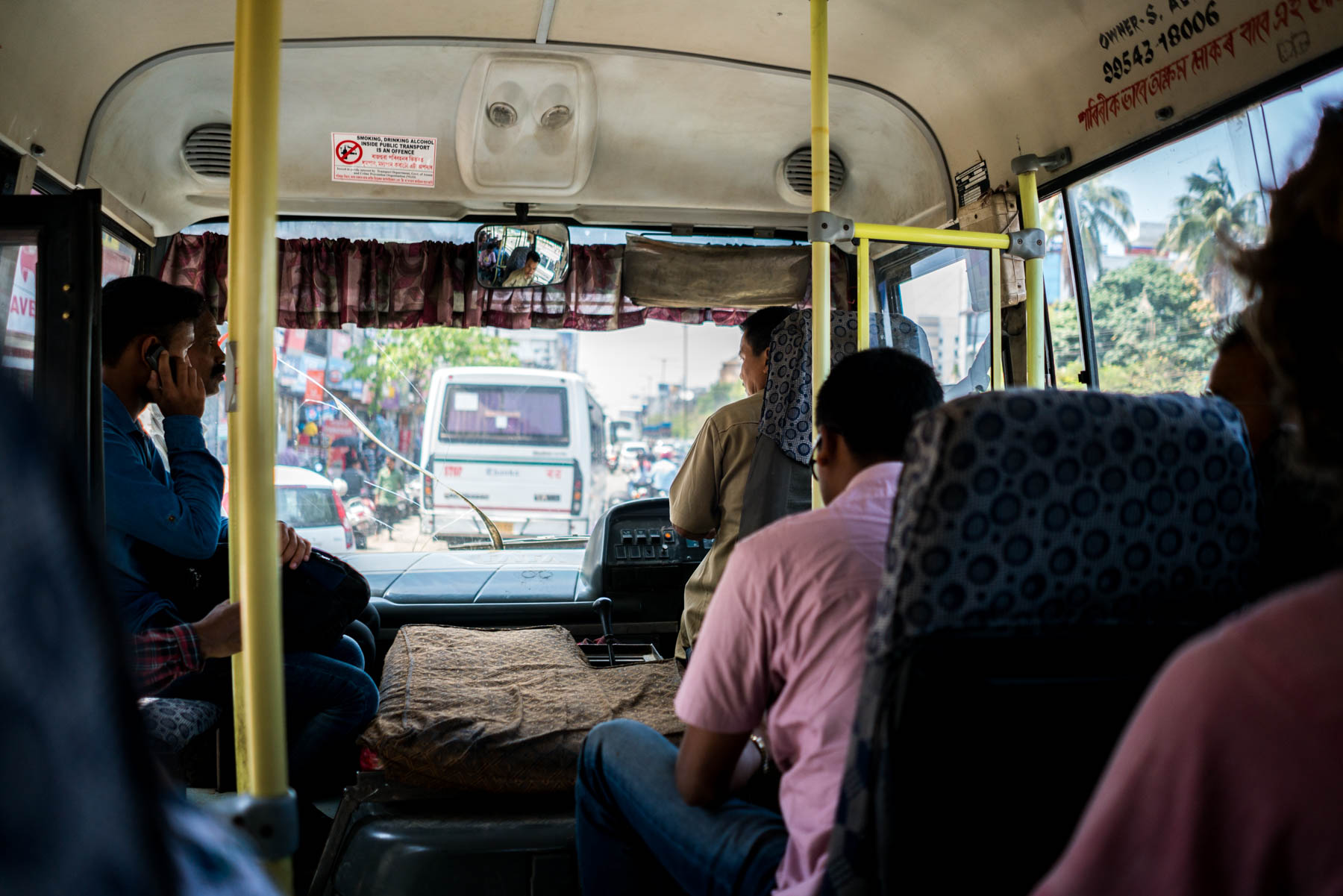 A bus ticket costs 10 Rs. per person. Some buses might turn right about 500 meters before the office. If your bus is turning right off G.S. Road, get off and walk the remaining distance. The office is located on Google Maps, so save the location and/or download the offline map for Guwahati and use that.
G.S. Road runs from the train station straight through Guwahati. You can take any city bus going on G.S. Road moving away from the train station. Depending on the traffic, it takes between 25 and 45 minutes to reach the office. Ask the bus hawkers about Deputy Resident Commissioner AP or Manasha Mandir, and they'll probably know when you need to get off.
How to apply for an Arunachal Pradesh Protected Area Permit in Guwahati
Applying for a PAP is relatively straightforward. You'll need:
A copy of your passport
A copy of your Indian visa and entry stamp
A filled-in application form (you'll get it in the office)
3,450 Rs in cash, paid up front
The form asks standard questions: name, father's name, date of birth, passport number, visa number, etc. It's important to know your intended date of travel, and to which places you wish to go. The processing time for a PAP takes two to five working days, so make sure you leave some wiggle room when you fill in your intended day of departure. PAPs are valid for a maximum of 30 days, starting on the entry date you provide on the form. The PAP costs $50 per person, payable in Indian rupees.
If you're out of copies of your passport and/or visa, there is a Xerox place a few doors down from the office. It makes copies for 3 Rs. per copy. There is also a State Bank ATM (no ATM fees!) on the corner of G.S. Road in case you need cash.
We had to wait for three business days to receive ours, as there were other applications to be processed before ours. Some people have reported picking up their permit at the end of the next day—we think the officer can be pushed to a quick turnaround time. Depending on how long the processing of your PAP will take, you can wait in Guwahati for it to be done, or you can ask the officer to email the permit to you. Discuss this with the officer when you're applying.
Can you apply for an Arunachal Pradesh Protected Area Permit as a solo traveler?
It's important to know that PAPs are usually only granted to groups, meaning two people or more.
However, the officer told us it is possible to apply as a solo traveler in Guwahati, in which case you can only travel to Tawang, Bomdila, and the Ziro valley.
If you're a solo traveler and wish to travel to other places, try to find fellow travelers beforehand so you can join their group, even if it's just for the application process. Lonely Planet's Thorn Tree forums are a good place to look.
Once you have the permit, you don't have to travel with the group you applied with. If you can't find anyone, you have to pay a reputable travel agency to act as a second person to form a group.
Where to stay in Guwahati when applying for an Arunachal Pradesh Protected Area Permit
Unfortunately, Guwahati doesn't have much in the way of budget accommodation catering to foreign visitors—most budget places don't allow foreigners to stay. Both places mentioned in the Lonely Planet (Prashaanti Tourist Lodge and Sundarban Guest House) offer terrible value for money. Prashanti is 1,500 Rs. per night for a double, while Sundarban is 800 – 1,250 Rs. per double. The cheapest doubles sell out in the blink of an eye, so don't count on getting one.
Luckily, we found a reasonable place close to the train station that does allow foreigners. Suncity Hotel charges 700 Rs. for a single, and 1,150 Rs. for a double non-A/C room including taxes. The room comes equipped with hot water and a small TV, and has working WiFi to boot. English or Indian breakfast is included in the room rate. It's the best value for money we could find in Guwahati.
A more upscale hotel is Hotel Shoolin Grand on G.S. Road, which is quite close to the Deputy Resident Commissioner's Office.
There you have it: everything you need to know on how to apply for a Protected Area Permit in Guwahati, Assam, India. Don't forget that Indian bureaucracy can be fickle, so please let us know if anything has changed.