Getting an Indian visa in Tashkent is time-consuming and rather frustrating. Luckily, this is offset by the relative ease of getting a visa with long duration and several entries.
Note: India has updated its e-visa policy, introducing e-visas that have multiple entries and are valid for one or  five years from the day of issuing (with a maximum stay of 90 days per visit).  I suggest you use an e-visa if possible and skip the hassle of applying for a visa in person. If you must apply in person for whatever reason, make sure to contact the embassy to make sure it's still possible. Check out this guide for more info on Inian e-visas.
This article is about getting a one year, multiple entry Indian visa in Tashkent. Remember that requirements are different for different nationalities, and that requirements for more standard types of visas might differ. If you're flying into India, it makes sense to get an Indian e-visa.
Before you apply for an Indian visa in Tashkent, Uzbekistan
To ensure a smooth process, it's best to email the embassy ahead of time. Additional documents might be required depending on the type and duration of the visa you apply for. The email address of the consular section is [email protected].
We applied for a one-year multiple entry visa. Because this is not a standard visa, we had to jump through some hoops. We emailed the consulate, stating that we were cyclists (ha) planning to cycle through India, while also wanting to visit Bangladesh and Sri Lanka. To make the email more believable, we added a full itinerary. Contact us if you want to know what we put on it.
Documents you need for an Indian visa in Tashkent, Uzbekistan
The consular section responded that it was possible to apply for a one year multiple entry visa if we had the following documents:
Fully filled out online application form, which can be found here
Two passport photos (2 in. x 2 in.) which must be the same photo as the one uploaded on the application form
Photo copy of EVERY passport page, can be black and white
Photocopy of other passports if you have multiple nationalities
A bank statement showing sufficient funds for the trip
Employer letter, if you are employed
Flight booking confirmation for entering and leaving the country
Copy of visas for Bangladesh and Sri Lanka (if applicable)
Note 1: both Bangladesh and Sri Lanka have visa on arrival schemes, so it's not really necessary to have these visas.

Note 2: If you're applying for a "regular" visa, you'll probably only need the application form, photocopy of passport and Uzbek visa, and passport photos. Make sure to email ahead of time so you know exactly which documents you need.
Preparing the forms for an Indian visa in Tashkent, Uzbekistan
The first thing you should do is fill in the online application form. It's not the most user friendly form in the world, but should be rather straightforward. Make sure to adhere to the photo standards that they give, and that the photo you upload is the same as the passport photos you will hand in at the embassy.
Once you're done with the form, you'll have to make an appointment with the embassy. This is also done through the application form. You can pick the date and time your self, based on availability.
Now you might be thinking that getting all the other documents is nearly impossible. Who in their right mind would book all these things ahead of time?
Not us, that's for sure! We made fake hotel reservations and flight confirmations based on old confirmations we had using Adobe Illustrator. There were hostel bookings for the first stop in each country listed in our itinerary (India, Bangladesh, Sri Lanka), and confirmations for flights in and out of India and to/from Sri Lanka. If you need some help with this, feel free to contact us.
Heading to India? Make sure to check out these things nobody tells you about traveling in India!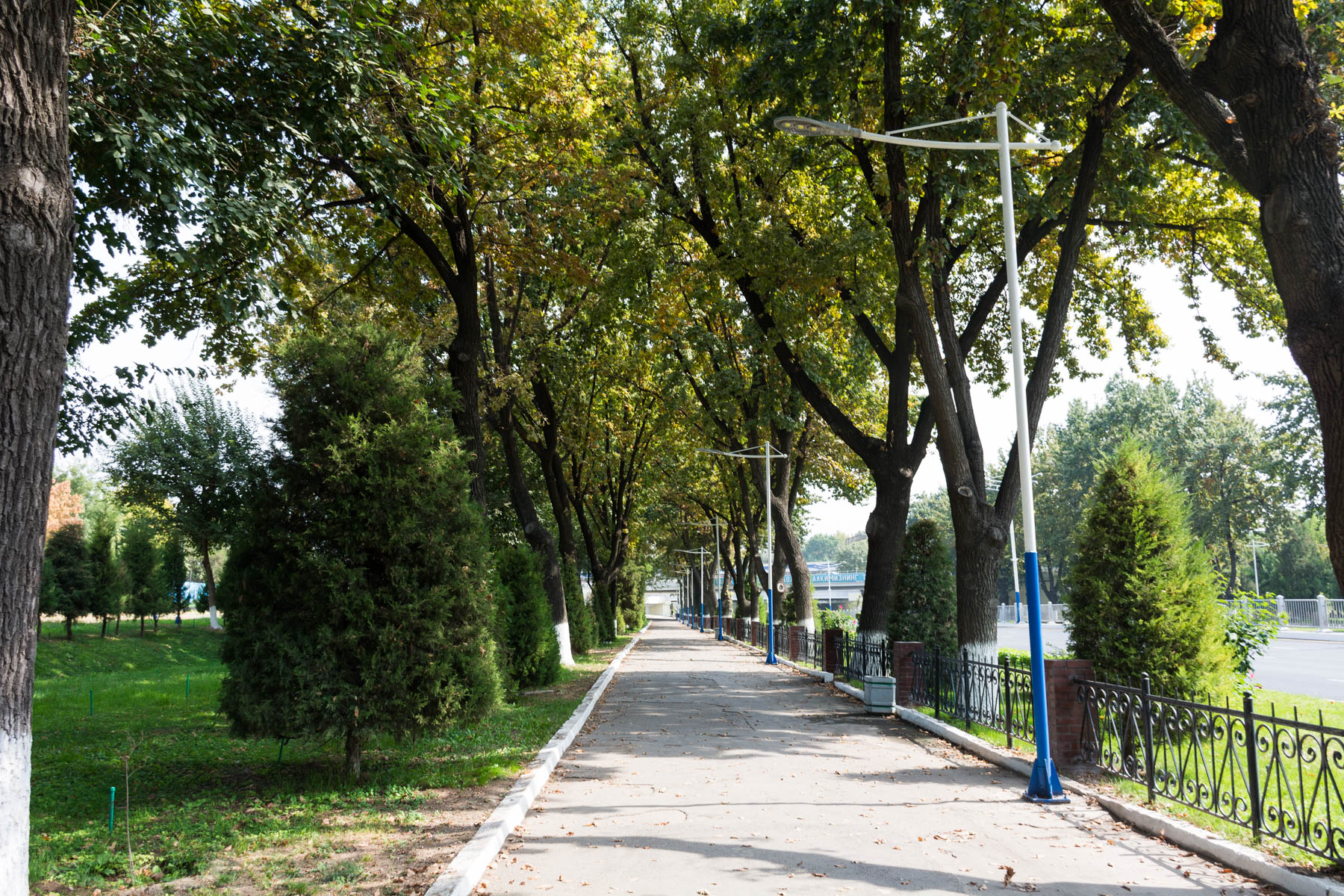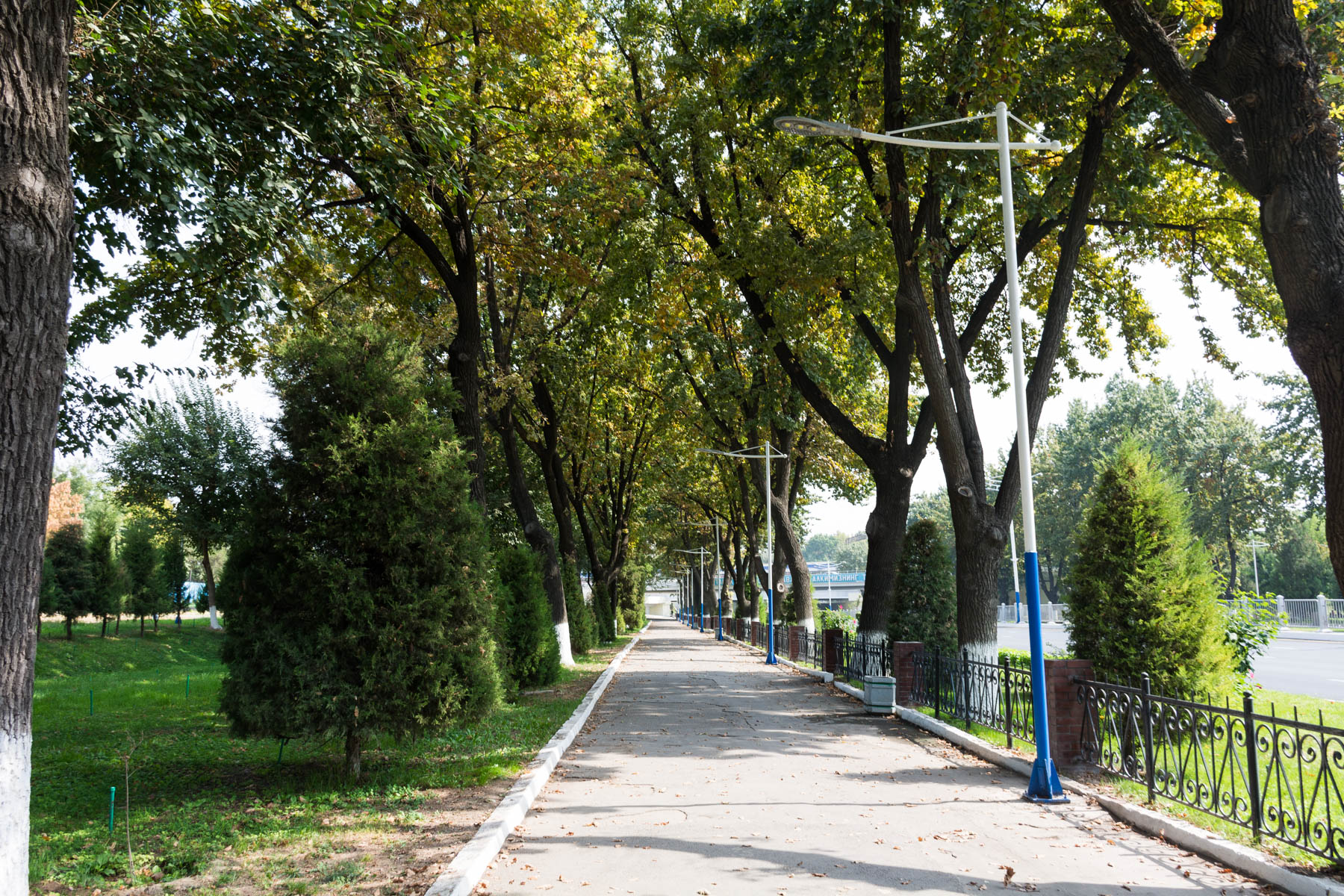 Applying for an Indian visa in Tashkent, Uzbekistan
The easiest way to get to the embassy is by metro. A metro ticket from anywhere in the city costs 1,200 som, and the nearest metro stop to the embassy is Pushkin. From here, it's a five minute walk. The entrance to the embassy is actually on the other side of its location on Google maps, so head down the road, around a corner, cross over a very smelly little canal filled with trash (we dubbed it the "Little Ganges"), turn right, and walk until you see a big green wall.
Although there is an appointment system, it's basically first-come-first-serve, so it's best to arrive a bit before your scheduled time. When you arrive, the guards outside will check your passport and might ask you which at hotel you're staying. After this they will probably let you in straight away, unless you're super early. The consular section is the right hand door of the main building.
Once it's your turn, give the clerk all your documents and tell him you emailed ahead of time. The clerk will go through your documents, and will tell you to call the embassy back on a given day to find out if you can get your applied for visa. This is usually three working days after you applied. You can keep your passport if you ask, but once approved you'll have to bring it back and wait a couple more hours before getting your visa.
Indian visa costs:
$65 for Dutch/EU residents
$155 for British citizens
$3 service charge per application
There is no effective rush service, because the embassy has to contact the Indian embassy in your home country for approval. This normally takes 72 hours.
Picking up your Indian visa in Tashkent, Uzbekistan
You can probably pick up your visa four working days after you applied, but don't book a plane or train ticket out of the country just yet.
First, make sure to call on the third day after 14:00. The phone number will be on the receipt the embassy gave you. When we called, we were told we forgot a document and had to send it, delaying everything by a day.
After we got to the embassy on the day we could pick up our visas, we were told that the consul had left in a "very hurriedly manner", and that we had to pick up our visa the next day instead.
When visa time finally came, we couldn't get a multiple entry visa, but they allowed us four entries. On the bright side, we got a year validity. Validity starts from the moment you get the visa.
In the end, this was one of the most bothersome visas the get. It's probably easier if you apply for a standard visa, but make sure to come with a healthy dose of patience and time.
Need tips for traveling in Uzbeksitan? Check out this amazing Uzbekistan itinerary!