A quick itinerary and guide to the Sham Valley trek in Ladakh, India. It's the perfect short trek in Ladakh, and also known as the "Baby Trek". This guide includes tips on what to pack, where to stay, and how to get there.
August 2019 update: In August 2019 the Indian government changed the constituional status of Jammu and Kashmir, of which Ladakh was a part. Ladakh will now be a seperate union terroitry. Travel to Ladakh hasn't been affected, however. Getting to Ladakh via Kashmir will be difficult though, so make sure to plan ahead.
The stark landscapes of Ladakh in northern India draw all kinds of travelers. Some are happy simply walking around Leh, while others spend weeks traversing some of India's toughest terrain.
We fall… somewhere in between. We're far from expert mountaineers—the only mountainous expertise we have is getting lost—but we did spend a smidgeon of time trekking in Ladakh before our unexpectedly early departure.
The Sham Valley trek—also known as the "Baby Trek"—is a short 3-day trek perfect for beginners, or those hoping to do a bit of warm-up before a more rigorous Leh Ladakh tour. Don't let the name deter you; though one of the easier treks in Ladakh, the Sham Valley trek is tiring at times due to the altitude, and you'll certainly break a sweat. A basic level of fitness is still required, but we highly recommend it for anyone looking for a short or beginner trek in Ladakh.
There are plenty of tour agencies offering organized trips to Sham Valley, but we did the trek independently. So long as you're not averse to asking around if you get lost (villages can be confusing), you should be fine. The path is generally quite clear, and there were usually people around to ask if we weren't sure of the way. In the name of helping out a fellow wanderer, here's a quick itinerary and guide to independently doing the Sham Valley in Ladakh, organized by day.
Itinerary and guide to the Sham Valley trek in Ladakh, India
Sham Valley trek basics
Highest point: 3,874 meters (12,710 feet)
Difficulty level: Easy to moderate
Distance: 27 kilometers (16.78 miles)
Food and accommodation: Village homestays
Trekking time: 3 days, 2 nights (with options to extend)
Sham Valley trek itinerary
Day 0: Arrive in Leh
Day 1: Organize transport in Leh
Day 2: Lekir – Yangthang
Day 3: Yangthang – Hemis Shukpachan (8 km)
Day 4: Hemis Shukpachan – Temisgam – Leh (10 km)
Day 0: Arrive in Leh
Leh is the capital of Ladakh and a great place from where to plan your travels around Ladakh.
We flew into Leh from Kolkata, and thus needed to take several days to acclimatize to the massive change in altitude. Unless you drive (or hitchhike!) in, you'll need to do the same. Never fear, there's plenty to see and/or gawk at around Leh.
Use this day to wander around the city, checking out the local markets and enjoying some time in the numerous cafes and eateries.
Accommodation in Leh
Leh has plenty of accommodation, from dirt-cheap backpacker jaunts to luxury hotels. It helps to book ahead in high season, and in the off-season, it's possible to score great deals online at mid-range and luxury hotels.
Important: Considering how remote Leh is, water scacity and waste management are real problems. To do your bit, please consider taking only short showers, and bringing a reusable water bottle. You can refill your water bottle at Dzoma Shop for 7 rupees per liter.
Day 1: Chill and arrange transport to Likir
Use this time to continue wandering around Leh and arrange transport to Lekir, your starting point for the Sham Valley trek.
We opted to hire a car, as we were able to share the cost with friends. Private cars can be rented through any travel agency in Leh. There's a standard price list for all rides, so make sure the travel agent shows you the rate sheet (rather than pulling a number out of thin air).
We booked a ride from Leh to Likir, and from Temisgam back to Leh three days later. Leh to Likir was 1703 Rs for a small car, and Temisgam to Leh was 3708 Rs for a Sumo. So, 5,411 Rs in total.
You can also use a newly launched shared taxi booking platform. This platform allows you to post and find shared taxis with other travelers. We recommend you try to share transport whenever possible, to minimize the environmental impact your travels to this region has.
Note: If you're looking to squeeze some pennies, you can likely find local transport passing close to Lekir from the Leh bus stand, or try hitching a ride in that general direction.
Day 2: Leh to Lekir to Yangthang – 9 km, 4-5 hours
The drive from Leh to Likir takes about two hours, so make sure you leave early enough to ensure your trek ends before sunset.
The trekking path begins at the edge of Likir village, heading down, over a stream, and back uphill before you'll need to veer right and head out of the village. After that, the path is quite clear, occasionally running close to a road. It might appear as though the path splits at times; never fear, the separate paths will eventually rejoin.
Trekking from Likir to Yangthang should take around 4 to 5 hours. You won't be passing any places to stop for a meal, so be sure to pack some food from Leh to last you until you reach Yangthang village (3630 m).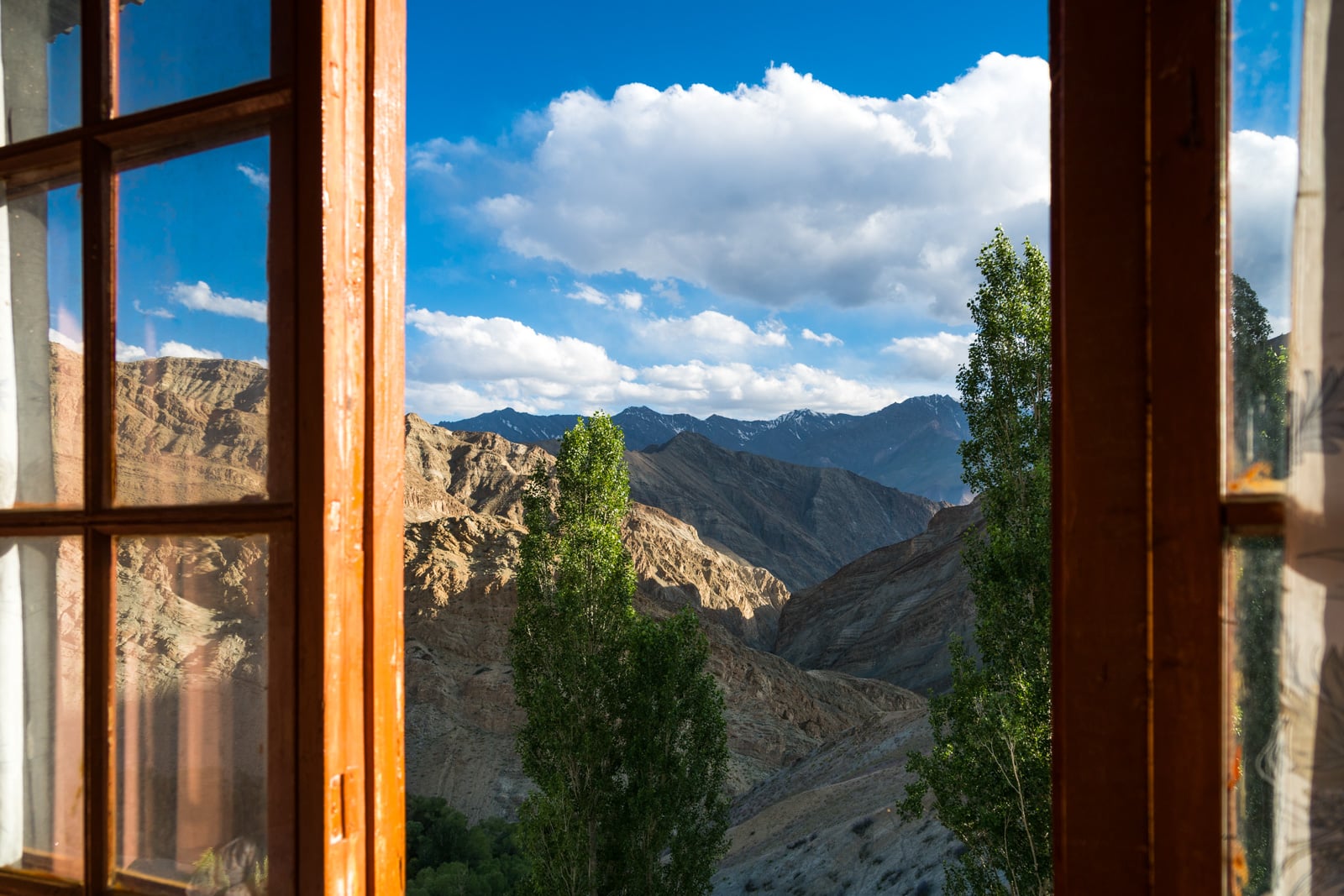 You'll know you're in Yangthang once you summit a hill and are greeted with endless homestay signs. All of the homestays are 800-1000 Rs per night including three meals, though they vary in quality and hospitality. If all of the homestays in the village are full, try heading through the village and down the hill. There are several more homestays in a very pretty location near the stream.
Note: If you arrive early, or have time to add an extra day in Yangthang, the Ridzong monastery is in a gorge south of the village. To reach the monastery, walk along the path beside the stream below the village south for one or two hours.
Day 3: Yangthang to Hemis Shukpachan – 8 km, 2-3 hours
Today's walk is a short—if uphill—trek. You'll be gradually weaving your way up to Tsermanchang La pass (3750 m). Once you reach the top of the pass, it's all downhill sailing into the idyllic greenery of Hemis Shukpachan village, our favorite from the trek.
Homestays sprawl all over the village. The further you venture into the village, the better the quality of the homestay. We stayed at Fakir Homestay for 800 Rs per person, and it was perfect. The host is very sweet, an excellent cook, and the rooms were very cozy and atmospheric. To find the homestay, look for the (relatively) newly painted black and white signs along the main path through the village.
Day 4: Hemis Shukpachan to Temisgam back to Leh – 10 km, 4-5 hours
The walk to Temisgam leads you through some of the most epic vistas of the trip. When we went in August, purple flowers lined the trekking trails, and the weather was brisk, perfect for walking.
There's one more mountain pass for you to conquer today: Mebtak La (3750 m). Unlike the other passes, the ascent to this pass is steep, but the views from the top of the pass are guaranteed to make up for the long and breathless slog.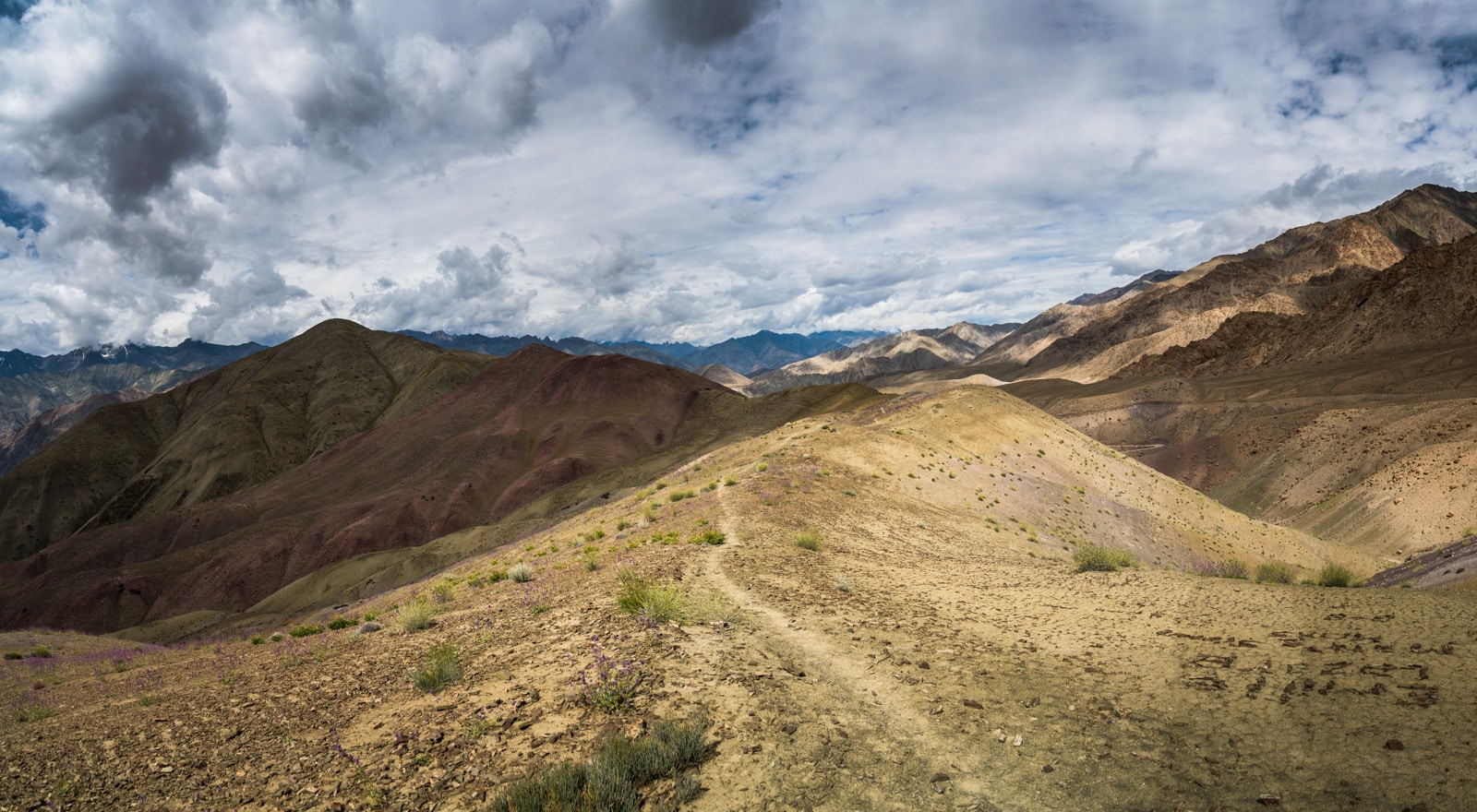 After Mebtak La, it's all downhill. Follow the trekking path down, and you'll walk past Ang village, another possible stopping place if you have extra time. If not, continue down the road out of Ang village for several kilometers (about 1-2 hours), and you'll eventually reach Temisgam village, the endpoint for this itinerary.
If you recall, we arranged for a private taxi to pick us up ahead of time. These taxis will wait on the roadside across from the village center, where shops line the left-hand side of the street. If you didn't arrange transport ahead of time, however, no worries. There are a few taxis hanging around in the area that can bring you back to Leh, and if you continue on for several more kilometers to the main highway, you can almost certainly hitch a ride back to Leh.
The ride back to Leh will take about 3 hours, so sit back, relax, and pat yourself on the back for successfully completing the Sham Valley trek in Ladakh!
Tips for independently doing the Sham Valley trek in Ladakh 
Book your tickets to Leh in advance. Leh gets busy during the summer high season, and flights and trains fill up quickly. We used the budget Indigo airlines to fly there from Kolkata on the cheap.
Get the phone number and license plate number of your driver for the ride to and from the valley if using private transport. We had some issues finding our driver for the way back.
Don't worry about electricity. The homestays all have places to charge your phone and camera, though electricity might not always be working.
Know the homestay prices include 3 meals. If you arrive in your homestay well after lunchtime, you'll receive a packed lunch for on the way the next day.
Take your time! There's no rush, distances are not far, and high altitudes can be hard on the body. Pay attention to your body's symptoms, and don't hesitate to take a breather if things are getting difficult.
What to pack for the Sham Valley trek in Ladakh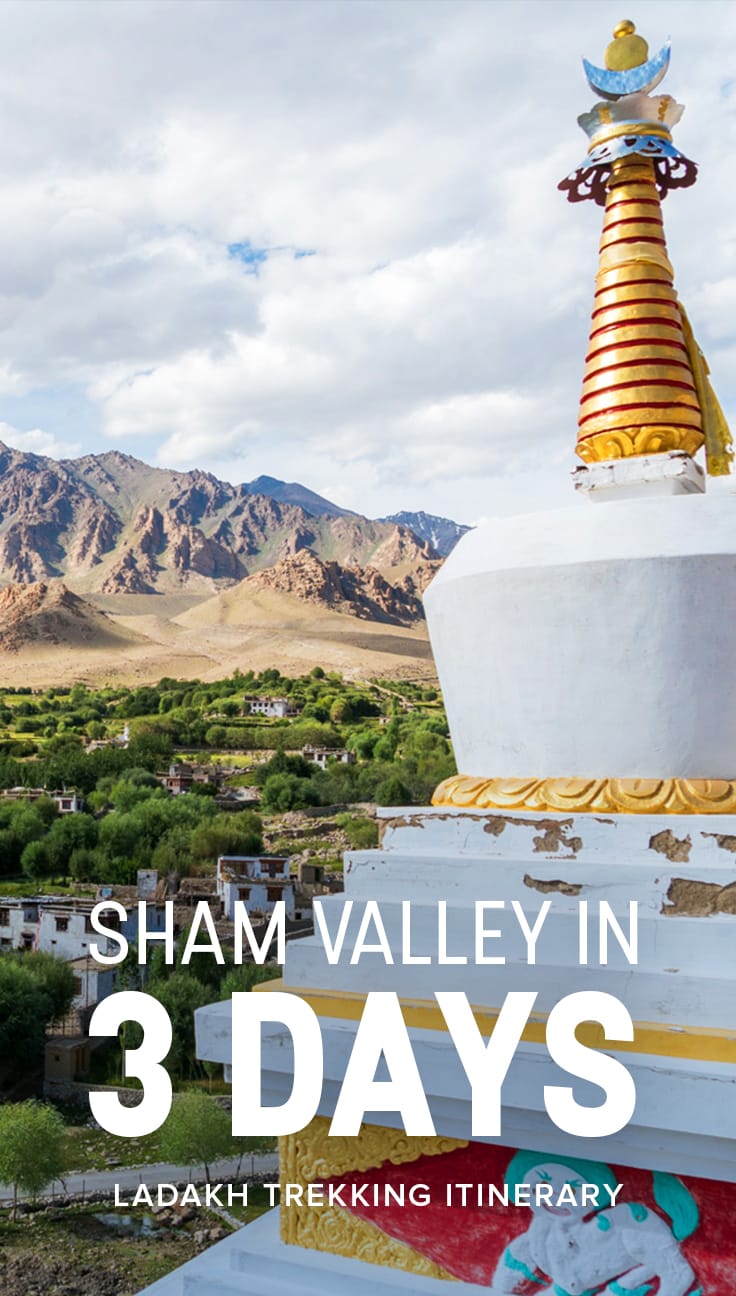 Yay transparency! There are affiliate links in this post. If you buy something or another with our links, we'll make a bit of extra change at no extra cost to you. It's how we maintain the costs of running the blog.