A photo essay about how we got guided by dogs while hiking in Mestia, in northern Georgia. Includes practical information on hiking in Mestia and where to stay in Mestia.
Mestia is a tiny town nestled in the mountains of Svaneti, a region in northern Georgia. The location is epic, and the buildings in the region are known for their Svan towers. Svan towers are big stone structures where, in the days of yore, families under attack would retreat and shoot at their enemies until everybody was dead in some way or another.
Nowadays, the bloodbaths have ended, and the towers are mostly decorative. Instead, the area is known by many for its hiking and developing ski areas–some of the resorts plan on having more than one lift soon!
Hiking adventures in snowy Mestia
Alas, though avid skiiers/boarders, we were not prepared for anything remotely close to skiing… nor any kind of cold weather, really. But, not to be deterred by something so simple as a lack of winter clothing, Sebastiaan and I donned all of our available layers, pulled on our "walking shoes"–hiking boots without insoles and lightweight road running shoes, respectively–and headed out into The Great Outdoors for a day of hiking.
Our brilliant plan? "Go up."
What that actually meant, we were not sure. There was some sort of cross at the top of one of the mountains that maybe we could head to, and the Lonely Planet mentioned something about some nice place somewhere, but we were not sure what or where. The handy dandy Mestia tourist information office, purveyor of fine maps and information, was also closed, to reopen ??? So, up it was!
Heading to Mestia? Check out this article to find the best places to stay in Svaneti!
As we began our journey down the main road in Mestia, we started to be followed by a pack of dogs. I am somewhat of a canine Pied Piper (they can sense my desire to pet them, I swear), and often have a stray or two trailing behind me when we walk, but two of the dogs were particularly persistent. Amused that they were so determined to follow us, and not too concerned because they were some of the cleanest strays we've seen, we walked along with them and continued up the mountain.
We had read beforehand that March is not within the hiking season for Mestia. Guidebooks warn that trails may often be obscured in the off-season, and are not so well marked that trails will be clear. Being clueless noobs expert mountaineers, we did not consider this to be an issue… until we reached the base of the mountain, and realized that we had no clue where we were actually supposed to go.
(There's a reason this blog is called "Lost With Purpose"…)
While standing and scratching our heads, pondering which of the paths (if they were even actually paths) we should take, we noticed that the dogs had trotted on ahead of us, and realized that they were walking along a path. Given that we had nothing better to navigate by, we decided to follow them. Lo and behold, the dogs were definitely in the know!
Not looking to freeze your ass off when trekking? Check out this article on trekking in the Caucasus during spring!
Spirit Dogs ahoy!
Several times we would struggle up an ungainly rocky stretch, only to see them waiting patiently at the end of a much easier, if less noticeable, path. We eventually hit a point where snow and landslides had washed out the path completely and were debating on turning back for fear of death by sliding off a cliff, but the dogs continued on, thus so did we.
We hiked up the mountain with our canine companions like this all day, occasionally stopping to take a breather and pay our guides with the only currency they were interested in, cheese.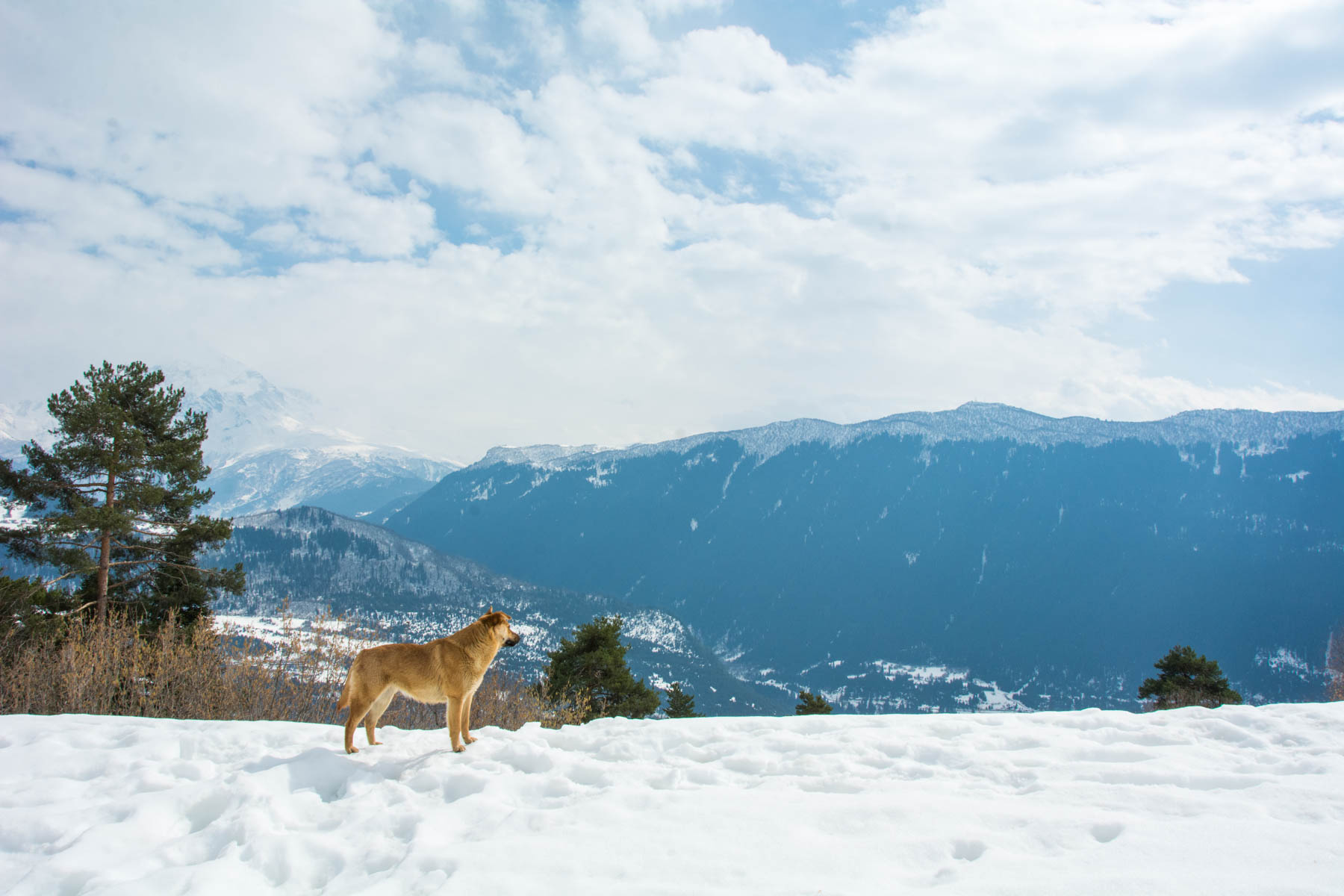 As the day came to a close, and we miraculously made it back down the mountain sans broken bones, we had to say goodbye to our spirit dogs.
… or we tried to, anyway. Sebastiaan is far too popular with beasts of the furry variety–or they just wanted more cheese–and the dogs ended up following us for the rest of the evening in true spirit animal fashion. I was trapped somewhere between heartbreak over how adorably loyal they were, and pure fear from all of the other much-less-savory-and-possibly-rabid street dogs they were attracting as they loped alongside us.
Unfortunately, all good and furry things must come to an end, and we had to leave the dogs behind in Mestia (they would not fit in our backpacks). On the bright side, no creatures–including ourselves–were harmed (to our knowledge), we did not incur a need for more rabies shots, and we did not have to witness any repercussions of feeding dogs large quantities of cheese. Well done team!
Disclaimer: You really definitely should not pet/play with/lick/sensually rub any stray dogs you see running around in most places. They're often filled with fleas, or worse, worms, and those buggers can move from creature to creature much more easily than you'd think. There's also always the chance that the dog is not actually as sweet and adorable as it may seem, and if it bites you, that's 5 weeks and a couple hundred in rabies shots you'll have to pay out.

Yes, we are hypocrites. Of course, sometimes exceptions may be made…
Practical information for hiking in Mestia
Where yo stay in Mestia
Mestia is popular in both summer and winter and therefore has plenty of accommodation to choose from. From soulless hotels to cozy homestays, there is something for everyone. You can check out accommodation options in Mestia here.
In low season, it pays to shop around and see what's available. Most places will have a spare room or bed, and it's always possible to negotiate on the price a little bit. In high season, it's advisable to book ahead.
Hiking in Mestia
There are several trails in Mestia, ranging from the relatively easy day treks to multi-day treks that are best done with a local guide. The Mestia tourist information center has useful guides and maps when open, and several hotels and homestays can organize treks for a fee. If you are more of a DIY trekker, check out the Trekking in Caucasus website for more information on trails and treks.
Quick camera tip: Want to start taking photos like this yourself? Don't know where to start? I always carry a Nikon D7100 camera wherever I go, and I absolutely swear by my 18-200mm lens. When buying a camera, the body is not so important–it's the lens that matters most! The 18-200 allows for wide-angle shots AND telephoto zoom. You'll never have to switch your lens ever again.