A quick guide on how to cross overland at the Nepal – India border crossing at Birganj and Raxaul. Includes information on how to get there, border timings and procedures. 
The Nepal – India border crossing at Birganj and Raxaul is the main border crossing point for trucks crossing between the two countries. Luckily, it's easy for tourists, too.
From Nepal, this border can be easily reached from both Kathmandu (8 hours) and Pokhara (6 hours). Raxaul, which is in the state of Bihar, is best reached from Patna (6 hours). This post will focus on getting from Kathmandu to Birganj to cross into India, but the reverse direction is very similar.
How to get from Kathmandu to Birganj
Buses from Kathmandu to Birganj leave from the "New Bus Station", officially named Gongabu Bus Park, roughly 10 minutes from Thamel. A taxi from Thamel costs roughly 150 NPR with a meter. Expect to pay 200 NPR if the driver doesn't want to use a meter. The driver will probably drop you off across from the bus station, as entering costs another 20 NPR.
The bus station is fairly chaotic, with not much in the way of English signage. Luckily you'll be approached soon enough by someone who can point you to the right ticket counter. Tickets to Birganj are sold from a window on the right side of the main ticket hall, but it's best to just ask someone.
Heading to Nepal? Check out the photos of our time in this mountainous country!
Unless you don't care about what type of bus you end up getting, it's wise to specify you want a Deluxe or Tourist bus. Otherwise, you might end up in a rickety overpacked local bus, which can take considerably longer and is notably less comfortable.
Tickets to Birganj costs 550 NPR for a regular bus, and 800 NPR for an A/C deluxe or Tourist bus. Buses go throughout the day, but we advise you to leave early. Theoretically, the journey takes 8 hours, but traffic jams and breakdowns are not uncommon… as we now know!
How to get from Birganj to the Nepal – India border
The border is roughly three kilometers from the center of Birganj. A rickshaw or thanga, horse-drawn carriage, should cost no more than 100 NPR during the day, or 150 NPR at night. 
Technically, the border is open from 6:00 until 22:00, but don't be surprised if no one is there before 7:00 or after 21:00. If you come from India, note that visas are only issued on the Nepali side until 18:00.
The Nepal – India border crossing at Birganj and Raxaul
If you come during regular hours, crossing the border should be a breeze. Processing takes roughly 10 minutes at either side of the border. You have to fill out an entry/exit form on both sides. The Nepali immigration office is a small yellow building with clear signage. The Indian immigration office is a small building with a bright blue interior… with less clear signage.
Nepal visas
Indians don't need a visa to enter Nepal, and can skip customs formalities altogether. Citizens of most other countries can get a visa on arrival. Check out our Nepal guide for more info on the visa process.
India visas
If you're entering India, you need to get a visa beforehand.  If you're unlucky enough to arrive after the immigration officer has left, you have to spend a night in Birganj or Raxaul, depending on where you're going. We arrived just after 22:00, and there was no immigration officer to be found. Luckily, after a bit of chatting, we were allowed to camp at the police compound next to the immigration office! It was a bit sticky in the summer heat, but it was free.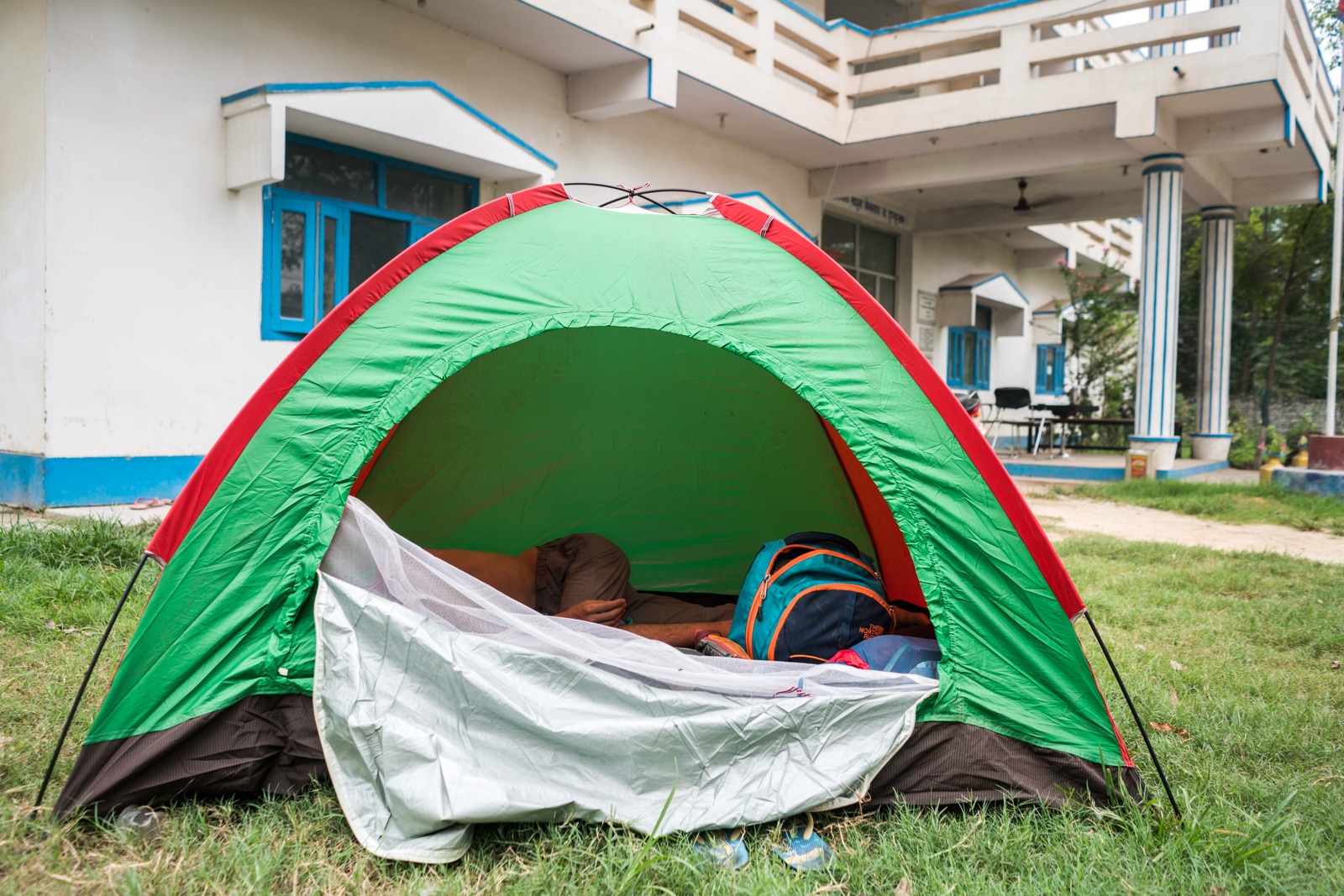 There are also several budget hotels in Birganj Bazaar. In Raxaul, there are only a few hotels that allow foreigners to stay. Hotel Kaveri is the most well-known, but the workers there were too lazy to check us in (sigh), so we stayed at Vaivhav International, on the right-hand side of the main road when heading away from the border. The price was 700 Rs for a small double room with an attached bathroom, simple puri breakfast included.
Overstaying a Nepal visa
Because we arrived too late to cross the border (our bus broke down several times on the way to Birganj), we technically overstayed our visa by one day.
Normally the overstay penalty fee is $3 per day that you overstay, plus $30, the cost of extending a visa. The fine becomes higher, and your crossing more problematic, if you overstay by more than 15 days. Luckily, the immigration officer understood we had no ill intent, and waived the overstay penalty. We read these one-day grace periods are common.
Onward transport from the Nepal – India border
From Raxaul, you can travel further into Bihar. Patna is 6 hours away by bus, from where you can go to the Buddhist pilgrimage site of Bodhgaya. There are also daily trains from Raxaul to Delhi and Kolkata. You might be able to get a train ticket at the train station, but it's easier to book them online. I use 12GO to book my train tickets in India.
From Birganj, there are buses to Kathmandu and Pokhara in the morning and evening, and several Sumos ply the same routes for a higher price.
There you have it, a quick guide on the Nepal – India border crossing at Birganj and Raxaul. Let us know in the comments if we missed anything or if anything has changed.
Crossing into India? Check out our India archives for all kinds of Indian travel inspiration.