The India – Nepal border crossing at Panitanki – Kakarbhitta is one of the smoothest border crossings we've had on our journey. Here's how we went from Siliguri (NJP railway station) to Ilam, Nepal, overland using public transport.
The India – Nepal border crossing at Panitanki – Kakarbhitta is perfect for those chilling it in Dajeerling or enjoying the Sikkim tourism circuit. On the Indian side, the closest major city/railway station is Siliguri (NJP railway station), which is a good starting point for your journey.
Where to stay in Siliguri/NJP station area
If your train or bus arrives in the evening, you'll likely have to stay the night in Siliguri, as the Nepal side of the border crossing is only open until 17:00 (the Indian side is open 24 hours/day because ???).
To make things easier, you can stay at Hotel Breeze, which is within walking distance from New Jalpaiguri (NJP) railway station and costs around 800 Rs for a standard double room, working wifi included. You can also stay in Siliguri, but the city is a 20-minute shared rickshaw ride away from NJP station, and we found it wasn't worth the effort to go there when we could get a bus to the border from NJP.
How to get to the India – Nepal border crossing at Panitanki – Kakarbhitta
You can take a bus from the bus station on Hill Cart Road in Siliguri, or from NJP railway station, depending on where you're staying. If leaving from NJP railway station, look for the small cluster of buses near the end of the parking area outside the station.
Buses go throughout the day (we left at 9:00), leaving when full, and cost 40 Rs per person. The ride takes roughly one hour.
Indian immigration at the India – Nepal border crossing at Panitanki – Kakarbhitta
If you're Indian, this border crossing will be a cinch: Indians don't need to do anything, and can cross the border without reporting to immigration.
Everyone else has to report to immigration. The office is about 10 minutes walking from the intersection where the bus drops you off (or a 20 Rs cycle rickshaw ride). The green concrete building is a bit hidden away in the trees off to the left, but an official will point it out.
At the office, the immigration officer will need a photocopy of your passport and visa, and will note down your information. If you don't have a copy at hand, there's a small copy shop close to the immigration office.
After this, your passport is stamped, and you can move to the Nepali side. The whole process takes about five minutes, and there is no hassle.
Need some inspiration? Check out these photos of our time in Nepal!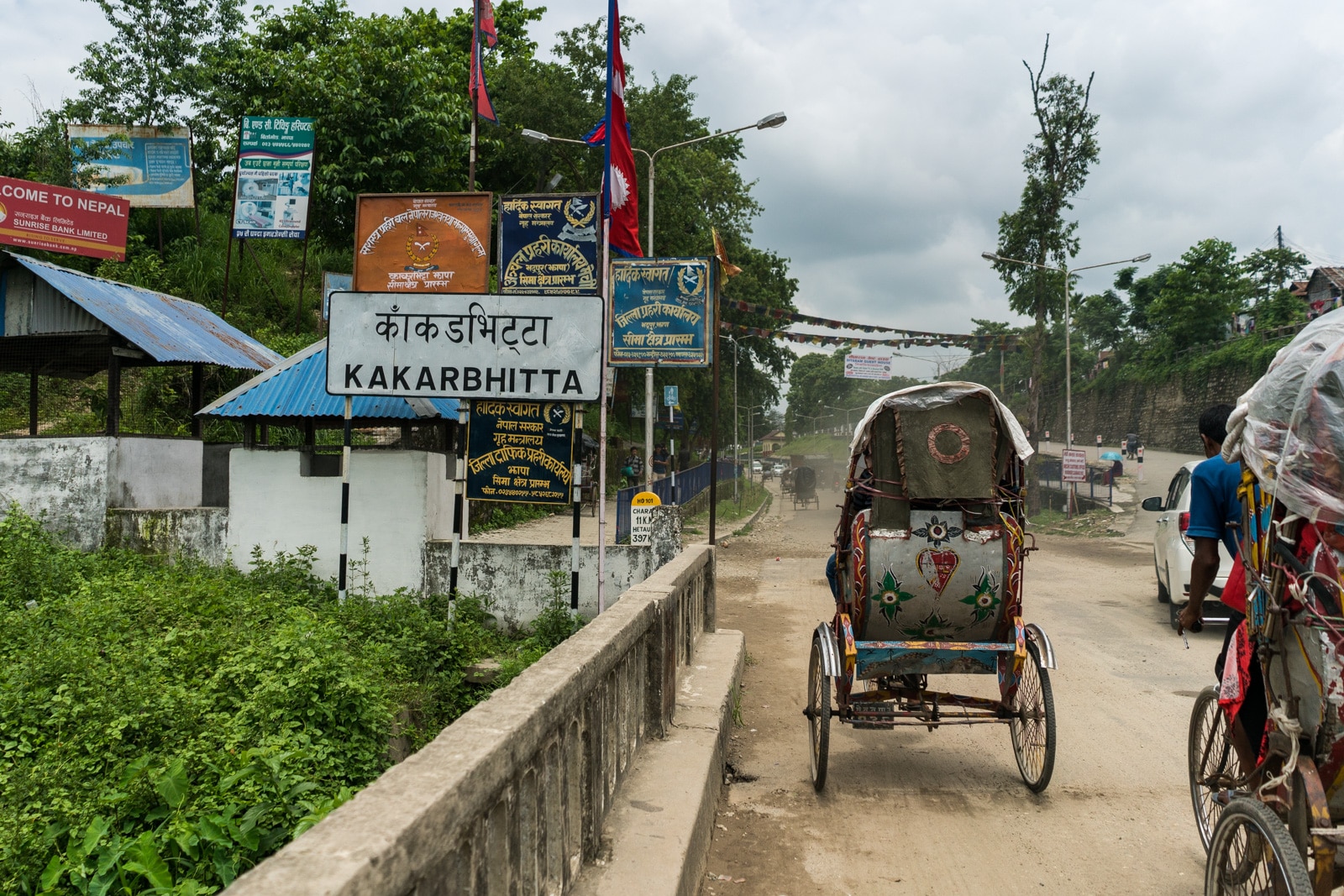 Crossing the India – Nepal border at Panitanki – Kakarbhitta
To head to the Nepali side, you can walk or take a cycle rickshaw. The walk over a bridge is about 10 minutes. If you're Indian, you don't have to report to Nepali immigration, but other foreigners have to. The immigration office is to the right up a hill in a big while villa, past the army check post.
Getting a visa in Nepal
Indian citizens: No visa required.
Citizens of Afghanistan, Cameroon, Ethiopia, Ghana, Iraq, Liberia, Nigeria, Palestine, Somalia, Swaziland, Syria, and Zimbabwe: Apply for a visa in advance in your home country.
All other nationalities: Visa on arrival.
If you're getting a visa on arrival, you'll need to fill in two forms and hand over one passport photo. You can choose between a 15/30/90 day visa for $25/40/100. The fee is payable in US dollars or Indian rupees. Aim to have the exact amount, as there's not always change on hand.
The whole process takes about 10 minutes. There is no cursory baggage check (in case you have party favors in your bag), and no hassle.
Changing money
There is a Nepal Bank foreign currency exchange roughly 500 meters past the border, on the main road towards the bus stand. The building is easily recognizable, as it's pink and has a big Nepal Bank sign. There will also be several hawkers outside trying to change money. You can change all major currency here, as well as Indian rupees.
At the time of writing, the official exchange rate was USD$1 =102 Nrs, and €1 = 115 Nrs.
Onwards travel after the India – Nepal border crossing at Panitanki – Kakarbhitta
From Kakarbhitta, you can get buses to Janakpur (7 hours) and Kathmandu (15 – 18 hours). You might have to go to Birtamod first, which is about half an hour from the border.
A bus to Birtamod costs 30 – 40 Nepali Rs per person. Buses to Birtamod depart from a bus stand on the right hand side of the road, about 5 minutes' walk beyond Nepal Bank. The buses depart when (supremely) full.
How to get to Ilam from the India – Nepal border crossing
From Birtamod, you can also go to the hill town of Ilam, famous for its tea. The town is relatively off the beaten track, as far as Nepal goes, and it's a pleasant place to break up your first steps into Nepal. If you've visited some tea towns in India, though, you won't be missing much if you skip it.
A shared Sumo to Ilam takes roughly three hours, and costs 250 Nrs per person.
Safe travels!
There you have it, a quick guide on the India – Nepal border crossing at Panitanki – Kakarbhitta. Remember, you need to have an Indian visa in your passport before doing this crossing in the reverse order. If anything changes, please let us know in the comments!
Yay transparency! There may be affiliate links in this post. If you book or buy something using our links, we'll make a small commission at no extra cost to you. It's how we cover the costs of running the blog!