Considering a weekend trip to Ahmedabad, India? This weekend guide to Ahmedabad, Gujarat has tips on where to go and, more importantly, what to eat for the perfect weekend in Gujarat's capital. Includes a map at the end of the post.
Getting lost in the streets of Ahmedabad is to get lost amongst a rich medley of times, religions, and cultures.
… at least, that's what I tell people when they ask why I loved Ahmedabad.
In reality, I loved it 'cause I'm a total glutton. Especially when it comes to Gujarati food.
Gujarat is heaven for thali addicts (like me!), and Ahmedabad is the divine capital of all things delicious, bottomless, and served on round thali plates. Hello, happiness.
Ahmedabad is the perfect place to indulge in the culinary wonders of Gujarat. In between eating excessive quantities of (literally) sweet Gujarati noms, you can walk your legs—and calories—off admiring everything that India's only UNESCO World Heritage city has to offer.
Intricate textiles, ornate mosques and temples, and some of the most fabulous stepwells I've seen in India; the area has it all.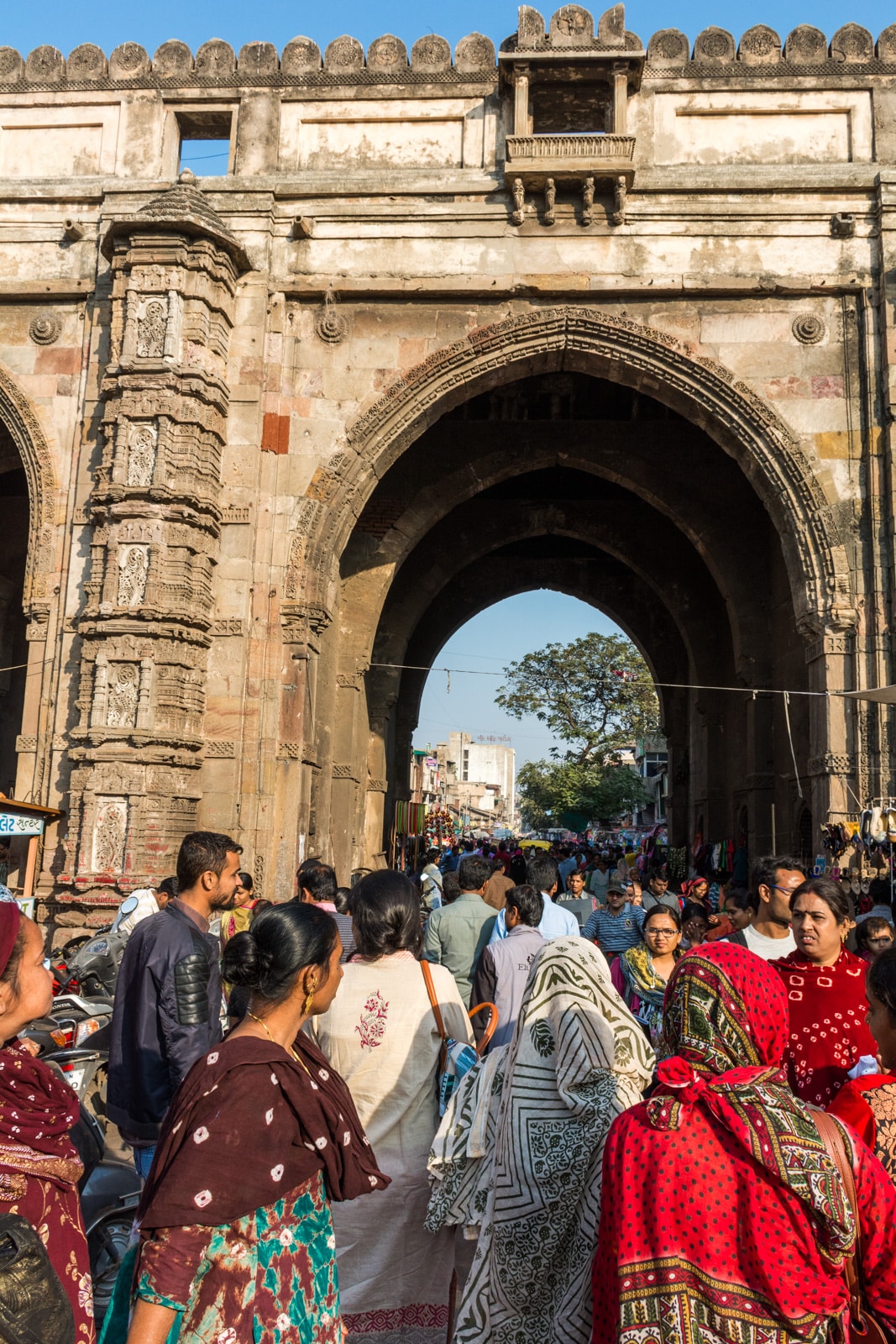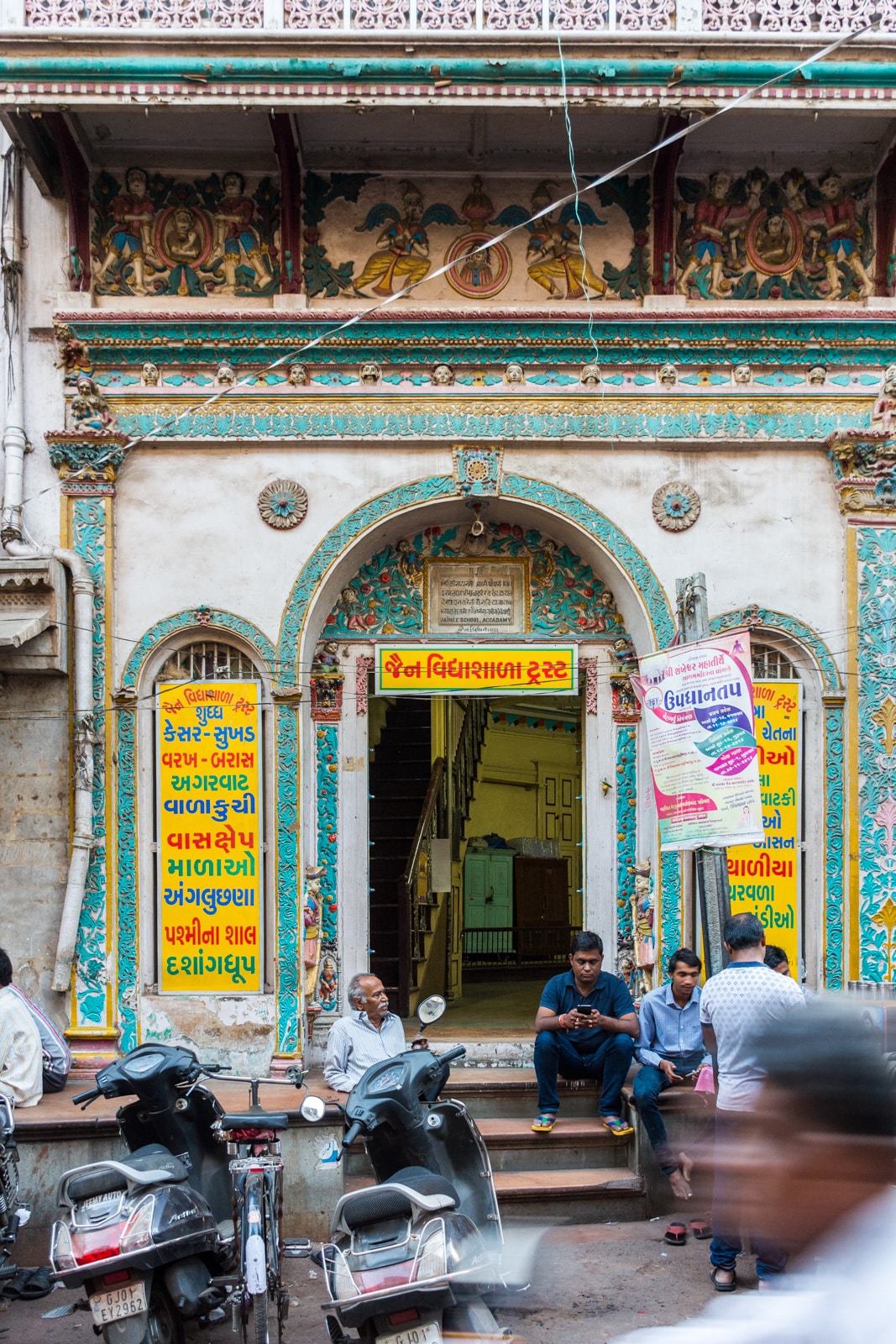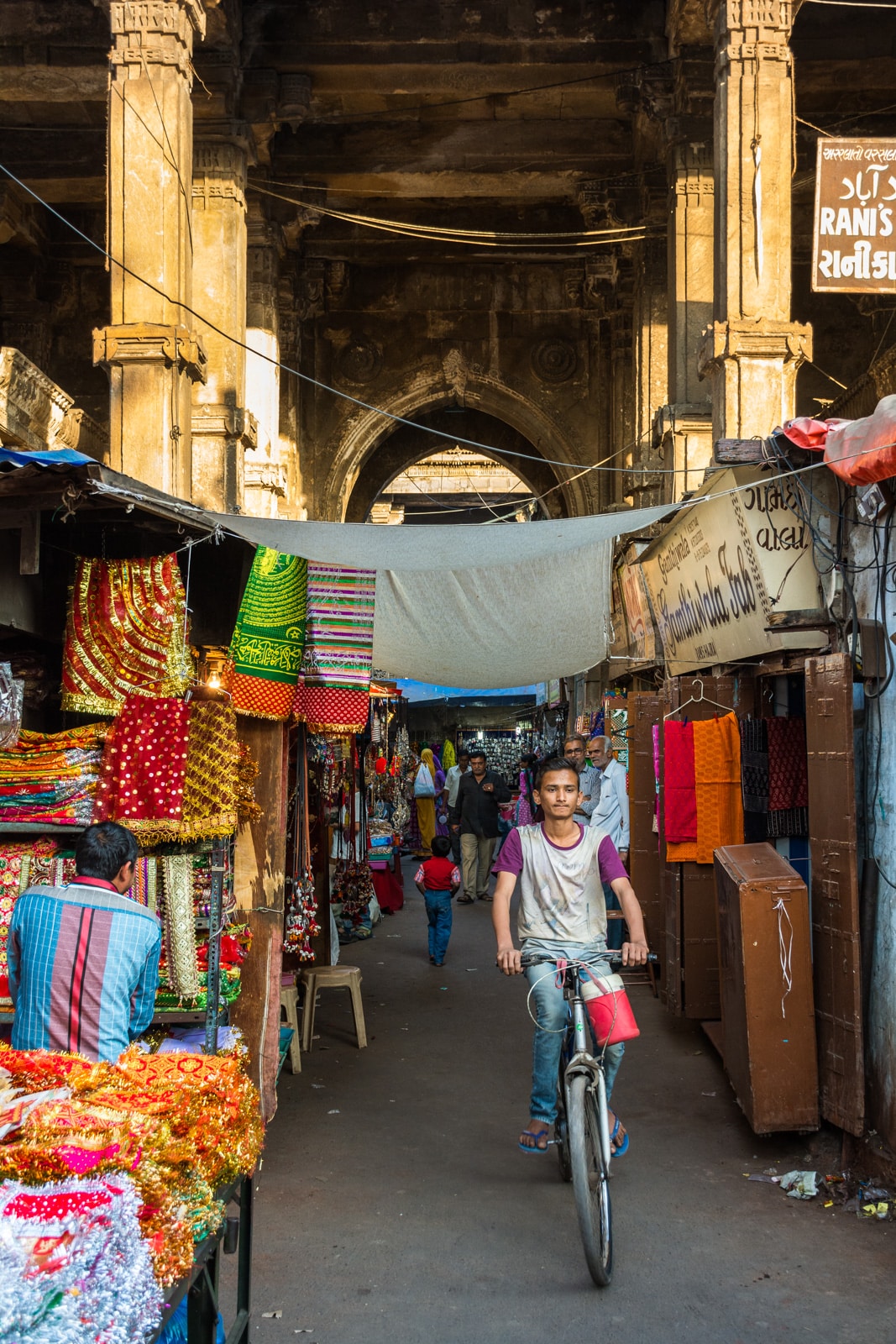 One could easily wander the streets of Ahmedabad for a lifetime, but most of us don't have a lifetime to spend on one city alone! No need to fret: a weekend is a good amount of time to explore Gujarat's capital.
(Your stomach might also pop if you spend any more time in the thali capital of India.)
To help you get the most out of your weekend in Ahmedabad, here's a weekend guide to the city… with a thali twist, of course.
A thali-infused weekend guide to Ahmedabad, Gujarat
Picking a place to stay in Ahmedabad
First things first. Every explorer needs a base, right?
To make sure your weekend is as flawless as it should be, start off by choosing the right hotel. You can get great room rates on Wego.co.in.
I recommend mid-range travelers check out The House of MG, a centrally located restored heritage home with an excellent thali rooftop restaurant (told ya this was all about thali). If you're on a strict budget, In & Out Dormitory has some of the cleanest and most economical beds in the city.
Once you've dumped your bags and freshened up, it's time to hit the town!
Friday: river strolls and lurid markets
 Thali of the day: Gopi Dining Hall
Given you've only just arrived in Ahmedabad (presumably), it's good to take it easy on Friday.
Go with the flow: wander the area you're staying in, grab a cup of chai to rejuvenate you after your long train/car/bus ride, and get a feel for your new weekend home.
As the sun begins to set, set out west. A long river slices through the center of Ahmedabad, and it has a beautiful riverfront walkway running along it. Watch the sunset from a bridge-top vantage point, or stroll along the water's edge—your pick!
After night falls, continue your westward quest. Law Gardens is a nice green space surrounded by a market filled with traditional Gujarati textiles and clothes. Even if you're not the shopping type, it's impossible to ignore the sparkling mirrors and eye-popping embroidery!
Overload your eyes—and possibly your wallet—then finish off your evening by heading towards Gopi Dining Hall, a classic Ahmedabad thali institution. No frills, no fuss, and easy on the pocket; Gopi Dining Hall is a relaxed place to indulge in your first thali. Dine outside in the courtyard or inside the hall.
Once your stomach is sufficiently bulbous with Gujarati delicacies, step back from the plate (it's difficult to say no to the insistent servers), and wander out into the cool night air back towards your hotel.
Gopi is centrally located so it isn't that far away no matter where you're staying. If you're trying to be health conscious despite the gluttony (my modus operandi), choose walking over a taxi. It's good for you!
Saturday: ancient architecture and grand feasts 
Thali of the day: Agashiye
Hopefully you're well-rested, because today is a day for exploring the sights around Ahmedabad!
Get yourself a car and/or a guide, because there are several stunners that you simply cannot miss in the region:
Adalaj Vav is an ancient stepwell on the outskirts of Ahmedabad, in the Gandhinagar district. This intricate 5-story well was built more than 500 years ago, in 1498 AD. Plumb its dark depths, admire its impressive craftsmanship.
Modhera Sun Temple is a large and extremely ornate Hindu temple on the banks of the Pushpavati River. A massive stepwell and several temples make up the temple complex, and you can easily spend hours getting lost in the carved details decorating the temple's columns and walls.
Rani ki Vav, your final stop, is the most impressive stepwell I've seen in India to date—and a UNESCO Heritage site—located outside the town of Patan (also the home of the famous Patan patola). This stepwell is immaculately preserved, thanks to being buried and forgotten under a covering of sand for centuries!
Visiting all of these sites will take the majority of the day; you'll definitely need a rest upon returning to Ahmedabad!
Take a nap and clean yourself up a bit, because this night you're heading out to one of the nicest thali experiences in the city: Agashiye, The House of MG's restaurant. Prices are higher than other thali halls in the city, but the food is scrumptious and you can't go wrong dining on a rooftop! (Just make sure to be seated up top.)
Though you spent the day roaming the region, taking an after-dinner walk never hurts. Ahmedabad is a safe city to roam at night, so go for a stroll and enjoy the cooler hours of the day.
If you're feeling peckish despite indulging in the city's most decadent thali, head to Manek Chowk. Jewelry market by day, the square transforms into a culinary delight after 10 at night. It's a gathering place for people of all kinds and offers everything from gwalior dosa to pav bhaji to kulfi falooda for dessert. Go wild! (I know I did.)
Sunday: a healthy dose of heritage 
Thali of the day: The Grand Thakar
Alas, all good weekends must come to an end, but that doesn't mean you can't squeeze in a bit of sightseeing before you catch your ride out of Ahmedabad?
Sunday is always a bit quiet, so take advantage of the emptier streets to soak up some of the old city's heritage.
"Pols" are traditional housing clusters and—in my opinion—Ahmedabad's most eye-catching feature. Often wooden and impressively ornate, these old houses are scattered all throughout the old city, and make for a great walking tour. Here's a full list of all the pols of Ahmedabad.
Beyond pretty pols, Ahmedabad has more monuments and historical places than you can shake a stick at; far too many to list here! A guided walking tour is the best way to make sure you find the highlights, but if you're short on time or cash, I recommend at least seeking out…
Jama Masjid, meaning Friday Mosque, Ahmedabad's grandest mosque. It's set back from a busy market street, and is a total oasis of calm and cool.
Swaminarayan Mandir is shockingly colorful Hindu temple made from carved Burmese teak wood. It's a sight to behold, not to be missed.
Dada Harir Vav is another stunning stepwell a little bit off the main drag, meaning it's quiet on any day of the week. There's a pretty mosque next to it as well.
Hutheesing Jain Temple is Ahmedabad's grandest Jain temple. Though it's not so old—it was built in the 1800s—the massive two-story temple complex outside of Delhi gate is impressive nonetheless.
Remember, these are just a starting point, not an end-all list!
If, like me, you need to have a sweet treat to break up your sightseeing, I recommend stopping at Gandhi Coldrink House for a cold kesar lassi (with ice cream, of course) in between stops. Look out, it gets busy on hot afternoons!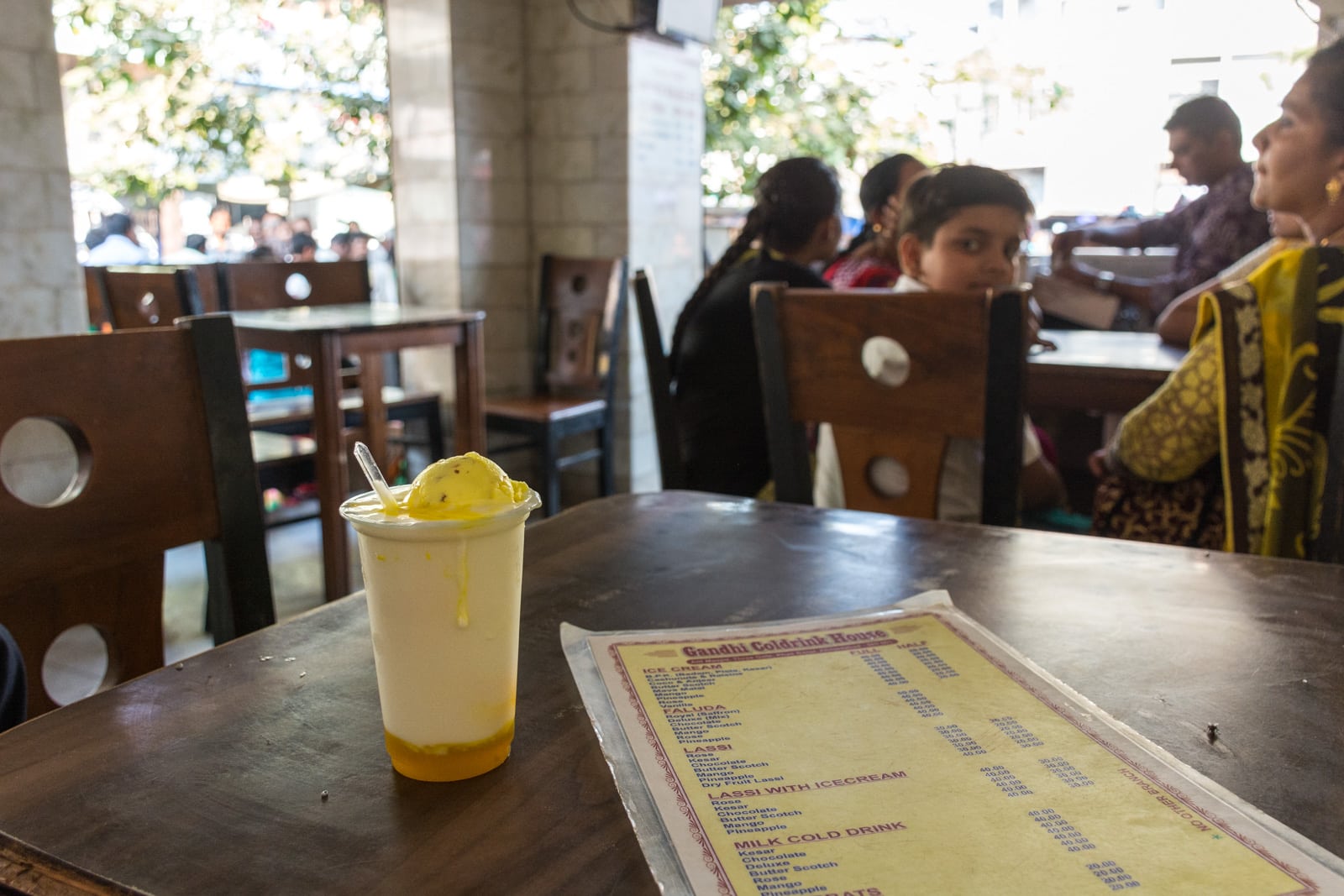 Don't fill up completely, though, as you still have one more thali to taste before you depart at The Grand Thakar.
The Grand Thakar is an Ahmedabad favorite with several floors of seating. It gets busy—especially on weekends—but the food is well worth any wait. Eat your fill, as this is your last weekend (over)indulgence!
After your grand luncheon at The Grand Thakar, it's time to head back home.
Stops on your way home
If you're driving out of Ahmedabad, take an hour to swing by Sabarmati Ashram in Gandhinagar on your way out of the city. Now a national monument, Gandhi lived in this ashram with his wife Kasturba for 12 years.
If taking the train out of Ahmedabad, consider stopping by the Sidi Bashir Mosque on your way to the train station; it's right by the station. Only the mosque's gate and two minarets—the tallest in Ahmedabad—still stand. The minarets are known as Jhulta Minar, shaking minarets, and when one minaret vibrates, so does the other. No one is exactly sure why!
Whether you're driving or training, safe travels both to and from Ahmedabad… and enjoy your weekend!
Want more on Gujarat? Check out this photo essay on my mini Palitana pilgrimage, my favorite experience in the state.
Yay transparency! There are affiliate links in this post. If you book something using one of my links, I'll make a bit of extra change at no extra cost to you. Think of it as saying thanks for helping you plan an excellent weekend away!