Passionate about traditional textiles in India? Time to head west to Gujarat! The textiles and crafts of Kutch (also spelled Kachh) are some of the most stunning India has to offer.
The arid Kutch region, home of the great Rann of Kutch, cloaks the wild west of Gujarat state, India.
Outside of monsoon months, prickly trees and bushes line its flat desert terrain, seemingly empty except for dusty black buffalo herds winding their way through. Small villages mushroom every few kilometers, battered concrete houses huddling together in the desolation with the occasional cluster of traditional homes made from mud.
Under an unforgiving sun, it seems bleak, colorless. But looks, as you know, can be deceiving—Kutch is home to some of India's most colorful heritage. Here's what you need to know to start planning your trip to see textiles and crafts in Kutch, India.
A quick guide to textiles and crafts in Kutch
Index
Start in Bhuj, hub of all things textile in Gujarat
Bhuj, a small city in the Kutch region, is a historical hub of the area's textile trade.
Nomads have traveled through Bhuj for hundreds of years, stopping to barter and sell colorful wares. From hand-stitched embroidery glittering with mirrors, to impossibly complex patterned fabrics block printed by hand, the handicrafts found in and around Bhuj are a technicolored dream.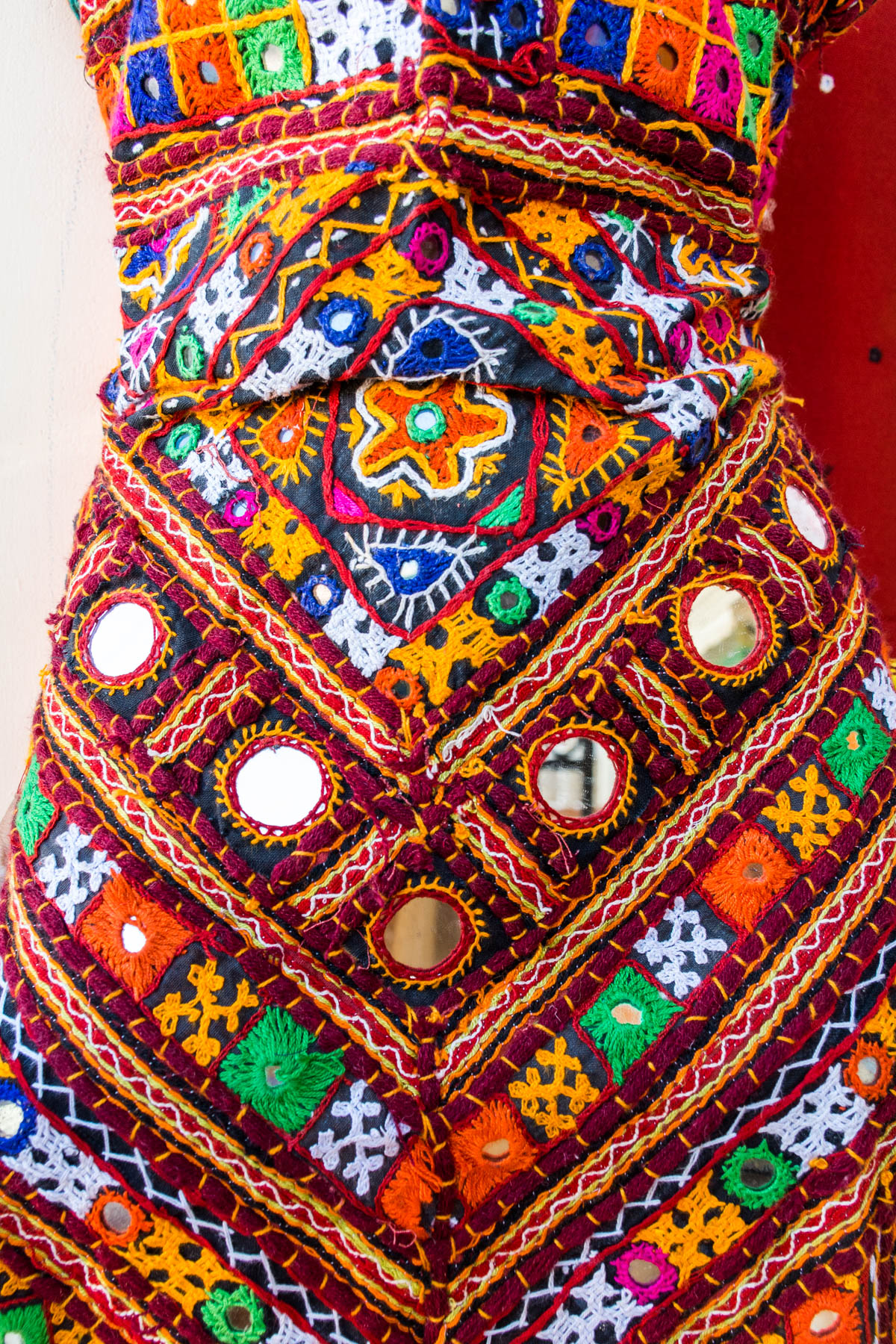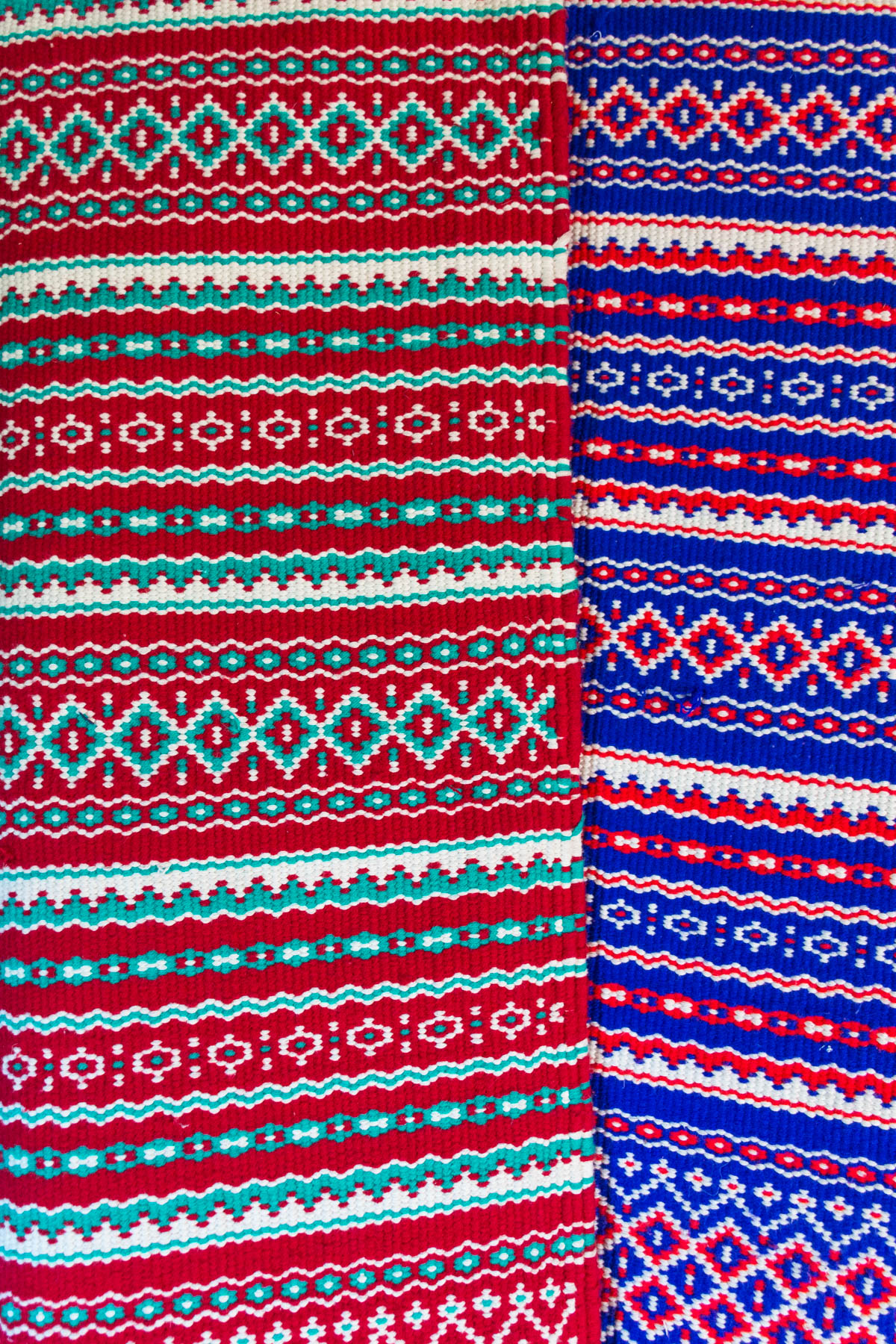 And the colorful dream is no secret: Bhuj draws thousands of Indian tourists each year. Groups and families roam from shop to shop, hunting for the most beautiful textiles to call their own.
Though well-known to Indian tourists, Bhuj and the greater Kutch region are still considered off the beaten track for most foreign tourists (as are most areas outside of India's Golden Triangle). Tours for foreign textile enthusiasts often visit, but it's not an area of India frequented by many casual tourists… yet.
Regardless of where you're from, Bhuj is the best place to start your trip or base yourself while traveling through the Kutch region.
Best places to stay in Bhuj and the surrounding Kutch region
Bhuj is a town with a few decent options for local and foreign travelers alike. Those with bigger budgets can also opt to stay at one of the many village home stays in the area—a great way to get away from the city and support locals in the process!
Budget: Modern House Homestay
Right in the heart of Bhuj is this simple homestay run by a sweet old couple. The rooms are spotless, there's a small area to sit outside, and you'll have a chance to enjoy homemade food, local advice, and warm hospitality in between your day's adventures. Reserve a room at the homestay now.
Mid-range: Devpur Homestay Kutch
Want a memorable stay outside of the city? Stay in this small fort converted into a series of guest rooms out in a typical Katchi village. Colorful textiles decorate many of the rooms, and there's a leafy shared courtyard to relax in. Check room availability for Devpur Homestay.
Luxury: Bhuj House
For a little bit of old-school luxury, stay at this beautiful Parsi heritage home in the heart of Bhuj. Though it's in the city, its courtyard is an oasis of peace, and all of the well-maintained rooms are decorated with traditional Kutchi textiles. Check Bhuj House availability.
What kinds of traditional textiles and crafts can you buy in Kutch?
From intricate embroidery to metal work to natural dyed fabrics, Kutch's craft culture is as vibrant and varied as India itself. Many villages have their own styles and specialties; the best solution is to explore the area at your own pace and see what you find!
… but, of course, not everyone has time to leisurely roam. Some particularly famous crafts and textiles from the Kutch region include:
Bandhiani: A dyeing technique where artisans tie the fabric before dying to create simple patterns. You might know it as "tie dye"!
Weaving: Traditionally done with wool to create warm shawls for shepherds, loom weaving has a long tradition in the region… but the geometric patterns of the region are now famous all over the world. Clacking hand looms are a common sound in many villages around Bhuj.
Block printing: Wooden blocks are carved with designs, then artisans use them to print patterns by hand across vast swathes of fabric. It can take days to print a single piece of multicolored fabric!
Embroidery: Kutchi embroidery is a dance of colors and glittering mirrors. It's tradition for women to embroider their own bridal clothes over the years, though these days the region's embroidery can be seen on everything from tops to handbags.
Getting out into the villages: a day trip to the block printers of Ajrakhpur
If you have your own transportation, there are countless villages you can visit to get a taste of Kutchi textile culture.
While staying in Bhuj, a friend and I rented a scooter and headed out to the village of Ajrakhpur to see some of the region's most famous block printers in action.
The Khatri family's ajrakh block printing business stretches back for ten generations. Though they've made concessions for the times and consumer demand and sometimes print using synthetic colors, most of their designs are printed using natural dyes such as indigo.
A single printed pattern often requires multiple wooden blocks to print all of the layers and colors of the design, and artisans often need several days to complete a single design. It's a time-intensive process, but that's why the final products are so valuable.
How to visit the Khatri ajrakh block printers in Ajrakhpur
Dr. Ismail M Khatri Ajrakh Block Print
Visitors are welcome in the Khatri's block printing studio, and there's a small shop where you can purchase fabrics and clothes directly from the family… the most responsible option!
If you have a car or motorbike, the studio is only half an hour away from Bhuj. Once you reach Ajrakhpur, keep an eye out for signs directing you to it.
Why you should buy straight from Kutchi artisans when traveling to Bhuj
It ain't all about you! Responsible travel is all about ensuring our travels benefit locals. A good way to support local artisans in Bhuj and the Kutch region is by buying products directly from them, rather than from third-party shops.
Currently, most of these artisans' crafts reach domestic and international markets through middle men. Predatory wholesalers buy the artisans' goods in bulk, forcing them to accept impossibly low prices—and thus minimal profits. The businesses ship the items off to other regions of India or overseas vendors, who then charge customers an arm and a leg for them because… well, they can!
Both the artisan and the customer's wallet take a hit, and the only people winning in the end are the middlemen. On a good day, that is—we all know how often Made in China goods are peddled as "authentic" handicrafts.
Tip: Really don't have the time to visit the artisans' villages? Khamir is a cooperative supporting local artisans just outside of Bhuj that also has a small shop for tourists. Hiralaxmi Craft Park, about half an hour from Bhuj, offers local artisans space to display and sell their wares closer to Bhuj.
Behind every handicraft is a living, breathing person, but their story is often lost by the time their work ends up on shelves or racks thousands of kilometers away. By making an effort to learn about the artisans' crafts and support their businesses in the process, you're doing what you can as a traveler to help to preserve their art and culture. Sure, you're just one person, but every little bit counts.
More on textiles and crafts in Kutch, India
This is but a basic travel guide to the region—I've barely scraped the surface of Gujarat's deep textile culture! For more information about different textiles and traditions in Kutch, India, take a peek at some of these articles:
More posts from Gujarat
Do you have more recommendations for places to learn about the textiles and crafts of Kutch, India? Tell me in the comments!