The textiles and crafts of Kutch are famous worldwide, and soon there will be a new way for travelers to make money by sharing them with the world! This post is sponsored by Caravan Trading Co., but all the thoughts are ours (duh) and the awesome textiles are credited to the people of Kutch.
The harsh Kutch region, home of the great Rann of Kutch, cloaks the wild west of Gujarat state, India. Outside of monsoon months, prickly trees and bushes line its flat desert terrain, which is seemingly empty except for the black, dusted buffalo herds winding their way through. Small villages sprout up every several kilometers, battered concrete houses huddling together in the desolation with the occasional cluster of traditional mud huts.
Under an unforgiving sun, it seems bleak, colorless. But looks, as we know, can be deceiving—Kutch is home to some of India's most colorful heritage.
Bhuj, a small city in Kutch, is a historical hub of textile trade. Nomads have been traveling through Bhuj for hundreds of years, stopping to barter and sell their colorful tribal wares. From hand-stitched embroidery glittering with mirrors, to impossibly complex patterned fabrics block printed by hand, the handicrafts found in and around Bhuj are a technicolored dream.
[bscolumns class="one_third one_third_first"]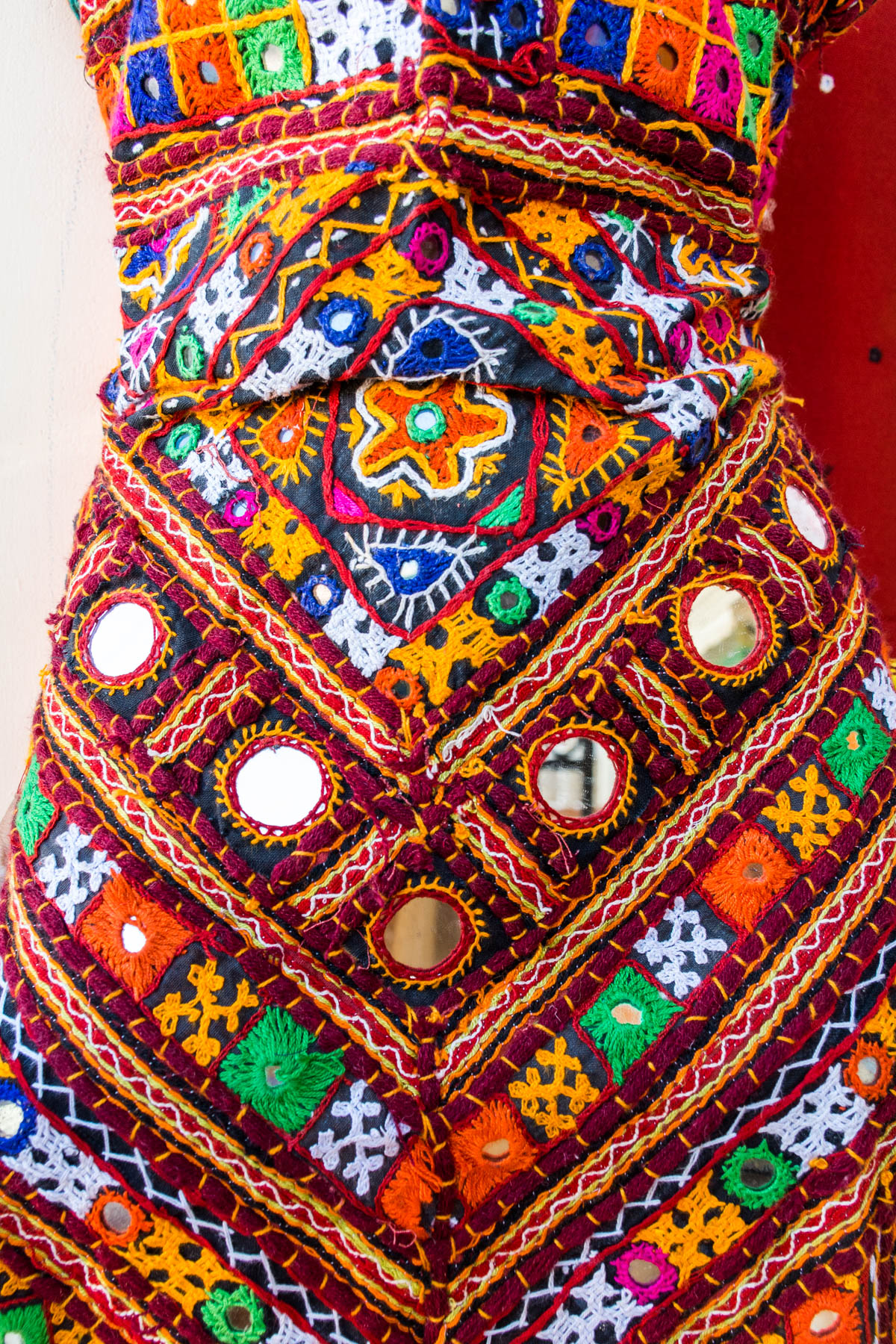 [/bscolumns][bscolumns class="one_third"]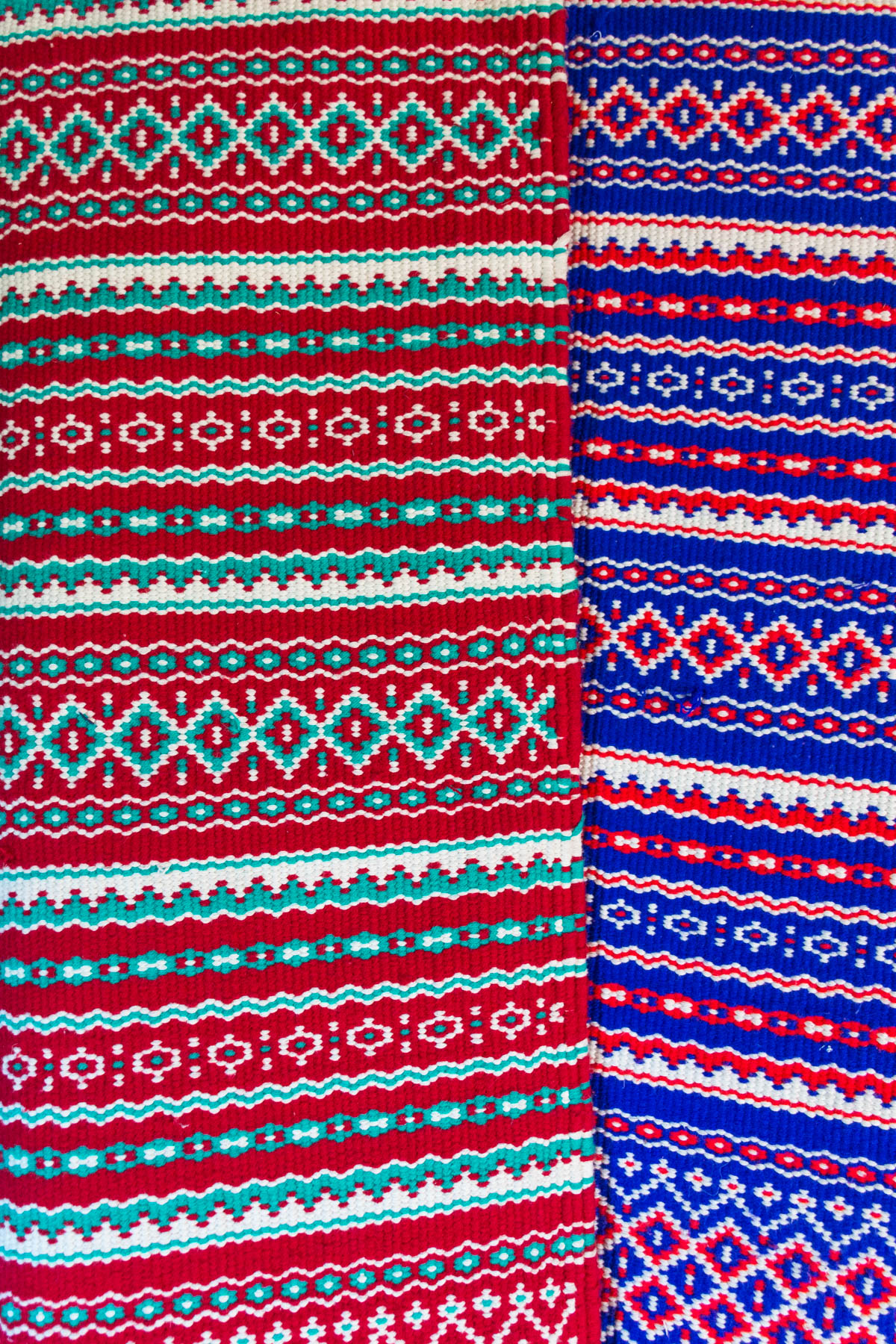 [/bscolumns][bscolumns class="one_third_last"]

[/bscolumns][bscolumns class="clear"][/bscolumns]
And the dream is no secret: Bhuj draws thousands of Indian tourists each year. They shuttle from shop to shop in droves, hunting for the most beautiful textiles to call their own.
The artisans and crafts of Kutch are known outside of India, too, but getting your hands on them as a foreigner is another matter. The occasional group of foreign textile enthusiasts can be spotted in the alleyways of Bhuj, but not everyone has the time—or the means—to fly halfway around the world for a scarf or dress hot off the loom.
Luckily, the world is not as big as it appears. In time, the crafts of Kutch will be more accessible than ever before. Caravan is a startup aiming to use travelers to bridge this very gap between artisans and customers, and bring the crafts of Kutch (and beyond) right to people's doorsteps.
How travelers can make money with Caravan
Caravan's concept is pretty straightforward. You, the traveler, make money with the extra space in your suitcase or backpack. Here's how it works:
You register as traveler, AKA a "Porter".
Buyers request items.
You find what buyers want while on the road.
Their purchases come home in your backpack or suitcase.
You send out their items, and pocket a commission.
But Caravan's goals go beyond simply shuttling crafts across borders. Their Porters help to bring goods and experiences to people unable to travel themselves, for whatever reason.
Here's an example: let's say Anna from the U.S. just learned about the famous Ajrakh block printing, and would love a block printed skirt to call her own. She can't leave her family to travel all the way to India, but hey—if you're traveling through Gujarat, why can't you pick one up for her?
Caravan will tell you precisely where to find an Ajrakh skirt: the tiny town of Ajrakhpur, near Bhuj. This is where your quest begins! You'll first need to venture out into the desert to find the town. There, you can meet the Khatri family, learn how they've run their block printing business for 10 generations, and, of course, find just the skirt for Anna.
It's win-win once all is said and done. Anna gets her skirt with far more backstory and significance than the average shopping haul. You get to experience new cultures and make some money in the process. Chill, right?
How Caravan benefits local artisans
Of course, it's not all about you. It's important, as travelers, to ensure our travels benefit locals, too!
Currently, most of these artisans' crafts reach international markets through import/export businesses. Wholesalers buy the artisans' goods in bulk, pushing down the prices, and thus profits, of the artisans. The businesses ship the items off to overseas vendors, who then charge customers an arm and a leg for them because… well, they can!
Both the artisan and the customer's wallet take a hit, and the only people winning in the end are the middlemen. This is on a good day, that is—we all know how often Made in China goods are peddled as "authentic" handicrafts.
Caravan, on the other hand, keeps things human-to-human. Porters are just ordinary travelers hand-selecting goods from artisans at a fair price for buyer and artisan. If you make an effort to learn about the artisan's craft and business in the process, and make sure to share it with others afterwards, you're helping to preserve their art and culture. Sure, you're just one person, but every small step counts.
Keepin' it real
In the end, it's this human element that's most important. Behind every handicraft is a living, breathing person, but their story is often lost by the time their work ends up on a shelf thousands of miles away.
Change that. Work with Caravan to share the artisans' culture and experiences all around the world, while funding your own travels. Remember, you're not just carrying goods—you're carrying their stories, too.
Caravan is live in Morocco, and will soon expand to cover India and Thailand. Whether you're a Morocco-bound traveler, or just interested in getting your hands on some sweet stuff, head to the Caravan site for more opportunities.