Three adventures traveling off the beaten track in Bhutan, plus tips on where to go to avoid Bhutan's tourist circuit.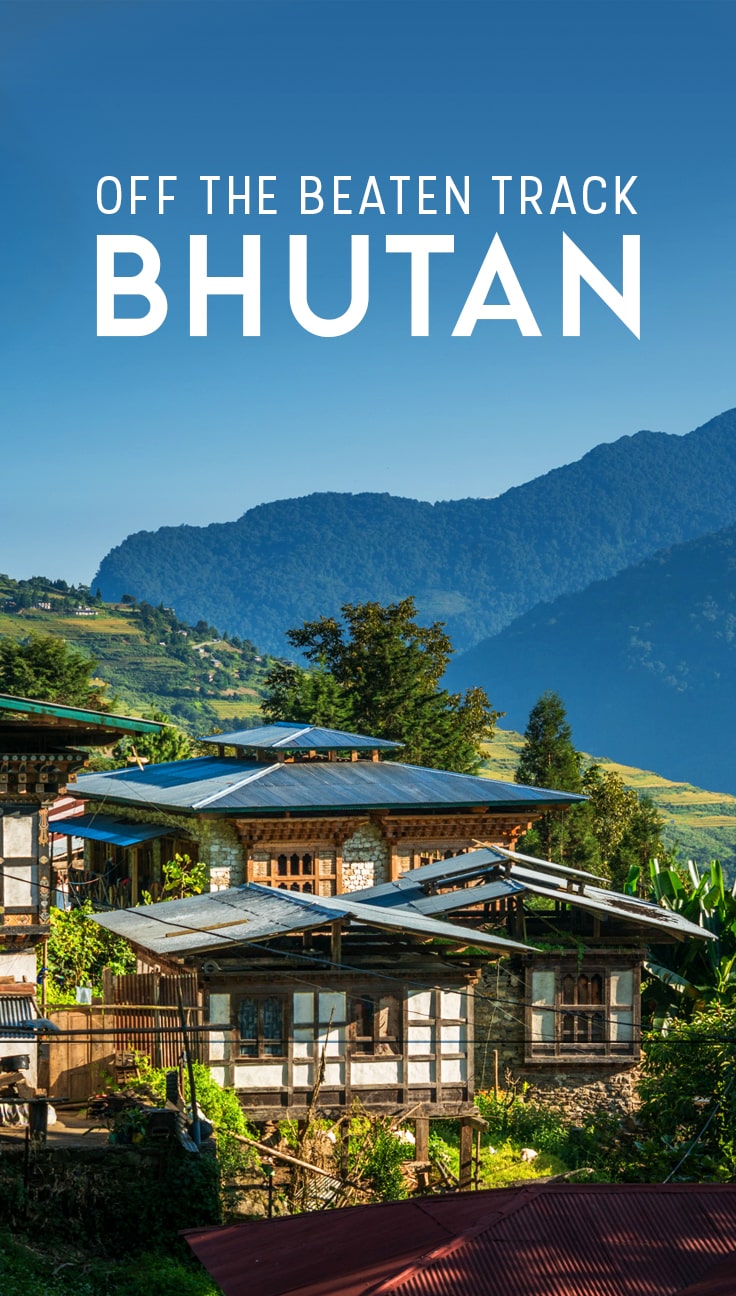 We're way up in the hills, the temple is locked, and we have no idea what to do next.
This afternoon's drive brought us to a Buddhist temple outside of Tingtibi, a village in Southern Bhutan rarely visited by foreigners. Despite spending more than an hour winding through rocky mountain highways and dirt switchbacks, it seems our quest was fruitless; the temple doors are decidedly shut.
Our little group consists of Sebastiaan and myself, our tour guide, Karma, our driver, and a local guide. We part ways to scout out the surrounding area for signs of a caretaker… or any other life that could potentially have a spare key.
A wizened old woman living in a shack next to the temple, who is approximately between the ages of 50 and 200, tells us the caretaker is somewhere below, gesturing downhill over terraces of rice paddies. She has no idea when he'll return.
This kind of situation is not new to us; a large part of traveling off the beaten track in Bhutan—or anywhere else—involves having no idea what to do next. Well-versed in offbeat etiquette, we do the only thing we can do: sit on the stone wall around the temple and wait to see what happens.
Ancient Amma makes her way to the wall, and begins plucking at weeds while chatting in a raspy voice. Karma alternates between translating her current state of affairs, and engaging in a shouted conversation with a speck of a person way down in the paddies below. Ancient Amma chimes in with her own shouted commentary every once in a while.
After explaining how the woman survives alone—the government delivers food and a monetary stipend each month—Karma and the local guide resume hollering to the boy in the fields.
I presume they're asking about the caretaker, but as it's all in dzongka, Bhutan's national language, I can't be too sure. Perhaps it's just an enthusiastic conversation about the weather.
Suddenly, Karma turns to Sebastiaan and me.
"The people living down there asked if you want to have some lunch. What do you think?"
Wait, what? Yes!
And so, after adieus to Ancient Amma, we troop downhill through orchards and paddies to the spontaneous lunch spot below.
A stocky woman and her twenty-something son greet us at the door of their small wooden house. She gestures for us to sit on woven mats in a common area overlooking perfectly golden rice paddies.
While waiting for lunch and the return of the mysterious missing caretaker, the son plies us with homemade rice wine called singchiang. Any reservations about drinking at 12 in the afternoon (while technically working) are quickly washed away with a few sips of wine. It's somewhat sweet, smooth on the throat, and delicious despite a slight grassy aftertaste.
The caretaker eventually materializes and brings us to the temple an hour later, but by then, we're more interested in speaking with the son than beholding more Buddhas. After 15 minutes of surveying the temple, we return to the house for a simple homemade lunch of rice, omelet, and ema datsi—Bhutanese chilies in cheese sauce—all eaten with our hands.
In between scoops we pepper the son with questions via Karma. He responds with queries of his own.
Our conversation roams from landscapes and produce of our home countries, to strongman competitions (he was the local champion), to the mechanics of compost toilets. And, you know, everything in between. Welcome to off the beaten track tourism in Bhutan.
An adventure for everyone
The first week of our Bhutanese voyage with Gray Langur was dedicated solely to this sort of spontaneous, offbeat adventuring… right from the start.
Rather than taking the standard route into Bhutan via Paro airport in the west, we entered through Gelephu, a southern land border crossing between India and Bhutan only used by local workers.
On our first day of driving, Karma looked back at Sebastiaan and me from the passenger seat of the car.
"This is my first time traveling here, too, so it is an adventure for everyone," he grinned, "Thank you for the opportunity."
We matched his grin of excitement as the car nosed up the forest-clad hills.
Here we are
Together with Karma and Sangey, we wove our way north along muddy mountain roads, passing undulating seas of golden rice ready to harvest, and tiny roadside villages of white matchbox houses. Road conditions made for bumpy driving at times, but Sangey was deft at the wheel, and Karma kept the conversation flowing during the long drives and occasional delays.
Birtii, a southern village with only 23 houses, was our first stop. An afternoon breeze carried the sweet scent of ripe guavas, and laughing children shouted greetings as they swung on a wooden swing. An old man waved to us as he brought his cattle in for the evening. Golden sunlight warmed us as we roamed through rivers and paddy fields with Karma and our local guide.
Night fell early and fast. The dark evening found us chatting with our homestay host over (yet more) singchiang as an Indian movie about M.S. Dhoni the cricketer flashed on a boxy TV in the background.
At one point, our host looked down at the floor, tracing the wood grain with his fingers. "He says he loves to have foreign guests in his home," Karma translated as the old man spoke, "but he wishes he had an education like you so he would be able to talk to you and understand the things you do. In his time, getting an education while living here was very difficult."
I shook my head. "Tell him he is talking to us. Even though he didn't go to school, he knows millions of things we don't know. And in the end, here we are, still sitting and talking!"
Karma relays the message, and a wide, gap-toothed smile reddened by betel nut spread across our host's face.
Curious about traveling to Bhutan but confused about the price? Check out my guide to the cost of travel in Bhutan!
Let's stay here
Days later, we wove our way north on the gravelly road once more, and all I could do was hang out the car window in awe.
The longer we drove, the more stunning the landscapes became. Rolling hills climbed upwards into forested mountains, with the occasional golden splash of rice waving at their bases. The winding road zigzagged past old dzong fortresses and painted houses on the hillside. Flawlessly blue skies without a single cloud greeted us every morning. Everyone told us mid-October was the time to be in Bhutan, and I was starting to understand why.
And, once again, Karma grinned from the front seat. We were en route to Kuengarabten (sounds like Kinga-rupten), his childhood home for four years.
We cruised to a stop at the top of a gravel road lined with low wooden storefronts. Out we burst from the car, delighted to stretch our legs and bask in the sunshine. Karma led us on a jaunt down some uneven stone steps shaded by an overgrowth of trees, pointing out everything as he skipped nimbly down.
"Oh, see, that house hasn't changed at all. It was like that when I was young. But whaaaa that one is new! And my school, it's still down there…" he continued to chatter with infectious enthusiasm in between greeting passerby on the pathway.
The stone path led down to his cousin's house, one of the most picturesque old houses we saw in all of Bhutan.
The mud walls of the house were starkly white, and hand-painted patterns and symbols spidered over every spare inch of the wooden details and supports. Half ripe tomatoes hung from the spindly branches of a small tree, and green vines of yet more produce twirled up wooden stakes in the front yard. Even from the front door, we could see across the valley to golden terraces on the other side.
After a deliciously spicy lunch cooked by Karma's cousin—anyone who says Bhutanese food is bland needs to eat outside their hotel—we were back under the autumn sun, basking in the simple joys of Kuengarabten.
Schoolchildren flocked around us as we poked around Kuengarabten's old palace. Some were shy, but others decided to take their chances.
"Hello sir… UMMM, MADAM!" a young boy stammered to me, blushing and hiding his face in his hands as his friends roared with laughter in the background.
Young monks peered at us curiously from their not-so-subtle hiding places behind the wooden columns of the palace's interior, then laughed and waved when they realize they've been spotted.
As the sun fell lower in the sky, Karma said it was time to move on to our final stopping point for the day. When pressed, he said it was just a roadside rest stop, without much of anything to see or do. My heart fell; how could I walk away from a paradise like this to go sit and stew in a highway hotel?
"Do we have to go there? Can't we just stay here?" Sebastiaan asked.
Karma cocked his head. "You like it here?" Taking in our enthusiastic nods, he bowed his head slightly. "I'll see what I can do."
He disappeared into his cousin's house, and returned minutes later.
"Okay, I arranged everything. Tonight, we sleep here."
Hours later, after an evening split between a nunnery visit, epic stargazing, and watching America's Next Top Model with Karma's cousin, I was still smiling widely as I snuggled under the blankets for the night.
Welcome back to the track
A breakfast of rice and vegetables (with a hearty dose of chili chutney) brought us to our senses the next morning. After goodbye selfies with the family, we climbed back into the car with heavy hearts. Trongsa town was our destination for the day; it was time to take our first strides on Bhutan's tourist track.
Trongsa was pleasant—a far cry from the mass touristic traps of Southeast Asia or Western Europe—but a shift in atmosphere was present. More hotels and souvenir shops peppered the streets; more stickers and posters of tour companies decorated their windows. We saw our first wandering Western people in days, and passed holidaying Indian families on our way into the sights.
There's nothing wrong with wanting to visit the "touristy" places of any country—those places are famous for a reason! Bhutan's most popular destinations are all breathtaking in their own right… but if you want to really get a feel for any country, one untainted by tourism, you need to look a bit further, travel a little bit longer.
Not everyone has the time nor the means to travel off of Bhutan's beaten track. If you do, however, trust me—it's an experience you don't want to miss.
How to get off the beaten track in Bhutan
Bhutan's tourism scene isn't on the level of Barcelona or Paris, but that doesn't mean you won't see any other foreigners while traveling in Bhutan.
More than 200,000 foreigners visited Bhutan in 2016, but most tourists stick to the same circuit: Thimphu, Paro and the Tiger's Nest area, and Punakha. Trongsa and Gangtey are sometimes thrown into the mix for those with more time on their hands.
If you want to get away from the beaten tourist track, just head somewhere else!
From the southern border to Trongsa, we saw only one other foreigner (a government worker). Our trip to the Royal Highlander Festival in Laya was hardly what you'd call touristic. We also squeezed in a day trip to the remote Haa Valley, which is mere hours from Paro, and again saw no tourists. Traveling off the beaten track doesn't necessarily mean traveling too far!
Who can take me off the beaten track in Bhutan?
Gray Langur Tours is a young tour company helping tourists go beyond the standard Bhutan itineraries. They brought us to Bhutan specifically to venture off the beaten track, and in case you couldn't tell, it was amazing. We'd happily recommend them to anyone looking to get off the beaten track in Bhutan.
For more info about visiting Bhutan, check out my guide to visiting Bhutan.
Yay transparency! Gray Langur Tours covered all costs of travel in Bhutan. However, all thoughts, words, and bubbling adoration for Bhutan and its people are assuredly my own.